How to Increase Brand Awareness
December 7, 2017 ・ 7 min read
When the number of options that consumers have to choose from increases on a daily basis, brand awareness helps drive consumer decisions by making some choices a little more obvious than others. It helps your brand stand out among shelves filled with different options. So your customers can say, 'I want those cookies – you know, the one with the curly haired girl on the box'.
You can read more about different methods showing you how to measure brand awareness and why you need it.
Building brand awareness is one of the most time consuming yet important aspects of building a brand. A robust brand awareness will do part of the marketing for you. Your customer will automatically come back to your brand and refer your products and services to their friends and family.
If you already started working on building your brand awareness, we got something for you.
Here are the 10 tips and tricks we collected that will help you build brand awareness and boost your business!
But now, let's move on to some tips that show you how to increase brand awareness!
10 tips on how to increase brand awareness
Tip 1. Use search advertising
Put your brand name in your customers' line of vision with search advertising – one of the most popular forms of PPC. Not only will you increase brand awareness, but search advertising lets you show specific ads to particular audiences based on their needs. And the analytics behind it are rich in detail, so you can see who clicked on your ads, the types of interaction that occurred, and whether these users returned later. Plus, customers find search ads to be much less disruptive than, say, pop-up ads.
How?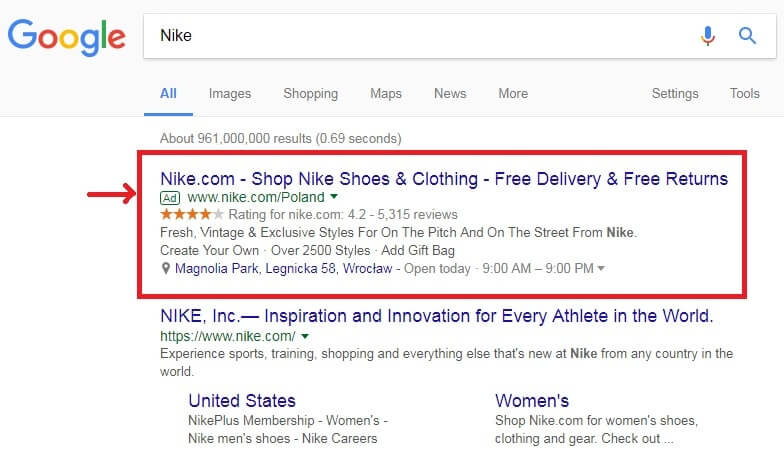 Start by bidding on keywords for ad placement in Google's sponsored links. When customers try to Google these keywords, your ads will display at the top of the page, like in the Nike example below.
Even if you don't receive a lot of clicks, this will make your company more visible and increase brand awareness.
Tip 2. Employ remarketing techniques
Remarketing ads work by finding audiences who have previously visited your website or used your mobile app so you can show them advertisements for your brand.
This has several benefits: When your customers see your brand everywhere, it creates the impression that you're 'bigger' than you are. And much like search advertising, you can show specific ads based on audience behaviour. This creates a much more personalized message, making your brand more memorable.
How?
An important thing to watch out for is keeping your message consistent across channels (like all your search, email and display ads) so that you don't lose the effectiveness of your targeted messages. And busy or distracted customers can receive reminders about the brand that they had been interested in.
Tip 3. Embrace influencer marketing
Work with industry influencers to increase brand awareness. 'Influencers' are marketing experts with an extensive audience base who are more than happy to see and follow their latest posts. As you continue to grow your own audience, consider sponsoring or partnering with established industry influencers so their audiences can discover your brand. Like Olay, CVS, Calvin Klein, and Amazon are doing:
How?
Influencer marketing works especially well on Instagram, although you should select the experts you work with carefully. Not every influencer is a good fit for every brand. You need to consider the topics that the influencers talk about, whether their image is a good match for yours, how engaged their followers are, and many other factors.
Tip 4. Guest post in related industries
Write for other websites and put your content in the hands of a brand new audience. Guest post for a blog in a related industry to help new customers discover your brand and find a new source of leads.
How?
If you're a retailer that specializes in hair accessories or makeup, you could guest post on wedding, party, or event planning blogs to help your brand reach customers who have an interest in these closely related topics.
Tip 5. Produce consistent content
If you want to increase brand awareness, you need to consistently produce fresh content. When your audience sees new posts from your brand pop up in their social feeds, this increases brand awareness by reminding them about your brand via news and updates. Plus, putting out new content on a regular basis helps your audience see you as an innovative source.
How?
Our work and private schedules are demanding, and producing new content on a daily basis won't be an option for most. Aim for consistency, whether it's daily, weekly, or monthly. Adjust it as necessary for different platforms.
Tip 6. Create a social media contest
Contests on social media create excellent opportunities for your brand to increase brand awareness, especially when they invite users to interact with their own social communities or earn votes for ideas that they've personally contributed themselves.
How?
Create a contest or giveaway that requires contestants to 'like and share to enter' or which encourages customers to share posts with their communities for votes. You can ask them to name a new product, like Lay's did with their uber-successful Do us a Flavor campaign. The user-generated content and engagement from these contests will help put your brand out there for all to see.
I'm a big fan of Aerie's #AerieREAL campaign. For every un-retouched Instagram photo of a customer in swimwear posted with the hashtag #AerieREAL, the brand donates $1 USD to the National Eating Disorders Association (NEDA). It connects the brand with an important cause aimed at making the public aware of body issues that affect women (and men!) – and people were interested! Customers shared so much user-generated content that the brand reached their initial goal of donating 10,000 dollars in no time and increased the value of their goal to keep up with their customers.
Tip 7. Engage with customers
Speaking of generating engagement, when your customers go to the trouble of contacting your brand, the least you can do is thank them for it. Not only will your customers appreciate the attention, clever responses have the potential to go viral. And definitely don't overlook customers who are asking questions, requesting service, and making complaints on social. Taco bell has done a pretty good job of engaging their customers on social:
How?
Automate the way you find customer complaints, questions, and requests with social listening so you can focus on engagement. Social listening tools like Brand24 run deep web searches to find mentions of your brand across platforms. They're gathered and put in one place. so you can access them all from a single location.
Tip 8. Participate in referral programs
Referral programs offer incentives to customers for getting new customers to join. This is actually why I chose my current bank, People's United. I referred a friend to open an account, and the bank deposited $50 into my account. Easy.
How?

Like in the example above, monetary incentives often work well. However, you can offer free service for a month or partner with businesses to offer different incentives and increase brand awareness among different audiences.
Tip 9. Use popular hashtags
When you share and distribute content, use hashtags to extend the reach of your post. Make sure you pick hashtags that are popular enough. Research has shown that brands which use hashtags on Twitter increase user engagement by 1.5X while optimal results for Instagram can be obtained with 11 or more hashtags. The numbers will, no doubt, be different for Facebook, Google+ and other platforms.
How?
Pay attention to how popular the hashtags are, related to your topic. If you're launching a campaign, consider creating your own hashtags to be used together with existing ones. Here are some tips on how to create trending hashtags of your own.
Tip 10. Sponsor events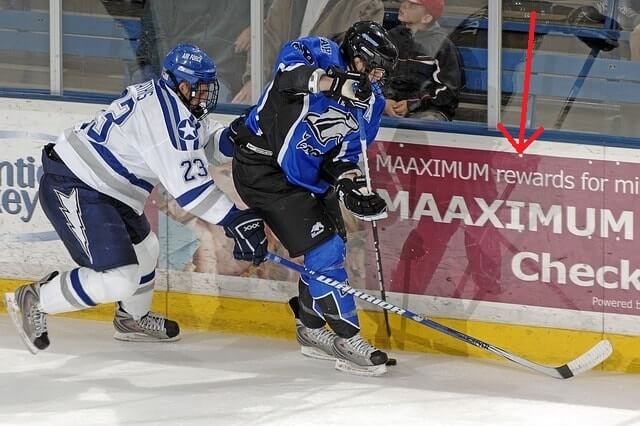 You know how in big events like the marathon or basketball games, there are always huge banners from different brands? Sometimes they're paid advertisements, but oftentimes, these banners are from event sponsors. Large visual displays like this are great for increasing brand awareness, especially when the event is related to an important cause.
How?
Millennials are interested in what's going on in the world. Sponsor events that support the environment, have a health conscious bent to it, as well as important social causes. Extra bonus if you partner up with related businesses. The more people who promote the event, the more participants there will be, which means the more that you'll be able to increase your brand awareness, no matter the source of interest.
Why increase brand awareness?
The above-mentioned ideas mention a few different ways on how to increase brand awareness – some free, some paid, and some that just require you to put a different spin on your resources. Choose a method (or implement all of them) that suits your needs best. Remember to measure the effectiveness of your chosen strategy as you go.
If you have any ideas that you think should be included, feel free to leave me a note in the comments section below!