CASE STUDY: How Futuramo Uses Social Media Monitoring to Track Social Media KPIs, Provide Customer Service and More!
Futuramo is a SaaS business offering a bunch of tools that help teams communicate, collaborate and manage projects.
A huge variety of available tools makes Futuramo an effective and powerful collaboration platform for teams:
Futuramo Tasks
Futuramo Visual Tickets
Futuramo Time Tracker
Futuramo Contacts
Futuramo Projects
Futuramo Icons
For example, Futuramo Visual Tickets is a great tool for IT — developers and designers can use it to manage a project they develop. With Futuramo Tasks and Futuramo Time Tracker, all kinds of users, including teams and individuals, can keep track of their activities.
We sat down with Magdalena who leads a 3-people marketing team consisted of a content marketing specialist, marketing analyst and herself — head of marketing — to talk about how they use Brand24.
Target Customer
They target all sorts of businesses working on digital projects, including digital, creative and advertising agencies, software houses, or graphics and design studios.
Some apps from Futuramo benefit not only businesses but also individuals in all kinds of business regardless of the segment.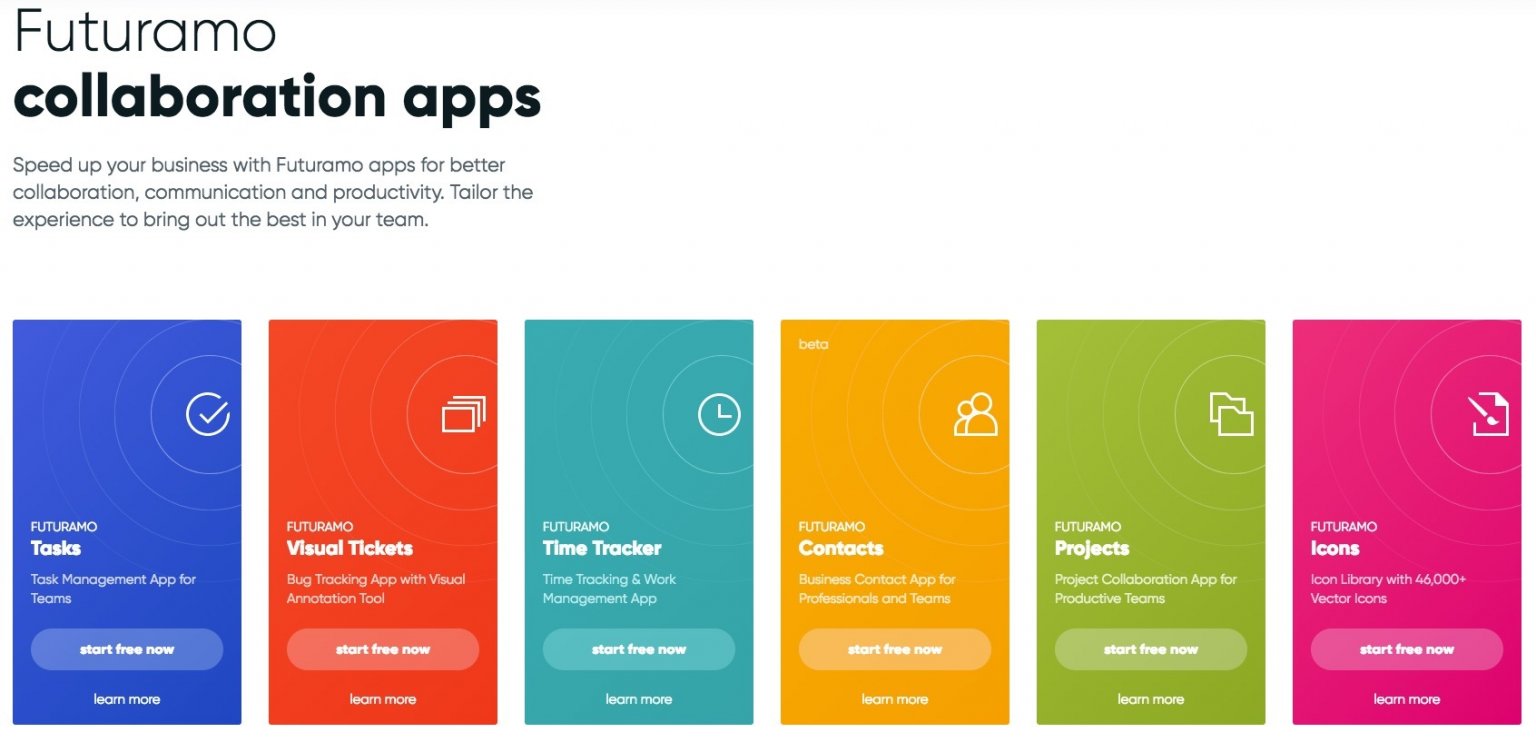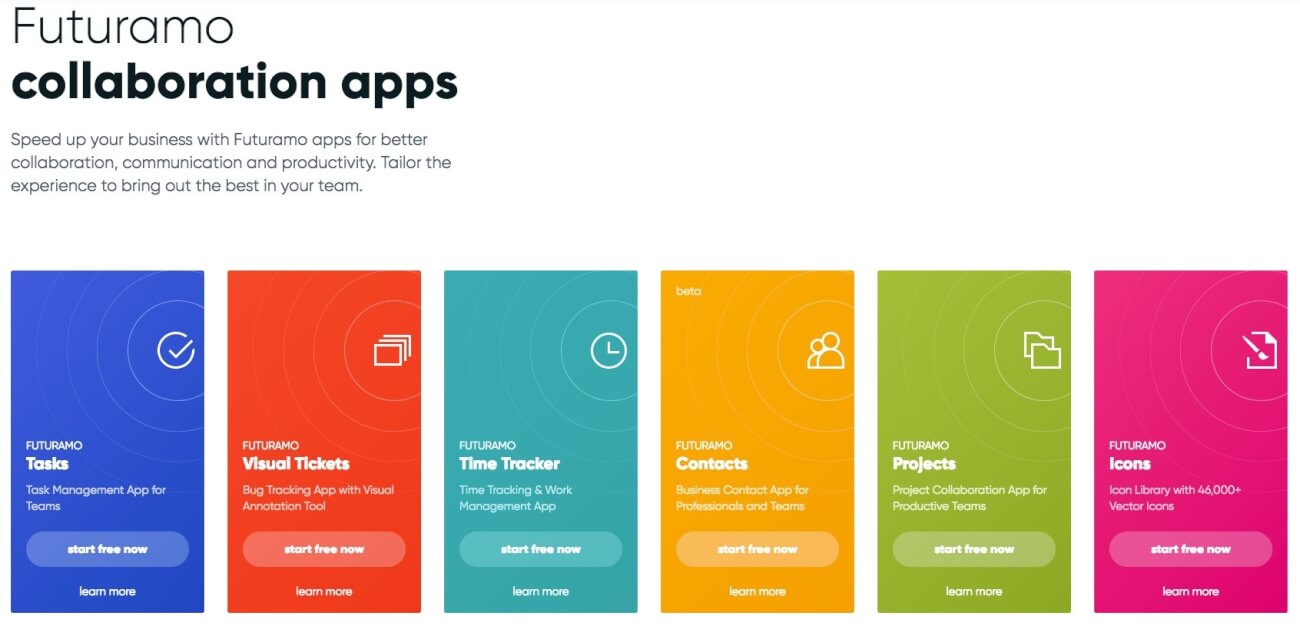 How Futuramo Uses Social Media Monitoring?
The company uses social media monitoring mainly in three areas: marketing, sales and customer service.
To communicate internally, Futuramo uses Slack which makes a perfect combo with the Slack integration from Brand24.
The Slack integration allows collecting all online mentions in a dedicated Slack channel in real time — this way, guys and girls at Futuramo see new mentions about their business the moment they appear online.
This is how they are first to reach out to a potential customer and close the deal. The same happens when it comes to customer service. Customers these days expect a lightning-fast reaction from companies and with social media monitoring one can spot customers seeking assistance all over the web in to time.
There's no need to check social media profiles or comments sections one by one — all mentions from all across the web arrive into one place.
We're big fans of the Slack integration. Apart from Futuramo, we use Slack for internal communication, so this feature was a game-changer for us. Having all the mentions tucked into one Slack channel speeds up makes it so much easier to hear about the latest activities.

Magda Werminska, Head of Marketing at Futuramo
Thanks to the integration, all mentions are also accessible to other people at Futuramo — including the CEO and other team members who can respond to mentions if needed.
Social Media KPIs
The marketing department uses social media monitoring to track social media KPIs.
It's important to note that a big number of companies has problems with tracking social media KPIs.
There are at least two reasons for this:
Companies are unaware of social media metrics they can track
They don't have the right tools to do so
Social media monitoring comes to rescue here.
Some social media metrics inside Brand24 that Futuramo tracks include:
Volume of mentions
Volume of interactions (shares, likes, retweets)
Social media reach
We immediately saw that this tool is really working. Once our campaigns have finished, we were able to properly measure the viral effect, the number of mentions, get in touch with influencers and prepare better for the next events.
A considerable part of Futuramo's marketing efforts is devoted to building engagement around their tools. With a social media monitoring tool that provides real-time mentions, they can actively engage social media posts and conversations about relevant services.
Social Selling
Secondly, the company uses Brand24 to identify and approach potential customers.
Thanks to social media monitoring, Futuramo is able to find consumers looking for solutions Futuramo offers.
Brand24 leads us to people who are on the lookout for team collaboration platforms, productivity apps, time trackers, bug tracking tools, etc. If we know that our product can solve someone's problem, we suggest it immediately.
Social selling is a relatively new sales technique but proves to be extremely effective. It's based on finding and approaching consumers that are already interested in a product or service a company offers.
Here are some interesting stats from LinkedIn:
78% of sales people using social media perform better than their peers.
64% of sales teams that use inbound social selling reach their quotas.
90% of top sales people use social selling tools.
Customer Service
Also, social media monitoring gives Futuramo the opportunity to spot customers seeking assistance all over the web.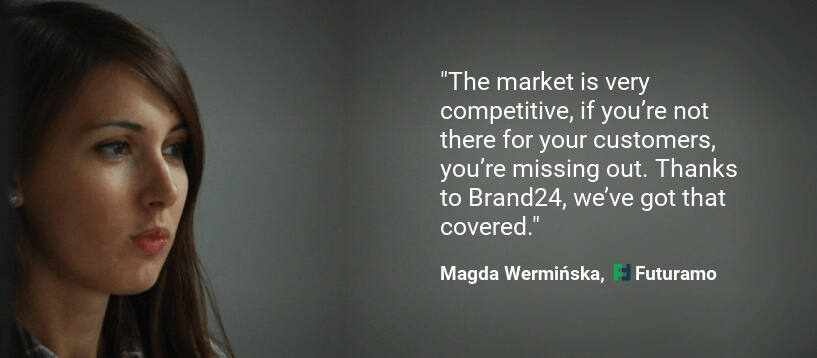 With the help of social media monitoring, the company can easily find all customers seeking assistance online. What's important, a social media monitoring tool like Brand24 finds mentions all across the web, also outside the social media channels the company controls.

Conclusion
If you feel like social media monitoring is something you need, you can try it out for free here. No credit card required.
Here you can find other case studies about social media monitoring: