How video game companies can boost sales with gaming influencers?
May 22, 2020 ・ 9 min read
Influencer marketing has reached the gaming industry and it looks like it's there to stay! There are many possibilities for gaming influencers and developers to work together with mutual benefits. Let's dive deeper and discover the benefits of video games influencers.
For many of you, video game influencer campaign might sound too good to be true. That's why we combined theory and practice. In the first part of this blog post we will list the benefits of a video game influencer marketing campaign. In the second part, we'll describe a real-life cooperation between a brand and an influencer.
Hopefully, seeing the possible results of such a cooperation will help you discover all the perks of video game influencer campaign.
Ready? Let's go!
Why influencer marketing is so effective?
I think we can all agree that gamers are influencers in the world of video games. They gain loyal audiences for their streams, earn lots of money by streaming games like Fortnite or Apex and more and more companies decide to cooperate with them when it comes to promoting games.
The high and constantly growing popularity of influencers is facilitated by the fact that nowadays consumers are more likely to trust other people's opinions and testimonials than regular adverts (like on TV). The reason for this is the fact that influencers are people who are authorities in their niche, have a loyal community and are more like friends to their followers.
As reported by the research provided by the company Annalect and Twitter, 49% of responders admitted that while shopping on the internet they rely on opinions and recommendations of influencers about specific products.
Another fact which proves the effectiveness of influencer marketing is a strong ROI. In line with research prepared by Tomson company, companies generate 6,50$ in revenue for each 1$ invested in influencer marketing on average. 70% make $2 or more, and 13% make $20 or more.
How to find video game influencers?
If you want to start working with influencers you need to find the proper ones. You can easily do it using Brand24 – an online tool for tracking mentions related to selected keywords.
If you want to know who is talking about your business and use this knowledge to start your cooperation with influencers in your industry – here is a quick guide on how to do it:
First, create an account on the platform. For the first 14 days, the trial version is free, then prices start at 49$ per month.
Then choose the keywords you want to follow. For example, if you want to track mentions about the gaming industry and find gaming influencers it can be:
gaming,
streamer,
game streamers.
I recommend using a media monitoring tool that will gather and analyse data from multiple sources. Brand24 collects information from mayor social media channels, for example, Facebook, YouTube, or Twitter.
The tool also monitors platforms such as TikTok or Twitch. The holistic approach to monitoring will give you an overview of the situation and will help to make the most informed decision.
If you want to be more specific, try to narrow the search by adding, for example, the name of the brand you are interested in or type of games eg. Electronic Arts, battle royal, fps, etc.
OK, we have already created an account and have collected data about our business.
What's next?
Having all the data collected go to the "Analysis" tab. Then find a list called "Influence of Social Media authors". Here you have listed the most influential social media authors with an estimated number of views containing the monitored phrase(s). Like here on the screen: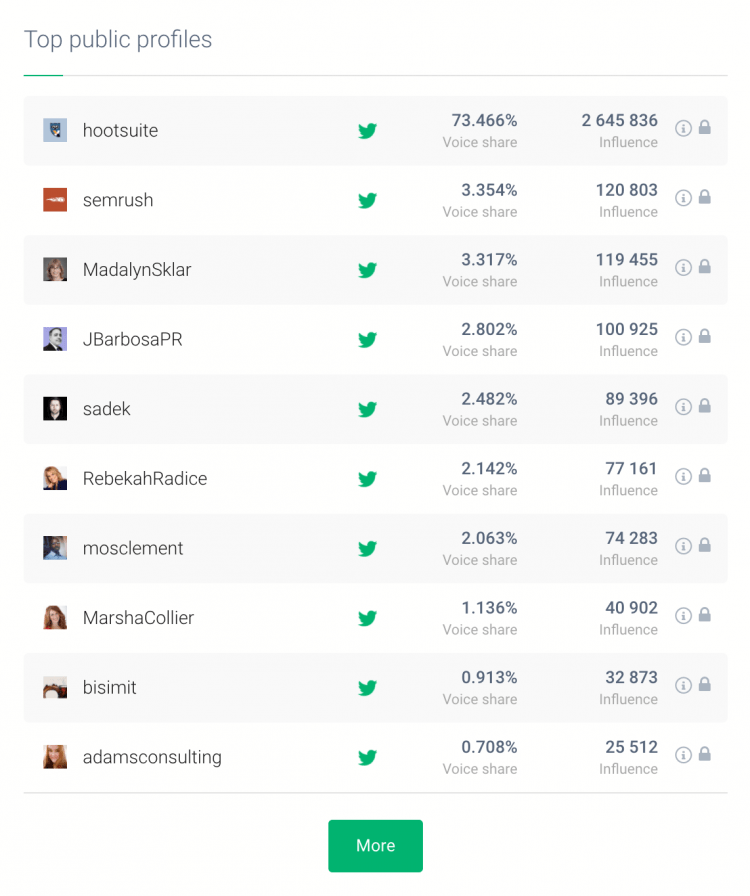 To be transparent, here is an explanation of these figures:
Influence – estimated number of views generated by the selected author's containing the monitored phrase(s). Influence is based on the number of mentions, the number of followers / subscribers / friends and the typical visibility percentage for the selected networks (this percentage describes how many of your friends / followers on average see your posts).
Voice share – what part of the whole discussion was generated by the selected social media user / profile/ fanpage.
Find the best influencers with Brand24!
Beware of fake influencers
Unfortunately, together with the growing popularity of influencers, there is also a risk that we can come across the so-called fake influencers. Here is a video where Chia explains how to spot them:
LEARN MORE: Read this article if you'd like to know more about identifying influencers – How to find influencers?
The benefits of video game influencer campaign
The simple answer is — there is a lot of growth potential in video game influencer marketing.
There are many benefits that will justify the cooperation between a brand and a video game influencer.
The ultimate goal is to increase your bottom line, for example, increase sales, or boost your brand awareness levels.
A video game influencer marketing campaign will help you achieve other goals as well! Let's see what's in there for your company.
Video game industry will grow in the coming years
Gamers upload a ton of content online every day. They use existing social media platforms, for example, YouTube or Twitter. Recently, Amazon noticed the opportunity in the gaming industry and developed a platform solely dedicated to video game streams — Twitch.tv.
This means that there are millions of people playing games, and the number will grow in the upcoming years. The sooner you familiarise yourself with the market, the bigger the benefits will be.
Track the popularity of the gaming industry with a monitoring tool!
You can reach your target audience
The key to a successful marketing campaign is reaching the right audience The right audience will be most likely to interact with your message and be prompt to react accordingly.
Video games streams attract a mainly young audiences — Millennials and Gen Z. Implementing a video game influencer marketing strategy will help you reach audiences you might otherwise be unable to reach. Reaching your target audiences will help you increase your bottom line.
Engage your audience
Many users see influencers as people they can trust. They trust their opinions and recommendations. Their endorsements influence decision-making behavior.
But the engagement is not limited to purchasing decisions. Influencer marketing can help you put the name of your brand out in the public. Raising the levels of brand awareness, spreading your content across new audiences and different social media channels — all of that is possible with little help from an influencer marketing campaign.
The beauty of influencer marketing is that your audience will respond better to a message coming from someone they trust. And online influencers are considered trustworthy sources of information.
Get feedback from the source
Video games influencers are in direct contact with your audience. The users of your product might have a great optimization idea you might not be aware of.
The users might be inclined to leave a suggestion for improvements. Responding to the comments will show you a direction in which you should develop. This will not only help you improve your offering but also become the leader in your niche.
Video game influencer marketing campaign will also help you build a community around your brand and establish relations with your potential customers.
Discover insights and collect feedback with media monitoring!
How to implement a video game influencer campaign?
Electronic Arts and Respawn Entertainment have and made an enormous income without any promotional campaign before releasing their new game – Apex Legends. How did they do it?
The answer is simple – they used influencers as a communication channel.
And hit the bull's eye.
In the practical part of this blog post, I will show you big figures and tons of money which Electronic Arts has earned, and enormous amounts of users, who decided to play their new game but it doesn't mean that only big companies can profit from this type of Influencer Marketing strategies.
I'd like you to focus more on what influencer marketing is all about, what principles it follows, and why it is so effective. Let's treat the Electronic Arts case as an example of such a strategy and its effectiveness.
It doesn't matter if you are a big, small or medium-sized company. If there are people in your industry who are recognized as authorities/influencers, you can always try to implement this strategy on your own. This is the place where the idea counts, the financial resources are less important.
A short story of cooperation between Electronic Arts and Ninja
Electronic Arts in cooperation with Respawn Entertainment released its new game "Apex: Legends" on the 4th of February and within a month earned 92 million dollars. What's interesting, they didn't do anything to promote the game before launch and the game is for free. Only extra features and additional equipment for characters are paid.
So how come they made such a successful launch?
They decided to promote the game via gaming influencers – professional video game players who play the games live-streaming it on platforms like Twitch. They asked i.a Ninja – one of the most popular gaming influencers with 13.6 million followers on Twitch and 4.1 million on Twitter, to play Apex for 14 days and tweet about it. He was one of a few selected professionals pulled in by Electronic Arts to promote "Apex: Legends". As a result, as reported by Reuters, they got 10 million signups in the first three days of streaming.
Reuters also states that Ninja reportedly earned 1 million dollars for this activity but neither he nor Electronic Arts confirm this amount. 🙂
Whatever you say, the deal paid off very much for the company – EA's stock price and market value rose 16 percent, or $4 billion, in the three days after "Apex: Legends" launched and a month later the game has 50 million users, a quarter of Fortnite's (biggest competition for Apex) 200 million.
According to Ninja's Twitch channel, only in the first 14 days of streaming, his streams generated a total number of 1 094 500 views.
Having this stunning data we can say that everybody has benefited from it:
Electronic Arts promoted the new game, saved money, earned 92 million dollars and increased their market value,
Ninja earned money and produced new streams,
Ninja's followers with other players got a new game.
Simply a win – win – win situation.
For comparison, official "Apex: Legends" launch video on Apex Legends official YT channel has "only" 827 762 views (data from 05.04.2019) since the release date – 04.02.2019.
If it's not enough for you, "Apex: Legends" become only the third game ever to break 7 000 000 of watching hours of streams during one day (data doesn't include Ninja's streams).

Are you ready for video game influencer marketing?
Ok, so if we have our influencers spotted and we are sure that they are legit we are ready to start the cooperation. As I said before, the right influencers can deliver your results which would be extremely difficult to reach using traditional methods of promotion.
Also, what's one of the biggest advantages of influencers, they are authorities in their niche and have a huge influence on the purchase decisions of their followers.
So, if you want to sell the product which is targeted to a specific group of people it may be much easier, cheaper and more effective to approach influencers in the niche rather than spend millions on traditional adverts. It may consume more time to find them but, as I showed you the data, it pays off.
HANDPICKED RELATED CONTENT
The Pros and Cons of Influencer Marketing Campaign
What is Influencer Marketing? An Ultimate Guide by Brand24
7 Best Practices for Influencer Marketing