Setting up marketing goals is not an easy thing to do. Defining the right marketing goals and metrics to measure the results of your activities is one of the most important tasks ahead of your marketing division.
Setting the right marketing goals can be a make-it-or-break-it factor of all of your marketing efforts.
Measuring the effects of your marketing activities will help you:
improve your marketing campaigns
justify the marketing spendings to your supervisors
find the most promising marketing activities that will contribute the most to your overall business strategy
Hopefully, with a little help from this blog post, you'll know everything about setting up marketing goals.
I cover three main topics today:
Ready? Let's go!
What are the goals of marketing?
Do you ever have to answer a question — what do you actually do at work? Setting up the right marketing goals can help you not only answer this question, but also get on top of all of your marketing activities.
Before you set up marketing goals, take a look at your marketing plan. These two are closely related.
What do you want to achieve in the coming months? The answer to this question will determine your marketing goals.
To help you get a grip on marketing goals, take a look at the examples of marketing plans:
Implementing marketing activities that should lead to an increase in brand awareness.
Establishing the authority of your domain by generating high-quality content for your website.
Measuring the effects of a social media campaign by monitoring hashtag performance across social media.
Increasing the engagement around your online message.
Of course, these are just examples, but you get the gist. Think about activities that will support your company's business goals and try to create accompanying marketing plans.
How to set up marketing goals?
Once you know what the marketing goals are, you need to set them up. By that, I mean writing them down in a form that will help you to accomplish them.
There are good news and bad news when it comes to setting up marketing goals.
The bad news is that it's easier said than done.
The good news is, with some effort, you can set up marketing goals that will help you bring your business to the next level.
Have you ever heard the acronym SMART goal?
SMART stands for:
Specific
Measurable
Achievable
Realistic
Timely
How does a SMART goal look like?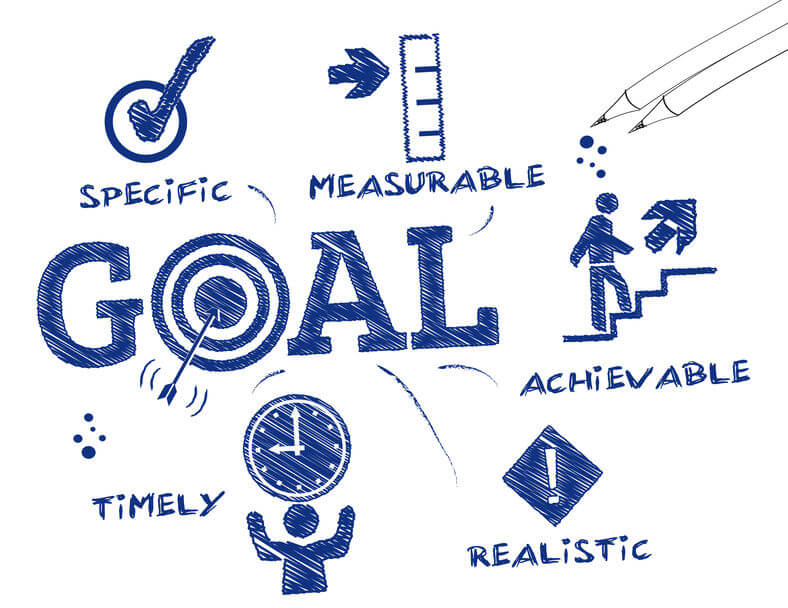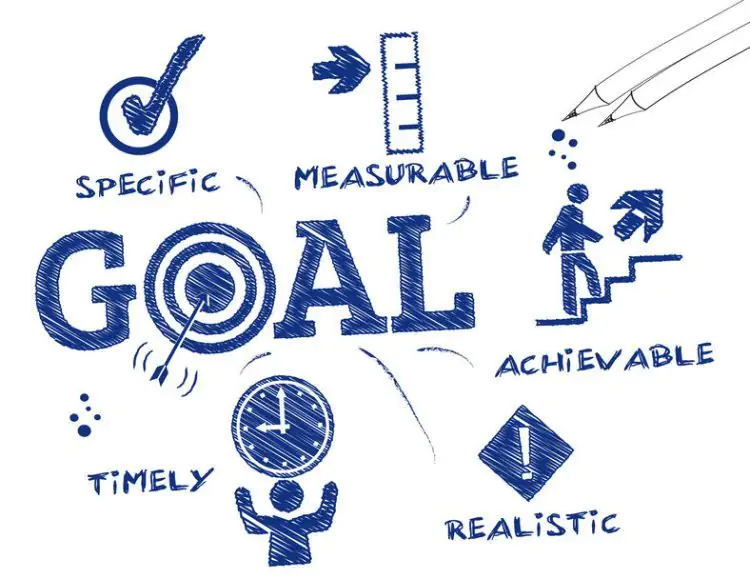 Let's say you want to increase your brand awareness. The SMART goal to this marketing activity should look more or less like this:
Increase the number of online mentions with positive sentiment by 100% by the end of the third quarter
Let's see whether this is, in fact, a SMART goal.
The goal is specific — it clearly states what has to be done.
The goal is measurable — you can measure the effects by monitoring the number of online mentions with positive sentiment.
The goal is achievable — you can implement specific marketing tactics that will help you achieve the goal
The goal is realistic — in this step you have to take into account what your company is capable of. If you're a SME you probably won't become a competitor of Amazon within a year.
The goal is timely — you have to accomplish it within a specific time frame.
How to measure marketing goals?
Once you know what you want to measure and how to set up a marketing goal, you have to find a way to measure the results of your marketing activities.
That's can be as tricky as setting up the right marketing goals.
The problem with measuring the outcomes of marketing campaigns is that it's hard to do it without the help of external tools.
Of course, if you're brave enough, you can measure track most of the marketing metrics on your own. You will certainly save some amount of money.
This approach has many disadvantages.
First of all, measuring the effects of marketing activities on your own is extremely time consuming. Depending on your marketing goal, you might need to look for online mentions manually or track the number of registrations by yourself.
Secondly, you might not always be able to consistently track crucial marketing metrics. There's always a chance that you will miss some important result which will render the results not viable.
Basing your marketing activities on false presumptions can be dangerous to your overall business performance.
So, how do you measure the results of your marketing goals?
With the help of the best digital marketing tools, of course.
The good news is, not all of marketing tools are crazy expensive.
As a matter of fact, some of the tools of the trade are completely free.
If you want to measure the number of traffic to your website (both paid, organic, mobile, etc.) all you need is Google Analytics.
Google Analytics is an all-encompassing marketing tool.
It's safe to assume you'll be lost without a robust online presence, and Google Analytics gives all the necessary data that will help you achieve it.
Google Analytics gives you information regarding:
your audience, such as active users, customers lifetime value, demographics, geolocation, devices they use, and much more
acquisition data including the sources of traffic, information on Google Ads, and so on
behaviour of the users, for example, which landing pages generate the biggest amount of conversions, or what's the speed of your website
Google Analytics let you create custom reports so you can analyse exactly the data you need to improve your marketing activities.
Another useful digital marketing tool that will help you measure marketing goals, especially those related to your brand's online performance, is a media monitoring tool, for example, Brand24.
Brand24 will collect all the mentions regarding your predefined keyword.
It might sound a bit enigmatic, so here's an example.
If you want to know the online chatter around specific product or service, use its name as a keyword.
Recently, I set up a project that collected online mentions regarding Star Wars: Jedi Fallen Order, the video game.
Brand24 collected all publicly available mentions containing my keyword.
What's the value of the data, you might ask?
First of all, you know where people talk about your product. That will happen outside your owned media.
Furthermore, I know what the sentiment of the mentions is. Are people happy with the product or service? What do they like? What's their pet peeve? You can find all those information using media monitoring.
Another aspect of media monitoring helpful in measuring the results of marketing campaigns is its robust analytics section.
Brand24 analyses publicly available mentions and presents the data in a clear way.
You will get the information about:
the total number of mentions
estimated social media reach
number and type of social media interactions
number of positive and negative mentions
the number of mentions on each online platform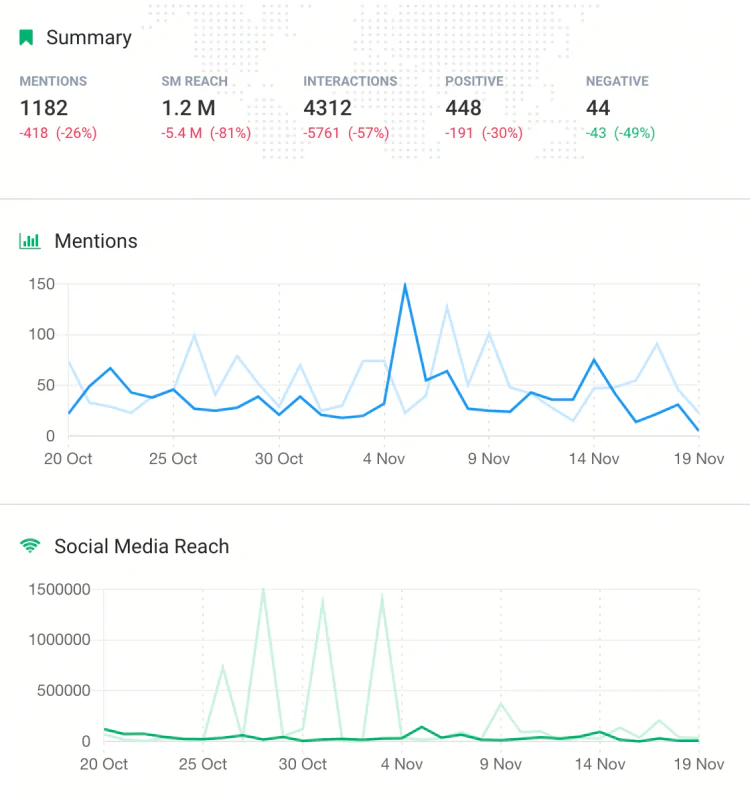 Moreover, a media monitoring tool will also identify the most active and influential social media profiles.
This information is especially helpful if you're planning an influencer marketing campaign. The tool will calculate the share of voice and the influence of each public profile.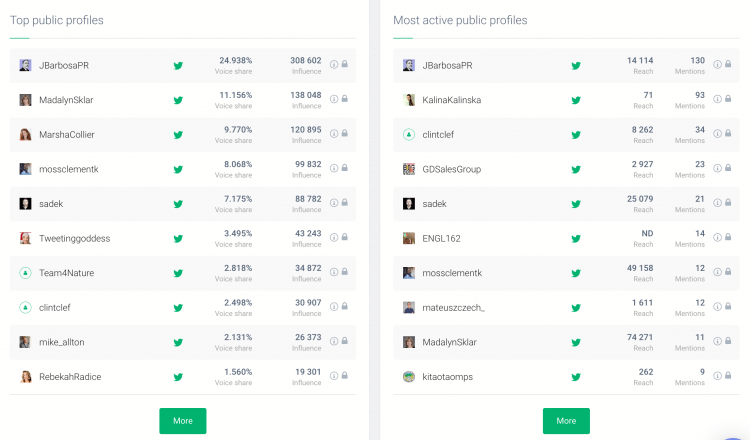 Sounds interesting? Start your free 14-day trial here (no credit card required).
How to set marketing goals and objectives?
Setting up marketing goals and choosing the right metrics to track your marketing performance are factors that determine the success of your marketing campaign.
How to set up marketing goals that will benefit your organisation?
You can do that in three steps:
Establish what you want to achieve. Marketing activities can lead to different results. Examine the state of your company and decide what is most important for you at the moment. Is it raising brand awareness? Converting new leads? Building a community around your brand?
Based on the objectives, choose your marketing goals. It's best when the goals are SMART.
Choose the right tools that will help you track marketing metrics and measure the results of your marketing activities.
HANDPICKED RELATED CONTENT
How to measure your social media campaign?
How to measure the share of voice?
How to do media monitoring?