How to Develop a PR Strategy?
October 5, 2020 ・ 14 min read
Public relations strategy can help you achieve your business goals. Planning and executing a PR strategy for your brand will improve your brand awareness, increase customers' trust, build positive associations with your brand, and, ultimately, generate new sales leads.
Public relations strategy is a must-have these days. People buy from brands they trust. PR activities help you maintain a positive brand reputation, come out unscathed from a crisis, and become an industry leader.
When it comes to building your PR strategy, there is good and bad news.
Let's start with the good news.
You don't have to hire a dedicated PR agency to benefit from the process. Hopefully, this article will give you some ideas on how to implement a PR strategy into your everyday activities.
The bad news is that you need to give the process some time. You will not see the rock-solid effects of a PR strategy within a week. It is an ongoing process. There will always be something to twitch in your messaging, channels, or you will have to deal with a looming crisis.
But you have to start with a PR strategy. This document will list what you want to achieve and how you will do it.
So, let's see what's ahead of us today!
What is public relations?
Public relations is the process of increasing brand awareness while maintaining a positive brand reputation. A strategic PR plan also involves managing your brand's messaging and general media communication efforts. The last point is especially important during times of crisis.
PR helps you spread positive information about your brand. Usually, PR and branding work hand-in-hand. PR is responsible for communication, whereas branding takes care of visual representation, for example, logo or marketing materials.
PR in owned, paid, and earned media
You can implement PR tactics via various channels. No matter the channel, you will have to choose between three types of media: owned, paid, and earned.
Start tracking your brand! Brand24 offers a 14-day free trial (no credit card required)
Each type of communication works towards the same goal — building a positive brand reputation. To have an all-encompassing PR strategy, you should employ all three.
Owned media
Owned media are the media over which you have full control. Many companies start their journey with public relations and brand awareness by investing in owned media.
Owned media comprise of:
your social media channels
your website
your blog
newsletters
podcasts
Owned media is the basis of your PR activities. Whenever someone refers to your brand, they should link to some type of owned media.
Paid media
Paid media are the media you, well, pay for.
Paid media include:
PPC
social media advertising
influencer marketing
Consider investing some funds in paid media, especially in social media advertising. It's becoming harder to promote your business account on social media organically. Paid media will ensure that your target audience sees the message.
Earned media
Earned media can also be called online word of mouth. By many, it is considered one of the best tactics to build your reputation.
It is also one of the most difficult media to obtain. It takes a lot of hard work to get earned media exposure.
Earned media include:
mentions on sites and magazines respectable in your industry
well-established rankings in search engines
positive reviews made by your current and former clients
local media mentions
All three of them, owned, paid, and earned media, help you build brand awareness, generate leads, and convert them into paying customers. That is where PR overlaps with marketing, although the two have some distinctive differences.
PR vs marketing
Many people often ask what the main difference between public relations and marketing is.
To understand the difference, think about the goals each department has.
The main goal of PR is to build and protect a positive brand reputation. Marketing focuses on more tangible goals, mainly generating new sales leads.
It might not seem like that, but PR is as vital for your organisation as marketing.
Nowadays, people don't only buy products; they also want to identify with what the brand represents. And PR strategy will determine that.
In an ideal world, PR and marketing should work hand in hand. PR efforts will ensure that people know about your brand and have positive connotations with it. Marketing will close the deal and convert them into paying customers.
That's why preparing a robust PR strategy will have a substantial effect on your business goals.
How can PR strategy impact your business?
Now that we established that PR strategy has an intangible effect on your business, let's see what the results of having a PR strategy are.
Here's what you can accomplish by working on your PR.
Increase brand awareness
Brand awareness measures how well your brand is recognised among your target audience. Robust PR activities will help you get the word out there.
Create trust
PR will give your business a human face. The process will establish your brand identity. People tend to come back to brands they trust.
Attract valuable employees
PR can help you position your business as a thought leader. This will help you attract the top talent from your industry. PR will also help you reduce employee churn and minimise hiring costs.
Manage crises
Crisis management is one of the most important aspects of PR activities. Having a PR strategy in place will ensure that you are prepared and know how to act once a crisis hits.
How to create a PR strategy?
Creating a PR plan involves lots of data. So, you have to start with research, and then follow up with a written PR strategy.
Review your PR efforts
Before you start doing anything, examine what you have done so far. Your company is present online and had probably received some media attention.
If you are new to the market, take a look at your competitors and industry in general. This will give you benchmarks and will provide you with the general knowledge of how you can position yourself.
Think about aspects of your online presence, such as:
the media attention you've received so far (the volume of mentions)
the impact it had on your business
any negative press you've received
the attention you got from influencers
the number of keywords your websites rank for
The analysis will give you a general idea of what is working and what's not when it comes to your PR efforts.
Define PR goals
That is one of the most important aspects of PR strategy — before you do anything, take a moment to think about what you want to achieve.
You should base the decisions you make on your goals and objectives.
What is the difference between PR goals and objectives?
Goals are more general and harder to measure than PR tactics. Goals must, however, be tied to your business targets.
An example of a PR goal is:
increase brand awareness
build a positive brand reputation
prepare your company to face a crisis.
PR objectives will work for hand in hand with your PR goals.
For example, if your PR goal is to increase brand awareness, your PR objective can be one of the following steps:
take part in business events to promote your brand
secure publications or mentions of your brand in respectable industry journals
cooperate with influencers in your field.
You can measure the results of each of these goals, set a time frame, and see the positive results once you accomplish your objective.
Define your target audience
Once you know what message you want to share, you have to determine who will receive this message.
Defining your target audience usually involves a process of talking and listening to your target audience's needs and problems.
You can accomplish this goal in two ways. It's a good idea to combine both of them.
First, you can conduct interviews. If you already have an existing client base, the task is easy — get in touch with them and schedule a call. Ask about the problems your company is currently solving for them. Identifying key problems will help you develop a service they need.
The second way to spot your clients' problems is to use a media monitoring tool, for example, Brand24.
Brand24 will be helpful during different steps of this journey, so I recommend setting up an account.
Media monitoring tools will collect all publicly available mentions containing your predefined keywords and will help you spot what people are saying about your brand or what problems you can solve.
To set up a media monitoring project, think about the keywords you want to track. You can monitor:
the name of your brand, product, or service
your company hashtags, both regular and campaign-specific
general terms related to your industry, to get industry insights
Track your brand! Start free 14-day trial (no credit card required)
Besides keyword tracking, Brand24 offers robust analytics and reporting features, which will be extremely useful in the later stages of PR strategy building.
PR strategy should determine how you talk to your target audience. Choosing the right messaging is vital as it will help you successfully promote your product.
Perform competitors analysis
Your business does not operate in a void. You need to know how your competitors are doing, what their strategy is, what messaging they are applying, and what audience they are trying to reach.
Each business should have a unique strength. By performing SWOT analysis you will know what your competitors specialise in. Do they attract a certain type of client? Offer a holistic approach to PR? Craft well-converting messages? You can find answers to all these questions (and more) by performing competitor analysis.
Public relations tactics
Now that you know what you need to start when it comes to public relations strategy, let's talk about public relations tactics.
PR tactics describe what you are going to do to achieve your goals.
PR tactics can include:
business events
community management
CSR
crisis management
social media
internal PR
media relations
press release
Let's see what the PR tactics are all about!
Business events
Be present where your audience is present. Various business events are a great opportunity to market your product or service among your target audience.
Business events are also a great opportunity to raise brand awareness.
Community management
Building a strong community around your brand will help decrease customer churn that will lower your customer acquisition cost, and successfully survive the crisis.
CSR
Corporate and social responsibility let the brand show its human face on a global level. CSR allows us to promote your business as an ethically driven entity, sensitive to current social and environmental issues. It's a part of ethical business practices which are crucial to maximizing your results.
Crisis management
A crisis will, sooner or later, hit your business. The good news is, you can mitigate the effects of a crisis and prevent it from escalating.
Any signs of a looming crisis should be addressed quickly. If you react quickly, you can turn the tables around and make the crisis work to your advantage.
Social media
Social media are paid and owned media. Your social media channels can help you raise brand awareness, build community, provide customer service, and promote your brand.
Social media is a great place to look for influencers you can work with to promote your brand.
Internal PR
PR is not limited to outbound activities. You should also pay attention to your internal PR. Having a great relationship with your employees will reduce employee churn and make your business's top talents want to work with you.
Media relations
Media relations are the cornerstone of every PR activity. The goal of PR is to build positive relationships with various media outlets, journalists, and bloggers.
The process usually involved writing and distributing press releases and scheduling interviews.
Public relations measurement
Once you know what you want to achieve and how you are going to do that, you need to know how to measure the results of your efforts.
Which PR metrics should you monitor?
The volume of mentions
The volume of mentions tells you how many times your keyword was mentioned online. The higher the volume of mentions, the more popular your brand is.
The volume of mentions should increase during a PR campaign. But a sudden rise in the numbers could also be an indicator of a crisis.


While choosing a PR tool, take a look at the system of notifications. For example, Brand24 offers three types of notifications:
in-app notifications (both Android and iOS)
Slack notifications
customisable email alerts
Sentiment analysis
Sentiment analysis gives you the necessary context to the volume of mentions.
Sentiment will tell you how people feel about the topic you are tracking. If you see a prevailing positive sentiment, it means that your message is resonating well with your target audience.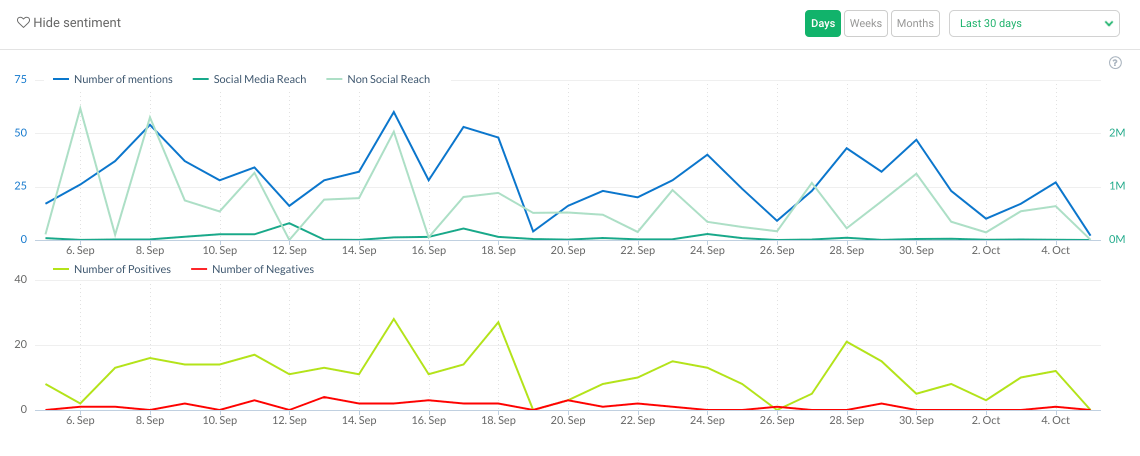 If you see a surge of social media posts with negative sentiment, it could indicate a crisis in the making.
The share of voice
The share of voice is a metric especially useful while building influencer relations for PR campaigns.
The share of voice will tell you what part of an online discussion was started by social media sites.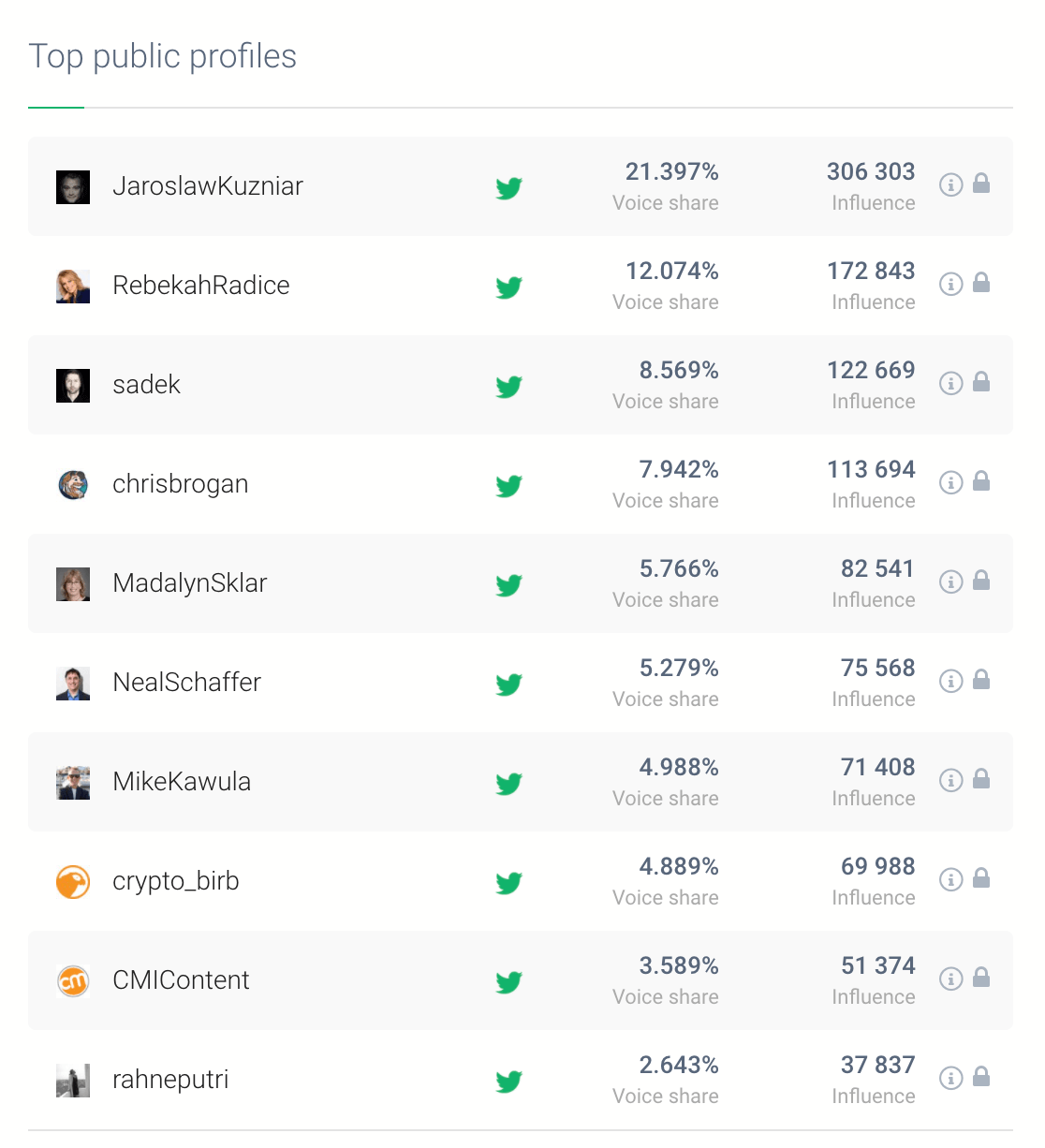 By tracking your brand's profile, you can determine whether you are an industry leader initiating online discussions.
If you're looking for a social media endorsement and cooperation, take into account public profiles that generate a high share of voice. Of course, the accounts have to be vetted further, but it is a solid starting point.
Social media reach
Social media reach will indicate how many people could have come in contact with your social media content. It is a great measure of popularity and brand awareness.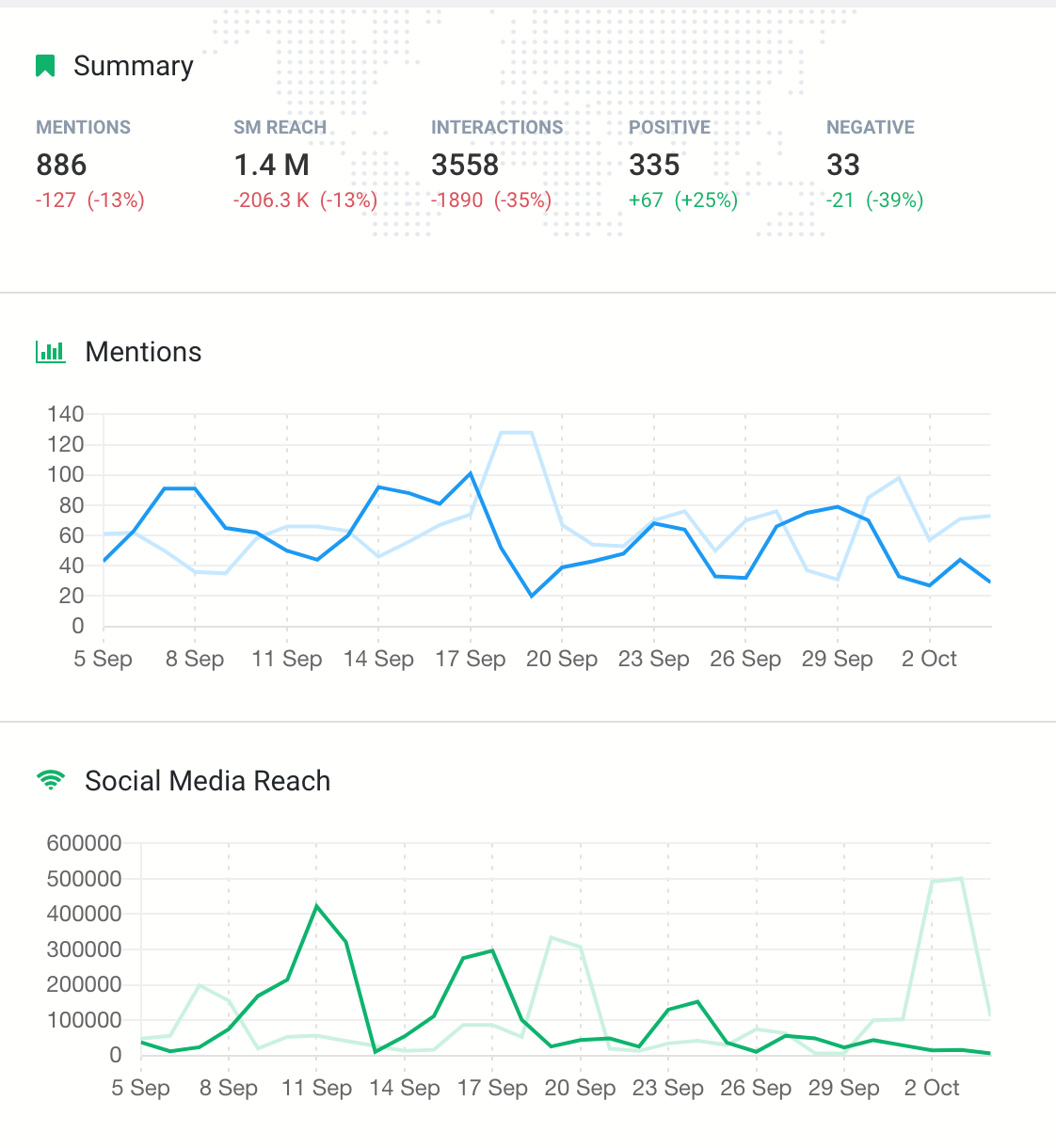 Number of backlinks
If your goal is to become an industry leader, you have to measure how many people are referring to your domain.
You can measure your authority, by tracking the number of backlinks to your main site or specific blog posts.
Social shares, likes, and comments
I admit, social shares, likes, and comments, sound a bit like a vanity metric.
It is vital to track those numbers. Social interactions have a direct impact on your position in users' feed. Moreover, interactions are a strong indicator that your audience likes what you are doing.
Public relations tools
And now, the creme de la creme of PR strategy — PR tools!
I would recommend implementing two different tools that will meet your PR needs.
The first one is a media monitoring tool, the second one an SEO tool.
I will discuss the importance of media monitoring based on Brand24, which is one of the most robust and affordable tools on the market.
While choosing a media monitoring tool, pay close attention to a couple of aspects.
First of all, examine the sources it covers.
Of course, the broader the media coverage, the more informed decisions you can make.
Brand24 parses data from various sources, including:
social media platforms, for example, Facebook, Twitter, Instagram, Twitch, and YouTube
podcasts
publicly available newsletters
news sites
blogs and forums
As you can see, that is a wide variety of sources.
But you don't always want to see every mention with your predefined keyword. That is why you should take a closer look at Filters.
Brand24 offers many different filters, for example, sentiment, influence, or interactions.
But there is one more filter you should pay closer attention to: the importance filter.


By applying the importance filter, the tool will show the most important mentions first. This will help you get to the gist of your media monitoring project right after login to the dashboard.
And the last feature you need to take into account is the reporting capabilities.
You usually have to report the effects of your work. Brand24 offers customisable reports, where you can add your logo, colours and define what you want to include in the report. PR professionals, rejoice!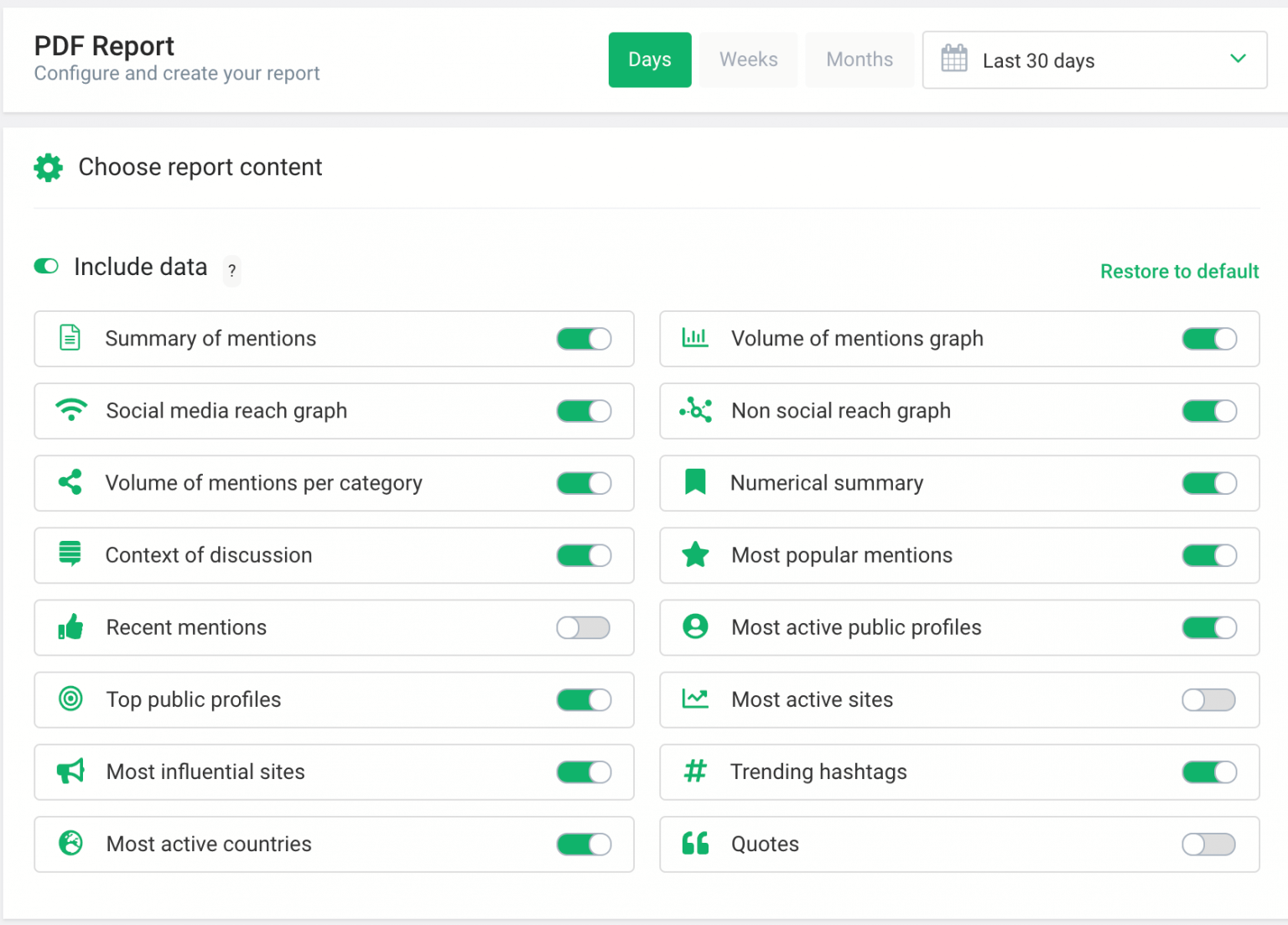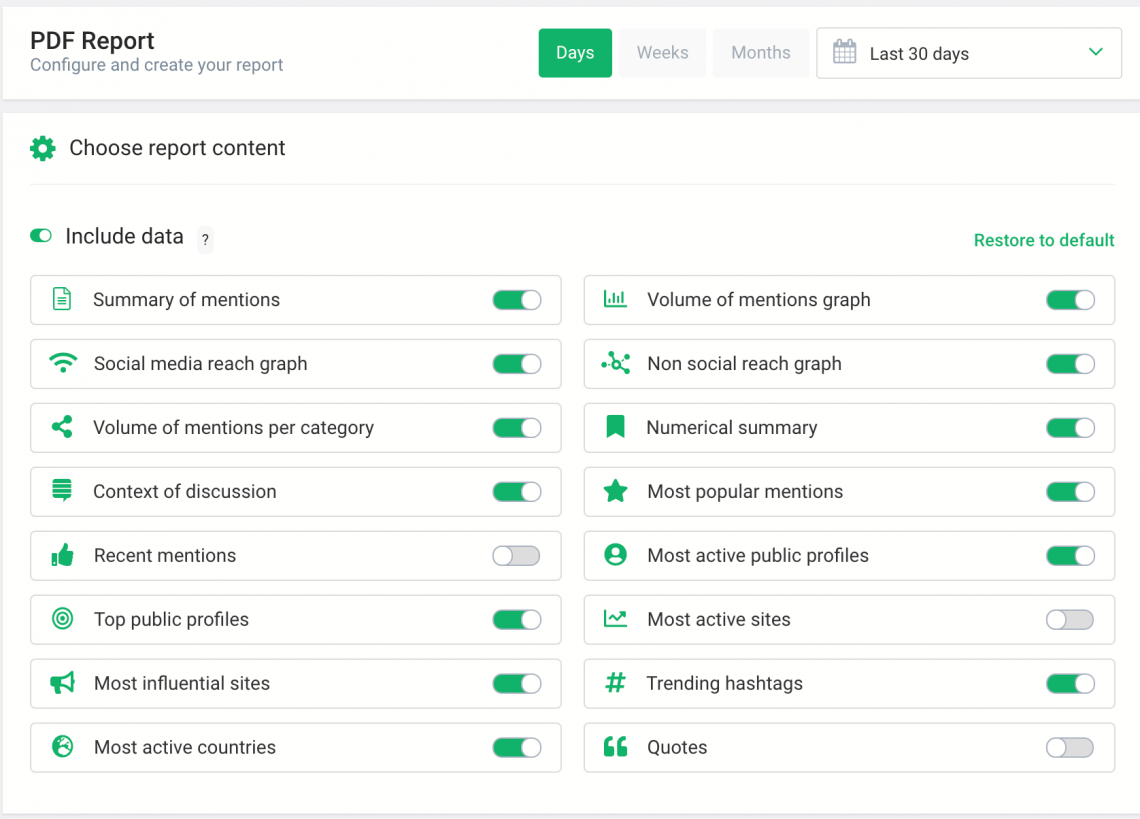 Start your free trial here! Brand24 offers a 14-day free trial.
When it comes to SEO tools, I wholeheartedly recommend Ahrefs. It is one of the most affordable search engine optimization tools on the market that offers a wide range of data. It will allow you to track backlinks to your website as well as determine your domain authority.
Ahrefs offers a 7-day paid trial.
How to build a public relations strategy?
Creating and implementing public relations strategies is a long and resource-consuming process. The good news is that a robust PR strategy will have a positive impact on your business's bottom line.
Start building your PR strategy
Robust PR strategies have a positive impact on your business's bottom line. Monitor everything that is being said about your business online and build a bullet proof PR strategy!
FAQ
What is a PR strategy example?
A PR (public relations) strategy example can involve building media relationships and leveraging other media outlets to enhance a brand's reputation, increase brand awareness, and reach a wider audience.
For instance, a tech startup launches a new app and develops a PR strategy to gain visibility. They collaborate with tech influencers for app reviews, pitch stories to relevant media outlets, and create a press kit. By securing guest posts and podcast interviews, they foster media relationships and generate buzz, ultimately driving app downloads.
What makes an effective PR strategy?
A good PR strategy combines well-planned PR campaigns and tactics, focusing on clear objectives, target audience understanding, and consistent messaging. Key elements include:
SMART goals: Establish specific, measurable, achievable, relevant, and time-bound goals to guide PR efforts and measure success.
Target audience: Identify and understand your audience to tailor PR messages effectively.
Consistent messaging: Develop a compelling brand story and maintain consistency across all PR activities to build credibility and strengthen brand identity.
Media relationships: Cultivate strong relationships with journalists, influencers, and media professionals to secure positive coverage and amplify your brand's reach.
PR tactics: Employ diverse PR tactics such as press releases, media pitches, influencer collaborations, events, and content marketing.
Adaptability: Monitor campaign impact and adjust strategy based on results, trends, and audience preferences.
Crisis management: Prepare a proactive crisis management plan to address potential challenges and protect your brand's reputation.
What is a press plan?
A press plan is a strategic approach designed to manage and optimize public relations efforts by targeting specific media outlets, creating sponsored posts, and employing various communication channels. It serves as a roadmap for organizations to effectively disseminate information, promote their brand, products, or services, and maintain a positive public image. A well-crafted press plan ensures that the right messages are reaching the desired audience through carefully selected media outlets and engaging sponsored posts, ultimately enhancing an organization's reputation and visibility.
Why is PR strategy important?
A PR strategy is crucial for organizations as it helps reach a broader audience, manage brand reputation, and influence public perception. By effectively communicating values, goals, and achievements, a PR strategy fosters a positive public image and increases brand awareness. Consistent messaging appeals to diverse audience segments, ensuring trust with stakeholders.