Let's take a stroll down the memory lane and go back to times when there was no social media, knowledge of HTML was in the hands of few, and connecting to the Internet used to interrupt phone calls. There's neither social media, nor Web technologies. PR practice involves making phone calls, writing letters and meeting people face to face. PR tools at your disposal include: your brain, a piece of paper, a pen, a telephone, a fax machine and your business card holder.
These times are long gone.
Public relations changed as Web technologies and social media have developed. The landscape of public relations changed and so did the tools to harness it.
In this blog post, I describe 18 PR tools for a few areas of work.
Table of contents
---
PR tools: Media monitoring
I'll start with our thing – Web and social media monitoring.
Media monitoring, social media monitoring, new media monitoring, or digital media monitoring. However you call it, following what the media and other sources on the Web say is essential. Then you can:
Monitor industry media, experts, influencers and competitors
Get notified about media publications about your business
Identify new media outlets and content creators
Prevent PR crisis
Prevent negative campaigning
Conduct market research
Get various data about the online presence of a brand
Brand24 is our own Web and social media monitoring tool that can do what I described up there and more.
It collects online mentions of predefined keywords from websites, blogs, news sites, discussion boards and social media platforms such as Facebook, Twitter and Instagram. What's more, Brand24 offers a plethora of metrics to help you measure the performance of your online presence.
Some of the most important features include:
Metrics of volume
Metrics of engagement
Metrics of reach
Metrics of sentiment
Metrics of influence
Email notifications
Slack notifications
Mobile app
Price: Free trial, paid plans start from $49.
There's a few other Web and social media monitoring tools you can try. Kuba described them in this post.
Without a shadow of doubt, what makes Google Alert stand out is the fact that it's completely free of any cost. It, however, has a bearing on the tool's potential – it can be insufficient.
In comparison to other Web and social media monitoring tools, Google Alerts entirely lacks the analytics part.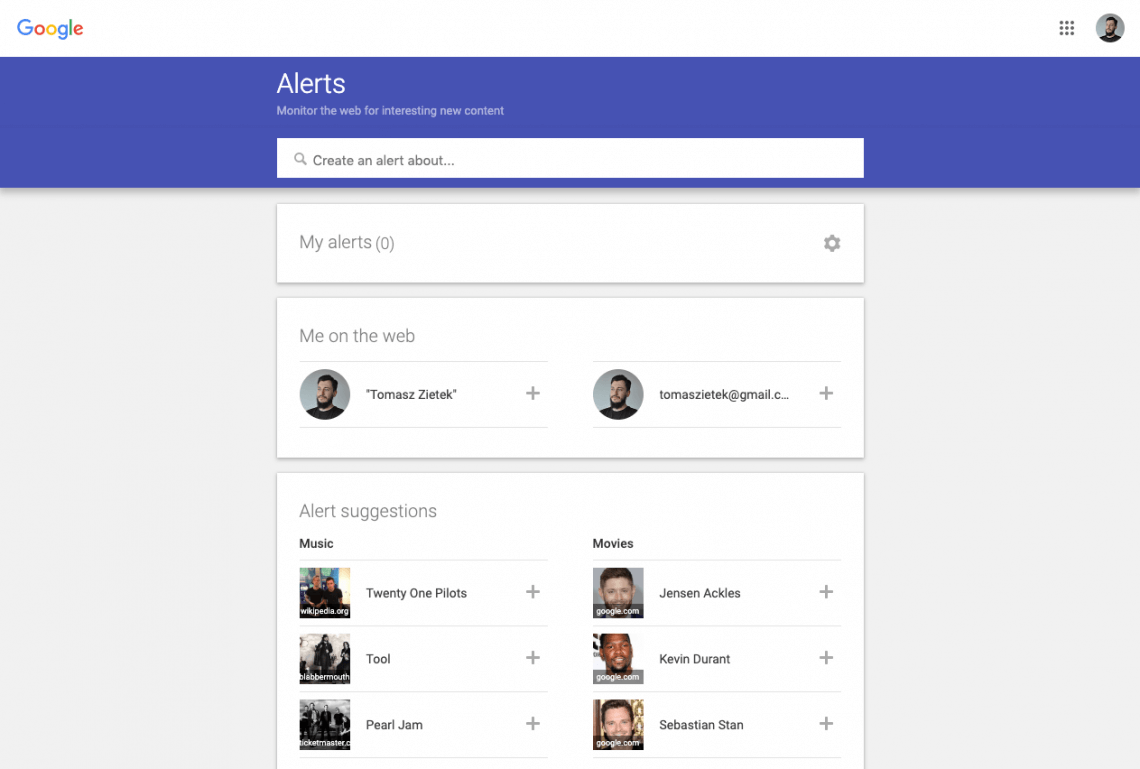 Also, people report serious delays and lacks in mentions.
Nevertheless, it's good to try it and see how it works. Here's what you can do inside:
Monitor multiple keywords
Monitor multi-word keywords
Set up the frequency notifications
Set up email notifications
Set up RSS notifications
Monitor mentions in various languages
Price: Free.
It's one of the biggest players in the game.
Brandwatch is powerful in terms of data analysis and features in general. It's a great fit for enterprise-size companies, which is correspondingly expressed in its price.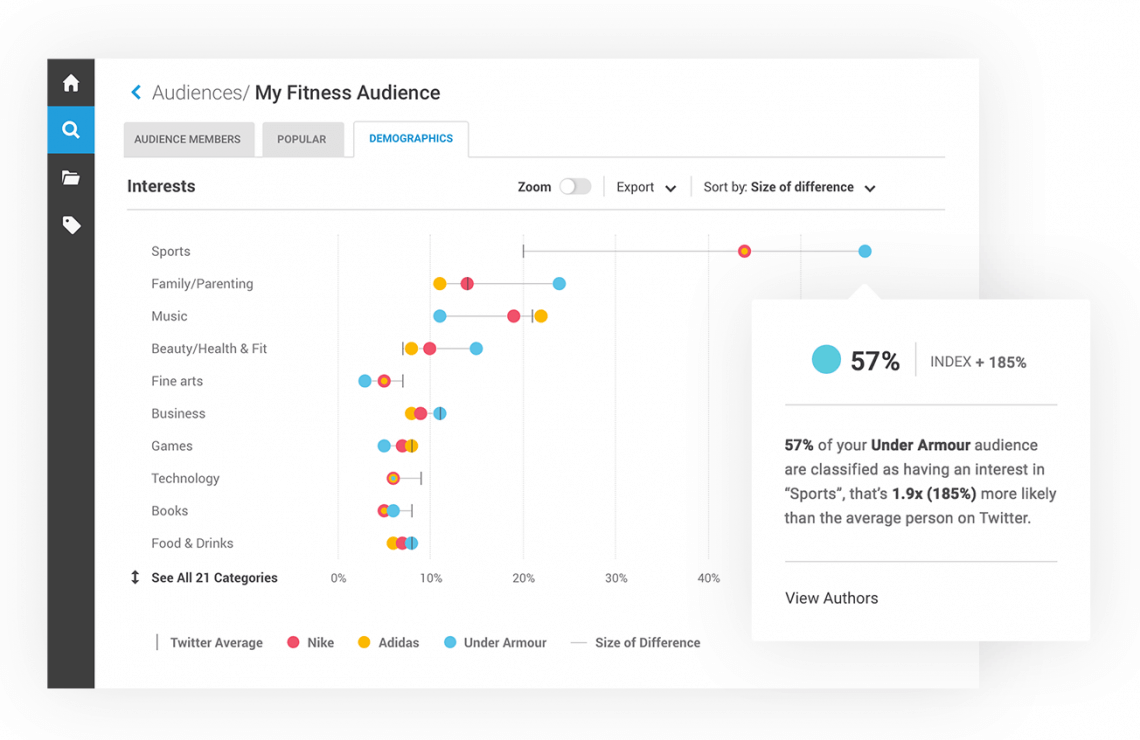 Apart from features typical for a Web and social media monitoring tool such as keyword monitoring, notifications, reporting, or sentiment analysis and more, Brandwatch offers also:
Demographic data
Image analysis
Shareable dashboards
Flexible displays
It seems there's an interesting future ahead of Brandwatch – they want to go more towards something called Digital Consumer Intelligence.
Price: Starting from $800.
---
PR tools: Outreach
After all, despite the development of technology an PR tools, human relations are still fundamental to PR.
Outreach is one of the most important aspects of PR. It's still about building relationships with people who can broadcast your message to a wider audience.
PR tools for outreach allow finding journalists, influencers and experts you can build relations with.
Muck Rack offers plenty of features to manage your outreach efforts: media database, monitoring, pitching, collaboration and reporting.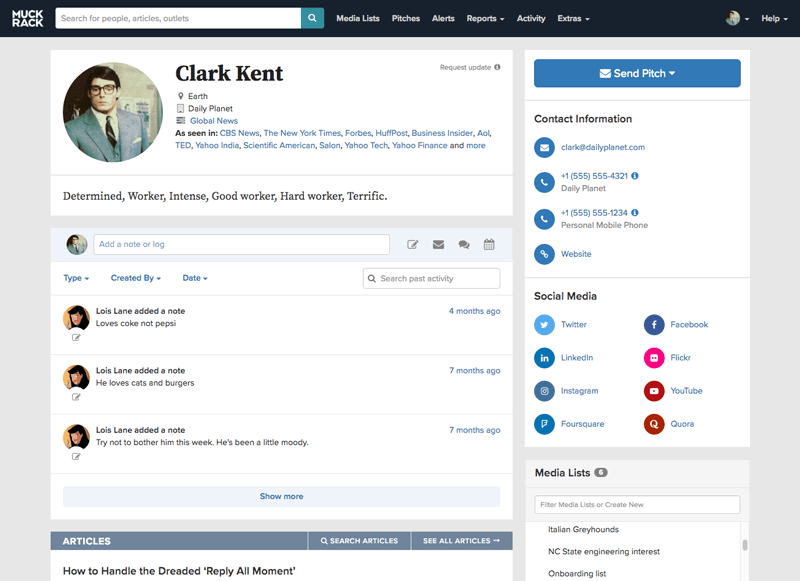 Muck Rack has a large database which makes finding journalists easier. Add to it the rest of features and you get all-in-one outreach tool with easy-to-use and intuitive dashboard.
Price: Contact sales.
It's sort of a search engine that looks for your keywords on Twitter. It even reminds Google search engine.
The tools returns relevant content in chronological order of tweets.
There are also filters to narrow down your search criteria and find only the most relevant journalists or media outlets.
Price: Free, paid plans start at $200 / month.
Outreach brings us again to Brand24 even though it's not an outreach tool by design.
However, it can help you identify sources talking about your keywords. Three of the tool's features come in handy here:
Influencer score
Most active profiles
Most influential profiles
Price: Free trial, paid plans start at $49.
---
PR tools: Text editing
Writing is essential to public relations. Make sure you do yours in a text editor which fits your needs, be it on the usability, technical, or aesthetic side of things.
You need relaxing music? You need a typewriter simulator?
Google Docs is a part of G Suite from Google – a cloud of tools from Google. Google Docs simple and easy in use.
All you need is a Google's Gmail account. Then, apart from Google Docs, you get the access to other tools which will come useful – Google Slides, Google Sheets and others.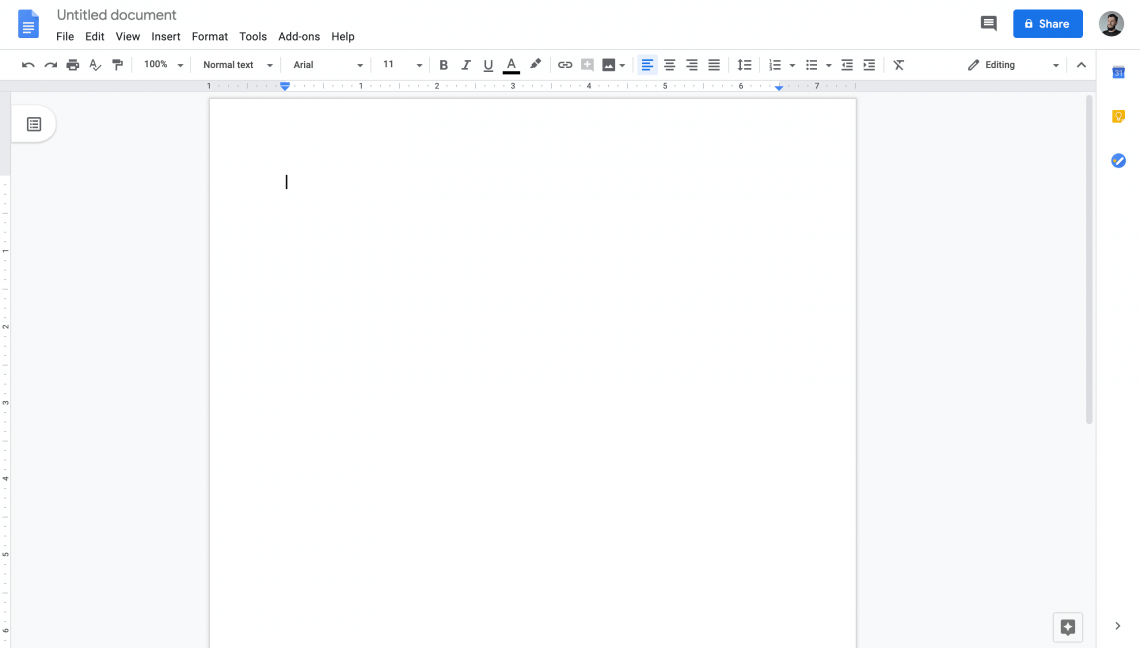 I myself write a lot and there are at least two Google Docs' features that are extremely helpful to me:
Sharing – Few clicks and you can share and invite to your document other collaborators
Commenting and suggesting – Very useful when it comes to sharing feedback, proofreading, or brainstorming ideas with teammates
Price: Free.
iA Writer is ideal if you're looking for a distraction-free and minimalistic text editor. To me, it also gives some kind of the typewriter feel.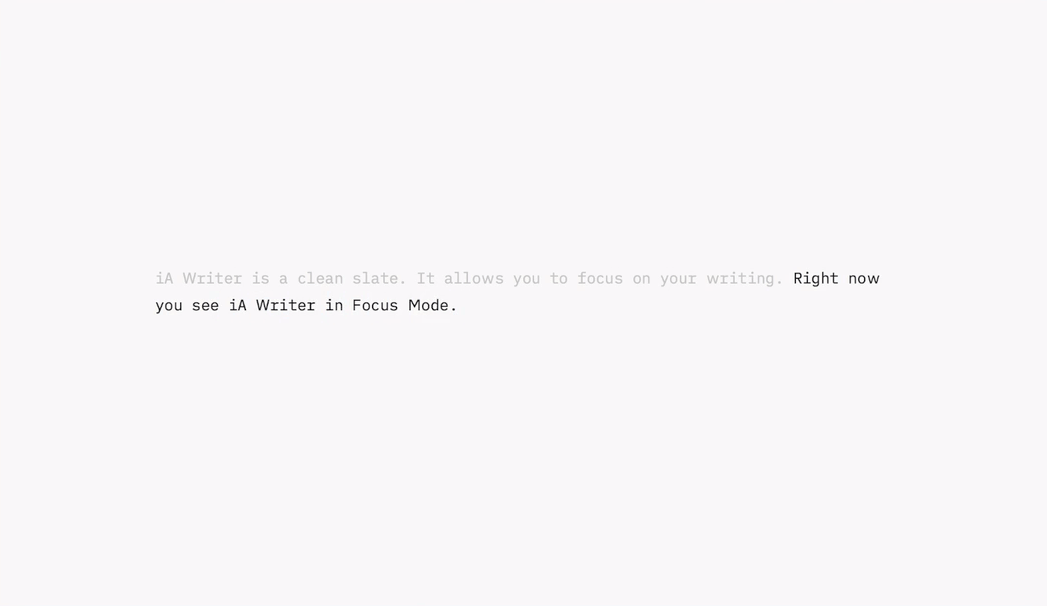 With its modest design and a few powerful features, you can fully immerse yourself in writing. It's only you, plain background and letters. Some of the useful features include:
Focus Mode
Reading Time mode
Automarkdown
Syntax highlight
Content blocks
Hashtags
Various fonts
iA Writer is available for iOS, OS X, Windows and Android.
Price: $29.99.
Note-taking is text editing, too.
To capture all important ideas before you loose your train of thoughts, use Google Keep.
Apart from a simple notepad to write down your ideas on the run, the biggest advantage of Google Cloud is the fact that it's connected to Google Cloud – it means you take your thoughts, notes, ideas and things to do everywhere you go.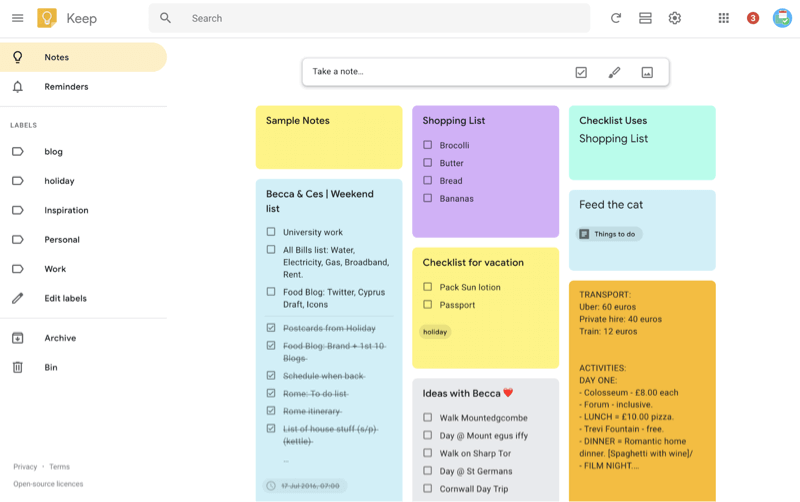 Like other Google products, Google Keep is easy to embrace. You can use it on your smartphone, on your desktop, and / or as a Chrome extension.
Other features include:
Photo upload
Voice recording
Checklists
Price: Free.
---
Mind-mapping
Mind mapping is a good way to brainstorm ideas and visualize information about about project.
Sure, you can do it in on a piece of paper, but it's getting complicated when you have some files to attach, or want to collaborate with others.
With good mind mapping software, you can:
Draw infinite map
Attach files
Collaborate with others
Export your boards
One of the tools I personally like is Draw.io.
Theoretically, Draw.io isn't strictly a mind mapping tool – it's a diagramming tool. Therefore, it might lack some features typical for mind mapping. What's great about Draw.io is that you can draw basically anything you want.
Also, you can access it without registration – you just install draw.io Chrome extension and there you have it.
Price: Free.
This one is particularly interesting because it had been developed in collaboration with Tony Buzan, the inventor of the mind mapping technique.
People say it adheres more closely to Buzan's concept of mind-mapping than other tools.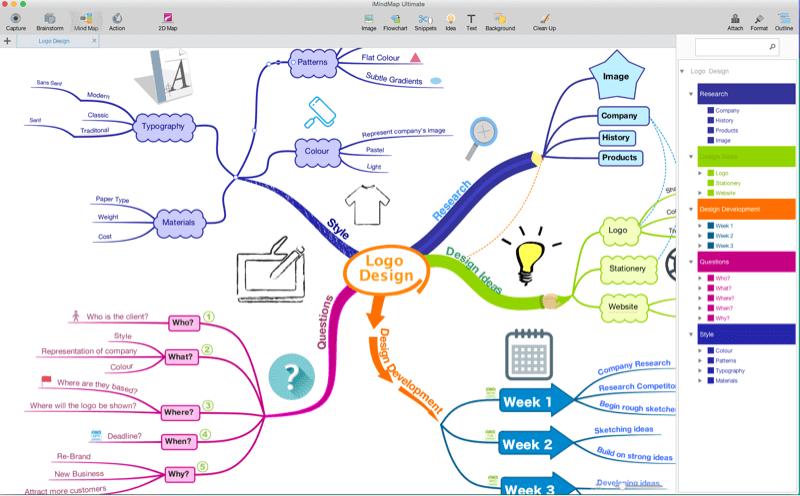 What makes iMindMap stand out, is the ability to present your mind-map in a few different ways – not only in the shape of a tree.
Price: $4.99.
Milanote is more of a concept map maker than a mind-mapping tool. Still, you can completely map out your project.
You can fill up the infinite pinboard with notes, links, images and files. The tool is very simple in use primarily because it has only the most necessary features.
Some say it's the most easy-to-use concept mapping tool out there.
One of the cool things about Milanote is that it has a web clipper. It means that the tool displays the content from a link directly inside the pinboard.
Price: Free, paid plan starts from $9.99 / month.
---
PR tools: Productivity
It's so easy to loose focus these days. Actually, it's even hard to come into focus in the first place!
What's even more worrying, with the abundance of distractions people experience these days, they don't even realize anymore they're distracted – dozens of tabs, notifications from all over the Internet effectively keep you disturbed.
A few years ago, Cal Newport came up with the concept of "deep focus" which seems to be the response to above-mentioned problems.
You can learn more about "deep focus" from this article on New York Times.
Here's a few tools that can help you achieve sharp focus.
This free productivity tool generates ambient sounds of your choice.
You can choose any from over a dozen soothing sounds of environment, combine them and set their intensity to sound just right for you.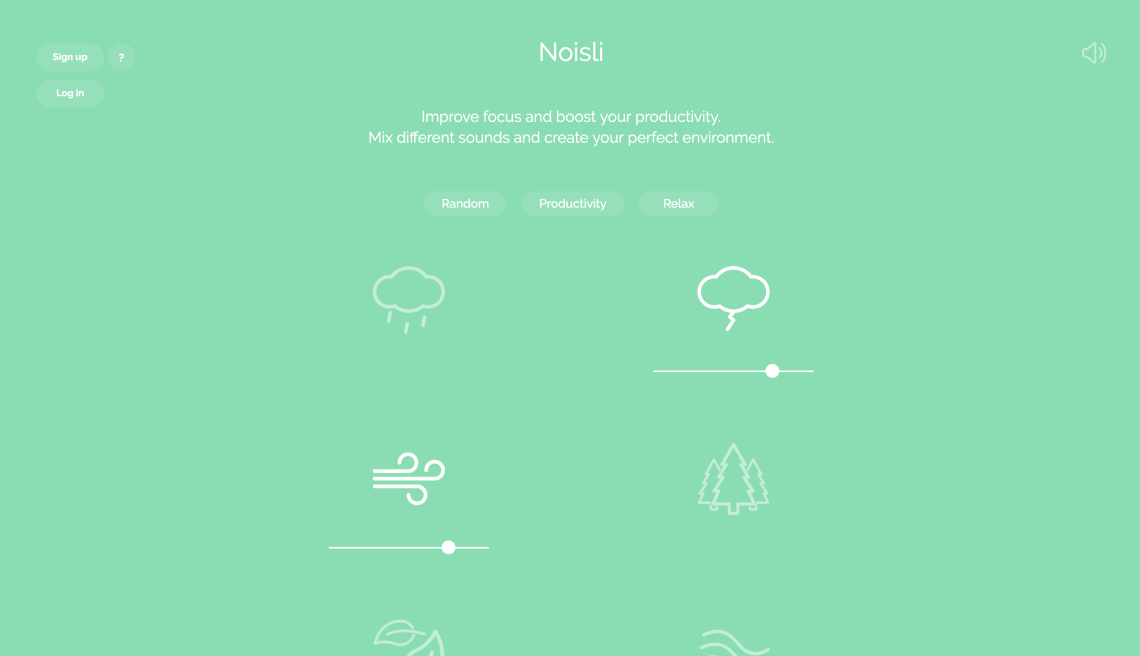 I sometimes play it with electronic music in the background.
Additionally, Noisli comes with:
Simple text editor
Timer to help you motivate.
Price: Free.
An article in NYT
Productivity is invariably connected to procrastination.
When the chips are down, there's no magic tool that can help you overcome writer's block or suddenly find motivation.
We must realize that, at its core, procrastination is about emotions, not productivity. The solution doesn't involve downloading a time management app or learning new strategies for self-control. It has to do with managing our emotions in a new way



Learn more about it from this great New York Times reading.
OK, I know it sounds a bit overblown.
Nevertheless, Freedom ensures freedom at least within your digital life.
Freedom is a focus app which can eradicate every single distraction you get either on your desktop or your smartphone. You can even block the Internet if you wish.
Importantly, Freedom works across many devices ranging from Windows, Mac, Android to iOS. Here's what Freedom can actually do:
Mute particular applications
Mute particular websites
Set up recurring modes
Progress tracker
Many views
Use Locked Mode
Price: Free trial, paid plans start at $6.99 / month.
---
PR tools: Project management
At some point, a pen and a notepad are not enough to keep track of your projects.
Add to it the impossibility to collaborate with your teammates and other departments in your organization and you'll see the need of a project management tool for your PR responsibilities.
Everyone talks about Trello, Asana, or Basecamp – no wonder as they are, undoubtedly, battle-tested and appreciated across the industry.
Here are some, as I hope, uncommon time and project management apps you might become interested in.
Monday is both a project and time management app. Apart from some typical features for this type of software, such as boards, timelines, time tracking, due date tracking, activity logs and more, it has a few which catch attention of many:
Huge base of project templates for all sorts of job types
Great features for project overview from a wider perspective
Eye-friendly and intuitive interface
Lots of integrations
Pricing: Free trial, prices start at $25.
Asana is one of the top players in the game – well-know, proven and appreciated across the board.
What's great about it is that you can use it for free and still get reasonably satisfactory experience – just fine to manage your PR responsibilities.
Asana has a cool, 8-minute product tour video:
Price: Free, plans start at $9.99 / user / month.
ClickUp is said to be one of the best free project management tools out there.
The tool has been praised for customizability which is limited in some of the more popular tools. In other words, you can tune the tool the way you want, your team wants, or a task requires.
Some even say there's too much to customize.
Thanks to many features even in the free version, the tool is very competitive.
Price: Free, paid plans start from $5 / month.
---
---