How to promote your YouTube channel
January 30, 2020 ・ 10 min read
YouTube is becoming more and more popular among Internet users. If you want to get ahead of the crowd and start to promote your YouTube channel, the time is now. Promoting your YouTube channel doesn't have to be difficult, provided you have a few tricks up your sleeve.
We spend up to six hours daily watching video. Popular streaming services, for example Netflix, popularised binge watching that spread to other social media channels, including YouTube.
It would be a shame not to take the chance to promote your company on YouTube where your audience is present.
Many people think that the biggest obstacle in promoting your YouTube channel is lack of professional equipment. That's not true.
The proliferation of high-quality mobile devices makes the production of high-quality YouTube content easy.
Setting the technical issues aside, how do you effectively promote your YouTube channel?
Let's take a look!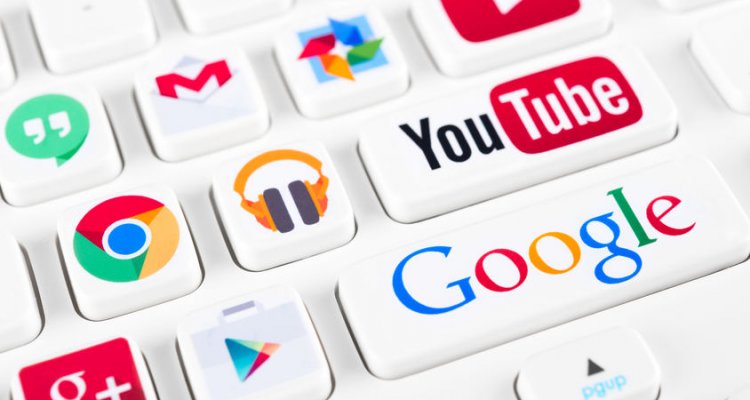 Why should you promote your YouTube channel?
YouTube still stands on the top. The platform overtook Facebook as the second most visited page on the web, topped only by Google.
There are two reasons why this piece of news is important.
Firstly, YouTube is a prominent search engine. Only Google is more popular.
It means that you can reach many of your potential clients via YouTube.
Provide interesting, engaging content on your YouTube channel and you'll build brand awareness and eventually turn your followers into your customers.
Secondly, YouTube is also a social media platform.
You can promote your YouTube channel using techniques similar to what you do on Twitter, Facebook, Instagram, or any other social media platform.
Promoting your YouTube channel will help you achieve your social media goals, for example:
raise brand awareness,
provide exceptional customer service,
educate your potential customers.
Just posting content is no longer enough. You have to put your mind, heart and time into it and simply reach out.
You can have the best quality videos on the whole Internet, but if nobody sees it, it's all for nothing.
Don't worry, promoting your Youtube channel is not quantum physics.
To know where you are headed, you need to know at which point of a YouTube cycle you currently are. The metrics will form a benchmark for further development of your YouTube channel.
A helping hand in promoting your YouTube channel is a media monitoring tool, for example, Brand24.
I recommend Brand24 not only because I work here, but because it's one of the most robust media monitoring tools out there. That's what Buffer says.
To keep things brief, media monitoring works like this – in the project creation wizard enter the keywords you'd like to monitor.
From that moment on, Brand24 will collect YouTube mentions containing the keyword in the video title or description.
Moreover, the tool will offer in-depth analytics, including:
the number of mentions
estimated social media reach
social media interactions
positive and negative mentions
list of trending hashtags
top public profiles, including the share of voice and influence score
most active public profiles
The list sounds a bit technical.
Looking from the practical perspective media monitoring will help you to promote your YouTube channel by:
building brand awareness
running a YouTube marketing campaign
building a community
reaching out to top public profiles to collaborate and expand your Youtube channel
Interested?
Discover the benefits of monitoring your YouTube channel. Start your free trial!
Hopefully, with a little help from this post, promoting your YouTube channel will be a piece of cake!
Ready? Here we go.
How to promote your YouTube channel in 10 easy steps
The good news is promoting your YouTube channel doesn't have to be difficult. Well, at least not much more difficult than promoting your other social media channels.
With a robust content strategy promotion and some time, you'll see the desired effects of your actions.
Without further ado, let's become the next YouTube superstar.
1. Have a clear vision for your channel
People use YouTube to:
listen to the music
follow lives of their favourite vloggers
seek inspiration
learn DIY
discover new places
It is a land of plenty.
But with that in mind, you have to put more attention into promoting your video content. You have to have a clear vision for your channel and emphasize the main areas you cover.
It doesn't mean you should focus solely on one specific niche. The key is to vlog about topics you care for and have something of value to say. And that's how we arrive at my second point:
2. Create engaging content
How many times have you heard this phrase?
I bet too many.
Whether we like it or not, content is the king.
Your videos should check two main criteria – be educational and entertaining.
What does that mean?
In each and single one of your videos, you should share some knowledge and do it in a way that makes people want to watch more. Promotion can do magic but when playing the long game, nothing works better than amazing and shareable content.
3. Write engaging titles for your videos
Name of your content should be catchy but also show what people can expect when they decide to watch it. Nothing too long or too short.
You have approximately 3 seconds to grab your viewers attention. The title of your video is key element in promoting your YouTube channel.
According to a research performed by Tubular Insights, the shorter YouTube title the better. If you want other to watch your videos, make your titles short and to the point.
Use just enough words to present your content in the best light. Clickbaits may work for a while but in the long run, what counts is the quality of your work.
4. Use keywords in your video description
YouTube is the second biggest search engine in the world. That's why it is crucial to do the SEO research let other people find your videos.
Don't write an essay but use description box to share more details and position your video better. Some people also think that using keywords in the video itself can help.

Keeping in mind that every minute there are 400 minutes of new content uploaded to YouTube, you have to find your way to stand out (according to https://expandedramblings.com/index.php/youtube-statistics/).
Don't try to be the next Casey Neistat. There is already one and that's just enough.
Include your target keywords in your video description and title, use it in your film, tags, and categories.
YouTube will know what your video is all about which will make it easier and faster to rank it well in the search engine.
5. Remember about the visuals
The best way to start is to create eye-catching thumbnails. So, when people search for what you're talking about, your video stands out in the sea of YouTube content.
There are many free online programs that can help you with that, for example, Canva or Appy Pie Design. So all you have to do is to search for an inspiration and put a bit of time and effort into it.

Just as a rule of thumb – people tend to click on thumbnails with clearly visible face and logo. Like here:


Secondly, take a look at your profile as a whole. Is your profile picture up to date? Does the thumbnails of your videos align?
We buy with our eyes, and it's important to present your profile in an aesthetic way.
6. Be consistent
I mentioned in the beginning of this post that YouTube is a social platform. Did it surprise you?
YouTube has all the trademarks of a social network – it's a closed ecosystem where users can comment, like, and interact with the posted videos.
Like any other social media platform, YouTube wants to keep users on its site.
First of all, the platform is more eager to promote Youtubers that are reliable. Reliable Youtubers with tons of content engage their audience and promote binge watching. That way, they'll spend more time on YouTube.
Secondly, viewers as well, prefer accounts that post consistently. If they find a Youtuber that they like, there is a chance that they would like to see more. When you have more to offer, they may even subscribe to your channel and that's the main goal.
7. Build a community around your channel
That's a great lifehack when it comes to promoting not only your YouTube channel, but any other social media profile.
Building a community is very time-consuming, but, in the long-run, it will repay.

There is no better promotion than the word of mouth. Listen to the feedback people are giving you. Ask them questions. And engage with them.
Creating a YouTube community doesn't confine to replying to comments left under your videos.
The key here is to find niche communities – people interested in the same topics as you are – and engage with them. Starting a conversation can promote your channel more than paid advertising.
8. Use different social media platforms to promote your YouTube channel
Promoting your Youtube channel starts on YouTube itself. But often that's not enough. You should reach farther.
Use different social media platforms to create a buzz around your videos. You don't have to be everywhere but find a place where you feel most comfortable and where your audience is.
If your content is more professional, maybe the best place to be is Twitter or LinkedIn. If you are more about a lifestyle, fashion, travel or food, Instagram or Facebook maybe better suited for you.
There are many options and many ways to draw the crowd to your YouTube channel. But don't look for anyone. Search for those who are interested in what you're creating. Focus on people that will stay with you for longer.
How to find them?
For example, using web monitoring tools like Brand24.
Once you create a project, the tool will analyse your keywords and provide a list of top public profiles. The public profiles are experts in their field and could help you promote your YouTube channel.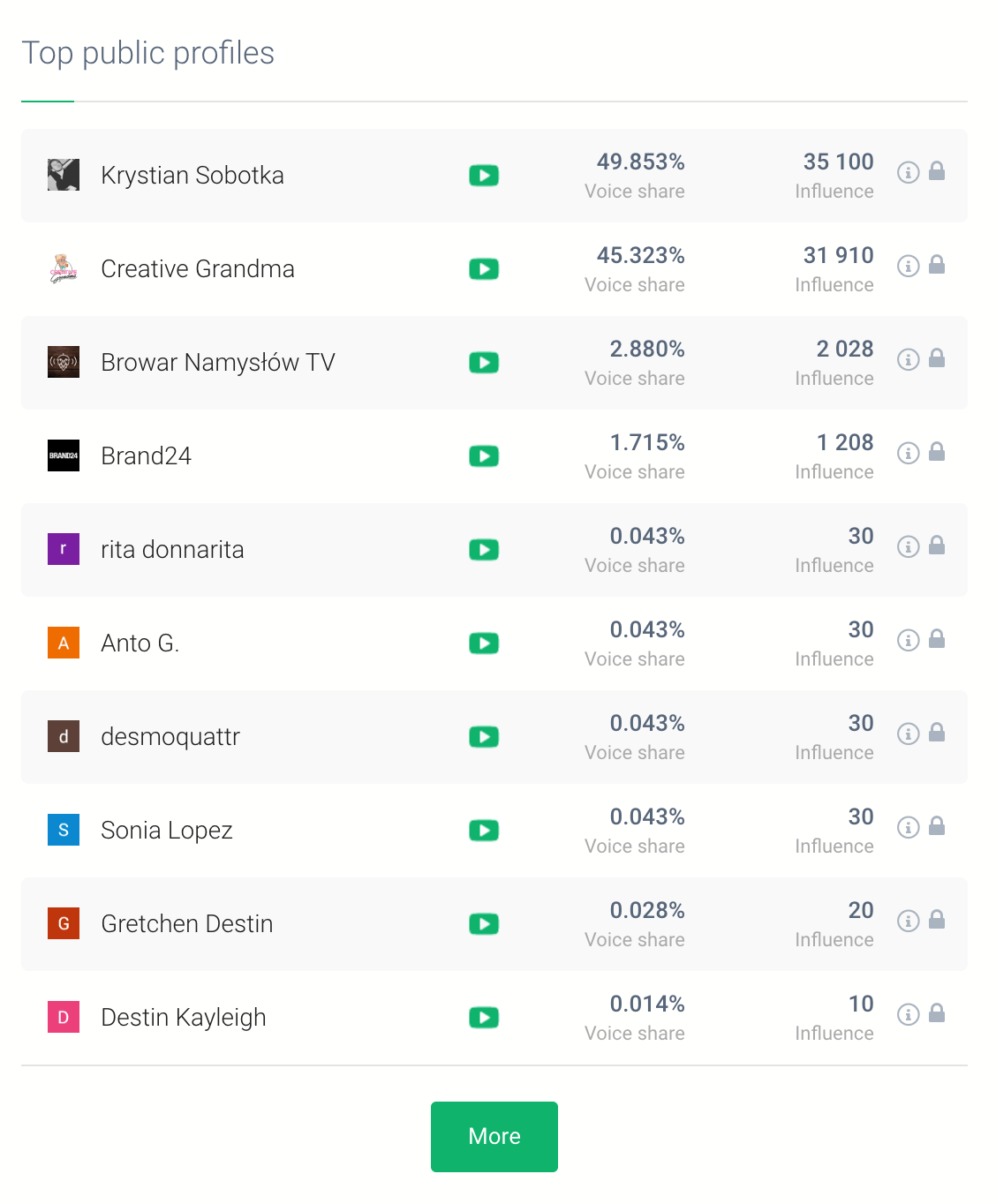 9. Create playlists
Playlists will make your content play without viewers having to manually choose the next video.
It will make your viewers binge watch your videos and maybe get hook up on your channel.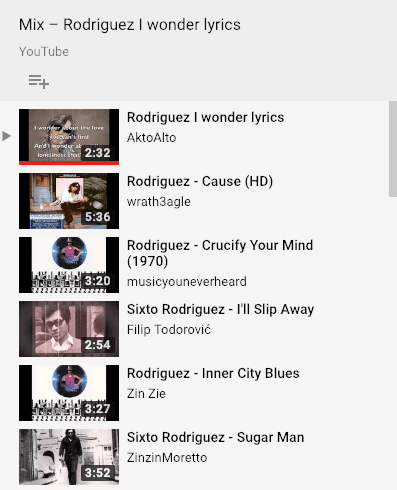 Don't worry if you don't have enough films yet – you can always add films from other creators which topics go in line with your content.
10. Prepare Q&A videos
YouTube is a social network, and social networks are all about being social – human interactions, getting to know each other, and talking.
That's why Q&A videos are so popular across YouTube community.
Ask your followers to ask you questions on different social media channels and then answer them on a video. It makes your followers feel appreciated and cultivate the sense of a community.
Promote the social side of your YouTube channel
The most important thing is to remember that, like every other social media, YouTube is all about people. So no matter what, the best promotion tactic you can use is being social. Ask questions, connect, engage and give all you have. And believe me, it will be worth it.
HANDPICKED RELATED CONTENT:
How to build a strong social media presence
5 Brand monitoring metrics you should track