Video Marketing Campaign Made Easy
May 29, 2018 ・ 9 min read
It's probably been a couple of years since I first read that video marketing is the Next Big Thing. It's partly right – there's an undeniable surge in popularity of cute kids and goofy cats videos. However, should a video marketing campaign be part of your marketing strategy?
Over 3 million blog posts were written today. The market is saturated with written content. A video is a way to stand out in the crowd.
So where should you begin? This article will provide a comprehensive guide to starting your kickass video marketing campaign.
For starters, some hard data for the unconvinced:
Screens are everywhere, and one of the most effective ways to connect with your audience is via video. There are about 2.52 billion smartphone users who want to watch more and more content. Therefore, video marketing campaign can provide extremely high ROI.
Do these numbers seem persuasive enough to dive into video content creation? It still sounds like a colossal undertaking, mostly because of all the technical issues. However, the rewards are considerable. Shoppers who view video are 1.81 more likely to purchase than non-viewers.
Where to Start
First things first. You need to approach this topic methodically. Creating a video marketing plan is similar to creating any another type of content marketing plan. Start with defining your goals. What exactly do you want to achieve? Do you want to increase brand awareness? Drive traffic? Sell product or service? Effective video campaign will address every topic by implementing a slightly different approach.
Experiment with diverse formats and topics to discover which form delivers the highest ROI. The range of issues you can cover is vast and include:
– Instructional how-tos
– Brand stories
– Expert interviews
– Educational videos
– Explainer videos
– Animated videos
– Case studies and testimonial videos
– Augmented reality videos
– Personalized messages
Customise whenever you can
Different videos will be used on various stages of the funnel. If you want to attract new customers think about brand films, vlogs, how-to content or thought leadership. Your clients will appreciate all the pieces of content that help solve their problems.
For converting the leads, you'll need more calls-to-action and landing pages videos. Also, webinars and case studies will be useful at this point. A great example of a landing page is the video made by Dropbox. The company struggled with gaining new clients at the beginning of their business journey. After adding video to their site the conversion rate grew by 10%.
When it comes to closing the deal nothing works like personalised videos. I know they are incredibly time-consuming but, ultimately, they will pay off. When you sign up for Brand24, you get an exclusive video. It's so good, just have a look!
The cherry on the top of your video marketing strategy should be the delight stage. You already converted the lead; now it's time to show them how valued your new customers are.
Create video solely for existing clients – educational courses, product training, onboarding videos. Show them how happy you're, that they are your clients. At Brand24 we genuinely believe in the power of going the extra mile, as it's the easiest way to retain clients. Creating dedicated content is one way of showing how much you appreciate them.
Generating ideas
By now the number of videos you have to make seems overwhelming. The answer, to at least some of your problems, is social listening. How does it work? Well, this part is pretty straightforward. If you set up a project in Brand24, the tool will gather all the mentions with your chosen keywords.
Take a look at my "Brand24" project. The tool gathers and analyses all mentions where someone posts anything on the internet with my keywords: "brand24" and "brand 24". That way, when I see that some questions repeat themselves, I can say a word to our film crew.
We recently saw a surge in questions regarding live customers testimonials. Our IT team developed the feature, and we promoted it using multiple methods. There is a regular blog post about Live Customer Testimonials, a live video by Tom on Facebook, and an instructional video.
That way we made sure all the needs of our clients are covered. For those who prefer a written explanation there is a traditional blog post; for those who like visual content, there was a video uploaded to YouTube. Tom answered all additional questions during live transmission that's saved on our profile.
Learning about your customers' needs is vital on every step of the funnel. There's no such thing as too much research when it comes to your product or service. Even if you already have a top-notch plan, you have to constantly monitor changing industry trends and new demands of current and potential customers. Seems like a task for a whole new department? A social listening tool will help you save a lot of time and money.
Thanks to Brand24 you can keep the finger on the pulse and monitor recent trends. Take a look at the context of the discussion that you'll find in your project in the analysis tab. These are all the words people use together with your keyword. You can establish the most popular topics and those that don't generate buzz anymore. That way you can be one step ahead of your competition, and answer the questions your clients haven't even ask yet. How cool is that?


Focus on the right channels
You also have to know where your target audience is. Focus on producing quality content there. Every social platform is a bit different. A viral video on Facebook will probably fail on LinkedIn. You can either decide to create different videos for each platform or narrow your focus to one or two channels.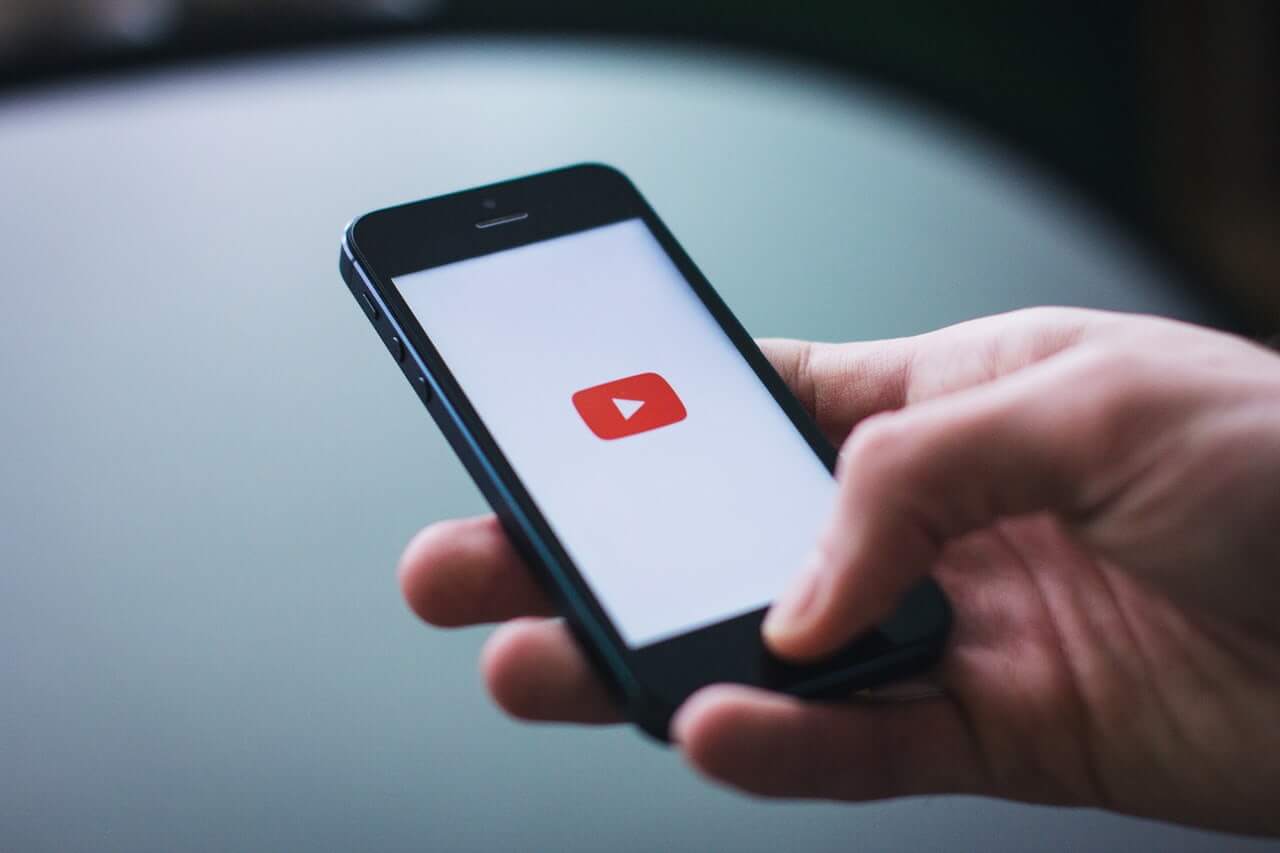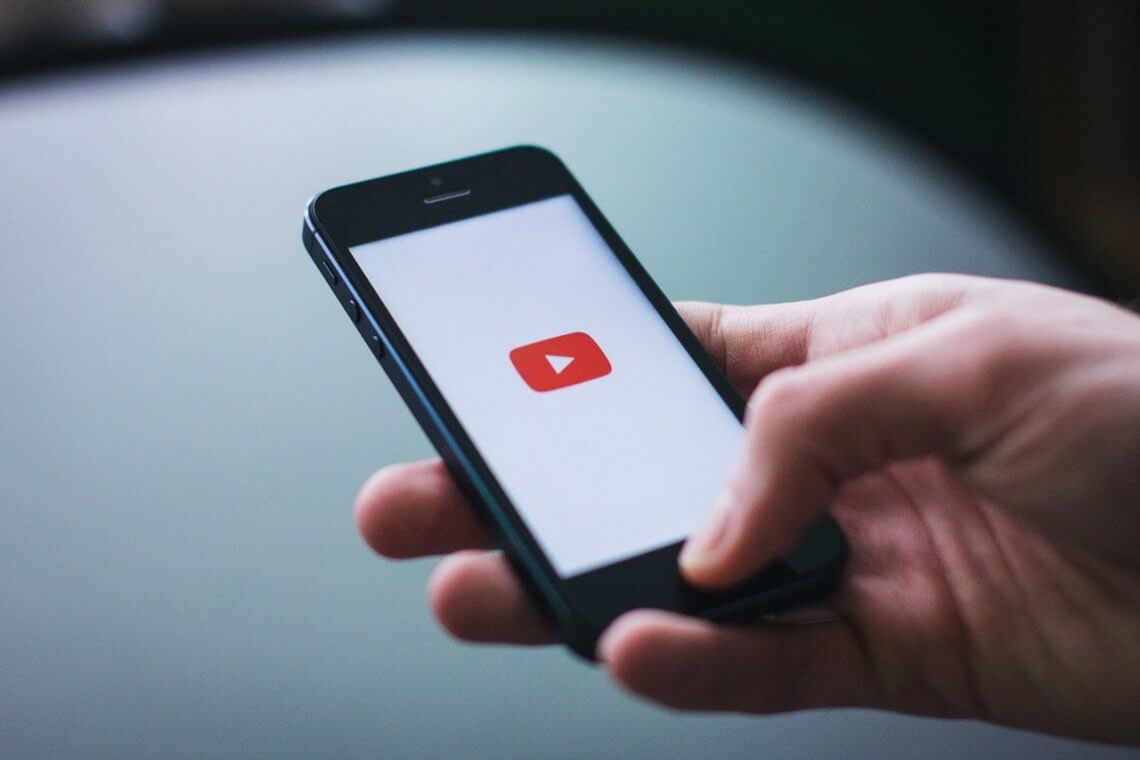 One of the channels should be YouTube. It has a special place when it comes to video distribution. It's not only a collection of funny cat videos but also the second biggest search engine behind Google. As video content is becoming more popular, YouTube will only gain importance.
YouTube has one disadvantage – it won't drive traffic to your website. So if that's your primary goal, think about posting video content on YT few days after the release on your site.
Implement Hollywood style effects
And I'm not talking about buying a green screen and investing in special effects. Cliffhangers can do wonders to your video. Make your audience wait for another episode.
Remember the finale of the second season of Sherlock? BBC released the third season 2 years later. You shouldn't traumatise your viewers like BBC did. But if your content is interesting enough, your audience will want more. They will share it too, so your engagement rates will go up.
Decide who is going to develop your video
When you have all the strategic issues figure out, think about technical matters. Who will develop your video content? You can engage your team or outsource it to specialise team. The inhouse-team solution will work well if your budget is low. Your videos have to maintain a certain level of quality.
If the video is a one-time campaign or you have a sound marketing budget consider working with an agency. Your videos will have consistent aesthetics, and you don't have to worry about the devices.
Another idea is to collaborate with influencers. Not only will they create the video content, but they will also take care of the distribution. Wondering how to find the right Twitter influencers? We got you covered! Take a look at this blog post and identify the right influencers to take your strategy to the next level.
6 Extra Points to Bring Your Video Production to Another Level
Every industry is different, so the content of your videos will differ a lot. However, all of the successful video content share common characteristics. Producing only spammy and promotional content won't take you anywhere. Determine your ultimate goal and implement these five components.
The story is key
The same rules apply to written and video content. Show your audience how your product or service makes their lives easier. Focusing on the value you bring your customers will benefit you much more than speaking about some shiny new features.
Slack could've produced a video talking about how fast, reliable and indispensable their tool is. Instead, they engaged one of their clients and showed how the product is used in real life.
10 seconds is all you get
Our attention spans are getting shorter. None will wait a minute or two for you to get to the bottom of things. In video marketing, 10 seconds is all you get, so make it count. Get to the point quickly and don't promise anything you can't deliver.
Let your viewers know why it's worth watching your video right at the beginning. You can make them laugh, inspire to act or teach them something new. It's vital to grab their attention right at the beginning because you might not get a second chance.
Humour works
It's a cliche, but people love to laugh. Whenever you can, incorporate a bit of humour in your video content. Your audience will remember the video better, and maybe you'll even go viral.
Just like the Dollar Shave Club video, which cracks me every time. And the video brought 12 000 new customers within the first two days. Talk about amazing ROI.
Establish your authority
There's so much you can do when it comes to educating your audience. Show how useful and indispensable your product is. Provide insiders tips on how to make the most of your tool.
It's crucial to remember about general aesthetics of your channel. Your customers will understand lack of professional equipment, but make sure the audio is easy to hear and you record in a well-lit room. Thankfully, our smartphone cameras are incredible and you can get a pretty good quality without spending hundreds of dollars on equipment.
Testimonies and case studies
Do you know which type of marketing works best? Social proof. Your customers' testimonials and case studies are the most effective form of content marketing.
One of the brands that excel in user testimonies' and case studies is Dove. The company is well-known for fighting with the ideal, Photoshopped women' image. And their strategy is extremely successful.
SEO
Creating video content is one thing. Taking care of proper positioning in search engines is another one.
When it comes to SEO for video, descriptions are everything. They allow Google to make sense of your video and understand what it's all about. The perfect SEO technique would be a video tagged with relevant keywords, with perfect description and one-of-a-kind title.
By the way, do you recall when we talked about YouTube as a search engine? It's also vital to upload your films to YouTube because of SEO. It probably won't ensure top ranks on Google, but at least both search engines will know about your content.
This is how our social media manager, Basia, describes our Social Recap series on YouTube. You can easily access the information you're most interested in.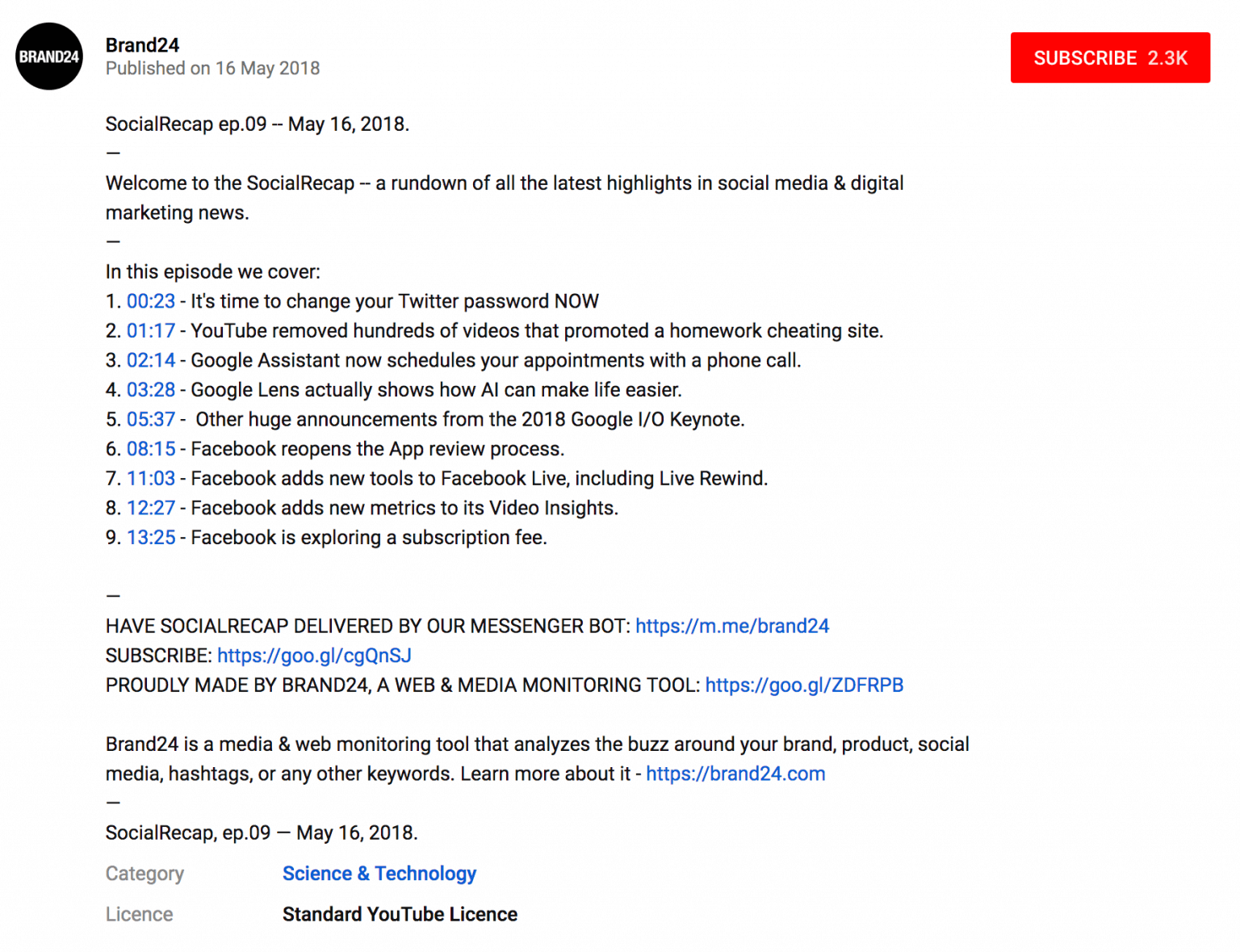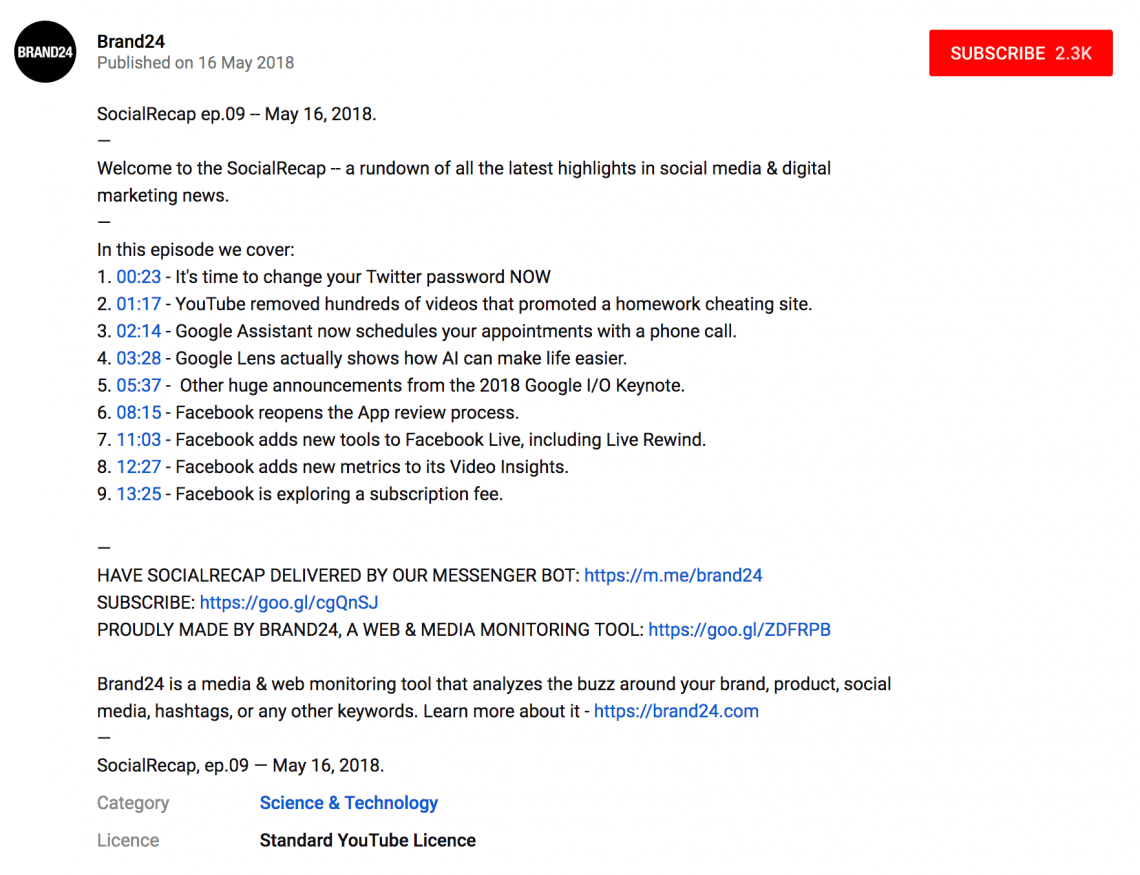 Video marketing can be a powerful tool. It can help increase conversions, build brand awareness and distinguish you from the competitors. It's essential to produce high-quality, useful content on a consistent basis and control the results. Media monitoring tool can help you a bit with creating the content that you need. Because it's high time to invest in video marketing.
HANDPICKED RELATED READ
The golden rules of PR crisis management