During and immediately after the iPhone SE keynote, more than 500 news articles and about 35,000 social media mentions appeared online. Having all that data gathered in one place, we decided to find out how the public reacted to the world-premiere of a smaller phone from Cupertino.
Apple knows how to create buzz and leave its mark on the Internet. On the day (or night, depending on your timezone) in question, March 21st, the news about iPhone SE could have reached more than 325,000,000 people! If we include other topics of which Tim Cook spoke that night – such as the new iPad, encryption issues and price-drop of Apple Watch – we end up with the exact result of 583,789,293. That's the estimated social media reach, meaning that this number of users could have seen the news about new products.
Mentions about the whole keynote, iPhone SE included:

Mentions regarding only the iPhone:

On to the reactions. What do people say?
We're not only about the numbers. With social media listening, you can not only check how many mentions you got and how many people you reached. More importantly, you'll immediately know what are the people saying about you and your product. You can react. You can interact. Ultimately, it's you who's in control. And, well, it's nice to be in control when you have to deal with:
more than 10,000 Facebook posts and comments;
about 60,000 tweets;
over a 1,000 blog posts and press articles;
nearly 500 forum posts.


And that's just about the SE (data gathered from 20th to 22nd March). Now, onto the mentions. If you want to check something quickly, you can get into the Quotes section and look at the results. Lots of potential Apple customers think positively about the new iPhone. What they like is that the phone got smaller, yet is still powerful. What they don't like is the name. Also, the same design as the 5 and 5S editions was not looked upon kindly by the majority of social media users.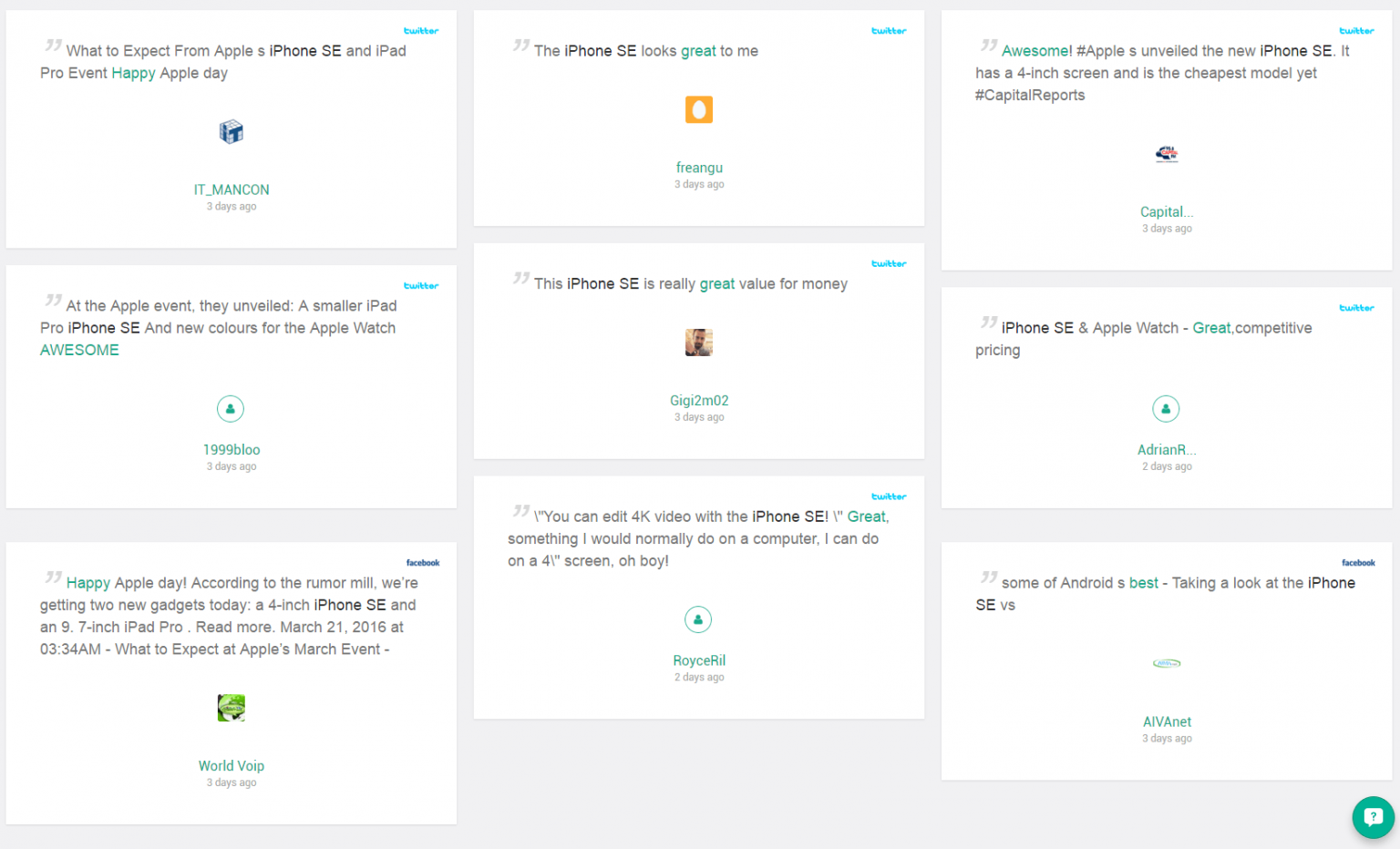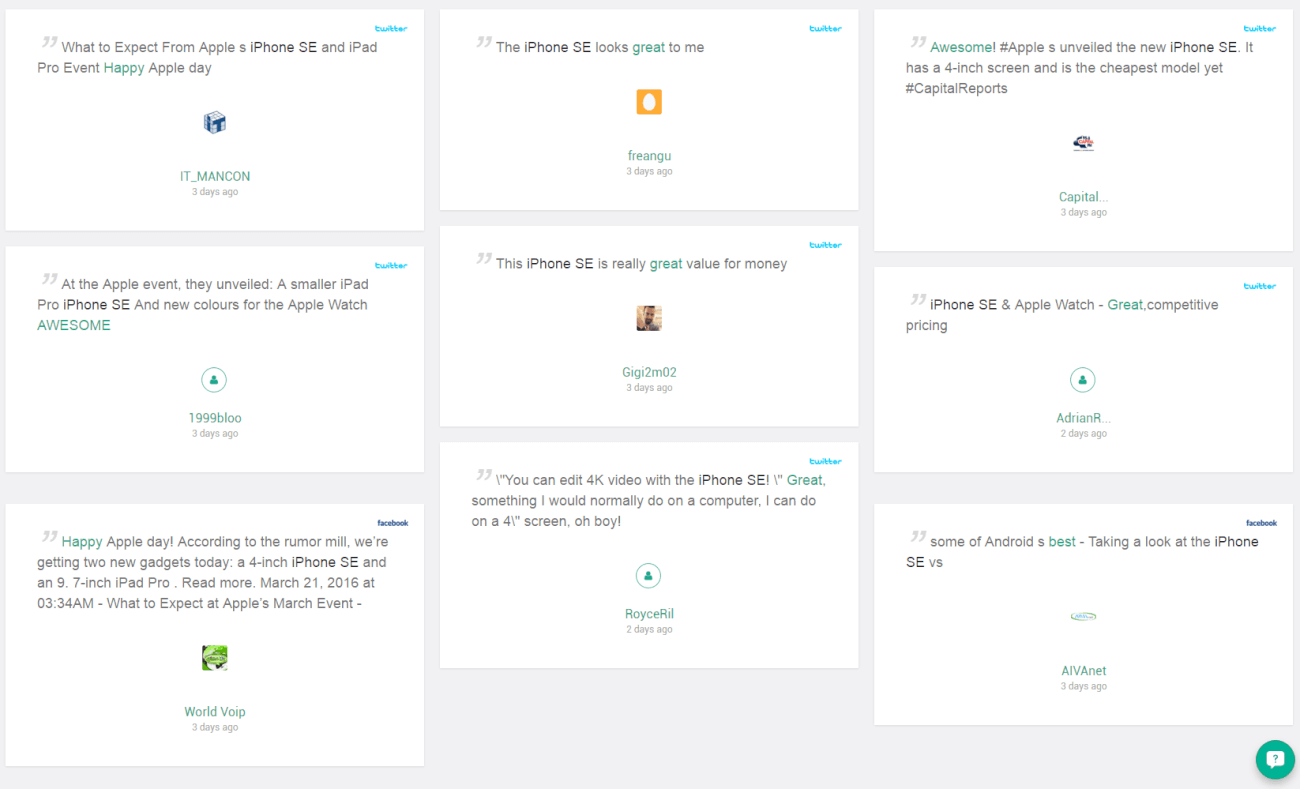 You can also look for media mentions. What you'll get in return is a minute-by-minute coverage of all the results that may appear on the new iPhone.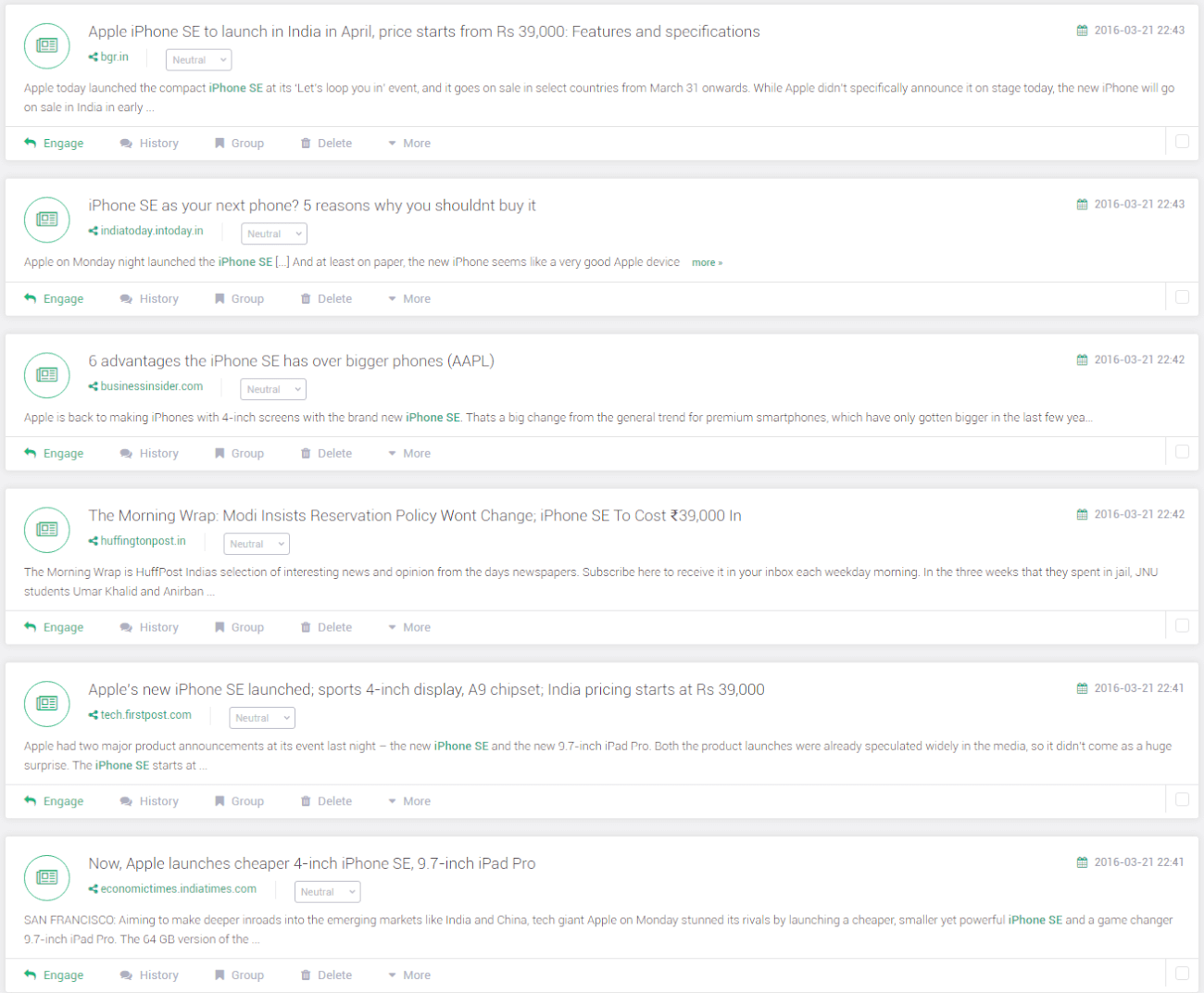 But there are also quite a few people that didn't like the iPhone SE idea at all. For example, our listening tool caught a tweet by @pattyboii who shared a movie which Apple may find quite disturbing:
And @pattyboii has over 186,000 followers on Twitter. Another influencer, Marques Brownlee, was equally not satisfied.
Just caught up on all the Apple event coverage with iPhone SE and the smaller iPad. My reaction: ?

— Marques Brownlee (@MKBHD) March 21, 2016
On the other hand, "your average customer" seems to like the idea of a smaller, nicely designed phone with so much power under the hood. The Forum section in Brand24 was flooded with results from NeoGAF gaming discussion board.
While we monitor the numbers, we listen to your potential customers as well. Literally!
The numbers surrounding the Apple event are surely impressive, but the diversity of comments and opinions is also quite fascinating. Lots of tech influencers are not exactly content with Apple's latest offerings, mainly due to lack of the "wow factor". But… the general public seem to like the idea. Especially those people who might be looking for an entry into the iOS ecosystem and don't want a compromise in the power department.

Related read: