We all love our analytics tools. They tell us how much time our readers and customers are spending online, what are their most frequent purchases, for how long they've been reading a given article. On Facebook, you can check out the reach and engagement. On Twitter – the number of retweets and hearts.
The thing is, though, that before Facebook introduced its Reactions feature, there was no easy way to measure emotions on social media – aside from posting our own emojis in comments (see also emoji marketing). The Reactions are first such global attempt of a more precise measurement. Only a few weeks in, people seem to have adapted it quite well.
But the specifics of strictly visual media like Instagram, Snapchat or Pinterest are quite different. It will be the most trivial sentence I've ever written, but let's go with it: you can't measure a smile. You can't measure how much your amusing Snap resonated with your viewer. Also, you can't measure how much more did they like you because of that Snap or a Vine. Or how much good did this Snap do for your business.
What you can do, though, is listen to the afterglow. Go on, we got you.
While you can be obsessed with statistics and impressions, sometimes they fail to represent "the human element". It's the same for both marketing and editorial jobs. "20,000 people read this article". No, they didn't. They clicked on it. You didn't say how much time they spent on reading it (although you can check it out with your Google Analytics), and I'm sure that the majority didn't read the whole thing if it wasn't valuable enough. The same goes method is applied for YouTube and TV commercials. It's even more inaccurate, actually. As soon as a person sees an ad displayed during a TV show, they go for a smoke. Or to make a coffee. Or to do anything else rather than stay and go through the whole thing with a flushed face.
But during that smoke, or while waiting for the water to boil, or just by simply sitting down, yawning and waiting for the commercial to end, they're looking down on their phones. And since you're reading a social listening blog, we can assume that you're already there. You're using Instagram, Pinterest, Facebook, Twitter, the whole lot.
We already live in an immensely noisy world. Don't make it any louder than it has to be
The point is, many social ads (and a majority of feeds with non-paid content) have not been ruined yet. People got used to traditional ways of advertising. While surely lots of great things can be done with a banner or a TV ad, it's becoming infinitely harder to reach a customer there. We've developed a sort of a blind spot when it comes to flash pop-ups on the web, haven't we? Or even worse – we became so annoyed with the concept, that we really don't want to even hear about it. Most of the clicks that these sorts of advertising generate are accidental.
Why? Two reasons – this sort of advertising is not about meeting a customer in the middle. It's about shoving your product in their face with adding little-to-none value. Don't manipulate.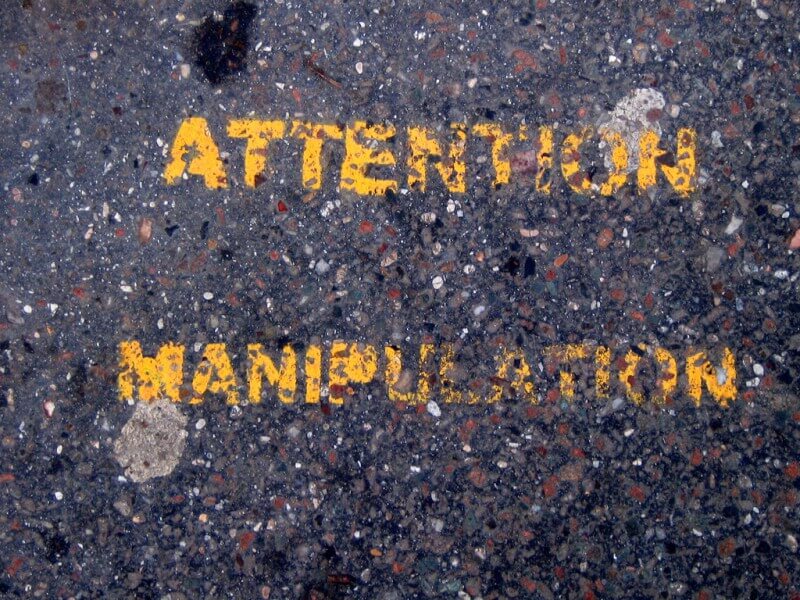 You're not going to grab a customers' attention without giving them something that they want. You're not going to interest a gal (or a guy) in your offerings by saying "my product is amazing and it's even more amazing for you". Speaking from a customers' point of view, I want to know how it might make my life better. Will it give me more time for private life? Will it save me money? Will it help me with my work?
If you'll be able to provide these (and much, much more) answers to the questions above, you're golden. But it would be great if you could do it in a non-intrusive, organic way. Hey, we're all on Facebook! We're on Instagram! Check out what we like, make sure where we are. Engage us.
The point is, I don't have your product. I don't know if I need it, but I certainly don't want to hear about how great it is. I'd rather hear about what you stand for. What your brand is all about or what it can do for me as a consumer. If you do an interesting 'general' video and put it up on Instagram for the right people to see, your viewers will Google you by themselves and take a look and all of your products.
That's basically why influencer marketing has risen in popularity over the last few years. People trust people. Trust is born when you're sharing similar values, come from a similar place, when you were being brought up in a similar fashion.
That is why bloggers are earning money on campaigns. They're building a community of people with the same interests, and these people often trust them. And right around the corner, there's another group of people looking for social proof. Guess what – a blogger who cares about his status won't ever promote something that he does not believe in. The same goes for ads on Instagram, on Facebook or on Twitter. You can try and reach new audiences, but you have to know where they are and what they like.
4 Ways to Draw and Boost the Attention to Your Social Media Advertising
Put yourself in your customers shoes
The most important, the most obvious and the most complicated all at the same time. Remember the last Instagram ad you clicked? If not, that's both good and bad. You clicked it, so that's great. But you don't remember it. Not great.
We want ads directly associated with our chosen lifestyle. Profiled ads that may enhance that lifestyle, that bring value. Ads that get to the point right away. Alternatively, you can go with humour, with riddles, with a story. And remember about videos.
Use the power of influencer marketing
Find the right people and stick to them. If you're selling healthy food, get on the good side of fit bloggers, vegetarian Instagrammers and the people who care about the environment. And then do this.
Call to action, follow the trends and keep targeting in mind
If you believe in what your customers believe, then – for example – creating contests will be that much easier. Creating a contest with Gangnam Style, Harlem Shake or any other currently trending topic – even easier.
As for a strong and clear call-to-action (CTA), there are two aspects you need to be aware of. It either works or it doesn't. Some people will react to "sign up now!" and "click here for 50% off!", but some will be infinitely annoyed by it – especially if they don't know the real value of your products. Discount CTA's won't work as well for a new customer as they might for a guy that's already using a trial version of your product.
Sometimes, you're just better with beautifully designed graphics that effectively spread your mission.
As for targeting – you know what to do. Don't promote local businesses outside a 30-50 mile radius. It just doesn't make sense. Know who you're selling to and where they are.
Draw attention of potential clients by serving your current ones
If you do engage your community in any way, remember to serve them and care about them afterwards. People like that. Go beyond what's expected of you. Oh, and also – if others see that (and they will), it elevates your status. It draws people to you. It makes you look: a) more professional, and b) more caring. Don't we all love to be cared for?
Take care of the quality, the added value and the right tools to spread and promote your content. Do this, and the numbers will follow. Also – remember to regularly check what's being said about you on social media.
Related read: