10 Intelligent Ways to Use a Social Media Wall
June 12, 2017 ・ 9 min read
Imagine you're at an event and you see a screen displaying Instagram posts. You notice a pattern, like the same hashtag appearing in every photo caption. You decide to share a post from your own account using that hashtag, and a few minutes later, there it is: your photo, avatar, handle and caption, up on the screen for all to see. You're excited and feel validated, even though you're not the only account to show up on the screen. Here's a few words about social media wall.
That's the magic of a social media wall, a feed of social media posts displayed on a large digital screen. It allows brands to turn a simple TV screen into something interactive, without the use of touchscreen technology.
What shows up on a social media wall is customizable to a degree, leaving room for some creativity on the part of brands using them. This article explains 10 ways for brands to use that creativity and make a social media wall achieve business objectives.
Before we delve into these 10 ways, let's go through some more social media wall basics.
---
What is a social media wall?
A social media wall is a real-time, aggregated feed of social media posts appearing on a large digital display, such as a TV screen or even a jumbotron. The posts may be from a platform like Facebook, Twitter or Instagram, depending on the solution. It may also be called a hashtag wall, Instagram wall, Twitter wall, etc. based on how it's used.
A social media wall is powered by a technology called digital signage, a form of signage in which content appears on a digital display. The content is delivered to the screen by an HDMI-connected media player, and configured through an online dashboard.
There are two types of feeds one can display with a social media wall:
Hashtag feed: choose a hashtag, and public posts using that hashtag will appear in the feed.
Account feed: display posts coming from a specified account. Some solutions also allow a feed of posts by anyone mentioning or tagging the specified account.
Depending on your objective(s) for the social media wall, one type of feed will be more fitting than the other. The more you use them, the more intuitive it will become to determine which feed to use.
As you now know what a social media wall is, here are 10 ways to use social media walls in intelligent ways that drive engagement, visibility and sales.
1. Showcase user-generated content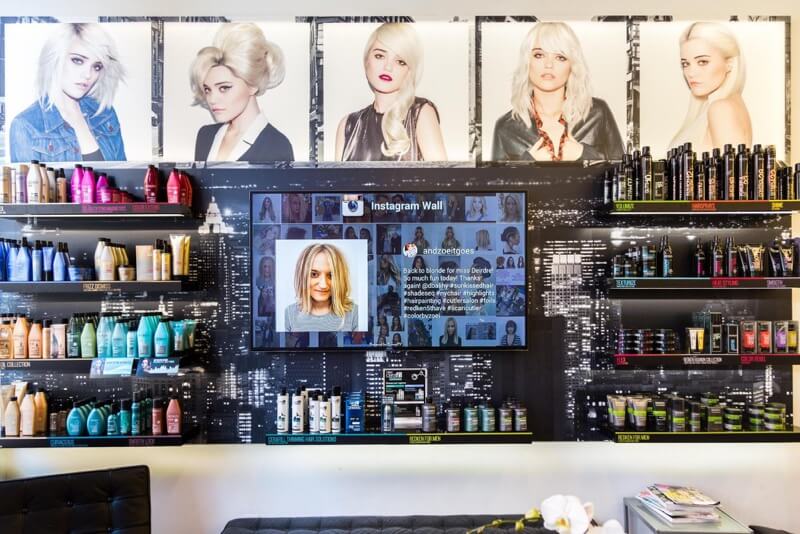 A hashtag wall is a goldmine of user-generated content, and a creative way to showcase it. It's rewarding for the users whose posts show up on the screen, as well as entertaining for anyone else watching the feed. Brands love it as well, because it requires little work on their part – after all, it's called user-generated content, not brand-generated content!
2. Promote more usage of a hashtag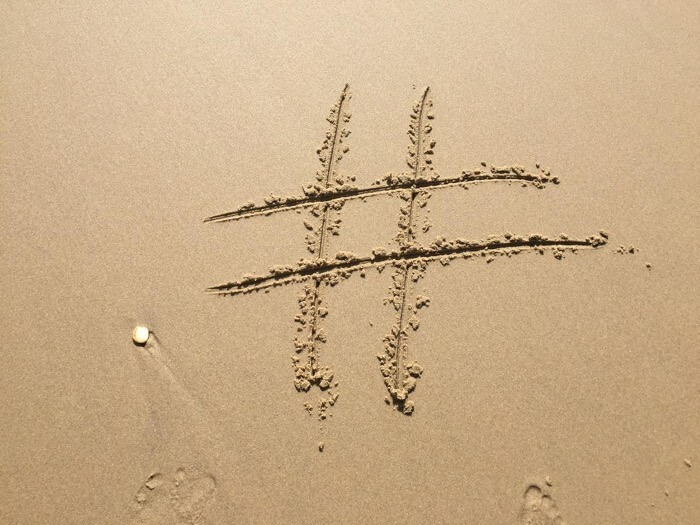 Remember when we said it's rewarding for users to see their content on a hashtag wall? That rewarding feeling also encourages more people to use a hashtag. Other users watching the hashtag wall want to get in on the action, so they share their own posts containing the hashtag. It makes a hashtag contagious, or "viral" if you will.
3. Promote a branded hashtag
A branded hashtag is a hashtag created by a brand for promotional purposes. It usually contains the brand name or some variation of it, but not always. They're fantastic for increasing your brand's visibility on social media, but they're only effective if people use them. Showcasing the hashtag through a hashtag wall is one way to encourage more usage of it, for the same reasons just discussed in #2.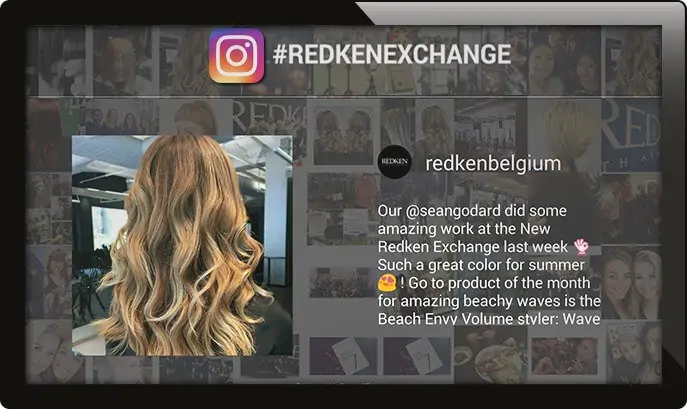 You can begin by having yourself and your staff, friends, family, etc. use the hashtag, so that the hashtag wall has some posts to start with. From there, as people see your hashtag wall, you should see usage of the branded hashtag increase.
4. For social listening
For many brands, social listening is about using social media to follow conversations on your brand or a topic.
Monitoring posts that mention your company is social listening, for example, as is following a hashtag that will help your brand make informed decisions. For example, Taco Bell could search for tweets that mention "Taco Bell" or @tacobell to see what customers are saying about them, or HubSpot could search #digitalmarketing to come up with a new blog topic.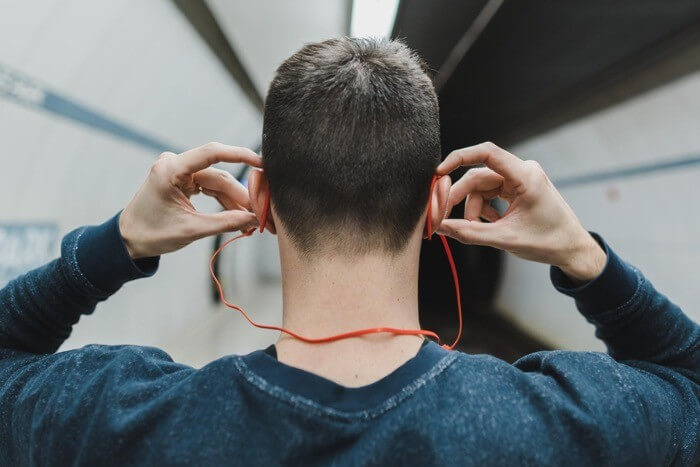 While a social media wall isn't exactly the same as a full social listening tool, it can be a valuable component of social listening. Think of topics or accounts to follow that your customers will enjoy, but that also provide your company with valuable insights. Pay attention to the posts coming up on the screen and see if you can use that information in some way. Are people complaining about something your brand could do better? Is a hashtag you're following not getting a lot of action? Are there other hashtags coming up frequently that you should take note of?
Some tools offer both social listening and social streaming: Brand24 is a fully-powered social listening tool that also provides social streams. This lets you keep track of important social metrics for your business, and get a quick visual on the live images and posts that people are responding with, like in this social stream for Ikea's event.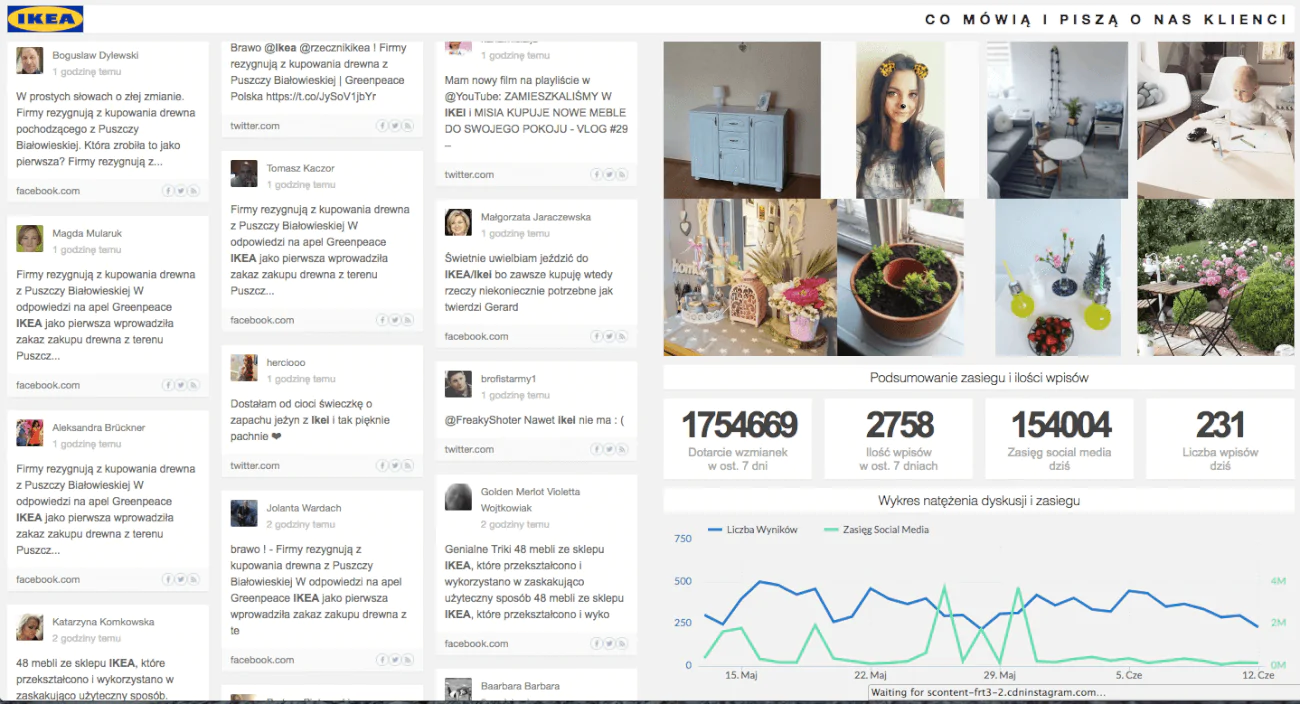 5. Generate buzz for events
Social media walls are a hit at events like conventions, trade shows, networking events or even simple happy hours. They add uniqueness to the experience that attendees will remember and talk about with their peers. They love how simple yet exciting it is to get their post up on a screen for everyone at the event to see.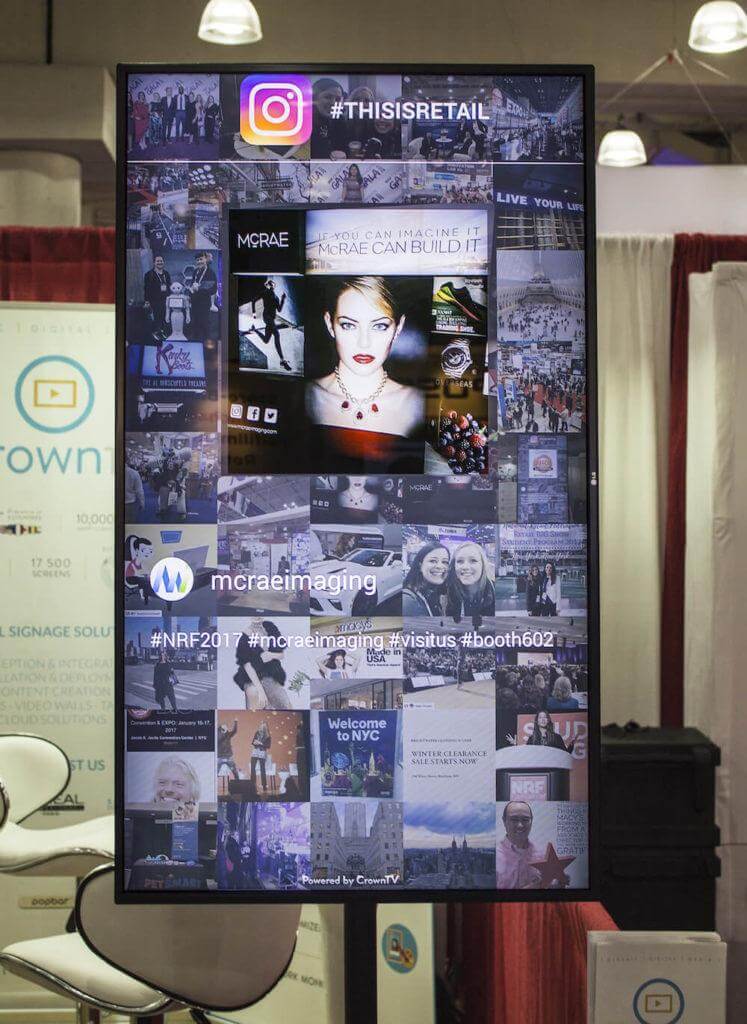 Find a hashtag or account that attendees are mentioning in their social media posts about the event, and make those the focus of your feed. Event-goers will feel like they're part of something buzzworthy as they see posts and photos from the event on a screen. It makes the event feel more happening and current. If it's an event where you need to draw attendees to your booth or another designated space, the wall will attract people and generate buzz about your company.
6. Promote sales or events
With all those followers and users to potentially reach, social media is an effective platform for promoting sales or events your brand is hosting. A social media wall can broaden that reach even further by bridging the gap between your online and in-person visibility.
If your brand's social media feed currently includes some promotional posts, broadcast the feed to a social media wall so in-person customers or passers-by can see the posts. By displaying your feed in the physical realm, you'll enable people to see posts of yours that they otherwise wouldn't see. It's like making social media posts double as printed in-store signs.
7. For social proof
In the world of social media, social proof is any indication that something is popular and has significant engagement on social media. A celebrity Instagram account with millions of followers carries plenty of social proof, as does a tweet that's been retweeted thousands of times.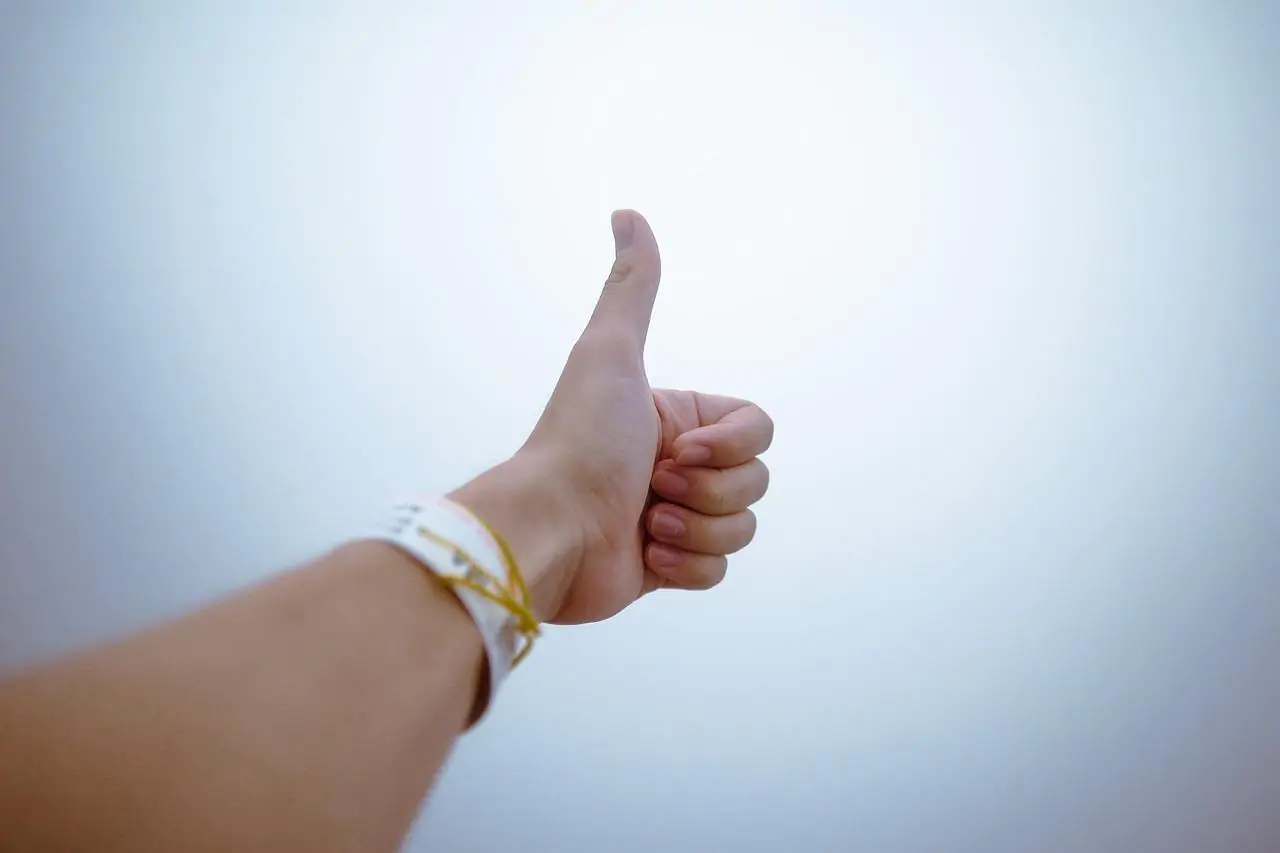 The interesting thing about social proof is that the more of it you have, the more of it you gain in return. For example, clothing retailer H&M has over 21 million Instagram followers. When an Instagram user sees that number, they immediately know this is a popular brand that must be worth following – because how could all of those 21 million+ people be wrong? Like a bandwagon effect, social proof breeds more social proof.
A social media wall can also showcase and breed social proof. Running a branded hashtag wall, for instance, puts social proof on display by showing just how many people are posting about your brand. In turn, your social media wall audience may follow your brand, contribute a post to the feed or engage in other ways – giving you even more social proof.
8. Increase followers & engagement
There's nothing wrong with making it your social media wall objective to gain more followers and engagement, no matter where you currently stand. Even when you're focusing on other objectives, you may gain some followers and engagement as an added bonus.
To use a social media wall for this purpose, simply do what you should already be doing online to elevate your brand: post quality, relevant, shareable, actionable content that is tailored to your audience. The followers will…follow, so to speak!
9. Follow news or trending topics
Most of us know that one of the primary functions of hashtags is to group together and follow posts about breaking news or a trending topic. Why not use a social media wall to follow a trending hashtag?
If you notice a hashtag is trending and wish to follow it, but on a medium other than your web browser or smartphone, follow it using a hashtag wall. Depending on your brand and what it does, you may want to follow industry news, viral content, news about a competitor or pop culture trends. Rather than having to switch tabs in your browser or open an app in your smartphone, you can have the hashtag feed up on a separate screen as you do other tasks.
Read:
10. For internal communications
Social media walls aren't just for customer-facing operations. They can also be a beneficial addition to the workplace for internal communications purposes.
A social media wall can help employees to:
See what the brand is putting out on social media
Follow what people are saying about your brand, a competitor, or a relevant topic (social listening)
Stay informed of industry news
Feel more engaged with their work and teammates
Contribute to the company culture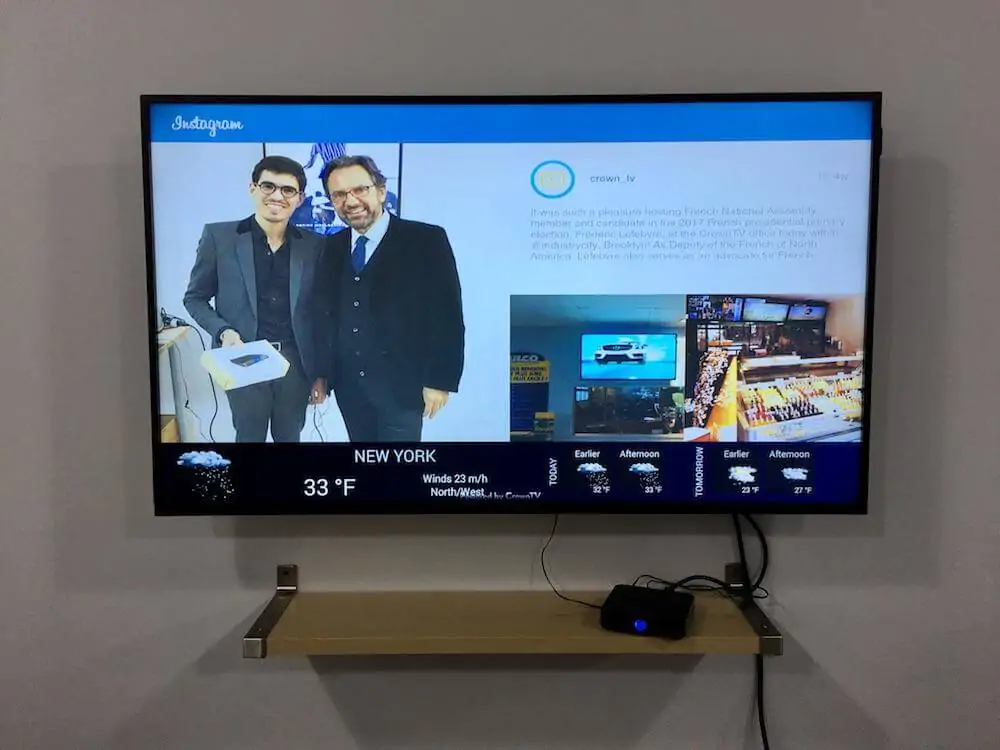 All of this leads to a more connected, informed, harmonious team. Be sure to place the screens in heavily frequented areas of the office, like the kitchen, lounge areas or conference rooms.
How to create a social media wall?
One tool that you use to set up a social media wall is Brand24 – it's a web and social media monitoring and analytics tool.
Inside Brand24 you can generate and add an embeddable, clickable and customizable social media feed to any website. Mentions in your feed are premoderated – you choose what mentions appear on your social media wall. Importantly, this social media wall doesn't auto refresh.
Here's how to create your social media wall.
Since Brand24 is a web and social media monitoring tool, you have to provide keywords you'll receive online mentions of – it can be a hashtag, a conference name, a restaurant name or, to put it simply, any other word.
Let's assume you want to monitor and display on your social media wall all mentions of a hashtag – in project creator you enter your hashtag with the hashtag sign.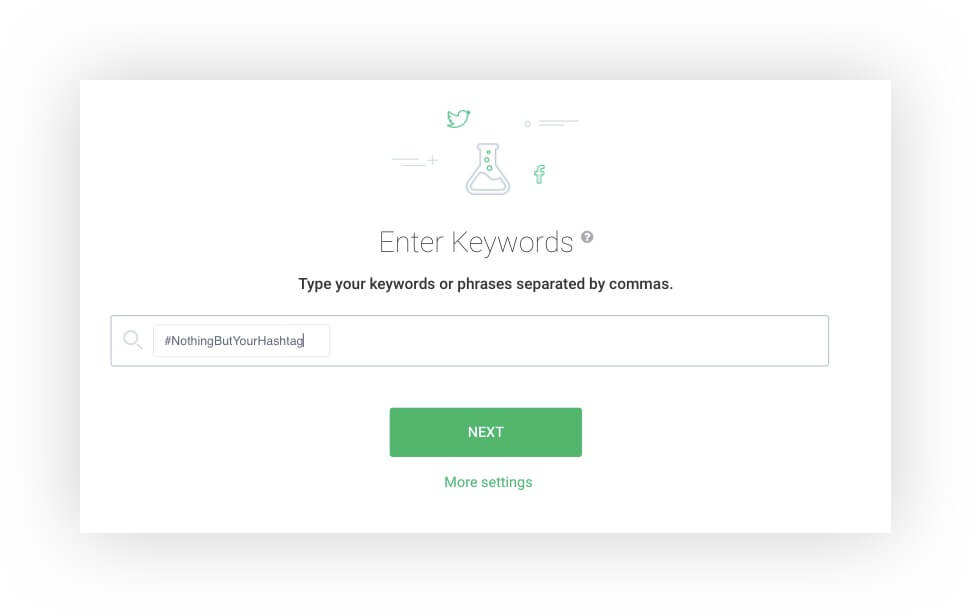 Once create your project, the tool takes you to the Mentions tab – this is where all mentions of monitored keywords arrive.
2. Create your social media wall.
Go to the panel on the left and click Create a widget.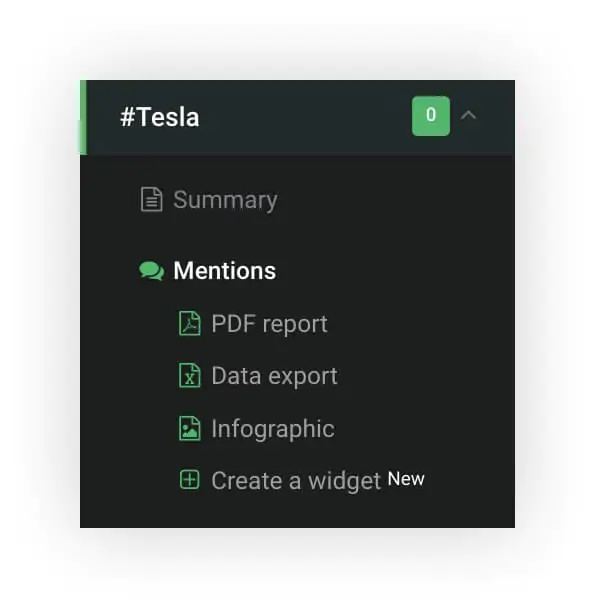 Brand24 will take you to the widget creator: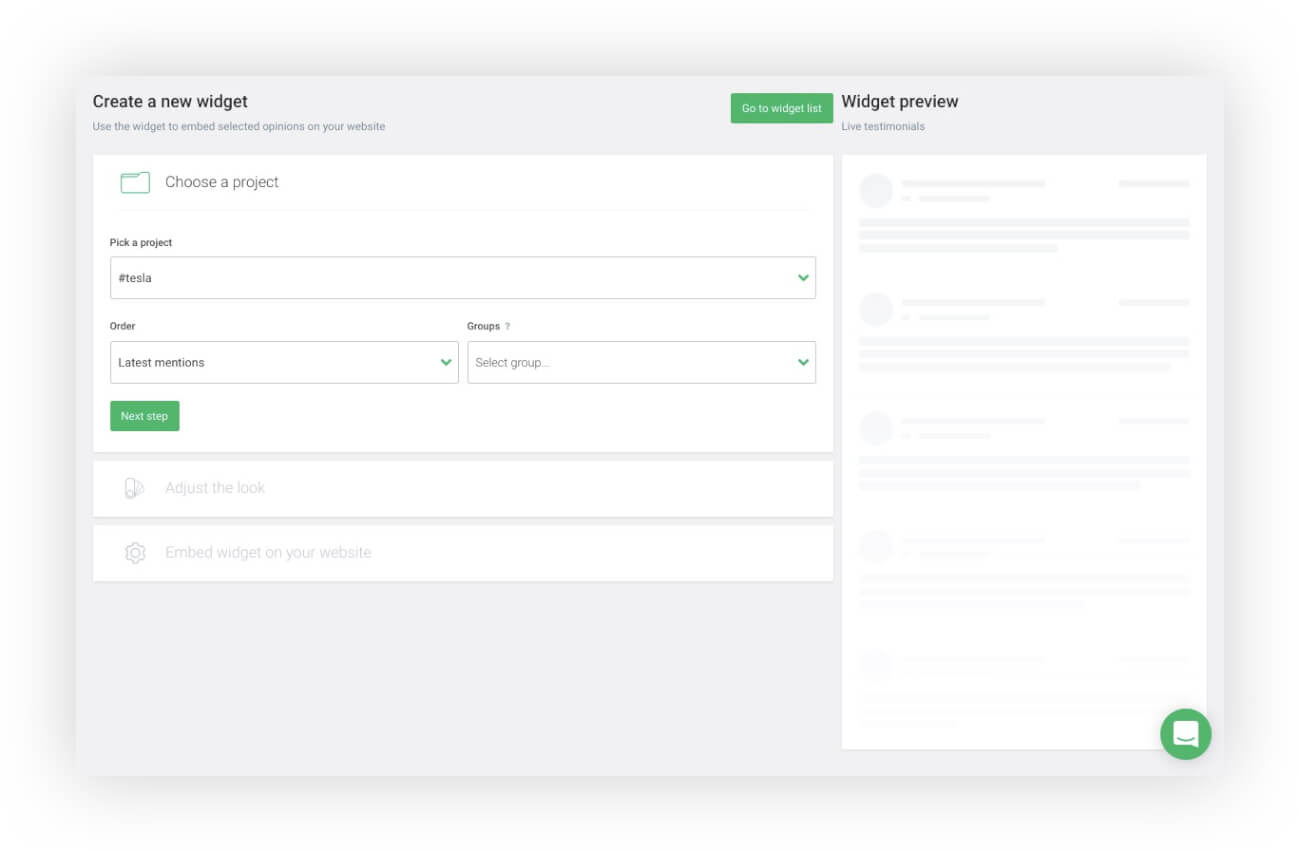 Choose the project with your monitored hashtag – if you already have more than one project, choose the one with your hashtag.
Choose order of mentions appearing in your social media wall – you can choose either Most popular or Latest mentions.
Don't bother with groups – they are important in a different scenario, namely when you want your social media wall to display just some of mentions collected in your project.
Customize the look – choose the color to match your branding and colors.

Save changes – the tool will then generate the embed code of your social media wall. Now your webmaster can paste it to the source code of any website.
Here's a video tutorial how to create your social media wall:
Conclusion
Social media is all around us, and it's high time to start using it more creatively. Social media walls do exactly that by creating an in-person, real-time, interactive social media experience on a large scale. Brands love them, and so do customers. It may be called a social media wall, but the last thing it does is divide people.
---
Author bio
Elena Lathrop is Head of Marketing at CrownTV, a New York City-based digital signage provider. CrownTV's technology allows businesses to broadcast social media feeds and other interactive content to digital displays. Elena often covers social media-related topics on the CrownTV blog.