8 real life examples of good customer service in retail, from companies large and small
August 30, 2021 ・ 16 min read
Which company immediately stands out when you think of examples of good customer service in retail?
Maybe you're thinking of a company that actually implemented one of your suggestions, both improving its product and proving that its customer feedback forms aren't just for show? Or did you have a memorable cancellation-related customer service experience with an online retailer – and it showed you that these guys (unlike the rest) won't try to suck you dry, making them your new go-to online marketplace? Or maybe your best customer service experience was a little more personal (more human) and it was just because you were treated like more than yet another notch in their customer acquisition belt?
No matter what your personal experience with good customer service has been, there's no doubt that it made a positive impression on you and also resulted in that particular company standing out as a better option than the rest.
There are more than a few ways that brands and companies stand out from the crowd with impressive customer service. How?
Take a look at these examples of good customer service in retail that have been spreading ONLINE (isn't that where everything ends up, eventually?):
8 Real Life Examples of Good Customer Service in Retail, from Companies Large and Small
Providing great customer service can make a world of difference when it comes to customer loyalty, boosting sales and decreasing churn. Because people talk – sharing their good & bad customer experiences online, especially in social media. Personal opinions, reviews, and other types of customer feedback have ways of circulating online, even if they happened offline.
Research from ThinkJar shows that 13% of customers will share a negative customer service experience with 15 or more people. On the other hand, 72% of consumers will share a positive experience with 6 or more people.
Let's look at the math: if you have 100 customers and 13 of them share a negative customer service experience with 15 people each, 195 people hear about negative customer feedback regarding your company, even though just 13 had bad experiences. That's the power of the Internet!
Now, say you have 100 customers and 72 of them share a positive experience with 6 people each, 432 people will hear about positive experiences with your company (much more than 72).
Your online customer feedback has a lot more reach than just the original 13 or 72 customers who were actually serviced by your company.
Plus, according to research from American Express, 86% of consumers are willing to pay more for a GUARANTEED good experience.
The emphasis on guaranteed tells us that the promise of a good experience is expected and doesn't stand out for consumers. They want proof that there will be good service.
The most convincing proof of guaranteed good service that you can offer your potential customers is by showing them positive feedback from other customers, especially if they're candid stories and comments about getting good customer service from your company. You can embed positive feedback from various customers and platforms directly onto your own website with a Widget.
Remember:
NOT hearing from your customers doesn't mean that they're satisfied.
Promising that you will deliver good customer service isn't enough. Consumers want a guarantee, or proof, that they will have a good experience.
People don't just talk about their in-store experiences while they're at the store. They rant or rave about it on the Internet, via social media, in forums, on review sites, in person, etc. Whether it's 195 angry customers or 432 happy customers, make sure you're listening – the right tools can help you get ahold of all your online customer feedback so you don't have to spend time looking for them.
Listen effectively with (social) media monitoring
The quickest and easiest way to find out what customers are saying about your company is through social media monitoring, aka social listening. A media monitoring tool like Brand24 scours the web and retrieves publicly available mentions of your keywords (track things like your company, brand or product) so you know who, where, when and why people are talking about you… as well as the kind of stories that are being shared (damage control!). This is how it works:
Bring your customer service to the next level with media monitoring
The companies that truly listen to their customers are the ones with the most loyal customers. And the more positive customer feedback that you can find, the more proof of a guaranteed good experience that you can show your potential customers.
Now, here are 8 examples, from companies large and small, who truly understand what it means to provide good customer service in retail. See how they set the standard and learn how your company could be an example of good customer service too…
1. Be an example of good customer service in retail by going the extra mile to make your customers feel special
Because rules were made to be broken.
How many times have you silently pledged your loyalty to a brand or company because they bent the rules for you (even if it was just over something tiny)?
That just recently happened to me with Amazon. I had signed up for Prime membership but then decided to cancel it because they stopped carrying the product that I normally order from them. I was one day past the monthly renewal period, but after contacting their customer service department, they promptly issued a refund for the subscription fee from that month and immediately canceled my account. All in under 10 minutes and completely hassle-free.
I know I was one day late, yet they made it work. It feels like they made a special exception, just for me. And I definitely won't hesitate to do business with them again.
Doing little 'favors' like that for your customers can significantly increase customer loyalty and trust for your brand.
Especially if you see situations where bending the rules a little can really make a difference in someone's life:
Thank you so much to the amazing customer service of @Virgin_TrainsEC staff, not only have they kindly allowed us to change day of travel after our sons hospital appointment but the train manager has moved us to 1st class so my son can sit and sleep comfortably pic.twitter.com/FhL6bmWomy

— Craig Larkin (@clarkin1984) April 29, 2018
This passenger on Virgin Trains East Coast experienced this first hand when the manager of the train allowed him to change the date of their travel to accommodate their son's hospital stay, and even moved them to first class so the little patient could be more comfortable.
They shared this awesome example of good customer service on Twitter and the post has since received over 1.2K likes, 94 comments, and 77 retweets. Social media is amazing, and has allowed a lot of people to hear about the way that Virgin Trains treats their customers!
React to mentions of your company in real-time
2. Be an example of good customer service in retail by prioritizing your customers' time
"Working with a sense of urgency is, to me, a sign of respect for the customer's time, and a mandatory aspect of good care service. Some workers feel that having a sense of urgency is demeaning or some sort of personal sacrifice; that's the furthest thing from the truth; it's a sign of dedication, respect, and professionalism." – Scott Rao, coffee consultant & author, founder of Rao's in Amherst, MA.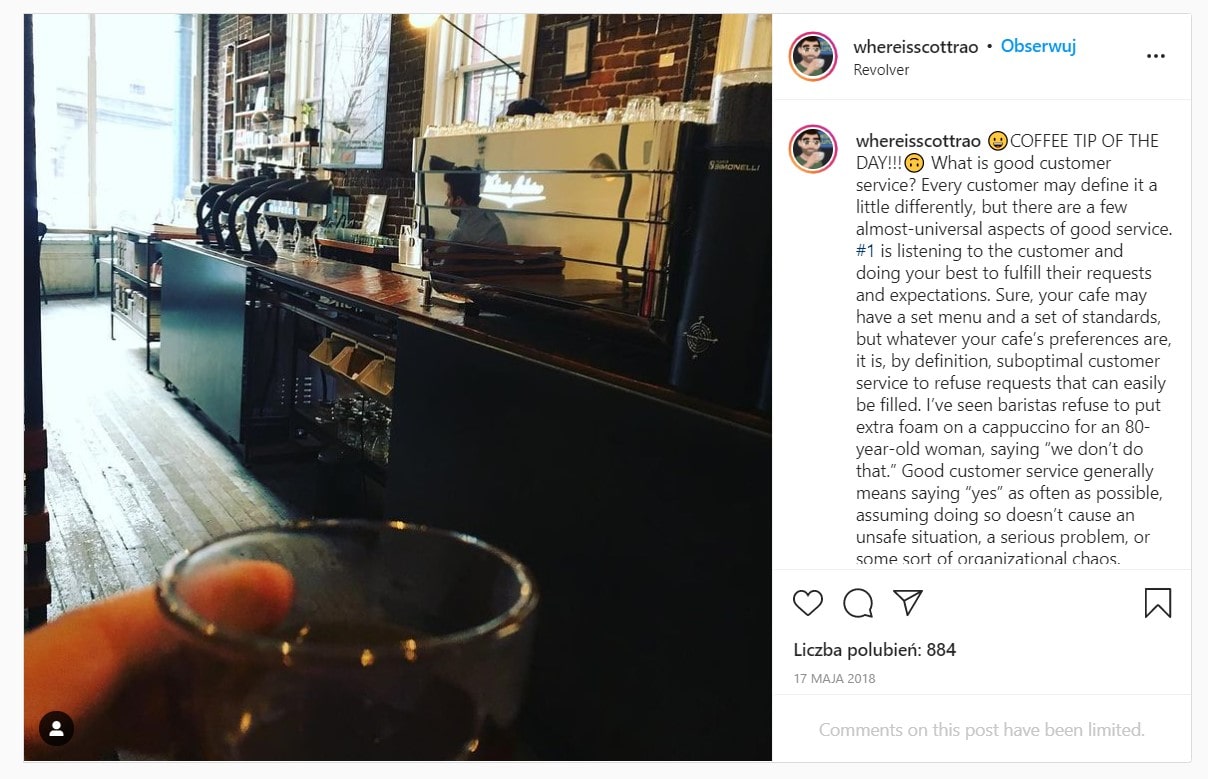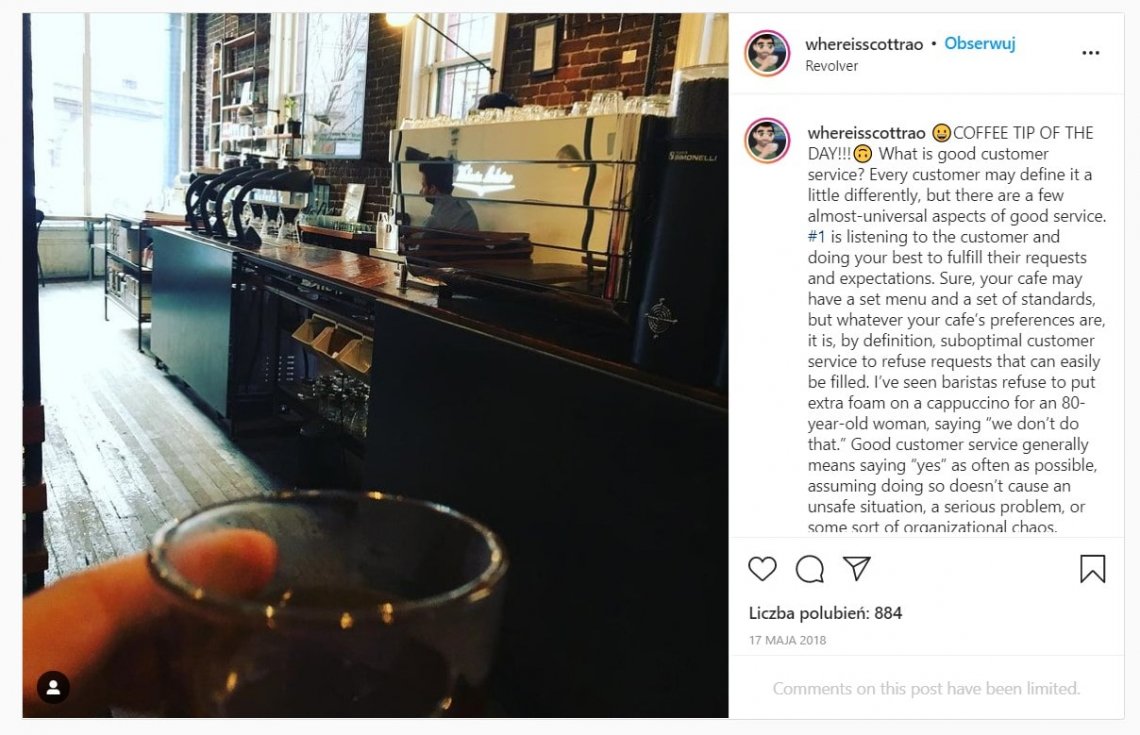 We've all been there – standing behind a long line at the counter while the associates casually chat amongst themselves, seeming to be in no rush to service the next customer… Or standing in the waiting area of an empty restaurant as the staff continues to lean against the wall, continuing their conversation about who-knows-what as you wait for one of the many empty tables which you can clearly see… Or even on the phone, after you've patiently explained your predicament to a representative, but get put on hold for half an hour, during which time no one checks in on you, so you have no idea if you should keep waiting…
I could go on, but I won't, because that would be a waste of time (by the way, I have never been back to that restaurant I mentioned). Which is why I couldn't agree more with the quote above.
There is nothing negative about showing your customers that you respect their time. There's no need to exhaust yourself by running at full speed 24/7, but showing your customers that you're actively working to assist them is certainly one of the best ways that your company can be an example of good customer service in retail.
3. Be an example of good customer service in retail by not sweating the small stuff (a.k.a. minor costs)
"Best knife I've ever carried is a Kershaw. Great customer service too. Broke my pocket clip and had another at my door within a week, free of charge. Proud to carry a Kershaw" – customer Allen A.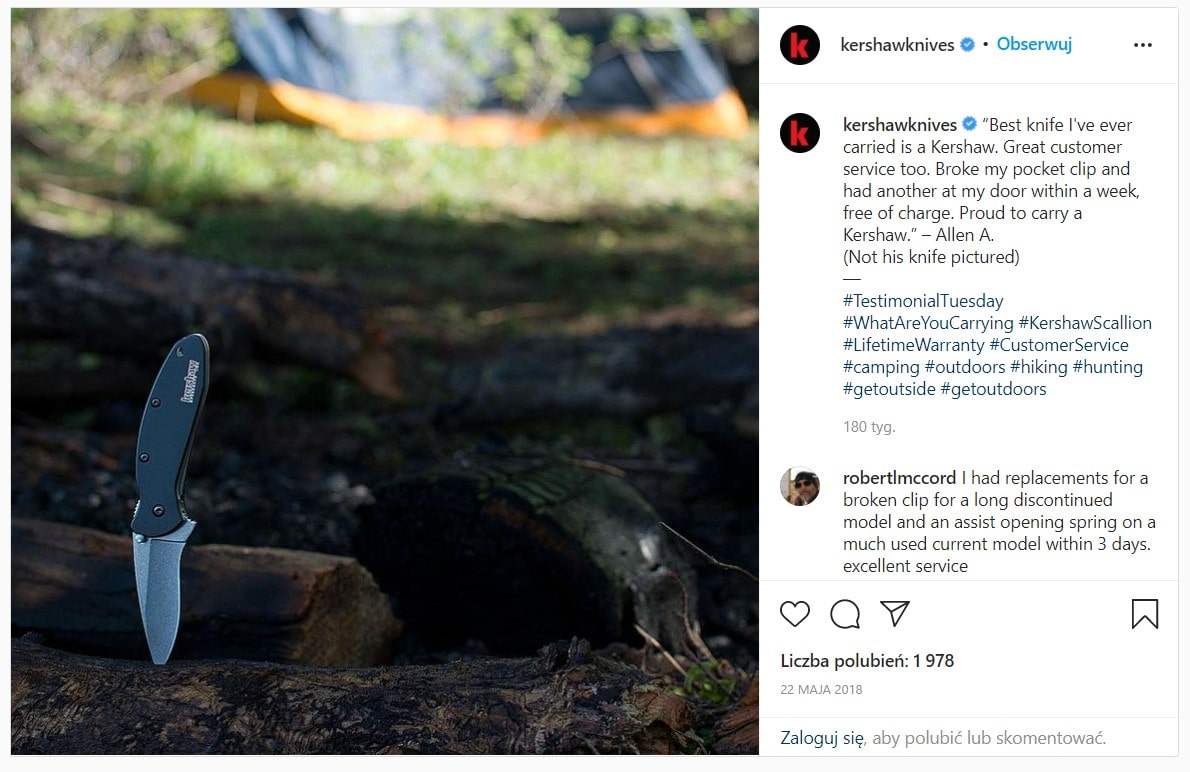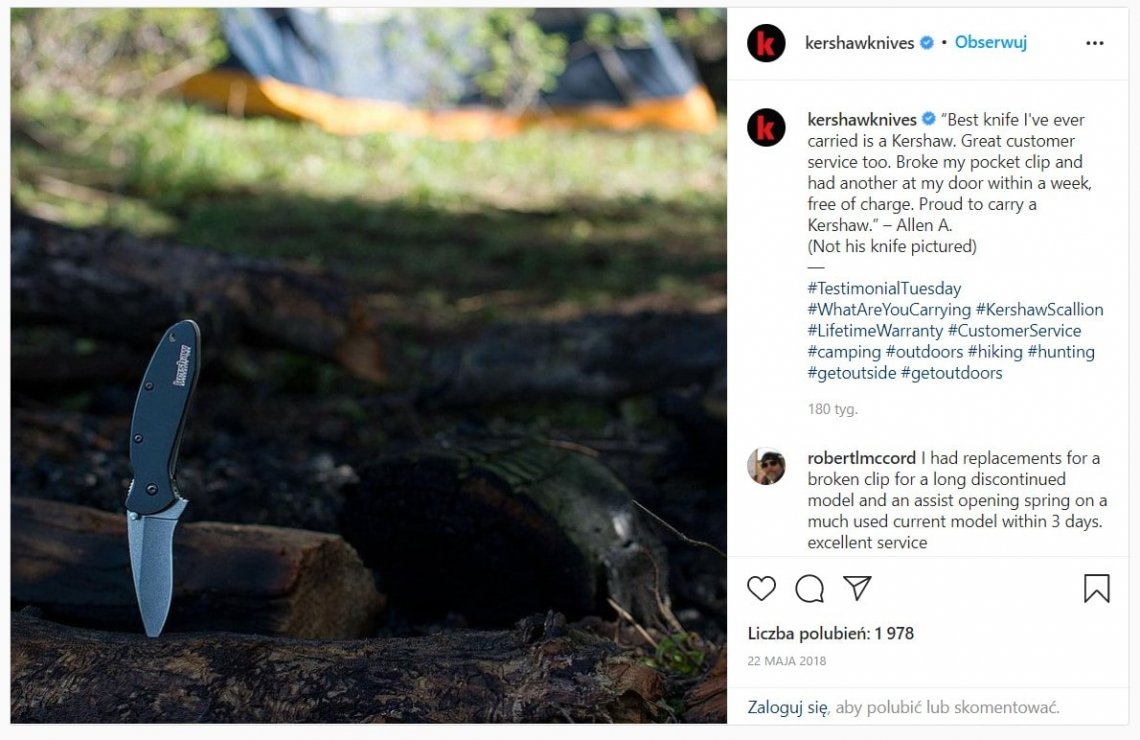 Kershaw Knives is the perfect example of a company willing to pocket minor costs so they can provide good customer service and aftercare. The image above is a genuine customer testimonial from a customer who experienced excellent aftercare from Kershaw Knives after he broke the pocket clip for his knife. Kershaw immediately sent him a new clip without any additional charge, and made sure he got it within a week.
That's great service! There are a lot of brands that, even when their products are under warranty, require customers to pay for shipping and handling if repairs or servicing are needed. Which isn't totally unfair. And also exactly what makes Kershaw's generosity stand out even more. The fact that they're willing to pocket the minor costs signals to their customers that when they purchase an item from this company, they're getting more than they pay for. They're not just getting a rugged new knife, but also peace of mind and reassurance that they're taken care of should something happen.
Does it matter? You bet:
"Haven't had a problem yet but good to know when called on you guys will be there" – customer comment on Kershaw's post above.
4. Be an example of good customer service in retail by paying attention to the details
Because it's the little things that matter.
Just like in a restaurant, where the way you present your food can affect customer satisfaction, so can the way your staff present themselves to your customers. And this applies to any type of business that provides customer service, whether it's in offline retail, online retail, hospitality, or otherwise.
For example, the client below couldn't stop raving about all the little service details that made him say 'why would you want to go anywhere else?' when posting about his stay at a particular hotel.
"1. They change the mat on the floor in the elevator to say "Good morning" or "Good evening" according to the time of day!

2. Their elevators are timed impeccably; you never wait long for one to come even if the hotel is busy.

3. All the staff wear a very nice smelling fragrance across the entire hotel.

4. Whether you call room service, reception, the garage etc, they always call you by your full name

5. They accommodate whatever request you have, big or small.

Why would you want to go anywhere else?"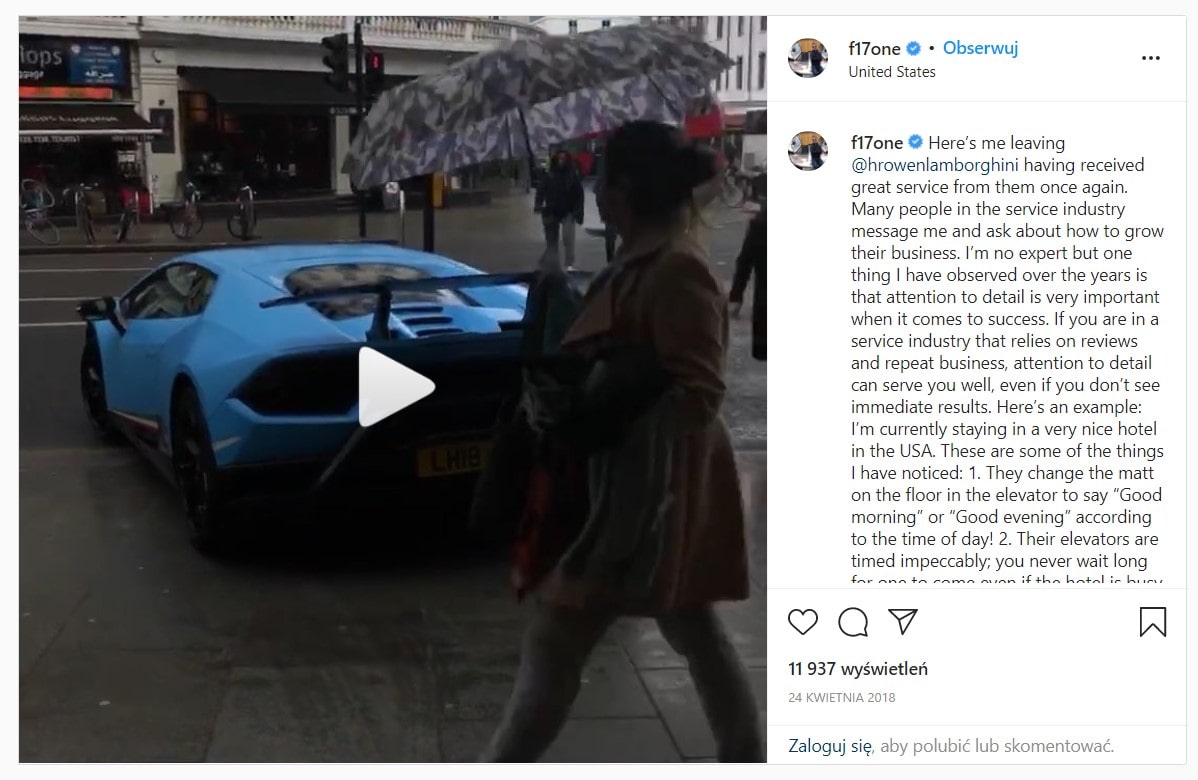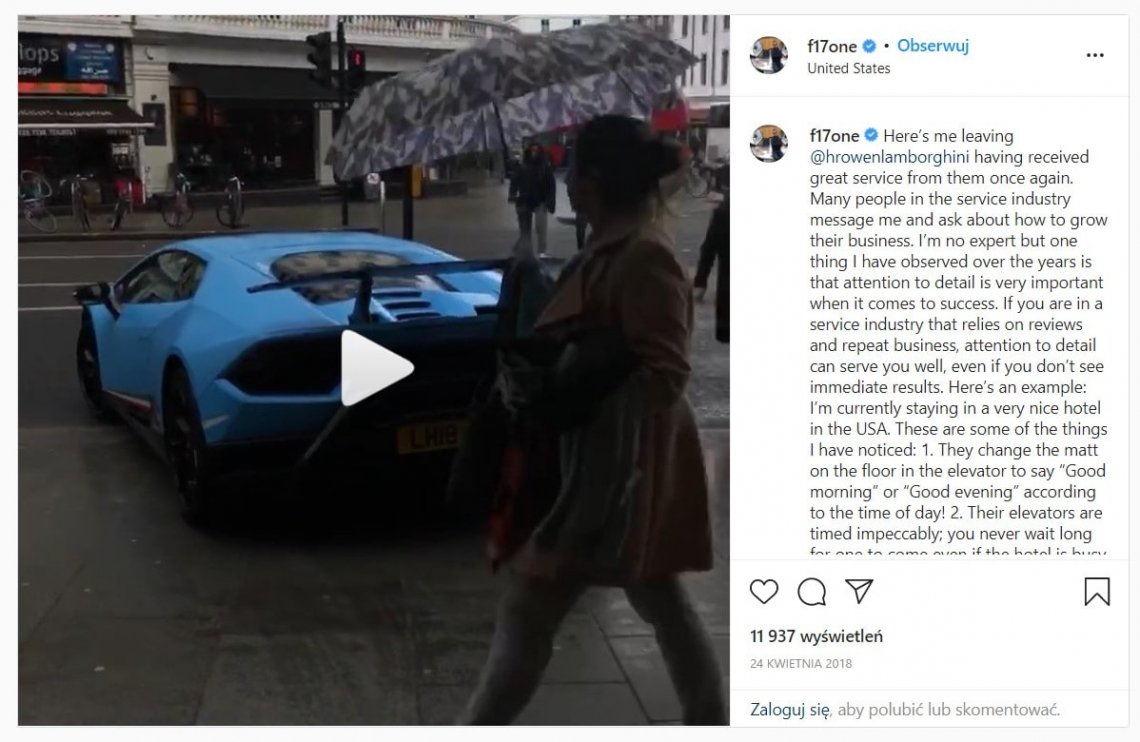 Even if you're not in the hospitality industry, you can implement personal touches like this in any business.
You might not have an elevator, but you can change the floor mats by your entrance to say "good morning" or "good evening", or implement more personalized greetings in your e-mail marketing.
You can try to open more check-out registers so your customers don't have to wait in long lines to pay for their items (a bigger concern than elevators for most retailers).
Some customers may be allergic to certain fragrances, but you could introduce policies that make your staff more presentable in general.
If you know your customers' names, try using them! It's a proven fact that people like hearing their names.
And flexibility is key. If you can help your customers without having it negatively affect your work, why not? Make change if you have enough small bills at the time. Allow your customers to use the restroom if they need it. Offer them a spoon if you see that they've purchased a ready-to-eat product (like ice cream or soup). None of this will take more than a couple minutes (or seconds), and your customers will appreciate your thoughtfulness, and even start to think 'why go anywhere else?'
5. Provide good customer service in retail, even when the customer is wrong
The customer is always right!
This is a popular customer service mantra that most businesses live by. But what happens when the customer is wrong?
If you own or manage a store, then you've probably had to deal with instances of shoplifting, at least once. Many business owners make their stance on shoplifting clear by displaying signs like the ones below, right inside their stores: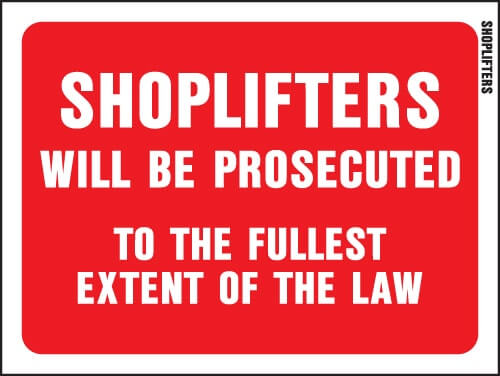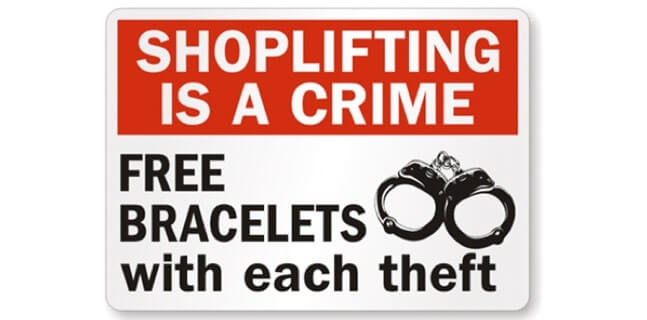 The message is clear: if you shoplift, prepare to deal with the legal consequences of your actions.
Sounds fair, but… it's not always so cut and dry. Even in the stickiest of situations, there may be a better way. If you treat your customers like real people and just listen to them, and react in a compassionate way, you might find a better solution that benefits all parties (and even make a positive impact on someone's life), like some clever store manager did.
Listen to the story.
A parent found that her son had shoplifted a lollipop from the store. She promptly brought her child back to the store where she had the boy apologize to the store clerk. When the store manager was notified, instead of following the rule book and calling the police, he told the little boy that he could have the lollipop if he was willing to work for it.
They struck a deal: the boy had to pick up 10 items of trash in the parking lot and he would have earned the lollipop. He went outside and picked up the trash, even a little more than 10 pieces. Afterwards, the punishment actually made him feel better, because he was then able to tell others that he had earned the candy, instead of stealing it.
Stories like this have a way of spreading online, even though they occurred offline. This may have just been a comment on a much bigger post, but it's already gotten 1.2K reactions in 3 weeks.
And it's also received a number of positive comments.
6. Be an example of good customer service in retail by implementing customer feedback
It's simple, really. Your customers want to be valued. This starts with listening to their feedback, and then implementing it where possible. A key point in good customer service.
The mere act of listening (and showing that you're listening by implementing good customer suggestions) can increase your customer loyalty, earn your company shout-outs and positive reviews in social media, and increase your brand awareness – all of which contribute either directly or indirectly to your sales and revenue.
The more people who know about and speak positively of your brand, the more people who will be inspired to try it (and be impressed by your amazing customer service).
We can see the importance of good customer service in the comments section of the post below. A beer connoisseur posted about his excellent experience with a craft beer company and how rare it is to receive such high quality customer service. The comments on the post echo the sentiment.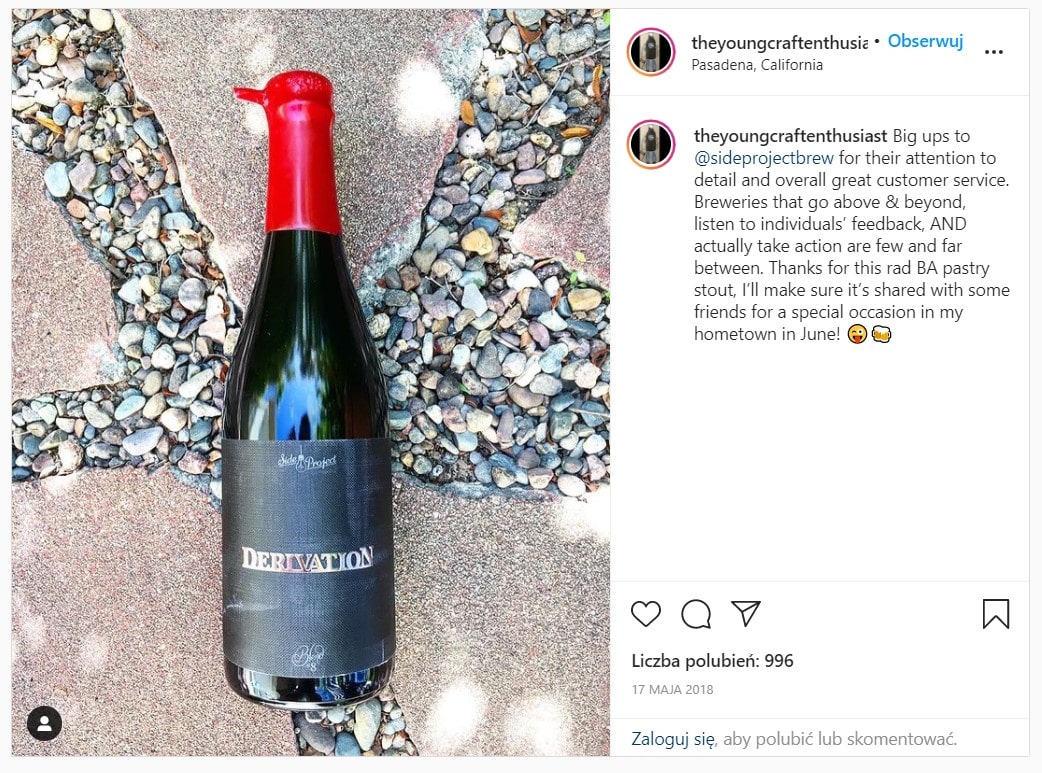 Listen to your customers' feedback and discover insights with Brand24
7. Be an example of good customer service in retail by interacting with your customers and keeping them in the loop
According to a recent study by BigCommerce, 96% of Americans shop on-line.
There are a number of reasons to shop with online retailers: to save time, avoid crowds, do comparison shopping… whatever the reason, nearly all US consumers have purchased items on-line at one time or another.
Here's how food retailer Real Canadian Superstore treats its customers.
One of the clients described on her Instagram experience with the online click & collect service.
As she describes in her post, all she had to do was place her order on-line, select a time slot for pick-up, and then when she arrived, a customer service representative brought her order directly to her car. She was especially impressed by the way the retailer handled the situation when they discovered that a few items she had ordered were out of stock. A friendly customer service representative gave her a call to let her know about the out-of-stock items, and suggested some possible alternatives.
I am no stranger to shopping for groceries on-line (saves SO MUCH time), but I've never received any phone calls from customer service representatives about items which were out-of-stock (mind you, they were not out of stock according to their on-line inventory). The retailers almost always automatically substitute them with other brands or similar items.
I'm not always happy about this since I prefer to avoid some brands (I've actually stopped ordering from certain online retailers for that specific reason). A phone call, text, or e-mail asking if it would be okay to substitute out-of-stock items with other brands would have been appreciated.
But that's one of the main differences between your run-of-the-mill customer service in retail and really good customer service from retailers: just listen to your customers and find out what they want!
Keep in mind:
67% of consumers cite bad customer service experiences as reasons for churn
A key step in providing good customer service in retail starts with remembering that your customers are human and connecting with them… in a human way.
This means that you listen to them.
Only then can you truly understand what your customers want and begin to build relationships with them.
This works both ways.
Sh** happens. Disasters strike. When the tables are turned, how do you want your customers to react?
Use media monitoring tool to engage with your clients online
8. Be an example of good customer service in retail… because you can't afford not to
Deep Sea Headquarters, a boat tour agency in Port Aransas, Texas, was hit hard by Hurricane Harvey. This was the case for many individuals and businesses, who were left with next to nothing in the wake of the disaster.
Almost immediately, Deep Sea Headquarters started to receive refund requests for interrupted boat tours due to Hurricane Harvey. They found themselves unable to issue refunds with their usual speed since their employees were now struggling themselves to deal with loss of house and home in the aftermath of the disaster. Not to mention the limited water, electricity, and cell phone service for everybody in the area.
A brief post on Facebook explaining the situation and asking their customers for some understanding and human compassion quickly revealed the strong customer relationships they had already built through outstanding customer service.
People quickly began to share their positive sailing experiences with the crew in the comments section and reassured the company that receiving timely refunds were far from being a priority during this time.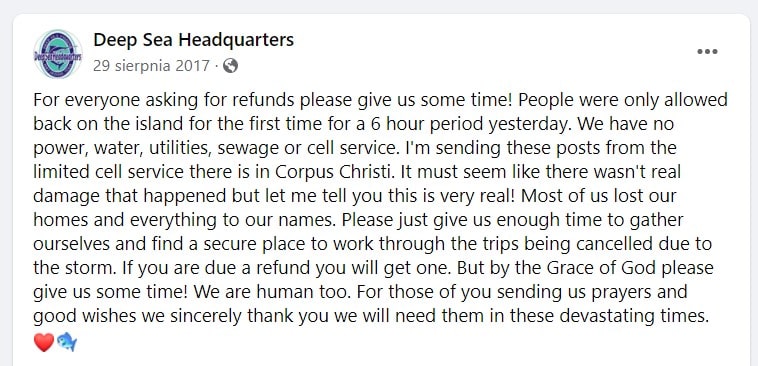 When the time comes (and it will) and your company requires understanding and human compassion from your customers, just wait: their reactions and support will reflect the strength of your customer relationships and just how well you've been providing customer service all along.
Hopefully, you'll find yourself in the same boat as Deep Sea Headquarters.
Provide good customer service in retail with social media monitoring
The first step to providing good customer service in retail begins with listening to your customers.
Your customers won't always approach you directly, so you may need to do some digging to uncover customer feedback or use a social media monitoring tool to do the digging for you.
Keep in mind that your company won't always be tagged when your customers mention you. This is where social listening tools can give you a hand. Set up media monitoring projects to track mentions of your brand, product, industry, etc… and receive instant notifications whenever your customers mention you on-line, whether you've been tagged or not.
Start social media monitoring for free!
A powerful yet easy-to-use media monitoring tool like Brand24 makes tracking down customer feedback super simple:
Step 1: Set up your social listening projects
Start by selecting the keywords you want to track.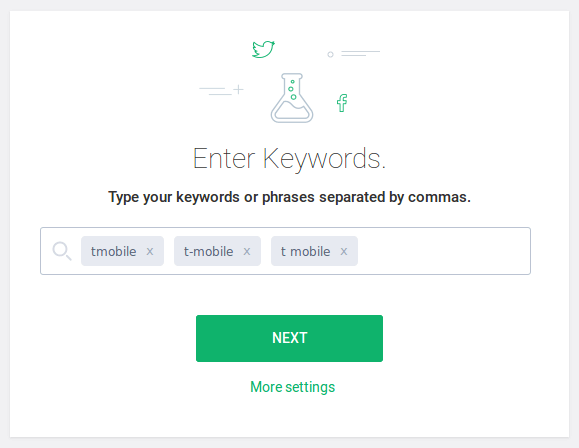 Creating a project takes less than 3 minutes:
If you're not sure which keywords you should be tracking, this resource will give you some ideas.
Start your free trial (no credit card required)!
Step 2: Keep an eye on your social listening projects
Once you've set up your social listening projects, keep an eye on the data you collect. Brand24 has a useful summary tab in the dashboard that displays important aspects of your data at a glance.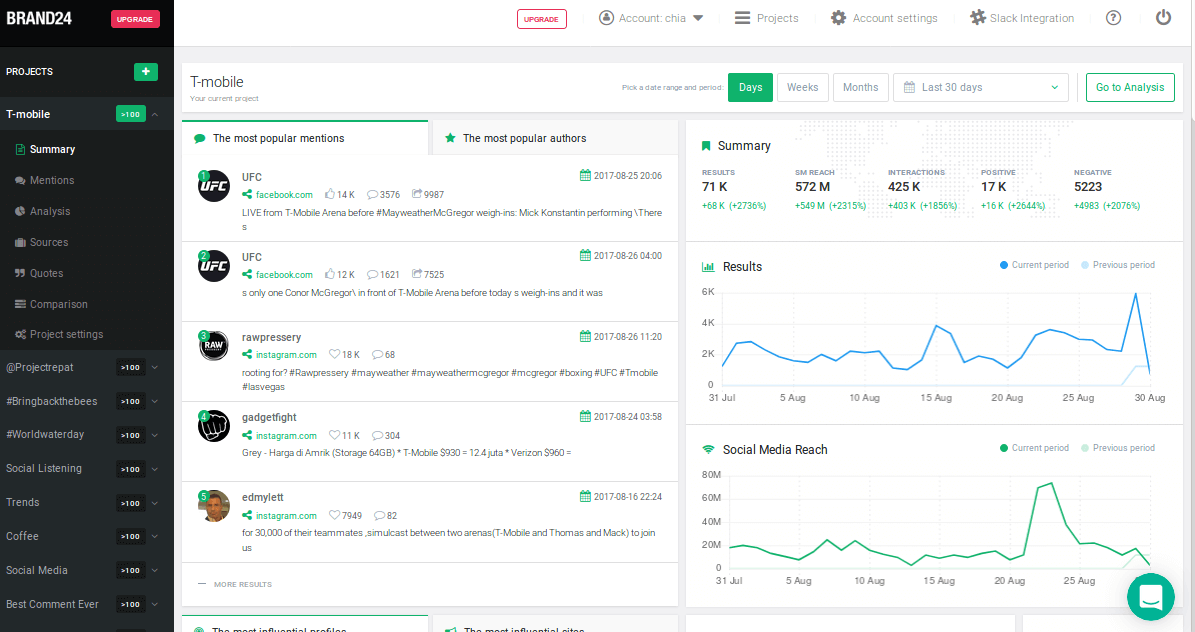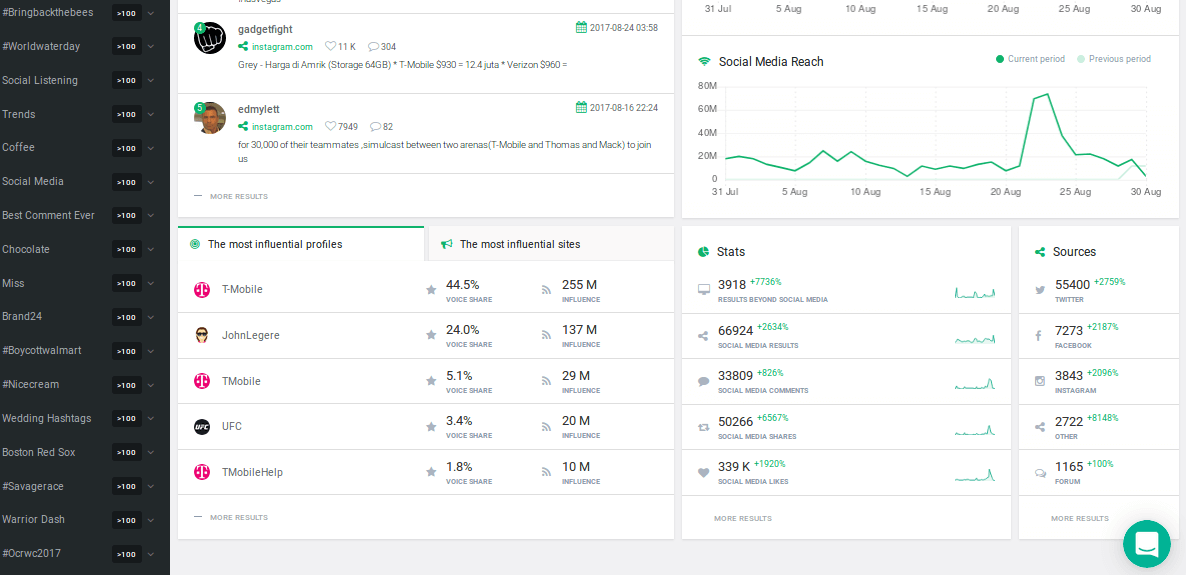 Personalize notifications to let you know when there is a sudden increase in results for your company or for particular types of results (such as negative or positive results, or for specific #hashtags, etc).
Brand24 also includes a variety of filters you can use to separate mentions according to relevance. And PDF analysis reports help you understand the data. Here are some tips to help you get the most out of your social media monitoring tool.
These features are all available in the free trial. Set up a social listening project now and find out what your customers are saying about you. Has your company really been providing good customer service in retail?SaveSave