What is the difference between good customer service in retail and bad customer service in retail?
Or good customer service and just… being serviced by a customer representative?
The main difference is in whether or not companies actually listen to their customers.
Research from thinkJar shows that 13% of customers will share a negative customer service experience with 15 or more people. On the other hand, 72% of consumers will share a positive experience with 6 or more people.
Here's the math: let's say you have 100 customers and 13 of them share a negative customer service experience with 15 people each. That's 195 people (compared to 13) who hear about negative customer service experiences with your company.
Now, let's say you have 100 customers and 72 of them share a positive experience with 6 people each. That's 432 people (compared to 72) who hear about positive experiences with your company.
Your customer service experiences have a lot more reach than just the original 13 or 72 customers who were actually serviced by your company.
Plus, according to research from American Express, 86% of consumers are willing to pay more for a guaranteed good experience.
The emphasis on guaranteed tells us that the promise of a good experience is expected and doesn't stand out for consumers. They want proof that they will receive good service.
The most convincing proof of guaranteed good service that you can offer your potential customers, come directly from other customers, especially if they're candid shared stories or comments about a good customer service experience with your company.
The statistics above tell us a couple things:
NOT hearing from your customers doesn't mean that they're satisfied.
Promising that you will deliver good customer service isn't enough. Consumers want a guarantee, or proof that they will have a good experience.
People talk. Whether it's 195 angry customers or 432 happy customers, make sure you're listening – this is where the right tools can save you a lot of time!
Listen effectively with social media monitoring tools
The quickest & easiest way to find out what kind of stories your customers are sharing is through social media monitoring, aka social listening. A social media monitoring tool like Brand24 scours the web and retrieves publicly available results containing your keywords (like your company, brand or product) so you know who, where, when and why people are sharing stories about you… as well as what kind of stories are being shared.
The companies that truly listen to their customers are the ones with the most loyal customers. And the more shared stories of good customer service experiences that you find, the more proof of a guaranteed good experience that you'll have for your potential customers.
This is the proof that new customers are looking for before they choose your product or company.
So how do you provide good customer service in retail and build strong customer relationships that last? By following these 3 steps:
Provide good customer service in retail!
Practice social media monitoring and listen to the stories that your customers are sharing about your company or product.
Find examples that can serve as proof for your new customers that a good experience isn't just promised, but guaranteed by your company.
Now, here are 3 examples, from companies large and small, who truly understand what it means to provide good customer service in retail:
1. T-Mobile's example of good customer service in retail
How would you react if I told you that your significant other had just passed away last night? You'd probably be shocked, in complete disbelief, grief stricken… and totally incapacitated.
Whether you'd be consumed with sadness or just frozen, I'm positive you wouldn't be thinking about the little things. Little but important details like real estate titles, joint bank accounts or phone bills would be the last things on your mind (naturally).
This was exactly the case for one of T-Mobile's customers.
When her husband passed away, the customer suddenly found herself with many new responsibilities.
Things her husband had previously taken care of had now fallen on her shoulders. And this doesn't even include all that she would soon have to deal with in his passing, such as notifying those close to him, taking care of funeral arrangements, speaking with his previous employer and accepting condolences… etc.
Most of these matters were handled over the phone, racking up a massive amount of airtime.
T-Mobile notified the customer that she had an unpaid phone bill of $2000 and her phone line would soon be shut down.
The grieving customer informed the T-mobile customer service representative of her situation and that since there was no will in place, the couple's assets had been frozen; she wasn't really sure when she could expect to pay the bill, but she really needed her phone now.
How did the telecommunications giant handle the situation?
By looking beyond the bottom line.
The customer's account balance was forgiven and the company even offered her unlimited minutes for the following two months.
The customer's reaction?
"Say what you will about T-mobile but they've done good by me. I'll forever feel indebted to them and will stay with them till the end."
She shared her experience on-line and the story has since received over 29.5K views with over 4K upvotes.
$2000 is no small sum, but by reacting to a tragic situation in the most human way possible, the brand won a customer for life.
And because their outstanding customer service moved her to share her story, over 29.5K people (myself included) also got to read about the kind and sympathetic way this telecommunications retail + service giant treats its customers.
2. Real Canadian Superstore's example of good customer service in retail
According to a recent study by BigCommerce, 96% of Americans shop on-line.
There are a number of reasons to shop online: to save time, avoid crowds, do comparison shopping… whatever the reason, nearly all US consumers have purchased items on-line at one time or another.
The user below had a great customer service experience with the on-line click & collect service from food retailer, Real Canadian Superstore.
As she describes in her post, all she had to do was place her order on-line, select a time slot for pick-up, and then when she arrived, a customer service representative brought her order directly to her car.
She was especially impressed by the way the retailer handled the situation when they discovered that a few items she had ordered were out of stock:
A friendly customer service representative gave her a call to let her know about the out-of-stock items, and suggested some possible alternatives.
I am no stranger to shopping for groceries on-line (saves SO MUCH time), but I've never received any phone calls from customer service representatives about items which were out-of-stock (mind you, they were not out of stock according to their on-line inventory)
The retailers almost always automatically substitute them with other brands or similar items.
I'm not always happy about this since I prefer to avoid some brands (I've actually stopped ordering on-line from certain retailers for that specific reason). A phone call, text, or e-mail asking if it would be okay to substitute out-of-stock items with other brands would have been appreciated.
But that's one of the main differences between your run-of-the-mill customer service in retail and really good customer service from retailers: just listen to your customers and find out what they want!
Might I remind you?
67% of consumers cite bad customer service experiences as reasons for churn
A key step in providing good customer service in retail starts with remembering that your customers are human and connecting with them… in a human way.
This means that you listen to them.
Only then can you truly understand what your customers want and begin to build relationships with them.
This works both ways.
Sh** happens. Disasters strike. When the tables are turned, how do you want your customers to react?
3. Deep Sea Headquarters' example of good customer service in retail
This one is actually a bit more related to the service industry, but as far as examples of companies providing good customer service go, Deep Sea Headquarters had to be included.
Deep Sea Headquarters, a boat tour agency in Port Aransas, Texas, was hit hard by Hurricane Harvey. This was the case for many individuals and businesses, who were left with next to nothing in the wake of the disaster.
Almost immediately, Deep Sea Headquarters started to receive refund requests for interrupted boat tours due to Hurricane Harvey. They found themselves unable to issue refunds with their usual speed since their employees were now struggling themselves to deal with loss of house and home in the aftermath of the disaster. Not to mention the limited water, electricity, and cell phone service for everybody in the area.
A brief post on Facebook explaining the situation and asking their customers for some understanding and human compassion quickly revealed the strong customer relationships they had already built through outstanding customer service.
People quickly began to share their positive sailing experiences with the crew in the comments section and reassured the company that receiving timely refunds were far from being a priority during this time.
When the time comes (and it will) and your company requires understanding and human compassion from your customers, just wait: their reactions and support will reflect the strength of your customer relationships and just how well you've been providing customer service all along.
Hopefully, you'll find yourself in the same boat as Deep Sea Headquarters.
Provide good customer service in retail with social media monitoring
The first step to providing good customer service in retail begins with listening to your customers.
Your customers won't always approach you directly, so you may need to do some digging to uncover customer feedback or use a social media monitoring tool to do the digging for you.
Keep in mind that your company won't always be tagged when your customers mention you (like with the T-Mobile post above – the story was shared in a forum without any tags).
This is where social media monitoring tools come in handy. Set up social listening projects to track mentions of your brand, product, industry, etc… and receive instant notifications whenever your customers mention you on-line, whether you've been tagged or not.
A powerful yet easy-to-use social listening tool like Brand24 makes getting customer feedback super simple:
Step 1: Set up your social listening projects
Start by selecting the keywords you want to track.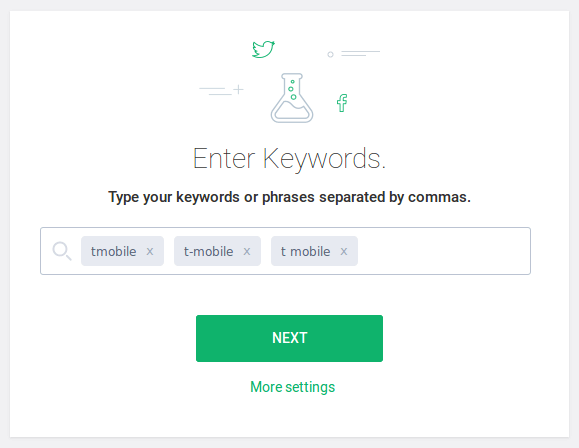 Creating a project takes less than 3 minutes:
If you're not sure which keywords you should be tracking, this article will give you some ideas.
Step 2: Keep an eye on your social listening projects
Once you've set up your social listening projects, keep an eye on the data you collect. Brand24 has a super useful summary tab in the dashboard that displays important aspects of your data at a glance.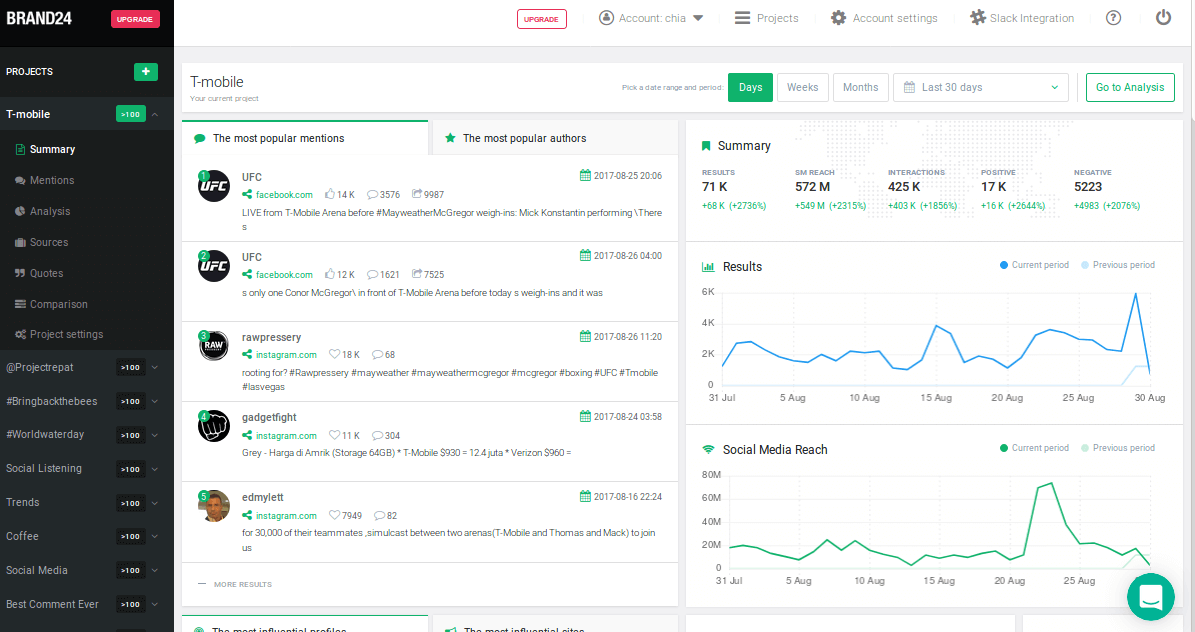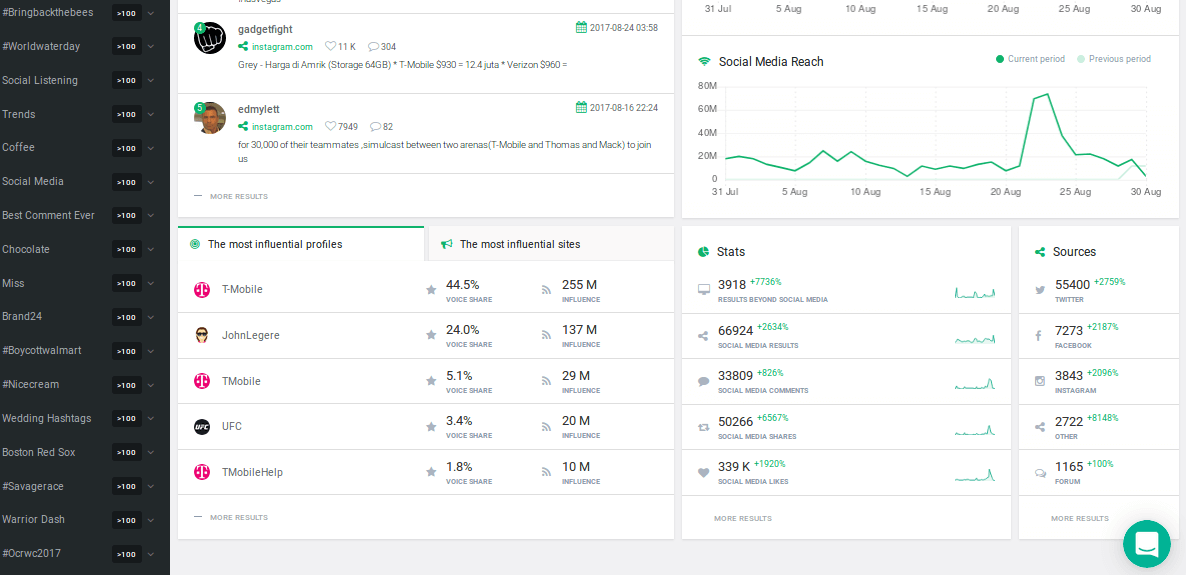 You can personalize notifications to let you know when there is a sudden increase in results for your company or for particular types of results (such as negative or positive results, or for specific #hashtags, etc).
Brand24 also includes a variety of filters you can use to separate mentions according to relevance. And PDF analysis reports help you understand the data. Here are some tips to help you get the most out of your social media monitoring tool.
These features are all available in the free trial. Set up your social listening projects now and find opportunities to build strong and loyal customer relationships by providing good customer service in retail!
Save
Save
Save
Save
Save
Save
Save
Save
Save
Save
Save
Save
Save
Save
Save
Save
Save
Save
Save
Save
Save
Save
Save
Save
Save
Save
Save
Save
Save
---
---