This post was updated on March 20th, 2019.
All marketers face this situation when they do not have a convincing answer about the impact of the social campaign on the ROI.
You may show the number of followers, tweets, post engagement and post reaches to your managers, but the question is did all these really had any impact on the bottom line? The answer is a loud 'No' and that is where our concerns start.
That's where social media metrics come to the rescue! In this post I'll explore the topic of social media metrics in further detail. Let's see what's ahead of us:
What is a social media metric?
Social media metrics are the statistics and other data you can pull from your social media channels that are indicators of your marketing performance.
There are some social media metrics that are universal and can be applied to all social media channels, while others are channel specific.
In this post, I'll focus on the universal social media metrics. Even when applying the universal social media metrics, will give you a general idea on how your social media channels are performing.
I would also like to focus on more substantial metrics, metrics that will help you build a robust social media presence, boost your brand awareness or develop a successful social media campaign.
That's why you want find vanity metrics in this post. A growing followers' count looks nice on a paper but isn't, especially in the time of bots, an indicator of a healthy social media presence. 
What metrics to measure in social media?
So, what are the mystery social media metrics that will give you insights into your social media marketing strategy and set you ahead of your competitors?
I'm basing my social media analysis on results delivered by social media monitoring tool, Brand24.
Brand24 gathers all the mentions containing your predefined keyword and analyses the results.
You can use the metrics provided by Brand24 understand your social media presence better.
Try it for yourself! The trial lasts 14 days and is completely free (we don't ask for your credit card number).
Let's take a look!
1. Volume of mentions
Volume of mentions tells you how compelling and interesting your content is. While looking at volume of mentions you'll get a general idea on how often people are talking about your brand.
Measuring the volume of mentions over time helps spot any seasonal changes in interest. Maybe there's a time of year when you could reach potential customers more easily and deliver better results?

There might be spikes in interest for your product throughout the year. For example, in the SaaS industry we can expect a spike in interest around Black Friday in November and in the late October.
Potential customers probably conduct a research around the tools they would like to buy during Black Friday madness. Based on the volume of mentions metric we should invest a bit more in promotion a month before Black Friday.
2. Sentiment

The volume of mentions is the social media metric on which you'll base your social media analysis.
Other metrics will give you context necessary to make the most informed decisions.
First thing on the table – sentiment.

Sentiment will tell you whether the talk around your brand (the volume of mentions) is positive, negative or neutral.
This social media metric is especially useful when you're running a social media campaign.
Initially, a high volume of mentions might suggest that the campaign is a success. After all, people are talking about your brand.
But that's not the whole picture.
A high volume of mentions and prevailing negative sentiment is a call for trouble. It means that social media crisis is on its way and you have to implement your social media crisis plan into action.
In Brand24 you can easily filter the negative and positive mentions and react to unsatisfied customers in time, preventing the escalation of the crisis.
3. Social media reach
Social media reach is a social media metric you should follow closely, especially if you're running a social media marketing campaign.
Social media reach will tell you how many people have seen your posts and how the content is spreading across social media.
Moreover, reach indicates the size if your desired audience. You can assume that social media users are interested in your message and, possibly, product.

The highest social media reach, the biggest audience could have seen your product.
From a technical point of view, measuring the social media reach is a piece of cake.
All you have to do, is come up with a dedicated hashtag and set up a social media monitoring project with the hashtag as a keyword. And that's it!
4. Number and type of interactions
To be successful on social media, your content need to ignite discussion and tempt users to leave some kind of interaction.
Social media algorithms, which take into account whose content to show first on a timeline, take into account the number and type of interactions on your social media account.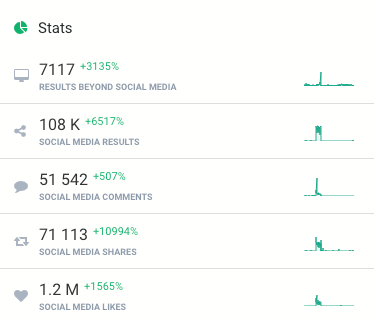 In other words, the more comments, likes and shares your posts have, the more people will see your content and the bigger exposure you'll have.
Number and type of interactions is, therefore, one of the most important social media metric.
5. Influencers
Influencer marketing sparks a love – hate relationship among marketers. The surge in negative comments about influencers is caused mainly by lack of research and basing the decisions on faulty premises.
Examining the right social media metrics will prevent you from making this type of mistakes.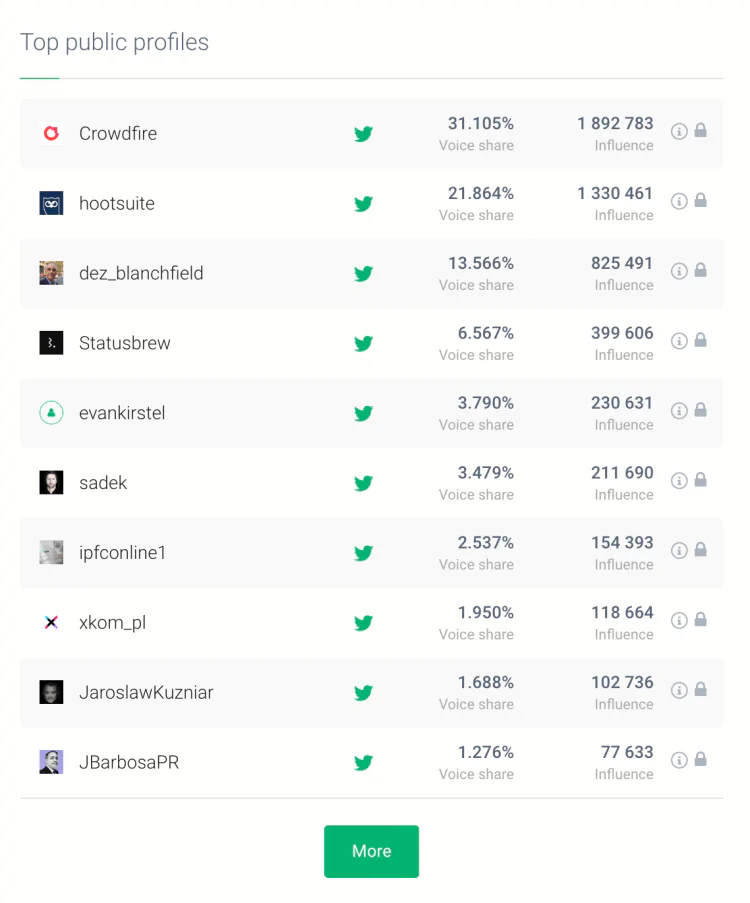 A social media monitoring tool checks the talk around your brand or your industry niche (depending on your social media monitoring project) and prepares a list of the most influential profiles already talking about your brand.
Combine the influencer score with sentiment analysis (just to make sure you're not going to work with someone who ignites a lot of controversy and negative emotions) and you're ready to conquer the world of influencer marketing.
6. The share of voice
The last metric I'd like to focus on is called the share of voice.
It indicates what percentage of the whole discussion was generated by the social media user or page.
The share of voice is the creme de la creme of your social media analysis.
How influential is your own profile? Are you a starting point when it comes to sparking discussion among your followers?
The share of voice metric will help determine whether you're the industry leader or not.
When do social media metrics become valuable?
Collecting social media metrics isn't a guarantee of success. But if you track your social media metrics consistently, you will have a ton of actionable insights that will help you measure and improve your social media presence.
Information is power, and the more you know about your social media activities, the better decisions you can make.
Knowing the performance of your social media activity will also help you benchmark against your social media competitors. That way you can exploit your competitors' weaknesses, examine their strengths and gain new customers.
HANDPICKED RELATED CONTENT
A Comprehensive Guide to Social Media Analysis
How to Create a Social Media Report
How to Measure Your Social Media Campaign
Author Bio
Keval Padia is a Founder & CEO at Nimblechapps, a fast-growing Android game development and Apple watch app development company. Innovation and updates of the field lures him to express his views and thoughts on certain topics.
---
---