7 ways to build a positive online reputation
June 3, 2020 ・ 8 min read
Why should you build an online reputation? Because a positive online reputation will have a beneficial effect on your business goals. Your reputation precedes you. This saying is current in the era of the Internet and businesses' online presence.
In the era of the Internet the customer checks the company before using its offer even if he's going to do it offline. He doesn't look only for the products or meals descriptions but also wants to know other clients opinions.
By your webpage, blog, social media activity and communication style you can help your potential customer to find what he is looking for.
Building a positive online reputation is a long process. You won't see the effects of your actions overnight. But the rewards are worth the effort!
In this blog posts, we combined the 7 most effective ways to build your online reputation. Of course, you can adjust them so the methods suit your business needs most.
Ready? Here we go!
1. Monitor the Web
Before you start any brand building activities, you need to know what people are already saying about your brand. Even if you don't run any online campaigns, your potential customers might be looking for information about your company.
Monitoring brand reputation will help you assess the current state of your brand's reputation. You will know whether your reputation is positive and you have a solid base to build on. Or maybe you should work some more on positive brand reputation?
To see all brand mentions, you can try a brand monitoring tool, for example, Brand24.
Brand24 will collect all publicly available mentions containing your predefined keyword. It means that if someone is complaining about your brand on Twitter and doesn't use the @ mention, you will still be notified about the issue.
That way, you can react quickly to any negative comments posted about your brand. You can prevent an escalation of any crisis and protect your brand reputation. Moreover, you can turn the tables around and find a turn a complaining customer into a happy one.
Brand24 also offers a robust analytics section that will help you plan and assess the results of your future brand building campaigns.
With a media monitoring tool you can:
Measure the volume of mentions. This metric will tell you how many times your keyword has been mentioned online. If you see a spike in the volume of mentions, it means that you brand building campaign is working — more and more people are talking about your brand.
Track the sentiment. Sentiment analysis will tell you whether the talk around your brand is positive or negative. If it's positive, then your campaign is going well. If not, there's a potential storm going on around your brand and you need to act quickly.
Set up notification systems. The sooner you know about any issues, the faster you can react.
Measure social media reach. You want to know what was the impact of your brand reputation building campaign. One of the metrics you can use to calculate the result of the campaign is the estimated social media reach. This metric will tell you how many social media users could have come in contact with your messages.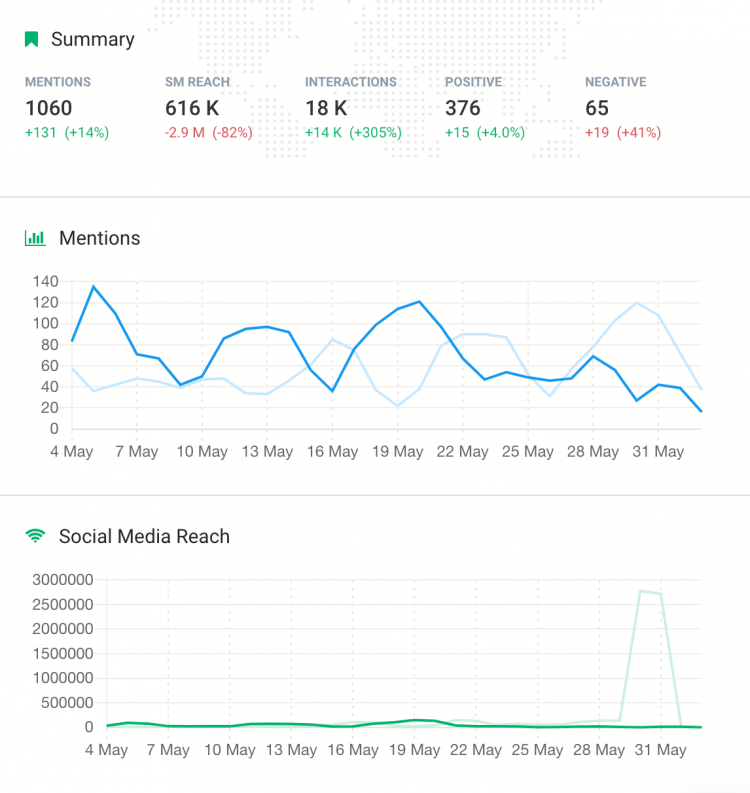 Effective Web monitoring can be a make-it-or-break-if factor when it comes to building a positive brand reputation.
You can test it yourself! Brand24 offers a 14-day free trial (no credit card required).
2. Design a user-friendly website
In the real world you often give the clients a small piece of paper with your company name, address and contact number. On the Internet, this informational function belongs to your webpage. Therefore, you should think over its whole conception and content.
It is the best to start with a domain name which should be catchy, short and unambiguous. Most often it is the name of your brand.
In the next step focus on the home page. Pay attention to its design and don't overcrowd it with too much information. Otherwise, the readers may quickly get lost. You will achieve an interesting visual layout with clear and brief text and well-matched graphics or pictures. It's important to have and follow a web design project plan in order to create the best possible visitor and customer journey on your website.
Detailed information should be placed in the sections. The most important among them are "about" and "contact". Fill the first one with a description of your company and photos of your greatest achievements. The second subpage is the space for the address of the headquarter, a local phone number or toll-free number of your business, e-mail, map, and driving directions.
The good thing is as well to create place on you webpage which would be intended for the clients opinions and reviews. Bazaarvoice infographic below shows how reading reviews impacts sales.
"Your website is like a business card. That's what people will most likely associate you with, especially since we live in a digital world. Not only will the user-friendliness of your website help retain your clients, but also give you an opportunity to acquire new ones both through the improvement of SEO signals, and great user experience." Stefan Batory, CEO at Booksy.com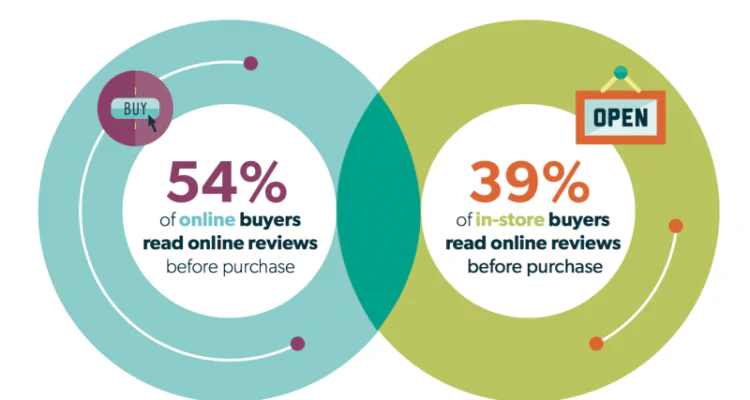 3. Write a blog
Content is king! This old saying is still true. Investing in a robust content marketing strategy will bear fruit.
Running a blog popular in your industry can have various benefits to building a positive online presence.
First, writing a blog will help you grow brand awareness. The more people know about your brand, the more are they willing to buy your products. A blog will help you organically establish your company as an industry leader. To do that you need to publish well-researched articles regularly.
Share your knowledge, bad and good experiences, and reveal some behind-the-scenes mysteries. This will help you become a go-to brand within your industry.
Secondly, content marketing is a great way to generate new leads. Building positive brand reputation will have a positive effect on your bottom line and will help achieve your business goals.
Blog is the perfect place to share the values of your company and products and create the image of an expert. Put a lot of effort into it – avoid language mistakes, too complicated words and enrich your articles with creative infographics, relevant charts and pictures.
You may want to check this post to learn how to make a blog fast and easy.
4. Be active on social media
Social media profile is a must when you would like people to find your business. While they seek for information they don't stop at the search engine. Checking restaurants, hotels or advertising agencies on Facebook is often the first thing potential clients do before deciding for a particular offer. On your fan page try to post interesting and entertaining content which will engage your followers.
The presence in other social media channels will also help your company reputation. You can inform about the newest products or links to articles on your webpage on Twitter. Remember to write brief and conspicious posts in there.
Looking for the audience related to your field you should create a company account on LinkedIn which brings together professionals. But some industries, such as design, use Pinterest as their source of inspiration. Therefore, if you offer furniture or wall papers the good move would be adding pictures of your products there.
In every place you have an account try to react on people's comments, pin their works or show interest for some publications. That is how building relations starts, something your business will benefit from in the future.
5. Reply to every request or opinion
It is important to show your current or potential clients that your business is accessible and you treat people respectfully. For this reason, you should respond to every online message or review. If someone's comment is negative, by writing a polite and understanding answer, you will probably avoid conflict and spreading bad opinions. You shouldn't ignore the positive posts as well. The best is to take advantage of them and proudly share them on your social media profiles. It would be a great proof of the quality of your services or products.
Before responding any message make sure you have enough time for it. Writing an answer in a rush will only worsen the situation and your image.
6. Share your achievements and awards
People are looking for companies they can trust. Before making a decision, they will research the brand and product extensively.
One of the ways to build trust is by sharing positive experience of others. You can show off your achievements or awards or any positive feedback you get from happy customers.
There are many tools that will help you manage and display the reviews about your brand, one of the is BrightLocal.
People trust in companies which are experienced and award-winning. They like to see some successful realisations. Thanks to that they hope for the same effects in case of their projects. If clients admire some organisation, they even forward positive news on social media profiles and recommend your business to others in a real world.
7. Keep your content simple
No matter if you fill in some section on you website, write post on your blog, Facebook fan page or Twitter account, try to use normal language. Your every written expression should be also honest and (especially in case of messages and e-mails) polite.
These are only a few ways to build a good reputation which we know they successfully work. But every company might have its own secret techniques for creating a positive image. Would you like to give some of your brilliant ideas away? If yes, share them in a comment!
How to effectively obtain feedback?
To get customers to give you feedback on your products or services, it is often enough to simply ask them. For example, you can send a short survey or an invitation to give feedback with a link to a review site. Of course, if you are making large-scale sales, such activities will be very time-consuming. However, there are tools available on the market that automate the entire process.
One such tool is Rating Captain, which is an application that sends invitations to your clients via e-mail, text message or pop-up. The feedback you get is then analyzed in order to know the reasons for customer (dis)satisfaction and how to respond accordingly. Just as we mentioned, responding to customer feedback is a very important aspect of online reputation management. Research by Bazaarvoice shows that consumers who see a company's response to a negative comment are 186% more likely to purchase than those who don't see the response*. Source: The Conversation Index
Is positive brand building important?
Hopefully, by now you already know how important building a positive brand reputation is. You might not see the results right away, but investing in brand building activities will certainly help you in the long run.
Must read: If you want to know a metric that helps you understand awareness around your company or competitors you have to check our blog posts about online presence score.
HANDPICKED RELATED CONTENT:
Brand reputation crisis management: a step-by-step guide
SaaS brand reputation monitoring with Brand24