Mobidoktor is a Poland-based smartphone repair service and an online store selling smartphone accessories. They offer door-to-door smartphone and tablet repairs, in particular, screen and display repairs. They use social media monitoring for sales and increasing their brand awareness in social media.
Interestingly, Mobidoctor uses social media monitoring to achieve a couple of different goals: they monitor their brand reputation, look for online reviews and people they can cooperate with.

To make this process as efficient as possible, Mobidoktor actively uses filters and groups mentions inside the dashboard. Using this feature, they can easily control all mentions, access the most important ones or focus on customer queries or feedback.



The above mentions are sorted according to different filters: "feedback" and "customer lead".
Mobidoktor's Facebook profile is alive and kicking and in connection with their social media monitoring tool, they easily find customer leads on social. Also, they often post customer feedback to support their brand reputation.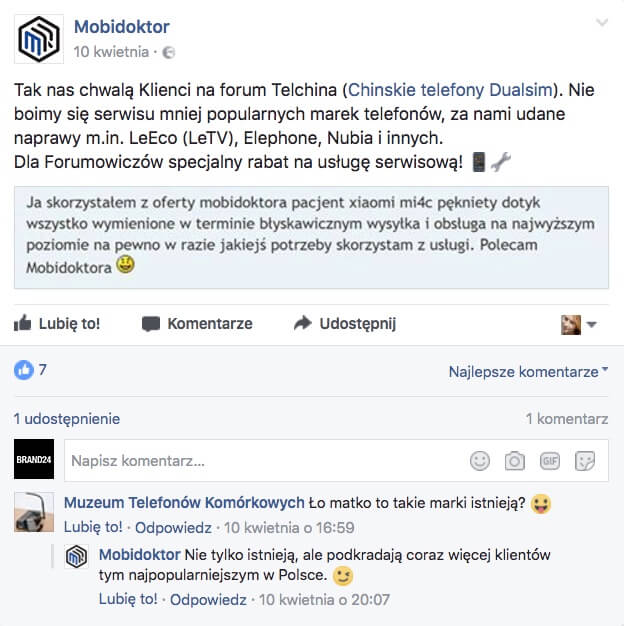 Social Selling
Using social media monitoring tool, Mobidoktor identifies and reaches out to three types of audience:
Individual customers
Smartphone companies
Tech industry influencers
With a social media monitoring tool, they follow relevant mentions and get to know their target audience better. One of the company's pillar is education — they create tons of educational content. Below you can find an example of their tutorial about changing the display in iPhone 5s:
By creating such pieces of content, Mobidoktor establishes their authority in the smartphone industry.

Here's an example of Mobidoktor reaching out to a customer looking for an iPhone 6 screen replacement: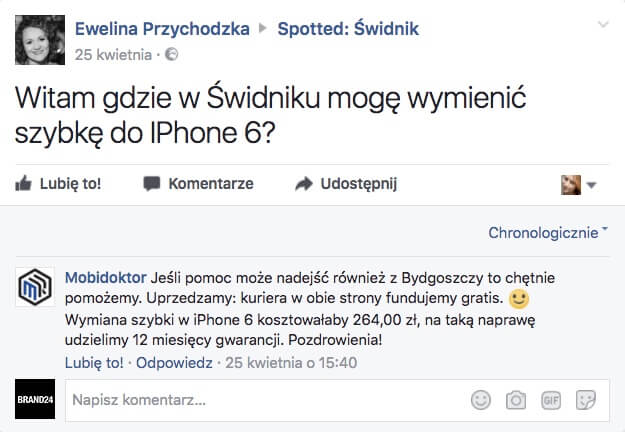 Social media monitoring allows Mobidoktor to find brick and mortar stores that offer smartphone accessories. Following relevant keywords lets them discover the most popular and trusted stores they can reach out to with an offer. For example, Mobidoktor cooperates with a store in a small town — local people bring their broken smartphones to the store which then sends them to Mobidoktor.
One of the most important applications of social media monitoring is acquiring customer feedback. Using Brand24, Mobidoktor found on a discussion forum a customer complaining about the quality of product Mobidoktor offers. They reached out and offered help to the customer and straightened things out. It turned out that the problem was on the customer's side.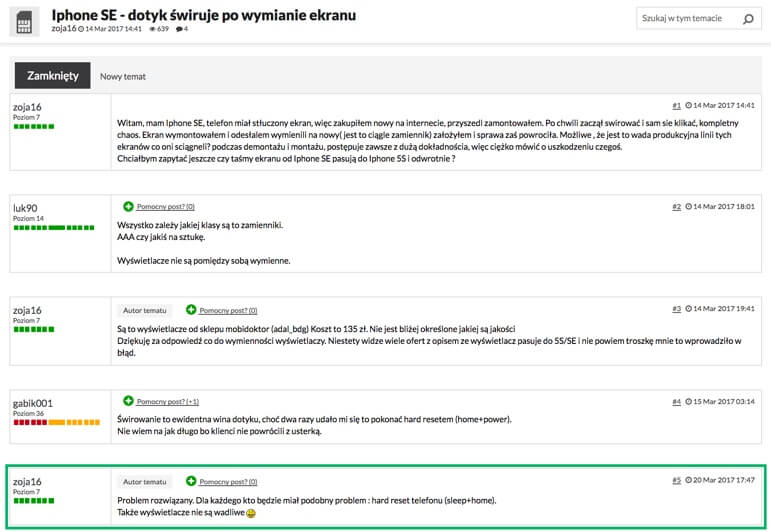 Return on Investment
Thanks to social media monitoring, Mobidoktor improved their results:
20 — 30 repairs more each month
212% increase in conversion
Conclusion
If that's what you need, you can start a free trial at Brand24. It's absolutely free. No credit card required.
Also, here you can find more relevant reads: