Who Are Micro-Influencers & How to Find Them
March 30, 2021 ・ 11 min read
With the raise of popularity of influencer marketing, more companies dig deeper and try to find less popular, but more relevant brand ambassadors. Micro-influencers can be the sweet spot in digital marketing. Here's what you need to know about them.
Social media is somewhat saturated with all kinds of influencers, and needed to sort out so-called influencer tiers. Because now everybody can be an influencer. Is that a good thing? Well, it depends.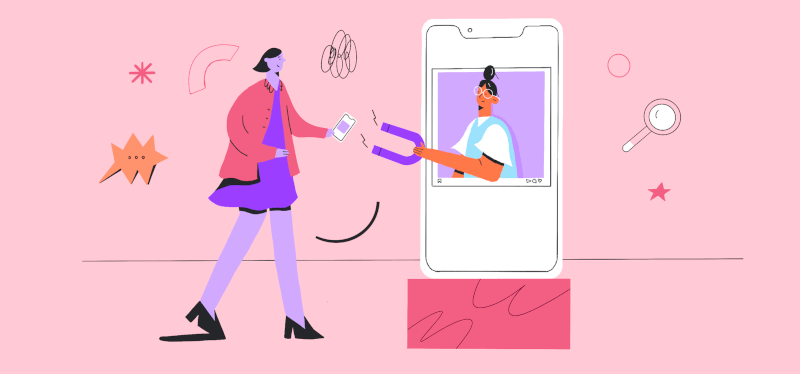 From a brand point of view, the endless ocean of social media influencers can be overwhelming. But if you do your research right, you might end with great brand ambassadors coming up with amazing sponsored content every day.
Read more: If you are new to this subject, we have prepared a thorough guide to influencer marketing. Don't forget to read that too!
Meanwhile, here's what we will be talking about in this document:
Before you read: perhaps you will be interested in our report on Top 100 Marketing Influencers.
What is a micro-influencer?
Cooperating with the biggest industry influencers usually has a positive quantitive result. It's based on social media reach and engagement those influencers drive. It guarantees us a large exposure.
On the other end of the scale, we have micro-influencers. It's a relatively new term and has barely anything to do with the buzz, fame and fortune influencers from our report generate. Micro-influencers are social media users with significantly smaller, but more engaging following than macro-influencers.
For example, in the case of Instagram, a study from Takumi proves that the huge following has an inverse effect on engagement. Below you can find some numbers to get perspective.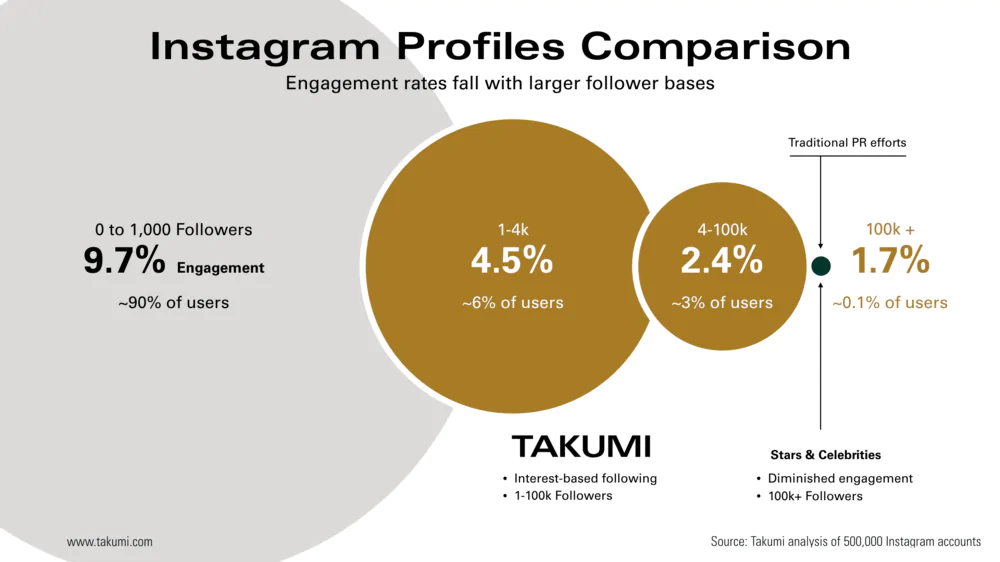 It appears that relationships and relatability between people have, in fact, a bigger impact than the influence of top influencers. It of course influences purchasing decisions.
The term "micro-influencers" immediately brings to mind the quantitive qualities, such as the number of followers and social media reach. This, however, is a short-sighted view that requires deeper investigation. The gist of the term lies in proximity between people. It's all about the same footing, accessibility and shared experiences.
For example, a group of cyclists connected on social media has a bigger influence on the purchasing decision of another cyclist than any top-shelf influencer.
So, micro-influence is not defined by the number of one's social following but the relevant conversation groups that a buyer engages in. Therefore, a micro-influencer is not someone with a specific number of followers – engaged or otherwise – but the people whom your potential buyer speaks with when considering a purchase decision.
The truth is, that the number of followers in no way allows predicting if someone will buy or not. Having this in mind, it seems that more and more brands tend to engage micro-followers.
Shane Barker, a digital marketing strategist, an author and one of the leading experts in influencer marketing and SEO, created an awesome gifographic about micro-influencers. He put together in one place everything you should know about them.

Nano vs micro vs mega
You already know, that micro-influencers aren't the only ones out there. Because influencer marketing is so popular, marketers needed to divide them into categories.
Below you can see a simple graph showing various influencer tiers: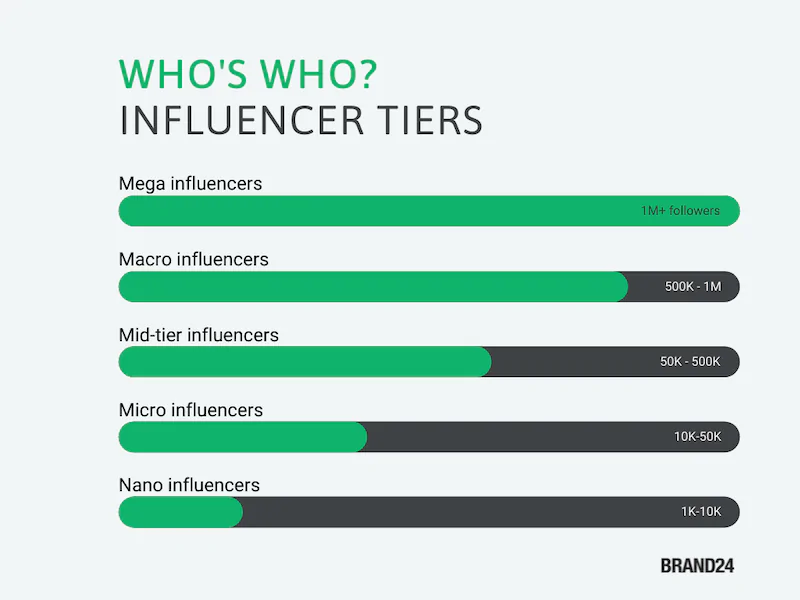 Micro- and nano-influencers are sometimes wrongly mixed into one category, but there's a significant difference.
A micro-influencer usually already has an established fanbase, with more than 10,000 followers, and probably worked with some influencer campaigns. Nano-influencers on the other hand, have fewer followers and are fixed on niche content.
Typical celebrities with a much higher follower count are usually considered mega- or macro-influencers.
Find micro-influencers with Brand24 media monitoring tool.
Who is an example of a micro-influencer?
Let's see then, the examples of social media accounts falling into the micro-influencer category. Bellow you can see people, who at the time of writing this article have between 10,000 and 50,000 followers.
Juan is a journalist for BBC Travel and Lonely Planet and at his personal Instagram profile he is sharing beautiful photographies from around the world.
His primary mission is to show the wonderful nature of our planet, but at the same time influencing his followers to visit less-popular travel destinations.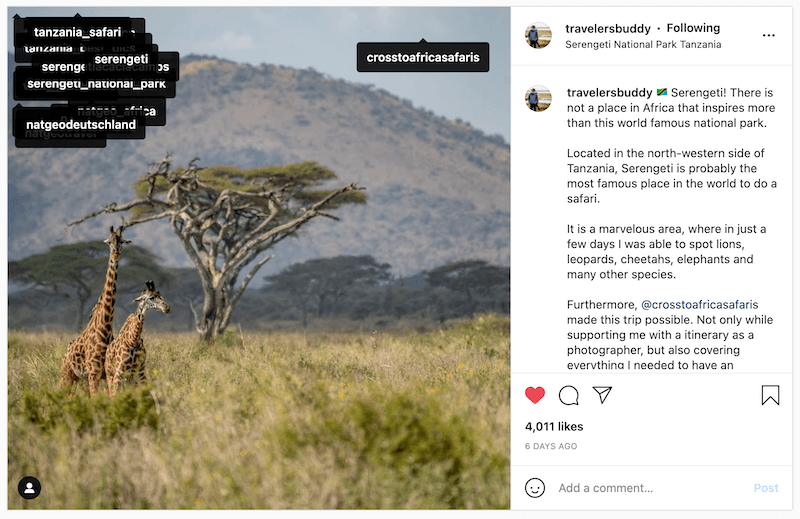 Lifestyle micro-influencer from Seattle. Jenn is showing her followers the beautiful places around her city and promoting a colorful style of living.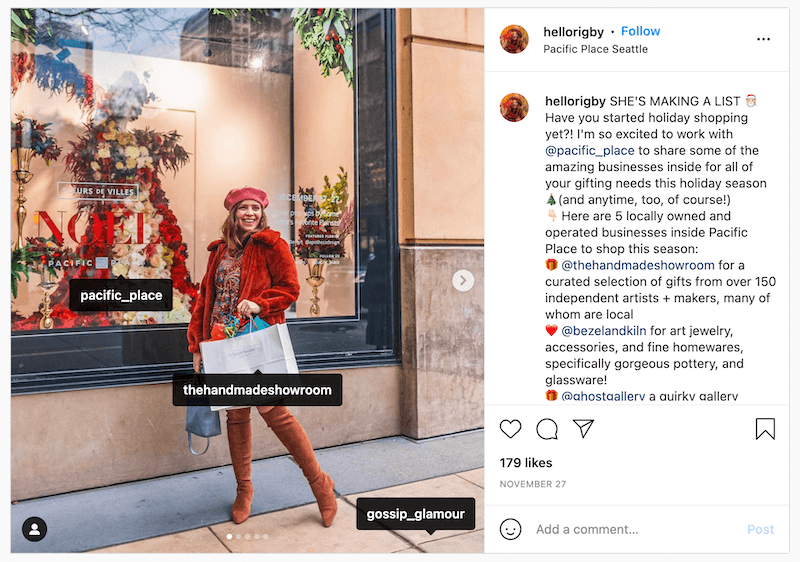 Polish graphic designer interested in all kind of art and fashion. Her unique style, knowledge and skills were appreciated by brands such as Glamour, H&M, or Elle.
She recently partnered up with Asus to promote their line of laptops for graphic designers.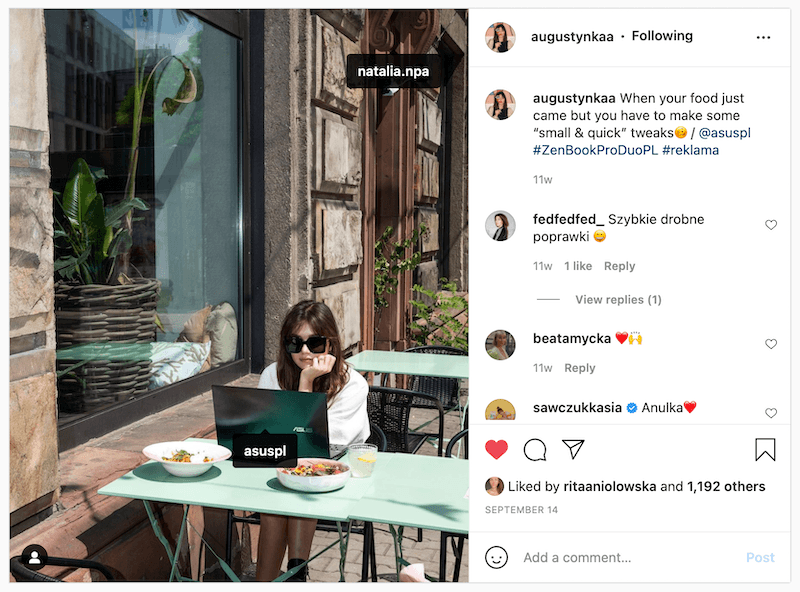 Why micro-influencers matter?
Whereas a macro-influencer has an impressive follower count and can get you a lot of traffic, they don't operate in local or niche markets.
And unless you are a very popular brand like Coca-Cola, BMW or Samsung, you probably would like to stick to your target audience. Here's where micro-influencers come in hand.
Although they have much smaller audience, the followers can usually relate much more to a micro-influencer or nano-influencer, than to a big celebrity living a rich and luxurious life.
What's more, generally speaking influencers are more believable, because user generated content is much more sincere and appreciated on social media than brands' own content.
Who can benefit from micro-influencing?
Working with micro-influencers may actually be good for almost any brand, but especially if you are in eCommerce market.
As you may already know, social media presence is very helpful when building brand awareness. Your digital marketing strategies should focus on reaching potential customers, and micro-influencers are here to help.
Here are some examples how various industries can benefit from a micro-influencer strategy:
Tech companies
If you are in the tech industry, you might want to take interest in YouTube marketing. Reviews in particular.
Sending your gear to YouTubers for free will get you a handful of reviews you can share on your social media channels, and a social proof of existence.
Restaurants
If you are a restaurant owner, you can invite a micro-influencer food blogger to your place and offer a free meal (or at least reduced prices) in exchange for social mentions and ideally a review on their blog.
Clothing brands
Showcasing your clothes even in a single Instagram post can get you new followers and some engagement.
Micro-influencers are especially great for this type of brands, because it's usually enough to offer free products to get mentions. Fashion influencers love to share new fits from their wardrobe, and Instagram users follow such people to get new inspirations for their looks.
Events
Some music festivals and similar events will use influencer marketing and public figures to advertise to everyday people. In such cases, journalists would become the influencers.
Sky is the limit! Brainstorm other ideas for micro-influencer campaigns in your company with your coworkers.
How much do micro-influencers make?
If you want to start an influencer marketing campaign you probably want to know what your budget should look like.
The truth is there's no definite answer how much money do micro-influencers earn. It all depends on the popularity, industry, and the campaign itself.
So, rather than looking for an answer to this question, you should decide on the budget beforehand or reach out to a few micro-influencers and ask for their rates. Usually micro-influencers have some experience with paid content, so they might have fixed rates for collaborations.
A sponsored post can cost anything between $0 and $1000, but it's uncommon for micro-influencers to take more than $100 for a brand mention on their Instagram.
Apart from the cost of the promotional post, you should also take into consideration the cost of the product you want to share with the micro-influencer (if you are sharing one). If you are a clothing company, you'd likely send your goods for free and don't expect a return. Tech brands can ask for the product back after the review, and sell it later as a refurbed item.
Remember, that if you pay your micro-influencer well, they will be more likely to recommend your products again, long after the campaign is over.
How to find micro-influencers? [Tools]
The most obvious way to find micro-influencers relevant to your target audience is to do a research on a social media app like Instagram, Twitter or YouTube. It's time consuming, but if you devote a few days for that you will have a brief knowledge of accounts that could be included in the influencer marketing strategy.
Check: Twitter Influencers: How to Find Them + benchmarks
But there are also other ways. Below are some tools that might be helpful while identifying influencers for your brand:
Brand24
Although Brand24 may not look like an influencer marketing hub, we do offer a few features that are very helpful while looking for a social media influencer.
First of all, Brand24 tracks mentions from all popular social media channels: Facebook, Instagram, Twitter, TikTok, YouTube – we have them all. And you need to follow these channels to find influencers.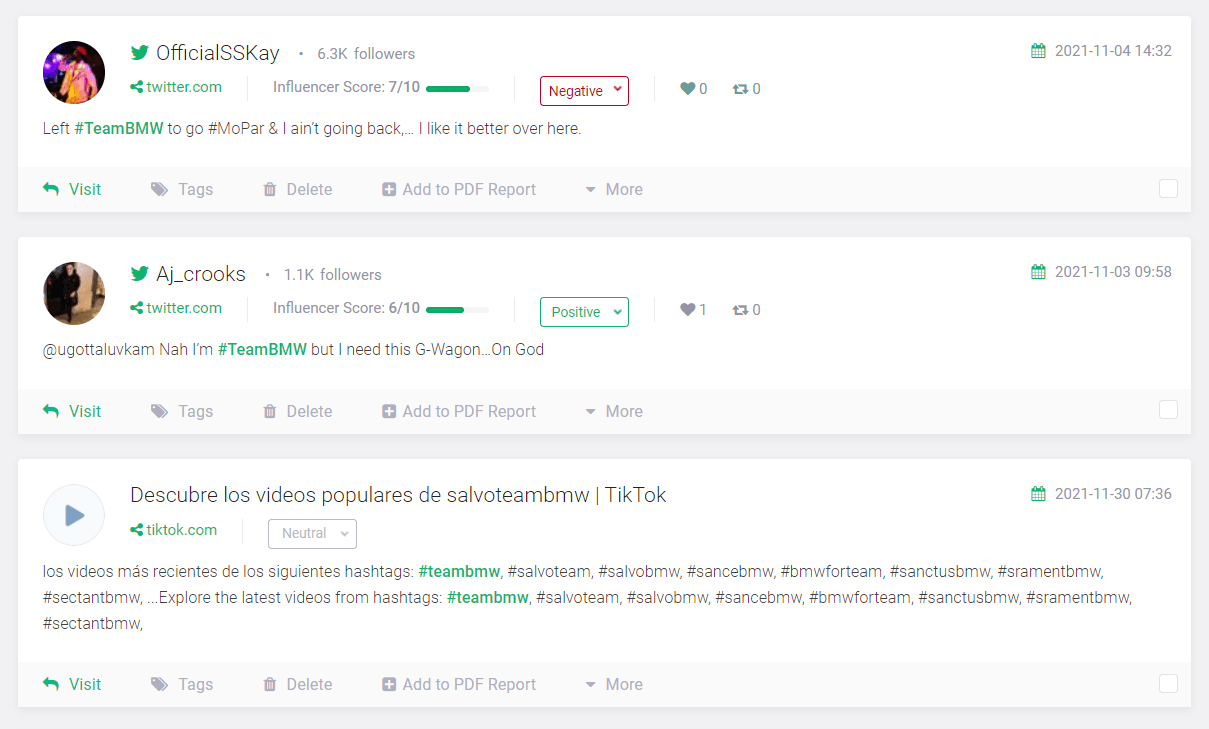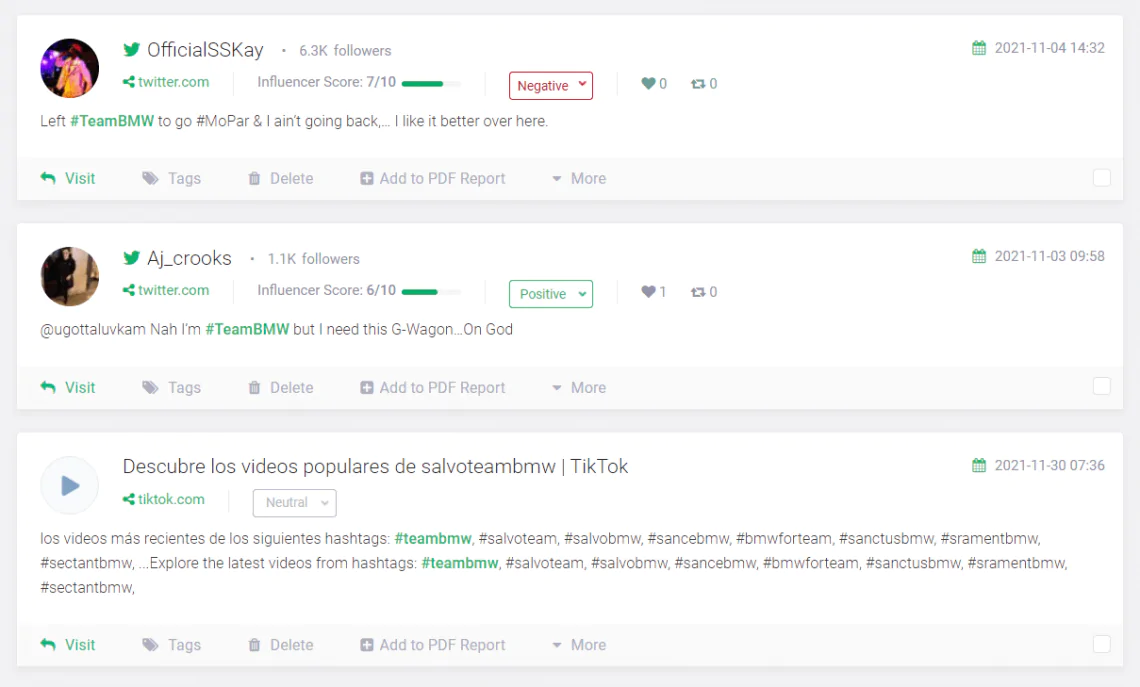 Secondly, each mention shown in Brand24 dashboard has an influencer score – our original metric that shows how relevant and popular the source is to your targeted keyword.
Another useful feature is the sentiment analysis tool, which pinpoints positive and negative mentions. This way you can identify micro-influencers that already like your brand or market niche.
Brand24 costs $49/month, but why won't you try our 14-day trial? No need to share your card yet.
Try Brand24 media monitoring tool for free and find micro-influencers in your market niche.
Awario
Awario is a very similar tool to Brand24. It's a little bit cheaper ($39/month), but at the same time it can be considered more basic.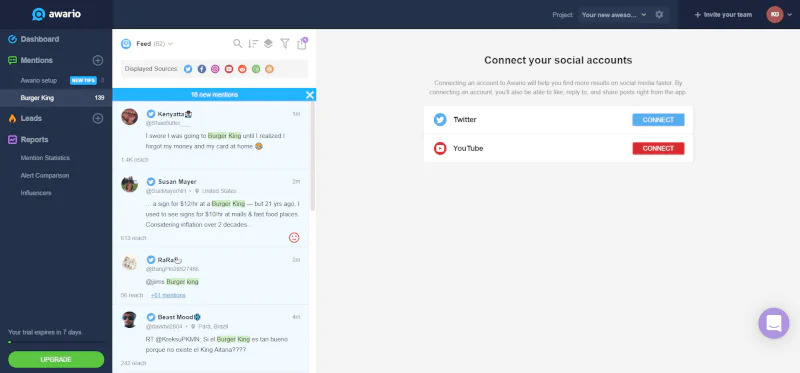 If you want to learn more about the differences, we prepared a longer text on Brand24 as an Awario alternative.
Upfluence
All-in-one influencer marketing platform Upfluence allows you to find and connect with influencers around the world.
This tool is useful in terms of managing your influencer marketing campaign, because it has a built-in payment system for affiliates. It also features automated outreach system, way to maintain contact with influencers, and means to calculate campaigns ROI.
Upfluence offers three pricing models (Growth, Scale, Enterprise), but unfortunately doesn't share the costs online. They are calculated individually.
Read more: Looking for the right influencers can be difficult and time-consuming. That's why we prepared a longer article on how to find influencers.
Micro-influencer marketing: pros and cons
Let's quickly sum up the micro-influencer campaign idea.
Advantages
The ability to reach a specific target audience.
Relatively cheaper than working with celebrities.
Possible high engagement rate.
Possibility to engage in stronger relationships with brand ambassadors.
Disadvantages
Relatively low traffic in terms of volume.
Limited audience.
Harder to find than macro-influencers.
As you can see there are some advantages as well as a few downsides, as usual. Micro-influencing can boost your digital marketing campaigns, but the ultimate decision is up to you.
That's a wrap
Now you know who micro-influencers are, what tools you can use to find influencers, and what are the pros and cons while working with micros. You know that both big brands and small businesses can benefit from influencer marketing.
Here are some key points you should take from this article:
Micro-influencers are people with small follower numbers (10k-50k for Instagram).
Micro-influencers tend to generate small, but quality engagement on their posts.
There are no fixed prices for working with micros. Everything boils down to your budget and personalized rates.
There are simple and advanced tools to find influencers.
The question is – are you ready to increase brand awareness with personalized content prepared by influencers?
FAQ
How do you market to micro-influencers?
Research: Find micro-influencers on social media platforms whose followers align with your target audience. Look for individuals who are active, have a high engagement rate, and share content relevant to your niche. Unlike celebrity influencers, micro-influencers tend to have a closer relationship with their audience, which can lead to higher engagement.
Engage and interact: Start engaging with the micro-influencers by liking, commenting, and sharing their content on social media. This will help establish a relationship and increase the chances of a successful collaboration. Building a connection with micro-influencers can also help you reach new social media followers.
Collaborate and provide value: Reach out to the micro-influencers with a proposal that highlights the mutual benefits of working together, such as increased visibility, access to new followers, and potential revenue opportunities. Offer them free products, exclusive discounts, or affiliate partnerships as incentives for their endorsement.
What are the 3 R's of influencer marketing?
Relevance: Ensure that the influencers you choose to work with are relevant to your target audience and industry, whether they are celebrity influencers or micro-influencers. This will ensure a higher likelihood of success in your influencer marketing campaign and resonate with your potential customers.
Reach: Influencers can help expose your brand to a wider audience, including both their social media followers and beyond. It's essential to consider the size and engagement of their followers when choosing the right influencers for your campaign.
Resonance: Influencers, be it celebrity influencers or micro-influencers, should have a strong connection with their audience, enabling them to create content that resonates and drives engagement. The more authentic and genuine the relationship between the influencer and their followers, the higher the chances of your influencer marketing campaign achieving its desired results.
HANDPICKED RELATED READ:
How video game companies can boost sales with gaming influencers?
The Pros and Cons of Influencer Marketing