How To Find Backlinks: A Comprehensive Guide
August 18, 2021 ・ 12 min read
In this blog post, we will discuss how to find backlinks with backlink checker tools. Backlinks are a crucial part of SEO and can be used to help you rank higher in search engines like Google. In fact, they remain as one of the top ranking factors. There are many different strategies that work for finding new backlinks for your website, but which ones should you use? We will answer that question and provide a list of methods on how to find backlinks so that you can truly take advantage of this powerful ranking factor.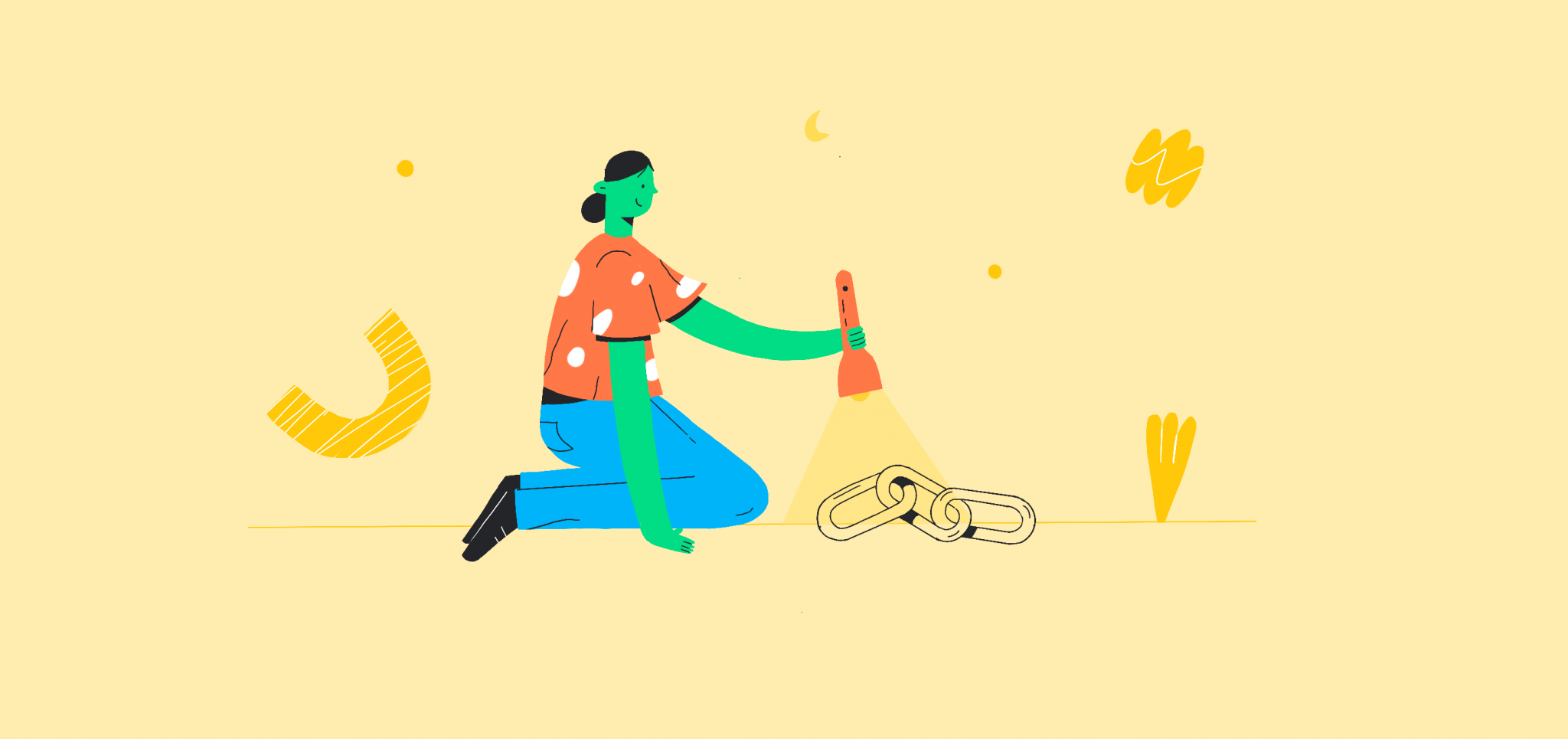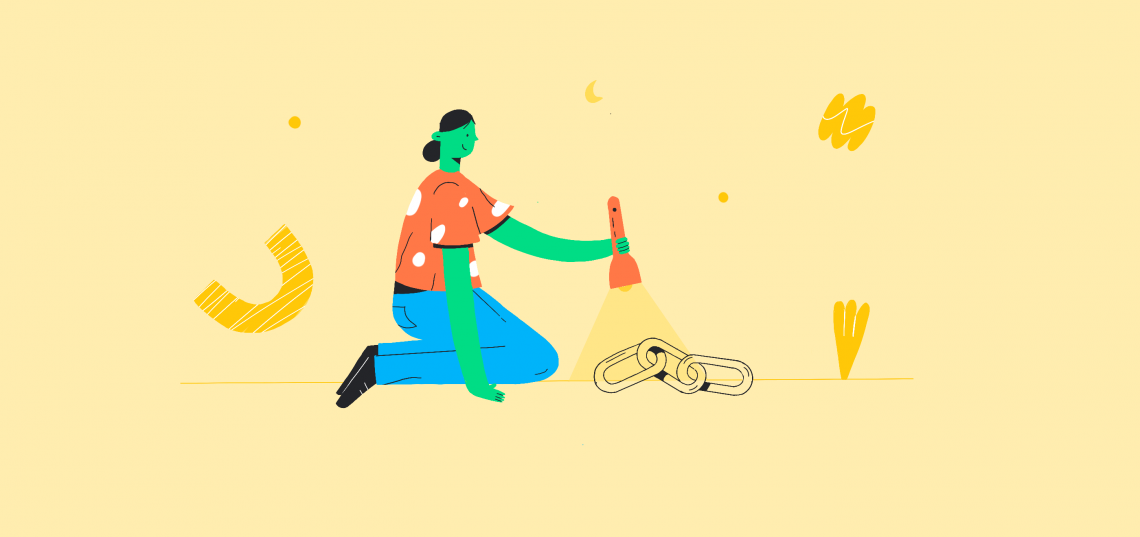 What you'll learn:
Why are backlinks important?
What's the difference between dofollow and nofollow links?
How does a referring domain and a backlink differ?
Why should you conduct a periodical backlink analysis?
How to find backlinks of any site and analyse them?
How to use the findings to your advantage?
Let's jump right in.
Why are backlinks important?
In order to rank higher in Google search results, you need backlinks. Backlinks are external links that point from one website to another. Search engine crawlers follow these links and determine how important or relevant a particular page is in relation to other pages online by examining which sites link to it and how often they do so (aka "link juice").
The more authoritative websites linking to your site, the better for visitors' experience of finding what they're looking for on your site, hence why search engines use this as an indicator of relevancy when ranking search results. Backlinks are still one of the strongest ranking signals, if not the strongest.
I used the word still here because some SEO professionals claim that backlinks have lost their power over the years due to black hat techniques, and Google, in an effort to mitigate that, has diminished their strength. While links are not as powerful as in the beginning, they're essential for ranking for competitive keywords.
Since it's such a reliable and logical method of assessing authority of a particular domain, Google has decided to stick with them.
Authority can also be defined as being the expert in a particular industry. High quality backlinks help with achieving that by creating a wider presence of your brand online.
Apart from authority, backlinks can get you referral traffic. Simply put, referral traffic are the clicks on the links pointing to your pages. The more relevant the link, the better chance you have of converting your visitor.
Last but not least, link building can score you profitable relationships with thought leaders, bloggers, and other tools.
More links is not always better, though. You also need to focus on quality and relevance. The linking website should be more or less in your industry, have at least a couple thousand of traffic, and not be a part of a PBN (Private Blog Network). Make sure to only build links that can contribute positively to your overall online presence.
The difference between dofollow and nofollow links
If a webmaster decides to have Google not count a particular backlink (or inbound link) towards the authority of other websites, they can assign a nofollow attribute to them. Essentially, the tag tells the search engine to ignore that link. Google has implemented that property to their algorithm to prevent spammy link building techniques, such as posting comments on hundreds of sites that contain a link to your domain.
To further characterise backlinks, there are also the UGC and sponsored attributes. UGC means User Generated Content, such as comments, and sponsored tells the search engine that it's a paid link. These behave in the same way as the nofollow attribute.
Still, these are only hints for the search engine. While it's generally accepted that nofollow links have no power, it's not entirely true. Even unlinked mentions of your brand can be considered as counting towards authority, and therefore nofollow backlinks can have some impact. Google determines that based on hundreds of little things.
Referring domains vs backlinks
There is a major difference between getting multiple backlinks from the same domain and links from different ones. It's always better to have a diversified link profile that consists of numerous domains instead of hundreds of links coming from only a handful. Getting 10 links from 10 domains is much more valuable than 100 links from 2 domains.
It's fine to get more than one backlink on a particular domain if you're linking to a different specific page each time, though.
Why should you conduct a backlink analysis?
Short answer: data.
Long answer: such an analysis provides you with insights about your competitors, your own backlink profile, lets you find new link opportunities, gives you an idea of how your competition is building links, and helps you discover the areas where your website might be lacking.
There are many points where your link profile could differ from your competitors, such as the quality of unique referring domains, anchor texts, the ratio between dofollow and nofollow, or the presence of toxic backlinks, and much more.
Nonetheless, the most important benefit of scouring through backlink profiles is the fact that you can get immense amounts of opportunities from your competitor's site.
How to find backlinks of any site and analyse them?
For this, you're going to need tools, specifically, a backlink checker. There are a couple of them, with the two most notable being Ahrefs and SEMRUSH. These two are entire suites, which can cost a lot of money as they're a whole lot more than backlink and competitor analysis tools. Alternatively, a more cost-effective alternative like SE Ranking provides a comprehensive list of backlinks along with all the necessary metrics. I myself use Linkody due to its ability to filter out the results and export them in an easy-to-read spreadsheet. It's also worth mentioning that Linkody only gives you the number of referring domains, which, in the end, is what matters the most.
You can also use a free backlink checker tool such as Ubersuggest or Google Search Console, but it won't give you as deep insights into your backlink overview. Generally speaking, it's only useful to check backlinks of your competitors and discover new opportunities.
Here's how I do it with Linkody Backlink Checker:
First of all, I add the website URL so Linkody can start tracking its backlinks. I like this tool because I can set it to get weekly or daily reports of new links that I've either acquired through strategies or organically, which lets me keep track of my progress.
While Linkody is quite accurate when it comes to discovering links, it's good practice to have a backup in case Linkody has failed to identify a backlink. One of the reasons I also use Brand24's media monitoring is the fact that it provides me with mentions, which can prove to be linked as well.
I then look into the most prominent competitors (mainly through keyword research) and add as many of them as I can. The limit is set to 10, which is more than enough to discover countless opportunities. Of course, if you've got more than 10 large competitors, you can always replace the current ones with new domains. I can also set reports for competitors' new backlinks.
At that point, I start my analysis. Here's what the dashboard looks like:
You can also generate a PDF backlink report here.
The Profile tab has numerous metrics that I can then compare with my competitors. When doing an analysis, I always compare my website to multiple competitors.
Linkody can be set to only show links with particular attributes, which makes the analysis even easier.
Anchor text
The first statistic, top anchor terms, tells me the distribution of particular keywords in the anchor text of mine and my competitor's backlinks.
It's also incredibly useful to look into the top anchor text of your own website to see if there is any suspicious activity that could hurt your business's online presence. There are malicious link building techniques that involve creating hundreds of posts containing links to your domain on questionable web pages, which could harm your rankings. It's worthwhile to check that out from time to time. Currently, the profile looks perfectly healthy, with the vast majority of anchor text being branded.
Moz metrics
Since Linkody is integrated with Moz, it has access to its database, as well as its metrics. I find that incredibly useful because I can see exactly where my website is lacking. In this case, it seems that we'd need to focus on getting backlinks from high-authority websites to match our competition. The inbound links from sites with DR of lower than 10 are usually spam, and Google rarely takes them into consideration. The algorithm has gotten pretty good at ignoring such links, and so you rarely have to disavow them.
Spam score
Spam score is a metric that can indicate a spammy website. The tool analyses the domains that link to you in regard to the similarity of their features with penalised websites. It's worth noting that this is only a guideline, and nothing can replace checking the domains manually. Nevertheless, spam score can be a great way of spotting malicious link building. If one of the red bars is higher than the others, it's a pretty reliable sign that you're a victim of spammy links.
There are also a couple of other metrics.
Google index distribution
This one tells you the ratio between indexed and non-indexed pages. Non-indexed ones, even if containing a dofollow link to one of your articles, have virtually zero impact on your authority. While they can generate referral traffic, a no-index tag means that these pages are not searchable in Google's search engine.
Text/image distribution
Unless you rely on infographics a lot, a similar ratio is perfectly okay.
Top Level Domains
If your website operates internationally, .com should be the vast majority of Top Level Domains linking to you. If you spot a suspicious TLD with large amounts of backlinks pointing to your pages such as .in (India), .ch (China), or .pk (Pakistan), it can indicate malicious activity. Unless, of course, these are your target markets.
IP geolocation
Similarly to TLD, IP geolocation can be a telltale sign of being spammed with low quality links.
Rel attribute distribution
The proportion between the rel attributes should be approaching the industry average.
Finding new link building opportunities
Now that you know how to analyse your and your competition's backlink profile, let's get down to the nitty-gritty, which is discovering new opportunities for links.
From your dashboard, access the Competitors tab and click View All Competitors Links.
You'll then be met with a screen similar to this. This tab contains all of the links your competitors have. I've only selected four of them, and I already have over 13,000 pages to sort through. It's a real goldmine of possibilities. After all, if a webmaster decides to link to one of your benchmarks, why wouldn't they link to you? You just need a good-enough incentive.
At this point, you'll need to sort the wheat from the chaff. First of all, set the filter to only find dofollow links.
Still over 10,000 pages to uncover.
Then, I like to set the Moz DA metric to at least 20, but that depends entirely on your preference. 20 is a minimum. I still get a lot of trash, but that ensures I won't miss anything of value. At times, pages with as little as 20 DR (DR=Domain Rating, it's more or less the same as DA or Domain Authority) can have a couple of thousand of organic traffic (which is a far better metric than DR!). If you want high authority links, just set the filter higher.
Still got almost 9,000. Let's filter links further.
Set Sharing to Not Shared Domains to make sure that you won't get any results where you already have a link. As I noted before, getting multiple external backlinks from the same domain is infinitely less powerful than acquiring them from multiple different websites.
I then set Spam Score to low, EFL (External Follow Links) to Low, and link type to text only. I'm still left with over 4,000 pages to sift through. If you want to go even more narrow, you can also set the IP to a particular country.
Here it is set to the United States, which more or less ensures that I'll only get pages in English.
You may also set the filter by date.
Here are the opportunities discovered within the last 7 days. This is worth doing because you can then go ahead and message the article's author with additional insights and, chances are, they will add it for free provided your comment is excellent quality. Such fresh articles are often subject to further edits, which increases your chances. Not many webmasters want to edit posts that are a couple of months or years old for free.
Now that you've filtered the opportunities, let's export them to a CSV spreadsheet for easy outreach.
You'll be met with this screen:
After generating the CSV and uploading it to Google Sheets, I like to get rid of unnecessary columns, such as link rel type, date added, img alt, hosting country, etc. since it would only create unnecessary clutter and slow down the sheet.
Finally, I'm left with almost 2,500 fresh new opportunities that I'll then need to assess in regard to traffic and the method of outreach I'll be using.
Depending on the project, your success rate can be anywhere between 5% and 25%. Still, considering the sheer amount of new pages discovered, this method works exceptionally well, especially if your competitors are large enough. With little to no effort, I just got 2,500 chances for a backlink.
Wrap-up
As you can see, with the right toolset, finding backlinks can be like a walk in the park. The data you can get with just a few clicks can then be used to gather powerful opportunities and collect insights as to what your competitors are doing and what characteristics your website might be lacking in.
FAQ
How to get backlinks for free?
To get backlinks for free, which can be an essential part of your link building strategy, follow these steps:
Content Creation: Produce high-quality, unique content on your site that others find valuable enough to link to.
Guest Blogging: Write articles for other websites in your industry. This can often include a backlink to your site.
Social Media: Share your content on various social media platforms. This can attract attention and potentially lead to others linking to your content.
HARO: Reply to HARO queries and get editorial placements.
Directories and Listings: List your website on reputable online directories.
Partnerships/Collaborations: Collaborate with other businesses or influencers who can link back to your site.
Broken Link Building: Find broken links on other websites and suggest your link as a replacement.
Remember, the goal is to increase your own link profile with high-quality, relevant domains linking back to your site. It's about quality, not just quantity.
How to find backlinks using Google?
Yes, you can use Google to do a basic search for backlinks to your website. However, it may not provide a complete or precise number of backlinks. For this, Google has a more specialized tool: Google Search Console.
Here's how to use Google Search Console to get a backlinks report:
Sign in to Google Search Console.
Select your website (the target URL).
On the left-hand side menu, click on 'Links'.
Under 'External links', you'll see 'Top linking sites'. This will show you the domains linking back to your site.
It's important to note that not all backlinks are displayed immediately in the Search Console, and it might take some time for recent backlinks to appear in the report.
For more detailed information about your backlinks, you might want to consider using specialized SEO tools.
Is there a free tool for checking backlinks?
Yes, there are several free tools available online that you can use to check backlinks. Here are a few examples:
Google Search Console: This is a free tool from Google that allows you to check the backlinks to your site. You can see which sites link to your website and get a links report.
Ubersuggest: This tool provides a limited number of free searches per day. It gives you a list of all the links pointing to a specific domain.
SEO Review Tools: Their Backlink Checker allows you to see the top backlinks pointing to a specific domain.
Ahrefs Backlink Checker: The free version gives you the top 100 backlinks to any website or web page.
Broken Link Check: This tool is great for identifying broken link on your website.
Please remember that while these tools can provide valuable information, their results may not be as comprehensive or accurate as more advanced, paid SEO tools.