How to Find (Unlinked) Brand Mentions and Turn Them Into Backlinks?
January 18, 2023 ・ 8 min read
I have a powerful tip for you. It's much easier to gain backlinks from unlinked brand mentions than without them. Has someone mentioned your brand online? Great! The person is familiar with your brand. It's already a relationship. But do you know how to find those relevant mentions? If not, you're in for a treat! In this blog post, we'll teach you everything you need to know about finding mentions and claiming these backlinks. Keep reading to learn more!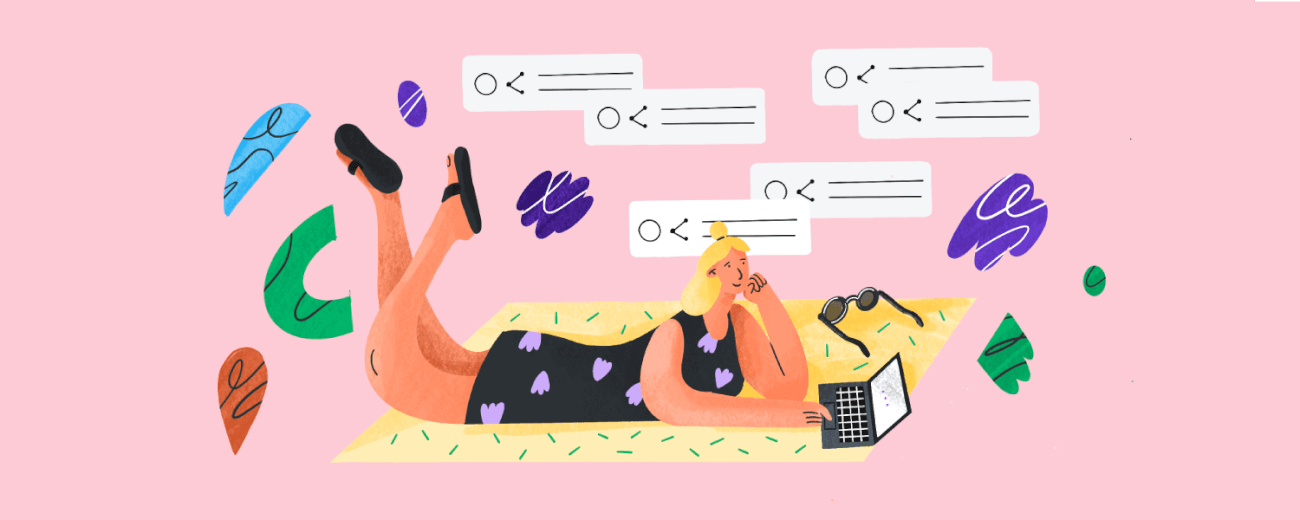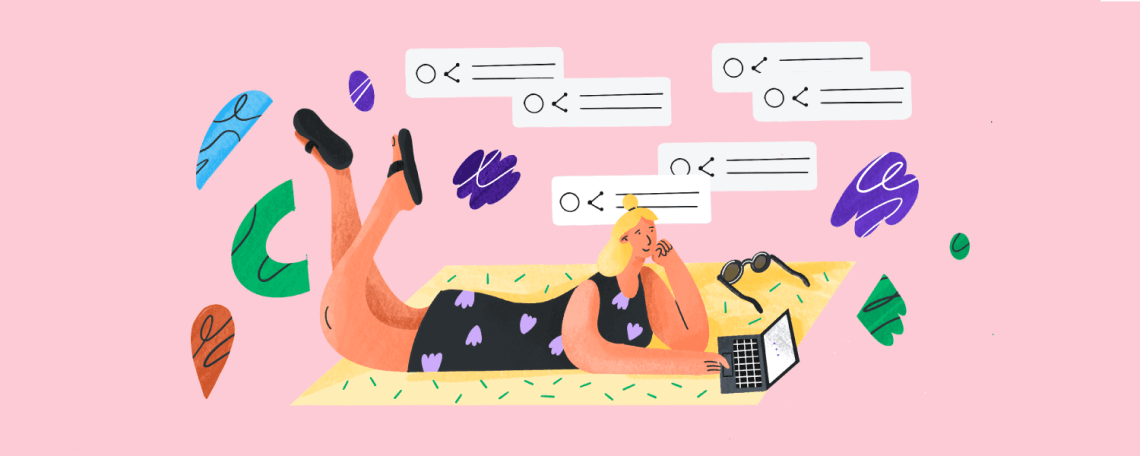 Anytime your brand is mentioned online, there's an opportunity to turn that mention into a backlink. A backlink is simply a link from one website to yours.
They're beneficial because they are one of the most important factors that improve your website's search engine optimization (SEO). In other words, they can help you rank higher in search results, leading to more traffic and higher brand visibility.
There are several methods of acquiring backlinks. And using unlinked brand mentions is one of those methods. Although it is not as popular as other ways (research and then outreach for a specific anchor, for example), it has a very high effectiveness potential.
How to do it?
The first step is to find any unlinked mentions of your brand.
Once you've found the mention, reach out to the author and ask if they would be willing to add a link to your website. If they agree, you'll have successfully turned an unlinked mention into a backlink!
But how to find those unlinked mentions? Let's get to it.
Table of contents:
What are unlinked brand mentions?
Unlinked brand mentions are pieces of content that reference your brand by mentioning names connected to your brand but don't link back to your website. Such mentions are low-hanging fruits waiting for you to pick them up. For example:
Product name
Service name
Brand name
CEO name
You can find those mentions in many places, such as social media, podcasts, videos, forums, websites, blogs, and news sites.
As you want to expand link building, you should mostly be interested in searching relevant mentions across websites, blogs, and news sites.
Actually, this is one of the purposes why TimeCamp uses Brand24.
"We monitor content on specific topics to identify sites or individuals who can help us with SEO efforts by posting or exchanging links," says Maksymilian Kujawa, Product Marketer at TimeCamp.
How to find unlinked brand mentions?
When someone mentions your brand on social media, you get a notification inside its app. How to find mentions from other sources?
You need a media monitoring tool to do that. Although media monitoring tools are not SEO dedicated, their functionality makes them useful when looking for potential backlinks.
The tool searches in-real time for predefined keywords on the Internet. That means you will see who mentions your brand, products, and services across social media, on websites, blogs, discussion forums, review pages, and other publicly available sources online.
Brand24 is a media monitoring tool that finds unlinked brand mentions.
Apart from the ability to find your unlinked brand mentions, media monitoring tools offer plenty of analytical features that come in handy, too. With those insights, you will be able to improve your digital marketing strategy and get to know your target audience better.
So how to find unlinked mentions? Let me show you it using the Brand24 tool.
01 Define keywords
First, you need to define the keywords connected to your brand you want to keep track of. They could be your brand name, product names, service names, website address, or a CEO name. In general, those keywords should be proper to become anchors of backlinks.
If I worked for Tesla and wanted to find unlinked brand mentions, I would monitor the following keywords:
Tesla
Cybertruck
Model S
Model X
Model Y
Elon Musk
Now it's time you should consider keywords that match your business, products, and services.
02 Use the media monitoring tool
As I mentioned before, you need a tool that will support you. So the next step is to set up projects that will track your keywords.
Once you create such projects, the tool will gather web mentions that include them.
The sources of unlinked mentions depend on the tool you use. For example, Brand24 monitors news sites, blogs, forums, reviews, newsletters, podcasts, Medium, and social media platforms, such as Facebook, Instagram, Twitter, Quora, Youtube, TikTok, and Twitch. We even offer Telegram monitoring!
Take a look at the Mentions Tab. here you can discover new mentions, and filter them to find the best link-building opportunities.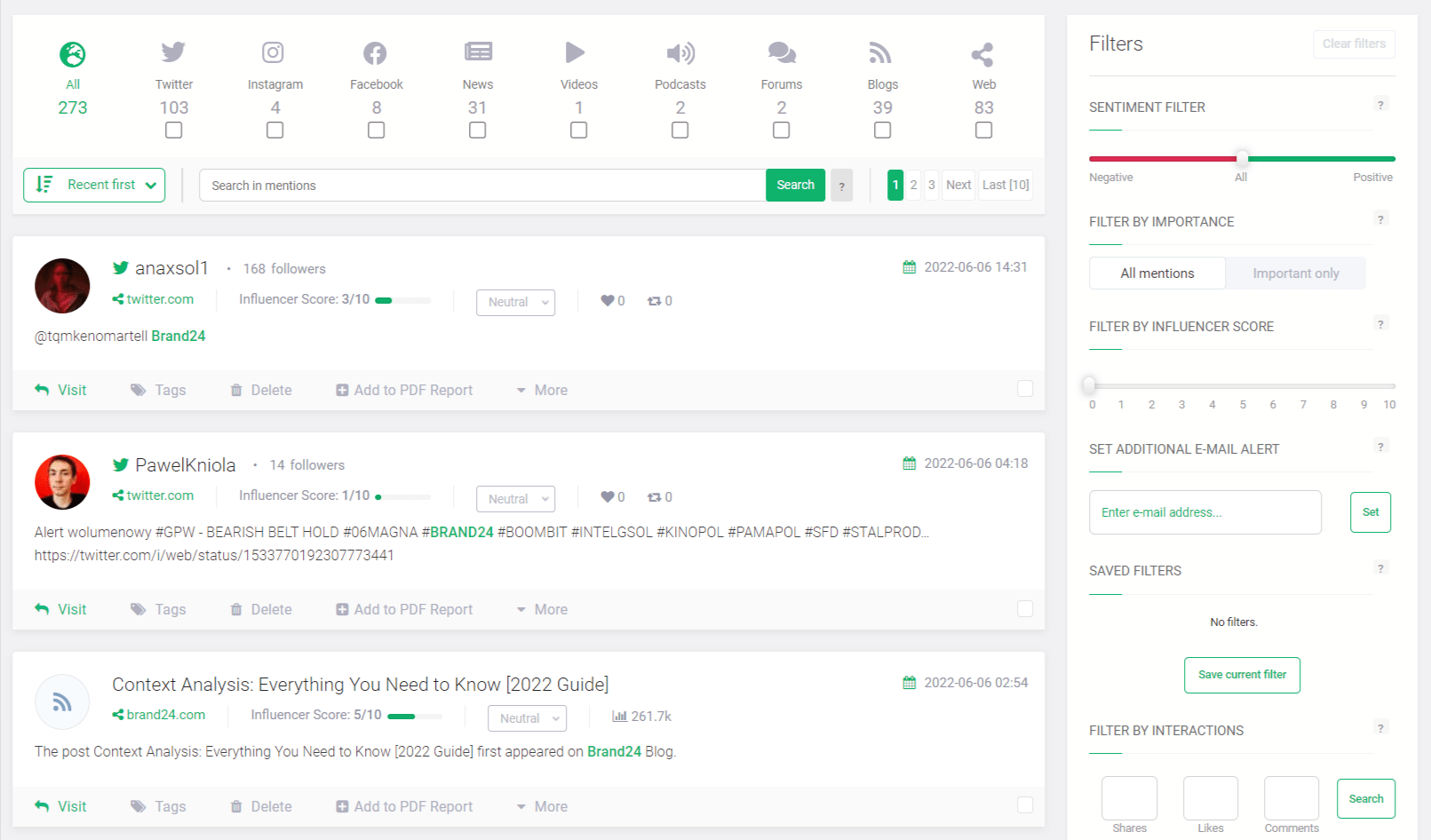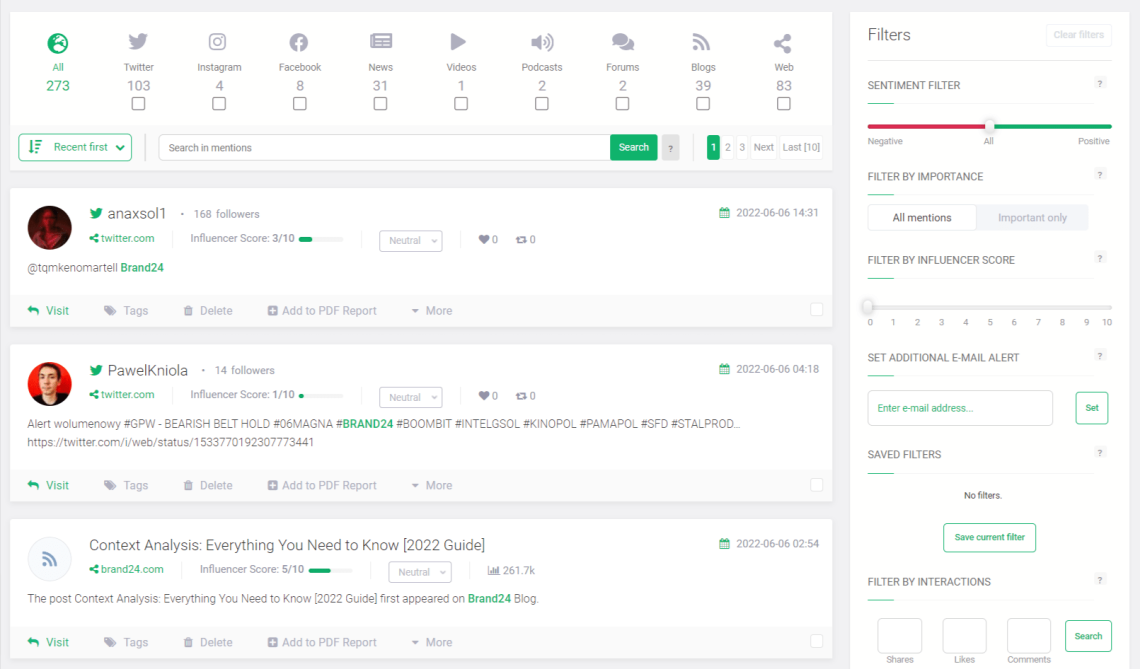 The Mentions Tab consists of a few sections:
Mention feed
Sources
Volume and reach chart
Filters
To find unlinked brand mentions, you should focus on the mentions feed. By default, they're sorted according to time, but you can also sort them by popularity. Also, by default, the Brand24 tool displays all mentions from all sources.
I advise you to mark News, Blogs, and the Web as sources of mentions.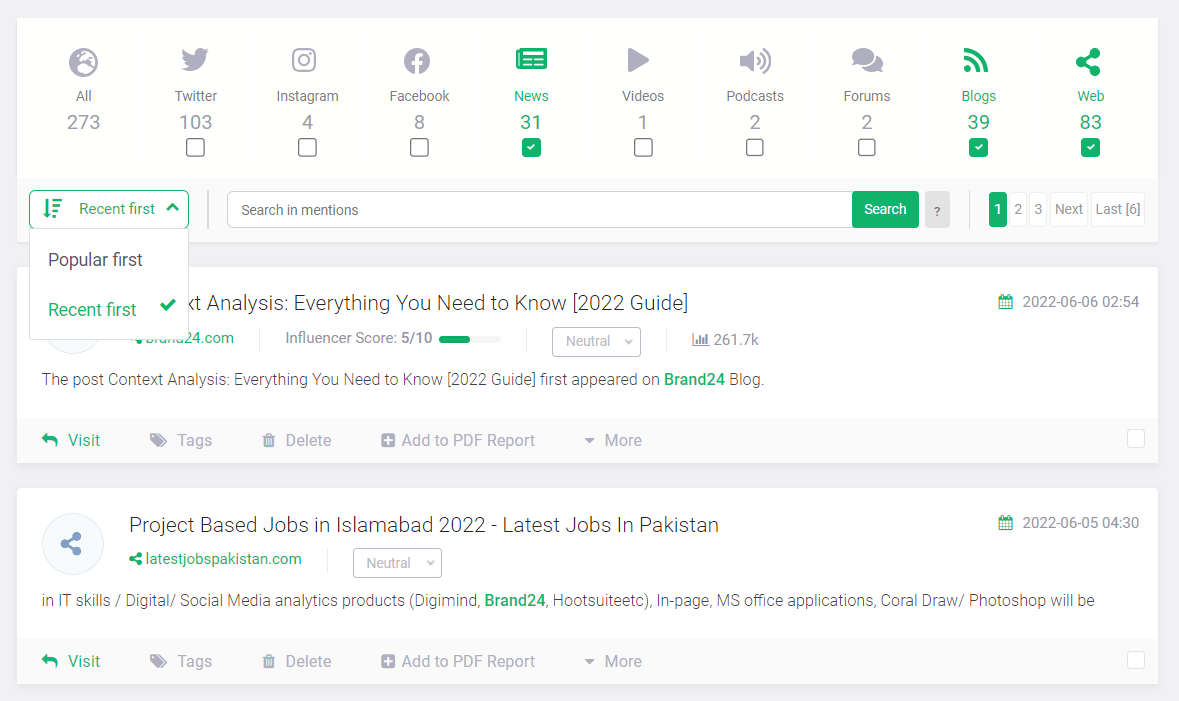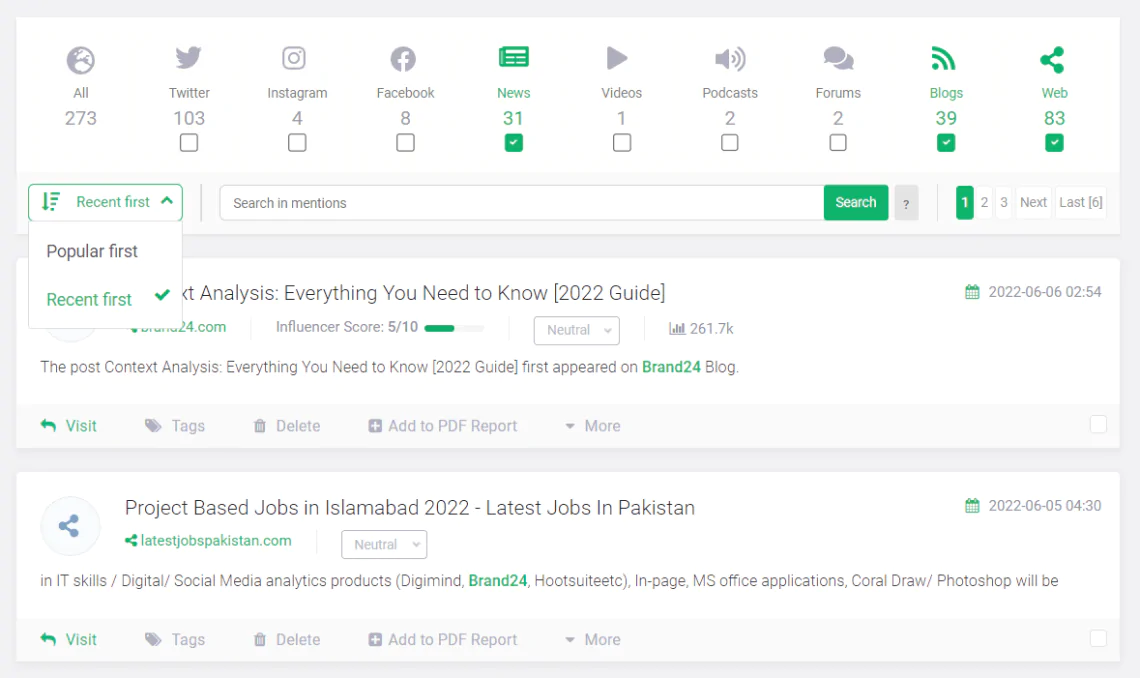 As you can see on a screenshot, mentions have an Influencer Score. This metric gives insight into which source or author has the most significant impact on social media or the web – the higher the number, the more popular the given source is.
The Influencer Score is a great starting point for evaluating the domain. The next step you should take is to check domain authority using SEO tools such as Ahrefs and Semrush.
Tip: Brand24 tool conducts sentiment analysis of each mention. Look for online mentions that have positive or neutral sentiments. It will be much easier for you to get backlinks from such sources.
There is one more feature that might be helpful. The context of a discussion presents the most popular words that accompany the monitored phrase. After clicking on a particular word, the tool will link you to a list of mentions that contain that word.


Brand24 is a media monitoring tool that finds unlinked brand mentions.
How to turn an unlinked brand mentions into links?
Unlinked mentions of your brand online can be great opportunities to earn valuable backlinks. However, not all mentions result in links – you need to take action to make that happen. Yep, link building needs efforts.
Now, I'll show you how I go about claiming unlinked brand mentions and turn them into links. Let's get started!
Find unlinked brand mentions using a media monitoring tool such as Brand24. Choose mentions that have positive or neutral sentiments.
Use an SEO tool (Ahrefs or Semrush) to check the website's authority and other metrics such as URL rating, domain rating, number of backlinks, referring domains, organic keywords, organic traffic, and traffic value.
Find contact information. It could be the author of an article or a particular site owner.
Reach out and ask for a link. It's best to offer something which will provide value mutual value. More tips here: Outreach Email Example.
Convert unlinked mentions into links. Rinse and repeat!
There is one important thing I need to tell you. Backlinks monitoring should be a part of your digital marketing strategy. Why? Because a website with a backlink can change the owner, or your linked mentions can turn into broken links. Thanks to regular monitoring, you will be up to date.
Why are unlinked brand mentions important?
Every unlinked brand mention is an opportunity to acquire a backlink and grow your website's SEO authority and your brand visibility in search engines.
Your backlinks (links to your website on other websites) are seen by Google as a vote of confidence, and a signal that your website is valuable, relevant, and attractive to users.
However, it's important to remember that links are not equal, and some might even do more harm than good.
Furthermore, even if you won't gain a backlink, each mention increases your brand awareness.
Set up the Brand24 tool and find unlinked mentions of your brand.
Conclusion
Do you want to improve your SEO results? You need backlinks. Lots of valuable backlinks. Yet, link building is a challenge nowadays.
The situation changes when someone has already mentioned your brand online. It is much easier to establish a relationship with site owners and gain a link.
Do you have a link-building tactic? I strongly advise you to build such a strategy.
It's actually not as difficult as it may seem.
After reading this article, you already know how to do it. It's time to put this helpful link-building strategy into practice.
What can you do? Reach out to the sites that have mentioned your brand but haven't linked back to you, and politely ask them to add a link. If you do this consistently, you'll start seeing results, the number of gained backlinks will rise, and your SEO rankings will improve.
No doubt, the media monitoring tool will help you do that. So sign up for a 14-day free trial to find your unlinked mentions. 
FAQ
Q: Do unlinked brand mentions help SEO?
A: Unlinked brand mentions can indeed help SEO, albeit indirectly. While they may not have the same direct impact as a backlink, they can still contribute to increased brand awareness and credibility, which can lead to higher search engine rankings.
Q: How do you get brand mentions?
A: There are several ways to get brand mentions:
Create valuable and shareable content: Publish high-quality, informative, and engaging content that people want to share and talk about.
Engage with your audience: Interact with your audience on social media platforms and respond to comments and messages to encourage further discussions about your brand.
Collaborate with influencers: Partner with influencers in your industry to amplify your brand's reach and visibility.
Attend and sponsor events: Participate in industry events, conferences, and workshops to network with others in your field, leading to organic brand mentions.
Monitor online conversations: Use social listening tools to track brand mentions and join conversations where it's relevant and appropriate.
Provide exceptional customer service: Go above and beyond to satisfy your customers, turning them into brand advocates who will gladly mention your brand.
Leverage public relations: Reach out to media outlets and industry publications with press releases, interviews, and guest articles to increase your brand's exposure.