At Brand24, we are obsessed with keywords. I can reveal that our SEO & Content Team had a meeting about strategic keywords just a few days ago. Soon we'll have another one. Certainly not the last. During our meetings, we focus on two perspectives: keyword rankings and our brand online reputation.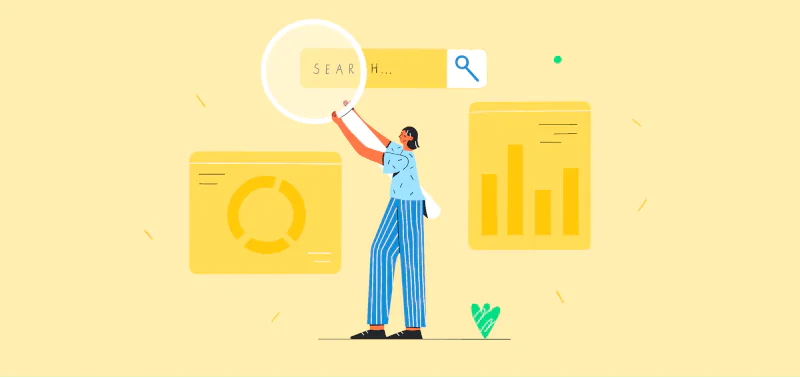 Looking at our website or blog, you'll quickly find many keywords related to media monitoring, online reputation, or competitor analysis. We put a lot of effort into finding them. But it is not over. It is just the first step.
What is next?
Content creation, and of course, keywords monitoring.
We simply cannot leave keywords without tracking. The risk that, in the meantime, competitors will take over top search engine positions is too high.
We also cannot neglect Brand24's online reputation. Being a media monitoring expert is our priority.
Yep, keyword monitoring and tracking are an integral part of our digital marketing strategy.
We use some great SEO tools that allow achieving our content goals. Some are for free (for example, Google Search Console or Google Analytics), and some are paid.
On the other hand, we use our software Brand24 to monitor keywords related to our niche, listen to what our customers say about us, and measure the effectiveness of marketing campaigns.
And you know what? It is worth spending some money and investing in high-quality keyword monitoring tools. Without them, it would be tough to rank highly in search engines constantly.
Brand24 is an advanced keyword monitoring tool. Set up a 14-day free trial!
Keyword monitoring in Search Engines. Why should we take care of it?
People type specific keywords and phrases while using search engines. That's why keywords are a fundamental component of our SEO strategy.
I know you might think that keyword monitoring is about tracking positions in search engines. But you can also monitor the target keywords in a different way.
How? With a media monitoring tool, you'll be able to follow every single mention in online media that includes the keyword. Yes, it is still keyword monitoring. But we don't check the rankings. We check the keywords engagement and awareness.
For example, you can start to monitor your brand name, and I assure you that you'll discover how people talk about it on the Internet.
So, to sum up, we have 2 types of keyword monitoring tools:
Keyword rank tracking tools – that check the position of the website based on target keywords
Keyword monitoring tools – that follow lots of channels (such as social media, newsletters, podcasts, etc.) and present every mention that includes the target keyword
At Brand24, we see many advantages that come from regular keyword monitoring. We also pay much attention to keyword rank tracking.
Thanks to data, we can optimize content, so articles and websites gain more organic traffic, and the Bounce Rate is lower. Furthermore, users spend more time reading. Consequently, it is easier to acquire new customers.
The benefits of keywords monitoring & tracking
The advantages I mentioned above are just the tip of the iceberg. There are multiple reasons to set up a keyword tracking strategy. Let's explore all of them!
Keyword monitoring will let you:
Set up a good SEO strategy
Track target keywords
Monitor rank drops
Discover which keywords are ideal for increasing visibility
Find out about brand appearing in media publications
Check marketing campaigns performance
Check how to hashtag campaign works
Identify the best keywords for social media performance
Find out which pieces of content need optimization
Evaluate how competitors perform in search engines
Learn which keywords are important for competitors
Find backlinks more easily
View the customers' insights and understand their needs and feelings
Measure volume of discussion about brand/product in online media
As you now know all the keyword tracking benefits, my question is:
Would you like to increase organic traffic by about 60% in just 3 months?
Since your answer is a big YES, let's check the Semrush case study and find out how it is possible.
Trucking company Halvor Lines discovered they need a better SEO strategy. So, they conducted a gap analysis and completed the missing target keywords related to their niche. The keyword monitoring tool showed them that about 77 keywords match their trucking business.
Then it was time to work on content. They had to optimize existing content and produce some new web pages. After that, they focused on monitoring page traffic. After 60 days, Halvor Lines discovered that search engines were starting to rank their website for 12 additional relevant keywords.
Competitor analysis can deliver some interesting results. Thanks to data provided by the keyword tracking tool, the team started to compare results with competitors and found out some new keywords. After that, they revisited gap analysis and produced more quality content.
After 100 days, Halvor Lines started ranking for keywords with 22k search volume, which turned into a 60% traffic increase.
As you can see, it is all about action, monitoring, conclusion, and then again action and monitoring. Of course, this process took many steps, but it is necessary to take some SEO efforts to achieve goals.
Sounds a little bit scary?
Fortunately, we have a lot of SEO tools that offer excellent keyword tracking functionalities.
10 awesome keyword monitoring & tracking tools
Ahrefs – advanced keyword tracking tool
7-day trial for $7. Lite plan for $99.
Our SEO Manager starts her workday with a cup of good-smelling coffee and Ahrefs tool. Checking keyword rankings, finding rank drops is crucial for us.
Ahrefs is an all-in-one SEO tool that helps optimize blogs & websites, analyze competitors, find out what customers are searching for, research content ideas, and monitor keyword rankings.
It gives tons of valuable data, but what interests us the most is, of course, keyword features. So let's check them:
Site Explorer – gives you an in-depth look at backlinks, organic & paid traffic, keyword rankings of any URL you wish to check.
Keyword Explorer – allows you to find thousands of accurate keyword concepts and analyze their SEO potential and ranking difficulty.
Rank Tracker – allows you to track your SEO efforts by checking the progress of keyword rankings and comparing data to competitors.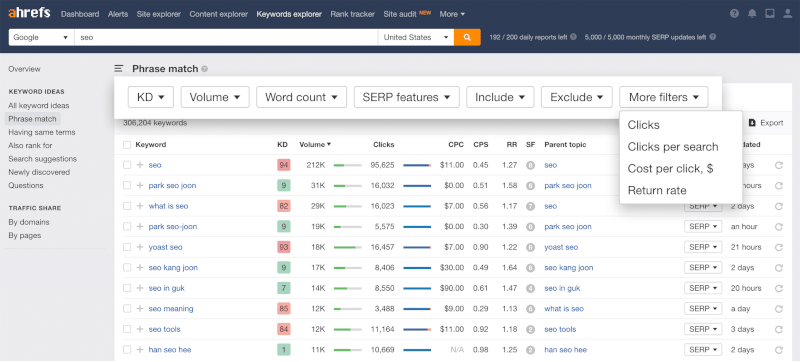 Semrush – keyword rank tracking toolkit
Semrush is a marketing toolkit that covers multiple areas, such as content marketing, market research, advertising, social media, and of course, SEO. No doubt, it's one of the best multitasking tools for marketers available right now.
Free 7-day trial. Pro plan for $119.95.
As a Content Manager, I like to use its content marketing features. Nevertheless, this Semrush has much more extensive SEO and keyword-related tools. In the beginning, it can be a little bit overwhelming.
With the Semrush SEO toolkit, you can:
Discover the best target keywords from your business niche
Analyze competitors' ads and find paid keywords
Start the rank tracking and observe daily changes
Track backlinks and find link building opportunities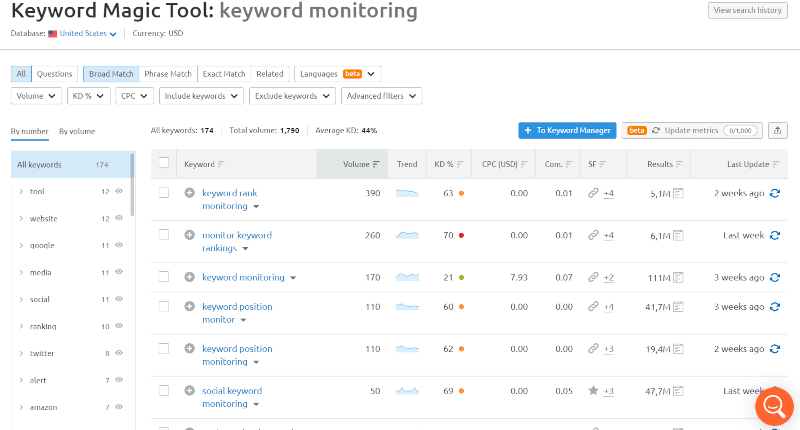 Brand24 – media monitoring tool
Free 14-day trial. Personal plus plan for $79.
It's an advanced media monitoring tool that tracks mentions of predefined keywords. You can follow phrases related to your business niche, competitors, or whatever you want.
Brand24 gives instant access to mentions across social media platforms, news, blogs, videos, forums, podcasts, reviews, and more sources. Thanks to extensive analytics, you can measure keywords performance and engagement on the Internet.
Despite advanced keyword monitoring, Brand24 allows tracking:
Online sentiment around product
Share of voice in the industry
Backlinks that links to a website
The volume of online mentions
Strength of online reputation
Social media reach
Engagement around a brand
Mentions from the most powerful influencers
Customer feedback and complaining
Competitors' online activities
If you try it for free, it's great to start tracking the following keywords:
You're brand name
You're product/service name
You're competitors names and products
Hashtags popular in your niche
Keywords strictly related to your business
Keywords with potential
Here are some examples of usage:
You are launching the campaign with a custom hashtag. How to measure its effectiveness? Just set up the project in the Brand24 app and click Analysis. You'll see the report that shows users engagement, top mentions, and many more.
You're wondering how the competition is doing. Are any powerful influencers talking about their products/services? Or maybe their customers are evangelists and promote them for free? Set up their company name in Brand24 and gather data about online performance.
You have a feeling that some phrase will soon become popular in your business niche. The sooner you'll start keyword tracking, the better. Once you notice growing engagement, you'll be able to prepare marketing campaigns before the competitors.
You're looking for a new way to gain backlinks. With Brand24, you can detect unlinked brand mentions and turn them into valuable backlinks.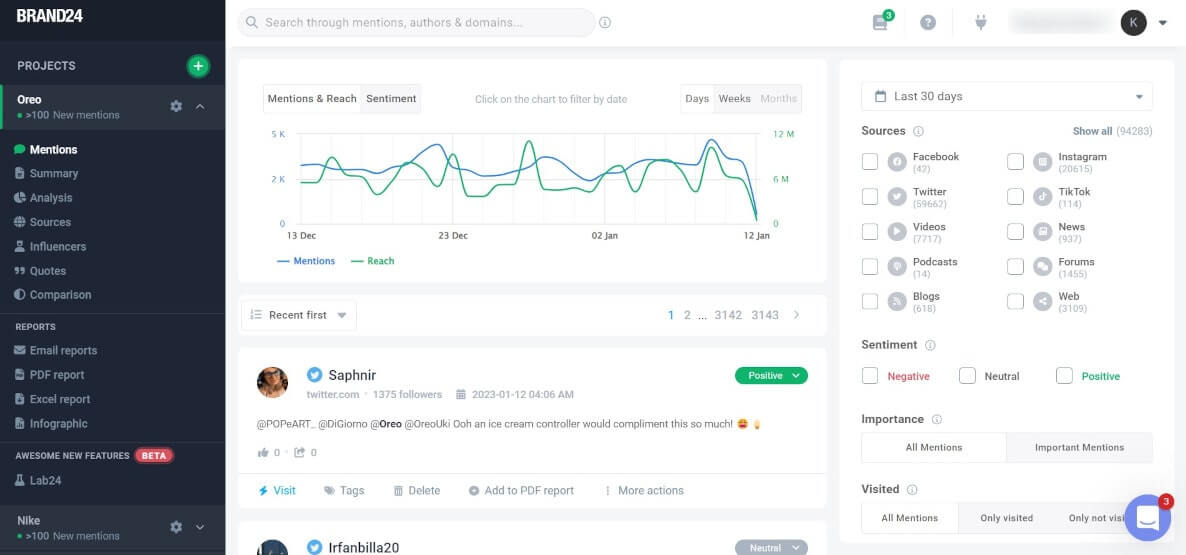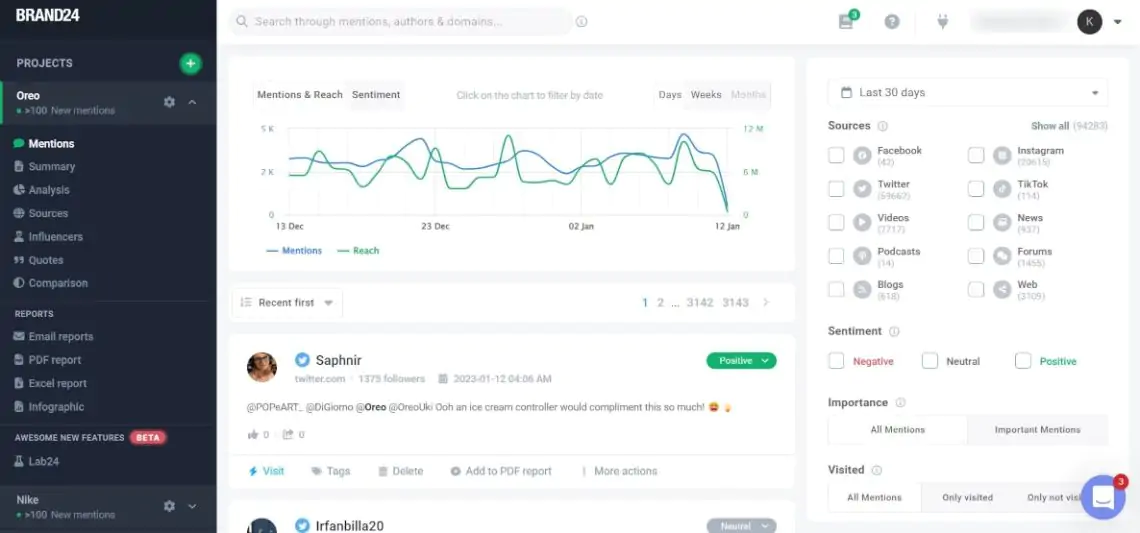 Brand24 is a tool that tracks mentions of predefined keywords.
Alexa – keyword research tool
Free 14-day trial. Advanced plan for $149.
I am a big fan of free Alexa's site info feature that allows me to check any website's insight quickly. Yes, Alexa is mainly a competitor analysis tool, but it also has an extensive keyword research component.
As a Content Manager, I can say that knowledge of relevant keywords is crucial to building solid content and SEO strategy. That's why it's worth spending some time and find proper phrases.
Although Alexa is not a keyword rank tracker, it will improve your keyword research process. You'll be able to:
Discovery easy-to-rank keywords
Detect the missing keywords
Find buyer phrases
Analyze competitor's top keywords
Compare search traffic to competitors
Discover share of voice in search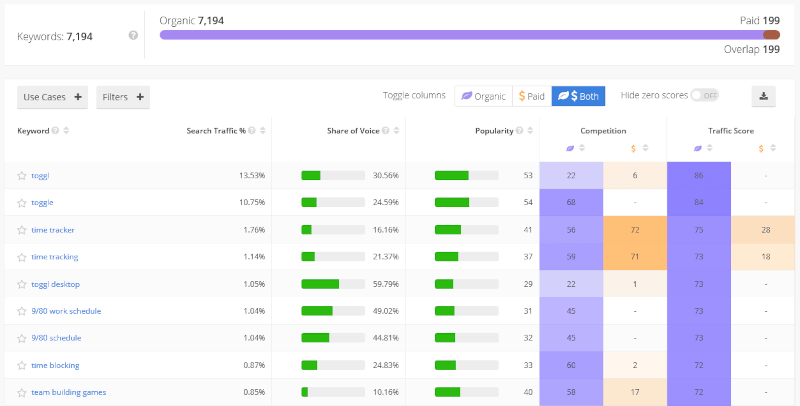 Ubersuggest – keyword tracking tool
Free 7-day trial. Individual plan for $29.
Ubersuggest is software produced by one and only Neil Patel. It's much cheaper than any other SEO tool I present in this article. Nevertheless, low price does not mean low quality.
It is an SEO tool that provides advanced keyword and competitor analysis. With this tool, you can also optimize your website and track progress.
Ubersuggest contains 4 main functionalities:
Rank Tracking – presents keyword rankings that are refreshed every single day
Keyword Analyzer – shows easy-to-rank keywords and analyzes their traffic volume, trends, and difficulty
Competitive Analysis – shows insights into the best strategies by competitors' analyzing traffic, keywords, and top pages
SEO Explorer – checks the website for SEO issues and presents instructions on how to fix them, and finds backlinks opportunities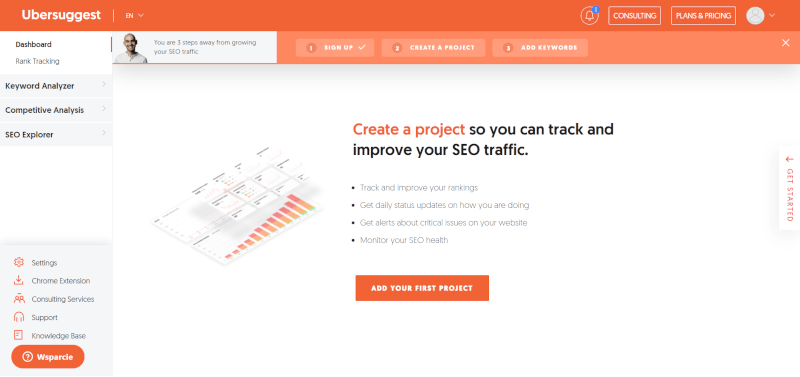 SERPWatcher by Mangools – keyword rank tracker
Free 10-day trial. The basic plan for $29.
Mangools have 5 SEO tools in their portfolio. Despite SERPWatcher, the suite includes KWFinder, SERPChecker LinkMiner, and SiteProfiler. We're going to focus on rank tracking software that shows keyword position distribution and flow.
With SERPWatcher, you'll be able to track the keywords rankings of your website every day. Tracking is available on any device, and you can share reports with your clients/teammates with a link.
SERPWatcher presents:
Performance index
Keyword position flow
Keyword position distribution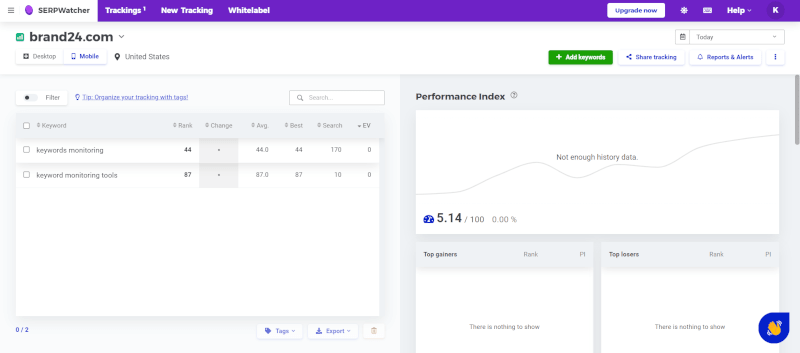 Serpwatch – keyword rank tracker
Free 15-day trial. Starter plan for $29.
Serpwatch is an advanced keyword tracking tool with lots of useful features. Because of easy client management, it is a perfect tool for agencies.
With this tool, you can track organic traffic, optimize SEO efforts, find the perfect keywords and set automated reports and notifications. You can connect it with Google Search Console and Google Analytics. So the gathered data will be even more accurate.
Serpwatch has 4 interesting features:
Track the keywords rankings
Follow the local rank
Research for the keywords
Monitor SERP appearance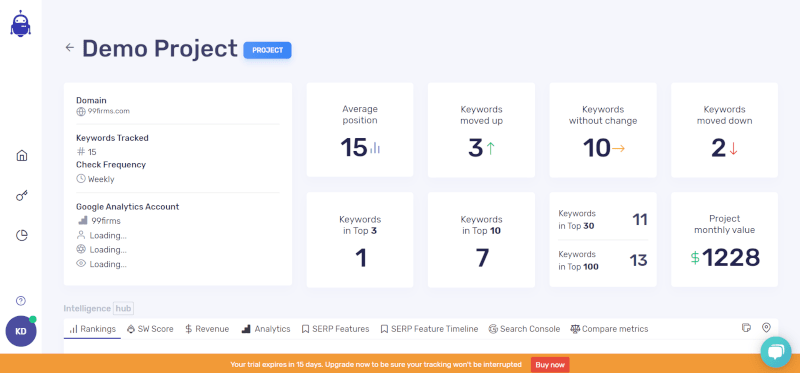 SE Ranking – all-in-one SEO tool
Free 14-day trial. Essential plan for $31.
I think it is one of the most powerful SEO tools I presented you today. First of all, it is a keyword rank tracker that checks Google, Bing, Yahoo, YouTube, Maps, Ads, and SERP features.
It also contains B2B features (such as lead generation), competitive analysis, and even social media management. With SE Ranking, we can find and fix any website's interruptions, look for the best keywords, and set the best content strategy.
With SE Ranking, we can do quite a lot:
Track the keywords rankings
Audit websites
Research for keywords
Monitor the websites changes and get keyword alerts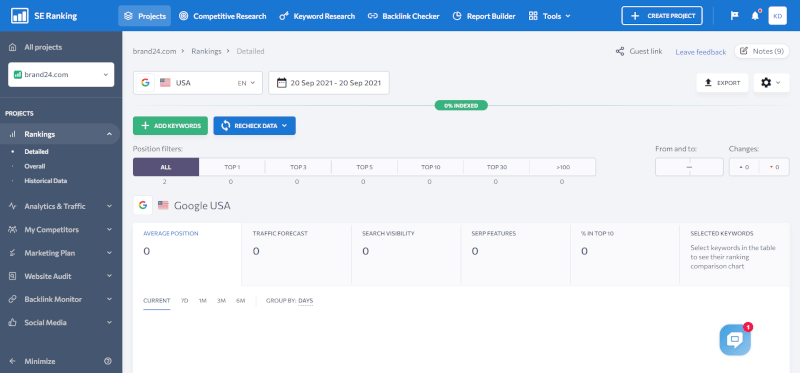 Rank Checker by Moz – keyword rank checker
Free 30-day trial. Essential plan for $99.
Moz is very popular among marketers and agencies. That's because, with Moz Pro, you can boost the SEO and digital marketing strategy nicely. At the same time, it is one of the most expensive tools in the overview.
Dealing with the SEO process can be overwhelming sometimes. That's why we use some tools, right? With Moz, we can discover keyword ideas, track the keyword ranking, conduct site audits, and many more.
Rank Checker by Moz focuses on improving the websites' performance. You can:
Create rankings reports
Analyze keywords by difficulty and search volume
Analyze and research the competitors
Track your SEO progress
Track the long-term keywords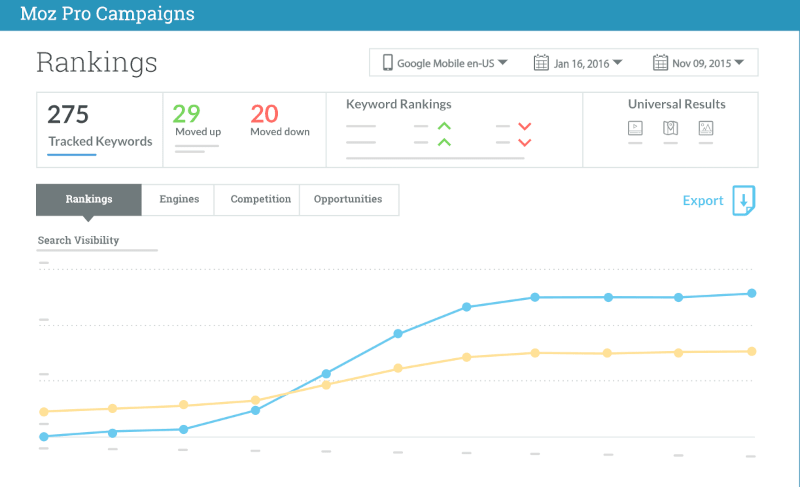 Awario – brand monitoring tool
Free 30-day trial. Starter plan for $29.
Awario is a brand monitoring tool that tracks mentions, monitors competitors, and helps to generate leads. Sounds familiar? Yes, it is a tool very similar to Brand24.
With Awario, we can monitor the target keywords and analyze how to use them in our strategies. It can be essential when we do take care of brand reputation.
Awario features:
Keyword monitoring among online media (websites, news sites, blogs)
Keyword monitoring among social media (Twitter, Youtube, Reddit)
Hashtags tracking
Sentiment analysis
Competitor analysis
Reporting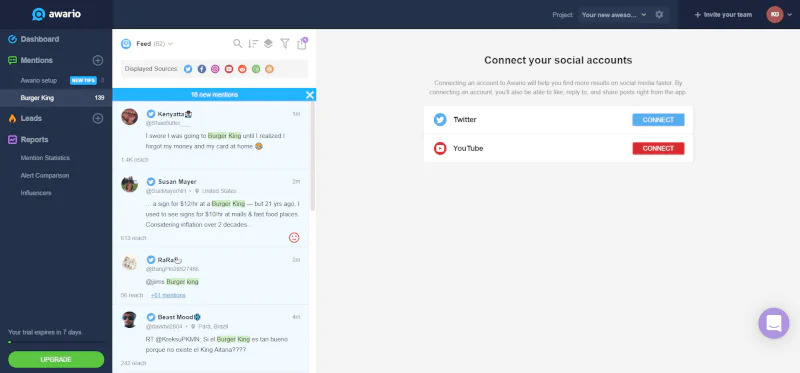 As I mentioned above, Awario is a tool with the same purpose as our brand monitoring application.
So, Brand24 or Awario? In my opinion, Brand24 is a much more advanced tool. Furthermore, Awario does not offer data from two popular social media channels – Facebook and Instagram. And you have to admit that our tool has a more friendly UX design.
But you need to find your own point of view. This article will be helpful: Awario alternative: Brand24.
Brand24 is a tool that tracks mentions of predefined keywords.
Is Google Search Console not enough?
All tools listed above are paid. Although some enable a free trial (e.g., Brand24), some require payment from the very beginning of use. An alternative to paid tools is GSC.
Google Search Console is a free SEO tracking tool that helps optimize websites for search engine rankings. One of my favorite features is keyword tracking that shows what exact queries the website ranks for. It gives me an actual perspective on how users use keywords.
I know what you might think right now. Do you need any other paid keyword monitoring tools while this one is for free? It all depends on what stage of development your business is in at the moment.
Small companies will be fine using only GSC. But if your goal is to scale traffic, develop content marketing, and boost SEO strategy, you'll need more advanced data.
How many keyword monitoring tools do you need? Summary:
I advise you not to use too many SEO tools. Usually, functionalities implemented in such type of software are pretty the same. It is better to focus on 2 or 3 tools and explore them well. So you will be able to draw accurate conclusions.
As you probably noticed, the tools I listed above are advanced.
Which to choose?
In my opinion, two rank tracking and one media monitoring tool will meet all your expectations.
I pick Ahrefs and Semrush for rank tracking (but If I had to choose one of those tools, I would prefer Ahrefs). Neither Ahrefs nor Semrush won't let you monitor keywords in the way Brand24 does.
So if you are thinking about measuring keywords' engagement & awareness, you need to try our monitoring tool.