What is brand awareness?
Your brand awareness is based on how well customers are able to recognize and recall your brand.
When customers are able to spontaneously remember the name of your brand, your brand has good brand recall.
Brand recognition is based on the customer's ability to identify or tell a brand apart from others. This doesn't necessarily mean that customers remember the name of the brand, but simply that they're able to recognize it.
Brand recall and brand recognition are both significant aspects of brand awareness.
Why is brand awareness important?
Brand awareness plays a key role in consumer decisions. When faced with several options, brand awareness makes certain choices a little more obvious than others. This helps consumers reach their purchase decisions ('I want that one – the one with the red cap').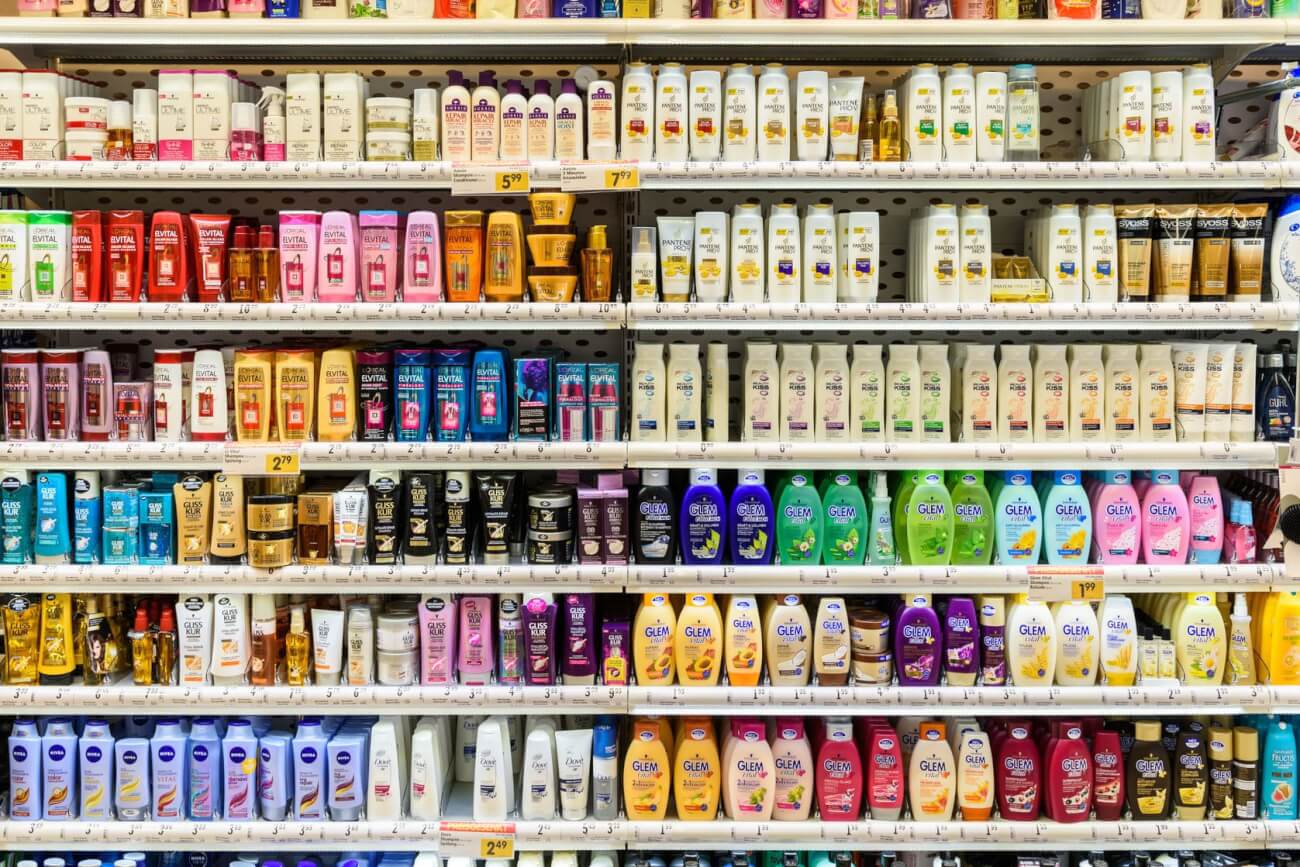 There are a few ways that brands can measure brand awareness. This includes conducting brand awareness surveys, tracking certain types of website traffic over time, and monitoring mentions of your brand with social listening – AKA media monitoring. Media monitoring tools like Brand24 run deep searches across the web to find conversations that mention your brand on-line. Metrics like the volume of mentions, levels of engagement, and social media reach are automatically provided in the tool – all of which help you measure awareness for your brand.
To obtain a comprehensive understanding of your brand awareness, I recommend using a combination of the above-mentioned approaches.
Learn more about how to measure brand awareness, below.
Conduct a brand awareness survey
One way to measure brand awareness is by working with focus groups and conducting your own brand awareness survey. Survey random selections of people and see if they have ever heard of your brand, and whether they can identify or recognize it.
It's also a good idea to reach out to your customers directly, whether it's via e-mail, on-line surveys, over the phone, face-to-face, or on your website. Ask them how they heard about you.
This gives you insight into your levels of brand recall and brand recognition among customers, and also tells you how people heard about you.
Keep an eye on your website traffic over time, as well as types of traffic
Observe direct traffic
Direct traffic refers to site visitors who either found your site by entering your website address directly into the search bar, have your site bookmarked in their browser, or landed on your website by clicking on links that are not tracked, i.e., e-mail marketing.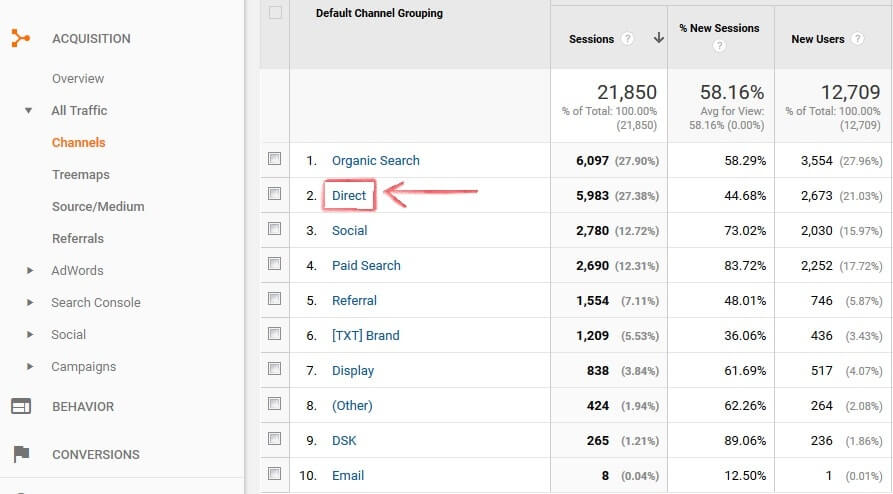 If users are able to enter your URL directly into any browser address bar, this indicates that your brand has good brand recall, which is a significant part of measuring brand awareness.
Observe referral traffic
Referral traffic refers to site visitors who come from direct links on other sites. When an external website provides a link to your website in their content, and a visitor clicks on it and is taken to your site, this visitor will be counted as Referral Traffic in Google Analytics.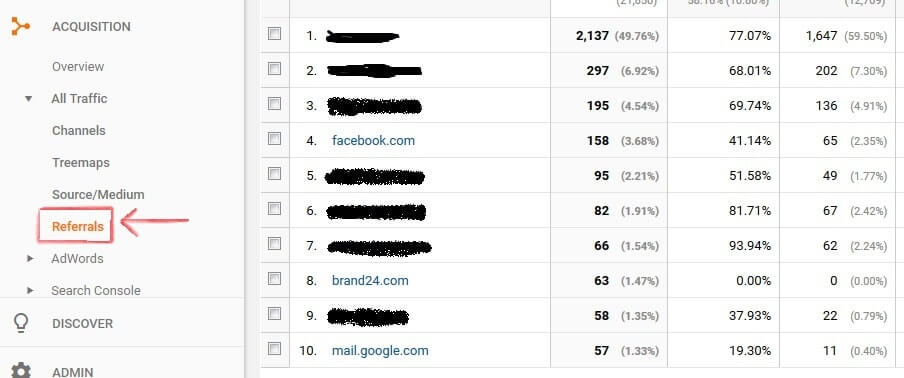 Measure brand awareness by keeping an eye on your website traffic over time.
An increase in direct traffic indicates growth in brand recall – people don't enter URLs directly into their address bars unless they know where it's taking them. An increase in referral traffic indicates growth in the number of external web pages that are linking back to your website. This is good for SEO and tells you where your website visitors are coming from.
Check the search volume for your brand
Your search volume tells you how often people search for your brand.
Tools like SemRush and Google Trends not only help you help you optimize SEO, but they also allow you to check the monthly search volume for your brand.
Knowing how often people search for your brand tells you how good your brand recall is. This is tricky if your brand name is really generic, like Dove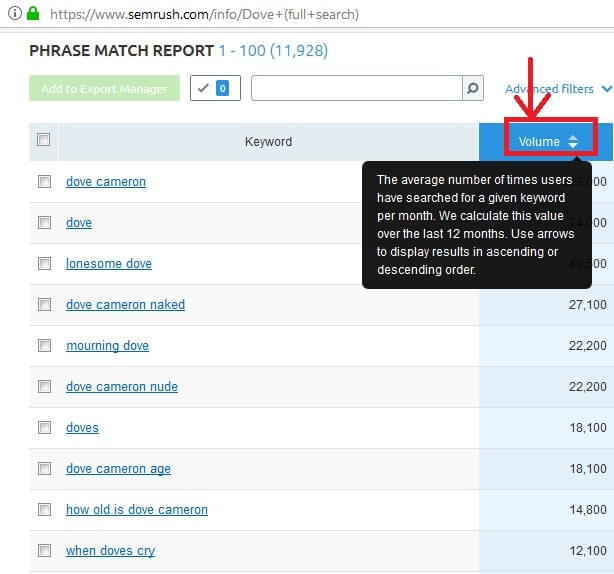 Social listening helps you work around this problem by creating more refined searches – so you can exclude results about the gorgeous Dove Cameron, actual flying doves, and (The Artist Formerly Known As) Prince's hit song when you're measuring awareness for a brand with a generic name, like Dove.
Measure brand awareness with social listening metrics
Track your volume of mentions
Whenever users that are not affiliated with – or sponsored by – your brand, mention you online, they produce user-generated content; this is earned media.
Unlike paid media (sponsored sources, such as Instagram influencers that you've recruited for Instagram influencer marketing) or owned media (like your company blog), earned media is free and an important way to measure brand awareness.

People can only talk about your brand if they're aware of it.
The greater the amount of earned media you receive, the greater your general level of brand awareness.
Track your engagement levels
Engagement is measured by the number of interactions for online mentions of your brand. This includes likes, shares, and comments that these posts have received.

Track levels of interaction for posts that mention your brand and compare them with dates of surges in buzz for your brand. There may be a particular product or aspect of your branding that is not only increasing your brand awareness but also a driving force in sales.
Like this post about new chocolate covered potato chips from Lay's, which has gotten a significant amount of engagement.
Track your Social Media Reach
Measuring Social Media Reach gives you an idea of the number of times a post that mentions your brand could have been viewed. Social media reach is different from your volume of mentions because it measures the number of views for mentions of your brand, as opposed to the number of mentions themselves.
You can measure social media reach for a social media post or for a social media account.

Automate the process with a media monitoring tool like Brand24 – estimated values for Social Media Reach are calculated automatically by the tool as it searches for mentions of your brand across the web, providing other significant metrics like those mentioned above (and below!).
Analyze the sentiment of conversations about your brand for extra credit
Measuring brand awareness tells you about your brand recall and brand recognition. But your brand can be recognized and recalled for either good reasons or bad reasons.
One of the top indicators of brand awareness is measured by the number of times your brand comes up in conversation. Take this even further by evaluating the sentiment of these conversations. Do people associate your brand with positive emotions or negative emotions?

Analyze the context of these conversations to find out if there is something specific that people like or dislike about your brand. Fans of the brand JĀSÖN seem to appreciate the health-conscious selection of products they offer.
Social listening– AKA media monitoring – lets you kill 2 birds with 1 stone. Leverage a media monitoring tool like Brand24 (free-to-try) to measure brand awareness by tracking the volume of mentions for your brand, engagement levels, and social media reach. Analyze these conversations to gauge your brand reputation and learn what you need to do to improve it.
---
---