Hashtags have been around for over a decade. Ever since they were introduced to the masses by Chris Messina, they have become inseparable from social media.
We use them to describe the content we post on the web, whether these are photos on Instagram, Twitter threads, or Facebook status updates. Hashtags are everywhere (well, they are definitely less prominent on Facebook than they are on the other two platforms).
Hell, even rappers decided to include them in their lyrics at some point a few years ago!
Social media without hashtags would be a huge mess. I mean, how would you quickly learn about conversations in particular topics if it wasn't for them?
To be honest, I wouldn't have known about some of my favourite photographers if it wasn't for the hashtags used on Instagram.
Fair enough, how do I search hashtags by date, then?
You can search hashtags by date natively on social media, here's what it looks like on Twitter: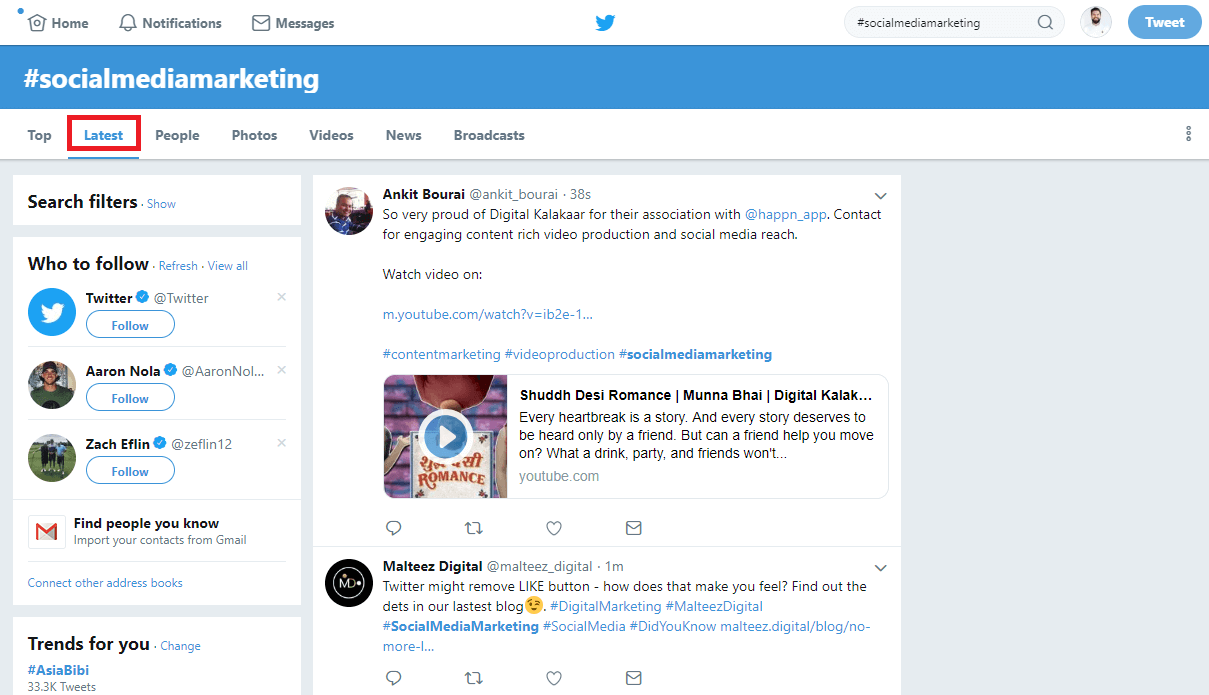 and Instagram: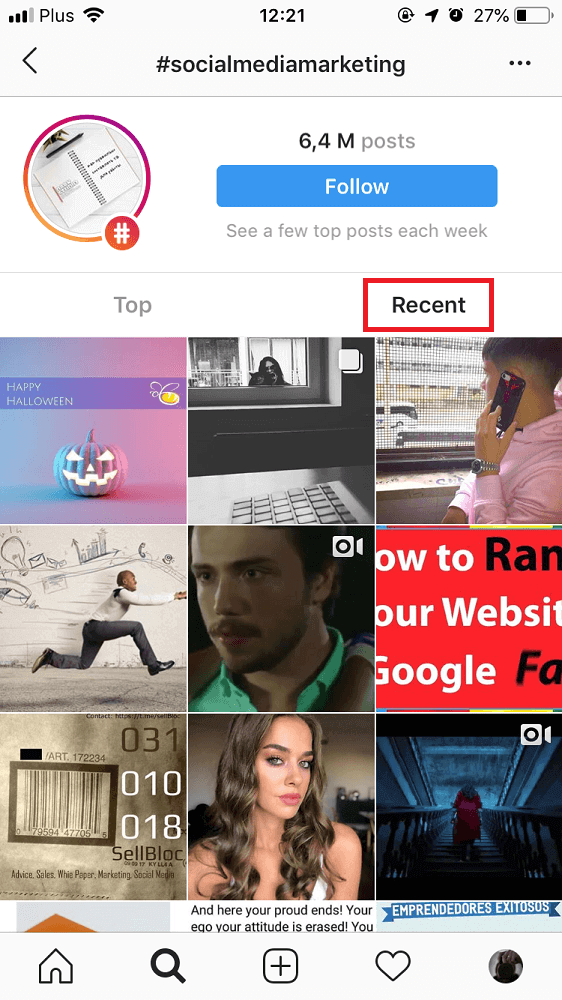 Whether it's called Latest or Recent, the two platforms that use hashtags on the largest scale allow browsing content based on its date of publishing. Doesn't it feel a little bit chaotic, though?
Many people don't know how to use hashtags properly and stick as many of them as possible for a chance to get noticed, which very often has the opposite effect.
In case you wanted to track hashtags by date for your social media marketing efforts or simply to have things more in order, you might want to learn how to do so using a social media monitoring tool.
It all starts with creating a free trial account. Once you're done with that step, it's all about setting up your first project. Nothing simpler than just chucking a few hashtags in the project creation form!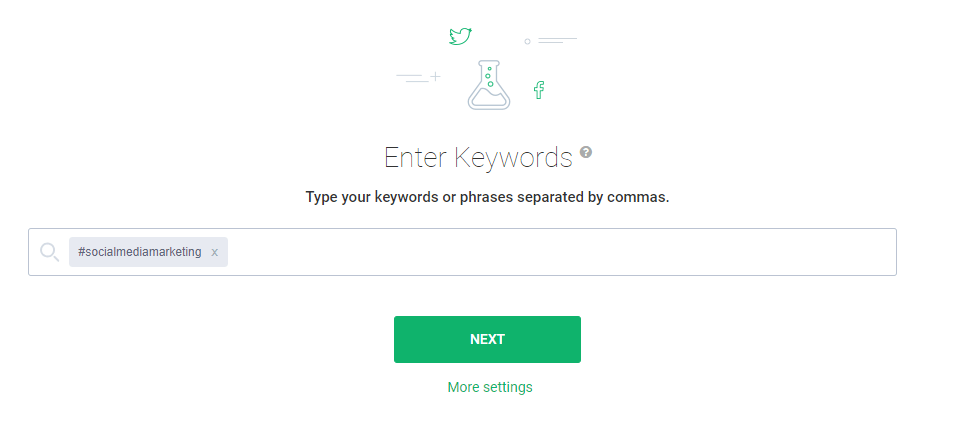 After you've clicked Next, the tool will start collecting mentions of your hashtag(s). You might as well choose More Settings in order to take control of some additional options such as languages you want to pick the results from, or the frequency of email notifications about the hottest mentions of your hashtags.
Above all, you should choose which sources you want to collect your hashtags from:

I only chose Twitter, Instagram, Video (which includes YouTube), and Facebook, just in case hashtags are used properly there one day.
The reason why I didn't tick other sources is simple – there's already so much noise with certain hashtags on social media that I don't want to go through possibly irrelevant mentions from other places on the web.  
You click Save and the tool starts collecting and loading mentions into your dashboard. It's not just about tracking those hashtags and aggregating them. It's the analytics behind them that makes collecting those mentions truly interesting.
You want to know what's the total number of mentions of your hashtags in a given timeframe? Or maybe you want to know what's the estimated social media reach a.k.a. Impressions? It's all there! On top of that, you get to see the number of interactions such as likes, shares, and comments.

Still, what matters the most to you, guys, who are reading this post, is the ability to search hashtags by date. It can be done with the latest, tiny, but a crucial addition to the dashboard located just below the graph:

It helps you display mentions in a chronological order, beginning from the latest ones on top. You can easily switch to the popular mentions first if you ever feel like that's the order you want to browse.
I am not sure how important it's for you but just wanted to mention our tool won't let you track back in time as historical data is limited. This pretty much means you'll be able to search hashtags by date, but from the moment of creating a monitoring project onwards.
Each mention has the exact time and date assigned to it:

On top of that, you can also see what's the sentiment of a given mention, as well as what's the influencer score of the author of the comment containing your hashtag.
Find social media influencers based on the latest mentions of your hashtags
You can use the tool and mentions of your recent hashtags to determine who are the social media influencers in their respective fields, just in case you wanted to start an influencer marketing campaign at some point.
I've already created a comprehensive guide on how to find Instagram influencers and you could apply all those principles to other platforms too.
What if I told you can search hashtags by date and then filter them by location?
Sounds interesting, right? Locations had been one of the most requested features before we finally implemented it a few months ago. The filter is located on the right-hand side of your dashboard: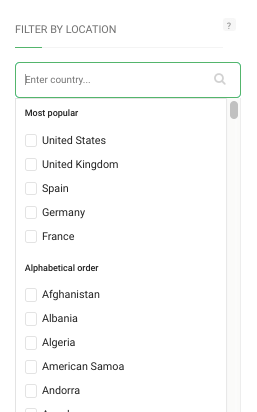 Once you click on the drop-down menu, you can click one of the most popular countries are just pick any you're particularly interested in. The tool will then display mentions only from the locations you selected. At the moment it only works with Twitter and Instagram, but hopefully, we'll be able to make it work with other sources at some point too.
When you go to the Summary or Analysis tabs, you'll also find total results and social media reach for the most active locations:

Take advantage of trending hashtags
You might come to a point where you'll be curious about other hashtags somehow related to your business or industry. Maybe there's a brand new hashtag that's been picking up steam recently and you somehow missed it? Trending hashtags will help you keep tabs on those in a way related to the ones you keep track of, that have been recently rising in popularity.
Here's what it looks like in relation to #socialmediamarketing: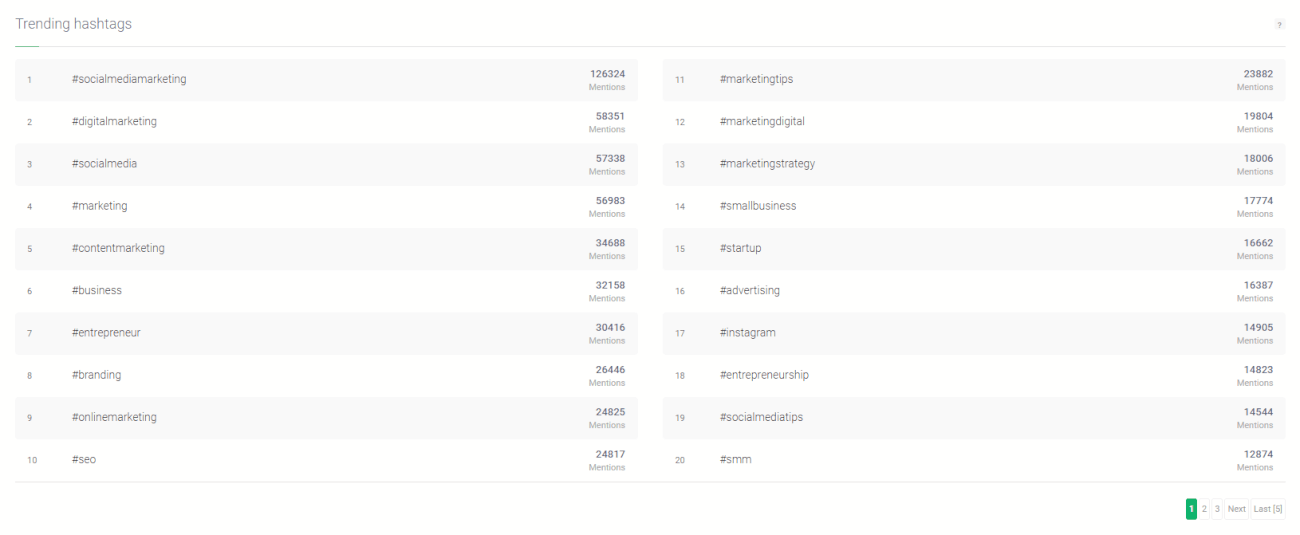 Over to you
Even though you can search hashtags by date via native social media apps or their websites, they very often lack the analytics that can often tell you much more than just seeing a mention of a given hashtag.
Why not take your social media management and social media marketing a step further? Start tracking them today for free and see if that's the way to search hashtags by date you've always thought about but never knew was possible.
---
---