Twitter Hashtag Analytics: A Complete Guide for 2023
August 3, 2022 ・ 12 min read
Twitter hashtag analytics is the cherry on your Twitter marketing strategy cake. Thanks to robust analytics, you will know how your posts perform and what changes you need to implement to boost reach and engagement.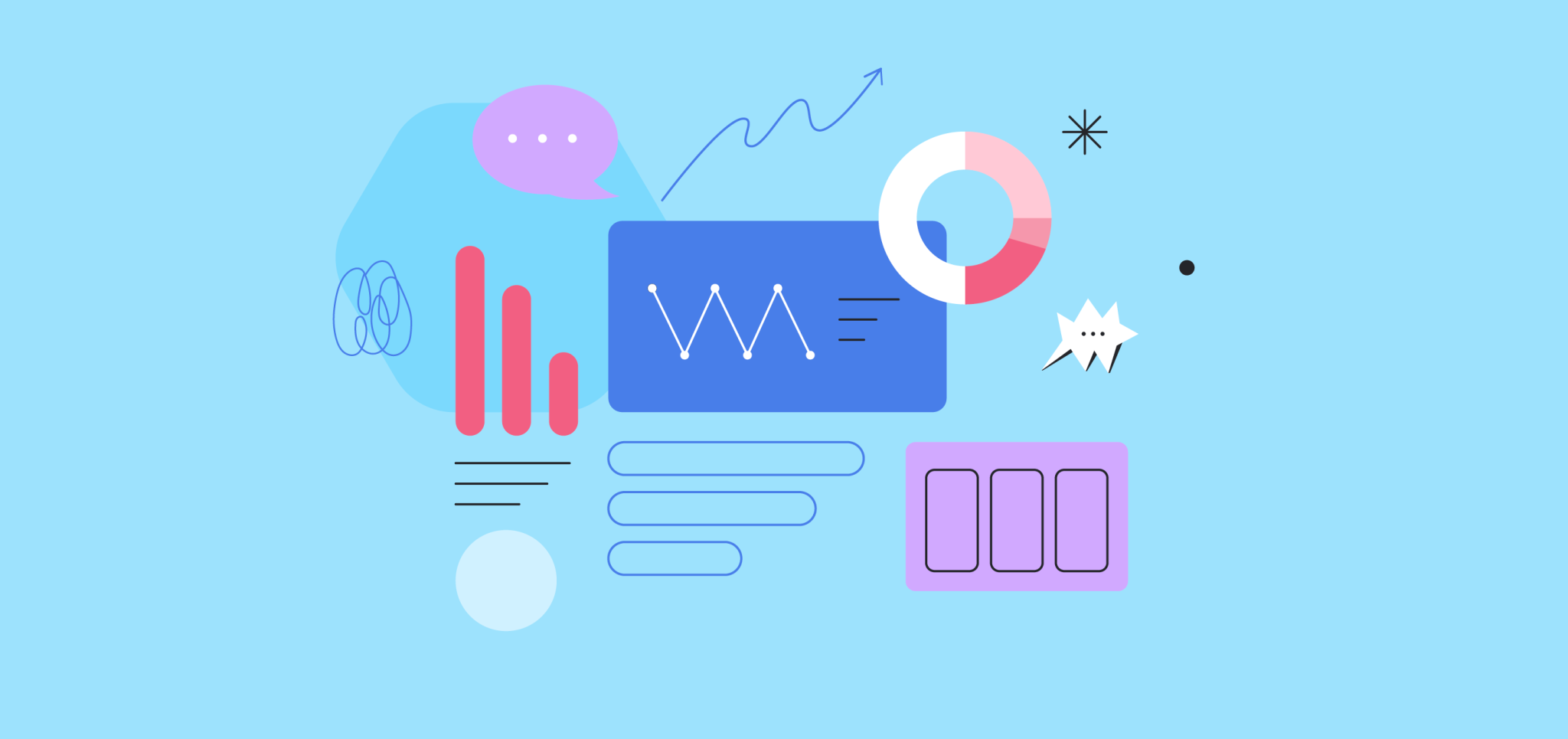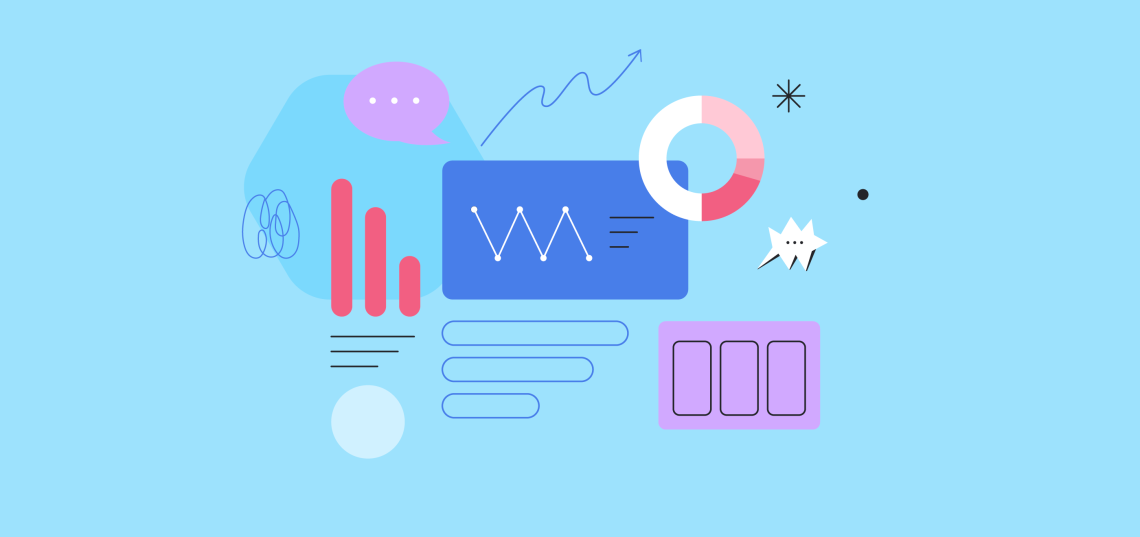 There are over 448 million Twitter users. Probably, in 2025 there will be about 500 million of them.
Each day at least 500 million tweets are sent. The average number of hashtags that are tweeted every day is 125 million.
Yes, hashtags are very popular on Twitter.
I see them all the time. It's a great way to reach users.
To enjoy all the perks of Twitter marketing you need to use, create, track and analyze hashtags.
How to do that? You will need the right tool and knowledge of which hashtags' metrics to analyze.
If you are new to the game, don't worry, we got you covered. Ready?
Let's see our hashtag tracking itinerary for today:
How to start Twitter hashtag analytics?
I was wondering how powerful the analytics Twitter provides to its users. So I checked it, and guess what? I am disappointed.
Twitter Analytics account overview doesn't give us extended data. We can check the 28-day summary, but there is no time filter (!), so we can't preview data in other periods.
Here's what we can track:
Number of posted tweets,
Tweet impressions,
Profile visits,
Number of mentions,
Number of followers,
Tweet highlights: top tweet, top mention, top follower, top media mention.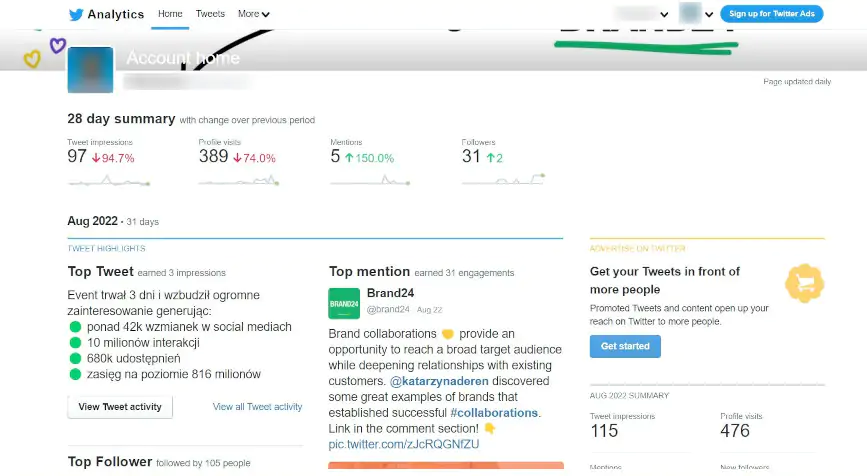 As it is an account overview analytics, all those statistics refer to Twitter profiles. We can't filter data for posts or hashtags.
The second tool developed by Twitter, Tweetdeck, does not provide analytics at all. It is a social media management tool.
So, how to see hashtag statistics on Twitter?
You need a social listening tool that tracks mentions containing hashtags across Twitter.
Such a tool will give you many valuable insights about your hashtag, such as:
The volume of mentions
Social media reach
Sentiment analysis
Share of voice
Presence score
Reputation score
The context of a discussion
Engagement
Read more: What is the Best Hashtag Tracker? 10 Great Tools
Tracking hashtags on Twitter
Let's explore ways how to track hashtags on Twitter and whether it is possible for free.
01 Using the Twitter app: We can not track and follow hashtags in the Twitter app as we can on Instagram. All we can do is use the search bar to discover the top or latest posts that include the hashtag.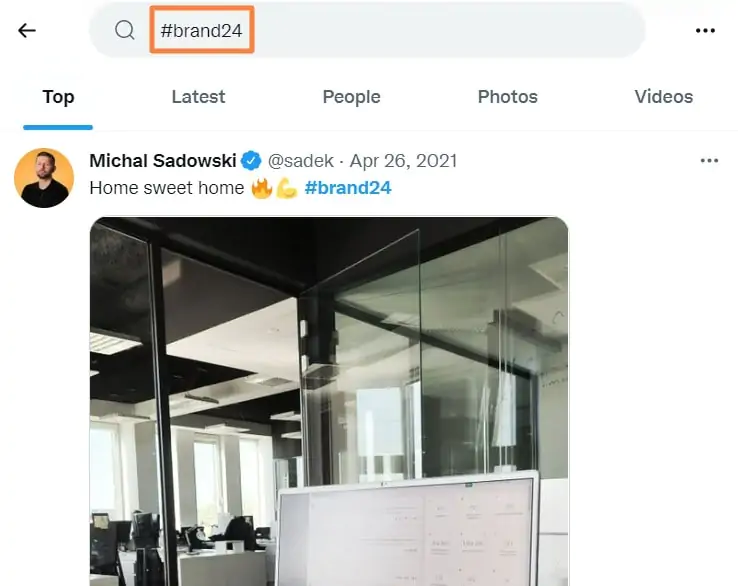 02 Using the Tweetdeck: With this free tool, you can set up one stream tracking a hashtag. Thanks to that, you can see all the tweets that have used that tag in chronological order.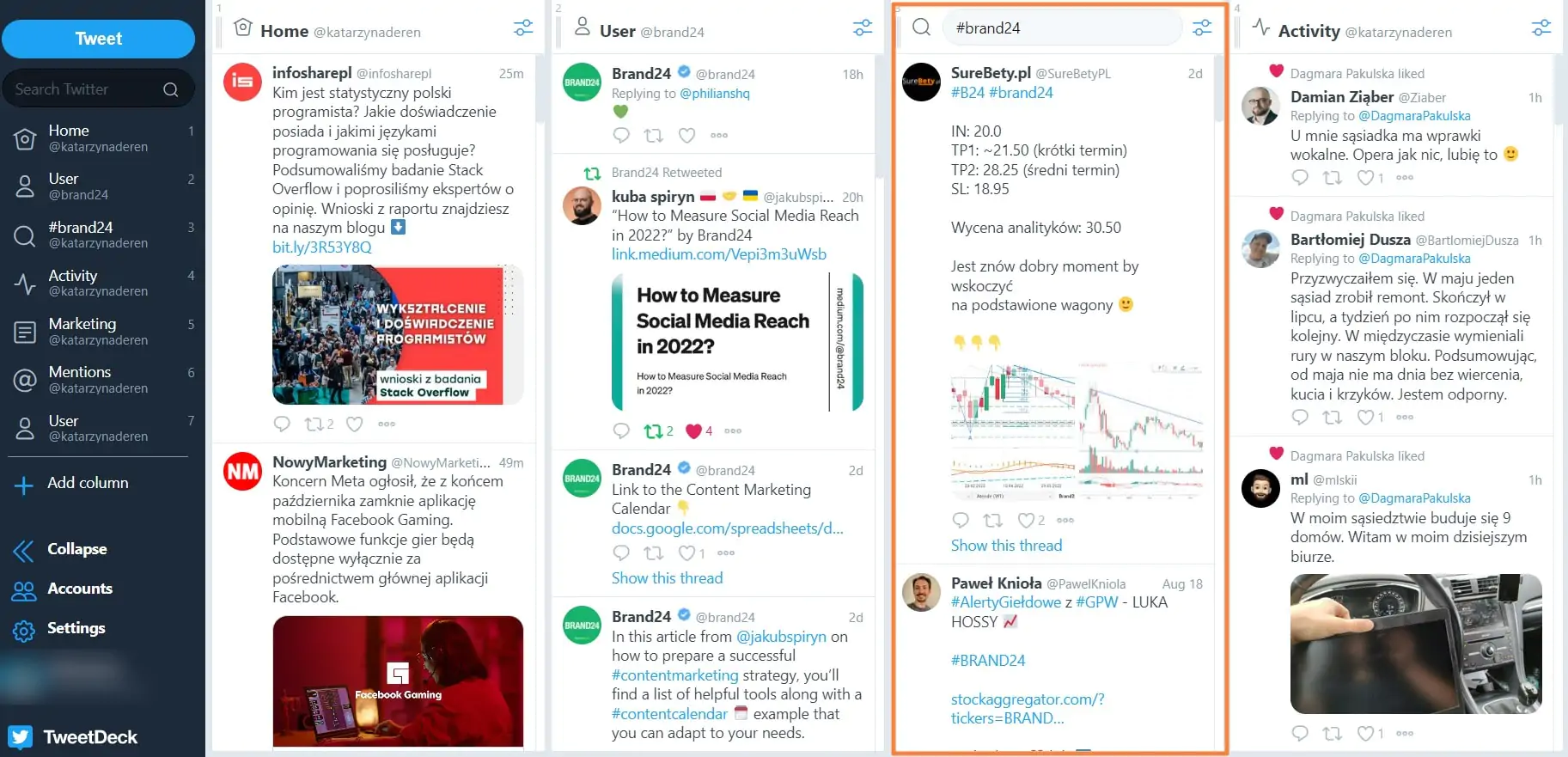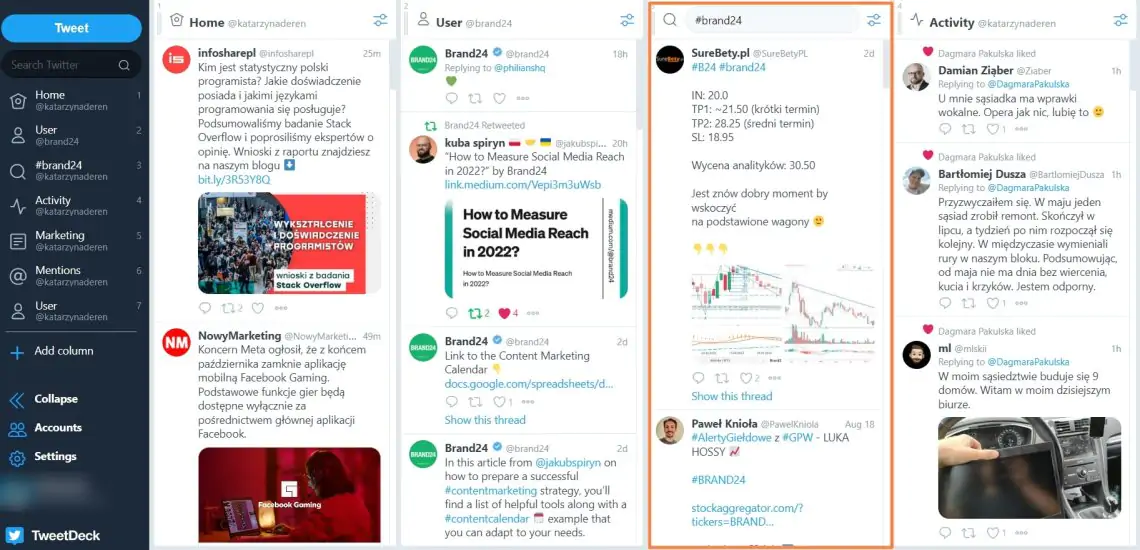 03 Using the social listening tool: With such a tool, you can track many hashtags on Twitter and other social media platforms. After setting up a project, you will discover the volume of mentions, whether those mentions are positive, neutral, or negative, and many other social media metrics.
So, how to track hashtags on Twitter?
You need a great Twitter monitoring tool for that.
Both Twitter and Tweetdeck are free apps. None of them provide analytics. You can not check the number of mentions, social media reach, sentiment analysis, or other metrics. All you can do is scan the stream of mentions.
To gain extended insights about your hashtag campaign, you need to invest in a good social listening tool.
Read: The 11 Best Social Listening Tools to Use
The big advantage of using such a tool is the notification system that can deliver daily or weekly mentions reports. Also, you can set up storm alerts that will notify you of sudden changes in mention volume or social media reach.
Actually, that is how Jan, Marketing Manager at lalafo uses the Brand24 tool. Mostly, he monitors the news that arrives in his email inbox.
"So far there is not a lot of mentions, so I don't open the panel every day, only when I get an email about a new mention." he says.
How to analyze hashtags on Twitter?
Twitter hashtag tracking is one of the elements of your social media success. Analyzing the data around your tweets will help you pinpoint your strengths and weaknesses. This, in turn, will help you boost your reach, impressions, and social media sentiment.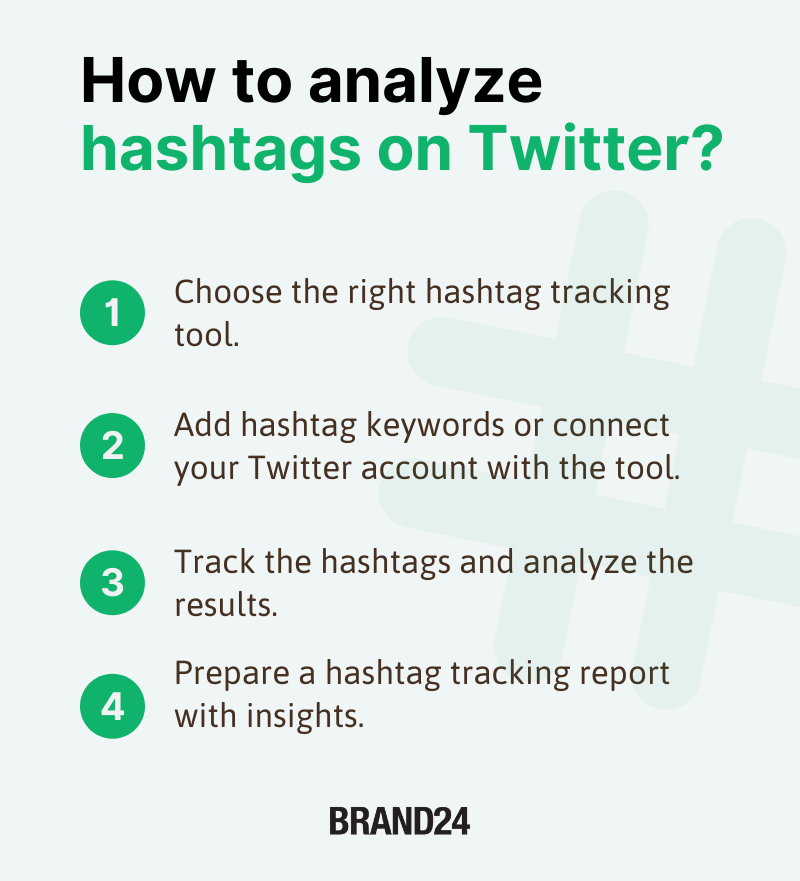 How to effectively track and analyze tweets? You need to follow a few simple steps:
Choose the right hashtag tracking tool. The software will serve as an analytics tool as well, so make sure you get all the data you need.
Add hashtag keywords or connect your Twitter account with the tool.
Track the hashtags and analyze the results. In this part of the process, hashtag tracking analytics is vital.
Prepare a hashtag tracking report. Include all the insights that might be important to others and show the results of your Twitter marketing campaign.
What data exactly will hashtag tracking analytics give you?
How your hashtags spread
Your hashtags reach
What is the engagement rate around your hashtags
How is your hashtag marketing campaign performing
The general hashtag popularity
Top influencers within your business niche
Hashtag suggestions to increase your reach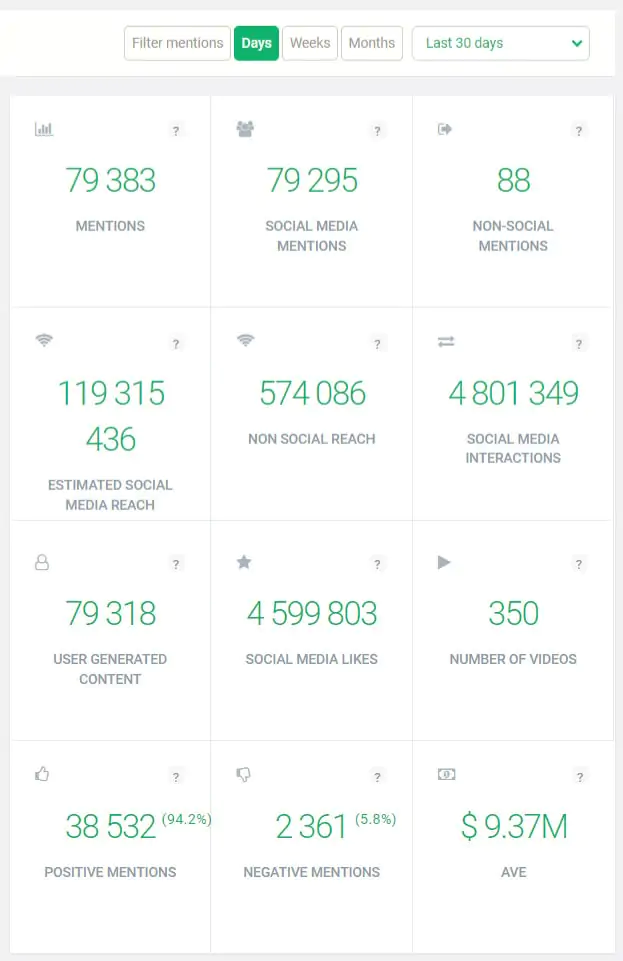 Tracking and analyzing hashtags should be an essential part of your social media marketing strategy. And the process couldn't be easier. With the help of the right tracking tool, you can monitor your hashtags in real-time and across many different social media platforms.
Hashtag tracking tools not only gather the necessary data but also provide you with social media analytics data.
Brand24 is a tool that analyzes hashtags on Twitter. Try it during a 14-day free trial!
Hashtag tracking tool
Let's take a deeper look at the hashtag tracking tool you can use for the job.
I'll analyze Twitter hashtag performance based on Brand24's dashboard, a top social listening tool (at least, according to Buffer).
Before you settle down with a hashtag tracking tool of your choice, make sure you will get all the data you need. See how many keywords you can track within each plan, does it have a hashtag tracking report, a list of top trending hashtags, and top influencers. Most social media tools allow you to gather this type of data. Moreover, many collect the data in real-time.
How to set up a hashtag tracker?
The good news is you can set up a free hashtag tracking project. Most tools, including Brand24, offer a free trial period to see whether the tool suits your needs.
To effectively track hashtags across social media, you need to choose the right keywords.
For example, in Brand24's project creation wizard, enter the hashtag keywords you want to track. Click create and voila! Your hashtag monitoring project is ready.
If you prepare marketing campaigns, you will track dedicated hashtags. A social listening tool will collect all hashtag mentions and provide you with information such as sentiment or social media reach to help you assess your campaign results.
You can use hashtag monitoring for other purposes as well. You can track your branded hashtag and track relevant content. This type of hashtag tracking is beneficial for monitoring your brand reputation and preventing brand crises.
How to choose the best hashtag analytics tool?
There are different hashtag tracking tools available on the market.
Before you decide on the top hashtag tracking tool that suits your needs, take a closer look at the analytics and reporting sections. What features should you consider while choosing the right Twitter analytics tool?
Take a closer look at:
Monitoring sources
Notifications
Reporting
Analytics
Since hashtag analytics is the core of the process, I'll discuss hashtag tracking metrics in the next paragraph.
Sources
Of course, if you want to track hashtag performance across Twitter, the analytics tool needs to cover the microblogging platform. But it would be nice to put the data in a broader context.
Take a look at what additional sources the media monitoring tool of your choice covers. For example, with Brand24, you can monitor:
Major social media platforms, including Facebook, Instagram, Twitter, Youtube, and Twitch
News sites
Blogs and forums
Podcasts
Newsletters
Other publicly available Web sources
That way, you will track hashtags across different platforms correctly.
Notifications
In Brand24, you can connect your project to a dedicated Slack channel, so you will get an immediate notification every time there's a new mention.
The tool also offers email notifications and in-app alerts for Android and iOS.
I know who is talking about Brand24, and I can react immediately.
What's more, Brand24 provides real-time data. You can expect to see the mentions as soon as they land in the dashboard.
But that is not the only reporting feature of the tool. You can also prepare custom reports that will showcase the metrics that are important to you.
Set up Brand24, follow and analyze any hashtag on Twitter!
Reporting
Preparing dedicated reports is vital when it comes to Twitter hashtag campaigns. Fully customizable reports will help you prove your work to your superiors.
In your hashtag tracking report, include all the social media data that are important to assess the results of your marketing campaign.
I'll describe all the hashtag data in a second to get an overview of what metrics are important.
But before you start creating reports, think about the goal. What do you want to achieve?
Do you want to regularly show reports to your boss to present the results of a hashtag campaign? Then you should include metrics such as reach or the volume of mentions.
Check: What is the Best Hashtag Tracker? 10 Great Tools
Twitter hashtags metrics
Let's take a look at the hashtag stats.
The key is to take a deeper look at the metrics that will bring actionable insights into your Twitter marketing strategy.
The old analytics saying states that if you don't measure something, you can't improve it. Hashtag tracking is a great way to determine the results of your social media campaign, determine the impact of your activities on the business bottom line, or present the data to your supervisors.
To get the whole picture, it is best to combine two or more Twitter metrics. This will give you the complete data set that will help you boost your online presence.
Which Twitter hashtag trackers should you examine?
01 The volume of mentions
The volume of mentions shows how many times your hashtag was used during a specified time.
That might seem like not much, but it is one of the essential metrics.
The volume of mentions will show you all the spikes in the number of hashtag mentions which help identify the seasons when your product is the most wanted.
The volume of mentions analysis also shows social media reach and the total number of interactions.
Reach will tell how many people could have seen your tweets.
The number and types of interactions will help you determine whether your tweets are interesting for your audience.
02 Hashtag sentiment analysis
The volume of mentions analytics won't tell you the whole story. To truly understand what people are saying about your brand, you need to combine the volume of mentions with the sentiment analysis.
Hashtag sentiment analytics will tell you how people feel about your post content.
Here's an example of a positive mention:

And here's a negative one:

Analyzing the sentiment around your hashtag will allow you to determine whether your campaign was a success.
Sentiment analysis will help you prevent PR crises, build brand awareness, and even find insights that will help you improve your product or service.
Since sentiment analysis is vital in crisis management, you should choose a tool that collects mention in real-time.
A high volume of mentions with negative sentiment means your brand is evoking some bad feelings, and you have to analyze the matter in greater detail.
Prevailing positive sentiment will indicate that your content resonates well with your target audience.
03 Social media reach
Social media reach is an estimated number of social media users who might have to stumble upon your tweet.
This metric shows how your hashtag is spreading and what audience it reaches.


It's a very useful piece of data. You've probably already built your buyer's persona. Now it's the time to confront your research with reality.
You might find a brand new audience for your product which is excellent news because it means you'll convert more users and increase your revenue.
But that can mean something negative as well. You can spread your message to the wrong audience. In this case, you need to change the message or change the social media channel. Maybe there's no one interested in what you're offering on Twitter, and your target customers hang out on Instagram instead?
04 Engagement
I will argue that engagement is one of the most important metrics when it comes to social media analytics.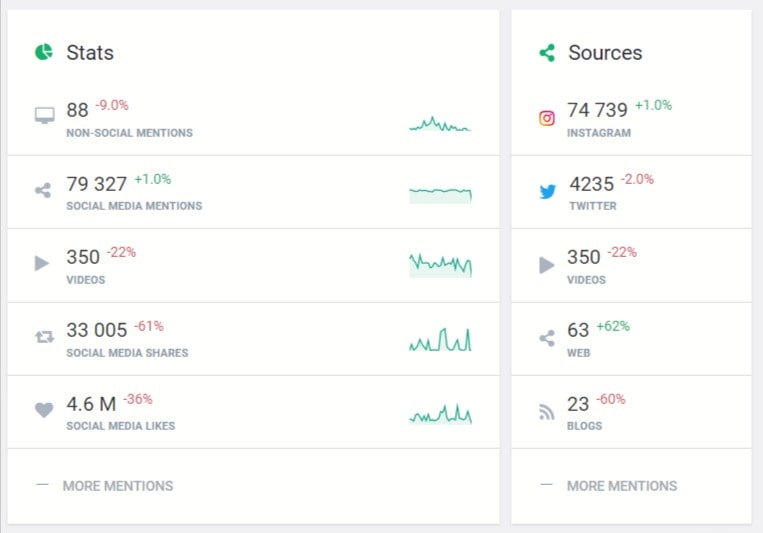 Engagement rates tell you how many users interact with your content. If your posts are interesting, attractive, and relevant, your audience will appreciate it and interact with them.
06 Influence
Influencer marketing is an amazingly effective way of promoting your business. Customers tend to trust influencers' messages much more than traditional advertising.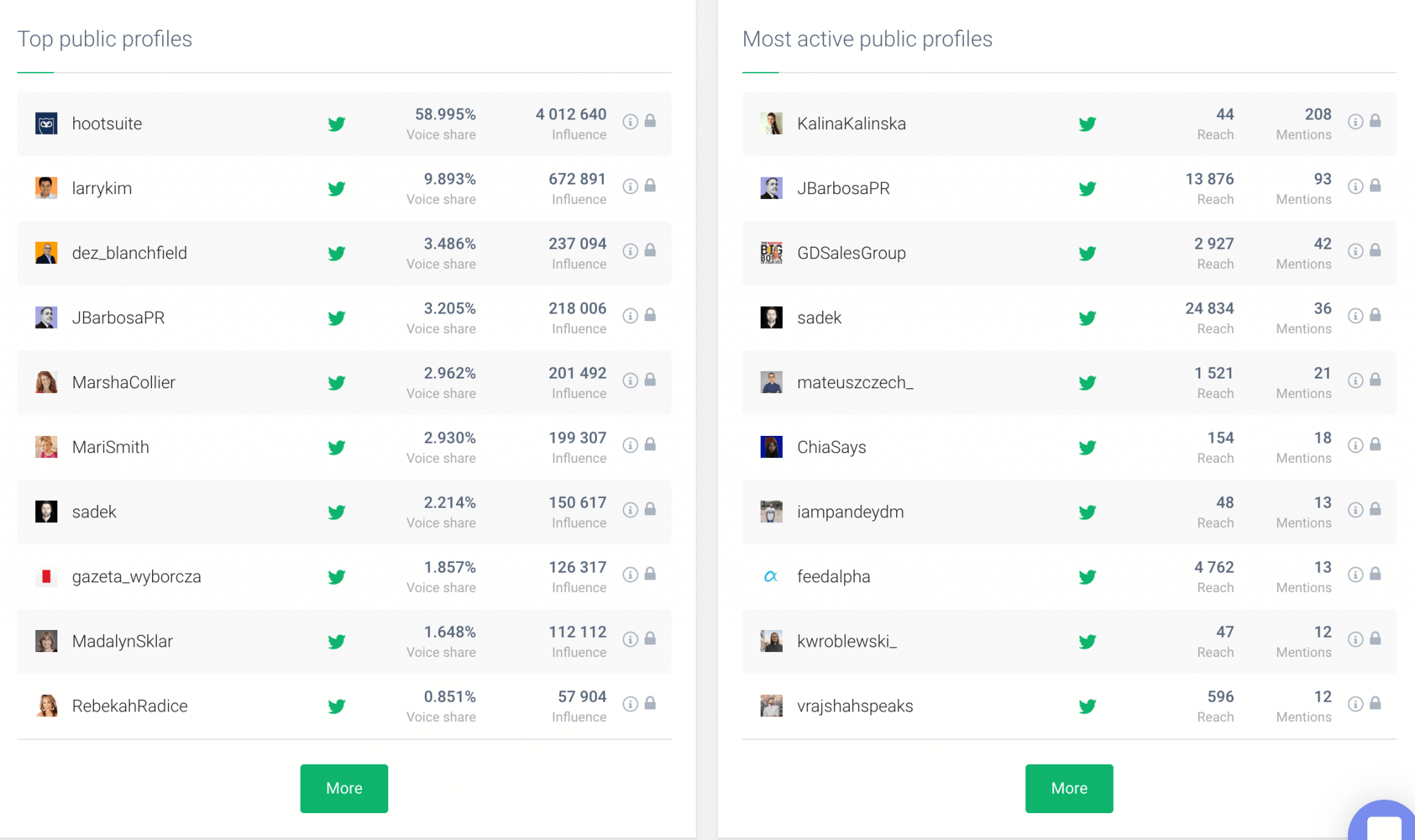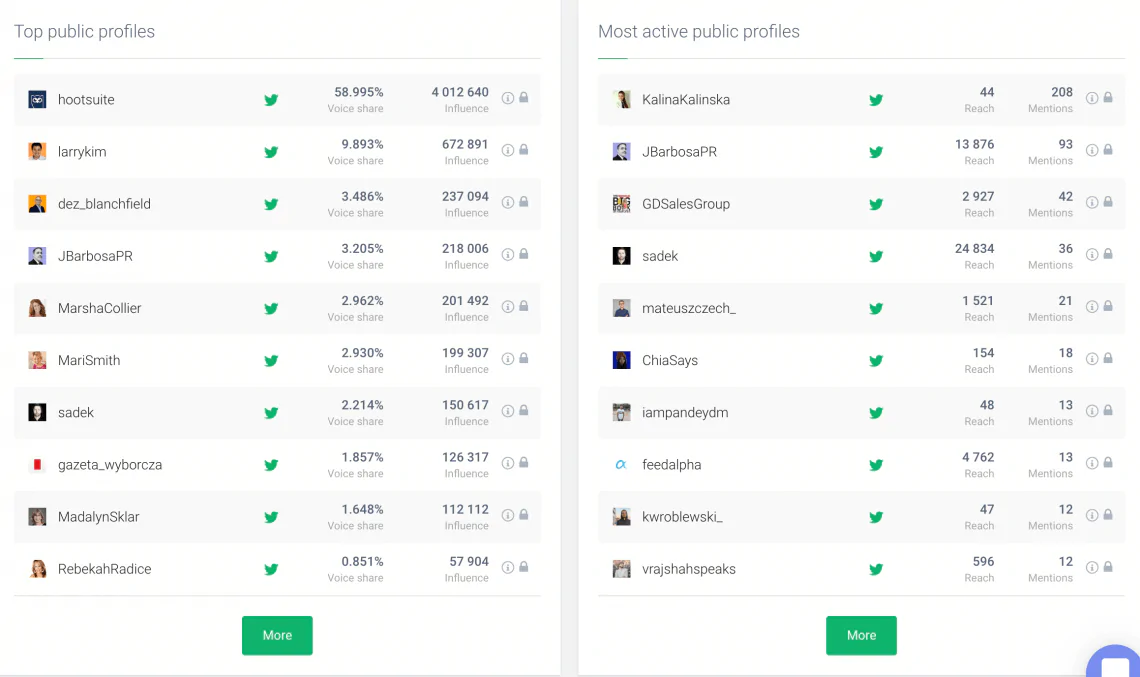 The key to success is to find the right influencers to cooperate with.
The most persuasive influencers are already in your network. They are either already talking about your product or talking extensively about your specific niche.
To find top influencers with the highest share of voice, go to Brand24's Analysis tab.
Brand24's algorithm shows two metrics you might find interesting: influence of top public profiles and most active public profiles.
The influence of social media authors will also indicate their share of voice (the amount of discussion on the Internet generated by these social media users) and their influence (how many people were possibly affected by their message).
Use Brand24 to track hashtags across Twitter and discover their performance.
Twitter Hashtag Analytics: Conclusion
Twitter hashtags are a great way to boost your marketing efforts. They will help you to reach an audience that is actively talking about things relevant to your brand and niche.
Participating in relevant conversations and sharing your experiences and thoughts will help you establish your brand as an industry leader.
That's why it's important to find the right hashtags and monitor their performance online.
How to do that?
To run a successful Twitter hashtag campaign you need to use Twitter analytics and know which hashtag metrics to track.
Unfortunately, Twitter data is not enough to conduct a reliable analysis of hashtag usage. Implementing a hashtag tracking tool is necessary.
So, are you ready to give it a spin? Try Twitter hashtag analytics!