A comprehensive guide to Twitter Analytics
September 8, 2020 ・ 9 min read
Data, data, data! Today's marketing world revolves around numbers — social media analytics provide you with information you can use to boost your online presence. That is why you should employ Twitter analytics for your social media marketing stack.
There are tons of pieces of data available. The hardest part of the job is to find the most useful Twitter metrics.
To make your job a bit easier, we prepared a comprehensive guide to Twitter analytics!
What is Twitter analytics?
Twitter analytics are all the metrics that help you boost your Twitter online presence and achieve your social media marketing goals.
The hard part is to choose the right metrics to track. There is an abundance of data available. It is easy to get lost in vanity metrics.
Analysing Twitter data, such as sentiment, impressions, or reach, will help you make more insightful decisions.
Informed decision-making will translate into a higher number of social media leads, increased brand awareness, and, ultimately, an increase in sales.
How to get Twitter analytics?
There is good news when it comes to Twitter analytics. You can access the basic metrics for free.
All you have to do is log into your Twitter account, and on the left side, menu click on More. There you will find an analytics section.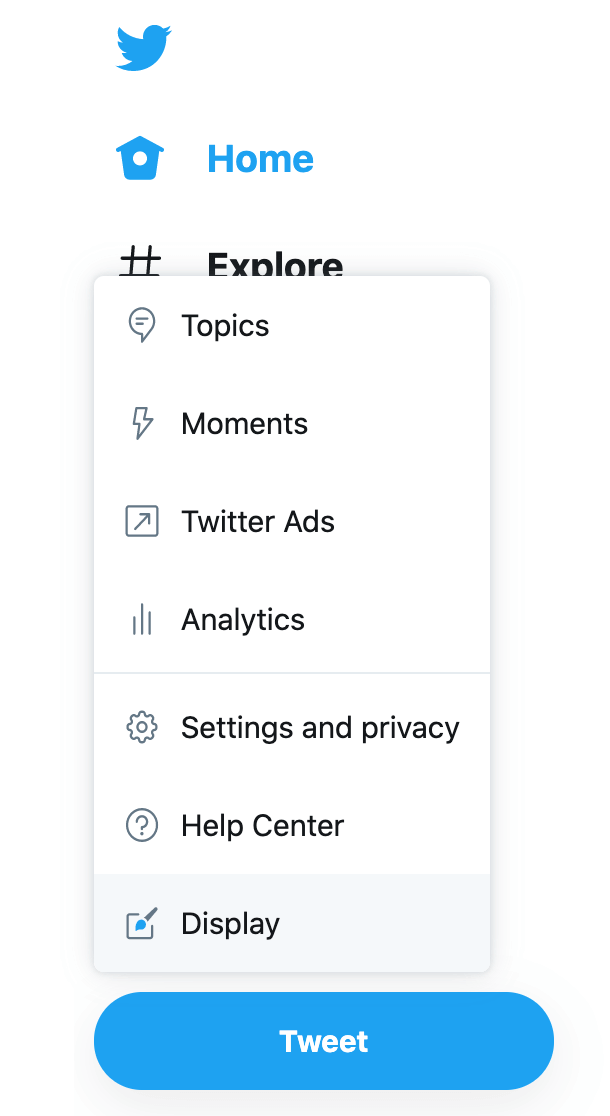 Native Twitter analytics is an impressive source of information. It provides the essential information you need to grow your Twitter account, and it is free!
Because it is an official analytics channel run by Twitter, the data presented is thorough and accurate.
While Twitter gives the basics analytics on a silver plate, if you want to dig deeper into audience insights or hashtag performance, you need a social listening tool.
After a while, you need additional data to boost your Twitter presence.
Let's take a look at the Twitter metrics you need to follow to get the most crucial information.
What does Twitter analytics show?
As I mentioned before, Twitter analytics shows the basic metrics you need to assess your Twitter presence.
The data will give you a general understanding of how your account performs, what kind of content resonates well with your audience, and what you should do to improve your Twitter strategy.
Let's start with the metrics you can find in native Twitter analytics.
Native Twitter analytics will analyse in-depth the content you post. Based on the metrics such as impression, engagement, or engagement rate, you can determine in what type of content you should invest in.
Twitter impressions
The first Twitter metrics we will handle today are impressions. You will find impressions under the tweets section. You can analyse individuals tweets as well as the last 28 days of your Twitter activity.
Tweet impressions show you how many times a tweet was seen. Every time a user scrolls down the Twitter feed and sees your content an impression is counted.
Identify tweets that gained the most impressions. Because the life-span of a Tweet is approximately 18 minutes, you can repurpose Twitter content and still attract a new audience with it.
You can also identify the content that resonates well with your target audience. Once you know which type of content gained the highest number of impressions, you can create similar tweets and reach even more users.
Tweet engagement
Tweet engagement is a vital metric when it comes to Twitter analytics.
The social media algorithm will determine your position on users' timelines based on engagement.
The more users interact with your Tweets, the higher the chance that your posts will appear again.
Engagement will calculate the number of likes, comments, and retweets. Based on the data, you should identify the best performing content.
Tweet engagement rate
The tweet engagement rate is the engagement number divided by the number of impressions.
The engagement rate is a bit different metric than engagement. It gives you a bit clearer view of your Tweet performance as it takes into account how many people have seen the tweet.
Top tweets
Top tweets show the tweet that receives the highest number of impressions in the last 28 days.
The top tweet will show you what type of posts will generate the most exposure. Did you upload a photo? Did you use specific hashtags? Did you post at a specific time of day?
Identify what made the tweet popular and try to emulate it in your future content.
Follower growth
In the follower growth tab, you can discover how many new followers you added to your profile. You can see bulk data from the whole month or analyse it day-by-day.
If you notice fluctuations in the number of Twitter followers on a particular day, check what you tweeted that day. If you gained new followers, it means you've posted an engaging piece of content.
If many people stopped following you, it means your content is not tailored to your audience's needs.
Link clicks
In some tweets, you will add a link to an external website, for example, your YouTube channel or your main webpage.
You should know how many people click on the link. This will indicate whether Twitter is a good referrer to external resources.
Results
Now, we are delving into the world of Twitter ads. Since you want to maximise the ROI of your ads, let's see how you can measure it.
Results measure the actions tied to the objective of your ad. A result can be a lot of things — an increased number of impressions, followers, higher engagement rate, website clicks, or video views.
Result is a crucial metric if you want to whether your ads campaign is delivering the desired outcomes.
CPR
CPR stands for cost per result. This metric will tell you how much you pay for the action a user takes after seeing your ad.
For example, if the goal of your Twitter campaign is a video view, you will only be charged if a user views your video.
Cost per result will help you manage your ads budget and calculate Twitter ads ROI.
Conversions
And lastly, marketing holy grail — conversions. Conversions track what people do after they leave your Twitter profile.
From the conversion dashboard, you will be able to determine the impact of your Twitter activity on your ROI.
Other metrics you need for Twitter analytics
The metrics mentioned above are essential for social media managers. You can calculate your ROI and see the effects of your social media strategy.
However, to get a whole picture and make well-informed decisions, you need some additional Twitter analytics metrics. To have all the data in your hands, take a look at social listening tools.
Sentiment analysis
Sentiment analysis is one of the most important auxiliary metrics when it comes to Twitter analytics.
Twitter sentiment analysis applies machine learning NLP to determine the tone of the tweet.
There are three categories if tweets: positive, negative, and neutral tweets.
That is how a positive tweet looks like:

That is how a negative tweet looks like:

And that is how a neutral tweet looks like:

Sentiment analysis will help you with at least a few steps in your Twitter marketing strategy.
First of all, combine sentiment analysis with engagement rate or the number of mentions, and you receive an indicator of a Twitter crisis in the making.
Since social media crises are inevitable, sentiment analysis allows you to minimise the effects of the crisis.
You can react once you see a sudden spike in negative mentions, and nip the crisis in the bud.
Moreover, sentiment analysis will help you determine which content evokes positive feelings within your audience. Twitter sentiment analysis will help you create the most engaging content and bring your content strategy to the next level.
Discover your Twitter sentiment analysis! Start your 14-day free trial
The share of voice
Twitter share of voice determines what part of the online discussion was started by a particular Twitter account.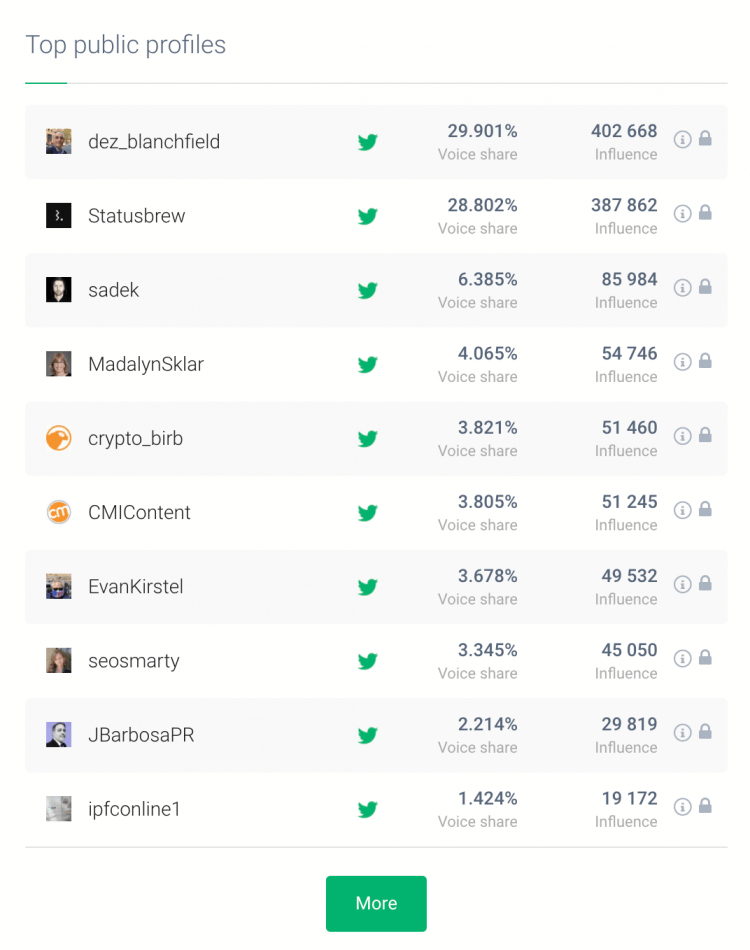 The share of voice helps you find Twitter influencers — public accounts with robust following that will help you boost your brand awareness and reach new audiences.
Before you invest in a Twitter influencer marketing strategy, take a closer look at the share of voice and influence of particular accounts.
The context of a discussion
The context of a discussion will help you determine what people talk about in the context of your brand.
The context of a discussion provides you with ideas on your next type of content. You will know what associations people have with your brand.
The benefits of Twitter analytics
Now that you know what to track, you probably wonder why you should track it at all. There are plenty of benefits to Twitter analytics.
Making more informed decisions will boost your online presence and help you get the most out of your investment in this social media platform.
Get to know your audience
Why are you present on social media channels? Because you want to connect with your audience!
Social media is all about being social. If you want to succeed, you have to know your audience. The better you know your audience, their gender, income, education, their likes, and dislikes, the better-suited content you can create.
Don't focus solely on the demographics data. Native Twitter analytics will help you discover your followers' interests, the device they use, and the keywords they search.
Create the most engaging content
In theory, tweets with video get more exposure than text tweets.
But that might not be true for your audience.
Thanks to Twitter analytics, you can find out what type of tweets resonate best with your audience. Should you include GIFs? Post more video content? What is the click-through rate?
Twitter analytics will help you identify the content that resonates best with your audience.
Post when your audience is online
Posting the right content is half of success. The second part of your Twitter success is posting at the right time.
The analytics section will tell you when your followers are active. If you post during that times (these might not be your office hours), you are maximising your chances of higher engagement.
Track the ROI of Twitter ads
With Twitter analytics, you can compare your organic tweets with paid. That way, you will know how much your ads contribute to your reach, whether you should invest more in organic or paid reach.
You can also analyse the results of different Twitter ads and find the type that drives the most ROI.
Iterate success
Once you identify what works and what does not, you should try to replicate your success.
That way, you will be able to build a robust Twitter presence and, over time, see tangible results of your efforts.
Twitter analytics tools
You know almost everything about Twitter analytics. The last aspect you should take into account is choosing the right Twitter analytics tool. There are many Twitter analytics tools on the market, let me show you the best combination for you.
I have two recommendations for you. If you combine these two options, you will get the most holistic view of Twitter analytics.
Native Twitter analytics
Let's start with native Twitter analytics.
This tool is great for everyone. First of all, it is a free Twitter analytics tool. You don't have to pay a dime for it.
Secondly, native Twitter analytics covers all the basics: impressions, reach, ads, Twitter audience data, and much more.
The hard data presented by Twitter are reliable and always available.
Social listening tool
To get the cherry on the top of your Twitter analytics, you should combine native Twitter analytics with a social listening tool.
Of course, I recommend Brand24, since it is one of the most robust and affordable tools on the market. And you can test it for free for 14 days.
Social listening will complement the native Twitter analytics data with metrics and features such as:
sentiment analysis
top public profiles
the share of voice
influence score
customisable reports
Slack integration
notifications
a wide range of filters
Start your free trial! No credit card required!
HANDPICKED RELATED CONTENT
Top 10 Twitter Analytics Tools
Top 5 Twitter influencers tools