Twitter analytics is a powerful tool for marketers. By gaining access to user engagement data, you can gain insights into how your Twitter content is performing and how you can optimize it. But before you can analyze the data, you need to know how to access it. Let's discover how to see Twitter analytics.
Table of contents:
What is Twitter analytics?
Twitter analytics is based on all the metrics that help you boost your Twitter online presence and achieve your social media marketing goals.
Analytics will give you a comprehensive view of the metrics associated with tweets. You will discover how their organic activity translates engagements, impressions, followers, mentions, likes, and shares. Using a solid analytics tool, you can develop a deeper understanding of the audience to optimize content for maximum efficiency.
Informed decision-making will translate into more social media leads, increased brand awareness, and, ultimately, increased sales.
Start Twitter analysis using the Brand24 tool!
How to access Twitter analytics?
There are two main ways to access analytics of your Twitter profile:
Using native Twitter Analytics – This tool is great for everyone. First of all, it is a free tool. You don't have to pay a dime for it. Secondly, native Twitter analytics covers all the basics: impressions, profile visits, mentions, followers, ads, and video activity. The hard data presented by Twitter are reliable and always available.
Using Twitter analytics tools – Such tools give more advanced data and in-depth insights, but usually, you need to pay for them. One of the greatest tools you can use is a social listening tool. It will complement the native Twitter analytics data with metrics and features such as sentiment analysis, social media reach, top public profiles, the share of voice, influence score, presence score, customizable reports, and more.
If you combine these two options, you will get the most holistic view of Twitter analytics.
How to check Twitter analytics?
Let's figure out how to check the analytics of the profile using:
Native Twitter Analytics
Log into your Twitter account, and on the left side menu, click on More and Creator Studio. You will find an analytics section there.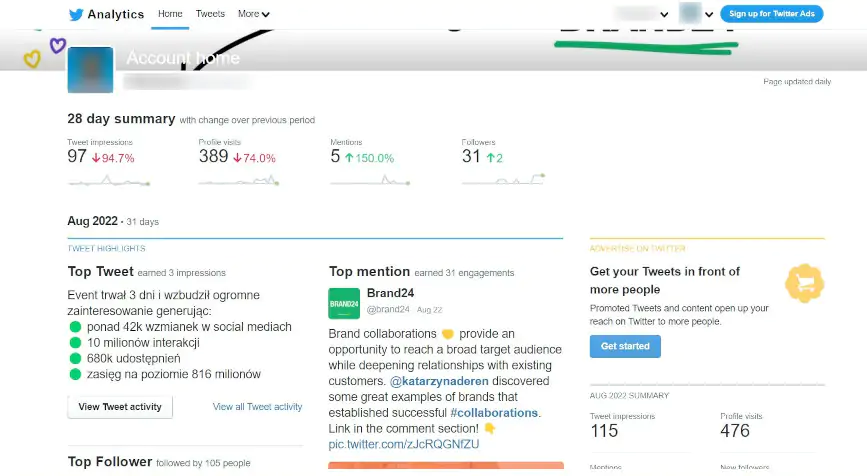 Native Twitter analytics is quite a nice source of information. It provides the information you need to grow your Twitter account:
28-day summary of impressions, profile visits, mentions, and followers,
Tweet highlights: top tweet, top mention, top follower,
Tweet activity: engagement rate, link clicks, retweets, likes, replies,
Video activity: total minutes viewed, retention,
Conversion tracking.
Also, you can check the engagement statistics of each tweet, such as the number of impressions, likes, retweets, follows, link clicks, detail expands, and profile clicks.
Because it is an official analytics channel run by Twitter, the data presented is thorough and accurate.
What's inside the Twitter analytics dashboard?
As I mentioned before, Twitter analytics shows the basic metrics you need to assess your Twitter presence.
The data will give you a general understanding of how your account performs, what kind of content resonates well with your audience, and what you should do to improve your Twitter strategy.
Native Twitter analytics will analyze in-depth the content you post. Based on the metrics such as impression, or engagement rate, you can determine in what type of content you should invest.
In the Twitter analytics dashboard, you will basic data:
01 Twitter impressions
How to check Twitter impressions? It's very easy.
Click the "Analytics" button under the tweet. Then you will see the pop-up showing impressions and other metrics.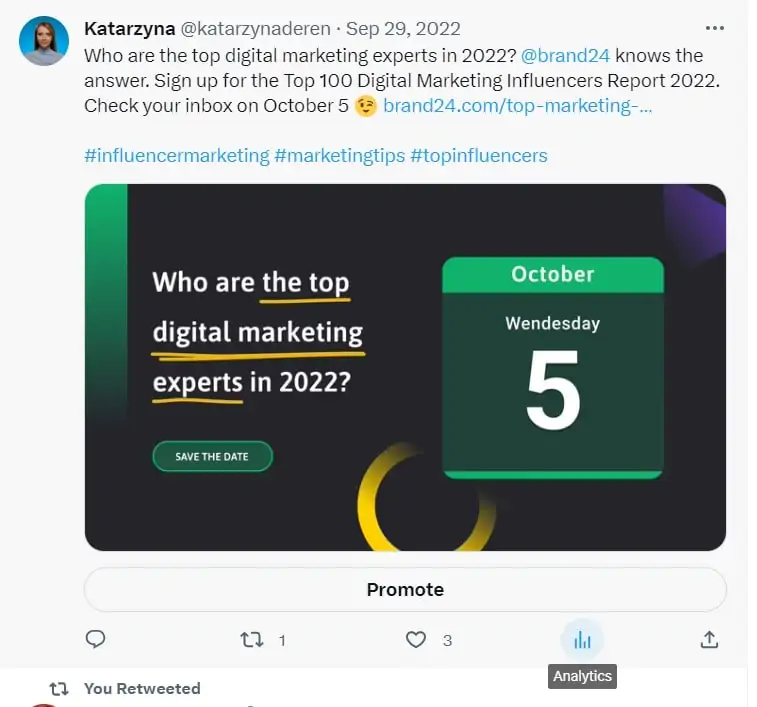 You can analyze individuals" tweets as well as the last 28 days of your Twitter activity.
Tweet impressions show you how many times a tweet was seen. Whenever a user scrolls down the Twitter feed and sees your content, an impression is counted.
It helps identify the content that resonates well with your target audience. Once you know which type of content gained the highest number of impressions, you can create similar tweets and reach even more users.
Start Twitter analysis using the Brand24 tool!
02 Tweet engagement
Tweet engagement is important data when it comes to Twitter analytics.
The social media algorithm will determine your position on users' timelines based on engagement.
The more users interact with your Tweets, the higher the chance that your posts will appear again.
Engagement will calculate the number of likes, comments, and retweets. Based on the data, you should identify the best-performing content.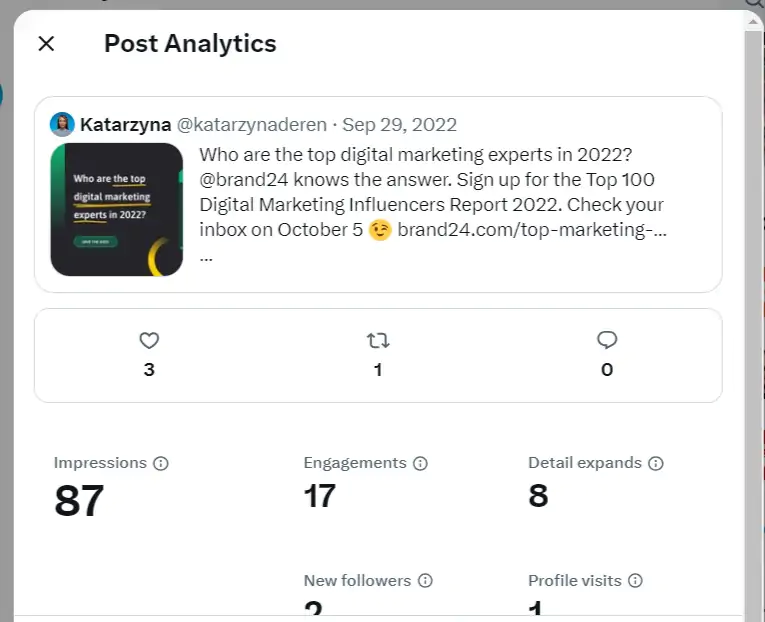 03 Tweet engagement rate
The tweet engagement rate is the engagement number divided by the number of impressions.
The engagement rate is a bit different metric than engagement. It gives you a bit clearer view of your Tweet performance as it takes into account how many people have seen the tweet.
04 Top tweets
Top tweets show the tweet that receives the highest number of impressions in the last 28 days.
The top tweet section will show you what type of posts will generate the most exposure. Did you upload a photo? Did you use trending Twitter hashtags? Did you post at a specific time of day?
Identify what made the tweet popular and try to emulate it in your future content.
05 Top mention
Mentions play a significant role on Twitter. Its analytics show only one key mention. So it's nearly impossible to engage with all Twitter users who mentioned you.
If you want to discover more mentions, think about testing the social listening tool, for example, Brand24. It will allow you to track online mentions in real time.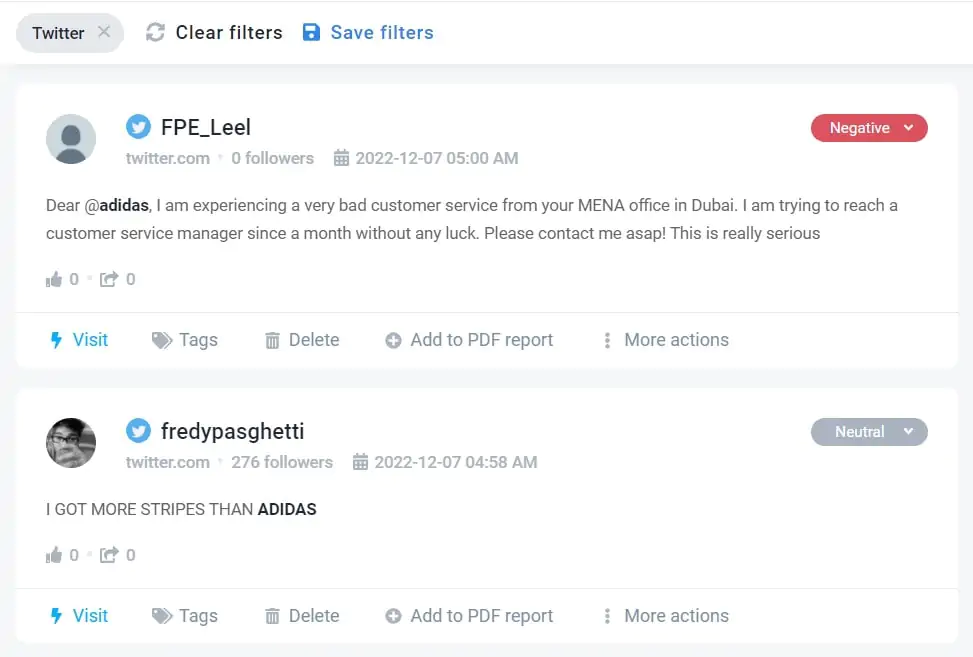 06 Follower growth
In the follower growth tab, you can discover how many new followers you added to your profile. You can see bulk data from the whole month or analyze it day by day.
If you notice fluctuations in the number of Twitter followers on a particular day, check what you tweeted that day. If you gained new followers, it means you've posted an engaging piece of content.
If many people stop following you, it means your content is not tailored to your audience's needs.
07 Link clicks
In some tweets, you will add a link to an external website, for example, your YouTube channel or your main webpage.
You should know how many people click on the link. This will indicate whether Twitter is a good referrer to external resources.
08 Results
Now, we are delving into the world of Twitter ads. Since you want to maximize the ROI of your ads, let's see how you can measure it.
Results measure the actions tied to the objective of your ad. A result can be many things — an increased number of impressions, followers, higher engagement rate, website clicks, or video views.
Result is crucial data if you want to determine whether your ads campaign delivers the desired outcomes.
09 CPR
CPR stands for cost per result. This metric will tell you how much you pay for the action a user takes after seeing your ad.
For example, if the goal of your Twitter campaign is a video view, you will only be charged if a user views your video.
Cost per result will help you manage your ads budget and calculate Twitter ads ROI.
10 Conversions
And lastly, marketing holy grail — conversions. Conversions track what people do after they leave your Twitter profile.
From the conversion dashboard, you will be able to determine the impact of your Twitter activity on your ROI.
Start Twitter analysis using the Brand24 tool!
Twitter analytics tools
As I mentioned above, the native Twitter analytics dashboard presents only basic metrics.
To access the full potential of Twitter, you need to use an advanced social media analytics tool. Read this article to find it: The Best Twitter Analytics Tools to Try.
Now, let's discover what data you can gain from analytics tools that will help you improve your social media marketing strategy:
01 Sentiment analysis
Sentiment analysis is one of the most important auxiliary data for Twitter analytics.
Twitter sentiment analysis applies machine learning NLP to determine the tweet's tone.
There are three categories of tweets: positive, negative, and neutral tweets.
That is what a positive tweet looks like:

That is what a negative tweet looks like:

And that is what a neutral tweet looks like:

Sentiment analysis will help you with at least a few steps in your social media strategy.
First of all, combine sentiment analysis with engagement rate or the number of mentions, and you receive an indicator of a Twitter crisis in the making.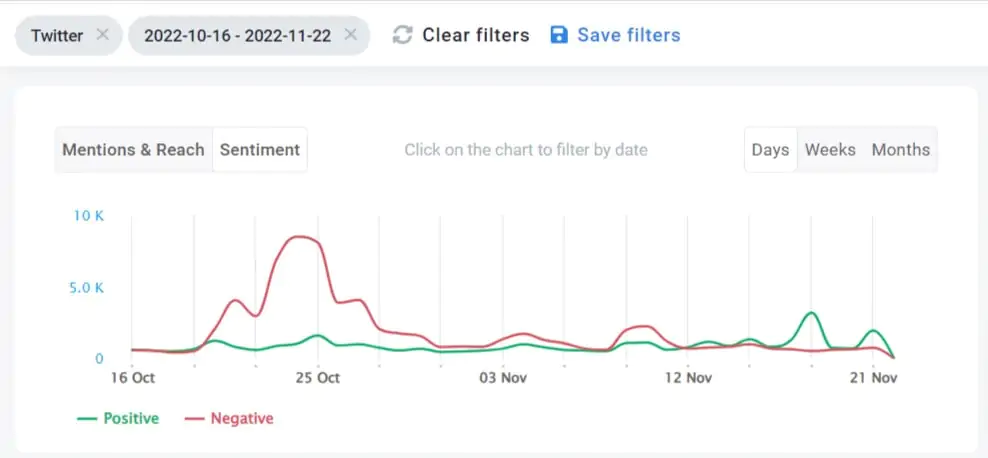 Since social media crises are inevitable, sentiment analysis allows you to minimize the effects of the crisis.
You can react once you see a sudden spike in negative mentions and nip the crisis in the bud.
Moreover, sentiment analysis will help you determine which content evokes positive feelings within your audience. Twitter sentiment analysis will help you create the most engaging content and bring your content strategy to the next level.
02 The share of voice
Twitter's share of voice determines what part of the online discussion was started by a particular Twitter account.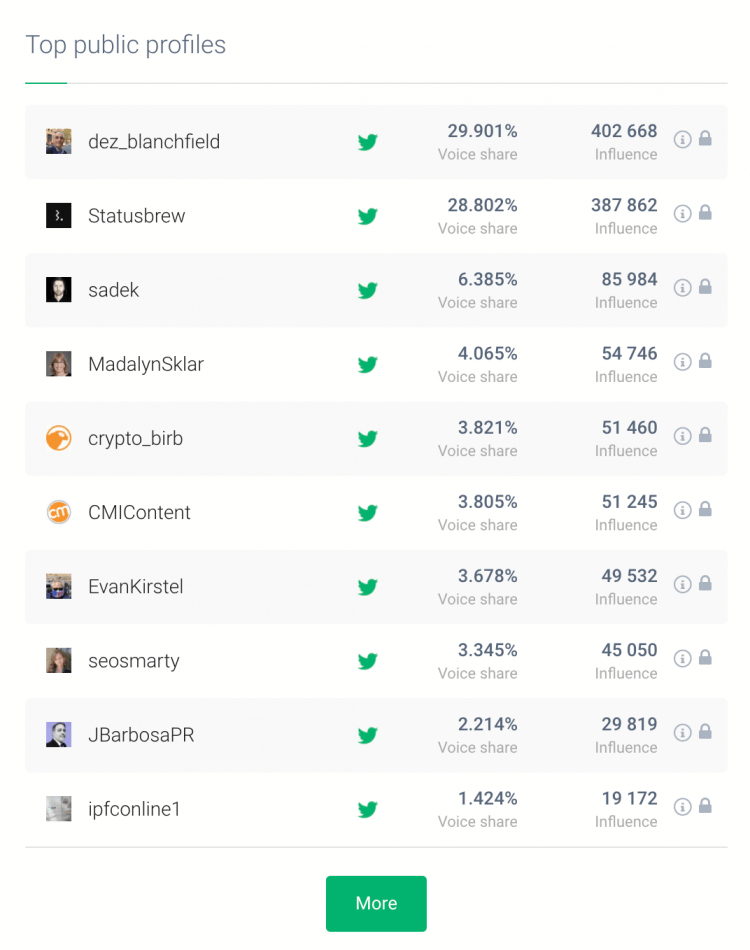 The share of voice helps you find Twitter influencers — public accounts with robust following that will help you boost your brand awareness and reach new audiences.
Before you invest in a Twitter influencer marketing strategy, take a closer look at the share of voice and influence of particular accounts.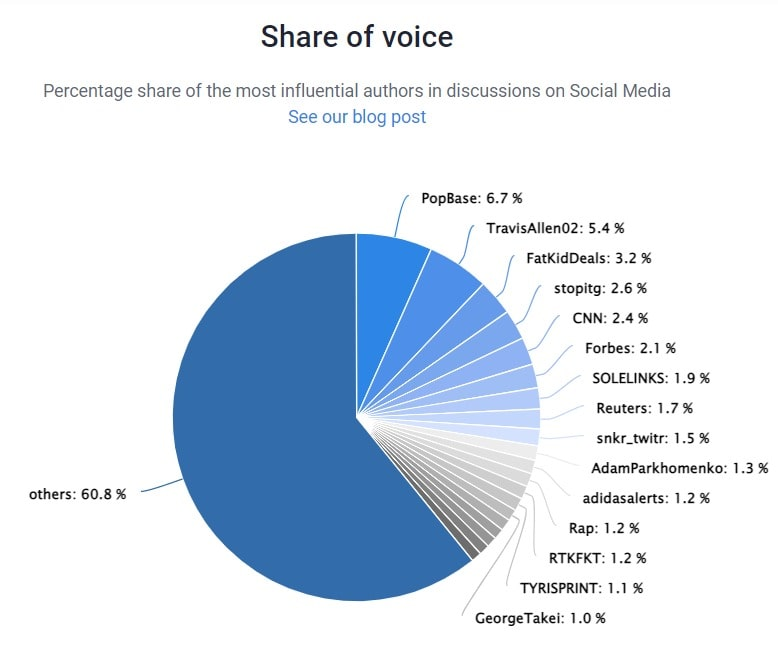 03 Social media reach
Tracking social media reach on Twitter is hugely important for understanding how well different campaigns, content pieces, keywords, hashtags, and other social media initiatives perform.
Measuring Twitter reach can be incredibly useful for gaining insights into who your audience is and what kind of content resonates with them. Thanks to tracking Twitter reach, you can track your progress.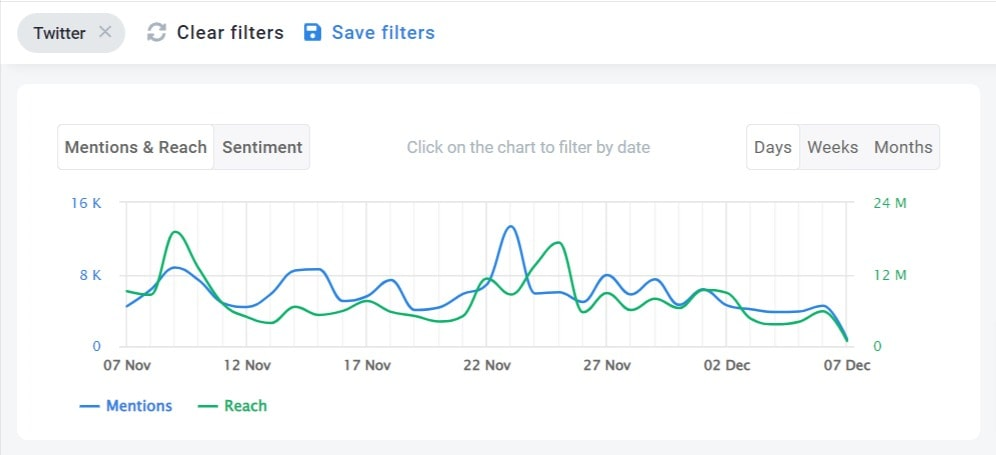 Those three metrics are essential. Read the article to discover more: Key Twitter Metrics to Track
Start Twitter analysis using the Brand24 tool!
How can you use your data?
Now that you know what to track, you probably wonder how you can use data.
There are plenty of Twitter analytics benefits:
01 Get to know your audience
Why are you present on social media channels? Because you want to connect with your audience!
Social media is all about being social. If you want to succeed, you have to know your audience. The better you know your audience, their gender, income, education, their likes, and dislikes, the better-suited content you can create.
Don't focus solely on the demographics data. Native Twitter analytics will help you discover your followers' interests, the device they use, and the keywords they search.
02 Measure Results
Twitter analytics also allows you to measure the success of each tweet. For example, you can see which tweets have performed best in terms of engagement and interactions, such as clicks or replies.
Additionally, you can monitor how far-reaching each tweet is by tracking impressions over time and making necessary adjustments to maximize results.
03 Create the most engaging content
In theory, tweets with video get more exposure than text tweets.
But that might not be true for your audience.
Thanks to Twitter analytics, you can find out what type of tweets resonate best with your audience. Should you include GIFs? Post more video content? What is the click-through rate?
Twitter analytics will help you identify the content that resonates best with your audience.
04 Post when your audience is online
Posting the right content is half of success. The second part of your Twitter success is posting at the right time.
The analytics section will tell you when your followers are active. If you post during that times (these might not be your office hours), you are maximizing your chances of higher engagement.
05 Optimize social media strategy
You can use Twitter analytics to optimize strategies by providing detailed insights into how their campaigns are performing.
With invaluable data on reach, impressions, and followers' feedback, brands can better understand their audience and tailor content to create more engaging conversations.
06 Track hashtags
Twitter analytics is an invaluable tool for tracking hashtag performance. With simple, straightforward data and insights, you can track the success of your hashtag campaign.
You can easily see how many times your hashtag was used on Twitter, which influencers are promoting it, and who's engaging with it.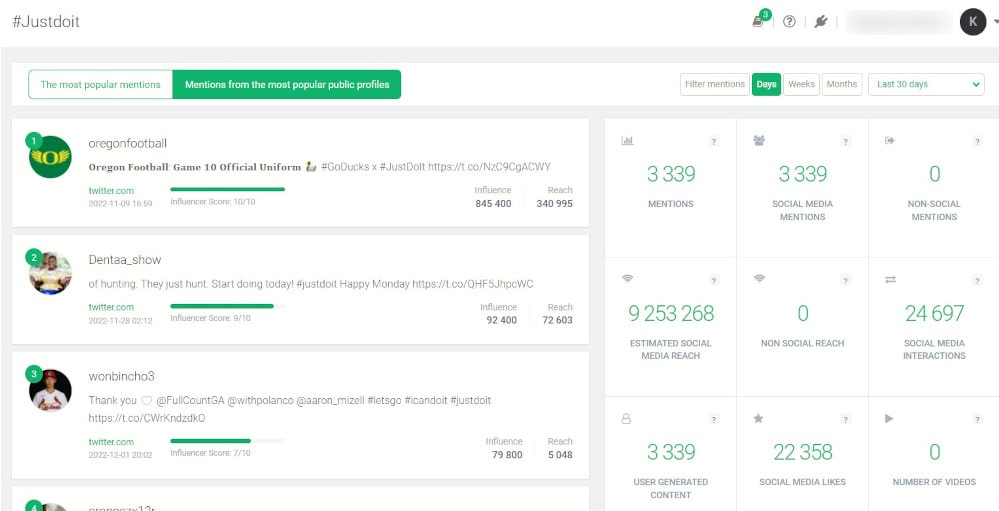 All this data combined gives you a deeper understanding of why certain Tweets perform better than others.
Read more: What is the Best Hashtag Tracker? 10 Great Tools
07 Track the ROI of Twitter ads
With Twitter analytics, you can compare your organic tweets with paid. That way, you will know how much your ads contribute to your reach and whether you should invest more in organic or paid reach.
You can also analyze the results of different Twitter ads and find the type that drives the most ROI.
08 Identify opportunities for growth
Twitter analytics helps identify growth opportunities. For example, you can use the data to discover new influencers, trending links and hashtags, the most popular mentions, and many more.
Also, it will help you to identify trending or popular topics among Twitter followers. So you'll create content around those topics to capture their attention.
Start Twitter analysis using the Brand24 tool!
Conclusion
Twitter analytics provides marketers with invaluable insights into their audiences and campaigns so that they can tailor their strategies for maximum effectiveness.
Using the proper tool, you can understand who engages with your tweets or measure results from specific campaigns. Also, it will present insights into how effective (or ineffective) your digital marketing efforts are.
So don't wait – unlock the power of Twitter analytics today!
FAQ
Why can't I see Analytics on Twitter?
If you can't see analytics on Twitter, it might be because you haven't accessed your Tweet Activity Dashboard yet, or the feature isn't enabled on your account. Twitter Analytics is available to all users, and can be accessed by clicking on 'More' in the side navigation menu and then selecting 'Analytics'. If you still can't see your analytics, ensure that your account complies with Twitter's policies, as the feature may be restricted for accounts that violate these rules.
Is Twitter Analytics good?
Yes, Twitter Analytics is an excellent tool for understanding the performance of your Twitter campaigns. It offers comprehensive insights into various engagement metrics such as likes, retweets, mentions, and impressions. This data can help you to optimize your tweets for better engagement, understand your audience better, and ultimately run more effective campaigns.
Can you see someone else's Twitter Analytics?
No, you cannot directly view another user's Twitter Analytics. These analytics are private to each account. However, you can view public information about an individual tweet such as the number of likes, retweets, replies, and if available, the quote tweets count.
Yet, if you're interested in analyzing a competitor's Twitter account, Brand24 can help. Brand24 provides robust social media monitoring tools that allow you to track mentions, gauge sentiment, and gather insights from your competitors' public posts, helping you understand their social media strategy and performance.