How to track social shares?
August 7, 2022 ・ 7 min read
Tracking social shares on Twitter and Instagram is one of the cornerstones of a successful marketing campaign. Monitoring how your content spreads online will help you determine who talks about your brand and what type of posts resonates best with your audience. This knowledge will help you raise brand awareness, promote a new product, or target a brand new audience. Tracking posts shares on Twitter will help you improve your social media campaigns and meet your marketing ROI goals.
Tracking Twitter is also a robust method to assess the results of your social media campaign.
Did it bring the desired results? Who and where shared your posts? Did your posts reach the desired audience?
Tracking Twitter shares will answer all those questions and will help you adjust it to bring better results in the future. Many Twitter analytics tools offer this feature, but I would like to show you how do it step-by-step and why is it important.
Here's what's ahead of us:
Let's dive in!
Why should you track social shares?
Let's establish the basics right away — why should you track social shares in the first place?
There are a few reasons.
First, there's social media analytics.
Tracking social shares will help measure the results of your social media hashtag campaigns. You'll be able to see who and where shares your posts, and, thanks to some extra analytics tools, determine the social media reach or the total number of interactions.
Secondly, it will help you spot user-generated content. Tracking social shares will help you run social media competition and spot user-generated content.
Thirdly, you will be able to see how your content spreads across Twitter. Who is sharing it? What is the sentiment of the posts? What is the estimated reach of your Twitter posts?
The answers to these questions will help you determine how your social media posts resonate with your audience and where should you focus your online activities.
How do you track social shares?
Tracking social shares is not a complicated task. You can do that without help of any other social media analytics tool, all you have to do is log into your account. 
The cherry on the top of your social media cake is the analytics. That's where media monitoring tool comes in handy!
I recommend Brand24 because it's a very robust yet affordable media monitoring tool.
And not according to us but according to Buffer!
Does media monitoring sound interesting? Give it a spin!
Track social shares! Start your free trial (no credit card required)
Choose a hashtag for your social media campaign
Before we delve into the nitty-gritty of media monitoring, let's do some creative work.
Tracking social media shares becomes much easier once you come up with a dedicated hashtag for every social media campaign and ask your followers to share the hashtag.
The trick is to choose the right hashtag for your campaign.
For everyday activities, you should go with the name of your company or a specific product you want to promote.
Moreover, by using the company's name, you'll make sure your target audience gets acquainted with the name of your brand.
This will improve your brand recall.
This tactic will work best for measuring general brand awareness, preventing social media crisis, or monitoring your customers' queries.
For specific campaigns, you should come up with a campaign-specific hashtag.
That's a hashtag you'll monitor only during the period of one campaign.
A classic example of a campaign-specific hashtag is #ShareACoke. The campaign generated a massive amount of user-generated content, promoting the soft drink. To this day, #shareacoke is used on different social media channels.
Create a social shares tracking project
Every media monitoring plan starts with project creation.
In the first step, enter the hashtags you want to track.
I recommend setting up separate projects – one for your general hashtag project, and second for the campaign-specific hashtags.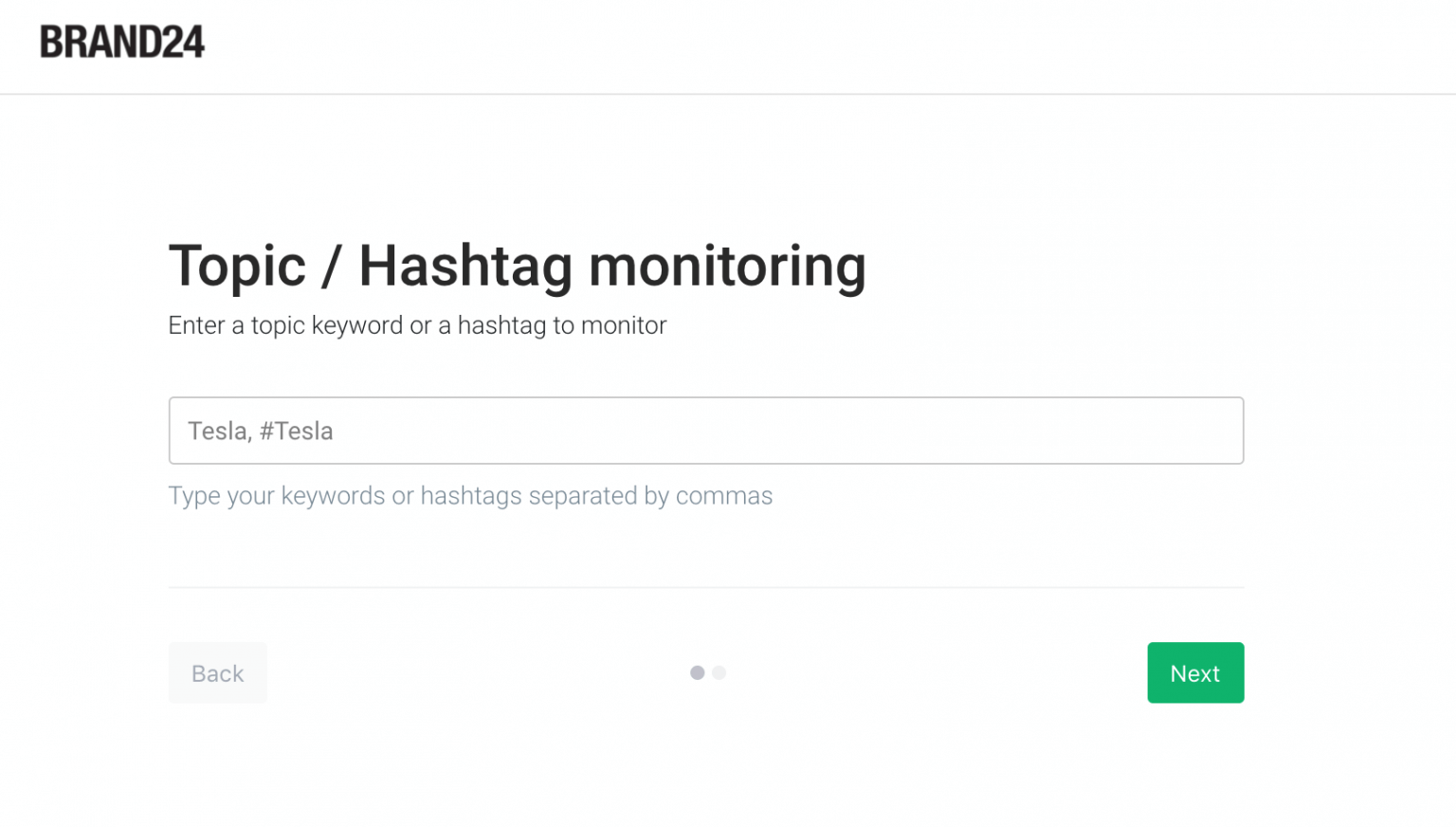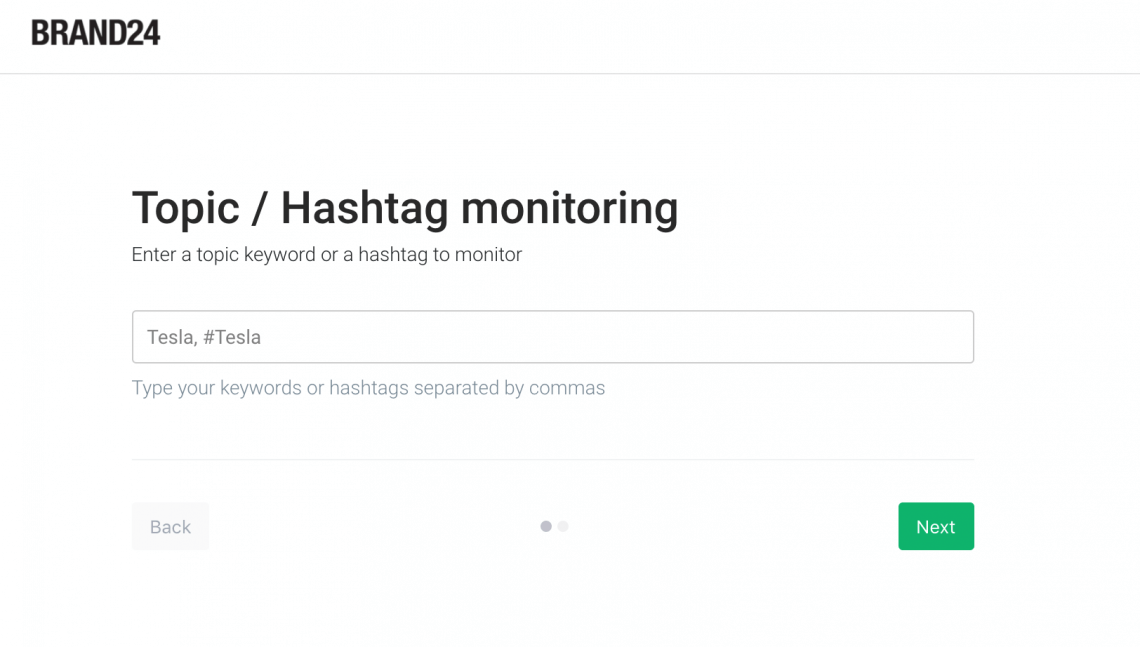 You're almost done, there is just one more step ahead of you!
And finally, you can choose the language you'd like to monitor.
I know the process involves some effort. It was designed this way to minimise the number of SPAM results in your dashboard.
From that moment, the tool will start to collect publicly available mentions containing your keyword.
In general, media monitoring tools don't collect historical mentions.
Take a look at advanced analytics
Brand24 collects all the mentions and displays them in a neat dashboard.
You can analyse:
what is the social media reach of your Twitter project
what's the sentiment around your brand or product
whether there are any spikes in the number of online mentions
Moreover, you can filter the results by author, domain, or date. Save the filters you need to apply them in the future.
But there's more!
Brand24 also offers robust social media analytics options.
To get the most out of your media monitoring project, take a look at the Analysis tab. You'll find a lot of insightful data there that you could use to improve your social media campaigns.
What should you take a closer look at?
Let's start with estimated social media reach.
ESMR will help you determine how many people could have seen your hashtagged content. The more people see your posts, the bigger your brand awareness.
Another social media metric you should analyse are the interactions.
The main aim of being active on social media is to engage your audience. You can measure the engagement levels by monitoring the number of shares, likes, and comments.
The more engagement your content generates, the more people could see your posts; that's how social network algorithms work.
In the world of social media, not only the number of shares is essential.
You should also take a look at the social media sentiment.
A high estimated social media reach and prevailing negative sentiment is a beacon of a social media crisis.
That's why you should track social shares together with the sentiment.
React to social shares
Tracking Twitter shares allows you to react swiftly to all mentions about your brand, even if they appear outside your earned media.
Being social on social media can score you some extra points with your audience.
Thanking for the positive messages and acknowledging the negative ones will help you establish your online presence and could set you up as an industry leader.
The benefits of tracking social shares
Hopefully, you can now see that tracking your social shares can be as easy as pie.
Tracking social media shares has multiple applications when it comes to social media marketing. It will:
give you insights into how your content spreads across the web
indicate what type of content resonates best with your target audience, both in terms of social media engagement and sentiment
help you measure the results of your social media campaigns
give you the possibility to react swiftly to mentions about your brand that appear beyond your earned social media channels
FAQ
What is an example of a social share?
A social share refers to the act of sharing content from a website or platform onto a user's personal social media profile. This can include sharing a blog post, a news article, an infographic, a video, or even a simple post or comment. For instance, if you find a blog post on Brand24's website that you find insightful and you click on the 'Share' button to post it on your Facebook, Twitter, or LinkedIn profile, this act is considered a 'social share'. The purpose is to display social media shares and disseminate the content to a broader audience beyond the original platform.
What is social tracker?
A social tracker is a tool that monitors activities across various social media platforms. It captures social data and interprets engagement metrics like likes, shares, comments, and followers. This tool helps businesses understand their online performance and informs future social media strategies for better audience engagement.
Can Google Analytics track social media?
Yes, Google Analytics can track social media activity. By linking your social media platforms with your Google Analytics account, you can monitor how much traffic comes to your website from your social media channels. This provides valuable insights into the effectiveness of your marketing campaigns on social platforms.
How is social share counts calculated?
Social share counts are calculated based on the number of times content is shared from a particular website or platform onto social media. Each time a user shares or reposts your content, this is tracked as 'share count data'. This data is invaluable for digital marketers as it provides insights into the popularity and reach of their content.
HANDPICKED RELATED READS:
How to measure social media reach?
How to create a social media report?
A Step by Step Guide to Social Media Audit