Law Firm Marketing Tips in the Age of Social Media
December 13, 2017 ・ 9 min read
The main goal of law firm marketing in any form, whether it's real world marketing or social media marketing is simple.
You want your law firm to be the first one that potential clients think of when they need legal counsel.
The competition is thick, but not without good reason. According to Statista, the legal services market in the US was valued at 437 billion dollars in 2016:
Small law firms (1-29 attorneys) earned 108 billion dollars.
Mid-size law firms (30 – 174 attorneys) came in with 73 billion dollars.
Large law firms (175+ attorneys) stood for 95 billion dollars
Corporate legal departments brought in 160 billion dollars
And annual surveys from the American Bar Association show us that there are 1,335,963 lawyers in the US as of 2017 – with a steadily increasing number each year.
Help your law firm stand out with legal marketing strategies that will reach more potential clients. Considering that 81% of the US population is on social media, this is a good place for you to focus on – or, at the very least, to not neglect in your law firm web marketing strategy.
It starts with building awareness for your practice (so potential clients know about your services) and is maintained by supporting the very reputation that your firm builds (so potential clients know you're a good choice).
Here are a few tips on how to market a law firm in the age of social media!
Tip 1. Choose social media platforms where your potential clients are active
Since the legal industry deals directly with people, this is a matter of selecting popular platforms with many active users. People of all backgrounds have, could, or even will require legal expertise at some point.
Facebook, Twitter, LinkedIn, Instagram, and Snapchat are a few platforms where your law firm may want to build brand awareness, though in different ways (more on this in Tip 5).
Tip 2. Create professional social media profiles for your law firm
What does 'professional' look like for these law firm social media profiles and platforms?
Professional means that the information must be complete and accurately represent your legal practice and the services you provide, like the Facebook profile this medical malpractice and personal injury law firm created: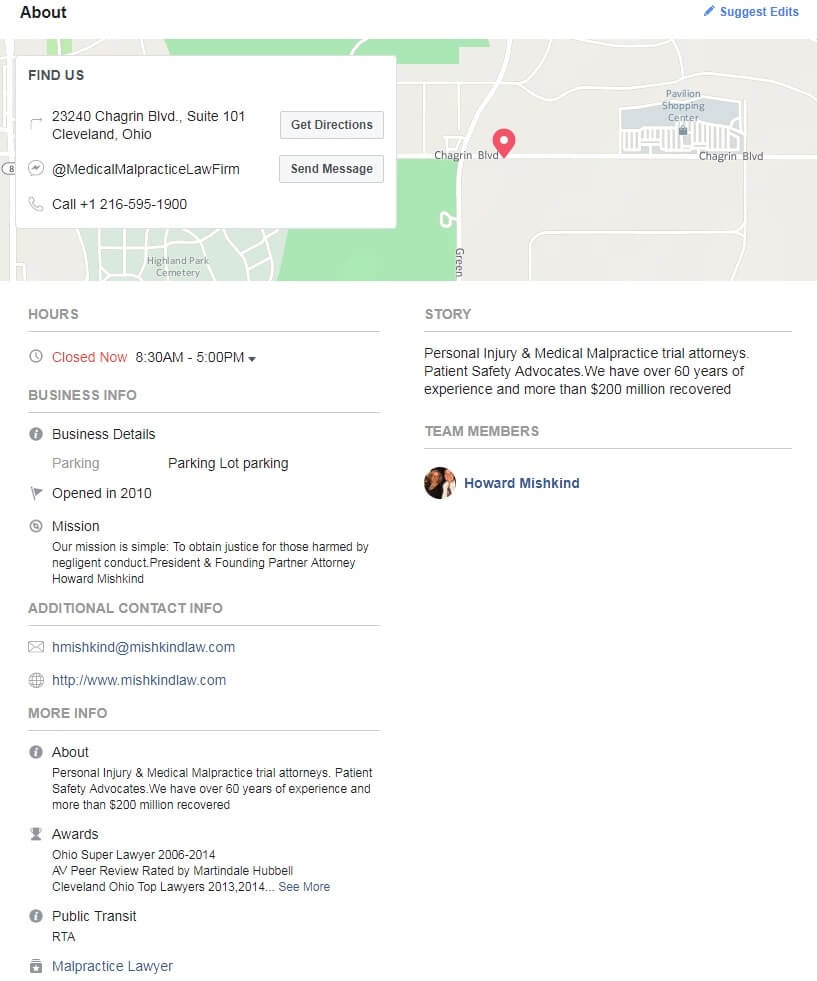 Contact information included (e-mail, phone, address) ✓
Link to firm website ✓
Hours of operation ✓
Statement of type of law practiced ✓
Awards or recognition received ✓
Years of experience ✓
Tip 3. Share content through your firm's social media profiles
The 80/20 rule on social media applies to all businesses.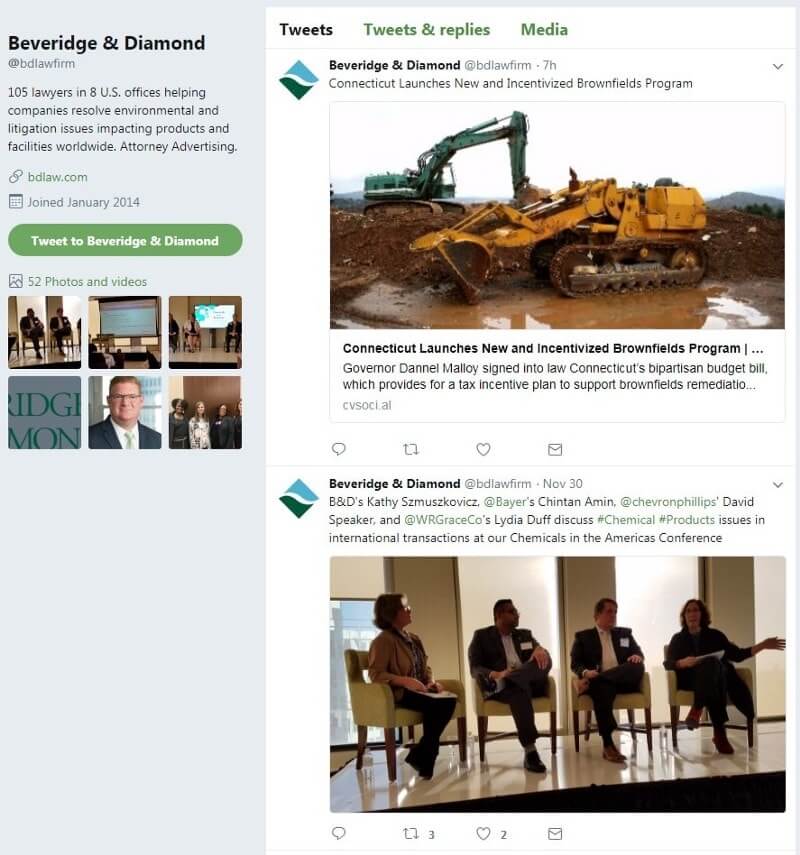 Sales or client acquisition-based posts like direct lawyer or attorney marketing should make up less than 80% of your social media activity. This doesn't necessarily mean you need to write entertaining articles for the sole purpose of sharing content – you can share news and other articles related to your area of practice affecting your clientele base, like this environmental law firm does on Twitter:The other 20% is where you can talk more about your specific services and what your firm can offer potential clients.
Increase brand awareness for your law firm and let potential clients know about your services, but don't let this be the only thing you talk about.
Tip 4. Invite people to support your firm's social media profiles
There is strength in numbers.
When potential clients see that your law firm's social media profile has a large number of likes and lots of engagement, this reflects positively and suggests that you have many satisfied and interested clients.
Start by inviting your friends and family to support your firm's social media profile. Then, extend the invitation to your past (happy) clients.
Connect the firm's social media profile to the main website, as well as to individual profiles for your lawyers and attorneys.
Improving your SEO, sharing the right types of content, using hashtags, and being active on multiple social media platforms will help your law firm gain visibility so more potential clients will know about your services.
Tip 5. Use each platform as it's meant to be used
Twitter is where your law firm can start or participate in conversations. Share links that get people talking or jump in on relevant conversations using hashtags. You can use Twitter as a tool for web marketing for lawyers, but keep the 80/20 rule in mind.
Facebook is a bit more image-friendly and gives you a chance to cultivate a brand identity that resonates with potential clients. Share images of your staff and office, as well as articles, videos and interesting posts that are related to your industry.
LinkedIn is wonderful for networking. Your contacts can be a good source of recommendations. Connect with people you know, have met, or that you'd like to have a closer relationship with. Build a community of professionals and help each other grow.
Instagram and SnapChat are heavily image-based. While most law firms won't have many Instagram-worthy images to share, this doesn't mean that these platforms are out of the picture. A key reason to be active on social media is so you can connect with (potential) clients and build relationships with them. Connect by humanizing. Use platforms like Instagram and Snapchat to share images that give your audience a closer look at who you are as a person. It's not just about marketing the law firm.
Many legal cases revolve around helping a victim, an accused, or anyone who's suffered loss – find justice. In other words, most clients will seek legal assistance only when they have a problem or are experiencing difficulties. Add some warmth to your exchange and humanize the typically cold face of the legal industry. Like this criminal defense and animal rights attorney does on Instagram:
Which brings us to the next tip…
Tip 6. Let clients know about your firm's awards, achievements, and recognition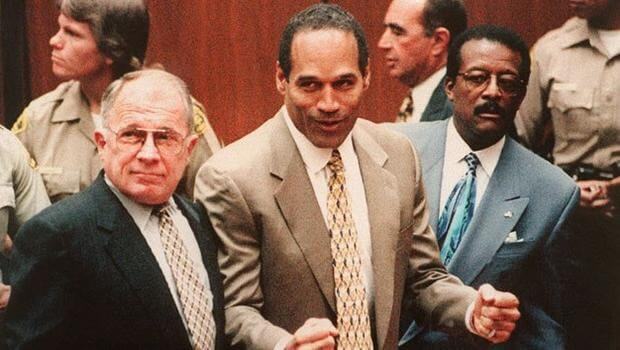 Most likely, your (potential) clients are not keeping very close tabs on your law firm's achievements. If a case involves a celebrity or causes a huge scandal, your audience will hear about it.
Most cases do not involve celebrities or huge scandals.
This doesn't mean they're not newsworthy. Or praiseworthy.
If your firm or any of your lawyers have received awards or received positive media coverage, share it with your audience. This is good marketing for lawyers and law firms since this lets your potential clients know that your service is commendable and recommended.
Let your audience know about the quality of your work through awards and recognition that you've received:
Tip 7. Engage with potential clients
The goal of being active on social media is to increase brand awareness for your law firm. Now that you're sharing content through the business social media profiles that you created, remember to engage with your audience – it's about reaching potential clients and stimulating research, not just marketing a law firm. When you receive comments, shares, follows, and likes on your posts, respond and give your audience a like or follow-back in return. Here's a good resource on how to respond to your audience.
The more you engage with your audience and potential clients, the more interest they will have in your law firm. High engagement means that your law firm's social media profile and posts will show up more often in various social feeds, helping your firm gain even more visibility and reach in social media.
Tip 8. Monitor the reputation of your law firm
Keep an eye on all your social media accounts to see what people are saying directly on your accounts. To find out what people may be writing about your firm in other places – like online review sites, forums, and personal blogs (basically, in places where your firm isn't tagged, but is mentioned or the subject of discussion), you can practice social listening. A social listening tool will run deep searches across the web to find conversations about your firm and your lawyers across platforms – so you know what people are saying about your law practice both directly (where you're tagged) and indirectly (where you're not tagged).
Access to candid feedback gives you a more accurate view of where your firm and your lawyers stand compared to the 1,335,963 other lawyers on the US market.
Find mentions like these for your law firm, starting with the good:
https://twitter.com/FactsFactsFact4/
https://www.facebook.com/cristinagarciaad58/
The small font makes this letter hard to read in the photo above, but the comments below show that the attorney who wrote this letter has an appreciative client base – including potential clients!
And the not-so-good: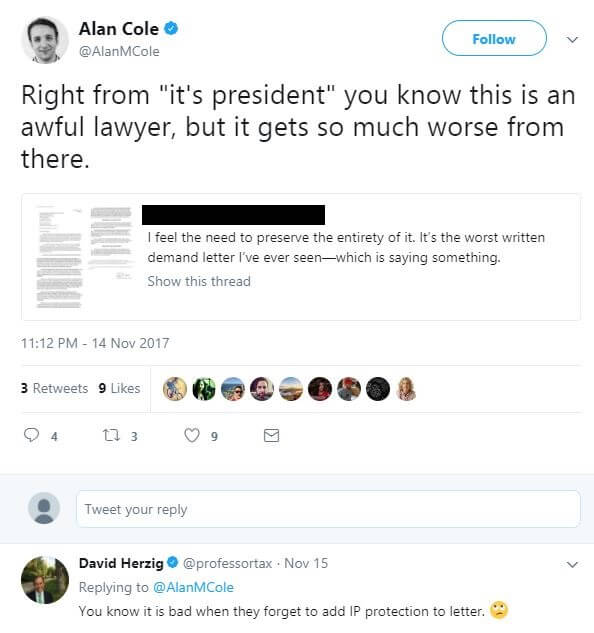 Tip 9. Analyze the sentiment of comments/posts mentioning your law firm
Besides monitoring and responding to comments and posts that mention your firm, analyzing these conversations for sentiment is an important part of law firm internet marketing. Is your client feedback positive, negative, or lukewarm? Do you have clients who rave about your services? Or did you have a disatisfied client who can't stop recommending that people don't use your firm?
Remember that 88% of people will Google a business before they make a consumer decision.
See what your potential clients see when they look you up and get ahold of the situation. If you do have any negative comments or reviews lurking around the web, it's not the end of the world. Here are 5 ways that businesses have made bad online reviews work in their favor.
Tip 10. Keep track of competing law firms
See what other law firms are up to with social listening and find out what their clients say about them – especially when Bloomberg claims that the current market is already saturated with too many lawyers.
Plus, according to the Avery Index, there are 276.7 lawyers per every 10,000 residents in Washington, DC alone. That's roughly 1 lawyer for every 36 people. Clients have plenty of law firms to choose from.
When monitoring your competition, if you see unanswered questions from potential clients that have been neglected, this may be a good opportunity for you to step in and offer your own legal expertise to those seeking counsel.
Tip 11. Get insights into what makes your law firm (or the competing firm) a preferred choice
Tracking discussions and mentions of your own law firm is one thing, but keeping your eyes and ears open to conversations regarding your area of practice can give you access to insights telling you what potential clients are looking for when they select a law firm to work with.
For example, if you practice family law, picking up on conversations that circle around this topic can help you improve your understanding of what it is that potential clients appreciate in a family law practice.
Do firms with more clients treat their clients differently?
Are they more confident about showing personal style or firm personality?
Do the events and organizations that they support resonate well with potential clients?
Or maybe more successful firms are simply more active online and engage their (potential) clients – whether it's just answering questions, addressing problems, or recommending their services.
Like this immigration attorney, who provides potential clients with basic information so they can come to her with more pressing questions:
Tip 12. Measure how far your firm's social media posts go
Measure the number of views that your posts receive by tracking your estimated social media reach. This number is based on how many followers you have, the Total Visibility Percentage of your posts, and how often your clients and potential clients mention your law firm online.

Automate the process of estimating social media reach while you monitor the reputation of your law firm online. Social listening tools like Brand24 automatically provide users with estimated social media reach along with sentiment analysis filters, powerful searches across platforms, and other useful features.
You can view your estimated social media reach over time, as depicted by the green line in the image above. You'll likely find that your levels of social media reach change over time. Keep track of your law firm marketing activities and see what types of content, sponsored events, or advertisements increased interest in your firm among potential clients. This is an essential part of developing your law firm marketing plan.
Law firm marketing in social media all comes down to THIS…
Make your law firm the first one that potential clients think of when they're in a jam and need your services.
Protect your reputation and increase the awareness of your law firm by implementing the tips above and helping your law office marketing cut through the noise of social media. Listen to your clients and learn what their needs are – then let them know how your practice can help them.
If you have any questions or would like to see an extended list of tips on how to promote a law firm, feel free to let me know in the comments section below!