Pinterest Strategy for Beginners
April 17, 2018 ・ 10 min read
If you're looking for a new platform to promote your business, I think I got something for you. Pinterest has been around since March 2010 and has gathered more than 200 million active users. That's not a wow number, especially compared to Facebook or Instagram, but people tend to use the platform more proactively. They log into Pinterest looking for a specific item, and they are willing to buy it. If you don't know where to start here's our Pinterest strategy for beginners.
55% of online shoppers in the USA pick Pinterest as their favourite social media platform. For a long time, Pinterest had been considered a social network for women as they were the lead users.
But Pinterest has been expanding to new markets trying to attract male users as well, and now the proportions are more 50 – 50. In the US the majority are still women, but in the emerging markets, especially in Asia, Pinterest is as prevalent among men as it is among female users.
To enjoy the fruits of this social medium you need a bulletproof Pinterest marketing strategy. Let's dive into a great unknown and discover a Pinterest strategy for brands!
How to Use Pinterest for Business
Before we dive into more complicated matters, let's start with some basics. You need to cover them to be able to make the most out of your Pinterest marketing strategy.
Create a Pinterest business account.
There's a difference between private and business profile, and you don't want to miss all the perks of a professional Pinterest account. Firstly, you can use your business name for your profile instead of "name + last name". And secondly, it's a required step to access Pinterest analytics. Without analytics, you won't be able to measure the results of your actions.
Upload your pins via your website, not from your computer
It's one of the most crucial Pinterest marketing tips. If you pin directly from your website, you provide a backlink to your website, and that might be an essential weapon in your SEO strategy. The more backlinks you have, the more credible your site is for search engines. Besides, if someone shares your pin the link to your websites stays with the pin. Another trick up the sleeve is to add a pin it button to your site. That way you get an additional source of backlinks straight from your audience.
Verify your website or blog
When you verify your website or blog all the pins coming from it will have your profile picture added next to them. Website verification is also the second condition you have to fulfil to get access to Pinterest analytics.
Using Pinterest for Marketing
You're all set up with the basics and ready to pin. The first thing you have to do is to create boards which are collections of pins within one category.
Every board needs a board name and description. The name can be just a one or a couple of words, but the description is where you can score a lot of points. It resembles the meta description in Google. A good text will encourage users to take a look at your board and put them into a specific mindset.
A good rule of thumb: if a person lands on your Pinterest board via Google or through search term on Pinterest, they should know what the board is about. And here's one of the most important aspects of viable Pinterest strategy – SEO.
SEO matters
As I mentioned before, Pinterest is not only a social media network; it's also a search engine. That's why it's vital to create board and pin descriptions according to SEO rules – that way your pins not only will be more visible on Pinterest, they might come up with traditional Google search.
SEO rules for Pinterest are a piece of cake. You start by researching the keywords related to your industry, just as you probably do for your content posts.
When I first started my adventure with content marketing, I found the post about powerful tools that make you master in keyword research incredibly helpful. The keyword analysis is the hardest part because after that you only need to add the keywords to your pin titles and to images names.
Choosing the Right Category
Ever wondered which topics and categories generate the most buzz on Pinterest? Scholars from the University of Minnesota conducted a study on what patterns of activity attract attention. They were basically trying to figure out which categories are the most popular among Pinterest users. As you can see the golden three are:
Food and drink
DIY and crafts
Home decor


Can't see your specific niche within the groups mentioned above? Not a problem – some companies are killing it on Pinterest, although their niches are as far from DIY and home decor as they can be.
Ever heard about Farmers Insurance? The insurance company is way ahead of their competition with boards like "A Smarter Commute" and "A Smarter House". Focus on how your customers use your product in real life rather than some technical specifications, and you'll find a way to create valuable content.
Frequency of pinning
The next question that pops in mind is – how often should you pin? On the one hand, you want your images to reach your target audience and be visible, on the other hand, your content shouldn't be seen as spam.
It's hard to establish an optimal number of pins but many experts mention between 5 and 30 pins per day. As long as the content can add some value to users' lives, of course.
At this point, you probably feel overwhelmed by the amount of work and wonder if it's worth it. It seems impossible to prepare that much content. I mean it's between 25 and 150 images and articles a week!
But, according to CoSchedule, you should share 80% of your pins from other sources. What you need to do, is to find valuable content that is in line with your overall business marketing strategy and pin it to your profile. You'll not only get the content but also establish relations and build a network within your niche.
There's a saying – don't put all eggs in one basket. When it comes to Pinterest content strategy, it means you should spread your pins throughout the day. Each pin is a new chance to grow your exposure and generate new leads.
There are, however, days that will generate more leads than usual. Think about the times when people tend to go window shopping on the Internet – it's usually in the evening, after a whole day of work or on Saturdays. If you monitor all the pins via Brand24 you'll be able to pinpoint the exact times of day and week your audience is most active on the social network.
Pinterest strategy with Brand24
Brand24 is one of Buffer's best social media monitoring tools. It gathers all the mentions with your predefined keywords and organizes them in one neat dashboard.
It's especially vital when you're preparing a Pinterest marketing strategy, as it is quite complicated to find all the relevant mentions. That's where Brand24 comes in handy.
Start with entering all the relevant keywords into project creation wizard. Think about the name of your company, the name of your product or your branded hashtag.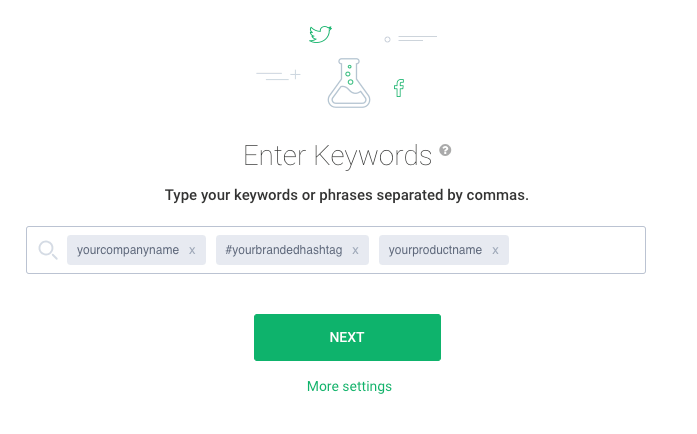 Give the tool some time to gather the mentions. Social media analytics tools, in general, don't provide historical data.
The tool will collect mentions from all over the Internet. If you want to see results only from Pinterest, type this domain into the filter section.
That way you won't miss a single mention from this social media platform and your Pinterest marketing strategy will be even more effective.
Choose the right images
Pinterest is a visual platform. Pins and boards are important, and your focus should be on creating great images. Take a look at some of the most popular images on Pinterest. They all have a few aspects in common:
The photos are clear with high resolution
The most popular pins have a lot of light
There are no faces
Plenty of tools that will help you create pinnable images. Canva has a special template for Pinterest posts. And you can spice things up with tools like Over or Phonto.
Pinterest boards
It's also important that all of your boards go together.
Take a look at Kelly Mindell's Pinterest profile. First of all, her statistics are amazing – over 10 million visitors per month and 105 000 followers. Her Pinterest presence is well thought out. All board covers fit together as they follow the same colour palette. All her board descriptions are just a couple of words, and there're plenty of pins on each of them.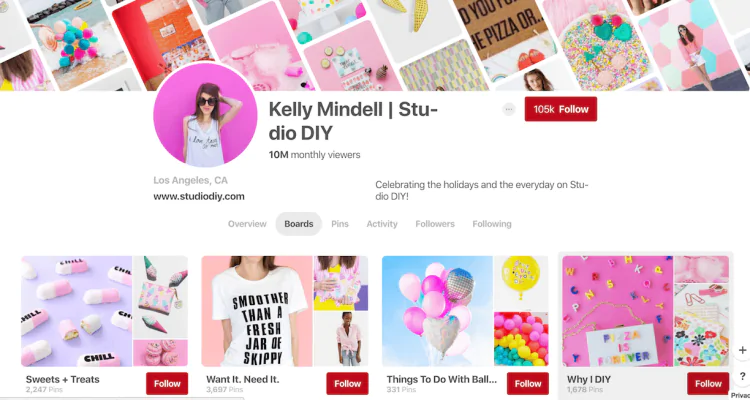 Pinterest social media strategy
Pinterest is a social medium after all. Remember that University of Minnesota study I mentioned above? According to that paper, users consider 3 main factors while making "should I follow or not" decision-making process:
How many accounts you are following
How many pins you have
How many boards you have
All major social media marketing rules apply to Pinterest as well. It's important to engage with your followers. Reply to comments, like their pins and manage your Pinterest profile just as any other social media account.
That's where social media monitoring tool is incredibly helpful. You literally get all the information you need at your fingertips. Brand24 will collect all the mentions from social media networks, including Pinterest. That way you can interact with your audience and build long-lasting connections.
Getting Ahead of Your Competition
When you cover all the basics and few extra tricks, so it's time to kick it up a notch. Surprisingly, Pinterest is not only about pinning. Bringing out all the benefits of your Pinterest account is a bit of work, but with a little help from us, you can manage it successfully.
Build influencers' relationships
Influencers can do wonders for your business. Influencer marketing was the "it" marketing strategy in 2017, and it's not going to lose its supreme status any time soon. Influencers generate sales, so you should definitely research all the possible channels where you can cooperate. Pinterest is definitely one of them.
Moreover, social media influencers create content. Remember that quite overwhelming number of posts mentioned earlier? Influencers will help you fill your Pinterest boards with high-quality images and will generate backlinks to blog posts that are usually very well positioned in Google.
The third factor that should convince you to work with influencers, is the expertise they have in building brand awareness. And the brand awareness they build simply cannot be compared to that gained by traditional PR strategies. The retail industry is so saturated nowadays, that brand awareness is one of the most important aspects you should focus on.
To build a successful relationship with influencers you should find a person that represents the same values as your business. It seems like a no-brainer, but I've seen so many campaigns where the blogger and the brand simply didn't click. Imagine a fast-food chain cooperating with a healthy lifestyle and fit blogger. People can smell fake a mile away.
What's also worth remembering is that you shouldn't focus on the number of followers, but on the engagement rate. Unfortunately, there are plenty of pseudo influencers who bought followers on some shady websites.
That's why you should consider an engagement rate, as it shows how many people interact with the content. If you log into Brand24 dashboard, you'll see the social media interactions automatically calculated in the analysis tab.
The easiest way to generate a successful Pinterest influencers strategy is to create group boards. The name is quite self-explanatory – on group boards, a whole group of people can pin. Invite influential bloggers to create group boards and engage with a new audience, interact with customers and share content with them.
Create rich pins
There are two types of pins on Pinterest: rich pins and normal pins. Rich pins contain an additional piece of information, that is:
Real-time pricing
Real-time availability
Store information
Direct links to a product page
Every Pinterest user who had pinned your product get a notification when the price drops. It's basically a targeted email campaign you don't have to set up by yourself. According to a survey conducted by Shopify, 87% of respondents reported that Pinterest helped them decide what to buy. A buyable pin can be a great nudge towards your product.
Connect Pinterest to Other Social Media Channels
There's nothing more challenging than building a new followers group from scratch. Thankfully, you can connect your Twitter or Facebook account to Pinterest.
Not only your existing followers will get a notification about your new social media presence, but it will also help you spread content across many different platforms.
With a little help from an app like If This Then That you can automatically share content from other social networks. For example, a photo posted to Instagram or Twitter will be added to a specific Pinterest board. You save time and can automate some of your social media processes. A win-win situation.
Analytics
Pinterest analytics is well thought out and very helpful. The analysis is split into your pin activity on Pinterest, your audience activity, and which pins are driving traffic to your website. Other metrics include:
Average daily impressions
Average daily viewers
Audience location
Gender and language of the audience
Number of repins
Amount of clicks
Total likes
If you don't want to miss any mentions on Pinterest, I highly recommend setting up a project in Brand24. The tool will collect all the posts with specific keywords you have chosen. That way your Pinterest strategy will be more effective, as you'll be able to interact with other pinners swiftly.
E-commerce stores can see immediate results in their Pinterest campaigns. But also B2B company or a service provider can develop a successful Pinterest marketing campaign.
Think of Pinterest as a driver of brand awareness and lead generator – a natural part of complete inbound marketing campaign. The half-life of a Pinterest post is about 3,5 months, while the half-life of Facebook posts is about 90 minutes. That means a single pin lasts approximately 1600 times longer than a Facebook post. The numbers speak louder than words and the opportunities offered by Pinterest are almost endless.
Do you have any questions or remarks about this article? Let me know! Just tag Brand24 on social media and we will spot your comment!
HANDPICKED RELATE READ