Telegram Marketing: A Guide For Beginners
January 23, 2023 ・ 11 min read
Telegram is an instant-messaging app with a rapidly growing user base. Despite being relatively new, it's one of the world's most popular messaging apps. It's ideal for marketing purposes, including group chats, media sharing, and bot support. In addition, Telegram is completely free, which makes it an extremely cost-effective way to reach potential customers.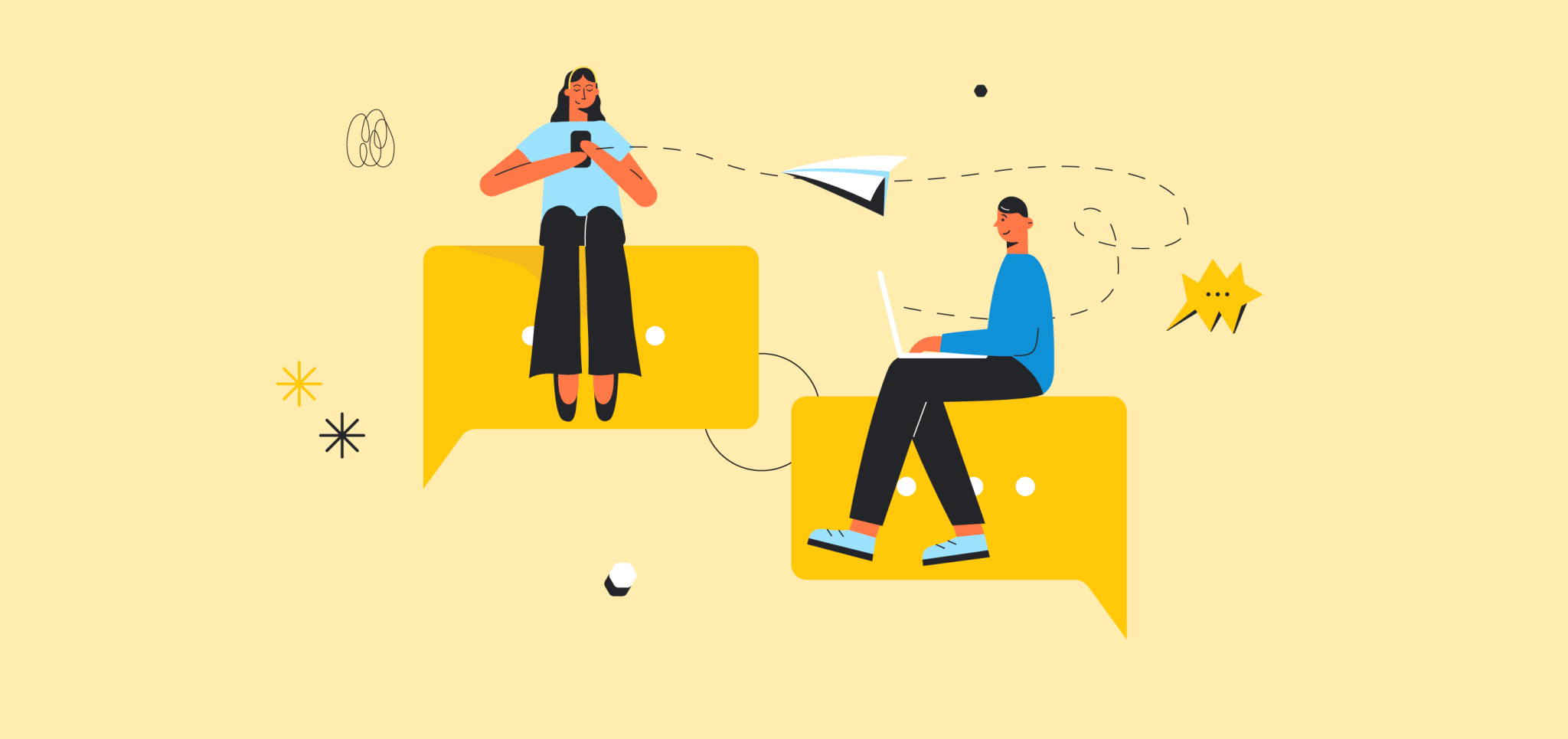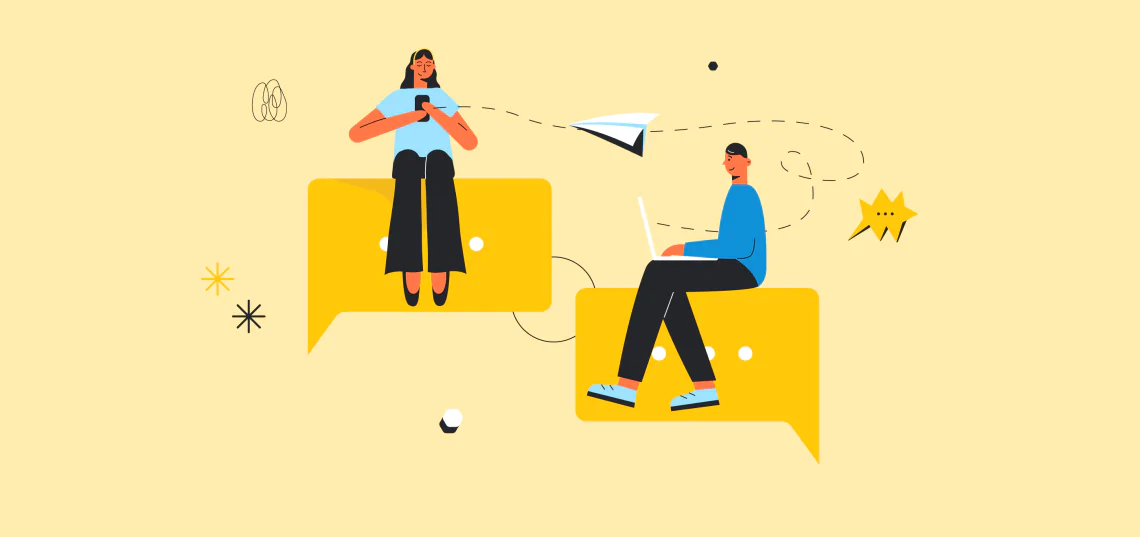 In this guide, we'll discuss everything you need to know about Telegram marketing, including how to get started and maximize your return on investment.
Table of contents:
Using Telegram for marketing
When it comes to marketing your business over the internet, there are many different tools and platforms at your disposal. Some of these, such as Facebook or Twitter, are well-established and relatively easy to use. However, if you're looking for a messaging app that provides extra features for businesses and marketers, Telegram might be the right choice.
With Telegram, you can set up groups and channels to discuss your products and services with potential clients or customers. You can also integrate bots into your Telegram account to automate certain tasks, saving you time and effort in the process.
And thanks to its strong security features and cloud-based infrastructure, Telegram is great for keeping sensitive information safe while still allowing you to reach large audiences easily. So if you're looking to boost your marketing efforts using an innovative messaging platform, then Telegram is worth a try.
Some Telegram statistics:
In January 2021, Telegram reached 550 million active monthly users. It's one of the fastest-growing apps out there.
On average, a user spends just shy of three hours per month on Telegram. That's longer than other messengers – Facebook Messenger users have a monthly average of 2.7 hours.
With 550 million users, Telegram places as the 10th platform in terms of monthly active users. That's more than Pinterest (444 million), Twitter (436 million), and Reddit (330 million).
Here are the most popular channels:
Telegram was particularly well-received in specific countries, as shown in this table of the iOS App Store ranking under the social networking category:
Finally, it's interesting to see how Telegram's popularity is spread out across the globe. For instance, the US makes up just 2% of the entire user base with under 10 million monthly active users.
So, now that you've seen some impressive numbers, how about we jump into the nitty-gritty?
Marketing opportunities on Telegram
Channels
A Telegram channel is like a megaphone for your voice. It's a platform where you can broadcast messages to a large audience with no limitations on the number of channel members.
Only admins can post to a channel, but each member is notified of every new post. This makes it ideal for sharing announcements, updates, or just about anything you want to say.
And since members of the channel can't see each other as well as the admins, it's also a great way to keep your audience anonymous.
Here's how to create your own channel:
Then, you pick a name, description, and picture:
Next, Telegram will ask you if you'd like to allow saving content and whether you want your channel to be private or public.
Public channels can be found in search and joined by anyone, while private groups require an invite link to join.
A private channel is perfect for businesses that want to control who has access to their group.
This all depends on the purpose of the channel.
And you're done! Now you can begin promoting your channel and inviting new members.
Start monitoring Telegram channels with Brand24. No card required for the free 14-day trial.
Groups
With up to 200,000 members, Telegram groups are perfect for businesses and organizations looking for a way to communicate with large numbers of people.
Members can send messages, photos, videos, and voice recordings, making Telegram groups a versatile communication channel. Groups can be either public or private.
Telegram groups are an excellent marketing tool because they allow businesses to easily reach a large audience. By creating a public group, entrepreneurs can make it easy for potential customers to find and join their group.
With a private group, companies can control who has access to their group and use the invite link as a way to generate interest in their products or services. Either way, groups are one of the most powerful marketing channels.
Creating a new group is fairly similar to a new channel:
Telegram will then ask you to add new users:
Once you add new users, you're golden.
Chatbots
Each channel and group *needs* a chatbot to make sure that it functions properly. Admins can only do so much with thousands of users.
Telegram chatbots are handy little programs that can help you with a variety of tasks, from collecting leads to providing customer support or even sending newsletters to existing customers.
BotFather serves as the template for all Telegram chatbots. You can modify it to create one that fits your exact needs. Chatbots are beneficial because they automate some of the interactions you would otherwise have to do manually.
Using a bot saves you time and energy and can help you provide a better experience for your customers. In addition, chatbots can help you run marketing campaigns or collect feedback from your users.
Accessing the bot is a piece of cake:
Here's what the bot dashboard looks like:
After you create your bot, you will be able to access its API:
From then, it's all you. Creating a bot for yourself will require some programming skills. Fortunately, there are apps like SendPulse which allow you to program your bot with no coding whatsoever.
Of course, there are also open-source ready-to-use bots.
Devising a marketing strategy for Telegram
When planning their next big marketing campaign, businesses often overlook the Telegram messaging app as a potential platform. With its large user base and unique features, Telegram is a powerful tool for promoting a product or service. And with the right approach, any business can devise a Telegram marketing strategy that will reach its target audience and achieve its goals.
Creating a business profile
A business profile is like a resume, but for your business. It should include information about your products or services, your target market, and what makes you unique. In today's social media-savvy world, it's also important to make sure your business profile is up to date and looking good.
Telegram is a bit different when it comes to company accounts. There isn't a dedicated feature for businesses, unlike WhatsApp Business for instance.
Instead, your company will be represented by the aforementioned chatbot as well as admins.
Finding the right target audience
As any marketer worth their salt will tell you, finding the right target audience is crucial for marketing success. Telegram is no different. However, with such a large user base, it can be difficult to know where to start when it comes to targeting your marketing efforts.
Even though Telegram uses phone numbers for registration and IDs for identification, the only thing you can pass to the CRM are the names, which can be changed at any time later.
When starting off, you can add up to 200 people from your contact list. Then, you have to convince others to join in. You have to start promoting your group or channel if you want to reach any meaningful numbers.
Promoting your channel
Other groups
1. First, find public groups that align with your target audience. There are a number of ways to do this, including searching for relevant keywords and browsing group directories.
2. Once you've found some promising groups, take some time to read through the messages and get a feel for the tone and culture of the group.
3. If the group seems like a good fit for your message, reach out to the group's administrator and ask if you can post about your product or service.
4. When posting in the group, be respectful of the other members and follow any guidelines that have been set by the administrator.
5. Finally, don't forget to include a call-to-action in your post. In this case, the link to your channel.
If you have something valuable to contribute, such as advice, tips, or resources, don't hesitate to share it. In most cases, the more you contribute to a group, the more likely you are to get something back in return. And who knows? You may even make some valuable connections that could help take your business to the next level.
Telegram Ads
While Telegram does offer paid advertising, its targeting is limited to public channels. Telegram is all about privacy, which is why you won't be able to target users with specific characteristics. You can choose languages and interests, but not much else apart from that.
Your ads will be displayed on those which have more than 1000 subscribers as a message, so you can be sure that your message reaches lots of people. As Pavel Durov, Founder of Telegram said, his app generates "500 billion views in one-to-many channels."
One thing to keep in mind about Telegram Ads is that they require a 2 million euros downpayment, with a possibility of refunding 1 million out of that. This limits small businesses especially when it comes to promotion. The minimum CPM is 2 euros.
Social media
One of the best ways to promote your Telegram business channel is to share it with your followers on other social media platforms. If you have a strong presence on platforms like Facebook or Twitter, take advantage of that by sharing your Telegram channel with your followers there.
You can also share it in relevant online communities and forums. Another great way to promote your channel is to create compelling content that will encourage people to check it out. If you regularly post interesting stuff on your channel, people will be more likely to subscribe and tell their friends about it.
Check out our guide to the best social media analytic tools.
Cross-promotion
If you've ever been a part of a Telegram group or channel, you know that they can be very active places. There's always something new being posted, and it can be easy to get lost in the shuffle.
However, as a business owner, you can use Telegram groups and channels to your advantage by cross-promoting your channel. By working with other groups and channels, you can help to raise awareness of your business and reach a larger audience.
Plus, it's a great way to build relationships with other businesses and create joint marketing opportunities.
Here are some tips on how to effectively use cross-promotion to promote your Telegram business channel:
1. Find relevant groups and channels to partner with. Make sure that the groups and channels you choose are relevant to your business and target audience.
2. Reach out to the group or channel administrators and pitch your idea. Once you've found a few potential partners, reach out to them and explain your idea. Be clear about what you're offering and what you expect in return.
3. Promote your partners' content in your own group or channel. Once you've partnered with a few other groups or channels, start promoting their content in your own group or channel. This will help to increase exposure for both businesses.
4. Keep an eye on your metrics. Make sure to track your metrics so you can see how effective your cross-promotion campaign is. This will help you adjust your strategy as needed to ensure maximum success.
Paid social media ads
Paid social media advertising is a powerful tool that businesses can use to reach new audiences and promote their products or services.
And with the rise of Telegram, a new messaging app that offers businesses a variety of features to help them communicate with customers, it's no surprise that more and more businesses are turning to paid social media advertising to promote their Telegram channels.
Here are some tips on how to use paid social media advertising to promote your Telegram business channel:
1. Use relevant keywords and hashtags in your ads. This will help potential customers find your channel when they're searching for information on Telegram.
2. Promote your channel on other social media platforms such as Facebook, Twitter, and LinkedIn. This will help generate interest in your channel and encourage people to follow you.
3. Use attractive visuals in your ads, such as photos or videos of your products or services. This will help capture attention and make your ad more engaging.
4. Make sure your ad copy is clear and concise and includes a call-to-action that tells people what you want them to do (e.g., follow your channel).
Website
How do you go about promoting your Telegram business channel on your company website? Here are a few ideas:
First, be sure to include a link to your Telegram channel on your website's home page. This will make it easy for visitors to find and join your channel. You can also include a "Join our Telegram channel" button or banner on other pages of your site, such as your blog or product pages.
In addition, you can use your website to drive traffic by writing blog posts or creating landing pages that promote your channel. For example, you could write a post about the benefits of joining your Telegram channel or create a landing page with an opt-in form that collects leads who are interested in joining.
Monitoring Telegram for data-driven decisions
If you're not already using media monitoring tools on Telegram's public channels and groups, now's a great time to start. Here's what it can help you do:
See what people are saying about your brand in real-time.
Track your competition and see what they're up to.
Get insights into customer sentiment and preference.
Quickly and easily respond to negative comments or criticism.
Engage with customers and build relationships.
Stay ahead of the curve and be the first to know about industry news and trends.
Save time and money by automating repetitive tasks.
Scale your operations as your business grows.
Make data-driven decisions based on hard evidence, not guesswork.
Using media monitoring tools on Telegram's public channels and groups simply makes good business sense – after all, knowledge is power!
Media monitoring on Telegram is not much different than on other social media. Make sure to monitor the most relevant keywords for your business as well as branded terms. Taking a look at what the competition is doing is also a great option.
Read more: What is Telegram monitoring?
Start monitoring Telegram channels with Brand24. No card required for the free 14-day trial.
Conclusion
Telegram marketing may be a new concept for many business owners, but it is a powerful tool that can help to reach a wide audience. Telegram marketing involves using the Telegram messaging app to send messages to potential and existing customers. While the app is primarily known for its personal messaging features, it also offers a number of powerful business-focused features, including the ability to create groups and channels, schedule messages, and track metrics. Businesses of all sizes can benefit from Telegram marketing, and with a little creativity, it can be an extremely effective way to reach new customers and grow a business. Thanks for reading!