Competitors research has become a must-have in today's competitive world. The competition is fierce and with so many social media channels it's hard to keep track of every metric you need to monitor. That's why competitors' research tools were invented.
Many experienced marketers claim that tools are not the basis for an effective marketing strategy. Although that statement is absolutely correct, when it comes to competitors' research, a good selection of tools is simply indispensable.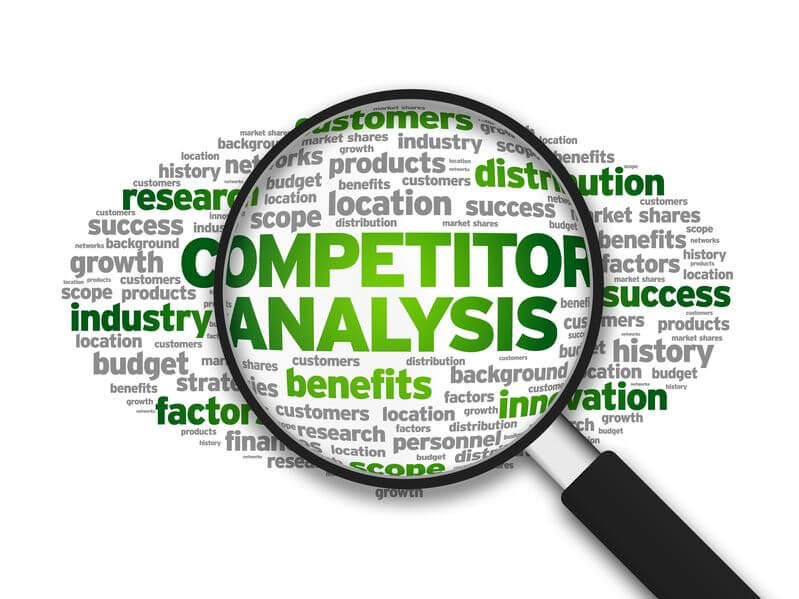 Without competitors' research tools you will be swamped with data, that is hard to analyse. Competitors research tools will help you keep everything organized and stay on the top of things.
There are a lot of tools that should help you with competitors research. I selected 12 that will make your life easier and competitors analysis much more manageable.
I divided the tools according to their applications:
Competitors Research Tools for Social Media
Competitors Research Tools for SEO
Competitors Research Tools for Content
Competitors Research Tools for Ads and Email.
Competitors Research Tools for Social Media
Social media are a goldmine of knowledge when it comes to competitors research. By conducting competition research on social media, you will know:
the rate of followers' growth;
a brand's messaging;
the frequency of posting new content;
social media reach of their posts;
the influencers within their network;
social media interactions;
sentiment analysis.
Of course, these aren't all the metrics you can measure when it comes to social media, but they will give you a much-needed perspective when it comes to assessing your competitors' social media presence.
So, where do you find all the data? I tested two competitors' research tools for social media for you!
1. Brand24
Brand24 is one of the most robust and affordable social media listening tools on the market, at least according to Buffer.
Brand24 collects all publicly available mentions with your chosen keyword and analyses the data.
When it comes to competitors' social media research Brand24 will gather information about:
the number of mentions from social media
estimated social media reach
social media interactions
social media shares, likes and comments
number of positive and negative mentions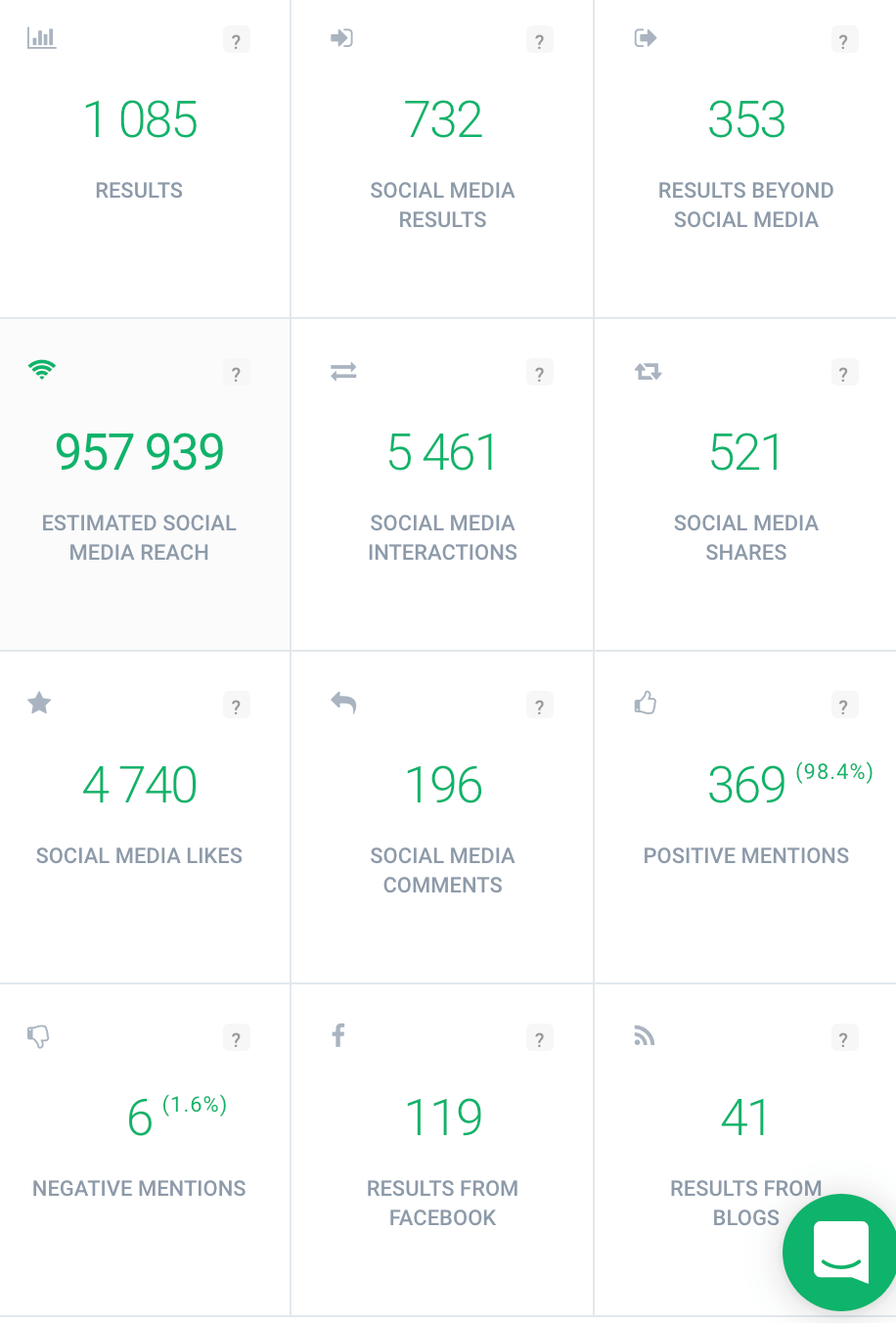 The last point is especially important. Your competitors might generate a lot of buzz on the Internet, but if the majority of it is negative they are surely doing something wrong.
There are a lot of data in the Analysis tab, including a list of the most influential authors. The tool lists their influence score and share of voice (a metric of what part of the whole discussion was generated by the social media user).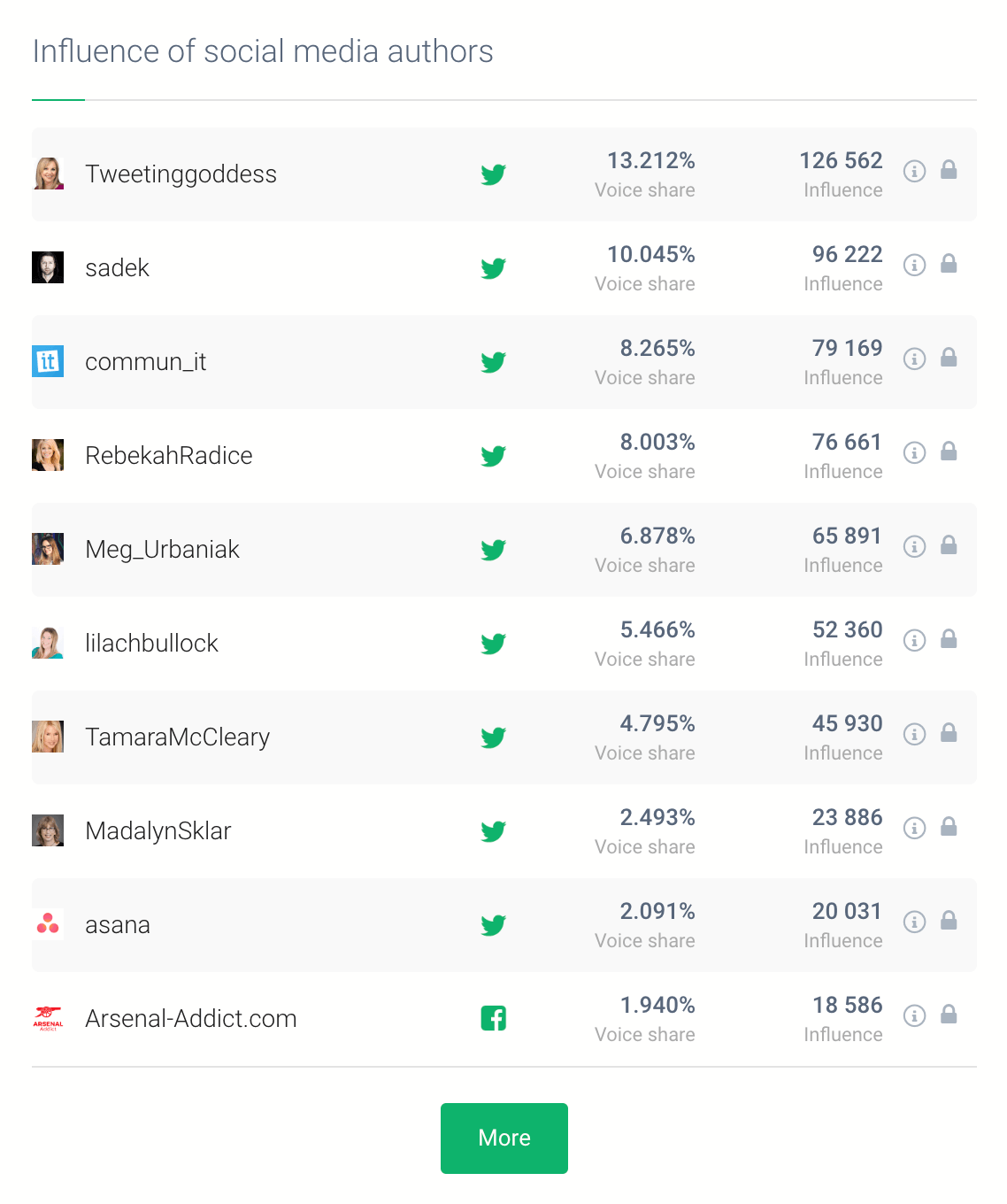 You can easily analyse selected social media channels by using filters.
If you want to have a quick run-down of recent changes, take a look at the Summary tab. You'll see two graphs that shows overall results and social media reach. Brand24 compares the results with the previous period, which you can freely adjust in the box on the top.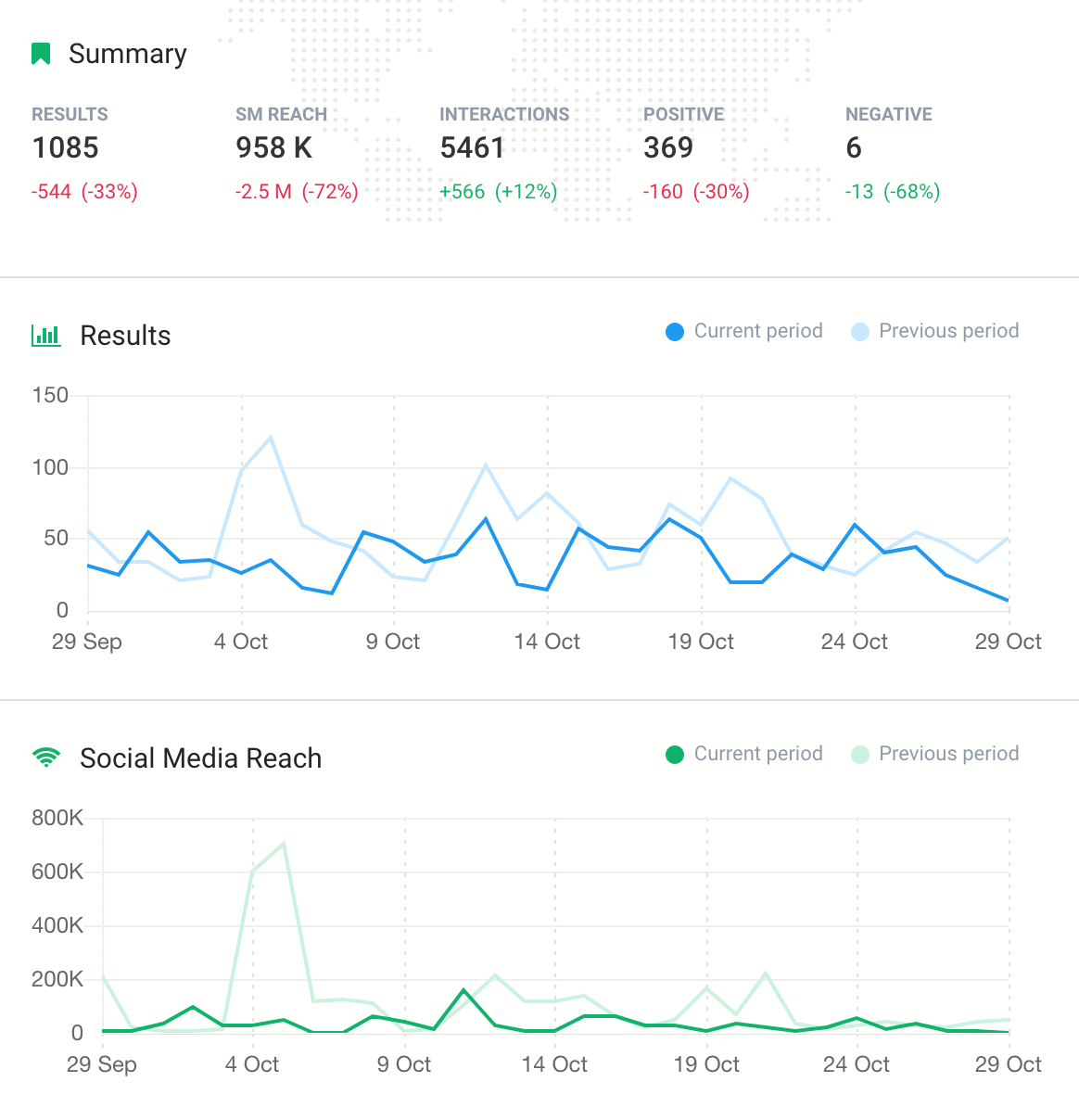 If you want to give it a spin, the tool offers a 14-day free trial, no credit card required. The paid version starts at $49.
2. Social Blade
Social Blade tracks users statistics for YouTube, Twitch, Instagram, and Twitter.
You can research your competitors' social media channels with browser extensions, main mobile app, or a real-time app, which allows you to see the changes in YouTube followers' count as they happen.
All you have to do, is type the name of the account in the search bar on the main page, and the tool will find all publicly available profiles.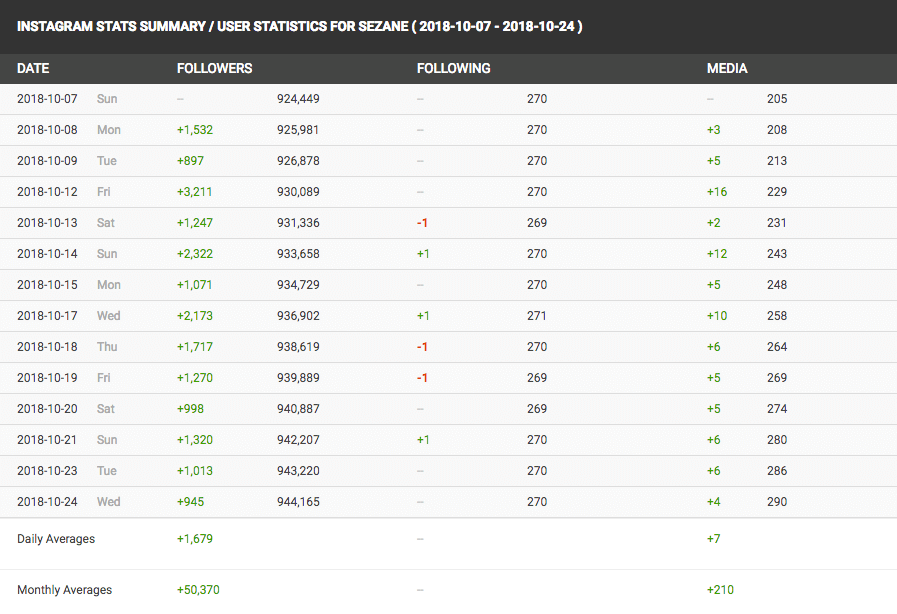 Social Blade than rates the account, according to number of followers, following, media, and engagement rates.
Take a closer look at the changes in followers – this metric will give you an idea of how the accounts are growing. If you see a sudden spike in the number of followers, that probably means that the account has purchased bot accounts from an illegitimate source.
Social Blade is a free tool.
Competition Research Tools for SEO
SEO, the nightmare of content managers and other marketers. Search engine optimization is still an important part of every marketing strategy.
A well-optimized website will appear in the top results of any search engine. You don't want to have your content hidden in the perfect place to hide a murder victim – the second page of Google.
Conducting a competitors' research for their search engine optimizations attempts will show:
the changes in their position in Google;
the number of keywords they rank for;
the number of backlinks their content has.
That's why conducting competition research for SEO is so important. Unfortunately, SEO tools are quite expensive. Here's our take on the most useful ones.
3. SEMrush
As a content marketer, I use SEMrush on a daily basis. It's an incredibly powerful tool, not only for your SEO-related activities but also to monitor how your competitors are doing. 
With a little help from SEMrush you can see how many backlinks your competitors have and monitor changes in their search engines rankings, for example, the number of keywords they are ranking for.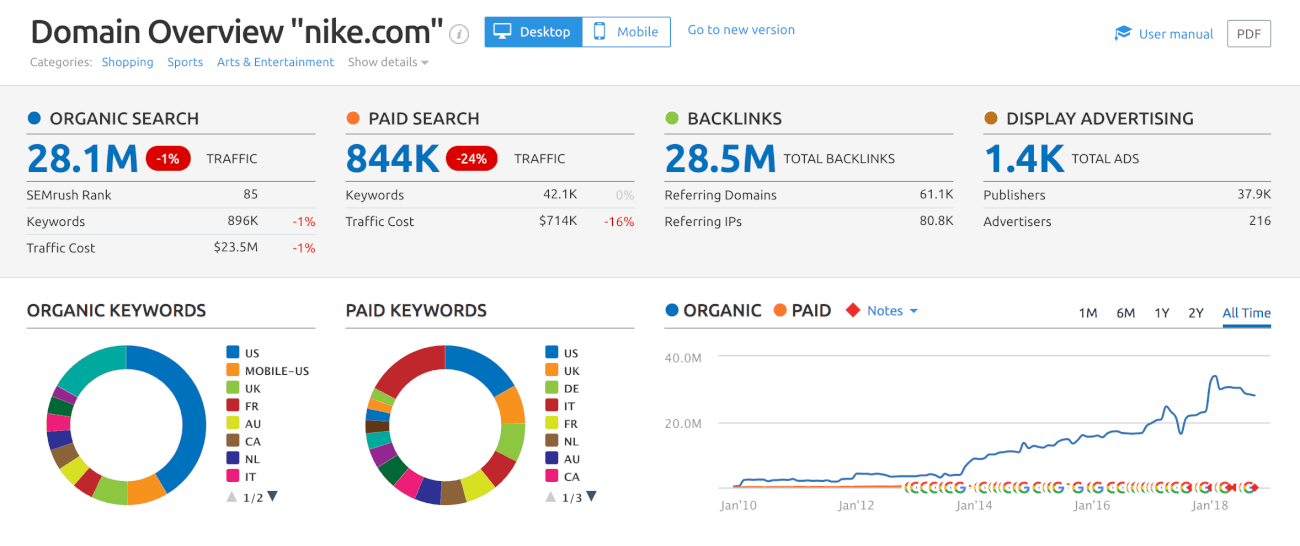 If you know which keywords your competitors are using, you can try to steal their thunder and prepare a better piece of content to outrank them.
SEMrush starts at $99.95.
4. Ahrefs
Ahrefs allows you to check any sites top organic keyword as well as see an estimate of how much traffic a competitor receives on those keywords.
What's more Ahrefs allows you to check the content gap – the keywords your competitors are ranking for, but you aren't.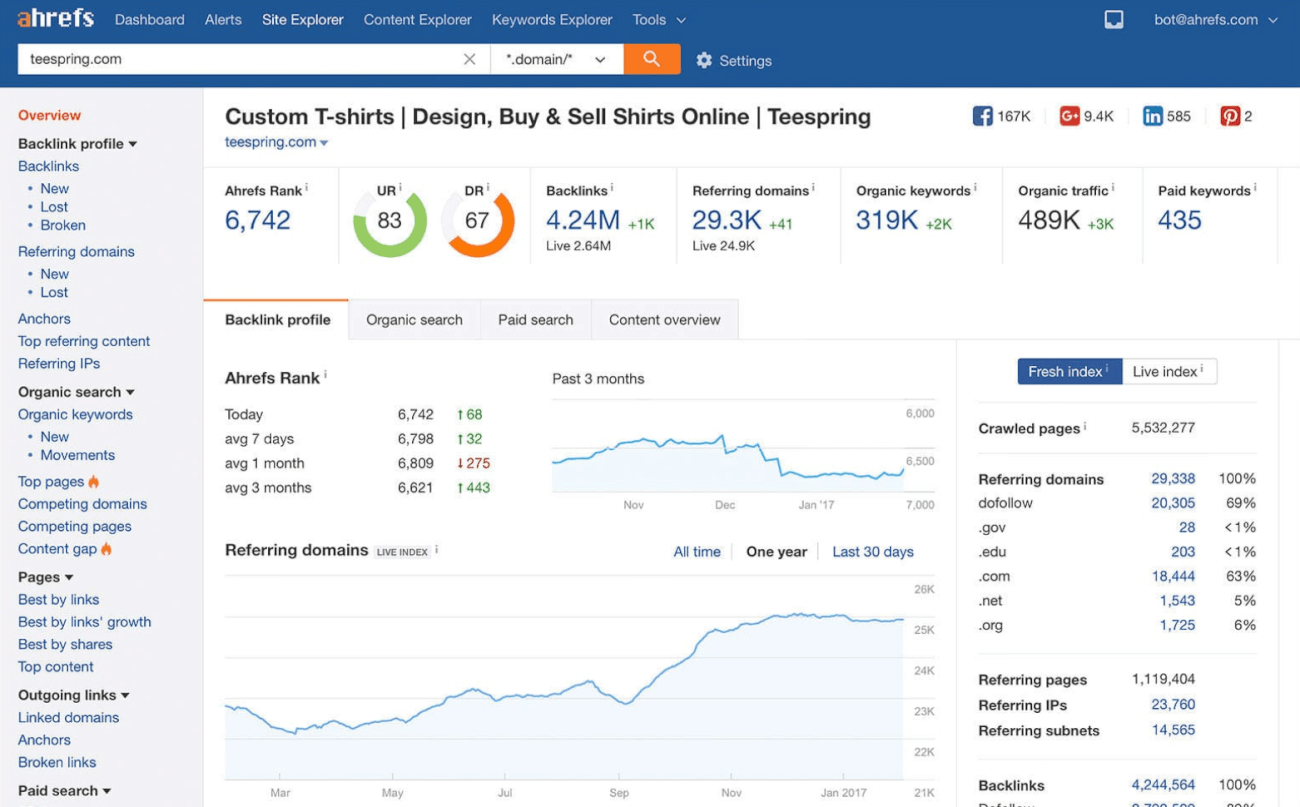 The tool run the world's largest index of live backlinks, allowing you to see who is linking to your competitors' content.
Ahrefs offers a paid 7-day trial, monthly access starts at $99.
5. Moz
What distinguishes Moz from other SEO tools is the way they crawl and audit sites to spot all the issues that might hinder the search engine optimisation results.
You can not only spot the SEO mistakes on your website, for example, broken links, messed up H2 or H3 headers, but you can also see what's wrong with your competitors' sites.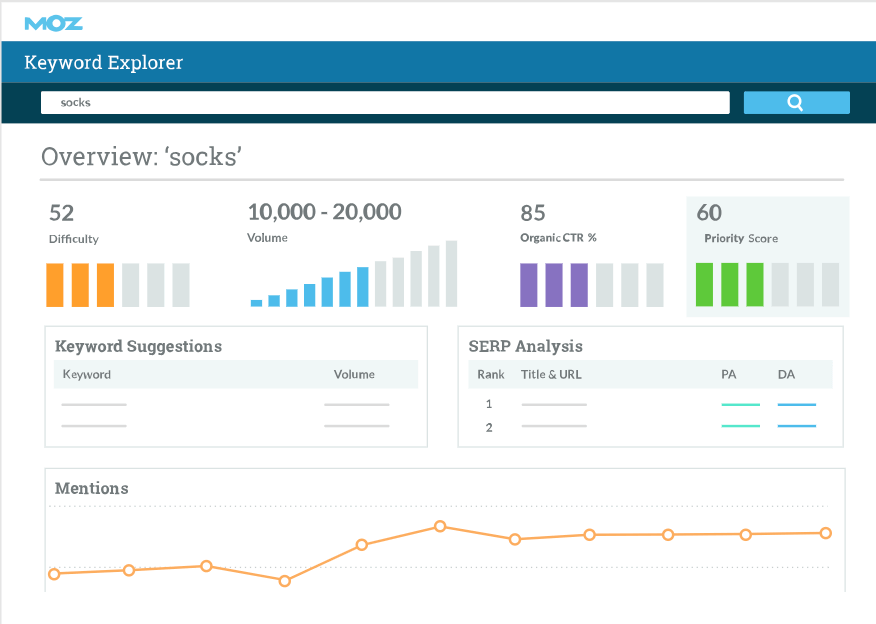 When you spot a broken link, you can get in touch with the author and offer your content instead.
Moz also prepared a MozBar – a browser extension that shows how authoritative the site is in the eyes of Google. The more authoritative site, the higher it will rank in Google.
Moz offers a 30-day free trial, and starts at $99 per month.
Competitor Analysis Tools for Content
There's an old saying: "Content is king". It is true, and many marketers have already witnessed the benefits of a robust content marketing strategy. Some of the content marketing efforts can be measured with SEO tools (Google rankings, SERPS, number of keywords), but you won't get all the necessary data looking only at SEO.
6. Buzzsumo
Buzzsumo is one of my personal favourites. You can take a look at the top performing content from you and your competitors. Buzzsumo takes into account:
Facebook engagement
Twitter shares
Pinterest shares
Reddit engagement
Number of links
Evergreen score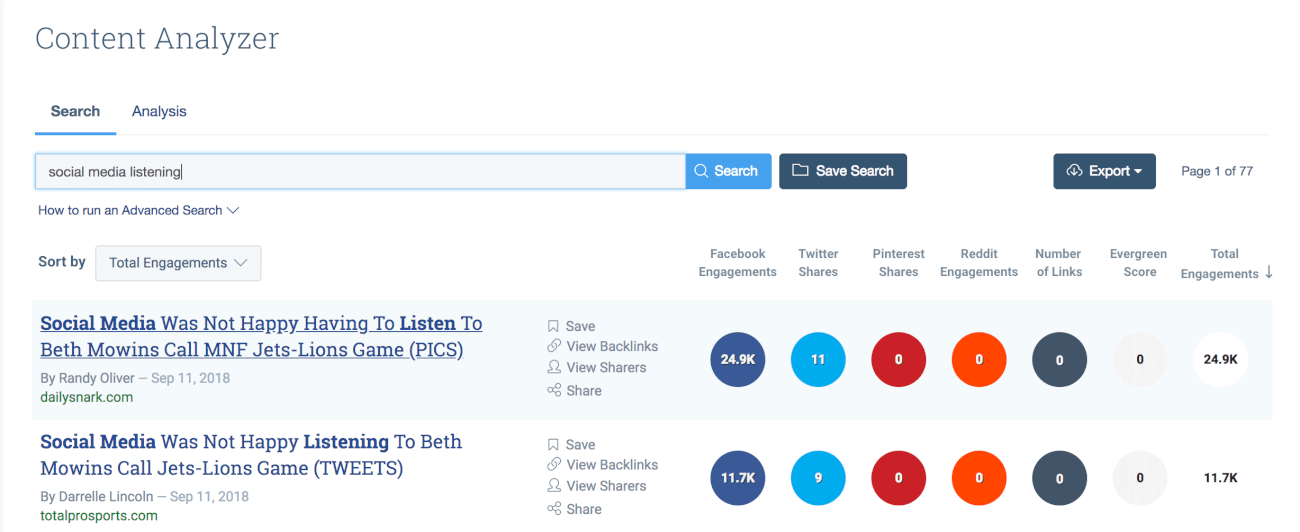 You will not only identify the industry leaders but also get an idea of hot topics to explore. Pair it with SEO tool, and you get a pretty strong content marketing competitors research tool!
Buzzsumo offers a 7-day free trial. Premium plans starts at $79 a month.
7. Similarweb
Similarweb ranks somewhere in between a SEO tool and a content tool.
It shows you data about where precisely the traffic to your competitors' website comes from. With Similarweb you can see:
traffic by countries
traffic sources
referrals (where do customers come from)
top organic and paid keywords
traffic from social media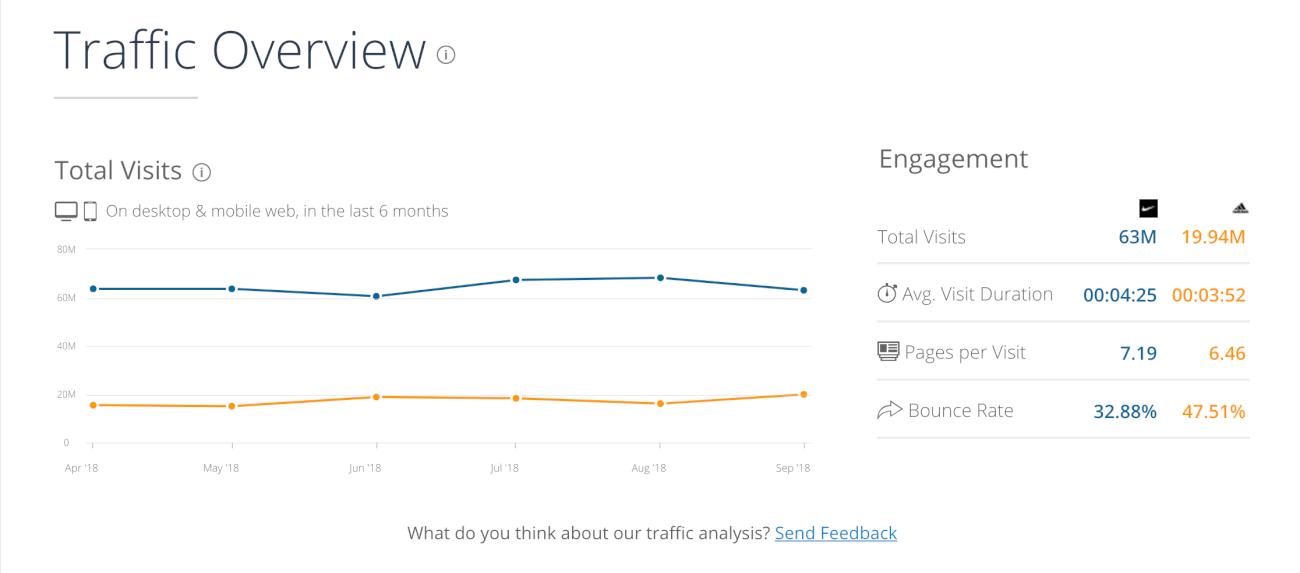 That will help you determine the topics visitors search for, which social media channels they use, and what other relevant sites they use.
Similarweb is free for 5 results per metric. It also offers custom enterprise plans.
8. Feedly
Feedly is a content aggregation platform, that stores and organizes content as it's published. You can see all the content published by all your competitors in one dashboard.
You can segment the content according to your needs, e.g. see the general industry trends articles first, then content pertaining to your clients, and finally content published by your competitors.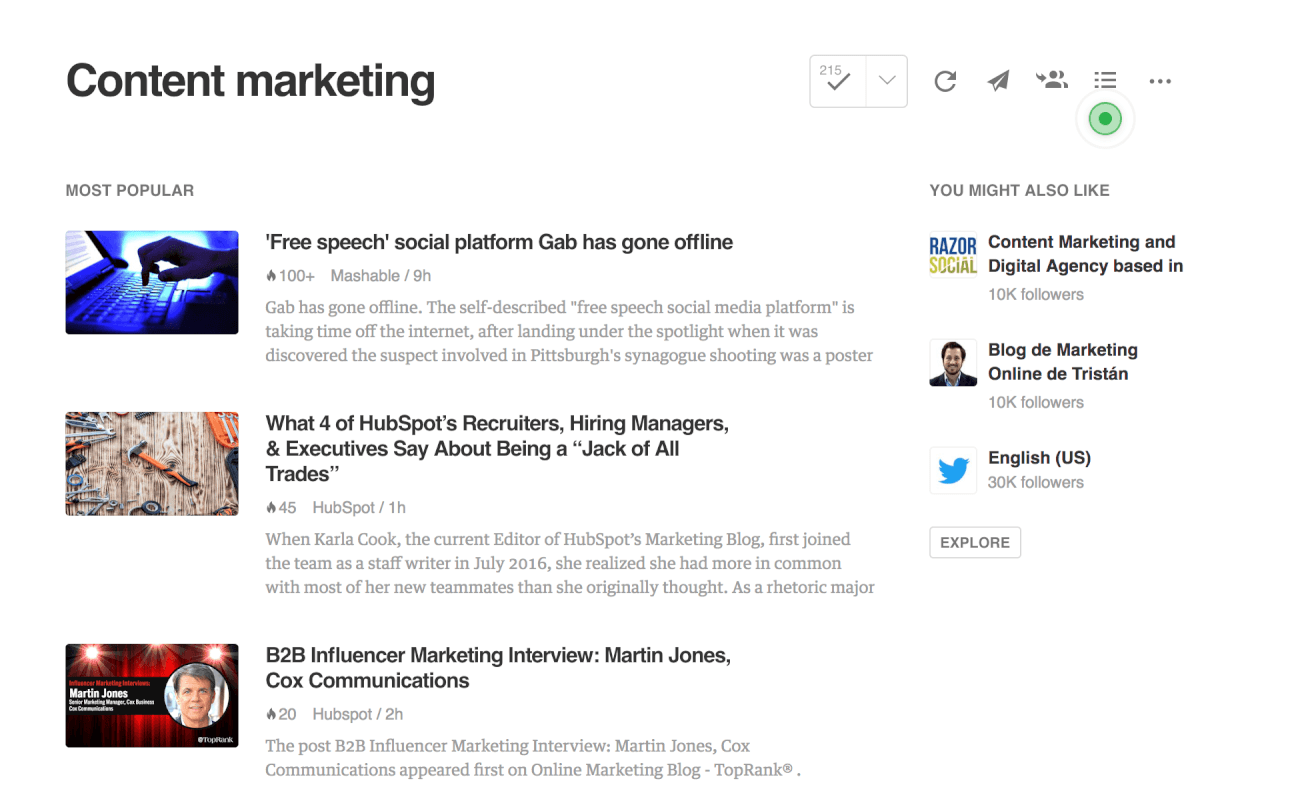 There's a browser extension, which allows you to quickly add interesting articles to your feed.
Feedly is a free tool, with some paid options. Paid plans start at $5.41
Competitors Research Tools for Ads and Email
And last but not least: competitors' research tools for ads and email!
Because of content saturation on the Internet, sometimes the only way to reach your target audience is to promote your content via paid ads, be it on Google, Facebook, Instagram or any other social media channel.
The same rule applies to email marketing. It's another channel where you can compete for your audience attention.
Can you conduct a competitors research for ads and email campaigns?
Fortunately, the answer is yes!
Let's start with competitors research tools for ads.
9. iSpionage
iSpionage will do exactly what its name promises – spy on your competitors' ads.
The competitor research tool will find competitors PPC keywords list and how much do they spend on their paid campaigns.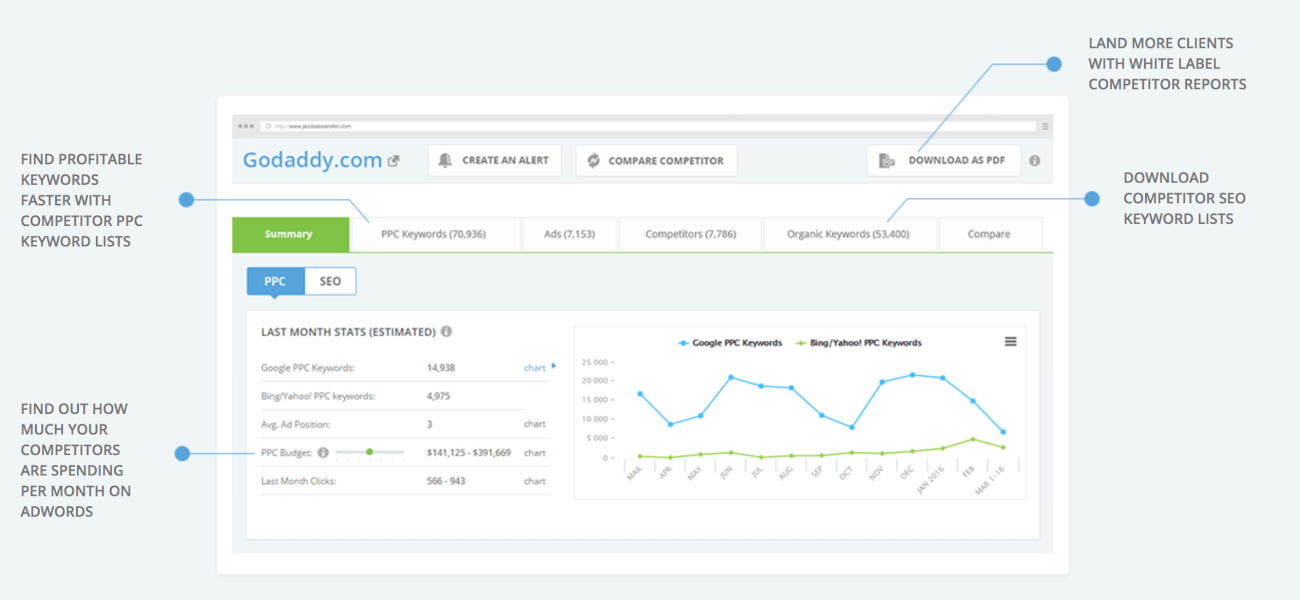 The keyword effectiveness index will show your competitors' most profitable terms. You'll be also able to see which ads get the most traffic from Google.
The tool will help you keep realistic expectations when it comes to your PPC campaign.
iSpionage starts at $59 a month.
10. Whatrunswhere
A similar tool is Whatrunswhere.
Whatrunswhere will show you:
where your competitors are advertising;
what their ads look like;
how effective their ads are.
Whatrunswhere accumulates data across 7 of the largest online markets, both for mobile and desktop ads.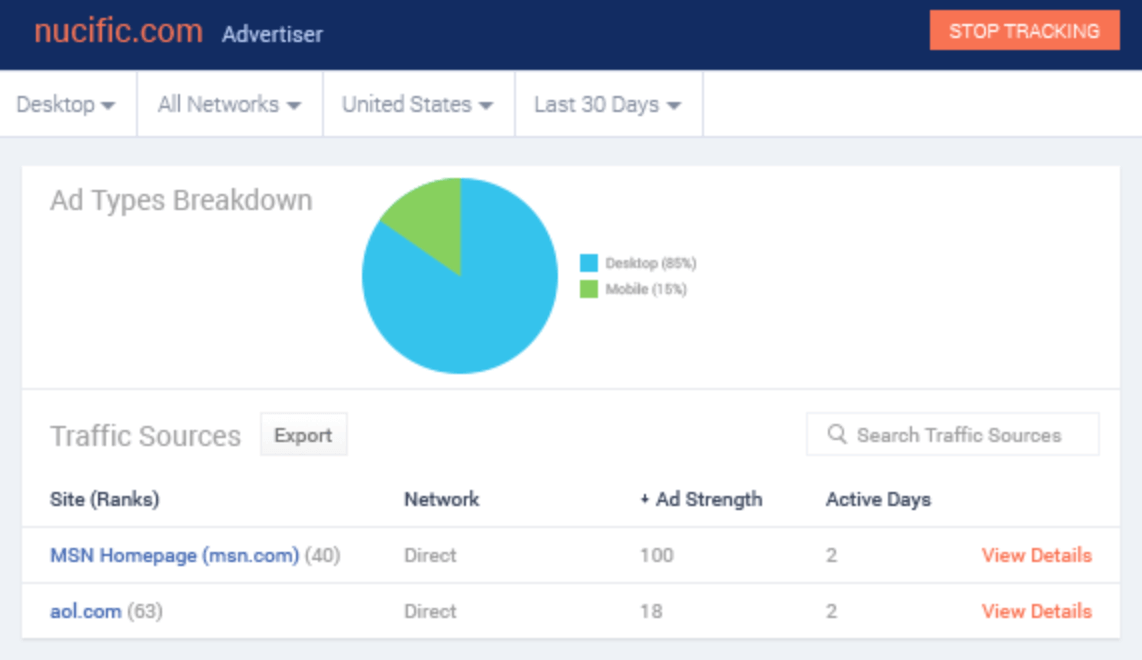 Staying up-to-date with the ins and outs of your competitors' strategies is only one of the functionalities of the tool, but it will certainly help you with your competitors' research!
Whatrunswhere starts at $299.
11. Owletter
Managing research of your competitors' email campaigns might seem like a daunting task. Thanks to the last two tools I found it won't be for much longer!
Let's start with Owletter.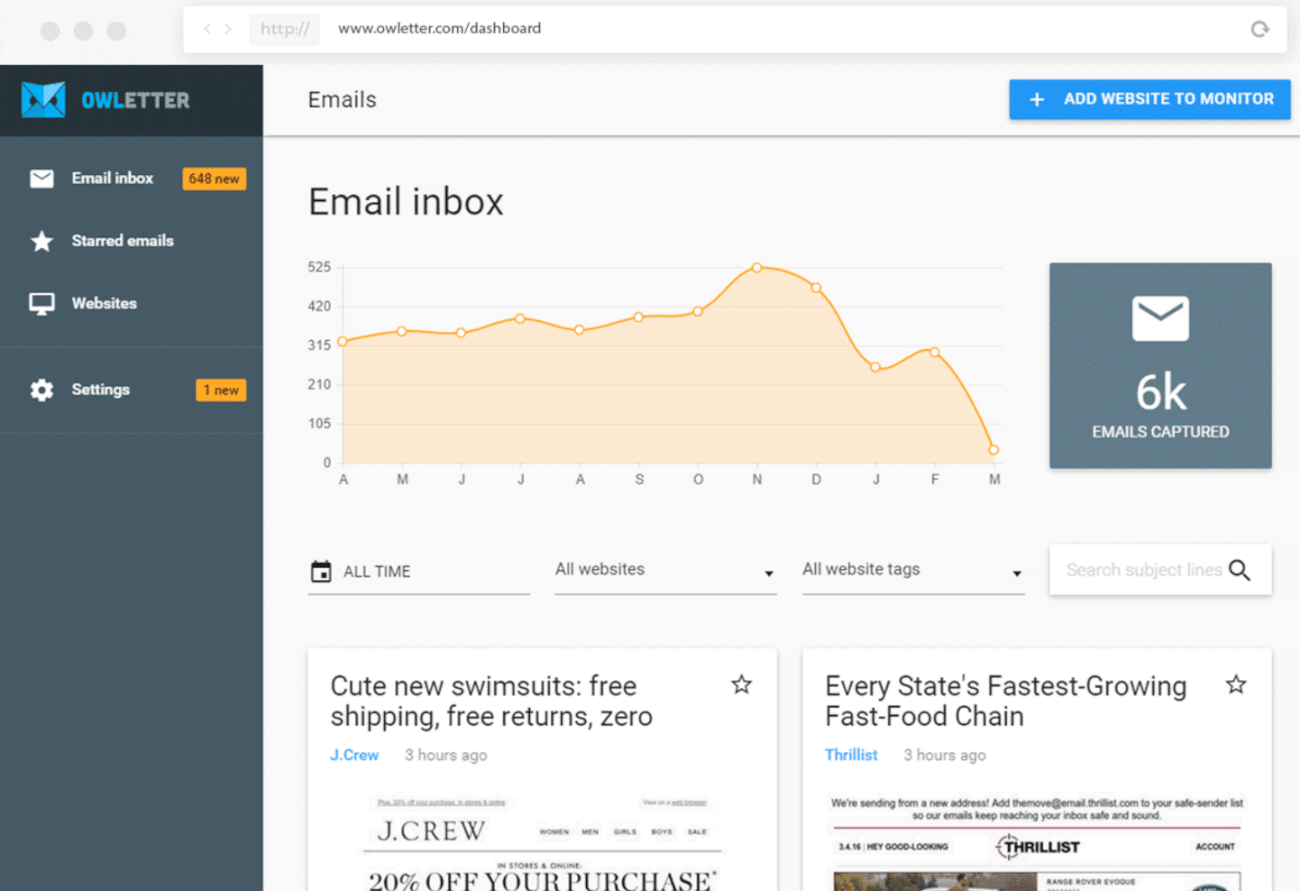 First of all, Owletter will store every email send to you from a particular domain. Finally, no more missed emails you forget about!
Owletter will help you analyse the frequency of sending emails by your competitors and will spot trends over time. That way you can find the perfect time to send your emails!
Owletter starts at $19.
12. MailCharts
MailCharts will provide you with many useful information, for example:
send volume;
most popular day of the week;
promotional frequency;
average discount offers.
Based on all the data, you can prepare A/B test based on other companies strategies to see how the strategy will translate to your marketing activities. 
The data will also help you answer one of the most important questions when it comes to email marketing – how often should you send your newsletters?
What's great about MailCharts, is their email marketing best practices library. The tool will compare your email efforts to the data it gathered and make sure you're following the best practices in the industry (frequency, timing, message length, etc).
You can track 3 companies and have access to limited historical data for free. Paid plans start at $99 a month.
Quick Recap of Competitors Research Best Practices
Once you collected all the data you need, it's high time to put it to practice. I listed a few of our blog posts that explain competitors' analysis in greater detail.
Here's a quick recap of what you need to know about competitors research!
Take a look at your real competitors
Context matters. You can compare your company to big brands, present on the market for much longer than you and see some very negative results.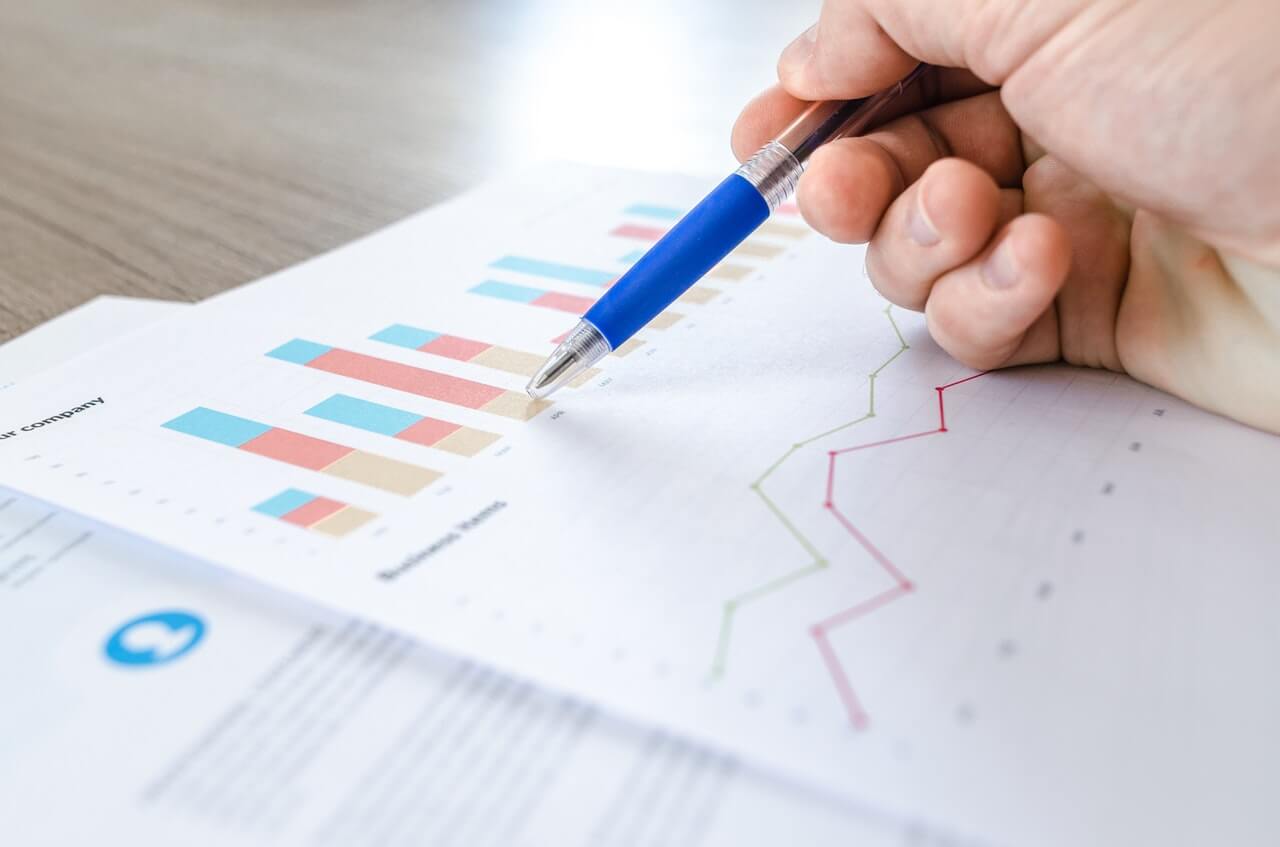 This tactic won't bring you anywhere. Of course, you have to keep an eye on industry leaders to spot emerging trends, observe and implement best practices, but this competitors analysis won't bring any valuable insights.
Instead, focus on business with the same target audience and are similar in size.
A data-driven approach is the best kind of approach
At least, in the beginning.
First of all, quantitative data is much easier to compare than qualitative data. You choose the most important metrics for you, for example, social media reach or volume of mentions and compare the results over specific period.
Once you know how often your competitors post their content, what's the ratio of promotional versus non-promotional posts, you can focus on their messaging.
Take action
Lastly, turn all the data into actions. Twitch your marketing campaign, send more emails, monitor hashtag performance, push your content on different social media platforms.
The ultimate goal of competitor research is to benefit your marketing strategy. The more data you have, the better.
What do you think about competitors research? Let's talk! Reach out to us on Instagram, Twitter, Facebook, or LinkedIn!
Relevant Content
Social Media Competitor Analysis and Everything You Need to Know About It
Internet Monitoring and Competitive Benchmarking
Get Competitive Advantage by Going the Extra Mile for Customers
---
---