9 Things You Can Learn About Your Audience From Social Listening
September 12, 2016 ・ 4 min read
Show me your audience and I will tell you everything about your company. OK, maybe not everything, but their opinions and behavior provide a valuable source of knowledge about your business and its condition both in present and in the future. Clients and prospects are like a reflection of your firm's potential. Therefore, it is worth spending time on getting information from them as they can tell you much more than experienced marketers and experts. You just need to listen to their voice carefully and on a regular basis.
Naturally, there are many ways to collect customer feedback and social listening is the one that you cannot give a miss. It enables you to gather opinions that people express voluntarily. You collect everything that social media users get off their chest. What exactly do they say and what can you learn from social listening? Here are the top nine takeaways you can extract from unprompted feedback via is social listening.
1. Where people are active
This is crucial information when you design your strategy for social media presence. Social listening let you group online mentions into source categories. You will see how many people (and what percentage of an audience) published content on distinct social media platforms and other websites. Then you can engage in conversation on platforms where fans write the most and increase resources for marketing on platforms that have few comments about your brand.

2. How frequently a user mentions a given brand
Social listening enables you to find out how many times a particular user posted content about your brand. You will discover whether fans are highly engaged users or just occasionally mention your brand. You can distinguish more active ones and engage them in promoting your brand. You should also pay attention to those less active, join conversation with them and in consequence turn them into devoted fans.
3. How they influence other audiences
Every social media user has their own audience of friends and fans, therefore every time they mention your brand they influence their followers as well. Social listening tools give you estimated social media reach of each user separately and of the whole audience. You will get the idea to what extent content about your brand influences other audiences.
4. How they perceive your brand
This is one of the most accurate ways to discover whether the positioning strategy works the way you want. You will find out if marketing messages get through to your audience. For example, you can position a brand as high-end, however opinions from clients will determine if they actually perceive it in that way. On top of that, social listening tools have the ability to specify sentiment of opinions. You can discover how people react to marketing efforts and whether they are satisfied with your products and services or not.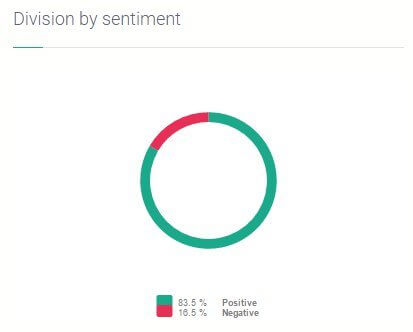 5. What qualities are important for them in products
Data from social listening is an endless source of customer insights. Opinions they post online provide you with comprehensive knowledge about preferences, brand perception, buying behavior and products qualities that determine purchase decision. In-depth analyses of social listening results will give you details on:
demographics of audience,
sentiment of customers' opinions,
the most important product qualities,
factors that encourage them to purchase a product,
how a brand stacks up against competition,
and many more.
6. What customers like about products
It is directly connected with the previous paragraph, but I want to develop this point as it also proves the effectiveness of marketing strategy. Imagine you sell cosmetics for women skincare and you position them as an inexpensive and efficient solution for dry skin. However, most social media users claim that the fact that cosmetics do not sensitize triggers their purchase decision. In this situation, you should have a closer look at your clients and maybe shift the strategy to fit customer preferences.
7. When users post the most
Different groups of products or services have different audiences, so naturally their behavior online varies. When you run a B2B company your customers will probably be active on weekdays, while clients of B2C firms might post more at weekends. But it is not the rule. With a social listening tool you can precisely specify frequency of online engagement on particular days.
8. How they engage with content
Are the posts about your brand engaging? Social listening will answer this question as well. You can learn how many interactions your content generates. You will find out whether audiences of your audience are just "likers" or if they engage in conversation in the comments section.
9. Context in which users write about you
Last but not least, social listening enables you to find out the context of online conversation about your brand. Do they mention your company in reference to a competition? Do they mention particular products? The tools help you pick up the most common words that appear next to a monitored keyword.

You will not learn much about your audience with your mouth open. Even the best marketing message in the world will not get through unless you stop talking and start listening to your audience. Don't miss an opportunity to get valuable insights on customer preferences, behavior and thoughts and never stop listening to the voice of your audience.
Try to extract all the information mentioned in this entry with Brand24 and sign up today for free.