Social media and beauty brands are a match made in heaven. There are many beauty brands who mastered the art of social selling and are enjoying the fruits of a robust social media presence. They are active on many different social media channels, have almost a cult-like following, and are thriving in the cutthroat social media world.
It is certainly hard to miss the benefits of developing and implementing a social media marketing strategy for your beauty brand. This blog post shows the most efficient way to do it.
If you want to learn how to promote beauty products on social media, keep reading.
Without further ado, let's get started!
Marketing strategy for the beauty industry
There are two hotspots when it comes to social media marketing and beauty brands.
The first one is the nature of social media. The social media world is constantly changing and it's hard to keep up with all the alterations in algorithms, technical innovations, and much more.
The second is the competition. Many beauty brands have spotted the benefits of a robust social media presence and have already built an engaged community around their brands.
Building a strong social media marketing strategy for a beauty brand requires not only a well thought-out plan but also a careful attention to detail.
I'll do my best to break down the social media marketing for the beauty industry in this blog post and show you how to lift your social media marketing from the ground.
How to come up with content ideas for social media presence for a beauty brand?
What's great about social media marketing for beauty brands is the amount of creative freedom you can have. The sky is the limit when it comes to photos, posts, tutorials, Instastories, and everything related to social media.
If you are wondering how to promote beauty products on social media, answers to that are many. We prepared some ready-to-use ideas that you can implement into your marketing strategy. The most important thing though, is to adjust your content or campaigns to the preferences of your audience.
When you analyze in-depth the most successful beauty brands on social media, you'll easily spot one thing they have in common. Besides promoting their products, they add value to the lives of their potential customer.
How do you do that?
Let's start with tutorials.
Tutorials for beauty brands
Take a look at the Benefits Cosmetics Audrey Hepburn inspired tutorial:
This post isn't a direct ad, you can follow the tutorial using any brand of makeup products.
But it brings some substantial value for the beauty brand:
increased brand awareness: the next time a potential customer goes to a department store, he/she will recognize the beauty brand, will have positive associations with it and might be tempted to choose their products over others;
show-off products in action: buying a makeup product sometimes resembles buying a pig in a poke. With tutorials, you can sway over the undecided customers and encourage them to buy your products.
Do you know what a great, but often omitted, platform for tutorials is?
Pinterest!
Pinterest is all about images, tutorials, and inspiration! Take a look at this guide made with the use of Too Faced products:
Tutorials mix together the best aspects of social media: entertainment and engagement. You can establish your company as an industry leader, promote your products, and still have high engagement rates (which is harder and harder to achieve).
You're probably getting worried about the high costs of producing tutorials.
The great news is that you don't need expensive equipment to make interesting tutorials. Some of the most popular social media influencers in the beauty industry still film with just their phone cameras.
Many seasoned YouTubers even claim that the image is not the most important part of video content. The sound is. People will rather watch a video with a so-so picture than with mediocre sound.
The tutorials and how-tos don't have to be presented in a film form. A set of photos, or, in fact, just one photo will be ok as well. And there're plenty of free tools you can use to boost your graphics for makeup guides, for example, PromoRepublic or BannerSnack.
Social media hashtags for beauty brands
Having a branded hashtag is a must-have these days. It's not just a vanity metric; on the contrary, it will help you:
see how your content spreads on different social media channels,
establish the social media reach of your posts,
help you spot the negative comments about your brand,
build a library of photos you can use as clients' testimonials.
How to choose your perfect hashtag? It can simply be the name of your company or a slogan you come up with. Think about Nike and "Just do it" motto.
The key is to make it short, easy to remember and to spell. Otherwise, your customers will get confused and it will be hard to monitor how your hashtag is used on social media.
Once you decide which hashtags to use, you have to monitor hashtag performance.
Use a social listening tool to find the best beauty-related hashtags for your social media!
Why is it a great choice for social media marketing for beauty brands?
Because it's so versatile!
There's a number of functionalities you'll find useful for your social media marketing activities, which I'll discuss later on.
For now, let's focus on Instagram mentions!
If you want to monitor hashtag performance, insert your branded hashtag into the project creation wizard. And voilà! The tool starts to gather all publicly available mentions with your hashtag.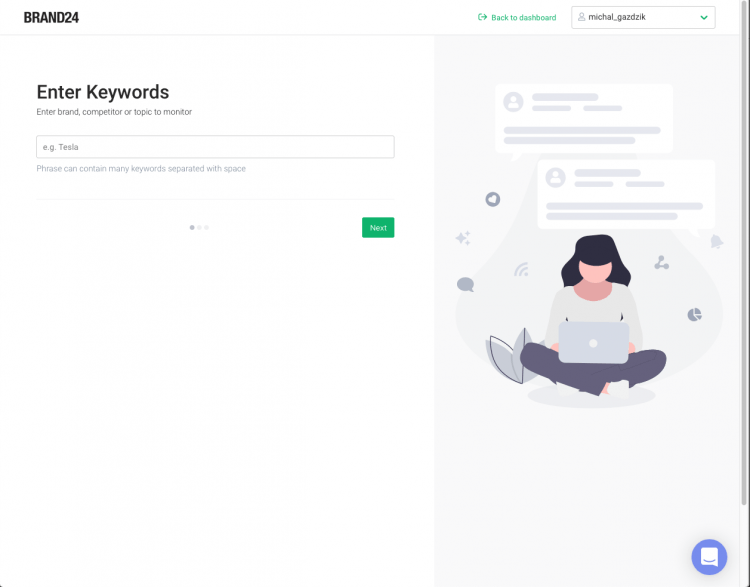 You can narrow down your search results in the Project Settings. In the Sources tab, you can specify the social media channel you're interested in.
Brand24 will provide you with the data about:
the number of mentions
the number of social media interactions
estimated social media reach
mentions with a positive and negative sentiment.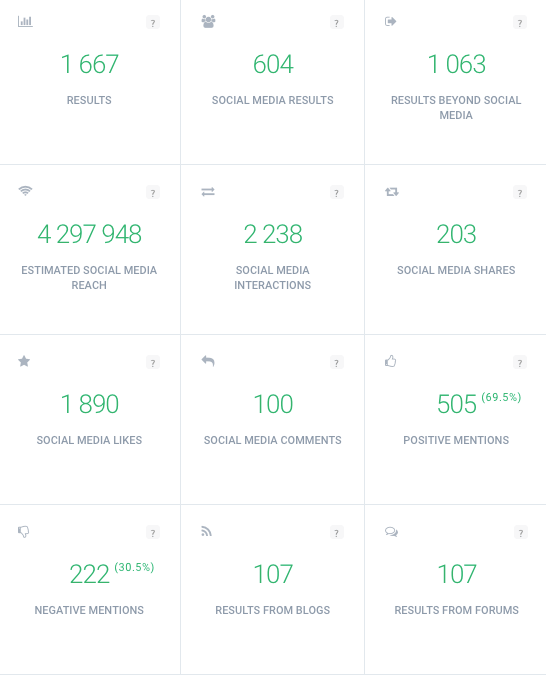 That way you'll know how your content resonates with your target audience.
Brand24 starts at $49 and offers a 14-day free trial.
If they find it attractive and share it, your social media reach will grow. Followers of your followers will become aware of your brand. That's social media marketing at its best!
Using branded hashtags will also help you with UGC which stands for:
User-generated content
Great user-generated content is a goldmine for every beauty brand presence on social media.
UGC will serve as a social proof to your not-yet-convinced customers and will be a great source of organic ads. There's no better way to convince sceptical customers to your beauty products.
Hashtags create a sense of community. Make sure you put your branded hashtag in the short bio on Instagram, just like Anastasia Beverly Hill did it:

Some of your followers, instead of a hashtag, will use an @mention. It's easy to miss because once they're gone from your dashboard, you can't find them on Instagram.
Brand24 will collect the mentions and show them in your dashboard. That way, you'll always be prepared to spot user-generated content and react to them.
Spot valuable user-generated content with a social media monitoring tool!
Contests
Contests, beauty brands, and social media go together like summertime and Aperol Spritz, or peanut butter and jelly.
By organising contests you can easily introduce your brand to new audiences and boost your social media reach.
By conducting regular giveaways, you'll encourage your followers to follow your social media accounts closely. A one-off interaction can turn into long-term loyalty.
Apart from simple give-aways or tag-your-friend actions, you can also run a contest based on a hashtag. Brand24 will make sure you won't miss any hashtagged content.
Monitor your contests in real-time with Brand24!
Live customers' testimonials
How great would it be if you could add an embeddable opinion left on social media by your happy customers? We have just the solution!
Take a look at our Live Customers' Testimonials widget.
It's a simple line of code you could embed on your website to have a customisable list of reviews from social media. It looks like this: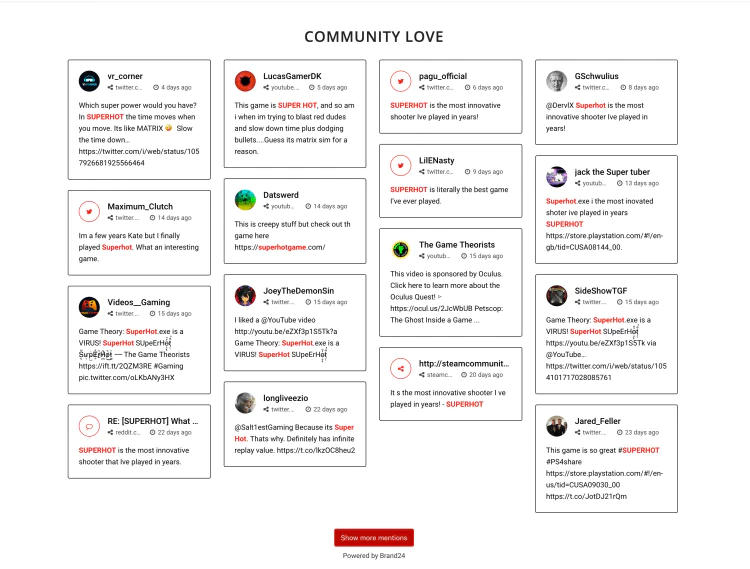 Why is it a great addition to your website?
First of all, the widget is clickable. Which means once the user clicks on a mention he/she will be redirected to the source of the review.
It's the best social proof there is – an authentic review from one of your happy customers.
And what's great about social media marketing is the fact that you can mix content from different authors together.
Social media trends for beauty brands
Since we already established that the competition on the social media for beauty brands is fierce it is vital to establish what the next big thing is.
Being an early adopter of a new trend will give you a competitive edge and will establish your beauty brand as an industry leader. It's also much easier to reach new audiences when there is no one else there.
Video marketing for beauty brands
Video marketing is often considered the big, scary thing you won't have time and resources for. But it's simply too big to miss.
YouTube is the second biggest search engine there is. And the audience is there, actively searching for the content they need. It's a great opportunity you can't miss.
Just take a look at Lisa Eldridge, a makeup artist from London. She started her YouTube channel and now her tutorials get more than a million views!
As mentioned before, videos don't have to be resource consuming. Many YouTubes present their content on a simple background, and all the necessary devices aren't so expensive anymore.
Influencer marketing for beauty brands
Influencer marketing is important for both experienced brands with an established position on the market as well newbies in the social media game.
Read more: What is influencer marketing?
If you're new in the beauty industry, influencers will help you get your beauty brand off the ground and arise in the consumers' mindset.
For more experienced beauty brands, influencer marketing is a great way to reach new audiences and add credibility to your marketing message.
The key to a successful influencer marketing campaign for your beauty brand is to choose the right influencer.
There're two pieces of good news.
First, the right influencers aren't necessarily the big, expensive names in the industry. On the contrary, micro-influencers might be better for your brand and reach wider audiences than social media users with bigger following.
Which means you can run an effective social media campaign for your beauty brand and don't spend a fortune.
The second good information is that with social media listening tool you can easily find the right influencers for your campaign.
Find the best beauty influencers!
Once you log in to the panel, go to the Analysis tab and scroll down. You'll find two tables that are interesting for you: the influence of social media authors and most active social media authors.
Brand24 will also provide information about:
the social media platform on which the author is active
the share of voice
influence
reach
number of mentions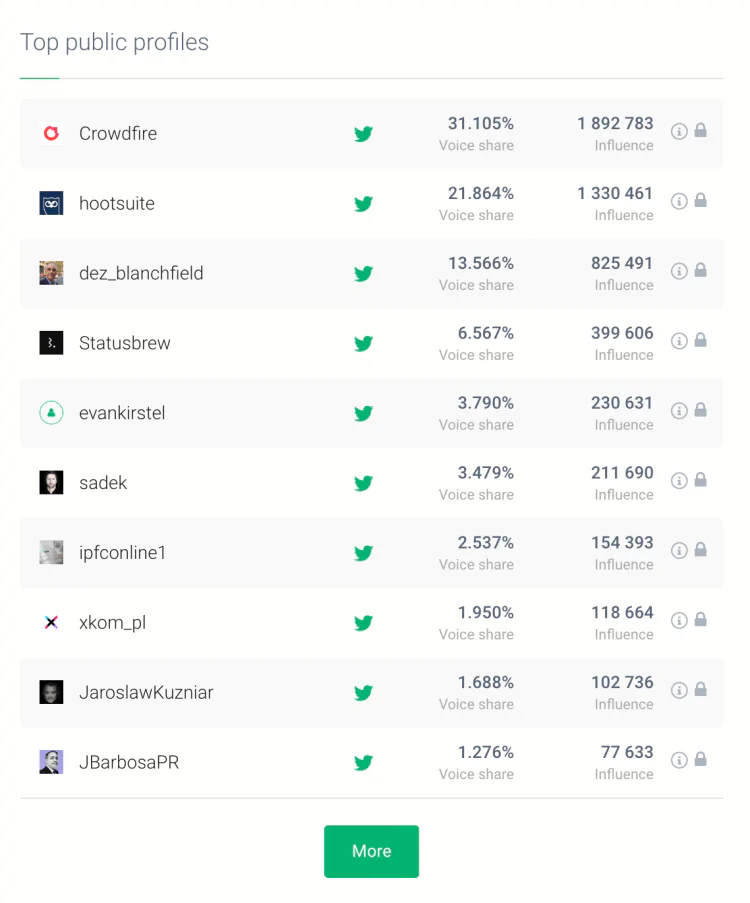 If you already know on which social media platform you want to focus your activities, you can filter the results to your predefined social media channel.
Scroll back up, and on the top right side of the screen choose Filter mentions menu.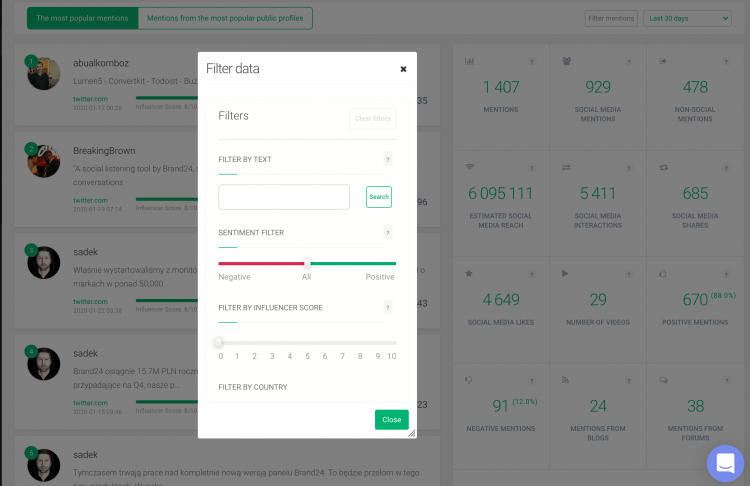 Influencer marketing is a great way to boost your organic reach and present your products in a compelling way.
Start using the best influencer marketing platform for free!
Extra hashtags and geolocation for the beauty industry
Extra hashtags are something different than your branded hashtag. These hashtags aren't closely related to your brand or industry but they will help you get your message to new audiences.
Think about hashtags like #tgif or #unicornhairdontcare. These are a goldmine for getting your products in front of a new audience.
Geolocation is other social media feature often overlooked by many marketers. You can geotag your posts on Instagram or Twitter. Then anytime someone looks for a specific place, they may see your posts.
Promoting social platforms via other channels
Social media marketing is not only about being present on social media. Before you build a loyal following try to promote your social media accounts via other communication channels.
You can endorse your social media channels by mentioning them in your newsletter, showing your latest Instagram photos or Tweets on your website, or offering a discount only for social media followers. The possibilities are endless.
Beauty industry marketing strategies
There are plenty of social media marketing strategies for a beauty brand, and the number of tips can be overwhelming. The key is to remember two things.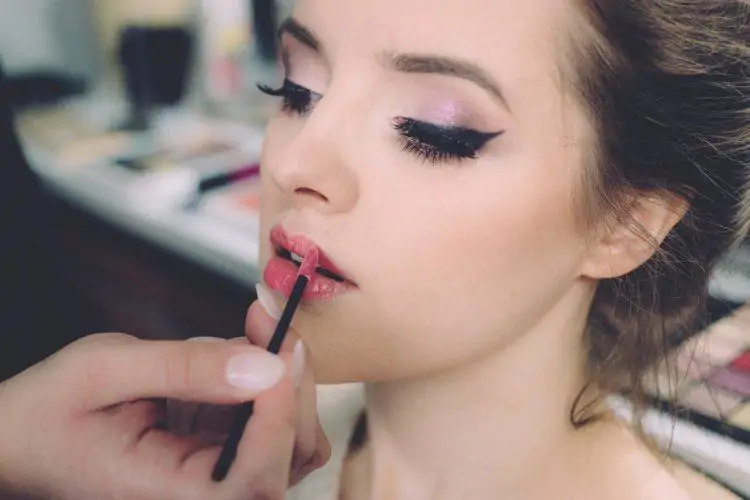 First of all, you need to present valuable content. Try to focus on how your product can help solve the problems of your customers.
Secondly, remember to measure the results of your campaign. Whether it's the number of interactions or social media reach these numbers will tell you how your brand is performing and whether your message is resonating with your audience.
FAQ
What is the best social media platform for beauty brands?
The best social media platform for beauty brands often tends to be Instagram due to its visual-centric nature which aligns perfectly with the aesthetics of the beauty industry. Instagram allows brands to showcase their products through high-quality photos and videos, and engage with beauty influencers who have dedicated followings. Instagram's "Shop" and "Explore" features also allow brands to showcase the most popular beauty trends and sell directly to consumers. However, it's important to develop a comprehensive digital marketing strategy that leverages multiple platforms based on where your target audience spends their time. For example, beauty tutorials perform exceptionally well on YouTube and TikTok, and these platforms can be part of your online media kit too.
What is the role of social media marketing in the cosmetic industry?
Social media marketing plays a crucial role in the cosmetic industry. It allows cosmetic brands to showcase their products, share makeup tutorials, engage with customers, and amplify their distinct brand voice. Social media can be used to drive brand awareness, increase customer loyalty, and even facilitate direct sales through shoppable posts. Brands can also monitor social media sentiment to understand consumers' perceptions of their products and identify opportunities for improvement. Furthermore, social media platforms provide a space for digital marketing campaigns that can include influencer partnerships, user-generated content, and interactive features like polls or live videos.
How to get into beauty marketing?
Breaking into beauty marketing typically requires a strong understanding of digital marketing principles, including social media strategies, content creation, SEO, and data analysis. Start by studying successful beauty campaigns and social media posts from popular brands. Pay attention to the aesthetic, messaging, and engagement strategies they use. It's also beneficial to gain a deep understanding of the beauty and skincare industry and its consumers. Then, try to get hands-on experience. This could be through internships, freelance work, or by running your own social media campaigns. You could even consider creating your own blog or social media channel focused on beauty or skincare. This hands-on experience combined with industry knowledge and digital marketing skills will provide a strong foundation for a career in beauty marketing.
HANDPICKED RELATED CONTENT
Guide to Social Media Engagement
10 affordable news monitoring tools to keep you in the know