How to Run a Successful Instagram Marketing Strategy in 2023
January 4, 2023 ・ 13 min read
In 2023 there are even more relevant social media channels, and Instagram is still among the most popular ones. In this guide, you will learn the most important factors of a successful Instagram marketing strategy and tools to help you achieve your goals. Read more to boost your Instagram game!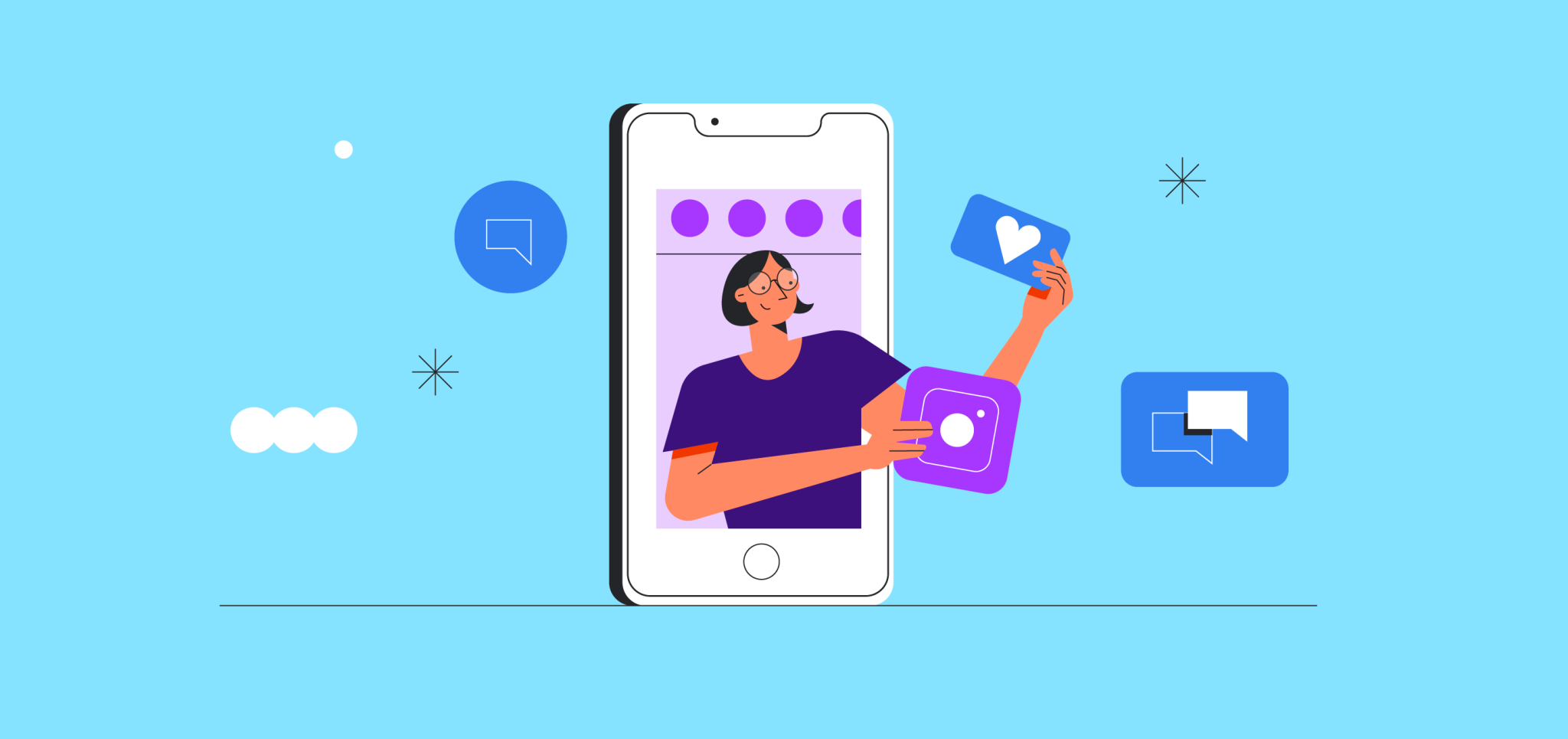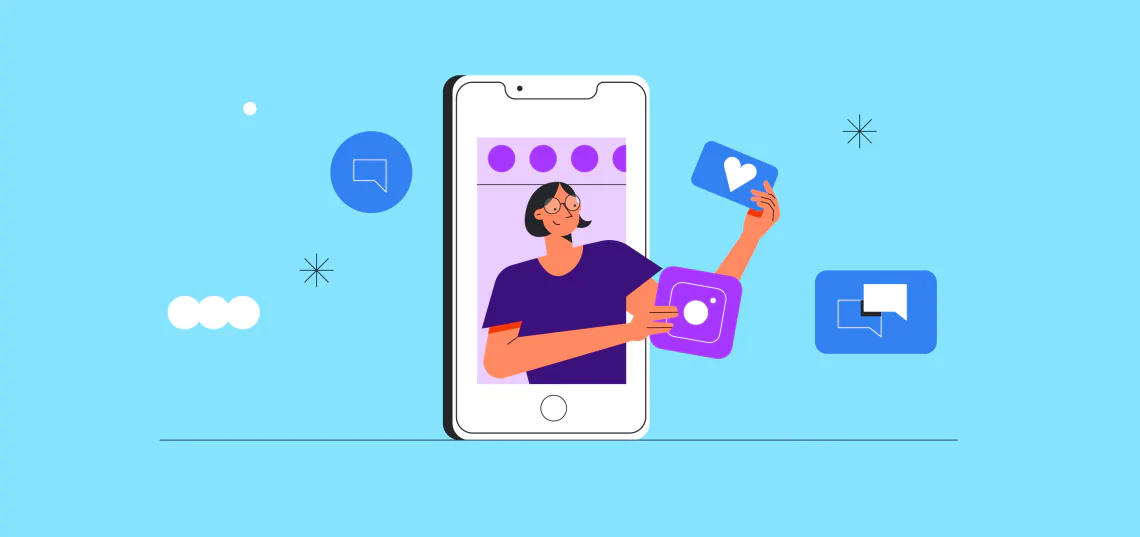 Did you know that Instagram has 500 million daily active users? That's 500 with six zeros! A significant number of these users can be a target audience of your Instagram marketing strategy. In today's post, I will tell you how to use this medium to boost your sales.
If you are here, there's a great chance the Instagram app is already on your phone. In this article, you will learn what the marketing strategy for Instagram should look like in 2023, some tips that will help you stay visible, and find top-notch online tools to help you with Instagram marketing.
Here's what's ahead of us today:
Let's go!
Why should I market on Instagram?
As I mentioned in the beginning, Instagram has a great database of active users. That's 500 million DAU (daily active users)! The sole number of potential customers is an excellent reason to market on Instagram. But of course, there's more. Almost any type of business should benefit from implementing an Instagram marketing strategy.
Monitor your brand's social media presence with Brand24.
How do I start an Instagram business account?
Starting a business Instagram account is easy, and you can quickly connect it to your Facebook business page. The integration is necessary if you want to run ads.
First, you need to create an Instagram profile for your brand. Choose a suitable handle and name; voila, your account is created! You can start a new profile via a desktop browser or Instagram phone app.
To turn a personal Instagram account into a business profile, you should open settings (the hamburger menu in the top-right corner of the mobile app), go to "Account" and scroll all the way down until you find an option to switch to the professional account.
Running a business profile allows you to monetize Instagram, but mostly it offers the different analytic tools and features to boost your posts (similar to the Facebook business page option).
That's it. Now it's time to tweak your professional profile to make it better looking.
Optimizing your Instagram profile
Yes, creating an Instagram profile is not enough. If you want your social media strategy to be complete, the profile needs to be optimized as well.
Fortunately, the rules are very simple.
Handle & name
First of all, take care of your Instagram handle and profile name. You want it to reflect your business and be easy to find via the search bar. If somebody else is already using your brand's nickname, you can contact them via direct message and kindly ask them if they'd like to give it back. If they want money for it, you need to evaluate how much you can pay.
If your nickname is already taken and there's no way of getting it back, you can experiment with some additions. For example, we are using @brand24app since @brand24 was unavailable.
You can also use "@YourBrandName.com" to reflect your webpage address or "@YourBrandNameCountryCode" if this is a local business. Be creative!
Thankfully, names are not restricted to one account only.
Category
Use the most appropriate category for your brand. There are tons to choose from, so pick one that truly reflects what you do.
Bio
The Instagram bio is limited to 150 characters, so think carefully of what you want to write. You should describe your business profile, and perhaps spice it up with your brand slogan.
You can also use hashtags or tag another profile. They can be your branded hashtags and associated Instagram profiles (for example founders).
If your brand follows informal messaging style, feel free to use emojis. They stand out from the rest of the text and can stretch the character limit. For example, instead of using the term "computer service", you can write "🖥️ service" (15 vs 8 characters).
Profile picture
In the mobile app, your profile picture will be displayed in 110×110 px, and on desktop, it's 180×180 px. Using too big a photo will cause the compression to kill the quality. The best is to use a simple logo against your brand colors.
A simplified brand logo will look good on the search list and will be clearly visible as a professional account. Using product photos may be confusing for some users and obstruct visibility.
Why do people use Instagram in 2023?
As I already mentioned, Instagram is still one of the most popular social media platforms. To put it in numbers, below you can see data from Statista showing the biggest social media channels ranked by the number of users.
As you can see, Instagram is the number 4 social network and has almost half of Facebook users number. It still performs better than TikTok, which gained a lot of recognition recently.
Yes, TikTok is now getting a lot of interest, and many young people are ditching Facebook and Instagram for it. But there's still a huge potential in Instagram marketing.
Instagram users mostly use the medium to post stories and photos. But with the rise of the TikTok video format, Instagram Reels became popular.
Cracking down on Instagram algorithm
Although social media algorithms are the well-guarded secrets of their creators, there are a lot of clues that help to determine which posts perform better.
Let's start with what to avoid in your Instagram marketing strategy. Posting dull graphics with text on them is definitely a hard no. Your content needs to stand out from the rest of the feed posts.
Instagram hashtags play an important part in the algorithm. Choosing the right hashtags can greatly boost your posts' visibility. But be careful! Using too many or choosing a shadowbanned one will make your posts invisible even to your followers.
How to check if Instagram hashtags are shadowbanned?
Yes, Instagram hashtags can be shadowbanned, or rather hidden for some period of time. This happens when a lot of content that violates Instagram rules is posted with these hashtags.
To find out if the hashtag you want to use won't negatively influence your Instagram post, simply use the in-app search to find the hashtag. You'll see the difference between trending hashtags and hidden ones. Usually, Instagram hashtags pages come with top and recent posts, Reels, and sometimes even Stories. If the hashtag is hidden, you will see only the top posts.
Creating Instagram-friendly content
There are actually three types of content you can create on Instagram – regular posts (graphics, still images, photos), Stories, and recently trending Reels.
Let's see what you can do to make them feed-friendly.
Regular Instagram posts
When Instagram first launched in 2010, it favored a square photo format. The iconic 1:1 ratio was an homage to vintage Polaroid photos. Even the first logo resembled an instant analog camera our parents and grandparents used.
Now, Instagram is more flexible and you can experiment more with sizes of photos and videos.
Still, square and vertical posts work best in the app, because you use phones vertically. Horizontal pictures look small in the Instagram feed and, from my experience, are not favored by the algorithm. There are some apps though, that will quickly add a frame to your photo so it becomes a square. For example, you can use Whitagram for that – it's free.
Instagram Stories
Stories on Instagram launched in 2016 as an alternative to Snapchat's "disappearing" content. It's no secret – even the CEO of Instagram Kevin Systrom admitted that the solution was copied from Snapchat Stories
To make well-optimized stories, use high-quality photos or videos, but bear in mind some restrictions. The app will reduce the size to match its standards.
The dimensions for Instagram Stories are 1080px by 1920px (9:16 aspect ratio). Anything in the same aspect ratio will be reduced in size, and anything wider or higher will be cropped.
The video stories were once limited to 15 seconds, but now Instagram allows up to 60 s videos per Story. That adds more possibilities, but also requires really engaging content.
What's especially beneficial to companies, you can include a clickable link in your Instagram Story. At first, this feature was restricted to professional accounts with 10k+ followers, but now everyone can add a link to their Story. This can be useful when promoting new articles or landing pages.
Instagram Reels
From my experience, Instagram's algorithm favors Instagram Reels recently more than other types of content. If you create a video post, it will turn into a Reel automatically.
Reels were introduced in 2020. Similar to Stories, they are also copied from other social media, namely TikTok. After 2020 boom of TikTok videos and sudden rise of the app's popularity, other social media platforms stayed a little behind. To compete with the short video format, Instagram launched Reels with the same ratio and size as Instagram Stories (9:16, 1080×1920 px). Please bear in mind that in Instagram feed Reels are cropped to 4:5 ratio, which means you can's see the full frame until you click.
Reels are not just regular video posts. You can add filters and music. Instagram Reels can be made up of many shorter recordings and photos, or can be a single 90-seconds-max video.
Instagram live videos
Since 2016 Instagram allows live videos that also can be a part of your Instagram strategy.
During Instagram live broadcasts you can showcase your newest products or services, host a Q&A with your team, or make exciting announcements. Of course, it's up to your creativity how you will use this feature.
Live videos are usually aimed at the existing user base and will not get you many new followers, but they are a good way of introducing your team to your clients if that's a part of your marketing strategy.
If you want as many viewers as possible (and that's usually the case), you should announce your Instagram live beforehand either via Stories or as a regular post. You can also tease it via newsletter or other social media channels. You should be aware if such an announcement is not against the rules on other platforms, though. For example, Twitter now doesn't allow promoting other social media.
How to start an Instagram marketing strategy?
Writing a strategy always starts with research and a piece of paper.
Bearing in mind all the information included in this article, you can start preparing your Instagram marketing strategy with benchmarks.
My advice is to research your competition and see which Instagram posts perform the best in your market niche. Are those product photos and videos? Lifestyle Instagram Stories? Or maybe your potential customers prefer to watch guides in Instagram Reels?
Try to gather as many insights as possible that can be applied to your Instagram business profile.
Then it's time to really put your efforts into Instagram marketing.
After you perfected your Instagram bio, researched your competition, and understood what Instagram users would like to see on your feed, let's sit down on the future strategy.
In social media, consistency is the key. Decide on the tone of voice and decide what content will be published to your Instagram feed. It's always good to have a backlog of posts and use them whenever you you don't have anything else prepared.
There are various guides on the Internet that recommend you should post on Instagram every day to grow your audience. For some brands that's simply impossible due to the lack of resources. If you managed to gather some audience (more than 1K followers), I recommend posting at least once a week.
I really suggest putting effort into Instagram Stories, as they can include clickable links and CTAs that users can engage with. On the other hand, Reels provide a great resource for building the follower count organically.
To sum up, your Instagram strategy should include:
A benchmark against closest competitors.
A plan in which you decide on the type of Instagram content will you produce.
A calendar in which you will schedule posts.
Additionally: think of partnerships and influencer marketing campaigns.
Followers vs. Engagement. What's more important?
Many marketers seek the highest number of followers and want to have a high engagement rate. Is it the right approach?
Let's start with the follower count. Of course, generally speaking the more followers you have, the better, but it shouldn't be achieved at all costs. Buying followers will only result in a low engagement rate and can even get you banned.
Gaining new Instagram followers should happen organically. You can reach new potential customers by creating captivating content, promoting branded hashtags, and deploying influencer marketing campaigns.
Instagram ads
This is an important part of the Instagram marketing strategy. Unfortunately, organic posts have a very little chance of going viral, especially if you are using a business profile.
Instagram ads are a decent way of exposing your brand to new users and a chance to gain more traffic from the medium.
The most common way of setting up Instagram ads is via your Facebook business page. That's because both Facebook and Instagram are a part of Meta, so they are connected.
Through the Meta business suite you are able to set up ads both for Facebook and Instagram.
Alternatively, you can use one of many Instagram marketing tools that allow ads management. I listed some of the most popular below.
The best Instagram marketing apps for 2023 [Top 5]
While scaling the Instagram marketing strategy, you probably will soon need additional tools to help you automate your work. We prepared a separate article about the best Instagram tools for 2023, but below I'll list my favorites.
Read more: 10+ Best Instagram Tools
01 Brand24
Of course, I'm going to talk about Brand24. Not only because I work here, but also because it's a really useful tool and it helps to collect all social media mentions in one place.
After you integrate Instagram account with Brand24, you gain access to all publicly available online mentions of your brand or selected keywords.
How is it useful? First of all, you can start social selling from there and become more visible in your market niche. Secondly, you can start the sentiment analysis and check the overall social media presence. What's more, you'll be able to identify potential brand ambassadors who will help you with influencer marketing.
Those are not all benefits of using Brand24. Start the free 14-day trial to find out more.
Monitor your brand's social media presence with Brand24.
02 NapoleonCat
NapoleonCat is a fantastic social media management tool that will allow you to schedule Instagram posts and analyze the engagement.
If you want to grow your Instagram audience, you will need a management tool sooner or later, especially if you manage more than one Instagram profile. With such a tool, it's easier to crosspost between different profiles and social media platforms.
With developed automation and reporting capabilities, NapoleonCat is surely worth checking.
03 Buffer
Another popular management tool for social media is Buffer.
You can try it as an alternative to NapoleonCat for managing your Instagram feed, analyzing social media engagement, and finding the best times to post on Instagram.
Buffer also handles other social media platforms, so you can use it for Facebook and Twitter.
04 Repost: for Instagram
Repost is a mobile app for Instagram marketing. If your strategy includes using user-generated content, then this tool is definitely for you.
The app allows you to easily repost Instagram stories and posts to your feed, and add additional captions and hashtags.
User-generated content can work miracles, so think carefuly about how to implement it in your Instagram marketing strategy.
05 Preview
Preview is another useful app for Instagram marketing. If you want to have a thought through and aesthetically pleasing Instagram feed, this tool is for you.
From the app, you will be able to plan your posts, research hashtags, find caption ideas, and, as the name says it, preview what your Instagram feed will look like with the scheduled posts.
What's next? More resources!
I think you are ready to start planning your Instagram marketing strategy now.
I taught you all the basics of Instagram marketing. You know how to create a professional account, how the Instagram algorithm works, how to start advertising, and which tools will help you with your work.
If you want to learn more Instagram marketing tips, we have more articles on that matter at the Brand24 blog. Read them all to master your Instagram knowledge and become a social media expert.