Brand reputation monitoring tools should be an essential part of your online marketing tools stack. Nothing ever goes away on the Internet. Every review, photo, post, or movie will stay online forever, for every interested Internet user to see. Even one negative comment, if it goes viral, can hurt your business reputation. That's why it's vital to choose the right brand reputation monitoring tool.
You can't prevent people from writing negative comments about your company online, but you can certainly minimise the effects of unfavourable content.
The first step to successful brand reputation management is to spot all the mentions about your business on time. Nothing annoys your existing and potential customers like waiting for a response, or, what's worse, not receiving one at all.
Of course, you can monitor relevant online mentions in an old-fashioned way – type a relevant keyword in a search engine and look for results. But this solution is extremely time-consuming and, in the long run, ineffective.
Brand reputation monitoring tools will not only automatically gather all online mentions, but will also provide an in-depth analysis of the results. Essentially, all the menial work is done for you. You can focus on drawing conclusions and adjusting your business tactics.
Here's what is ahead of us today:
Top reputation management tools
The best online reputation management software you can use to monitor your online reviews and protect your brand reputation:
Brand24
Google Alerts
Gatherup
Chatmeter
BrandYourself
SocialMention
Grade.Us
ReviewTrackers
Broadly
Agora Pulse
1. Brand24
Who would've thought we'll make our own list of online reputation management tools? I bet you didn't see it coming!
For what it's worth, Brand24 is one of the most robust and affordable brand reputation monitoring tools. At least, according to Buffer's experts.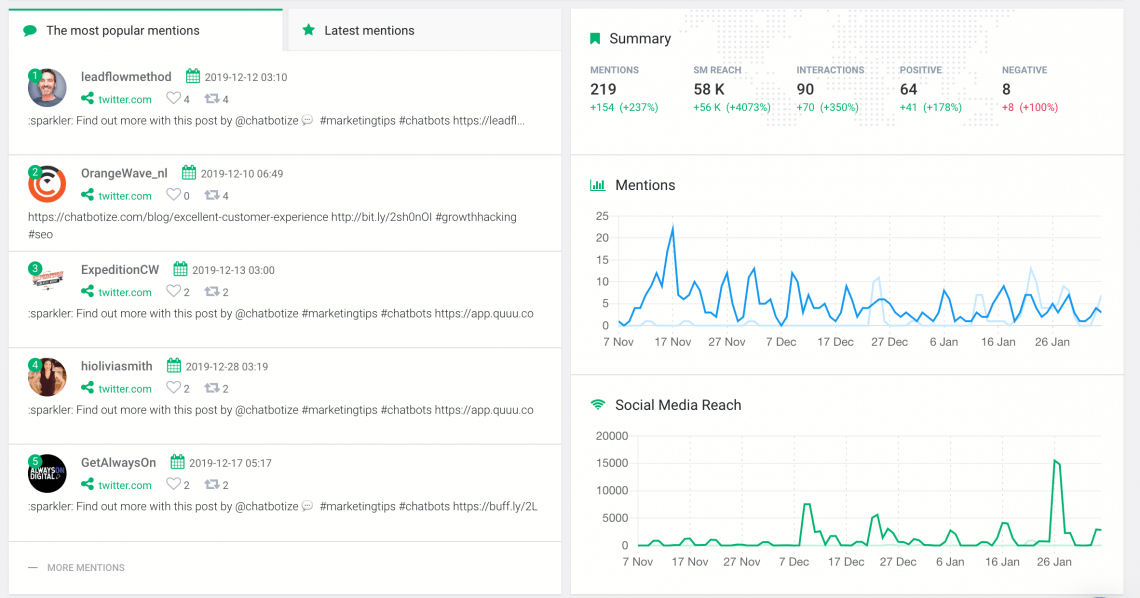 Discover brand reputation monitoring
Brand24 is a media monitoring with strong analytical features. The tool collects publicly available brand mentions in real-time. Brand24 covers:
social networks, for example, Facebook, Instagram, Twitter, YouTube, Twitch, and TikTok
review sites
blogs and forums
news sites
podcasts
newsletters
other publicly available online sources
Brand24 is a reputation management platform that collects and analyses the results. It helps you spot positive or negative mentions and react.
What features are the most useful for monitoring brand reputation online?
notifications – as I mentioned before, the key to success in online brand monitoring is to react quickly, both to negative and positive comments. In Brand24, we offer three types of notifications: email storm alerts, in-app notifications (both for iOS and Android), and integration with Slack;
sentiment analysis – which will help you determine whether the online talk about your company is positive or negative;
hashtag metrics – to see where and who talks about your company online;
PDF reports – to present the results you gathered in a clear and consistent way;
widget – to share customers' reviews on your website.
Start brand reputation monitoring! There's a 14-day free trial (no credit card required)
2. Google Alerts
Google Alerts is a great free online reputation monitoring tool for a beginner brand manager.
It's easy to manage, free, and is run by Google, which ensures reliability.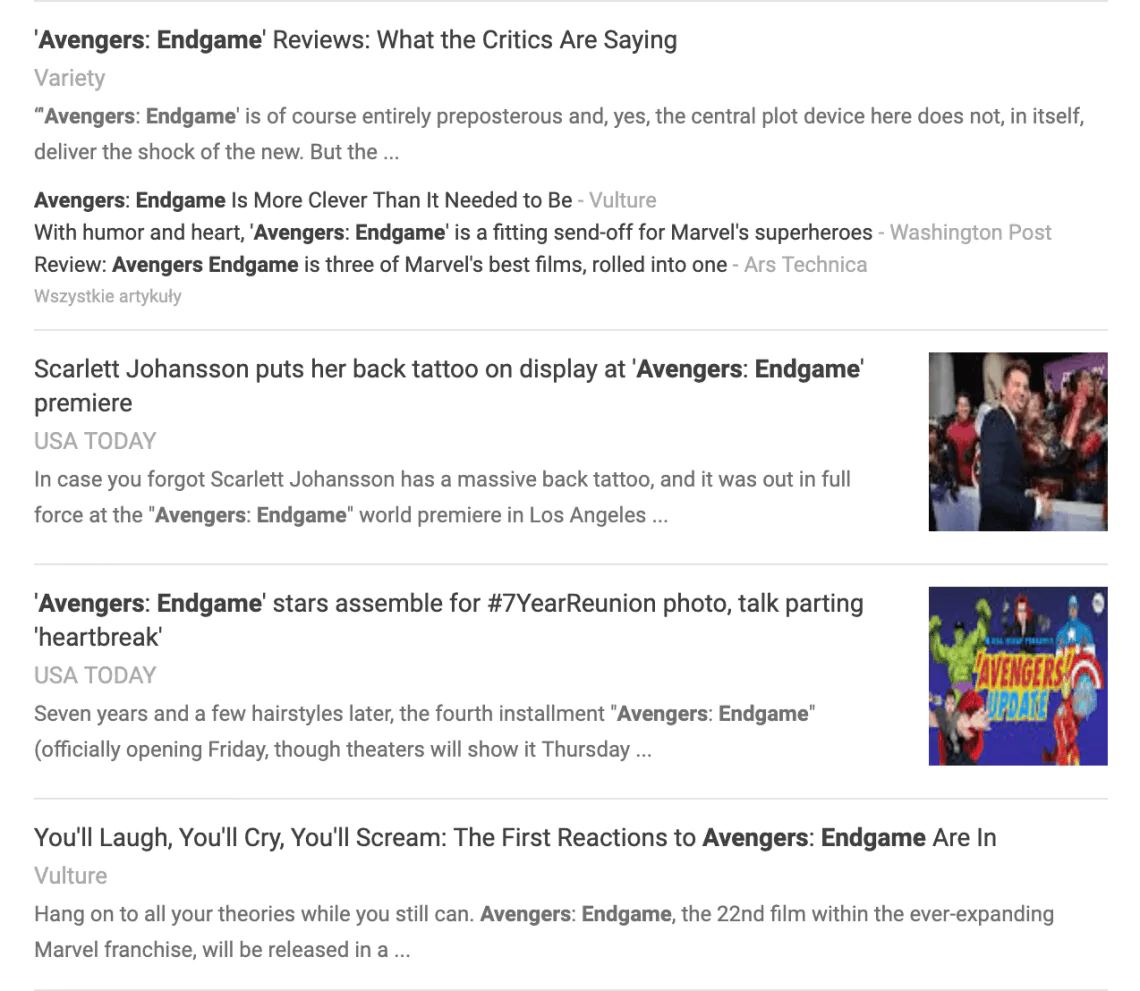 To set up a project all you have to do, is to type the keyword you'd like to monitor and provide your email address. You'll receive an email every time Google picks up a mention with your monitored keyword.
The simplicity of Google Alerts is also a curse. You can't narrow down the results; the tool won't provide any in-depth analysis, and, if you monitor popular phrases, you'll get a ton of emails you'll probably ignore. Unfortunately, Google Alerts doesn't cover social media.
Check out this article on Google Alerts alternatives.
3. Gatherup
Gatherup is a slightly different type of an online reputation management software than the two mentioned before. The tool specialises in review management.
It's a much more proactive tool than typical Internet monitoring tools. Instead of simply replying to comments left online by your customers, you can actively ask them for a review of your product.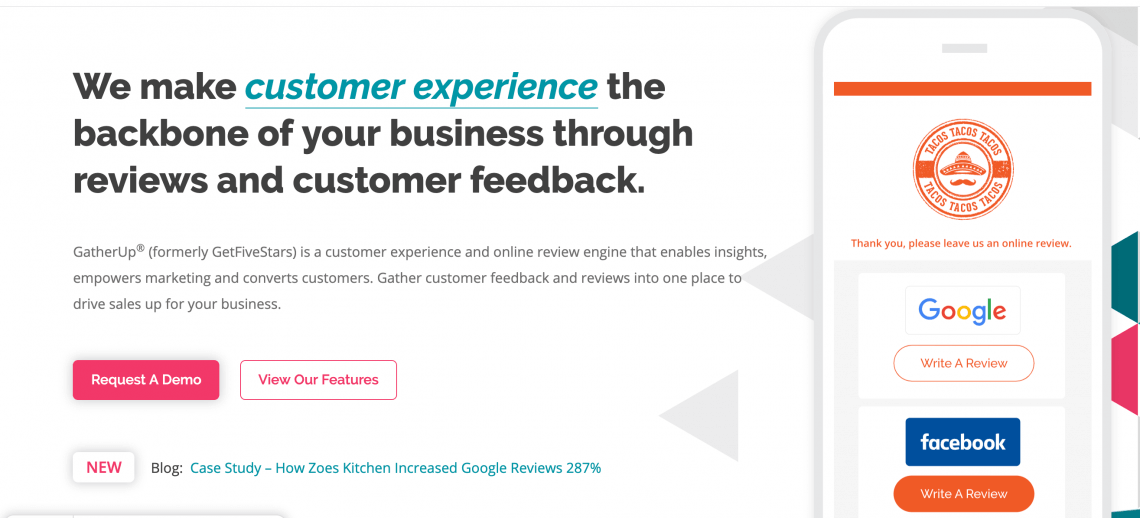 The brand reputation monitoring tool sends a personalised request to your existing customers which makes it easy for customers to leave a review you could use later.
You can never have too many customers' reviews. The numbers speak for themselves – 88% of buyers research services and products online before buying and 86% are less likely to buy from a business that has negative reviews.
Gatherup offers solutions for small businesses, businesses located in different areas, and digital agencies.
The basic plan of this brand reputation monitoring tool starts at $39.95
4. Chatmeter
Chatmeter is a great brand monitoring solution for agencies, chains and franchises, or resellers.
Its features include:
listing management
local SEO management
many more online reputation management features
Brand reputation monitoring tool notifies you about any review found on over 20 local review sites. That's a goldmine of customer insights you can use to boost your business.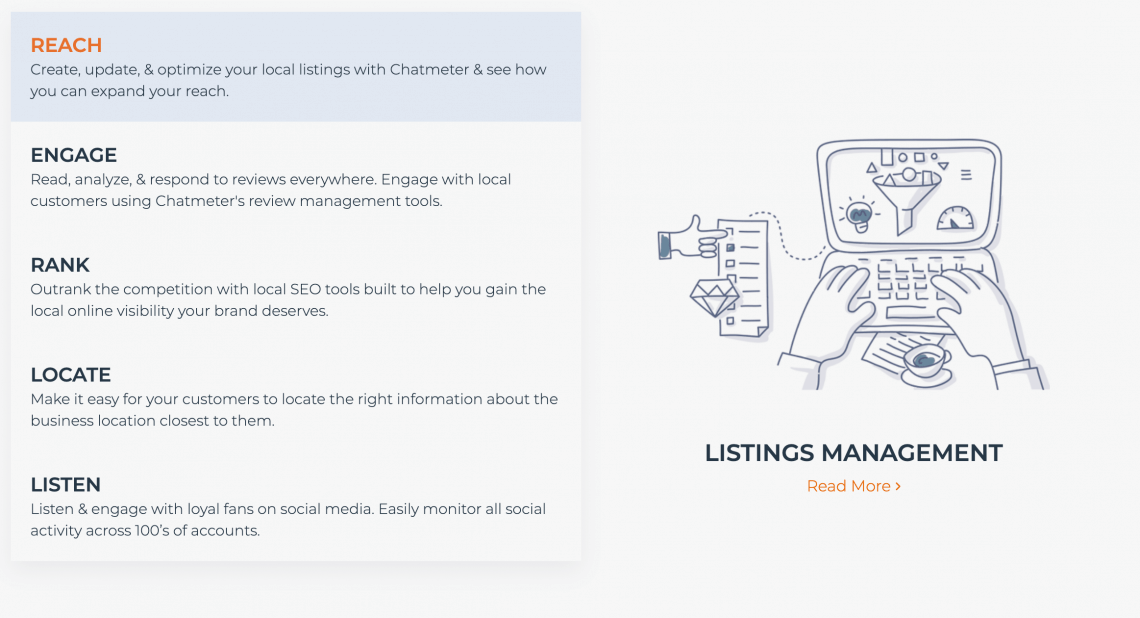 Moreover, Chatmeter allows your customers to locate the right information about the business location closest to them. If you want to focus on local activities, Chatmeter is your go-to tool.
Chatmeter pricing is customised for each brand depending on the service needed and the number of business locations.
5. Brand Yourself
Brand reputation management is not only a solution for brands. Your personal online presence can have an impact on your business as well.

BrandYourself is a review management tool. The piece of software helps you audit what is said about your personal account online and eliminate almost all negative reviews.
BrandYourself allows to:
fix unwanted Google results;
scan and delete posts from social media that might seem unprofessional;
improve your reputation score by finding out how much your online presence helps or hurts your career.
You schedule a call to get more information about different pricing plans, etc.
6. Social Mention
I would call SocialMention an in-between tool – it's a bit more sophisticated than Google Alerts, but not on the same level as more professional Internet monitoring tools.
Using SocialMention is a piece of cake. All you have to do is type the name you'd like to monitor online, and voilà! All the mentions and some basic analytics in one dashboard.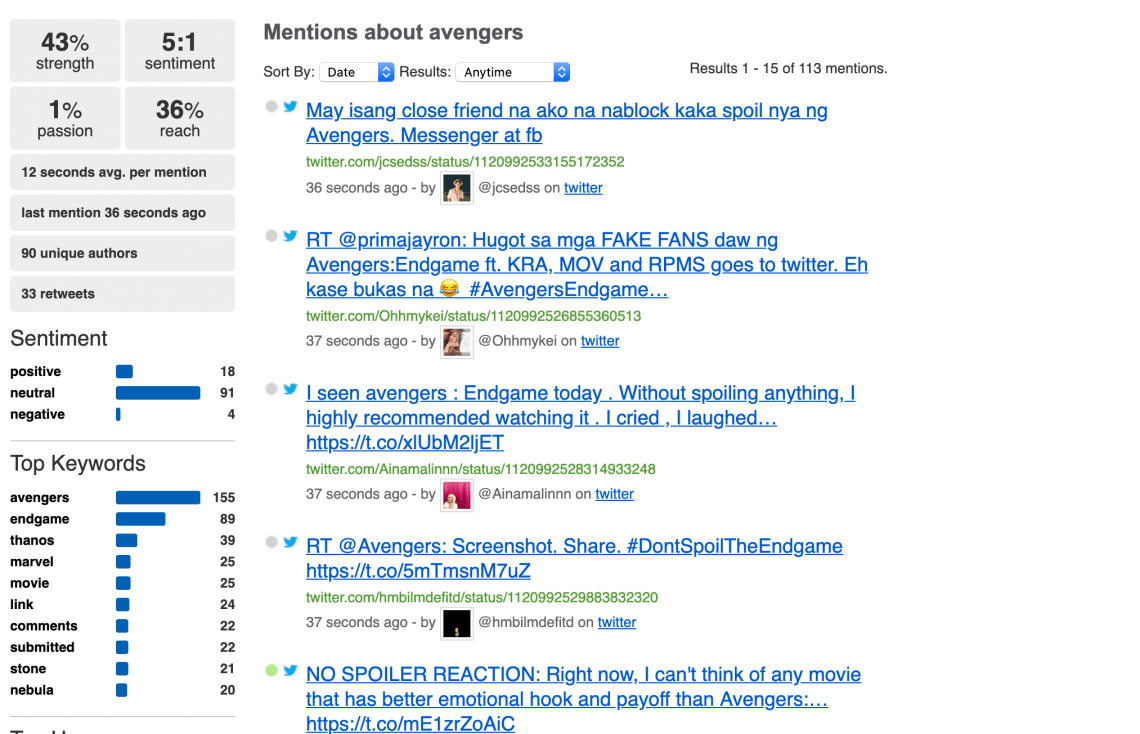 To be honest, the dashboard has some nostalgic vibe and looks like a website develop in the early 2000, but if you're not yet ready to invest in a paid brand reputation monitoring tool, SocialMention is a great starting point.
SocialMention is free brand reputation monitoring tool.
7. Grade.Us
Grade.Us is another brand reputation monitoring tool that focuses on customers reviews.
The tool is based on a "review funnel", where your customers are encourage to leave a review on review websites you care about.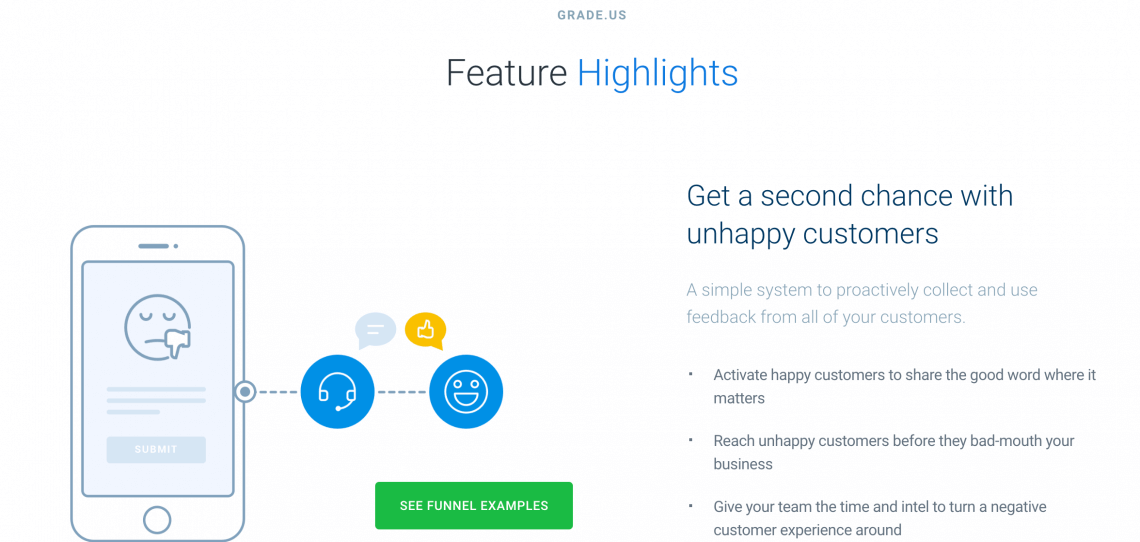 Moreover, the tool will:
collect data about your unhappy customers to understand what they would like to change in your product;
ask, remind, and guide your customers through a review process;
analyse monthly reports of your brand reputation and learn from the insights
choose reviews to show on your website.
Grade.Us offers solutions for professionals users, agencies, and enterprises. The plans start at $90 a month.
8. Review Trackers
ReviewTrackers, surprise, surprise, tracks your review online.
You can manage more than 100 review sites from one dashboard. You can create regional groups, assign users and make sure that every review is always answered.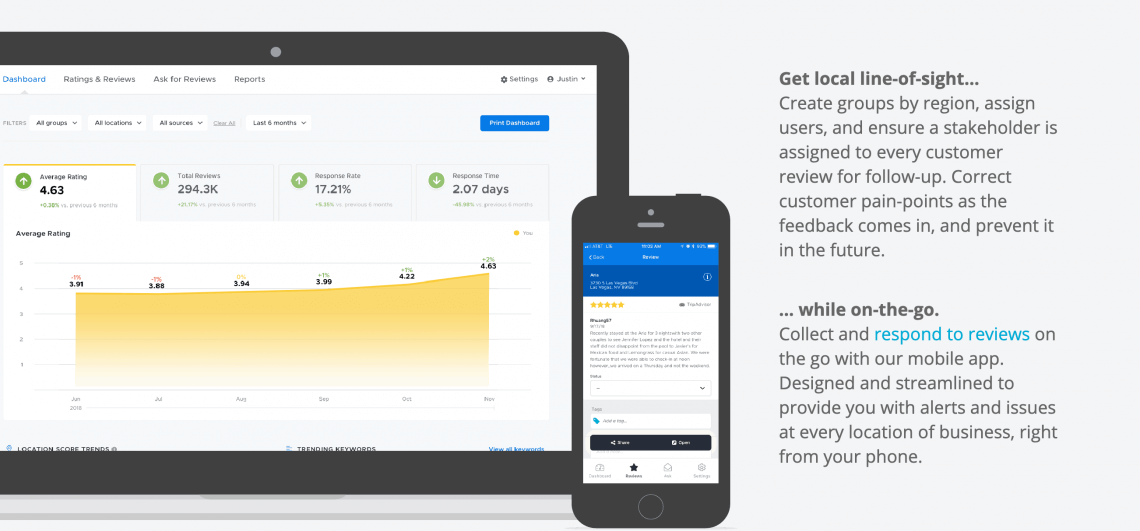 Analyse the feedback you get from your customers and prevent any pain-points from emerging in the future.
ReviewTrackers also offers mobile app that will alert you about issues at every location of business.
Moreover, the tool will also track your competitors' reviews. Keeping your finger on the pulse will help you stay ahead of your competitors and close any gaps between your product and theirs.
For pricing information, you need to schedule a demo.
9. Broadly
Broadly will make sure you look good online. Broadly sends automated messages to your customers and asks about their experience with your brand. The customer leaves a review on the website of your choosing – Google, Facebook, TripAdvisor or any other site.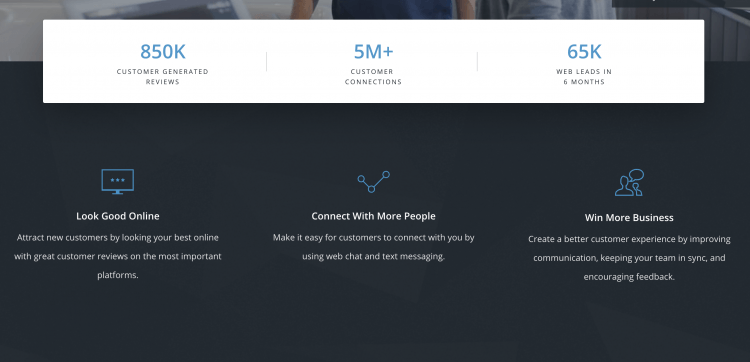 You can set up an SEO – optimised review stream which will show all 4 or 5 star reviews on your website. According to Broadly, the review stream could potentially enhance your SEO strategy.
Broadly reporting will deliver actionable insights you could act on. Your customers will leave a ton of information online, a part of your job is to listen and act on them.
Broadly pricing is available upon request.
10. Agora Pulse
AgoraPulse is mainly a social media management tool but it will help you monitor your brand reputation.
With a little help from Agora Pulse, you can monitor all relevant conversations and engage with them every time you see an opportunity to either promote your brand or turn a negative review into a positive one.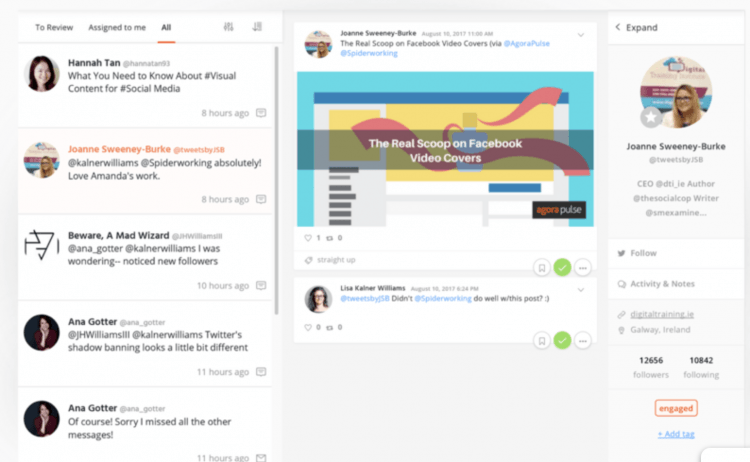 Part of monitoring your brand reputation is to be able to turn your customers into brand evangelists. To do so, you need to spark conversations on your own and monitor what is said about your brand online. Agora Pulse is just the tool to do that.
You can get an Agora Pulse account for $39 dollars.
The benefits of brand reputation monitoring
Before we delve into the nitty-gritty of brand reputation monitoring tools, let's see what are the benefits of brand reputation monitoring.
Brand monitoring can prevent and contain a brand crisis. As mentioned before, a crisis can hit you at any time and spread quickly. It's important to know what's happening around your company. Brand reputation management will help you with that.
Maintaining a positive brand reputation will build customers' trust. People base their decisions on research they make before purchase. Monitoring what is said about your brand online will help you build your brand reputation.
Learn about your customers' likes and dislikes. Monitoring online reputation can provide valuable insights that will help you deliver the best customer experience possible.
Monitor your brand online! Create your first project
Reputation monitoring and online reputation management
There is a difference between brand reputation monitoring and online reputation management.
Brand reputation monitoring focuses mainly on passive monitoring of online review sites, social media, forums, newsletters, podcasts, and any other publicly available online mentions. You usually use a reputation tracking tool for the job. A good free option is Google Alerts, although they don't cover social media channels.
On the other side of the spectrum, there is online reputation management.
Reputation management software I've seen, besides only tracking negative reviews, will give you actionable insights what to do next. The tools will present detailed analytics or a reputation meter that will help you improve your customer service, conduct product research, and manage customer feedback.
Track your brand online! Start your free trial!
Online reputation management helps businesses stay none step ahead of their competitors, especially when it comes to managing customer experience.
Managing your brand reputation is not an easy task. You have to constantly monitor your online presence across social media and beyond, analyse the results of media monitoring, and implement necessary changes.
That's a lot of work. To make it more manageable, you need robust online reputation management tools. Take a look at our selection!
Why are online reputation management tools important?
The more our lives shift to the online world, the more attention you have to pay to what it's said about your company on the Internet. Brand reputation monitoring will help you convert even more customers and stay ahead of your competitors.
Your brand's reputation is one of the most important assets you have. Monitoring online reviews across the Internet is the first step in managing your reputation. Remember that the number of online reviews will only grow in the future, so having an online reputation monitoring tool in your stack will become inevitable.
Choosing the best online reputation management tool will help you boost your brand's reputation.
Monitoring brand mentions manually would be almost impossible. Brand reputation monitoring tools not only automatically track tons of different sources, but also make it possible to reach hard-to-find mentions of your company, for example, the ones that you are not tagged in.
These tools make brand reputation management very efficient as they help you respond to reviews or posts about your company in real-time. Most of the online monitoring solutions can send you e-mail alerts or push notifications as soon as a negative mention comes along. Brand24 can even deliver alerts into a dedicated Slack channel if you wish.
HANDPICKED RELATED CONTENT
FAQ
What is brand reputation monitoring?
Brand reputation monitoring involves using various tools and techniques to track and analyze your business's online presence, public perception, and sentiment across different channels, including social media, review sites, and news articles. By employing online reputation monitoring tools, businesses can gain valuable insights into their brand's performance, identify potential issues, and develop a proactive reputation management strategy to maintain a positive image and protect their business reputation.
How do you measure brand reputation?
Measuring brand reputation involves tracking and analyzing various metrics, such as brand sentiment, online reviews, social media mentions, and customer testimonials. Businesses can use online reputation monitoring tools to collect and analyze this data, enabling them to assess their brand's online reputation and identify areas for improvement. Additionally, monitoring industry-specific review sites and gathering customer feedback can provide valuable insights into your brand's performance and reputation.
What are the 3 categories of tactics for reputation management?
The three categories of tactics for corporate reputation management are:
a. Proactive: Implementing a strategy to build and maintain a positive brand image, including content creation, social media engagement, and community involvement.
b. Reactive: Responding to negative sentiment or crises, such as addressing customer complaints, resolving issues, and communicating transparently.
c. Recovery: Implementing measures to repair a damaged reputation, including addressing the root causes, rebuilding trust, and re-establishing a positive brand image.
These tactics ensure that your reputation management impacts your business positively and maintains a strong brand presence.
What is ORM in branding?
ORM (Online Reputation Management) in branding refers to the process of controlling and influencing a brand's online presence by monitoring, managing, and improving its reputation across various digital channels. ORM involves tracking and analyzing online reviews, social media mentions, customer testimonials, and other relevant online content to protect and enhance a brand's image.
What are the principles of brand reputation?
The principles of brand reputation include:
a. Consistency: Maintaining a uniform brand message and identity across all channels.
b. Transparency: Openly communicating with customers and stakeholders about your business practices and decisions.
c. Responsiveness: Addressing customer concerns, feedback, and complaints promptly and effectively.
d. Authenticity: Building genuine connections with your audience and demonstrating your brand's values.
e. Proactivity: Regularly monitoring your brand's online presence to identify potential issues and opportunities for improvement.