Brandwatch alternative: Brand24
February 10, 2021 ・ 6 min read
Brandwatch is a leading social listening software, that is very advanced and targeted to enterprises and big corporations. Small and medium businesses may be looking for Brandwatch alternatives that offer equally valuable data and insights but are much cheaper. Is Brand24 a good alternative to Brandwatch then?
Finding an alternative to an expensive media monitoring tool is a challenge. Free alternatives, such as Google Alerts, often do not offer much data or analytics that would help you discover interesting data and draw actionable insights.
The best solution, in this case, is choosing tools that are more affordable but still advanced at the same time. Brand24 is a social listening software that matches this description, so it seems to be a good alternative to Brandwatch.
Keep reading if you are interested in seeing the comparison, learning how Brandwatch and Brand24 differ from each other and if they are good alternatives to each other.
Here is a little agenda of what we will be looking into in this article:
Brandwatch alternative: Overview
Brandwatch is a social listening tool that is used by World's biggest brands. It is one of the most known monitoring software.
Brandwatch has grown throughout the years and is now a digital consumer intelligence company which offers a wide range of products that serve for various purposes. Brandwatch sells six different products: Consumer Research, Audiences, Vizia, Qriously, Reviews and BuzzSumo.
Brandwatch serves for:
Brand Management
Crisis Management
Trend Analysis
Market Research
Digital Transformation
Customer Data
Social Media Analysis
Competitors Research
Brandwatch is a multi-purpose solution, but its main mission is to help companies understand themselves, their customers, and market.
The piece of software collects data from many various online sources and analyse every mention in-depth.
Brand24 is a social listening tool used by thousands of brands of all sizes. It is an accessible, widely known alternative to more pricey monitoring solutions because it performs equally well.
Brand24 offers monitoring, analytical and reporting functions. Its main mission is to identify and analyze online conversations relevant to businesses, and deliver insights, grow customer satisfaction and drive sales.
Brand24 can be used by many different professionals – PR professionals, marketers, or business owners. It is one of the best alternatives to Brandwatch, since it also focuses on monitoring, but can be used for various purposes.
What also makes it promising is its affordability that comes along with advanced analytics, data, and tool's possibilities.
The main purposes of Brand24:
Protecting and managing online reputation,
Preventing a PR crisis,
Improving relations and communication with customers,
Measuring your marketing / PR effort,
Hashtag and campaign tracking,
Analysing social media marketing
Finding brand ambassadors and influencers,
Monitoring competitors and researching the market,
Discovering customer insights on products and services.
Brandwatch and Brand24's purposes overlap, thus it might be a good beginning to finding alternatives to Brandwatch. The only difference I see on this stage is the type of clients both of these solutions target.
Try #1 alternative to Brandwatch
Since Brandwatch is more of a pricier tool, it is definitely made for big corporates and enterprises. Brand24 can be used by both small, medium, and large companies as it offers a flexible selection of functions and pricing plans.
Features
Both tools are similar when it comes to their features. Brandwatch offers even more analytics and metrics, but it all comes with its higher price. Brand24 gives you many exact same possibilities as Brandwatch but is much cheaper.
I decided to show the comparison of features in the following table.
| | |
| --- | --- |
| BRANDWATCH | BRAND24 |
| Social Media Monitoring | Social Media Monitoring |
| Sentiment Analysis | Sentiment Analysis |
| Influencer Identification | Influencer Identification |
| Competitor Analysis | Competitor Analysis |
| Report Customizability and Exporting | Report Customizability and Exporting |
| Email Alerts | Email Alerts and Push Notifications |
| Demographics | ✕ |
| ✕ | Mobile App |
| Hashtag Tracking | Hashtag Tracking |
| Analytics | Analytics |
What makes these two solutions different the most are the Monitored Platforms and the number of Metrics that they offer. That's why I figured I would give a little more details on these two aspects.
Check sentiment around your company
Monitored platforms
Brandwatch monitors traditional media such as video sites, blogs, forums, and news sites. As far as social media are concerned, Brandwatch users can track Reddit and Facebook, Instagram, and Twitter channels. You can also track data from your competitors social media channels.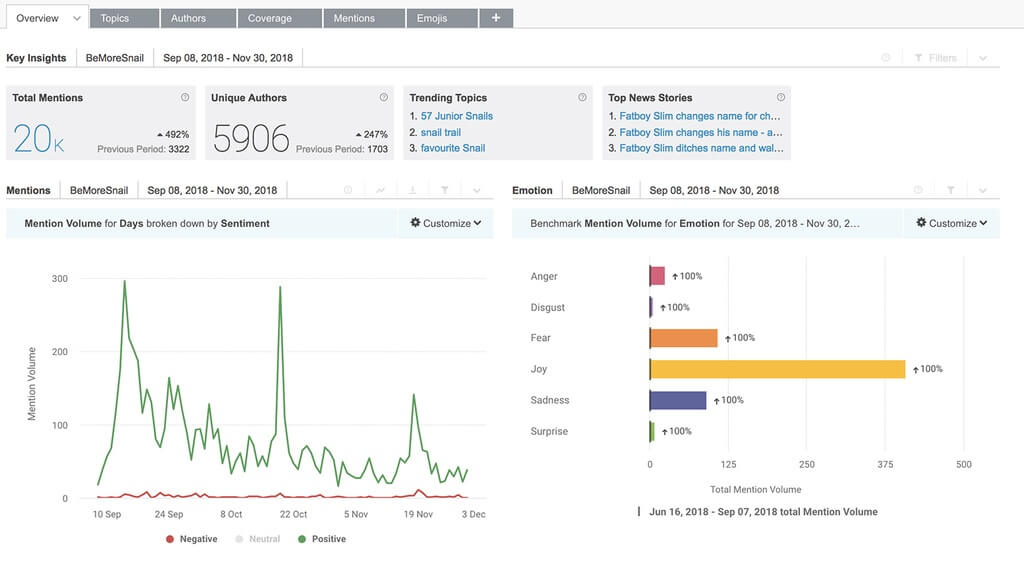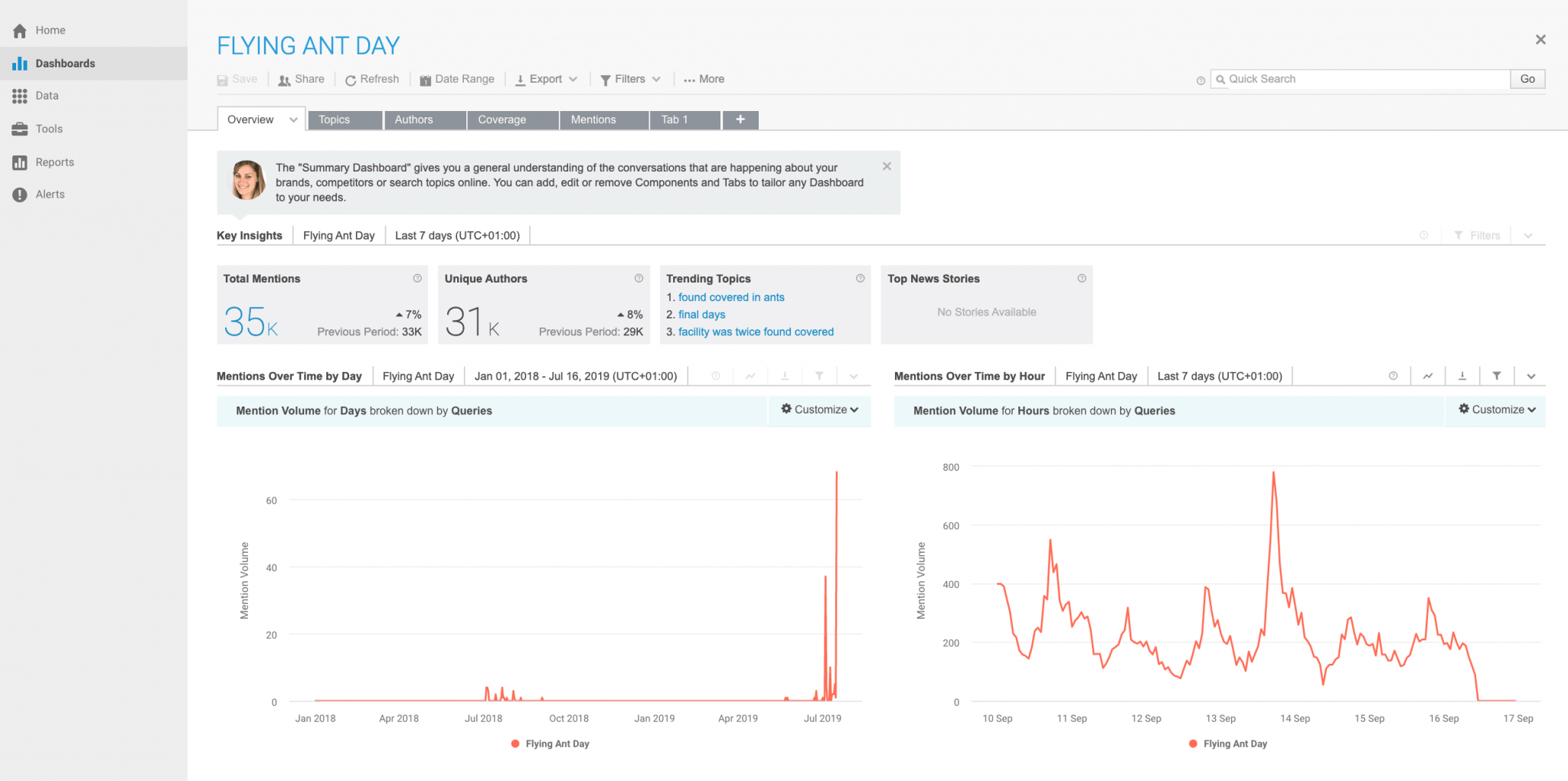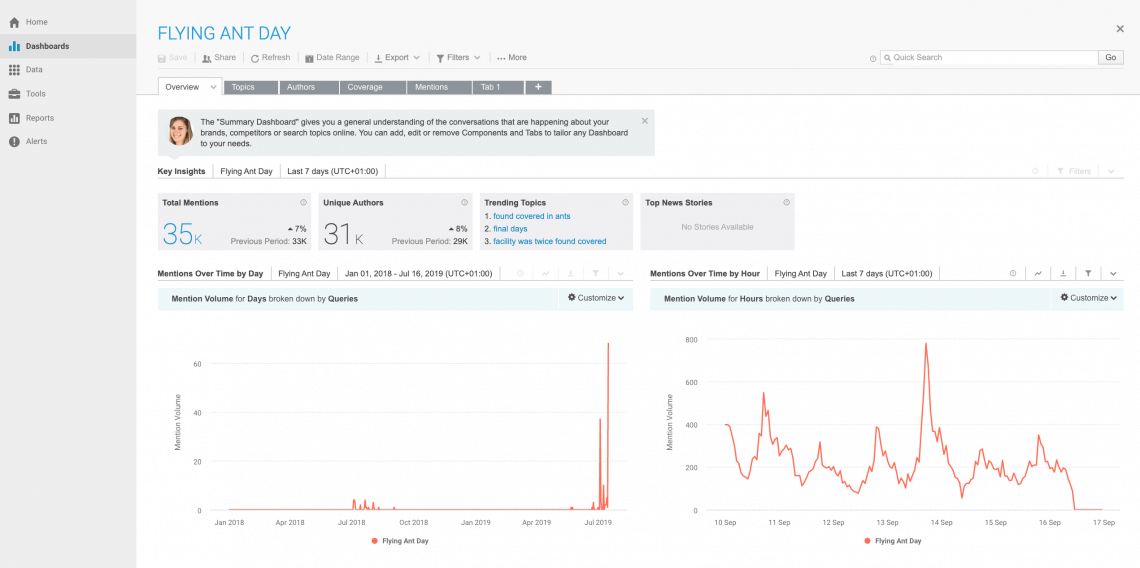 Brand24 monitors more sources since it offers podcasts and newsletters monitoring apart from covering blogs, forums, news sites, review sites.
When it comes to social media, Brand24 offers Facebook, Instagram, Twitter, Youtube, TikTok, Twitch, Reddit monitoring.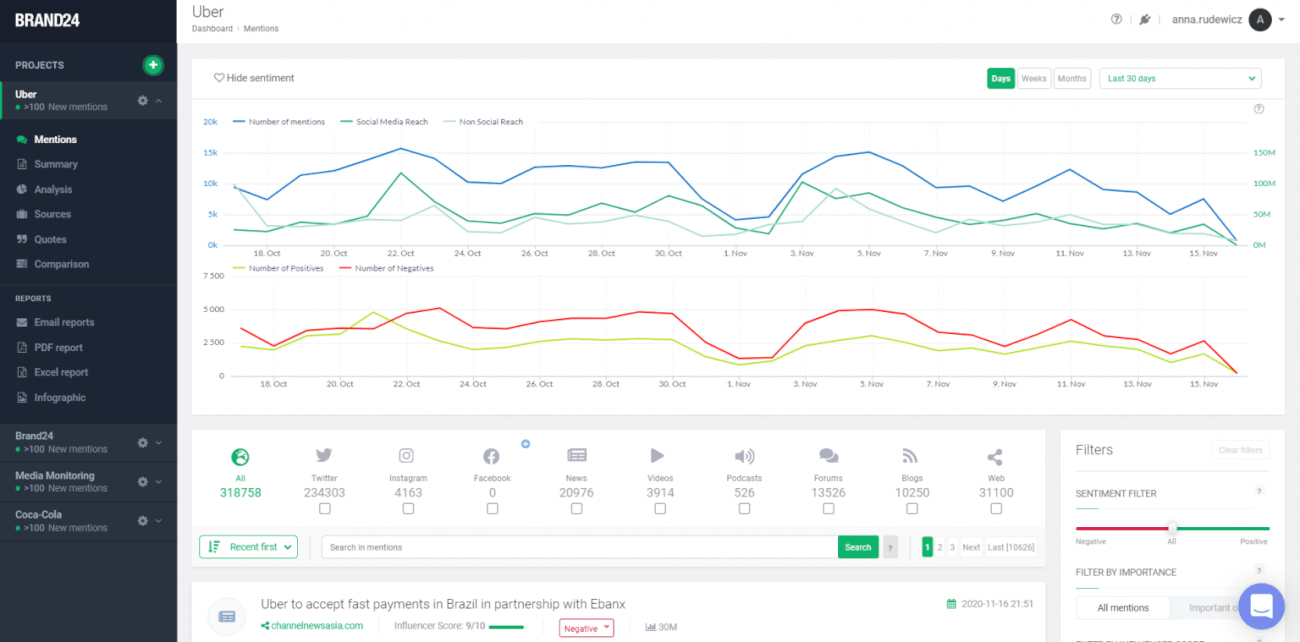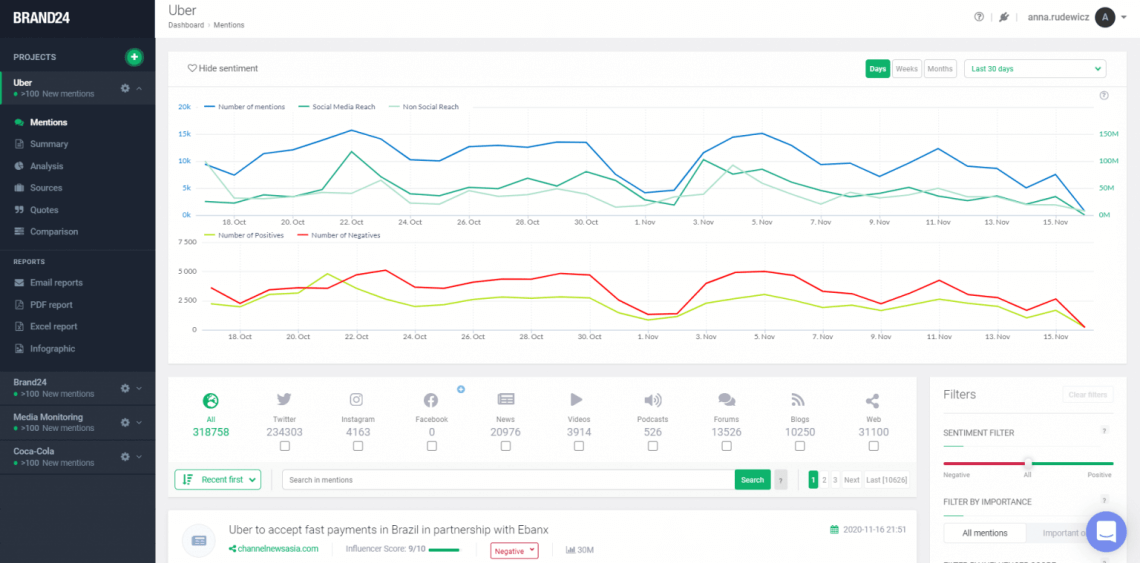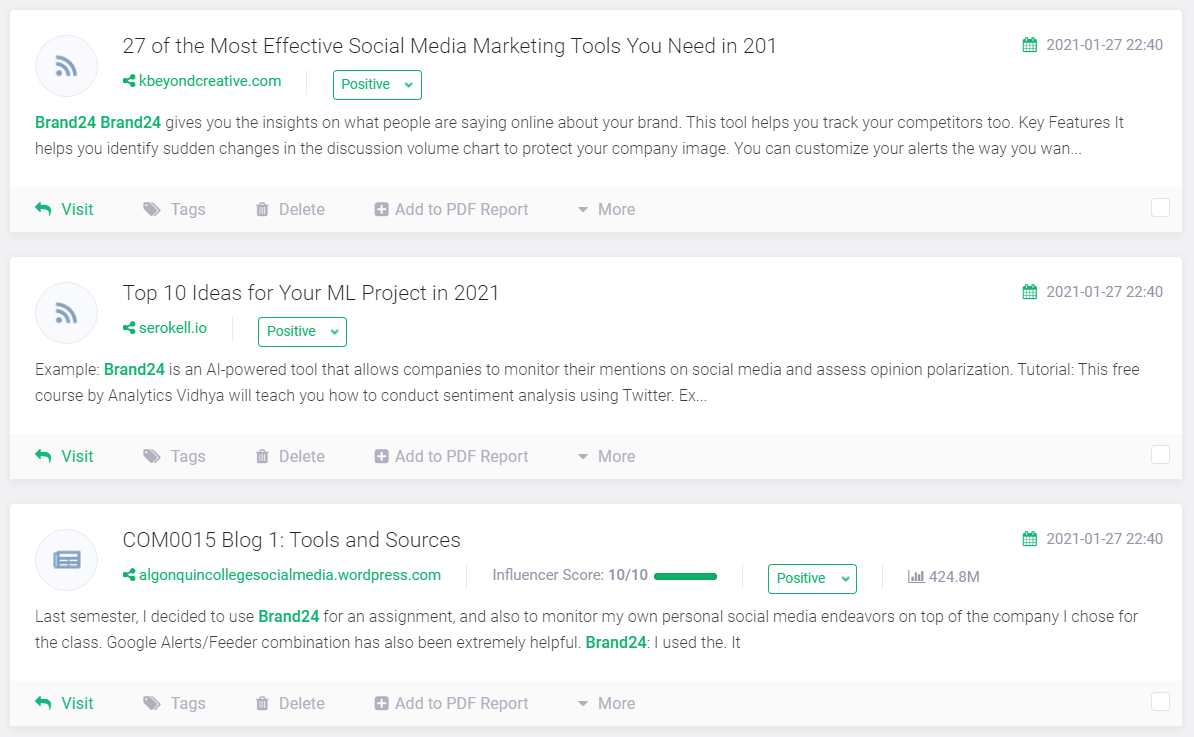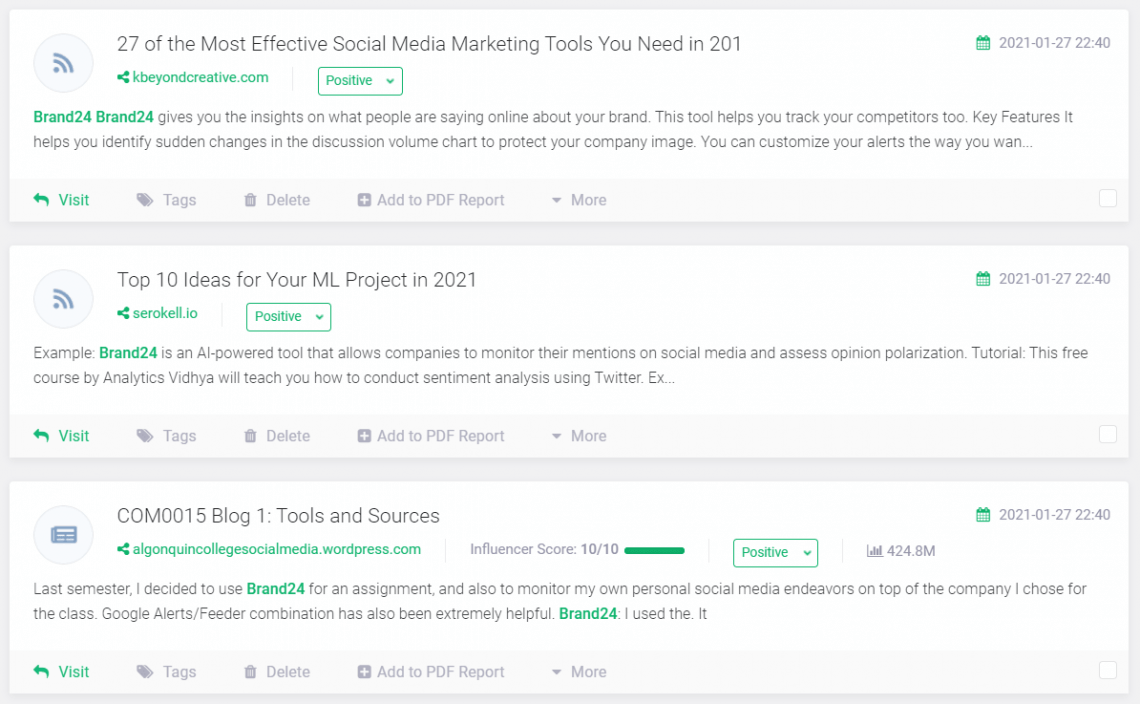 Metrics
Brandwatch offers a huge amount of measurements that help to discover insights and control a brand's online performance. Example metrics that you'll find inside Brandwatch's dashboards are:
influence,
sentiment,
word cloud,
demographics,
volume of mentions,
number of unique authors,
engagement,
trending topics.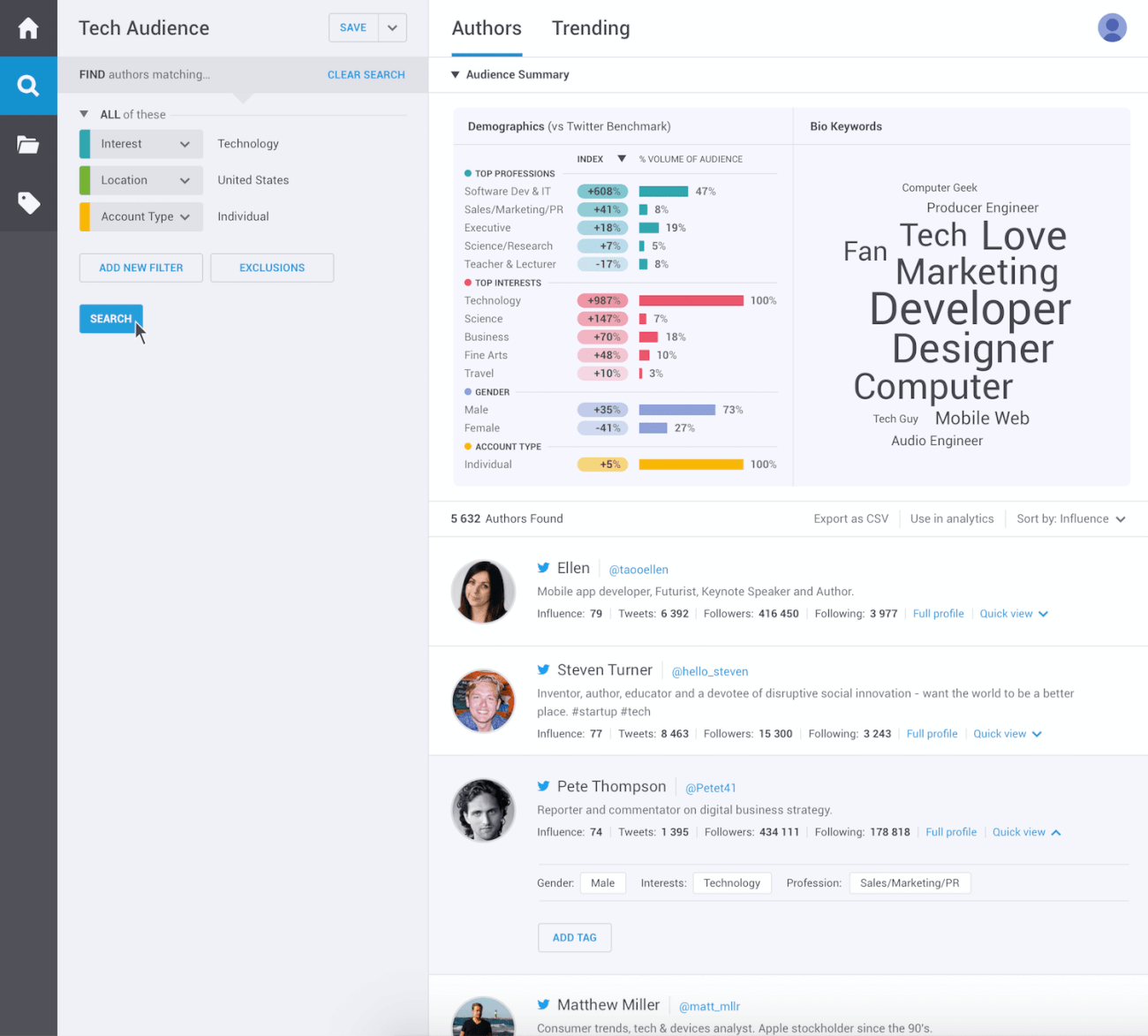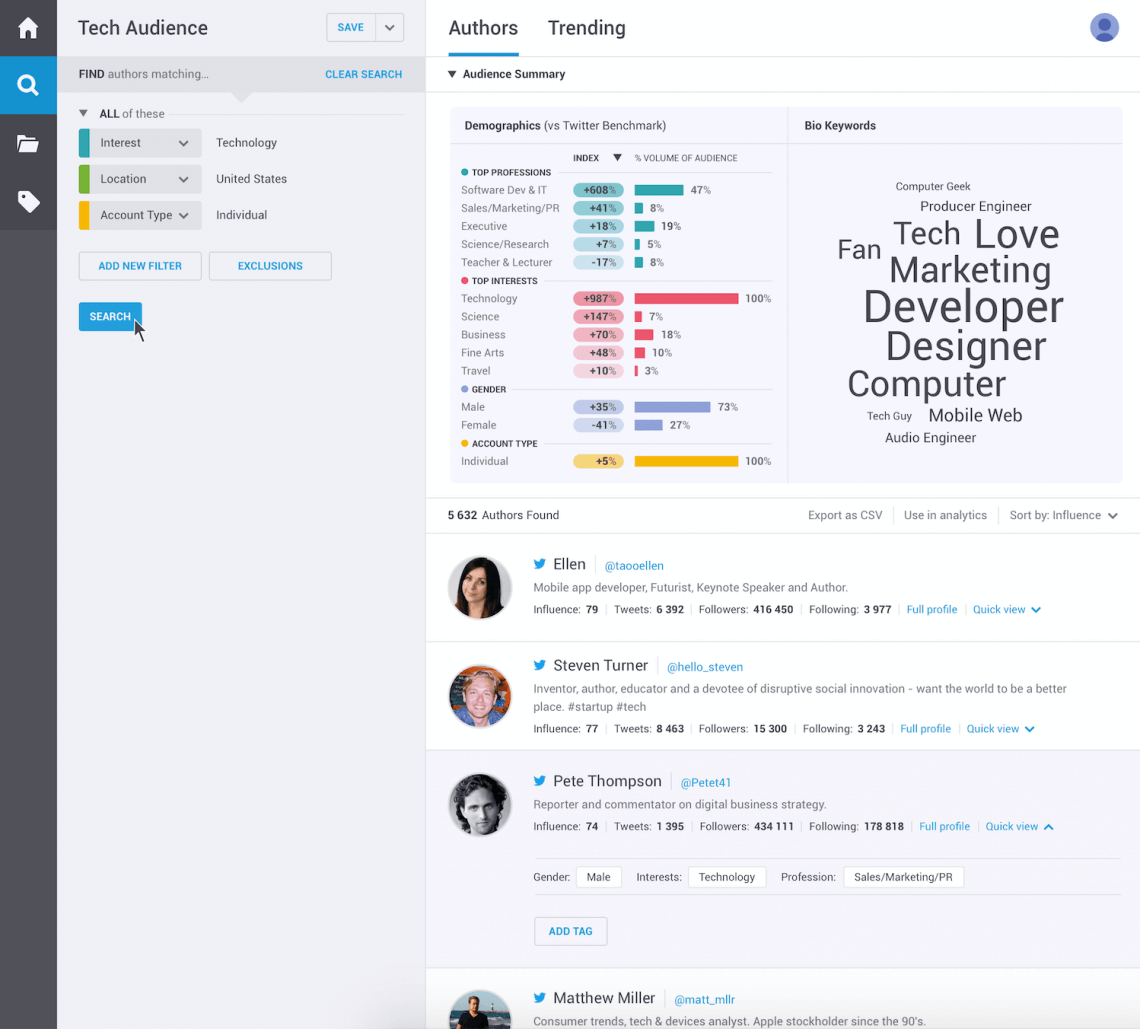 Brand24 offers a smaller amount of metrics, but they are equally valuable in my biased opinion. Presence score, Influence Score, interactions, volume of mentions (Social media reach, Non-social reach), number of mentions, sentiment, word cloud, trending hashtags, AVE – Advertising Value Equivalent.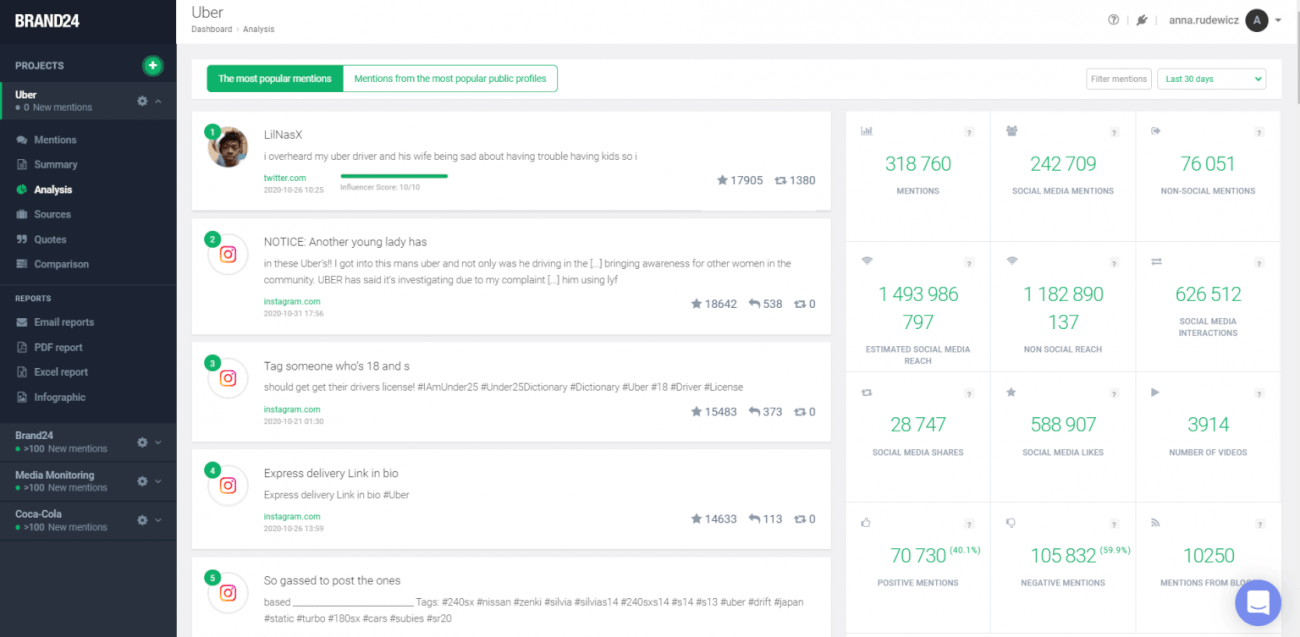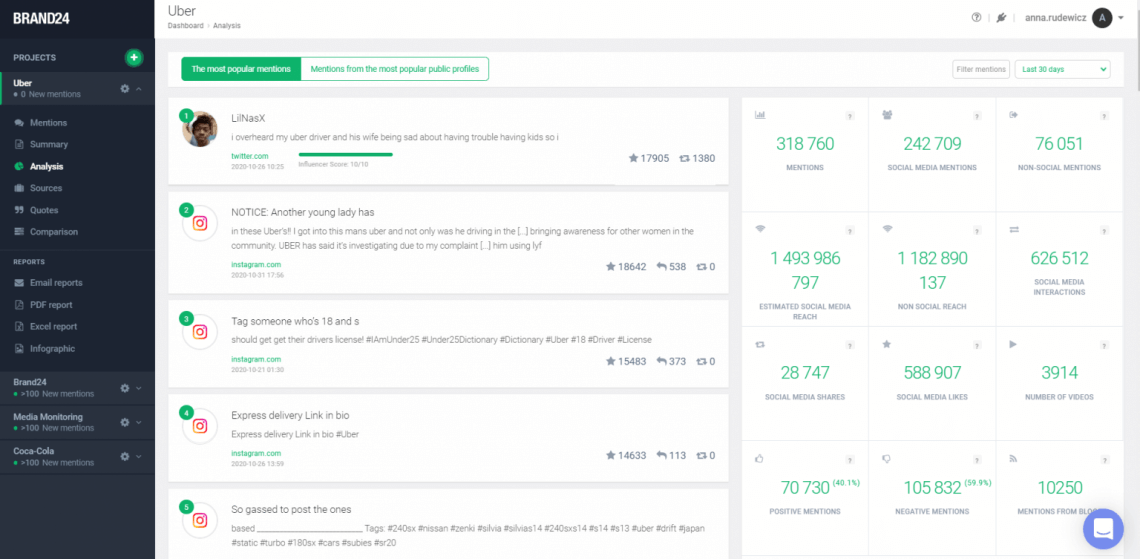 Pricing
Brandwatch does not offer a free trial. If you want to get more details about the tool, you can book a meeting and get a demo that includes a demonstration of Brandwatch and a discussion with an expert.
There is no information about Brandwatch's pricing on its website. While doing my research, I found various information about the pricing. One of the sources says Brandwatch starts at $1,000 per month for 10,000 mentions.
You don't need much information though to presume that Brandwatch is one of the more expensive monitoring solutions.
It is targeted to big companies that can afford tools that cost thousands of dollars yearly. If you run such a brand or work for one, you can definitely consider it, taking into consideration that Brandwatch will surely provide you with a good amount of data, analytics and insights.
On the other hand, if you don't want to spend that much budget or you own a smaller business, you may make use of Brandwatch alternatives. Since in this case, we are having a closer look at Brand24, let's take a look at its pricing.
Brand24 offers three pricing plans. In my biased opinion, it is really convenient, because right from the beginning you can choose the option that suits you best, without having to reach out to anyone. If you need more – no problem! Brand24's Team is always there if you want to personalize your plan and pricing at the same time.
First plan called Individual costs only $49 dollars per month. 
Second one called Team costs $99 per month. This plan gives you 5k mentions/month. Brandwatch gives you ten times fewer data for over ten times higher price (shocking, isn't it?) 
Third plan Pro costs $149 and gives you 25k mentions per month.
Fourth plan called Enterprise, which includes all the features and maximum of data and analytics, costs $249 dollars per month.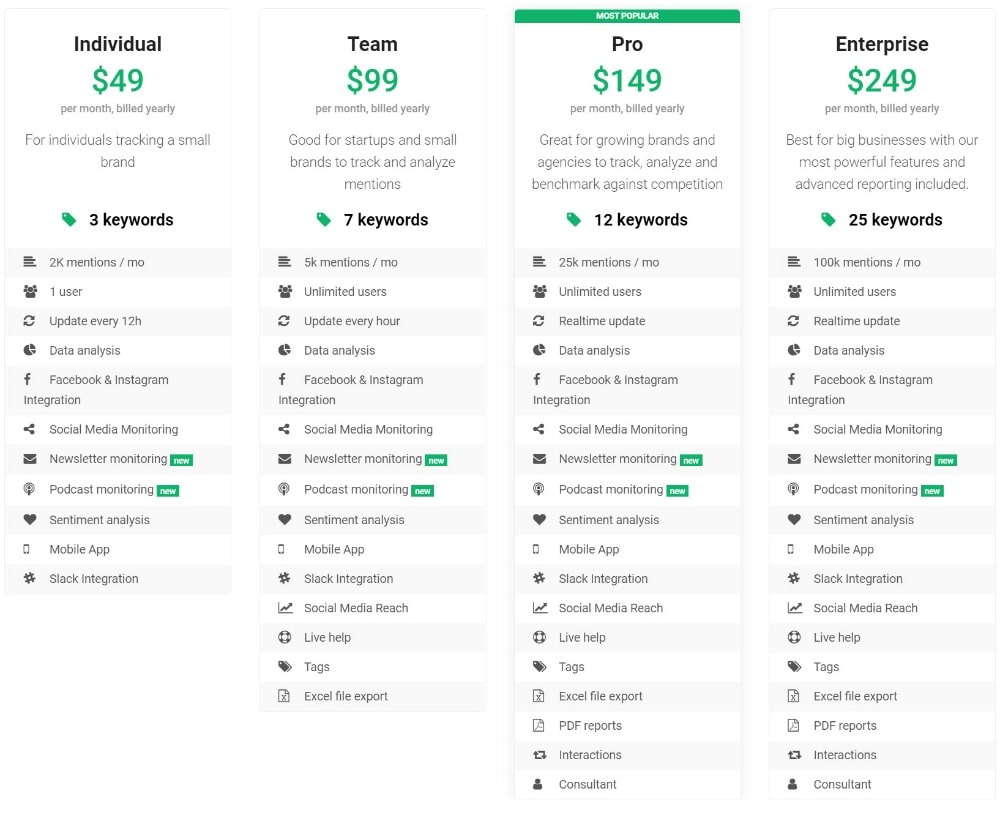 Brand24 offers a free trial in comparison to Brandwatch. The 14-day free trial makes it easier to test the tool and check if it matches your needs and expectations.
Reviews
Brandwatch and Brand24 both have great reviews on popular sites, such as G2 or Capterra. They also have more reviews compared to other monitoring solutions. The number of opinions and their overtone can be treated as social proof, that can help you make the decision which tool should you choose.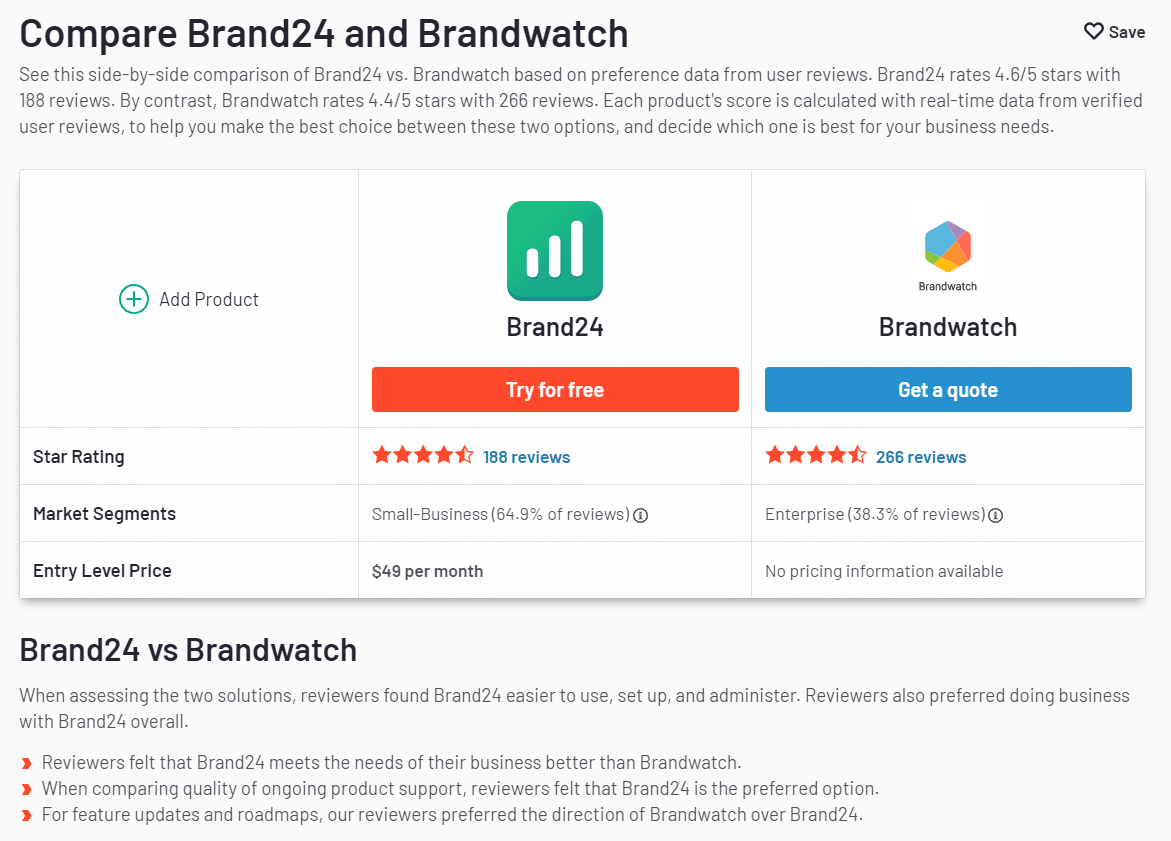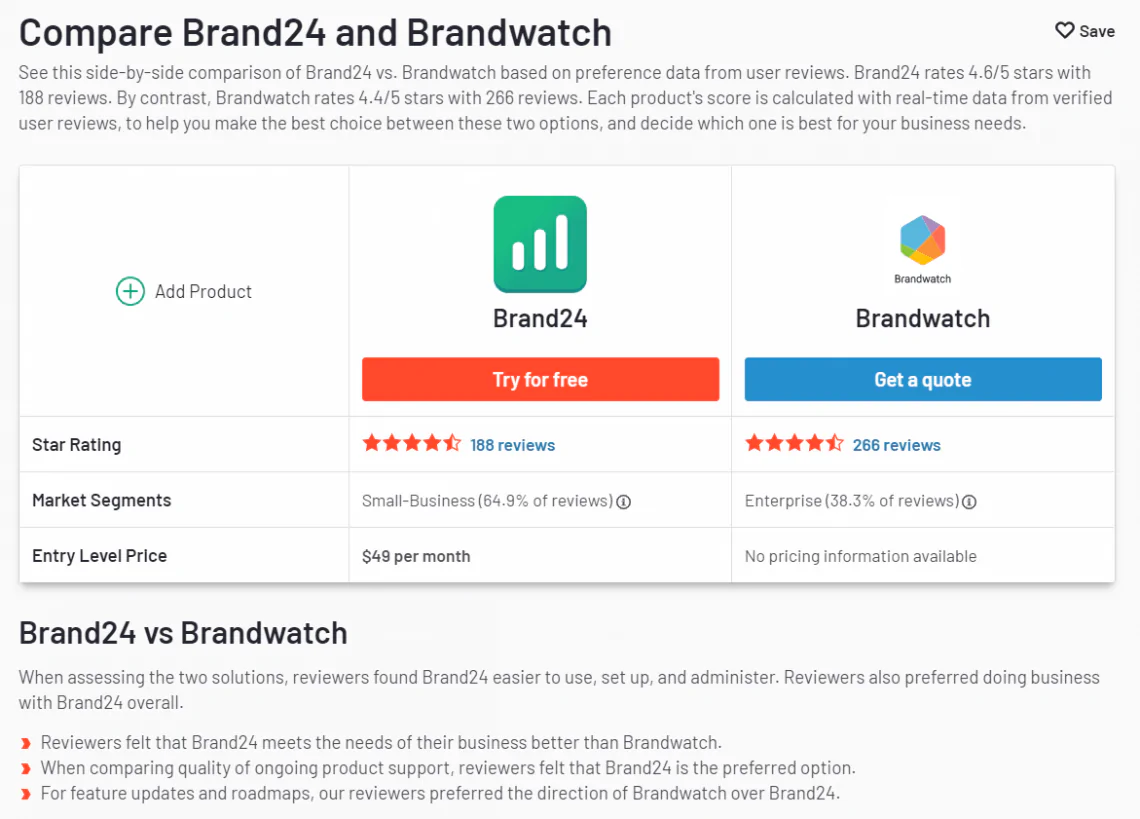 What media monitoring tool should you choose?
Brandwatch is a leading social listening tool that is very valuable and effective. It surely provides its users with powerful insights, since it not only delivers the data but also analyzes it to get companies a better understanding of their performance and their clients' perceptions.
One of the things that I can consider as a Brandwatch's disadvantage is its price. Let's be honest, this monitoring tool is an expensive one.
For many businesses it may be too pricey, that's why they may be interested in Brandwatch alternatives – solutions that offer similar features and possibilities, but are definitely cheaper.
After this comparison, which I can consider as fair and unbiased as it could be, I feel brave enough to write that Brand24 is a good alternative to Brandwatch. Why?
Brand24 is at least 10 times cheaper than Brandwatch.
Brand24 offers similar features to Brandwatch.
Brand24 offers analytical and reporting features like Brandwatch.
Brand24 has equally great reviews as Brandwatch.
Brand24 and Brandwatch both deliver a good amount of data, powerful metrics, and important insights.