4 Quick & Easy Steps to Start Competitor Monitoring
September 6, 2023 ・ 16 min read
In the last 30 days, Reebok received over 9200 mentions, 1600 of them are positive, 430 negative, and the rest are neutral. 34% of mentions come from X (Twitter), and 29% from Instagram. The overall sentiment of a brand is positive, and it has a pretty nice Presence Score.
How do I know all those insights? I set up a competitor monitoring project using the social listening tool. You can do it as well.
Table of contents:
What is competitor monitoring?
Competitor monitoring, also known as competitor analysis or competitive intelligence, is the process of systematically gathering, analyzing, and using information about competitors to improve a company's competitive advantage.
This process involves identifying who your competitors are and understanding their strategies, strengths, weaknesses, products, and customer experiences.
Key areas of competitor monitoring:
Products and services
Pricing strategies
Mentions
Sentiment
Online presence
Online reputation
Market position
Marketing campaigns
Marketing strategy
SEO strategy
Sales channels
Tools and software
Try the best competitor monitoring software!
Social media competitor monitoring
Social media competitor monitoring is the practice of tracking, observing, and analyzing your competitors' activities on social media platforms. It involves tracking and evaluating their online presence, engagement levels, content strategies, and audience interactions across various social media platforms.
The goal of social media competitive monitoring is to gain a deeper understanding of your competitors' tactics and identify opportunities for improvement in your own social media strategy.
To conduct a social media competitor monitoring analysis, you need a solid tool that tracks key social media platforms. For example, Brand24 monitors Instagram, TikTok, Facebook, LinkedIn, X (Twitter), YouTube, Reddit, Quora, and Twitch.
By monitoring the social media profiles of your competitors, you can:
Discover which platform delivers the most mentions,
Discover which platform is the main source of reach,
Monitor engagement metrics, such as likes, comments, shares, etc.,
Find out which platform is the source of positive and negative mentions,
Detect what is the impact of social media on AVE,
Gain valuable insights about their followers,
Analyze their hashtags,
Track social media campaigns,
Detect emojis that are mostly used by their target audience,
Identify influencers that talk about their brand and products,
Analyze what emotions competitors indicate on social media platforms.

Start social media competitor monitoring!
How to monitor competitors? 4 steps
Below are some steps to start competitor monitoring effectively:
Step 1: Identify your competitors
Identifying your top competitors is the first crucial step in competitive monitoring.
Direct Competitors: These companies offer the same products or services as you do.
Indirect Competitors: These businesses offer slightly different products or services but serve the same need or target audience.
Potential Competitors: These companies are not currently in your market but could enter it anytime.
There are many ways to identify your rivals. You can do it through search engines, industry reports, social media, customer surveys and feedback, networking, or tools.
To quickly find direct competitors, you can use a free website traffic analytics tool, Simlarweb: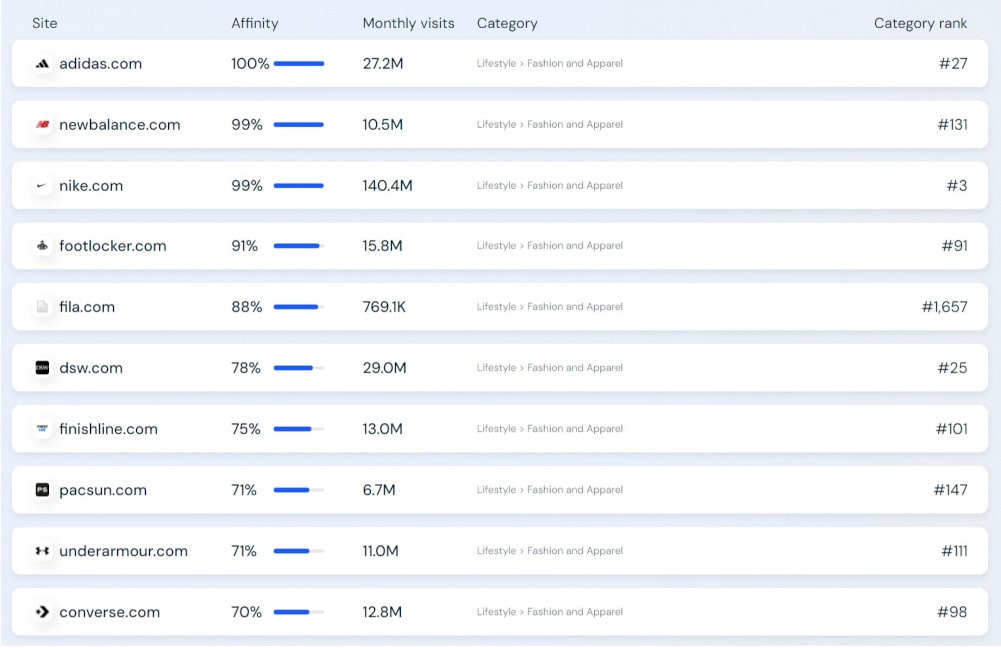 Step 2: Determine what to monitor
Determining what aspects of your competitors to monitor depends on your business objectives, the nature of your industry, and the resources you have at hand.
This could include:
Product Features
Pricing Strategies
Mentions and sentiment
Marketing Campaigns
Reputation
Customer Reviews
Website and User Experience
Social Media Activity
Sales Tactics
Employee Satisfaction
Market Share
Tips for prioritizing:
If you're new to competitor monitoring, it might be best to start with a few key aspects and then gradually expand your scope.
Make sure what you're monitoring aligns with your business objectives.
Be mindful of the time and resources you can realistically dedicate to competitive monitoring.
Step 3: Choose competitor monitoring tools
There are many valuable competitor monitoring tools you can use. Some of the best ones include:
Brand24 for mentions monitoring
SimilarWeb for website traffic analytics
Google Trends for trend tracking
Ahrefs for SEO analysis
Rival IQ for social media comparison
vidIQ for tracking YouTube competitors
BuzzSumo for tracking competitors' content
Visualping for monitoring website changes
Wide Narrow for competitive advantage
Wappalyzer for technology detecting
SparkToro for audience insights
Boardfy for monitoring competitors' pricing strategies
Owler for financial analysis
iSpionage for tracking ad campaigns
Owletter for email monitoring
As you can see, each of those tools has its purpose. You will probably need a few of them to track all critical competitor data points.
One of the most efficient ways to monitor competitors is to track their mentions, which results in discovering many valuable insights, such as:
Discovering what are the main sources of online buzz,
Tracking online reputation and presence,
Detecting whether the target audience talks about them in a positive or negative way,
Detecting how their marketing and hashtag campaigns are doing,
Analyzing key metrics,
Checking topics their target audience talks about,
Discovering their discussion leaders.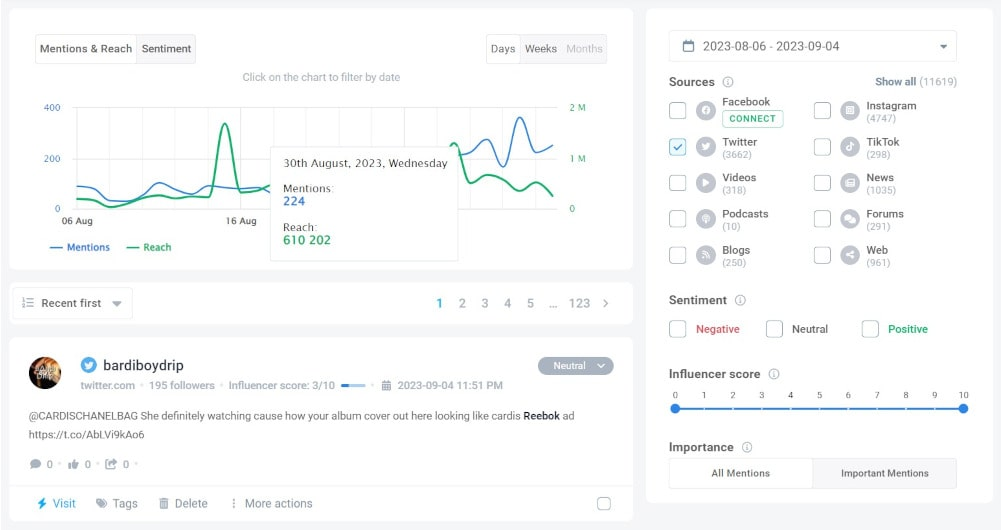 Start competitive monitoring!
Step 4: Analyze the data
Once you have collected sufficient data, start analyzing it to gain insights. The goal is to understand your competitors' strategies, strengths, weaknesses, and market position and then use this knowledge to improve your own business.
Here are some methods you can use to analyze your competitors' data:
Identify strengths and weaknesses of rivals,
Compare key metrics between your business and competitors,
Evaluate the type, quality, and performance of the competitors' content,
Assess how competitors are marketing their products or services,
Look for trends over time in the data you've collected.
Alternatively, you can use a tool that will do the job for you. For example, Brand24 offers AI reports that present insights, trends, and recommendations for your monitored projects.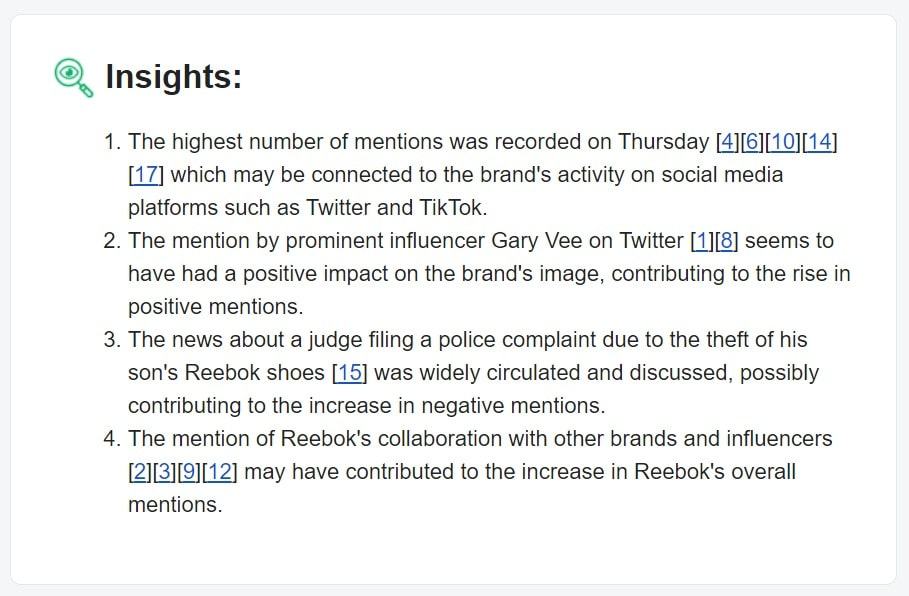 Competitor comparison
Did you know that you can compare your competitors? Yes, many competitor analysis tools have a comparison feature. Brand24 is one of those tools.
Let's compare three competitive sportswear brands: Reebook, Instagram, and Nike.
According to data, Nike receives the highest number of mentions, resulting in the broadest social media and non-social reach. As a result, it has the highest online Presence Score. On the other hand, it generates the highest amount of negative mentions.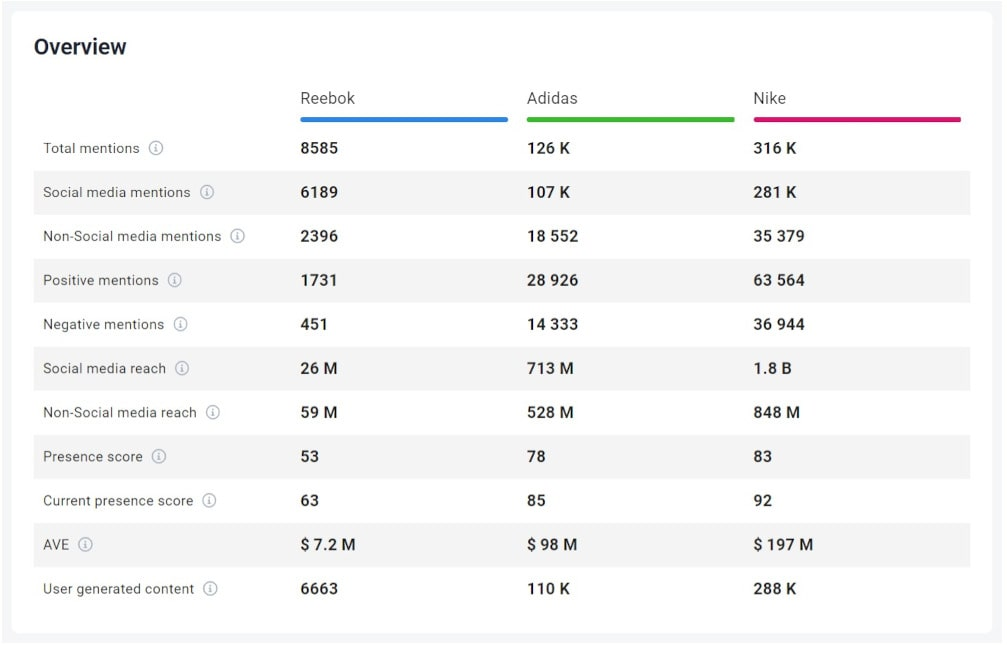 Now, let's check which platforms are the main source of mentions.
Reebok: 33% of mentions come from X (Twitter), 33% from Instagram, and 12% from news,
Adidas: 60% of mentions come from X (Twitter), 21% from Instagram, and 8% from news,
Nike: 61% of mentions come from X (Twitter), 25% from Instagram, and 6% from news.
As you can see, those three competitive sportswear brands gain mentions mainly from the same sources.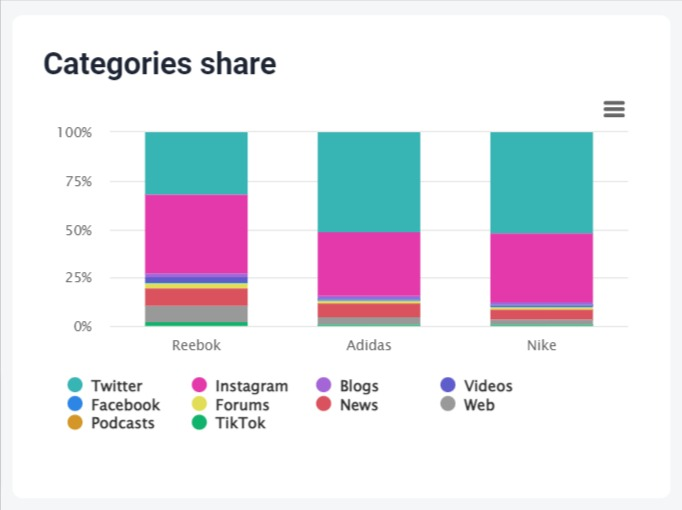 It's time for sentiment analysis. Which brand generates positive online buzz?
Reebok: 74% of mentions are neutral, 20% are positive, and 5% are negative,
Adidas: 65% of mentions are neutral, 23% are positive, and 11% are negative,
Nike: 68% of mentions are neutral, 20% are positive, and 11% are negative.
In the last 30 days, Nike noted 316k mentions, Adidas 126k, and Reebok 8,5k. It's normal that brands with a broad reach usually generate more negative mentions.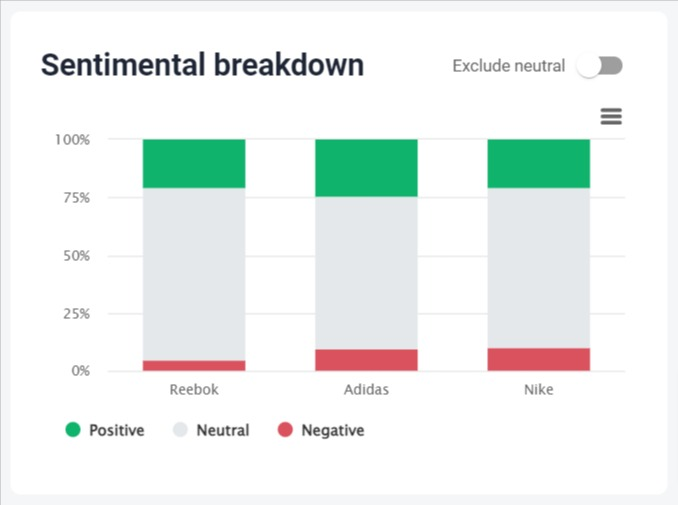 Let's also take a quick look at the traffic and engagement of websites.
According to Similaweb data, Nike had more total visits compared to reebok.com and adidas.com.
Nike.com is also the most engaging, having the longest average visit duration and the lowest Bounce Rate.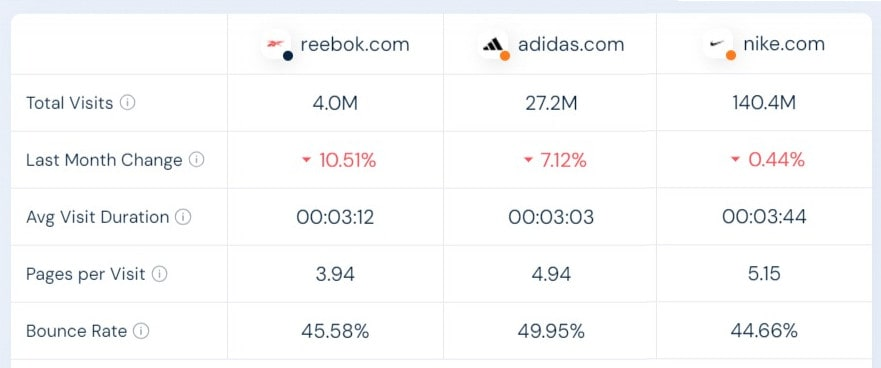 Start competitive monitoring!
Competitor monitoring metrics
As you already know how to monitor competitors, let's check the key metrics that you should be tracing.
01 Website Traffic
Competitor tracking tools like Ahrefs or Similarweb can give you an idea of how much traffic a competitor's website is getting, which is an indicator of their online visibility.

02 Sentiment Analysis
Competitive monitoring tools like Brand24 analyze sentiment around the competitor to gain insights into how customers feel about their products, services, and overall brand.

03 The Volume of Mentions
Monitoring the volume of mentions can offer insights into how engaged customers are with a particular brand or product.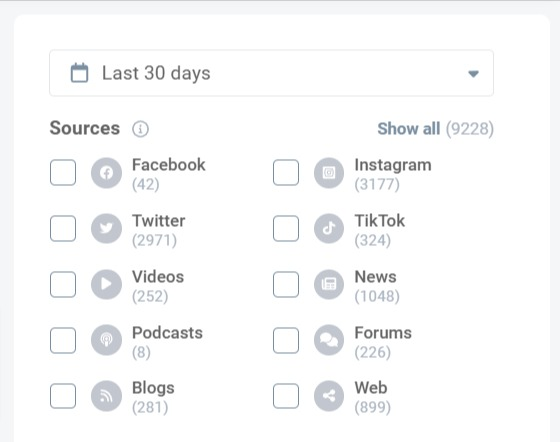 04 Social Media Reach
This metric quantifies the potential audience size that a brand can communicate with through its social media channels. A larger social media reach generally correlates with higher brand awareness.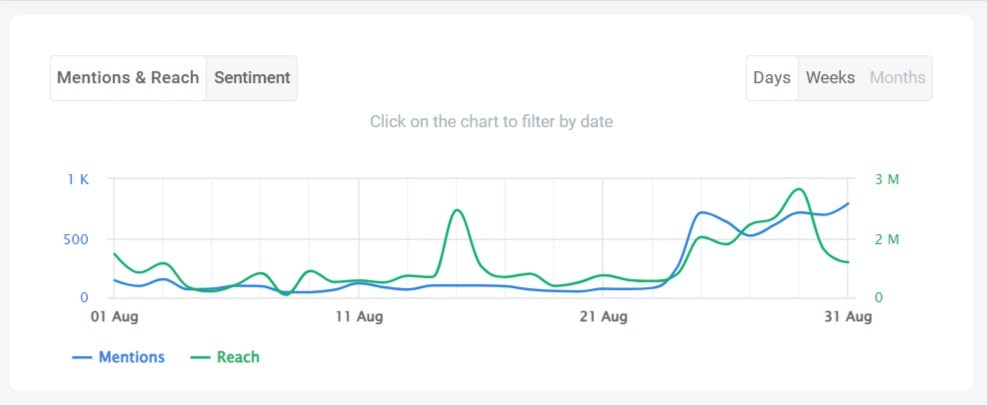 What's interesting is that sources that deliver the most mentions do not necessarily bring the most reach. For Reebok, the highest reach efficiency sources are News (60.6K reach/mention), Forums (14.4K reach/mention), and TikTok (10.5K reach/mention).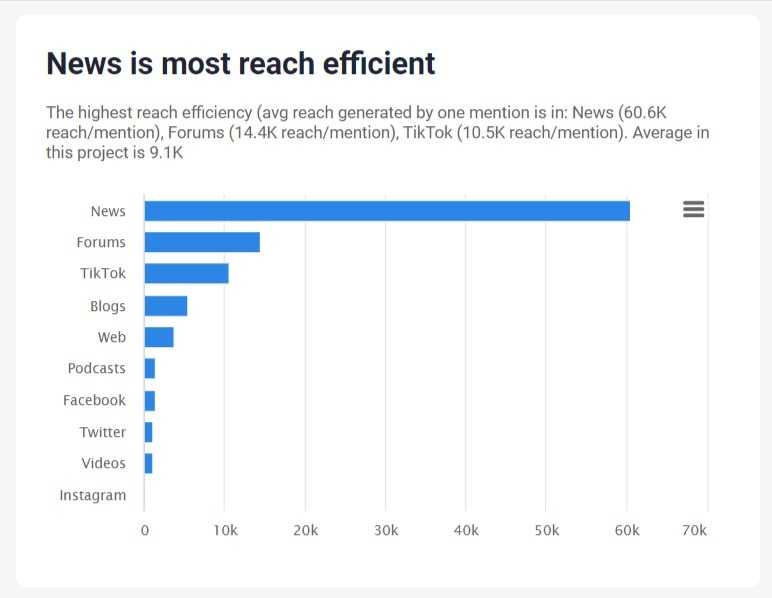 05 Non-social Reach
This metric refers to the visibility and exposure a brand receives outside social media channels. This can include online forums, blogs, newsletters, podcasts, reviews, news websites, etc.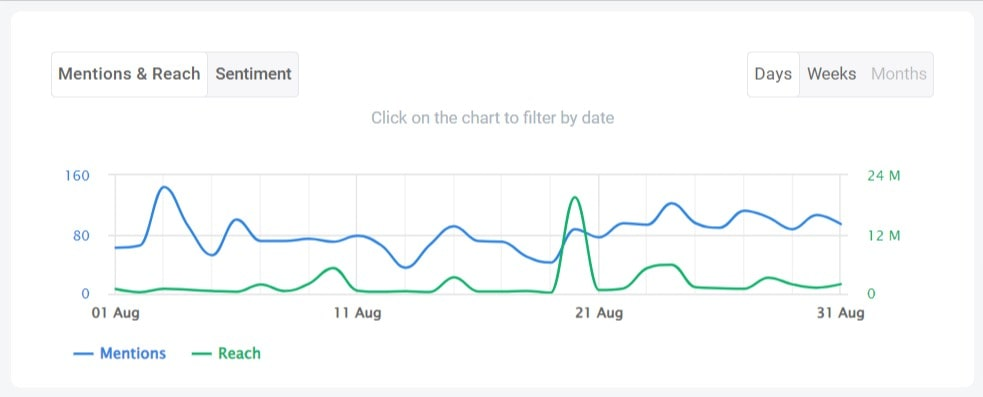 06 Presence Score
It is a composite metric that measures a brand's overall visibility and impact across multiple channels. Knowing the presence scores of competitors gives you a benchmark to aim for or surpass.

07 Reputation Score
Thanks to this metric, you will discover whether your competitors have a positive or negative reputation in your niche. A high reputation score usually indicates a high level of trust and credibility in the market.
Sudden changes in a competitor's reputation score can indicate a crisis or issue that might have broader implications for the industry.

08 AVE
Advertising Value Equivalency (AVE) is a metric often used in public relations and marketing to estimate the value of earned media coverage.
AVE can help you gauge the media impact of a competitor's campaigns, press releases, or publicity stunts. This gives you an idea of how much they invest in these channels and how effective their efforts are.
09 Organic and Paid Keywords
Understanding the organic keywords that bring traffic to your competitors can inspire your own content marketing strategy. Monitoring competitors' paid keywords can show you where they are allocating their marketing budget.

10 Keyword Rankings
Keyword rankings refer to the positions a website occupies in search engine results for specific keywords. You can gain valuable insights into their SEO strategies by analyzing which keywords your competitors are ranking for. Also, you can track whether they are making progress.
11 Backlink Profile
A website with a higher number of quality backlinks generally ranks better in search engine results. Monitoring backlinks in the context of competitor analysis will reveal which websites link to them. You can try to obtain high-quality backlinks from those sites.

12 Domain Authority
A measure of how well a website is likely to perform in search engine rankings. Higher DA often correlates with better search engine rankings. Knowing the DA of competitors allows you to gauge how difficult it might be to outrank them in search results.
Start competitive monitoring!
13 Bounce Rate and Time Spent
These metrics can indicate the quality of a competitor's website in terms of user engagement and content relevance.
14 Social Media Engagement
Look at their social media metrics, including likes, shares, comments, and followers, to understand their social media presence and audience engagement.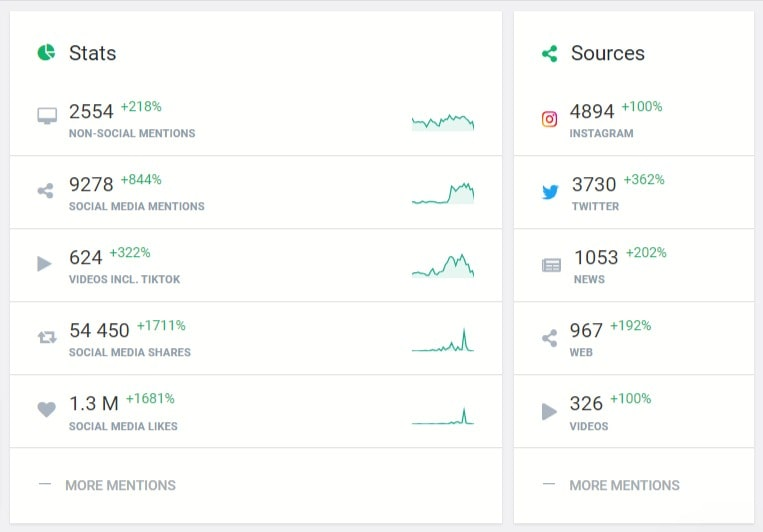 15 Online Reviews and Ratings
Monitor the sentiment of customer reviews and ratings on platforms like Yelp, Google Reviews, or industry-specific review sites. This can reveal their strengths and weaknesses from a customer perspective.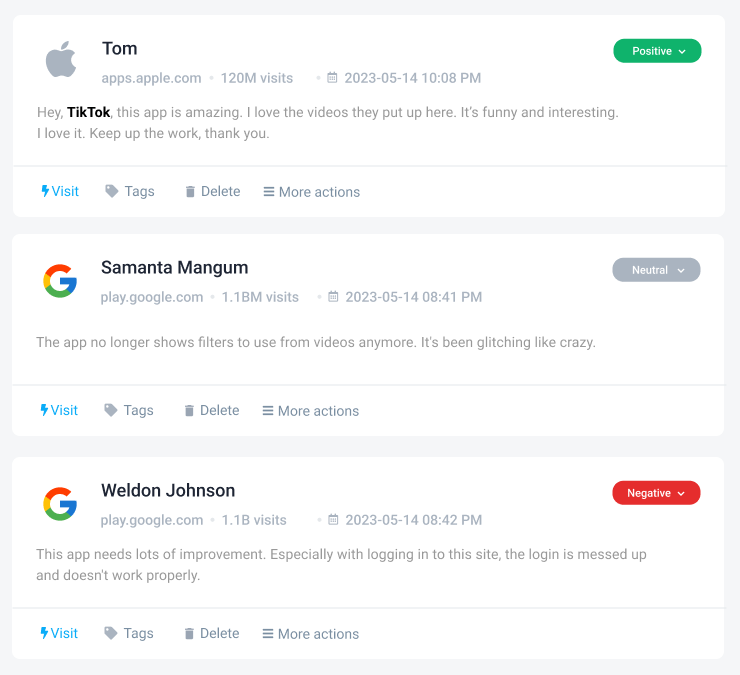 Why monitor competitors?
Your competitors prosper in your niche. They probably already rank for the strategic keywords, develop their product and services, have some pricing strategy, and use social media to gain reach, etc.
Thanks to competitive monitoring and analysis, you can detect many insights and ideas that you wouldn't have come up with on your own.
Here are key areas competitive monitoring can benefit:
Product development
Monitoring competitors' research and development activities, patent filings, or product releases can alert you to new technologies or features that are gaining traction in the industry.
Understanding the features and benefits of competitors' products allows you to identify gaps or areas for improvement in your own offerings.
Keeping an eye on competitors' product quality, customer reviews, and ratings can help you set or adjust your own quality benchmarks.
Monitoring the customer journey and user experience provided by competitors can offer insights into how to improve your own customer interactions.
Observing how competitors handle customer service, including response times and resolution methods, can help you improve your own customer support.
Tracking how often competitors update or phase out products can inform your own product lifecycle management.
Pricing strategy
Knowing the average price of similar products or services in the market helps you establish a competitive pricing point.
Observing how changes in competitors' prices affect demand can give you insights into how price-sensitive your target market is.
Knowing when your competitors offer discounts can help you time your promotions strategically.
If your product has unique features that competitors don't offer, monitoring can help you justify a higher price.
Monitoring can help you gauge the perceived value of your product relative to competitors, which is essential for value-based pricing.
Monitoring can help you gauge the perceived value of your product relative to competitors, which is essential for value-based pricing.
You can use automated competitor pricing tools to continuously track competitor prices and adjust your own automatically based on predefined rules.
SEO strategy
By analyzing which keywords your competitors are ranking for, you can identify potential keywords to target in your own SEO strategy.
Competitor research can also uncover long-tail keywords that may be easier to rank for, especially for new or smaller websites.
Understanding who is linking to your competitors can help you identify potential sites that might also be interested in linking to you. You can also gain insights into the content types that attract high-quality backlinks.
If a competitor's site loads faster, they will likely rank better for the same keywords. This can serve as an impetus for you to improve your own site speed.
If you are a local business, you can see which local keywords competitors are targeting and how they are ranking in local search results.
Content marketing
By analyzing which keywords your competitors are ranking for, you can identify potential keywords to target in your own SEO strategy. Competitor research can also uncover long-tail keywords that may be easier to rank for, especially for new or smaller websites.
You can assess the depth and quality of your competitors' content to understand what you're up against. You can use Surer's audit feature for this purpose: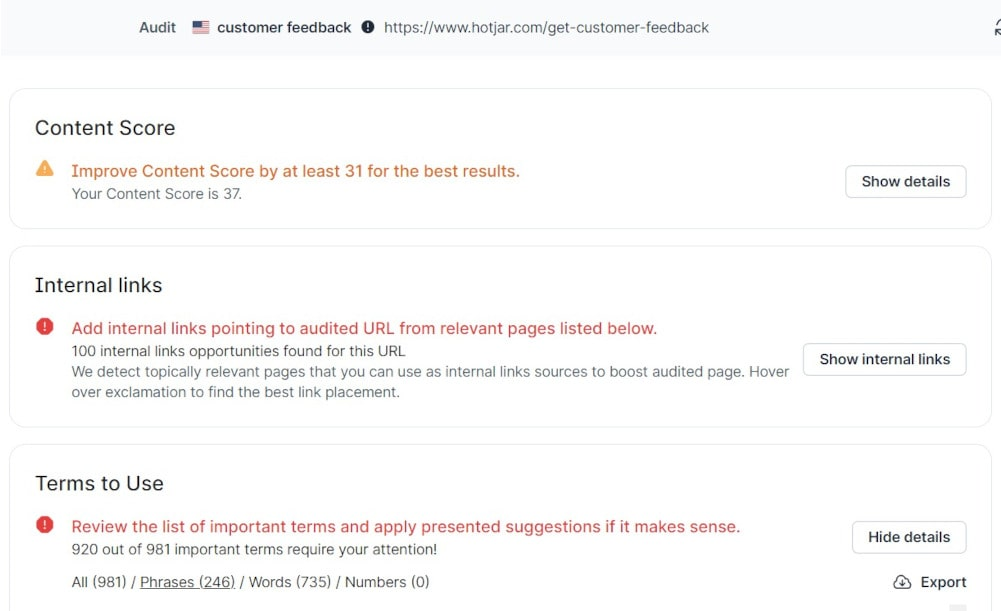 Understanding how competitors structure their landing pages can offer inspiration for your own pages, such as the placement of calls-to-action (CTAs), forms, and testimonials.
Monitoring can reveal the language and tone that competitors use in their CTAs to drive conversions. The color, size, and shape of CTA buttons on competitors' sites can provide insights into what may be most effective.
Monitoring metrics like Bounce Rate, pages per visit, and average visit duration on competitors' content can discover insights into what engages your target audience.
If your competitors produce in-depth, authoritative content, it may prompt you to do the same to establish thought leadership.
Advertising
By observing the types of ads competitors use (video, carousel, text-based, etc.), you can get ideas for your creative efforts.
Pay attention to the tone, language, and messages that competitors are conveying to understand what resonates with your target audience.
If competitors are spending heavily on a particular advertising platform, it may indicate that the channel is effective for your target market.
Monitoring when competitors launch major ad campaigns can help you decide when to allocate more of your budget.
If a competitor is targeting a specific demographic or geographic area, it might be worthwhile for you to either target the same audience or find a neglected segment.
If a competitor's ad has been running for an extended period, it is likely performing well. This can serve as a performance benchmark for your campaigns.
Technology adoption
Knowing which new technologies competitors are adopting can help you decide whether early adoption is strategically advantageous for you.
If competitors are leveraging automation tools to streamline operations, it might be worth considering similar technologies.
Keeping tabs on the technologies competitors are using to enhance their products or services can guide your own feature development.
If competitors are using technologies like AI chatbots to improve customer service, you might consider adopting similar solutions.
Monitoring competitors' technology adoption can inspire you to explore emerging technologies that could set you apart.
Start competitive monitoring!
Talent acquisition
Observing where competitors are finding talent (e.g., job boards, social media, campus recruiting) can help you identify effective channels for your own recruitment.
Understanding the kinds of talent pools competitors are tapping into can guide your own sourcing strategies.
Keeping tabs on competitors' compensation packages can help you remain competitive in attracting top talent.
Analyzing competitors' job descriptions can provide you with insights into the skills and qualifications they value.
Knowing the technical skills competitors are looking for can help you adjust your own criteria, training programs, or even product development strategies.
Observing the types of content competitors use to attract candidates can inspire your own recruitment marketing content.
Ready to start competitor monitoring? Try Brand24 for free!