Short Introduction to Competitive Intelligence
June 30, 2018 ・ 8 min read
Competitive intelligence sounds just like another buzzword – a catchy term that doesn't mean a lot. But it's not. Competitive intelligence in general means understanding and learning what is happening in the world outside your business to increase, well, your competitivity. Knowing what your rivals will do before they do it will help you adjust your business strategy and stay ahead.
You may consider your competitors as an annoying obstacle to business bliss, but they are just the opposite. Strong competition strengthens the market. It's your job to benefit from the market full of competitors. Competitive intelligence analysis will help you reap the benefits of the market.
Is Competitive Intelligence Legal
The short answer is, yes, competitive intelligence is 100% legal. It has nothing to do with corporate espionage or other illegal and unethical practices.
While developing competitive intelligence you're gathering the data that has been made publicly available by your competitors. You can use this data to your advantage without having a guilty conscience.
Competitive Intelligence vs Competition Analysis
Competitive intelligence is a much broader term than competition analysis. The focus lies on the external business environment – clients, competitors, technologies, distributors and macroeconomic data.
The competitive intelligence process involves:
gathering information,
converting it into intelligence,
using it in decision making.
In-depth knowledge about your surroundings is vital. We're all looking for the competitive edge that will help us outperform our competitors. The data you need is widely available, all you have to do is listen.
How to Perform Competitive Intelligence
As I mentioned before, competitive intelligence is a pretty broad topic. Focusing on so many different groups sounds pretty overwhelming. This article provides a comprehensive list of simple techniques you can easily implement to gain competitive intelligence.
But first things first. If you don't want to get swamped by the amount of data, you need to segment the collected information.
When it comes to such an extensive analysis, dividing it into smaller chunks is extremely helpful. Firstly, it's much easier to conclude from segmented pieces of information. Secondly, the whole process runs smoother.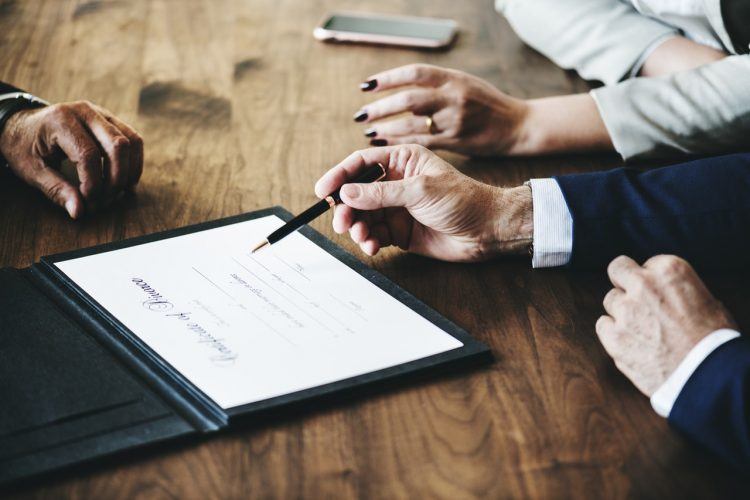 Implement the divide and conquer technique. Each department knows exactly what data they are already collecting, and which they are missing.
The marketing department is better equipped to collect data about social media and ads campaigns, whether Sales has relevant insights into customer behaviour patterns. The trick is to delegate the right tasks to the right division.
How to Gather Competitive Intelligence
You know that competitive intelligence is completely legal and you should focus on gathering data made already available by your competitors. The tricky question now is how to gather competitive intelligence? With a little help from some smart tools, of course!
Identify Your Competitors
That sounds incredibly basic, but it's a good idea to have a list of all your competitors. It will help you monitor the situation. An increase in the number means that you have to step up your game. The rapid hiring of new employees usually means the development of new products or features. If you get stuck at competing only with one or two brands, you might miss a lot of opportunities.
That was the case with Coca-Cola and Pepsi. The soda giants were so focused on competing with each other that they completely neglected the rise of Red Bull and energy drinks. Red Bull is now the industry leader, while the old champions are trying to catch up.
Of course, it depends on the industry, but there is a great chance that your competitors are already running online campaigns. That's why it's vital to do regular searches on Google and other social media platforms.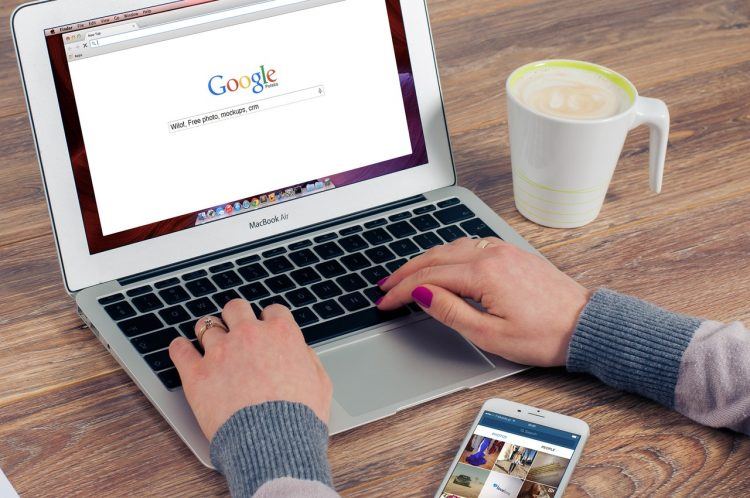 If you're in a more traditional industry, keep an eye on specialised press and job offers sections. Even some of your employees might be poached by companies entering the market.
The approach will depend largely on the industry you're in. If your business is generating a lot of buzz on social media, it's worth investing in social media monitoring. For some of you, it probably sounds like an unnecessary expense, but it will pay off in the future.
Social Media Monitoring
Some media monitoring tools, like Brand24, can compare your metrics, sentiment, and reach to any competitor.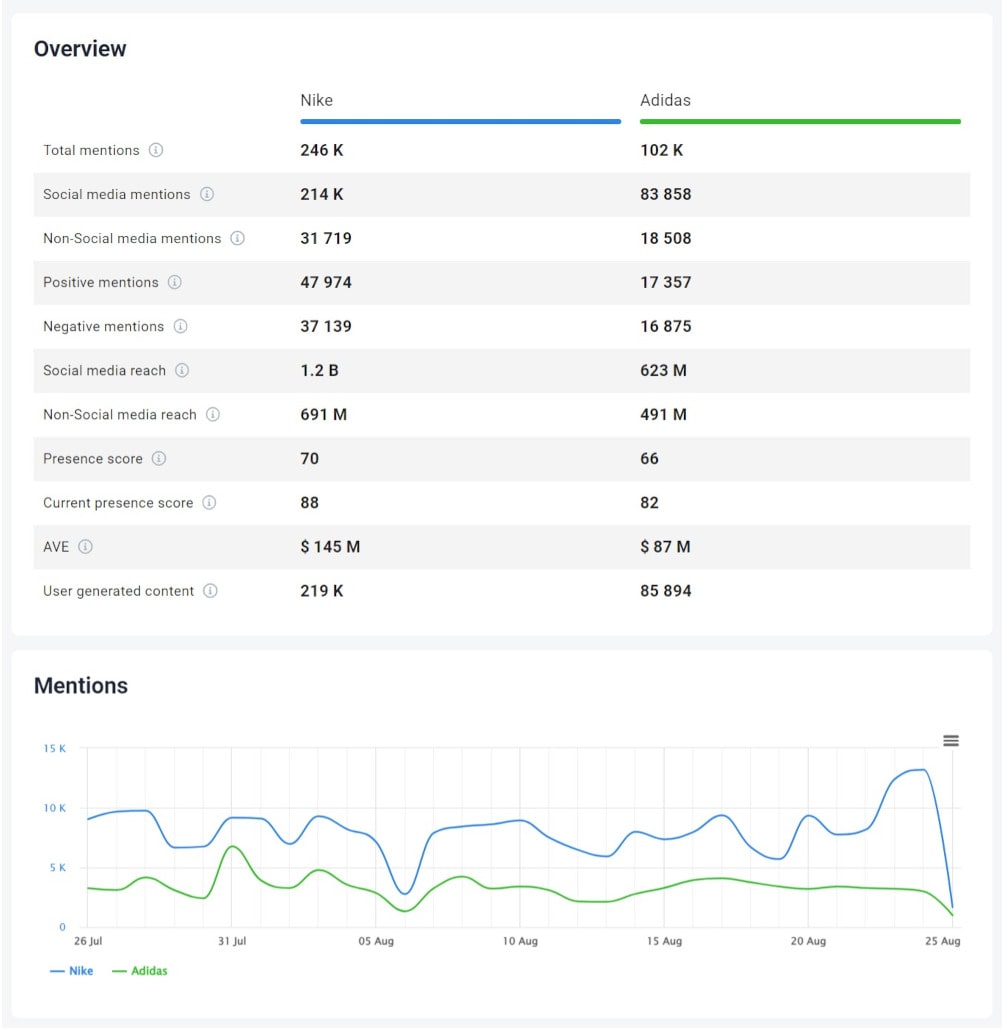 What are the exact benefits of social media monitoring? People are talking about you, your company and your competitors. It's your job to listen to what they have to say.
It will be much easier to understand what I'm talking about when we take a look at a real-life example.
Imagine you want to know what people are saying about your competition on the internet – on various social media channels, forums, news mentions etc. Combing through the internet looking for the mentions manually will probably require brand new employees dedicated to the project.
But social media monitoring tool, like Brand24, will gather all the mentions with your predefined keywords.
When you log in, all the data necessary for competitive intelligence will be organised in one neat dashboard. Moreover, you will be able to filter the data using many useful filters, for example:
sentiment filter
interactions filter
author filter
domain filter
You won't miss any new mention, as you can set up an e-mail alert, keep up-to-date with a mobile app or integrate your project with one of yours Slack channels.
It will be much easier to understand what I'm talking about when we take a look at a real-life example.
If I were running a restaurant in the UK or the USA, I would take a look at some of the industry leaders. For example Jamie Oliver or Gordon Ramsay. I set up a project to look for mentions containing phrases like "Jamie Oliver" or "@jamieoliver". The latter is important if you want to collect tags from Instagram.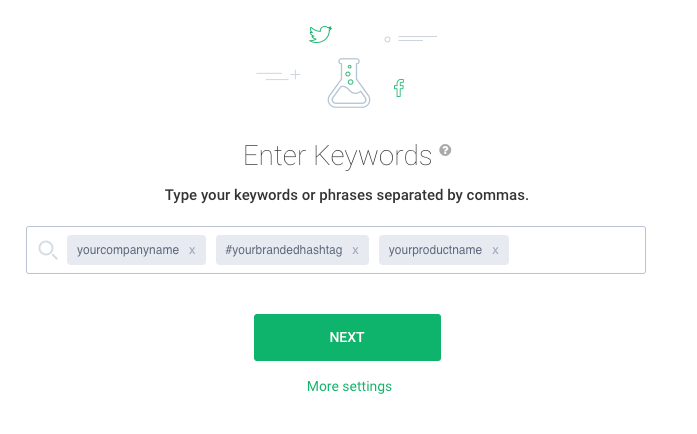 The tool started collecting all the remarks containing my chosen keywords. Just take a look at all the information.

First, there is a graph showing the number of mentions. That way you can identify periods when people are talking about your competitors. If you can correlate the spikes in the volume of mentions with marketing activities, you will be able to determine which actions bring the highest ROI.
In the Analysis tab, you'll find the context of a discussion. These are all the words people are using while searching for your brand. You can see that Jamie Oliver is associated with "sugar", "ban" and "recipe". You instantly get to know how your brand is linked online.

Social Media Reach
Brand24 will measure social media reach of your competitors marketing action.
Social media reach is an estimated number of people who could have had contact with your chosen keywords. If one of your keywords is your competitors' brand name, then you can see how many people approximately know their company.
The numbers are estimates of course, but it will give you a good starting point.
You will know on which social media channels your competitors are active. You can then evaluate their engagement rate, number of interactions and try to set up your social media presence on these channels.
Benchmarking of your competitors' social media presence can be one of the benchmarks for your competitive intelligence. Social media engagement rates are one of the most important metrics you can follow. Social media monitoring tool will make it much more efficient.
Events and networking
Look for events, such as conferences, industry events or even pub meet-ups, at which your competitors are present.
First of all, you will get a glimpse of what your competitors are up to. You will be able to learn about your rivals and interact with people who might have some inside knowledge about their companies.
During events, you can chat with your competitors' customers or even take a look at their stalls. If you manage to get a sales pitch from them, you will get to know how they are promoting their product – which are their strong sides and which they are planning on developing in the future.
SEO, SEO, SEO
To be honest I was struggling with SEO since pretty much always. It sounds easy, but there is so much content and rules, it's quite hard to position your website well.
Therefore, Google Analytics should be your BFF. You can track the bounce rate, organic search and average time on site.
Google Analytics is irreplaceable when it comes to your site, but unfortunately, it doesn't collect insights about your competitors.
That's where tools like SEMrush come in handy. It gathers traffic data about your competitors. You can determine the keyword gap, see which posts position well in browsers, and get a general idea of traffic they're getting.
Press
You have to know when your competition is in trouble. You can take advantage of that and show your brand as a sustainable alternative. Just like Hyundai and Kia benefited from Volkswagen diesel-gate three years ago.
Brand24 will, of course, collect the mentions from online publications, but for more niche and specialized industries, it might be a good idea to monitor the press the old-fashioned way.
Ask, And You Shall Receive!
The goldmine of knowledge about your industry is your clients. They usually know all about what they need and how your competition outperforms you. The only problem is how to encourage your customers to leave feedback?
You can create a survey. To get people to fill it in try to implement these two techniques.
First of all, look for some cool tool. SurveyMonkey or Google Surveys are neat and user-friendly.
Second of all, think about some gift for a person who will complete the survey. It can be a discount code for your product, a specially prepared ebook or some promotional materials.
Go Out There
It's time to go back to basic. Especially if you're offering a tangible product. Go shopping and see what your competition is offering. See the prices, fabrics, materials. Find out how their staff is handling customers.
Try to do the same for all channels they are present. If they have a phone, call them, chat with customer support, analyse emails they send out. Try to guess their business objectives.
Organise the Data
When you're done with all the research, it's time to organise your data.
Develop a universal labelling system. That way all the data you gather will be easy to understand.
I'm more of a visual person, so it's much easier for me to work with graphs and charts. There are numbers that should be updated frequently and automatically. We do it for the number of followers for our social media channels.
The data is useful to many employees across different departments, so make it available to everyone. Cooperation is the key to success after all.
Is Competitive Intelligence Useful for an Organization
Competitive intelligence is extremely beneficial for your organization. A well-developed competitive intelligence analysis will give you insights into your industry leaders and help to position yourself ahead of your rivals.
Listening to your and your competitors' clients is an essential part of competitive intelligence. It gives you a sense of industry awareness will give you the possibility to act faster and more accurately.
HANDPICKED RELATE READ