This piece of content and all Facebook analytics related data were updated 17.06.2020.
I'm sure you already have a way to track your Facebook results. Your number of followers, your post engagement, or conversions from your ads. These are, of course, valuable metrics but you can actually see much more than this using Facebook Analytics and other tools! Especially now, when Facebook is developing its analytical solution further than ever.
Table of Contents:

1. Check to see if your fans are buying from you
This will be useful for you if:
You're not sure how much time and money you should spend on increasing and keeping your fan base.
You want to measure the organic results of your Facebook marketing.
You want to see if your content is reaching the right audience.
Did you know that you can see cumulative data on your audience from your Facebook page, your website (with a little help from the Facebook Pixel), your Instagram account as well as your mobile app? All you have to do is to implement the Facebook Pixel and then get into Facebook Analytics.
This video explains what Facebook Pixel is and how to use it:
Now, do you want to see how many mobile app users visited your web page? Easy! Want to find out how many of your Instagram or Facebook followers visited your website? No problem! And finally, how many of your fans are your customers? Let's do it.
Click on "Set Up Analytics" – if you already have a Business Manager account set up, you'll be redirected to the Analytics section in your account. If you don't have one yet, you can launch the demo version to see how it works.
Pick the sources you want to group. You can choose from the assets you've already connected under one Business Manager account. Assets like your Facebook page, mobile application, Instagram account, website, etc.
Click on Create Group and you'll be in the dashboard, where you can analyze and cross your audience however you like.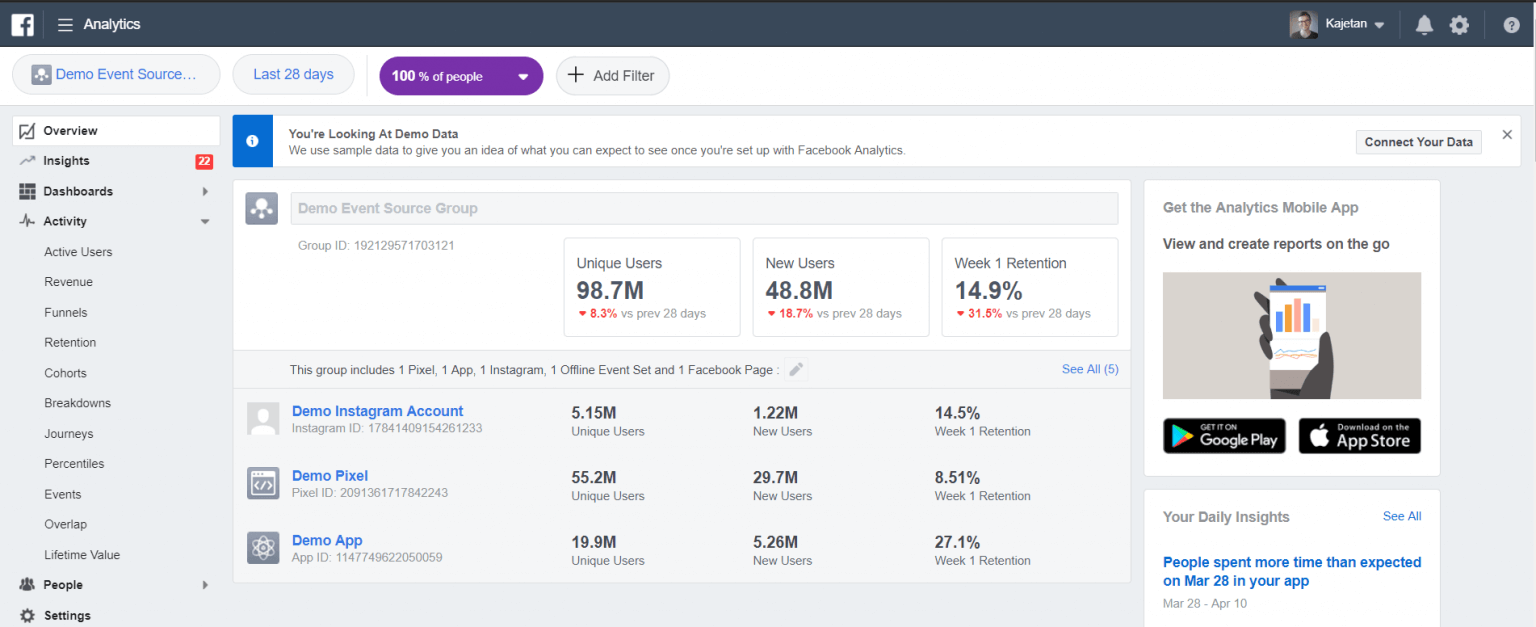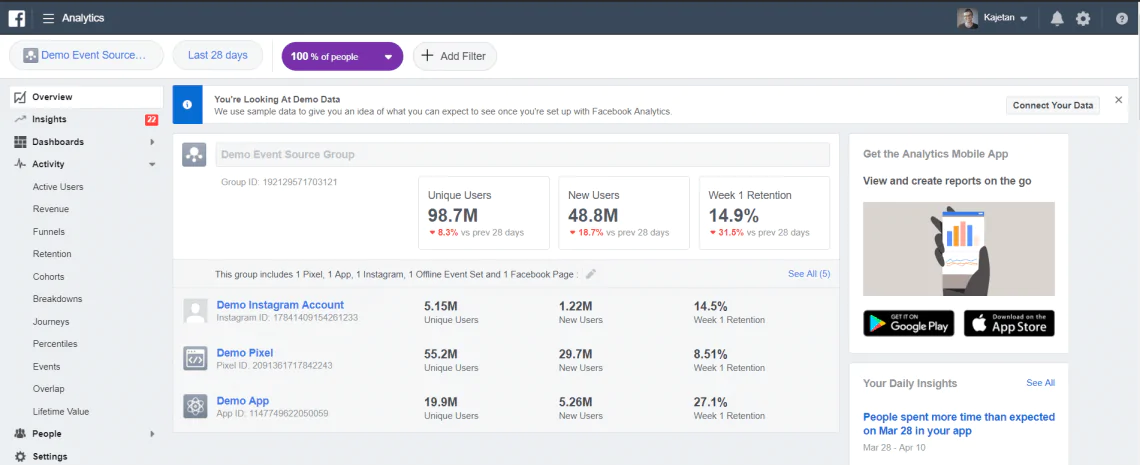 And now, when Facebook Analytics is set up and we're inside the dashboard, let's complete our initial quest.
If I want to see how many of my Facebook fans purchased something from me, I can filter "People who use Page:[myPage]" on the bar above and go to the "Revenue" section from the left panel.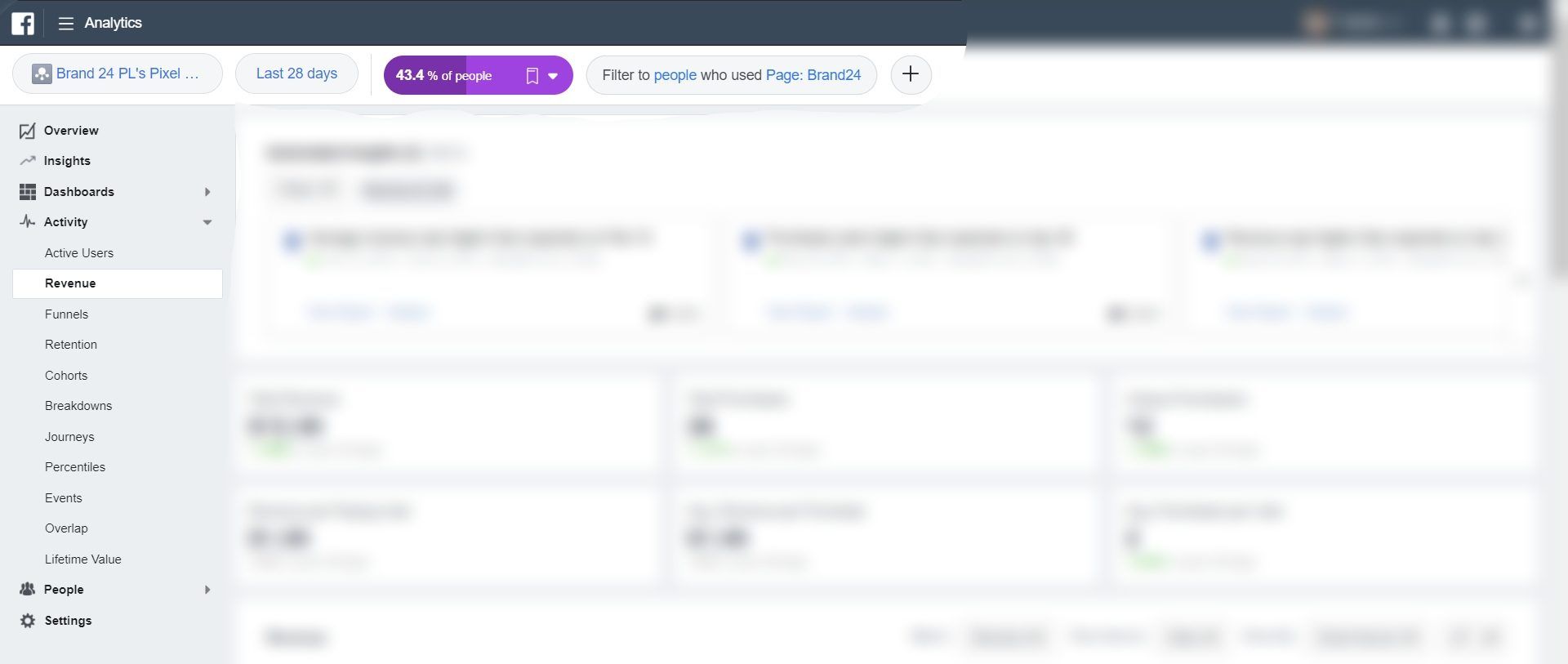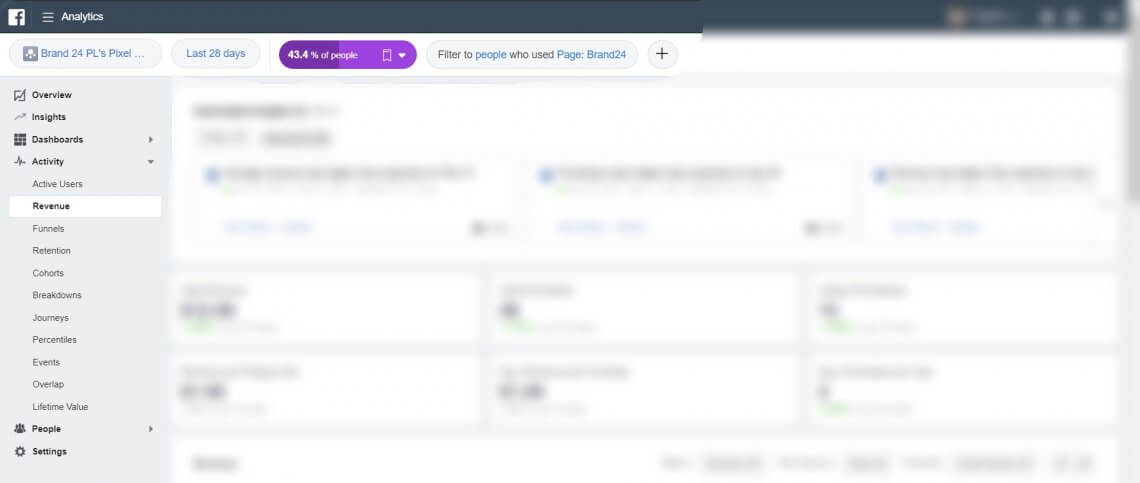 And that's it. Here I'll see only purchases and other conversions from my Facebook fans. To see this information in your own account, you just need to make sure they're already implemented (I mean conversions, not fans of course).
If you don't see the conversion data I suggest taking a step back and watching a video above.
2. Track the conversion path across channels
You'll find this useful if:
Your conversion path is long/complicated.
You're wondering how many people start the conversion process from one device and finish on another.
You need more data to correctly distribute your marketing budget.
Uhh, conversion attribution models have always terrified me.

But in this case, we can use them to make the world a better simpler place. Facebook Analytics has one big advantage over Google Analytics and other similar tools.
Many people log into one Facebook account from a few different devices and Facebook can use this data to help marketers track the conversion path.
Based on the merged assets in Facebook Analytics (we did that during the step 1), we can create a funnel and analyze how many people went from the Mobile App Install event to the Purchase event (which can only be done on desktop) — all within the Facebook Analytics platform.
Just go to the "Funnel" section, choose the event you want to see, and don't worry about the user's device.


3. Analyze your mentions on Facebook
This is the solution for you if:
You care about customer service and your brand reputation.
You want to find new customers in social media.
You want to analyze the buzz generated by your marketing campaign.
You want to compare your results with other brands on Facebook.
Social media is not about talking. It's about listening.
And social media monitoring will allow you to listen to what people say about your brand or your competitors on Facebook (and beyond). You can also use it to find people who are looking for a product like yours.
So how does it work?
This isn't offered within the Facebook ecosystem, unfortunately – you need to use an external tool. The simplest one is Google Alerts but it doesn't work well on Facebook. It will show you just a very small percentage of your real mentions (according to my tests around 5% of mentions comparing to other social media monitoring tools).
The good news is you can filter by language and region of your mentions.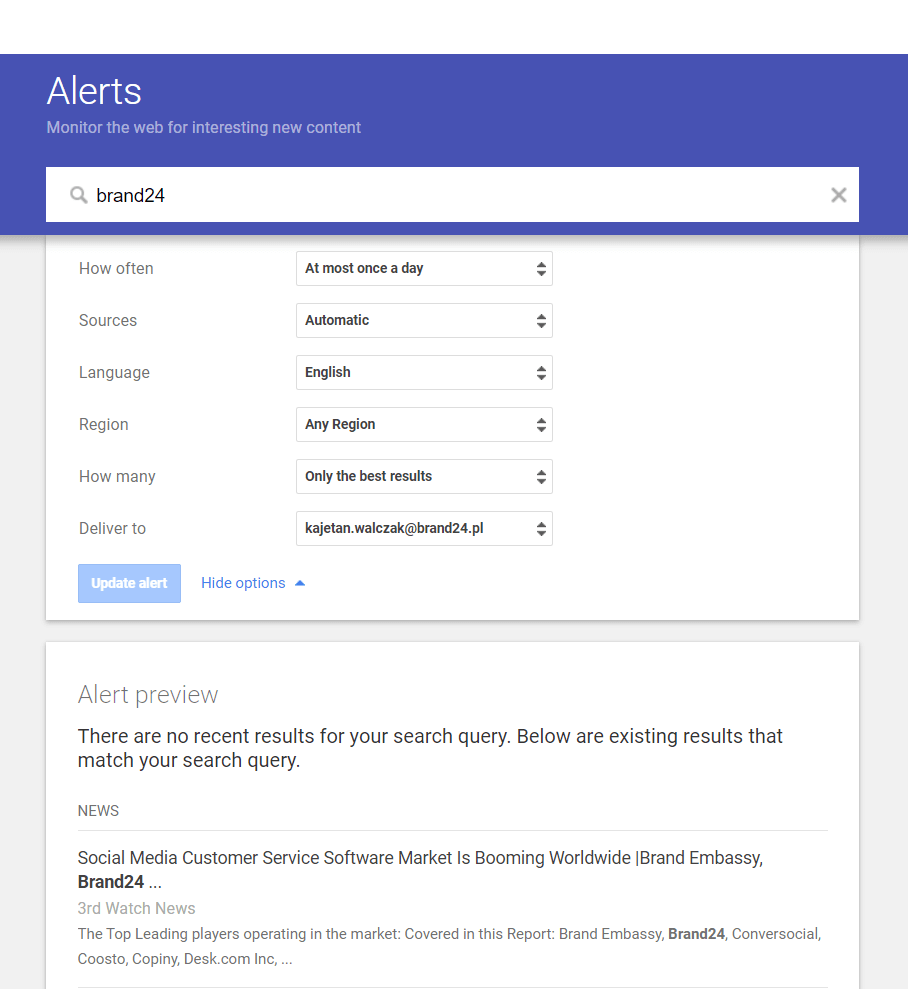 But a much better option is to use a dedicated tool like Brand24 which can show you not only more mentions and language filter but also sentiment analysis, estimated reach, competitor analysis, and much more. You can sign up for free here and test it by yourself.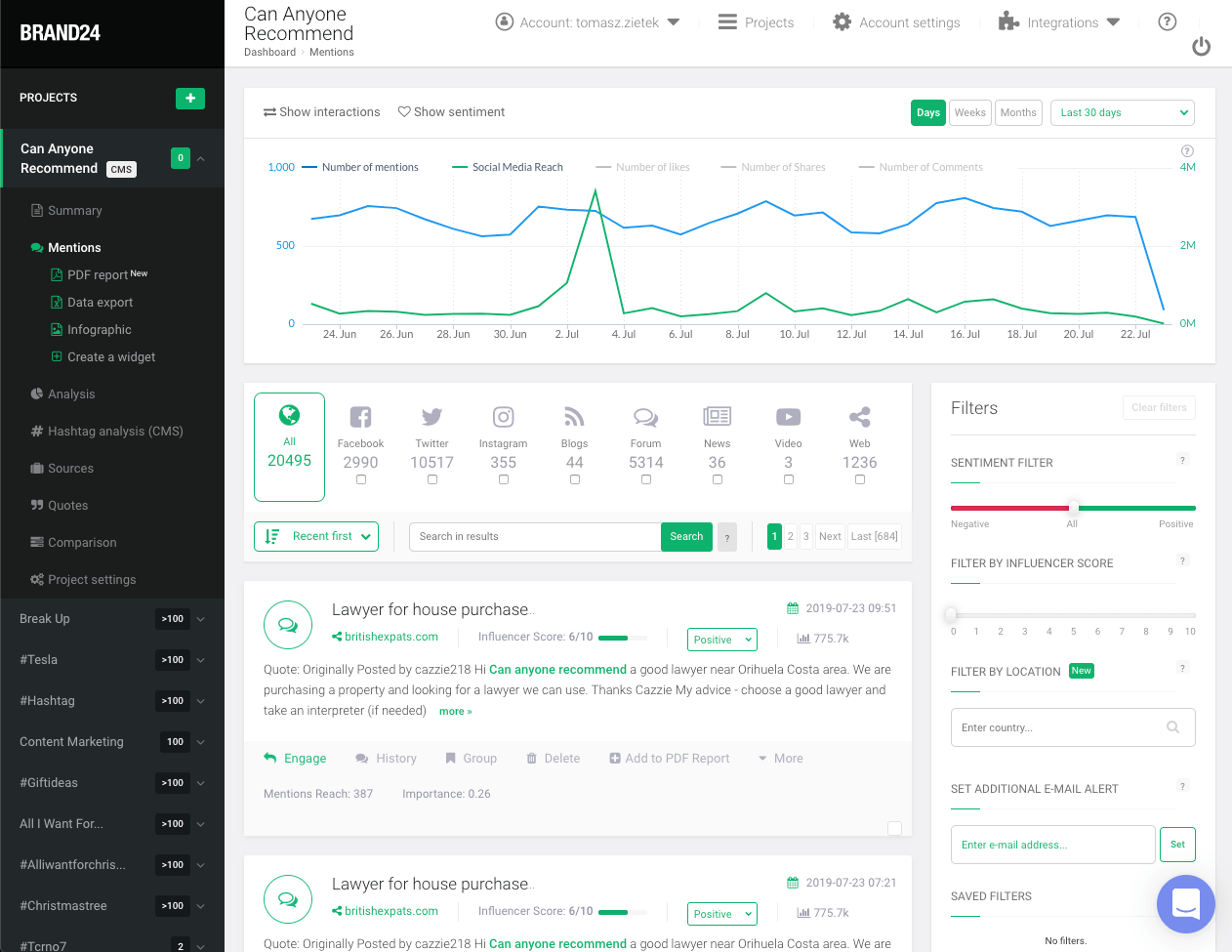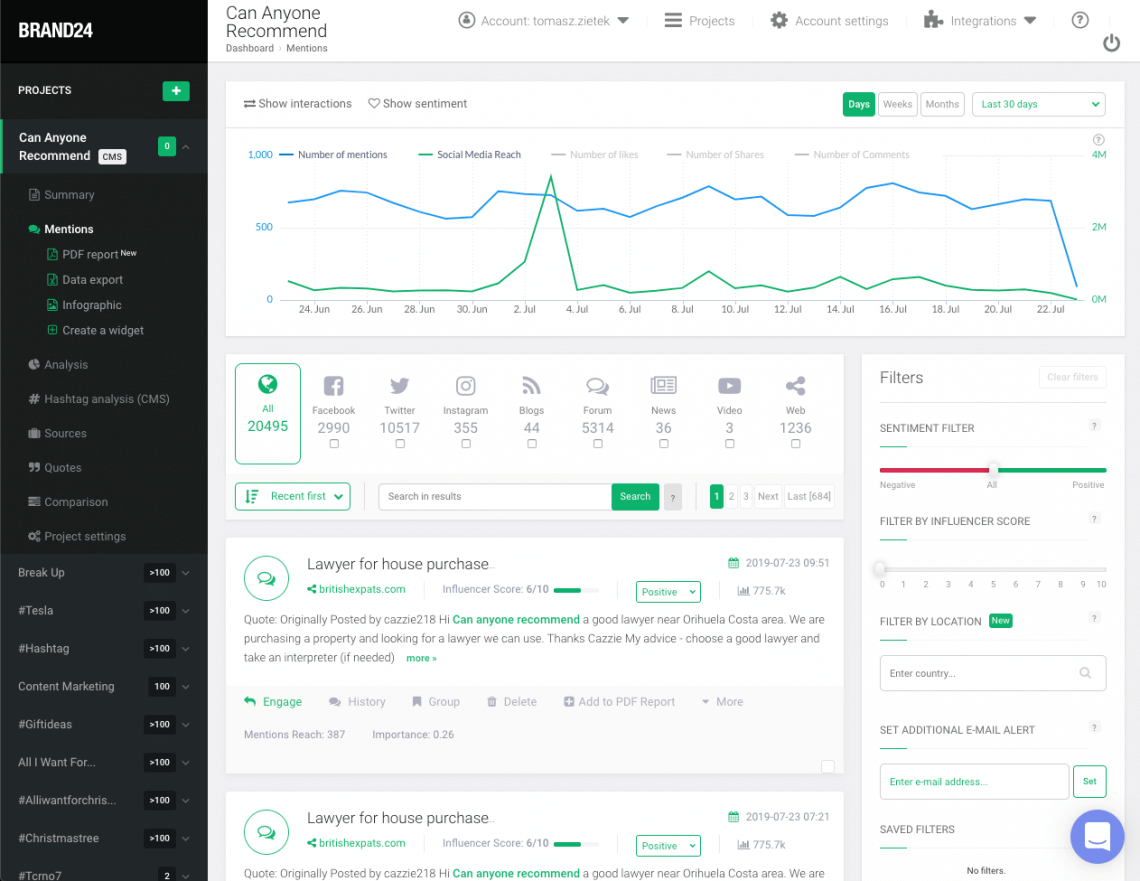 4. Roll out a conversion lift test
Besides Facebook Analytics and Social Media Monitoring tools, there's a powerful but rarely used option inside the well-known regular Facebook Ads manager. You'll love a conversion lift test if:
Your customer path is long/complicated.
You need to verify your marketing budget with your boss/client.
You want to see how many people buy your product after viewing your ad.
How does it work?

You choose a target audience for your campaign as usual. After that, Facebook will randomly split your audience into two groups. Only one group (a test group) is exposed to your marketing campaign. The control group is just for comparing your results.

I recommend running a test like this for at least 30 days, and then you will be able to see the results in your ad manager and observe the real impact of your Facebook ads. Check out this cool graphic from FB if you want to visualize the process: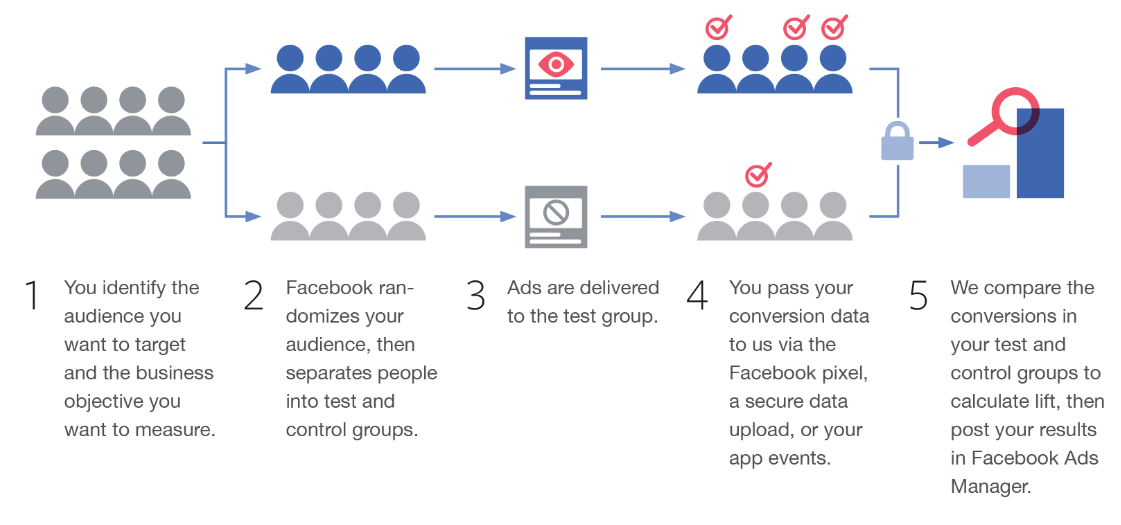 How do you start the test? You can find the option for that under the "Test and Learn" section in Facebook Business Manager.


Just click on the "Create a new test" button and you'll see a few suggestions. For starters, I recommend choosing the first question: "How much impact are all my Facebook ads having on my business?"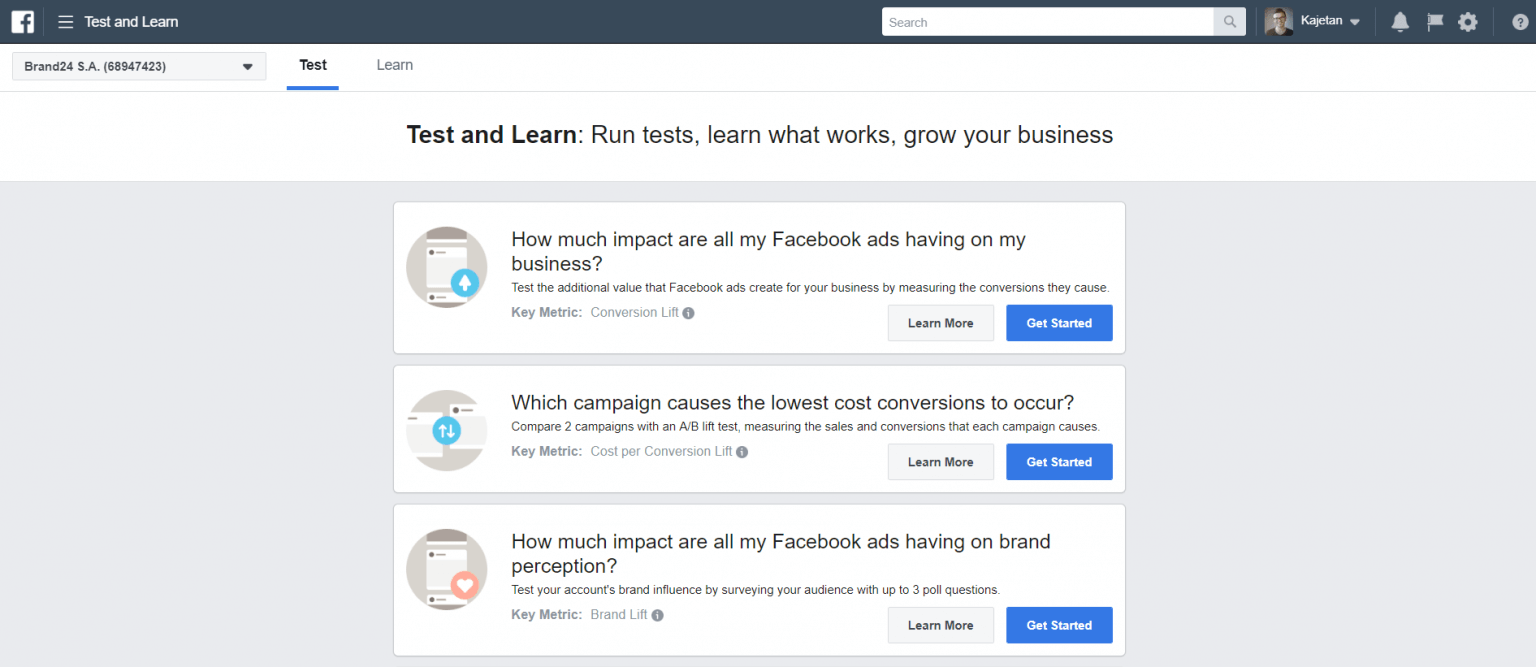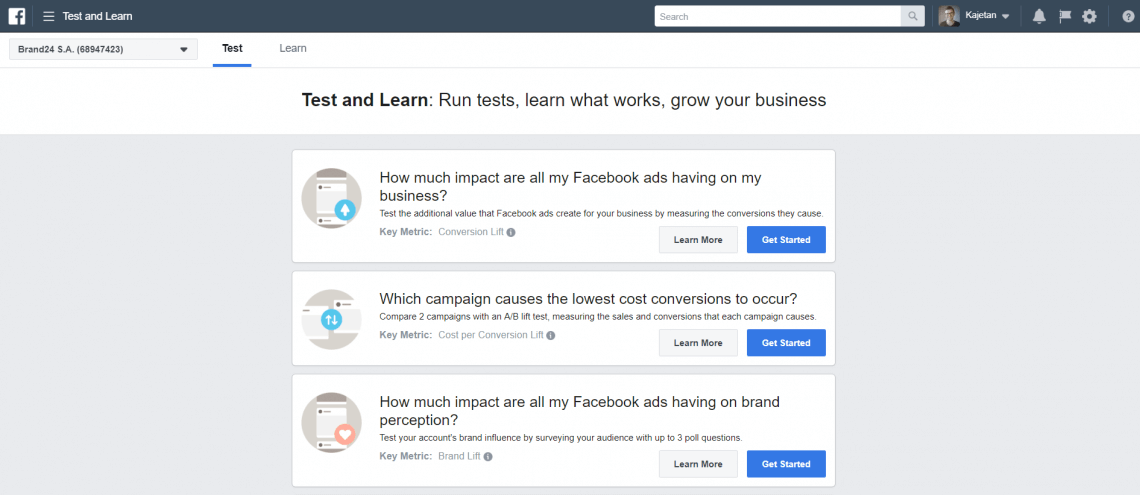 From this point, the only thing you should do is choose your schedule, test name and the conversion you want to measure.
5. Verify your target groups
This is important for you if:
You want to increase the results of your Facebook Ads.
You use Facebook "Detailed Targeting" options (Interest, Behavior, Demographics, etc.).
You want to get more insights about your audience.
Ad manager gives you lots of possibilities, and for many businesses it's a good idea to leverage Custom Audiences and Lookalike Audiences but if you also want to reach a broader target group – you should also target based on Facebook interests.
The only problem is — "interests" can mean everything inside the Facebook ecosystem.
Fortunately, you can double check this via Facebook Audience Insights.

So, how does it work?

Let's say you're a B2B company and you want to reach other marketing professionals so you try, for example, targeting people who are interested in Gary Vaynerchuck. But that's a broad group, right? Who are these people?

You can find out by analyzing them inside Facebook Audience Insights and see an analysis of their Top Categories and Page Likes.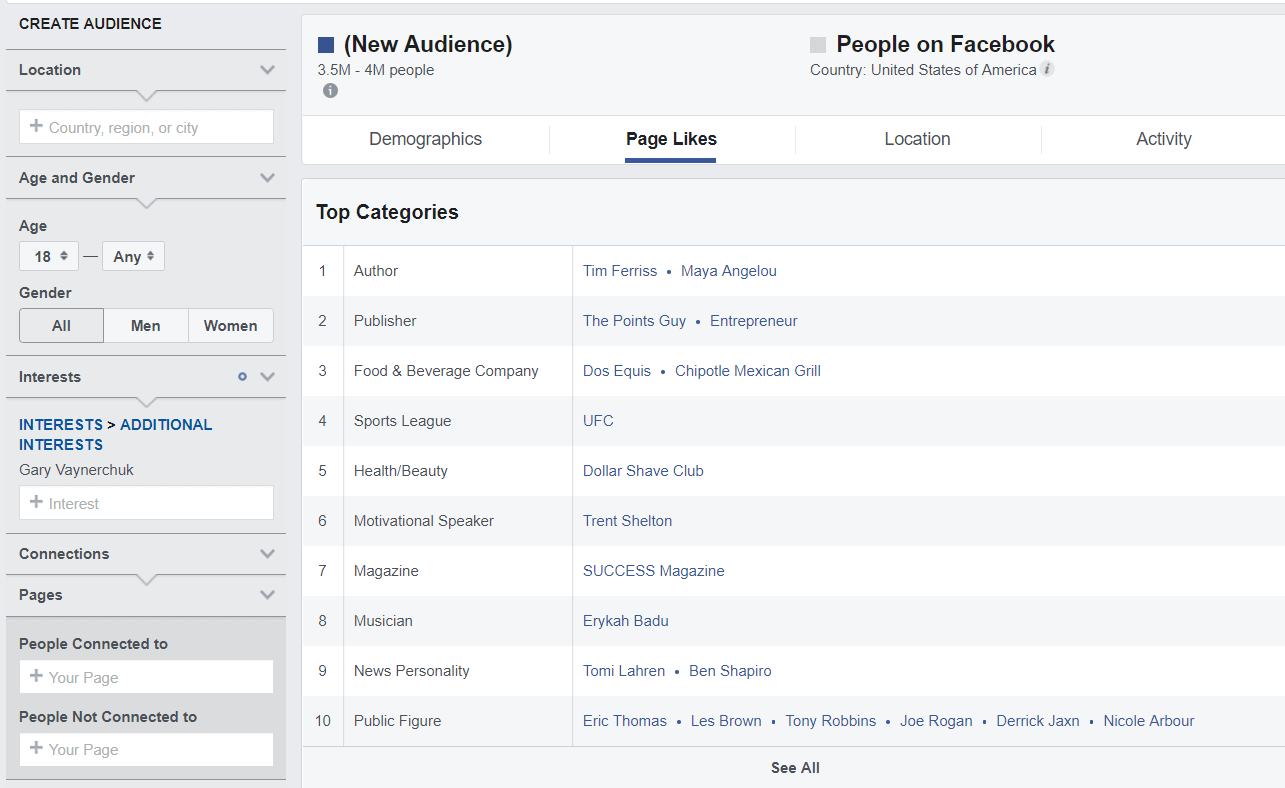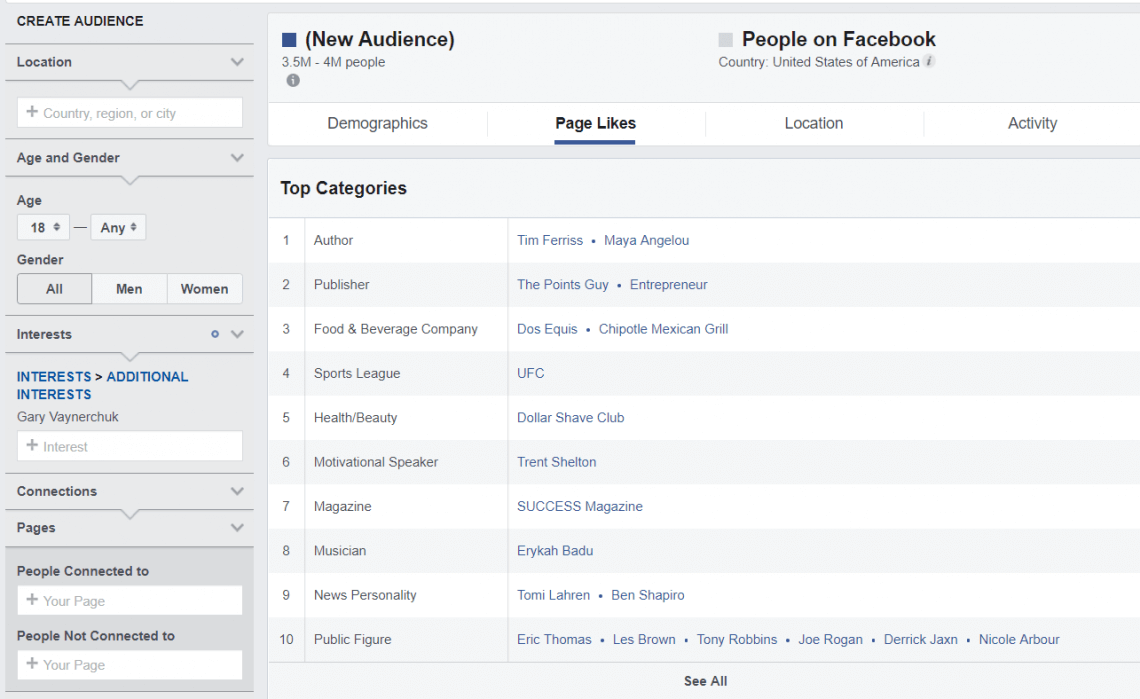 UFC? And Erykah Badu? Doesn't seem like a homogenous group of marketing professionals. But we also see Facebook Business on the list of Page Likes. This is a much smaller group that we can try.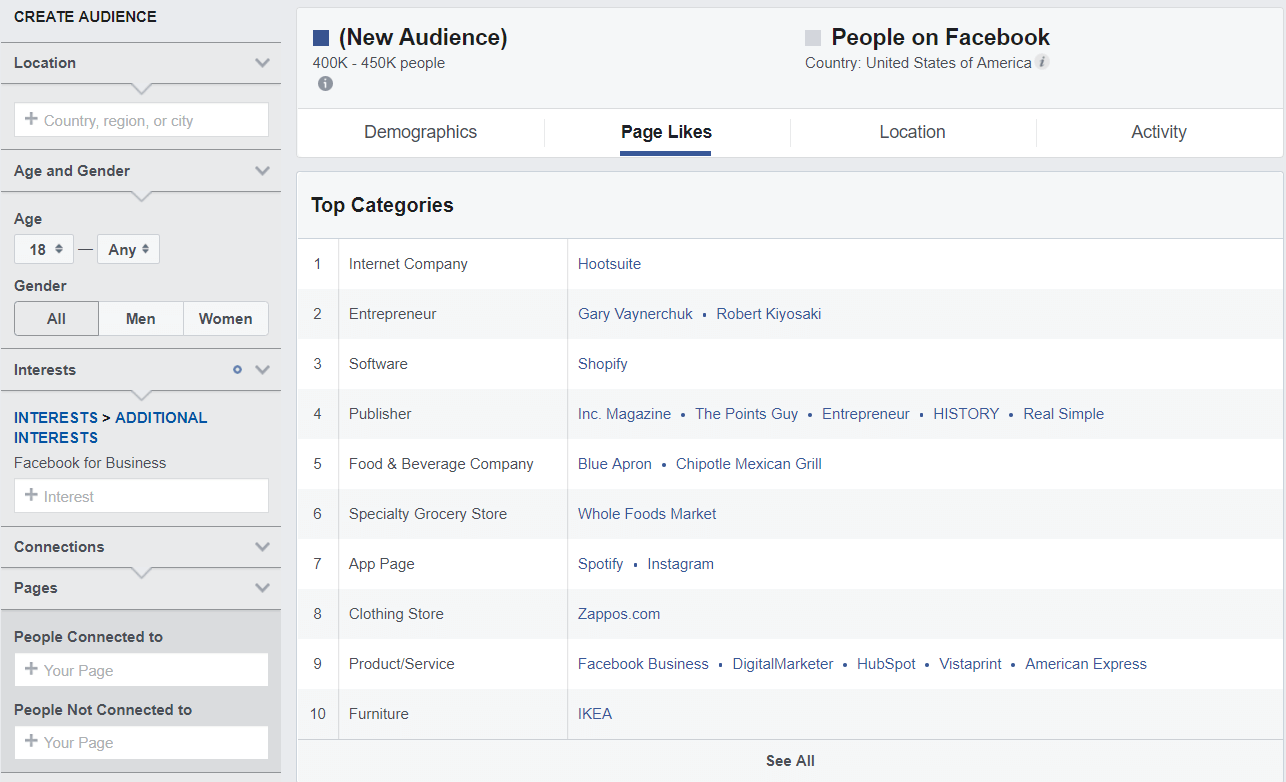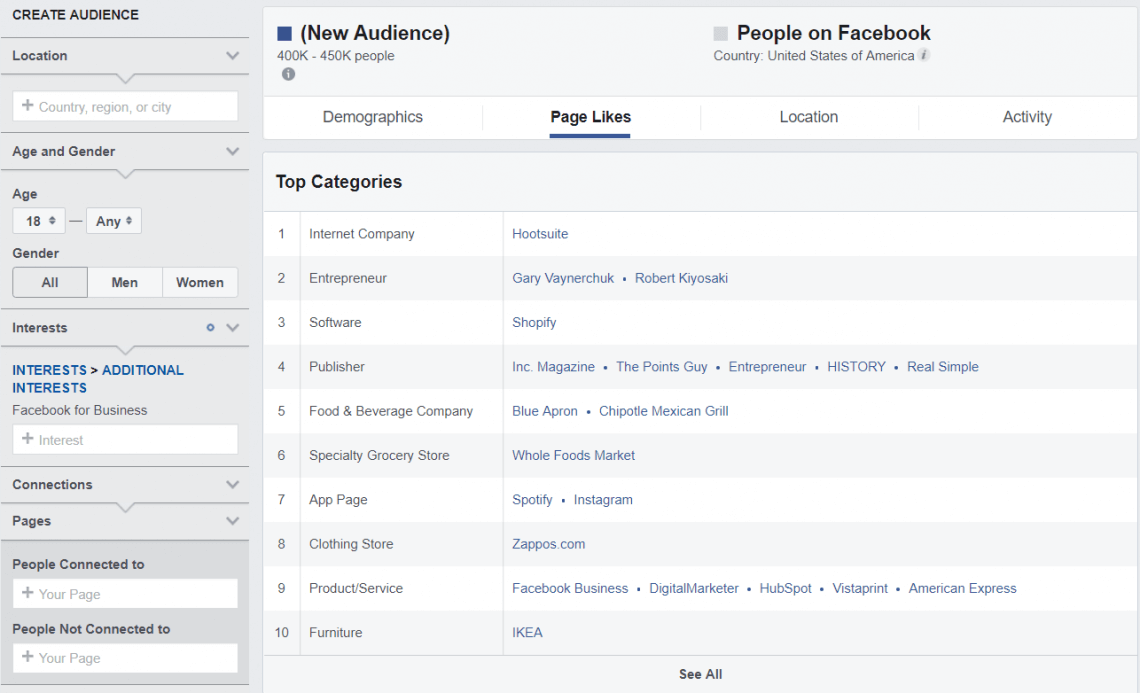 And this group matches our ideal profile much better. Before you use interest targeting in your campaign – take a look at the group you have in mind inside the Audience Insights tool. Your initial assumptions may turn out to be very different from what the Facebook algorithm has in mind.

Another example: I see some interest in "media monitoring" – this means that this group will let me reach PR professionals and brand managers who are monitoring media looking for brand mentions, right?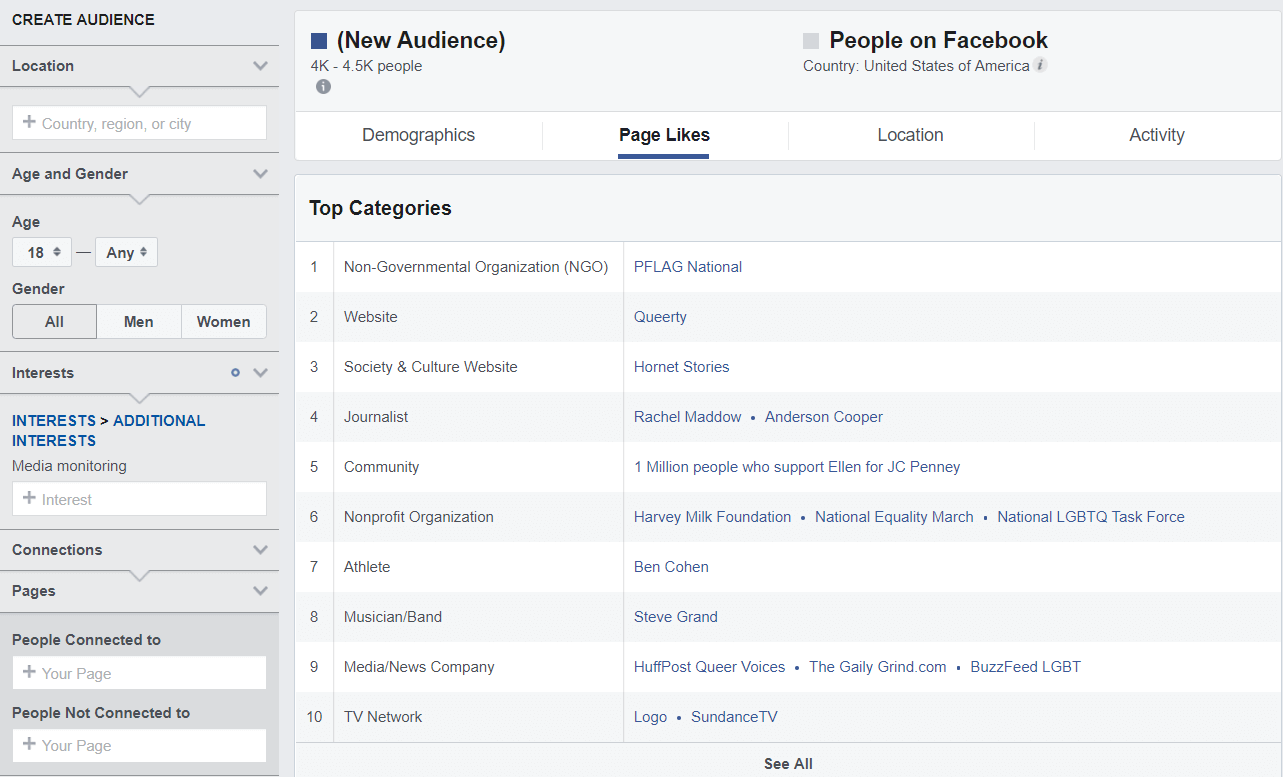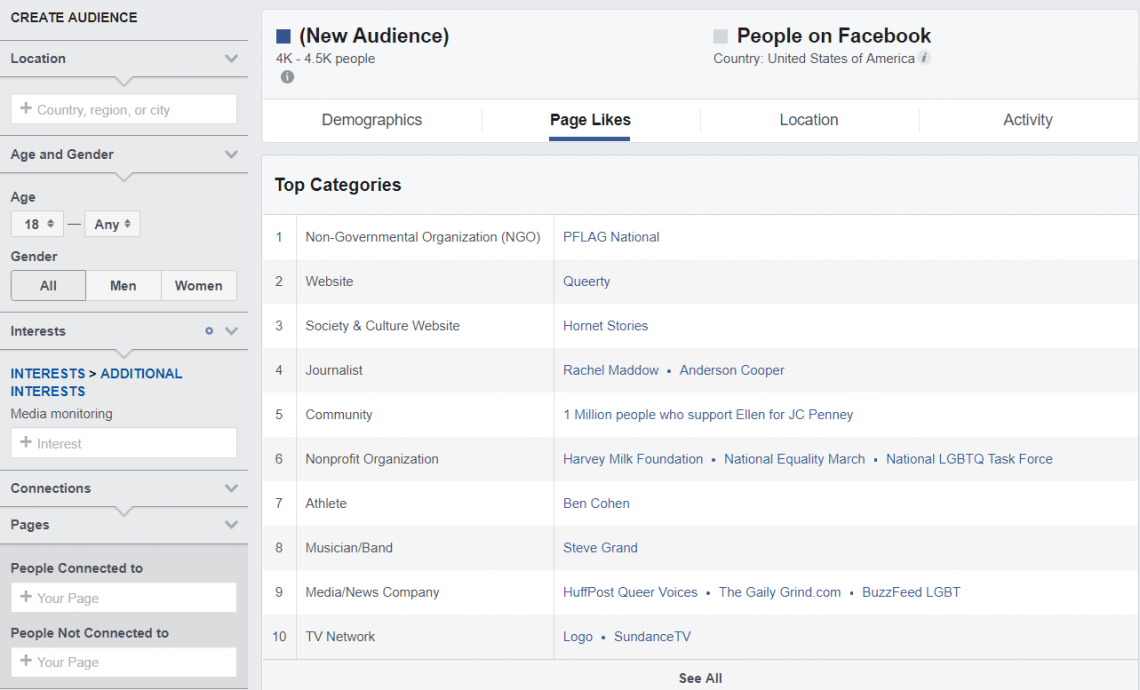 Nope. The group profile for "media monitoring" shows us that this is not the case. If I were to target these guys – I would probably lose a lot of money on the wrong group.

6. Track your traffic from Facebook. I mean ALL of your traffic.
This is going to be especially crucial to you if:
One of your goals is to lead traffic from your Facebook Page to your webpage.
You use other tracking tools (like Google Analytics).
You care about both meticulous analytics and friendly communication.
If you use other tracking tools (and you should) it's worth tagging your Facebook posts to analyze which one has generated the most clicks and conversions to your website. If you use Google Analytics – the best way to do this is with UTM parameters. You can easily create them here.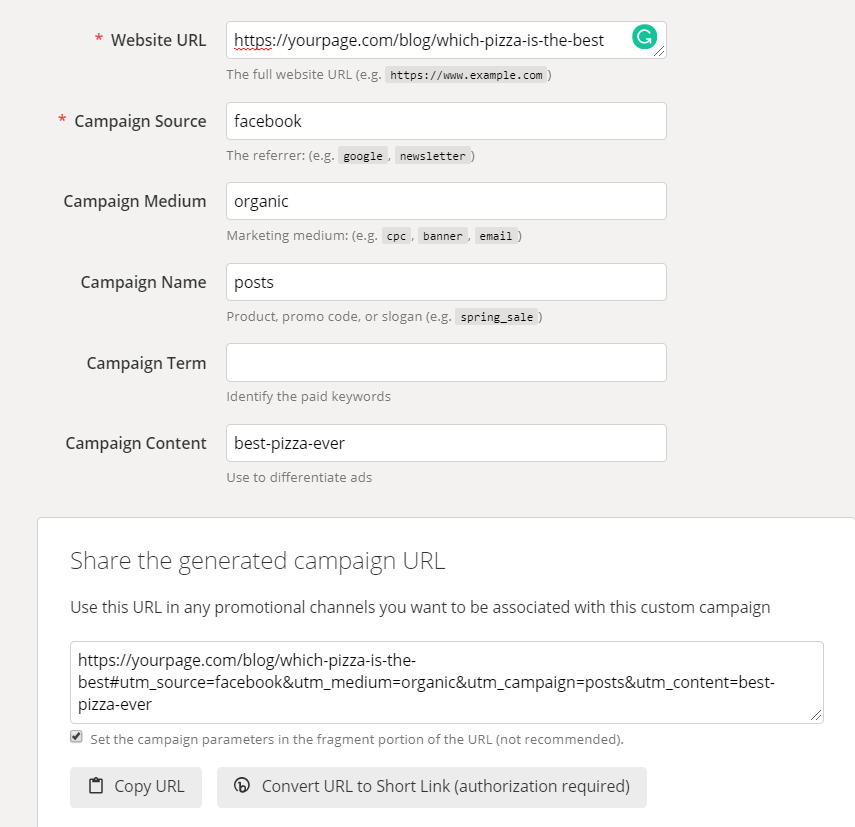 BUT – that may not be enough.
People can reach your website from Facebook through posts, ads, links in comments, messenger, a CTA on your web page link in the "About" section, etc. Be sure to track all of these potential sources of traffic to know which one is the most important one for your business.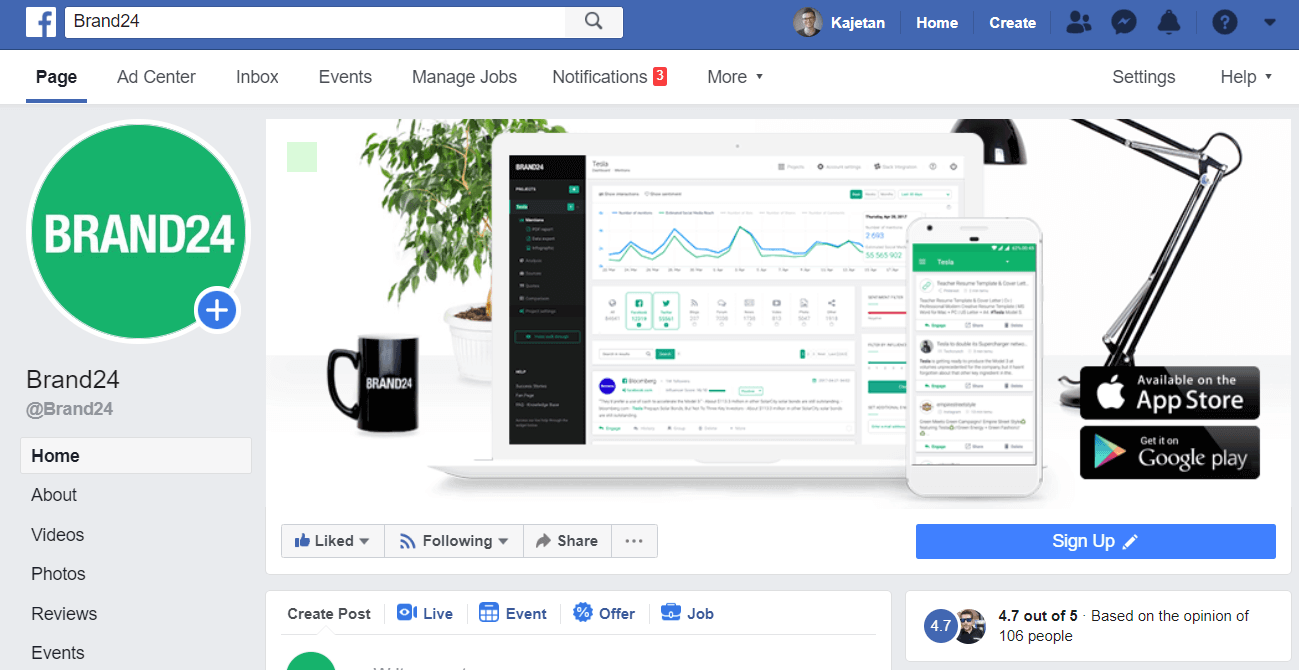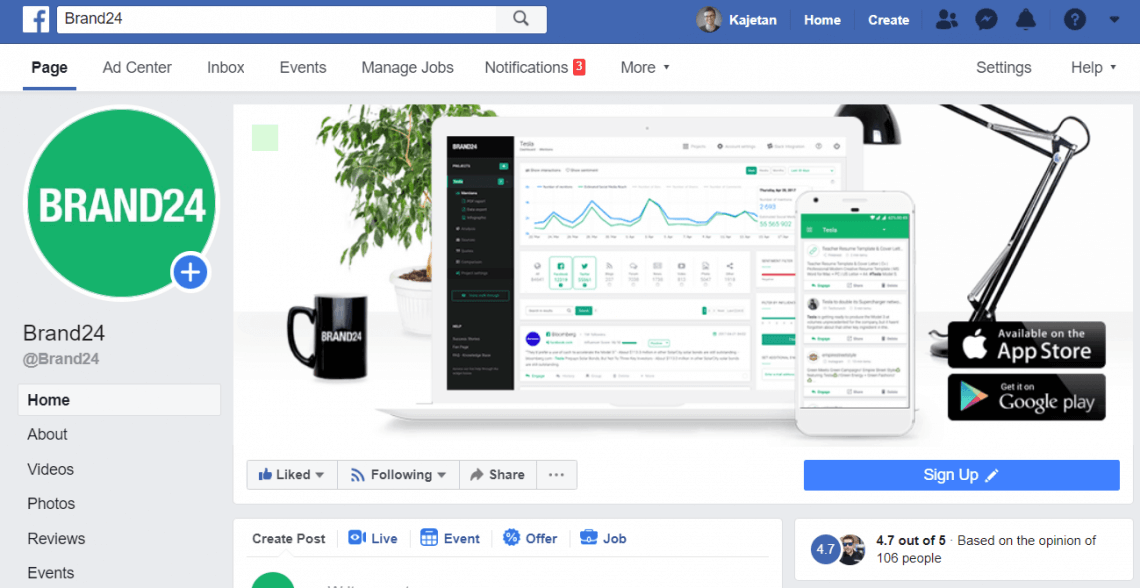 Of course, while UTM links are great for analytical purposes, they may not be so great for users. If they don't know what they're clinking on – they may be put off. Why this link is so long? If they're familiar with UTM links and you use them in your regular conversations on Messenger – you'll let them know that you want to track them and sell them something. Friends don't do that!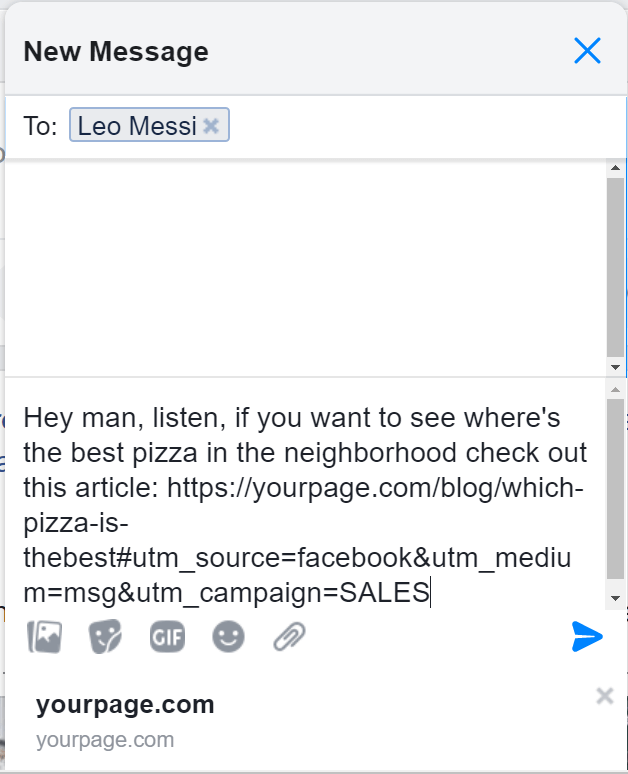 So, remember:

Use UTM parameters whenever it makes sense, but don't scare/offend your audience,
If there's no space for a full URL with full parameters, shorten your link with a URL shortener like bit.ly
If you want to create tracking links in a really user-friendly way, you can always create your own URL shortener with your domain name which will also look less suspicious to your users. This solution requires some IT work though.
Summary
I hope these tips were helpful to you. There is, of course, much more you can get from Facebook Analytics, Facebook Audience Insights, and other Facebook tools, as well as external tools. I just wanted to highlight a few solutions that could be important to many businesses, and that not many people are using!

As always, I wish you high conversion rates!
Hand-picked relevant articles: