The 10 Best TikTok Analytics Tools to Try in 2023
April 29, 2023 ・ 11 min read
TikTok is a cultural phenomenon. Why? Combining short-form videos, music, and the personalized algorithm makes the application engaging and addictive. As a result, TikTok was the most downloaded app for the past three years. In the first quarter of 2023, TikTok already recorded 246.9 million downloads globally.
TikTok is an excellent area to promote a brand, especially if your target audience is younger or your brand focuses on entertainment, lifestyle, fashion, or beauty.
The significant advantage of this social media platform is its high engagement rate. That's because TikTok's algorithm is more easygoing than Instagram's or Facebook's.
Thanks to TikTok analytics tools, you can achieve outstanding results. So, let's check them!
Top TikTok analytics tools:
01 Brand24
Free 14-day trial. Individual plan for $79.
Brand24 is a social media analytics and monitoring tool that provides TikTok analytics among other social media platforms such as Facebook, Twitter, Instagram, and YouTube.
With Brand24, you can monitor your brand's mentions, analyze social media data, get hashtag analytics, and track the performance of your TikTok campaigns and hashtags.
The tool will also help you to discover trending TikTok hashtags and influencers. Thanks to email reports and storm alerts, you will be up to date with your brand reputation.
Analyze your TikTok account, competitors, and hashtags!
Brand24 provides key metrics such as:
The number of mentions
Sentiment analysis
The share of voice
TikTok account reach
Presence Score
Reputation Score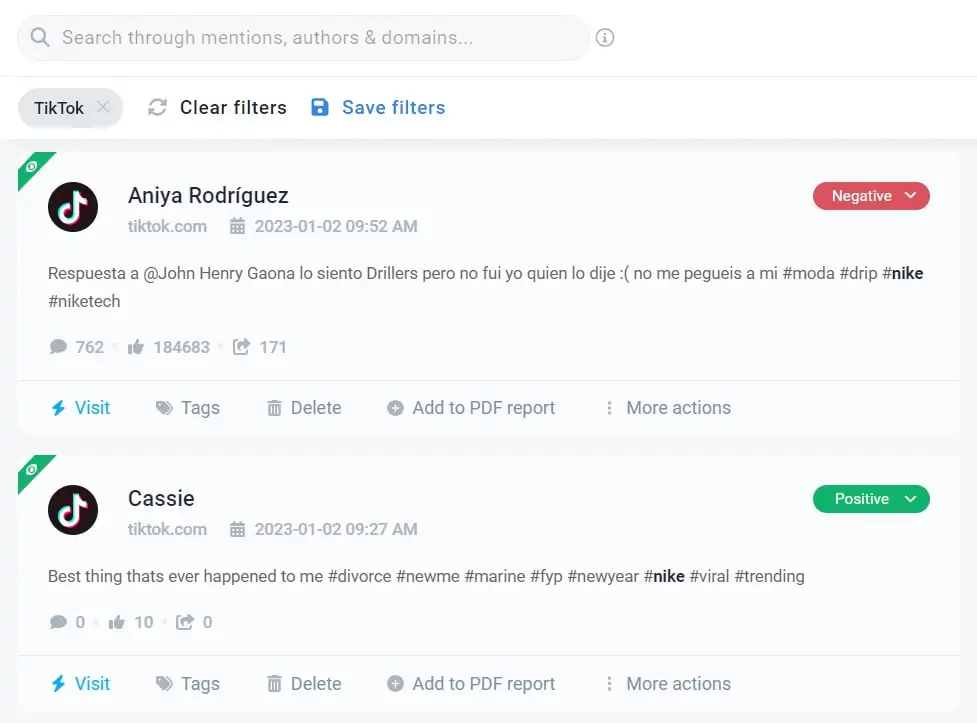 Brand24 can help you grow your TikTok account in several ways:
Identify popular trends: With Brand24, you can monitor hashtags and keywords related to your brand or industry on TikTok. It can help you identify popular trends and topics you can leverage in your TikTok marketing strategy.
Monitor brand mentions: Brand24 allows you to monitor brand mentions on TikTok and other social media platforms. It will enable you to track what people say about your brand on TikTok and respond to any negative comments or feedback on time.
Analyze TikTok performance: Brand24 provides TikTok analytics that allows you to track the performance of your TikTok content. It will help you understand what types of TikTok videos resonate with your audience and optimize your marketing strategy accordingly.
Hashtag tracking and analysis: Brand24 collects data on all posts that use these hashtags. It will help you measure the results of your hashtag campaigns.
Measure campaign impact: With Brand24, you can track the influence of your TikTok marketing campaigns in real time. It can help you understand which campaigns drive the most engagement and ROI.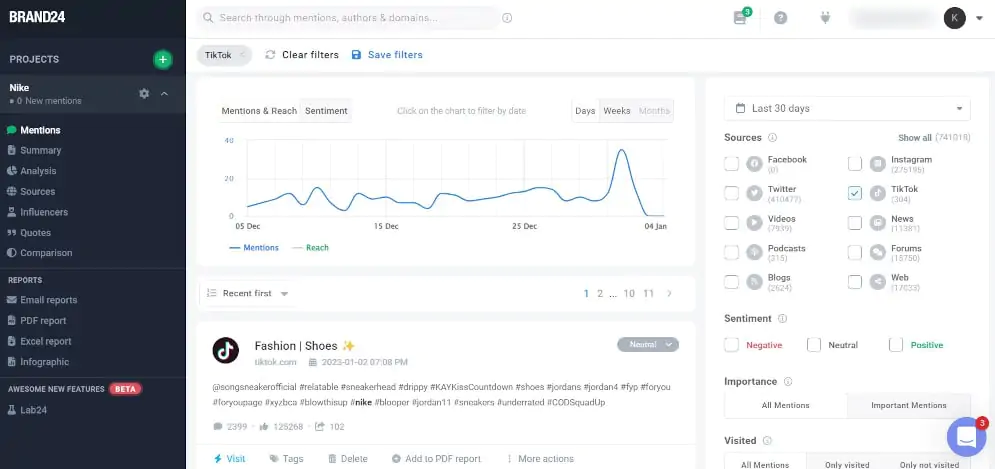 Analyze your TikTok account, competitors, and hashtags!
02 Internal TikTok analytics
Internal TikTok analytics is a feature available to users with a TikTok Business account. This feature provides insights and metrics on your TikTok performance.
TikTok's internal analytics is quite powerful. Here's what you can track:
Key metrics: video views, profile views, likes, comments, unique viewers, shares, reach, engagement
Video analytics: total play time, average watch time, watched full videos, new followers, total viewers, their gender, age, and location,
Trending videos: Top 9 videos with the fastest growth in the past 7 days,
Followers: total followers, net followers, lost followers, most active times, and audience insights, reached audience, engaged audience,
Live analytics: statistics on your latest live, viewer ranking, and replays.
Here's a short internal TikTok analytics guide:
Upgrade to TikTok Business account: To access internal TikTok analytics, you must upgrade your personal account to a business account. This is a free feature available to all TikTok users.
Access analytics dashboard: Once you have a TikTok Business account, you can access your analytics dashboard. You will find it in Creator tools and Business suite.
Review your metrics: Use the analytics dashboard to review your TikTok metrics. You can see how well your content performs, which videos get the most views, and who your audience is. You can also see the metrics I listed above.
Monitor your progress: Use the analytics dashboard to monitor your TikTok progress over time. You can see how your performance changes weekly and track your progress toward your social media goals.
Optimize your content: Based on the insights you gather from your analytics, optimize your TikTok content to improve engagement and reach. You can test different types of content, experiment with different hashtags, and post at various times to see what works best for your audience.
In summary, internal TikTok analytics provides users with valuable insights into their TikTok performance, allowing them to optimize their content and social media strategy.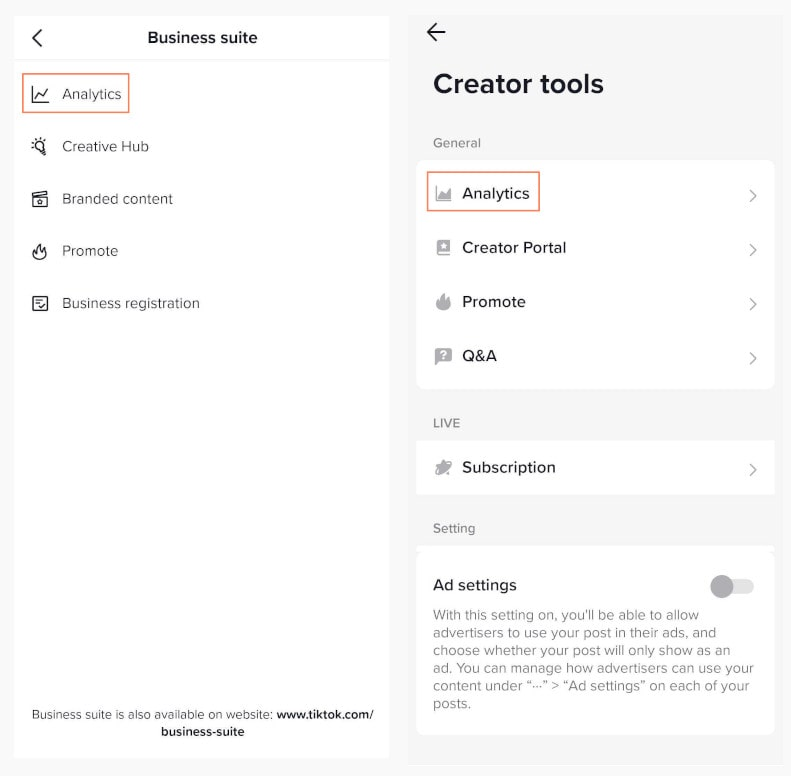 Analyze your TikTok account, competitors, and hashtags!
03 Pentos
The Trends pro plan starts from $99.
Pentos is a tool that analyzes TikTok trends and measures account performance. The tool tracks hashtags, users, songs, topics, and trends.
It will help to keep an eye on competitors and measure progress over time. Overall, Pentos will help you gain valuable insights into your TikTok performance and optimize your social media strategy accordingly.
Key features:
Trend graph
Trending songs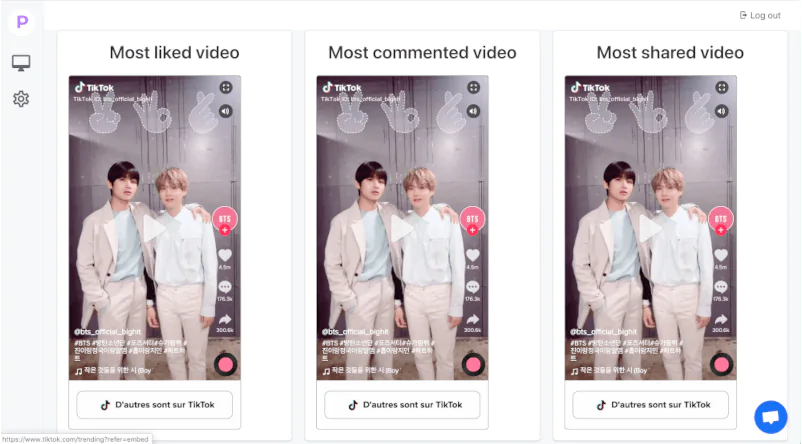 04 Socialinsider
Free 14-day trial. The Analytics plan starts from $99.
Socialinsider is a comprehensive social media analytics tool that provides insights into social media performance across various platforms, including TikTok.
With Socialinsider, you can monitor TikTok accounts, track competitors, and analyze social media campaigns.
In terms of TikTok analytics, Socialinsider tracks several key metrics, such as engagement rate, video views, and follower growth.
Thanks to historical data, you can detect drops or spikes in video views or engagement.
Key features:
Tiktok profile analytics
TikTok video analytics
Campaigns tracking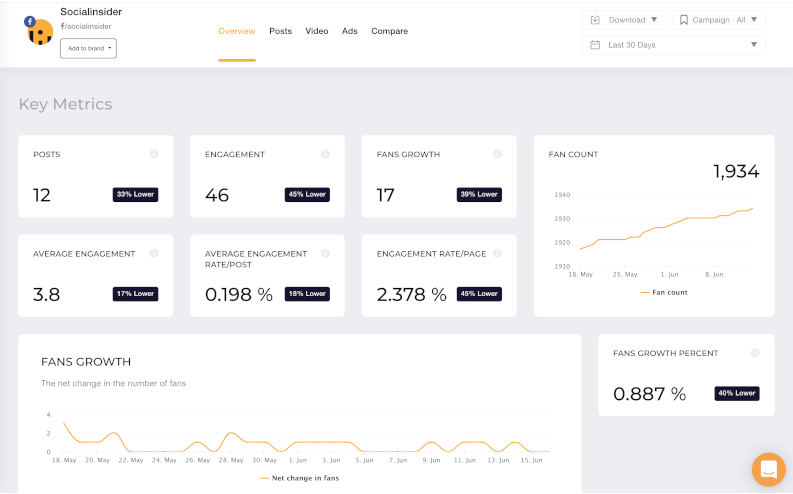 05 Sprout Social
Free 30-day trial. Standard plan for $249.
Sprout Social is a social media tool that includes TikTok analytics among its features.
With Sprout Social, you can track and analyze your TikTok performance.
You can also use Sprout Social to schedule and publish TikTok posts and respond to comments and messages.
Sprout Social can help you manage and optimize your strategy across different platforms, including TikTok.
Key features:
TikTok management
Content calendar
TikTok-specific metrics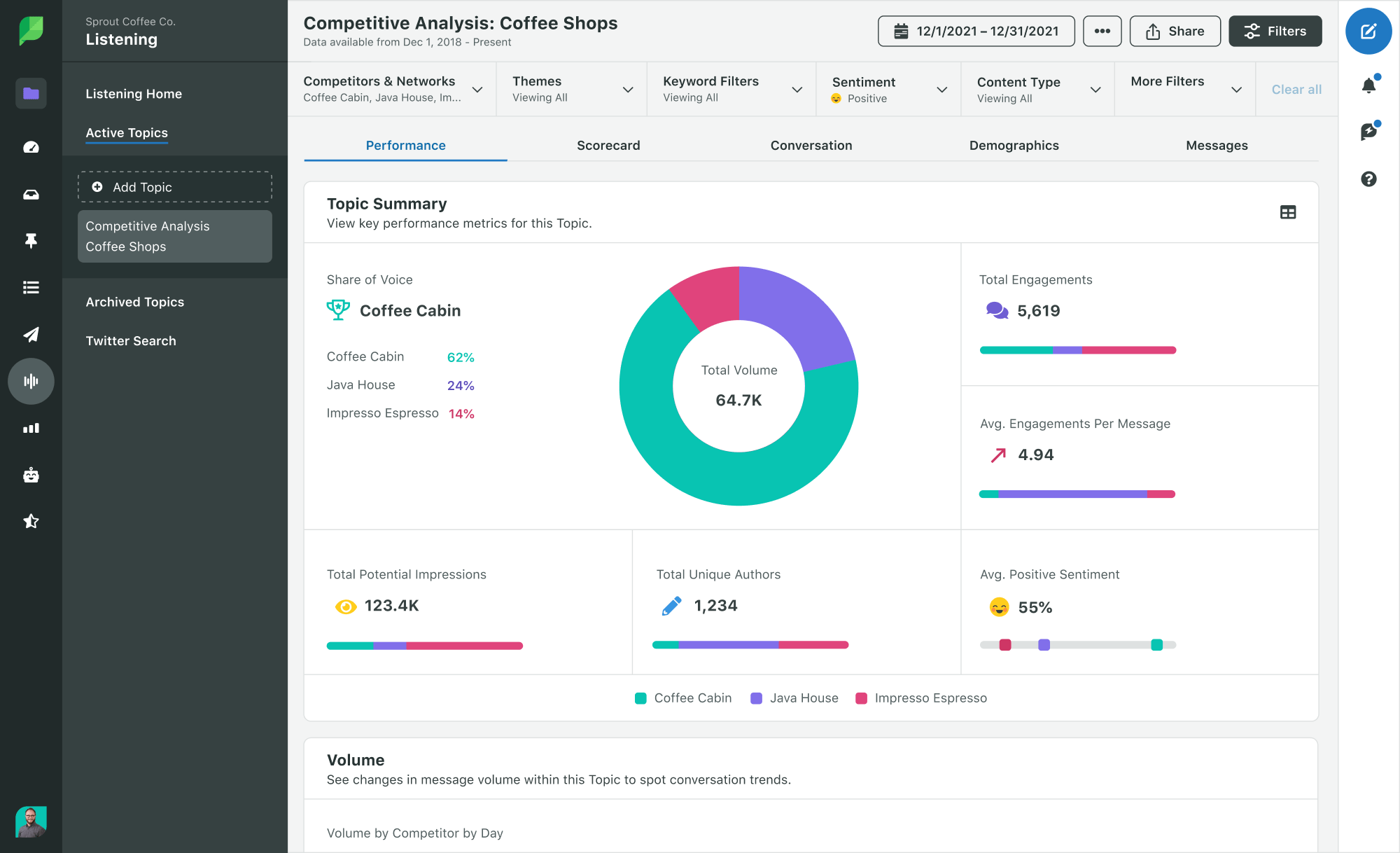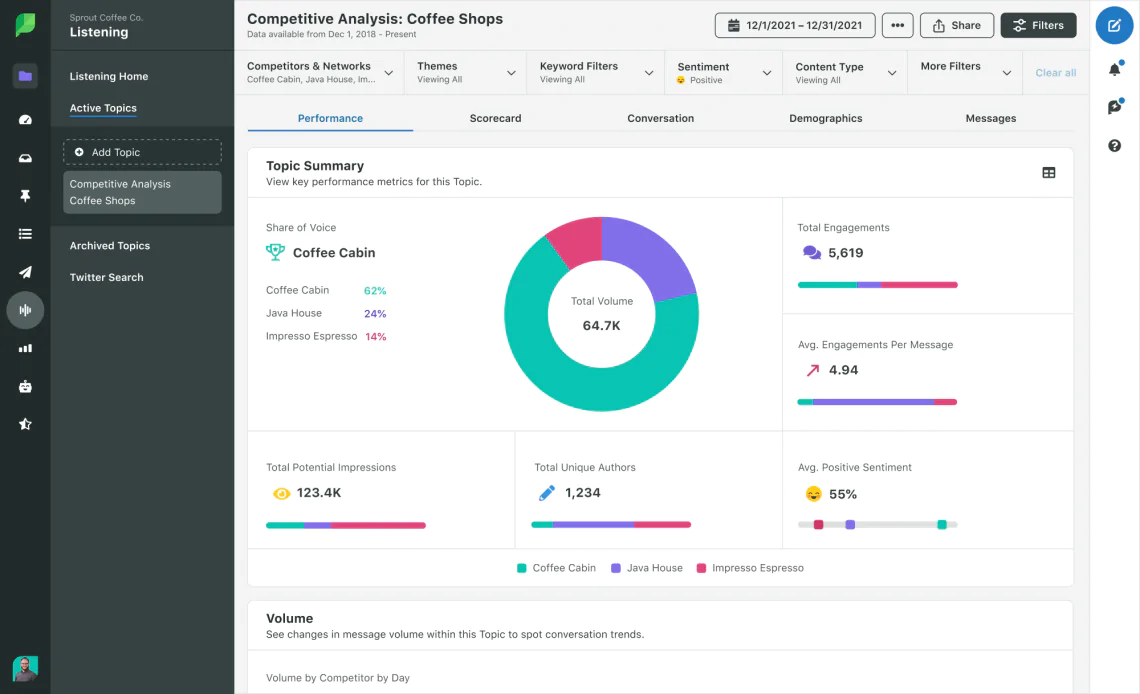 06 Keyhole
Free 7-day trial. Agency plan for $479.
Yes, Keyhole provides TikTok analytics to help you understand your audience, but it is available only in the most expensive Agency plan.
With Keyhole, a social media tool, managers can track hashtags, profiles, and keywords on TikTok. The tool describes recommendations for increasing video views, likes, and comments.
Also, it will tell you how often your TikTok videos gain likes and comments. If you are into influencer marketing, keyhole will help you identify relevant content creators to cooperate with.
Key features;
Profile analytics
Influencer tracking
Recommendations to increase engagement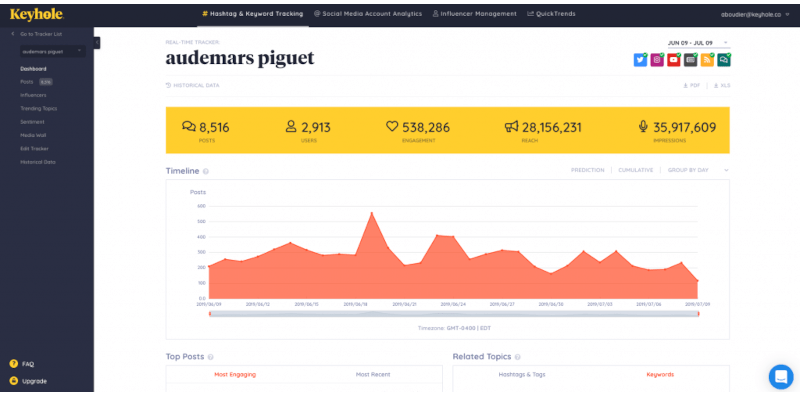 Analyze your TikTok account, competitors, and hashtags!
07 Analisa
Pro plan for $179.
Analisa is social media analytics tool that delivers real-time insights on profiles and hashtags.
Analisa can track hashtags and profiles on TikTok to provide insights into audience demographics, engagement rates, top-performing content, and other social media metrics.
What's interesting, the tool detects TikTok influencers that match tracked hashtags. That might be very helpful for marketers looking to extend influencer campaigns.
Key features:
Profile and competitor analytics
Follower demographics
Campaign tracking and reporting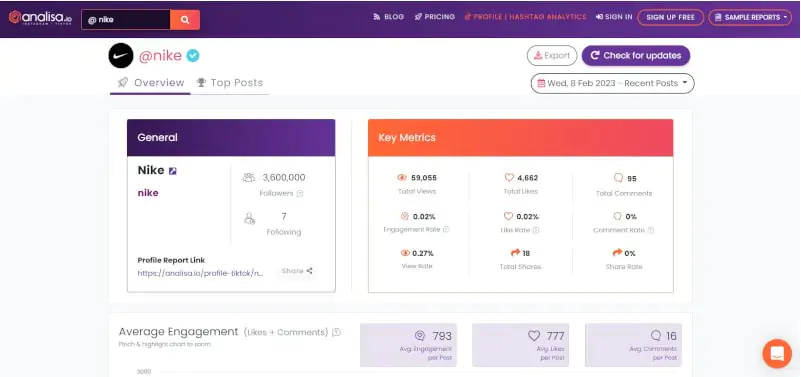 08 HypeAuditor
Detailed pricing is available upon request.
HypeAuditor is a marketing platform that analyzes TikTok influencers and provides key statistics. The tool presents insights into audience demographics, engagement, videos, and hashtags.
What's interesting, HypeAuditor has its own AI-powered Account Quality Score that helps pick authentic and effective creators for campaigns. Plus, thanks to historical data, you can observe the profile's audience growth.
Key features:
Account Quality Score
Followers growth analysis
TikTok Analytics reports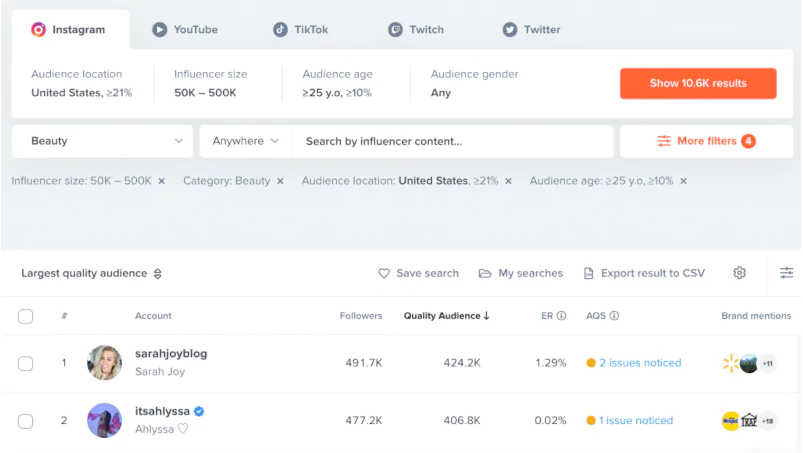 09 MaveKite
Premium features for $29.
MaveKite is a TikTok engagement calculator that offers some of its features for free. So, social media managers can quickly check the average engagement rate of any TikTok profile, hashtag, music, or video.
In my opinion, it is a great tool to check competitors' or influencers' performance. It will also show you basic statistics, such as likes, comments, plays, and shares.
Key features:
Average engagement rate
Posts performance
Most liked posts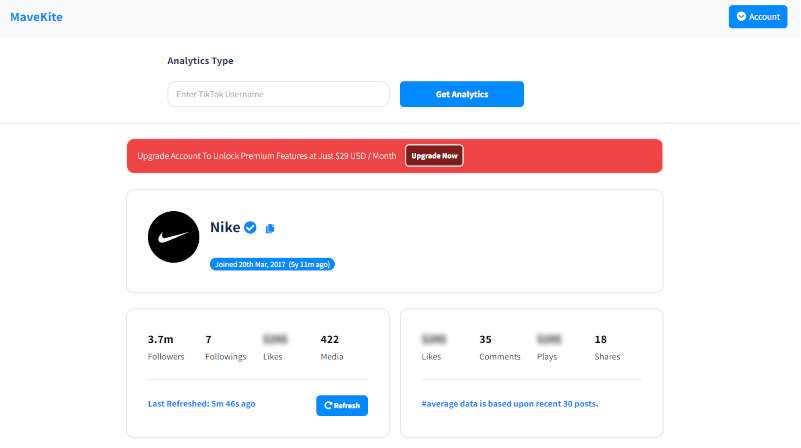 10 Rival IQ
Drive plan for $239.
Rival IQ is a social media analytics tool that monitors and analyzes social media performance, including on TikTok. The tool provides a range of features and insights that can help users understand their audience, measure their engagement, and track their competitors.
With Rival IQ, you can monitor their TikTok account's growth and engagement rate over time and track their top-performing videos.
What's interesting, the tool provides advanced competitor analysis that is available for free. You can generate a free report with insights about their engagement, top-performing content, activity, and audience.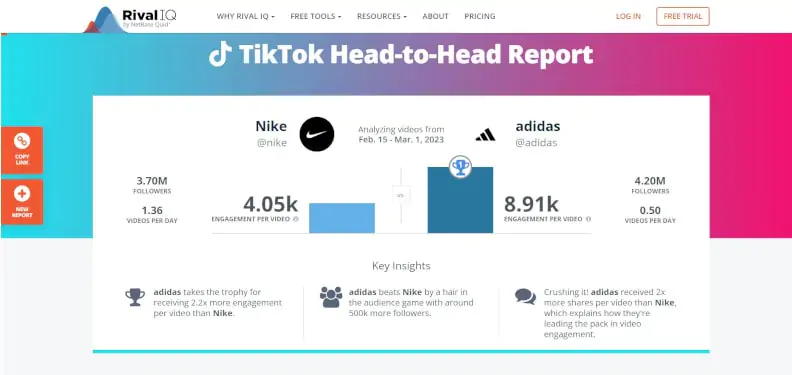 Analyze your TikTok account, competitors, and hashtags!
How can TikTok analytics tools help reach a broader audience?
Right now, TikTok delivers the broadest social media reach. Here you can see the most popular Nike mentions that comes from TikTok: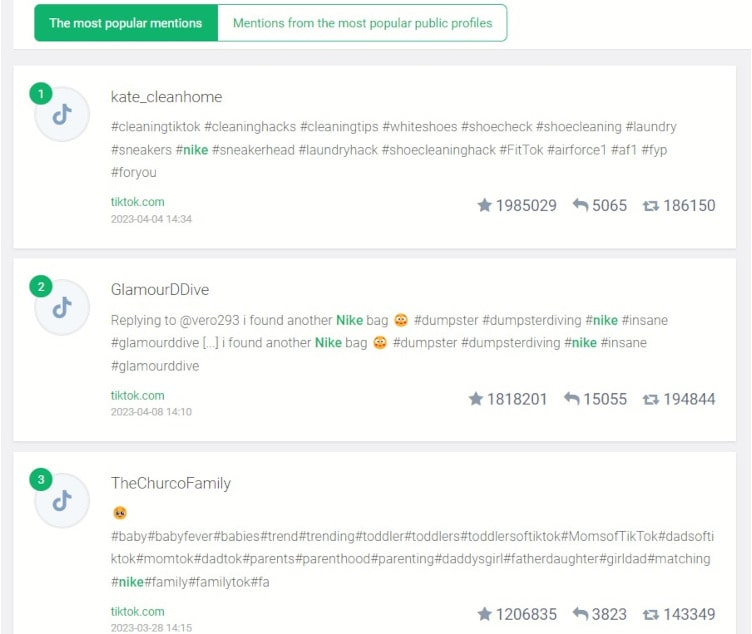 The numbers of interactions and views are impressive.
In addition, the number of TikTok users continues to grow. According to Statista.com, in 2025, there will be almost one billion of them.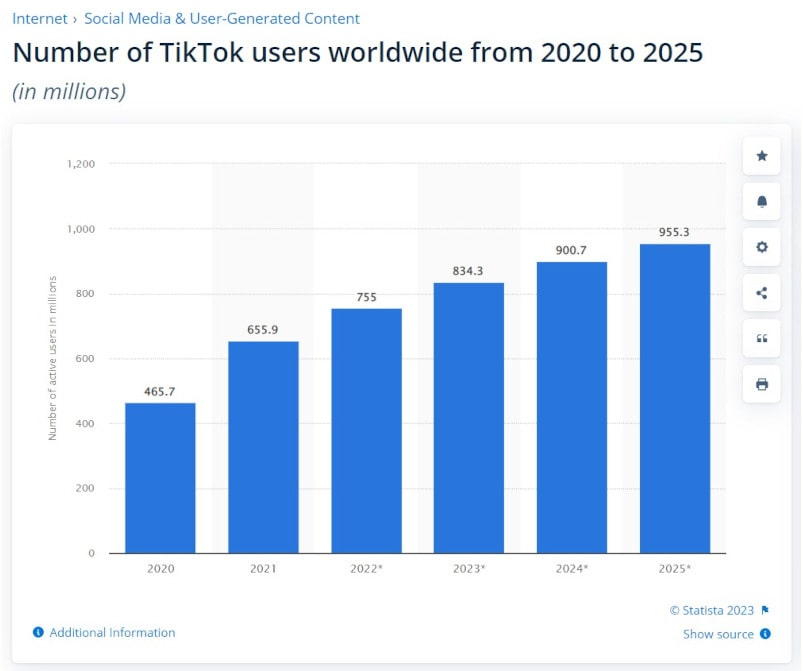 That's why more and more brands appear on TikTok, which means a battle for user attention.
But yet, running a TikTok account might seem easy.
You upload a video that matches current trends. And if the video goes viral, thousands of users will see it.
Well, yes and no.
The virality of a post depends on various factors, including:
Quality of the content,
Relevance of the content to current trends or events,
Timing of uploading the video,
Audience's reception of the post.
And that's just a few of them.
So, to develop your account, you must keep an eye on analytics.
TikTok analytics tools can help you identify trending topics and hashtags that are popular among your target audience. By creating content relevant to these trends, you can increase your chances of reaching a wider audience.
Tools can help you analyze the engagement rates of your content, such as likes, comments, and shares. Knowledge of which posts perform well and why is crucial.
With the help of tools, you will stay organized. They also will help you identify the best time to post your content and the most effective posting frequency. Optimizing your content delivery can increase your chances of reaching your followers.
As we all know, TikTok is about trends and virals. Yes, you can track trends inside the TikTok app, but it's time-consuming. Many tools can help you with that by tracking trending hashtags and virals.
Tools provide more comprehensive TikTok metrics than built-in analytics tools on the platform. You will track engagement, follower growth, sentiment analysis, the share of voice, the volume of mentions, audience demographics, and many more. Metrics will help you better understand the content's performance and the audience's behavior.
With analytics tools, measuring TikTok campaigns' effectiveness is much easier. They will show you valuable insights and data. Tools can identify the most popular types of content, best-performing posts, most engaging users, etc.
Also, tools can monitor competitors on the platform. By using analytics tools, you can look at the content that's been performing well for competitors, identify influencers collaborating with them, understand their target audience, track changes in user behavior, and more.
Conclusion
Internal TikTok analytics is a great source of data. It gives social media managers a lot of valuable insights.
But while running social media marketing for your brand, it might not be enough. It doesn't allow you to track campaigns, mentions, competitors, or hashtags. Also, it won't tell you whether followers perceive your profile positively or negatively.
So, which analytics tools do you need apart from internal TikTok analysis? Consider these 3 types of tools:
Social media monitoring tools, such as Brand24. Monitoring of mentions will show you what content resonates with your audience. Also, the tool provides sentiment and competitor analysis, tracks hashtags, campaigns, and mentions.
Competitor analysis tools, such as Rival IQ. Tracking your competitors can be a huge advantage. It will show you what music, trends, and challenges they use.
Trends tracking tools, such as Pentos. Trends are essential on TikTok. They can boost accounts immediately. You need more than basic analytics to track and use trends effectively.
Start experimenting with different social media monitoring tools today. Discover the benefits they can bring to your TikTok marketing efforts. Start a free trial!