The 10 Best YouTube Analytics Tools for 2023
February 20, 2023 ・ 10 min read
On a daily basis, people watch over 1 billion videos on YouTube. Therefore, if you want your content to go viral, you need a dedicated YouTube analytics tool to support your efforts. Thanks to this kind of software, you can gain valuable insights and use them to improve your YouTube performance.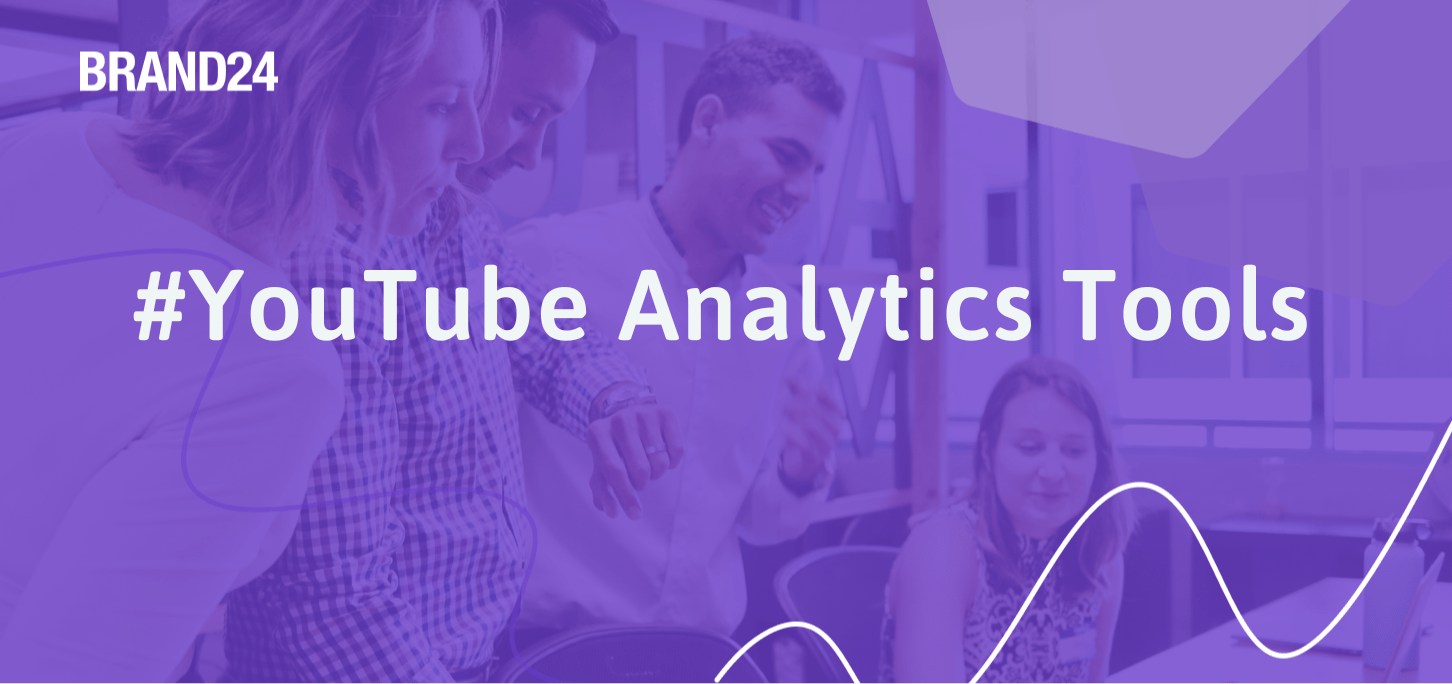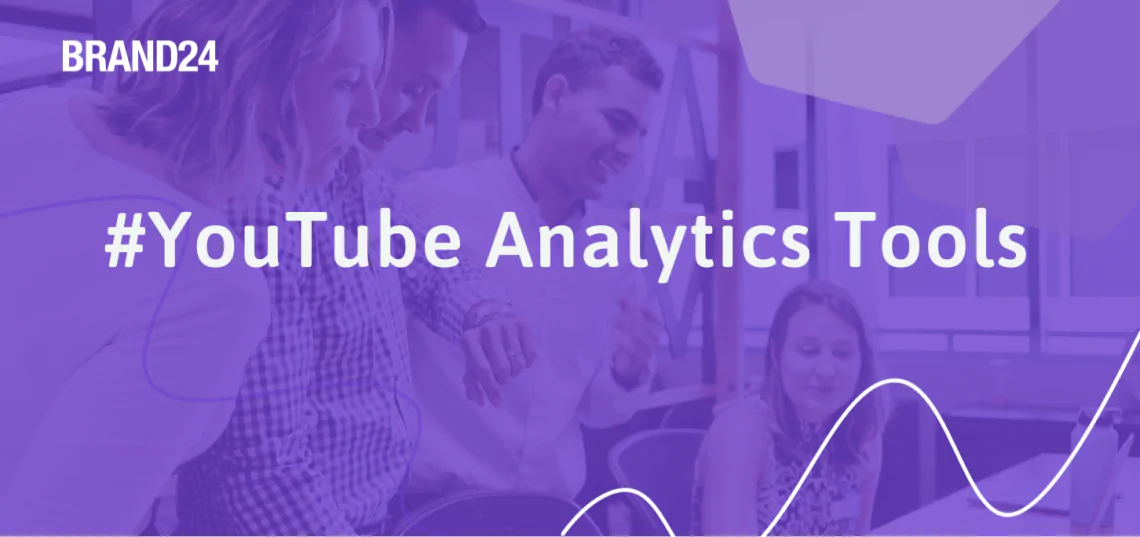 YouTube analytics tools can greatly help you by providing audience insights and shaping the path you should follow to improve your channel performance. This way, you will make well-informed decisions, which will help you succeed on YouTube.
I prepared a rank of both paid and free YouTube analytics tools, so I hope everybody will find something for their needs and pocket.
Are you ready to gain more views and subscribers on your YouTube channel?
See the best YouTube analytics tools that can help you to achieve that.
01 Brand24
Brand24 is a social media monitoring tool that offers YouTube analytics. It is very easy to use Its use is very simple, and thanks to its comprehensive dashboard, you'll be able to benefit from its features fully.
Here are the key features:
Top public profiles
Trending links
Try YouTube analytics and monitoring for free!
You only need to choose a word or phrase you want to monitor. This can be your YouTube channel, industry, or product name. In just a few seconds, you'll get the first results including your keyword.
If you are interested only in results from YouTube, you can choose the platform icon on the right-hand side of the panel.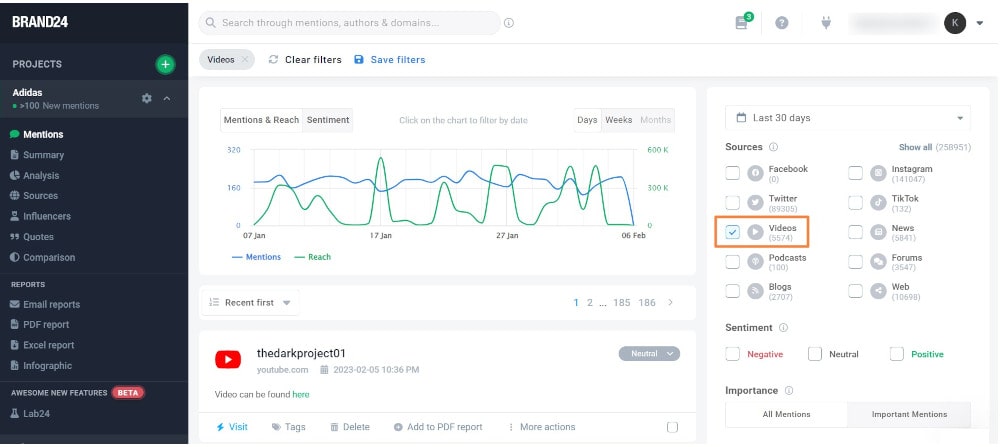 What you get with Brand24 are valuable insights from your audience. You can learn their opinion about your channel by reading the comments they leave on the internet. This information is helpful when planning your YouTube strategy or the next steps in your video marketing.
Here are some YouTube mentions of the brand Shein (a popular Chinese online shopping platform).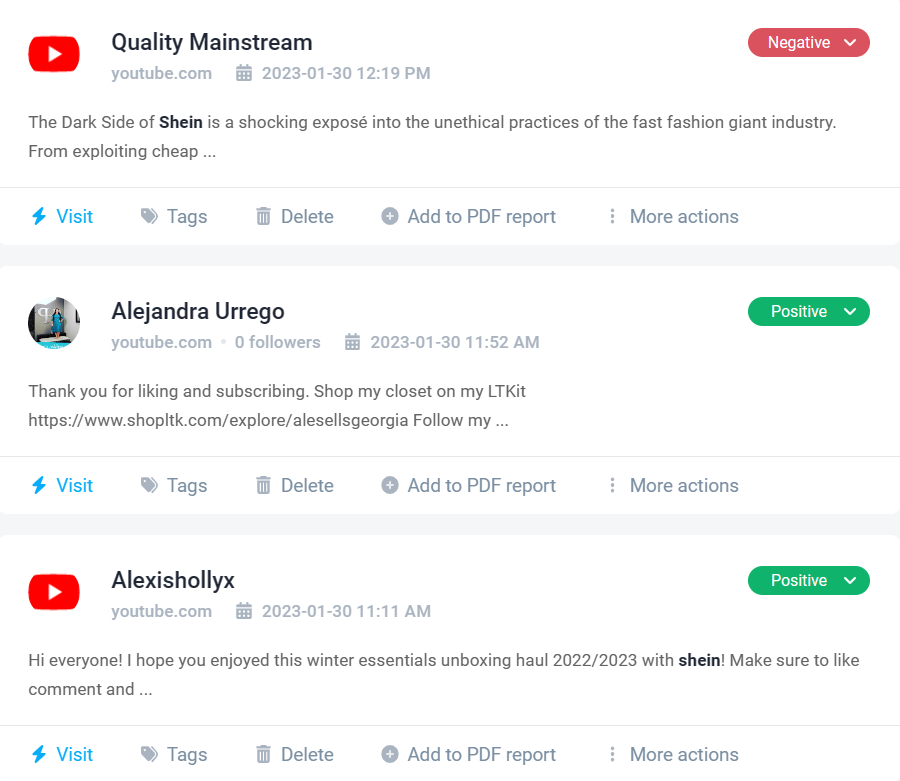 As you see, every mention has a sentiment score assigned to it. Brand24 uses AI to tag each mention as: positive, neutral, or negative. This way, you can filter the mentions by sentiment and quickly find what you are looking.
That's also very useful for reputation management, as you can identify negative mentions quickly. With Brand24, you can detect a PR crisis at its early stage and successfully prevent it. For measuring this parameter, you have the Reputation Score to track.
Do you want to analyze your YouTube performance? Use Brand24 to get valuable insights!
Another practical metric for your YouTube analytics is Presence Score. It is a number on a scale from 0 to 100 expressing how popular your brand is compared to other brands showing online.


Moreover, Brand24 analyzes trending hashtags and links, giving you a rank for each. You can use the former as an indication of which hashtags you should use in your content and the latter to see different pages talking about you.
When analyzing trending links, you can find websites that mention your brand or channel but don't link to it. This feature is very useful for link building.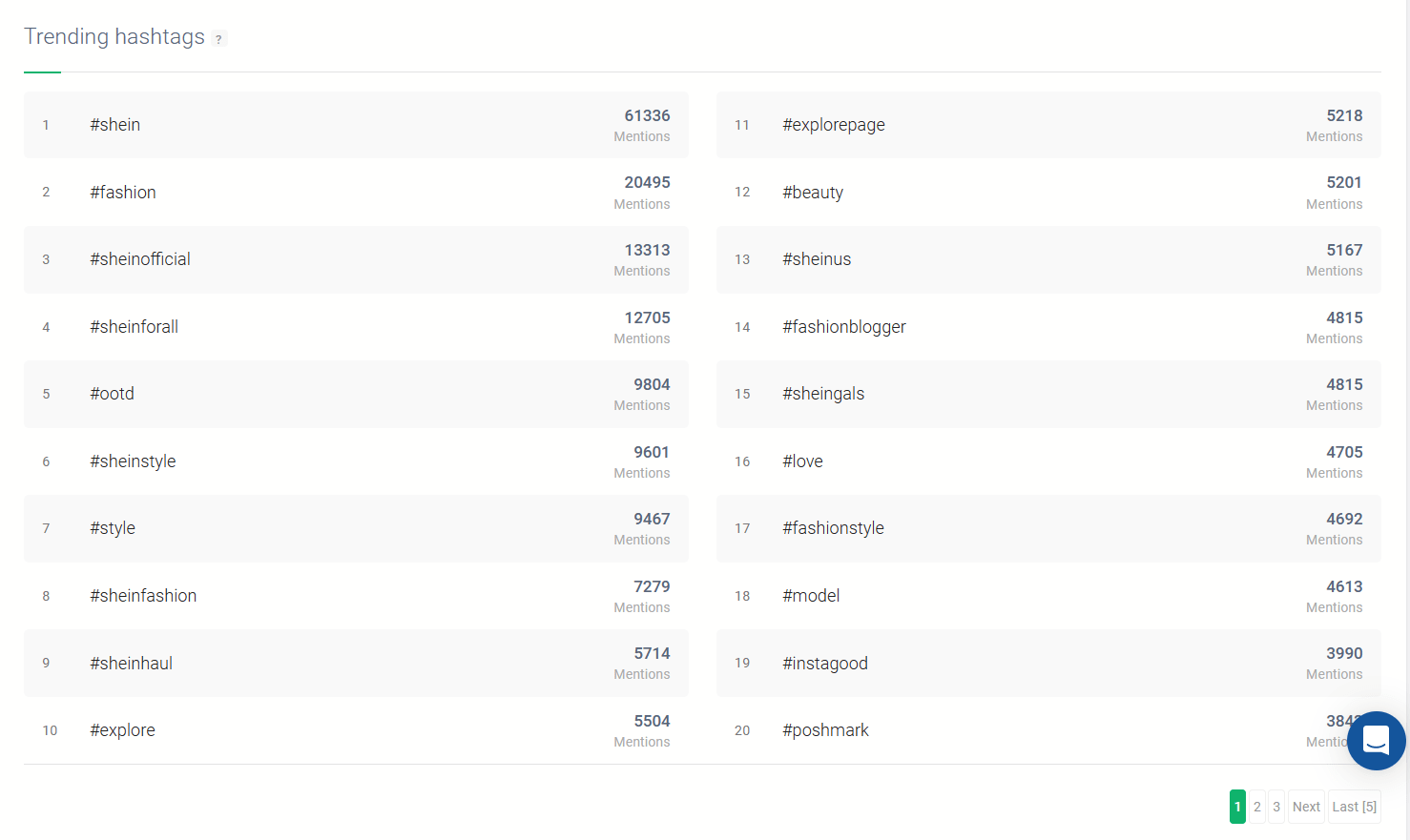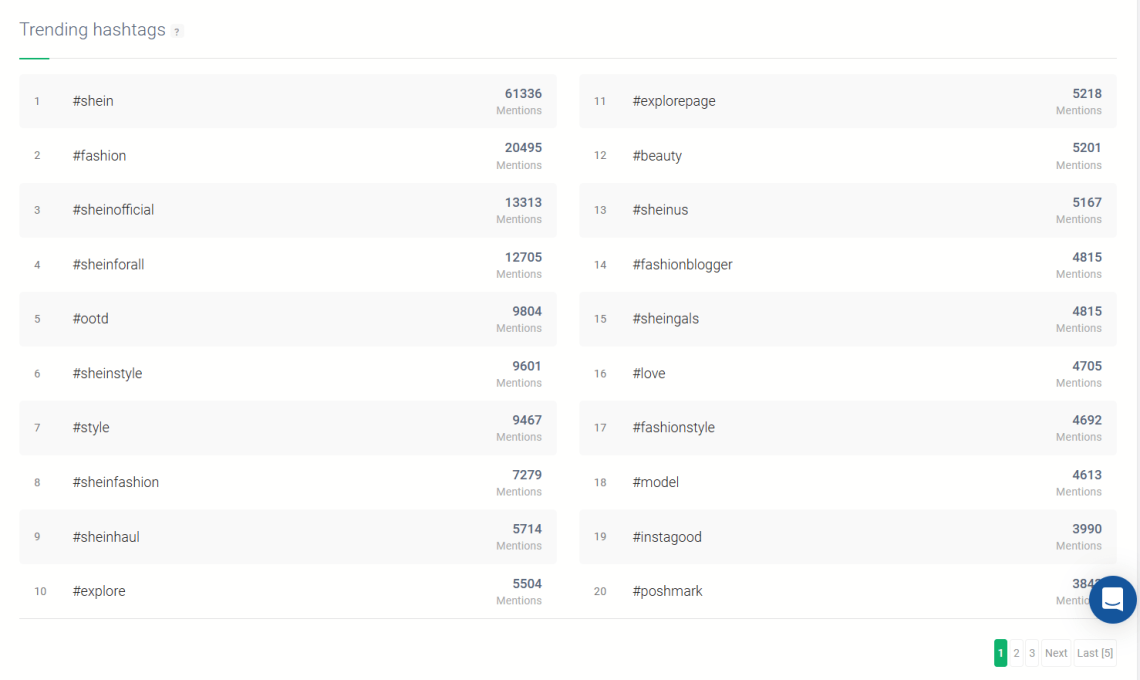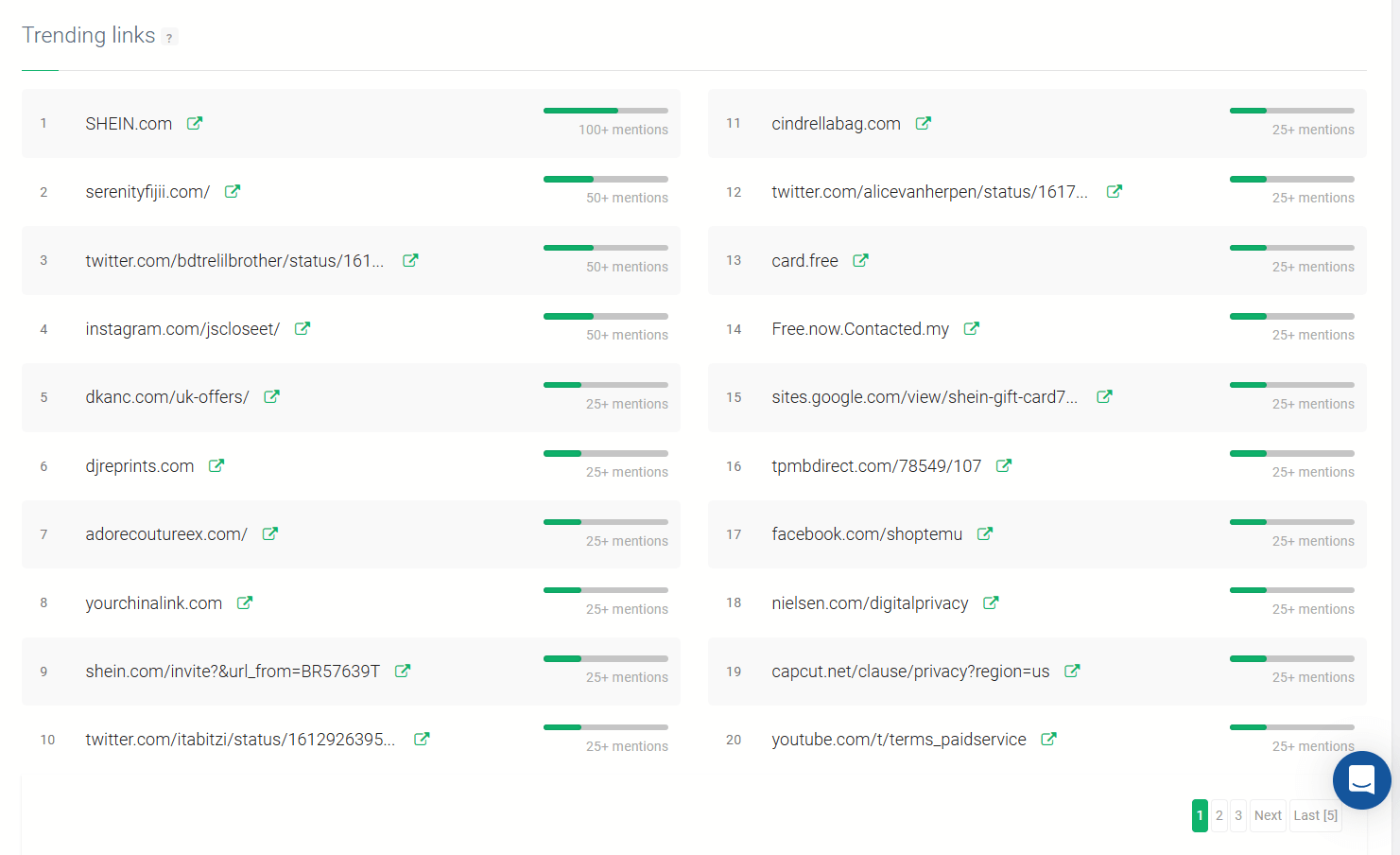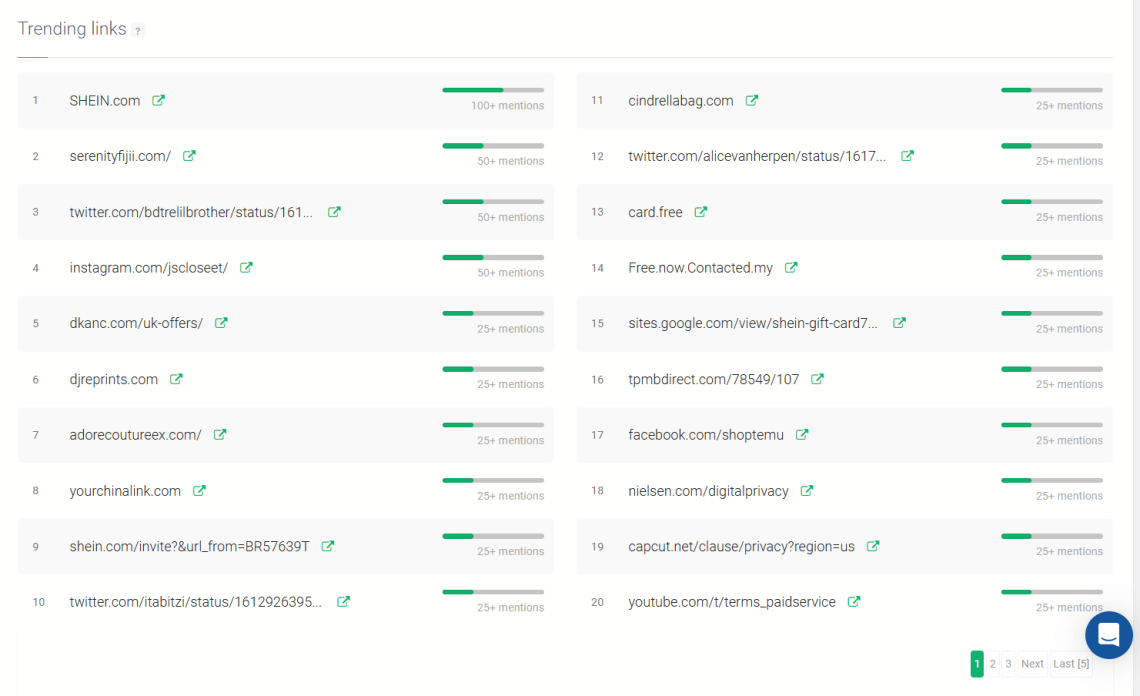 Last but not least, Brand24 ranks Top public profiles and Most active public profiles talking about your keyword. That is very useful when organizing an influencer marketing campaign. You get a list of all the most influential people who like your products or services, and would be willing to collaborate with you.
To sort and compare the influencers, you can use metrics such as Share of voice, Reach, and Influence Score.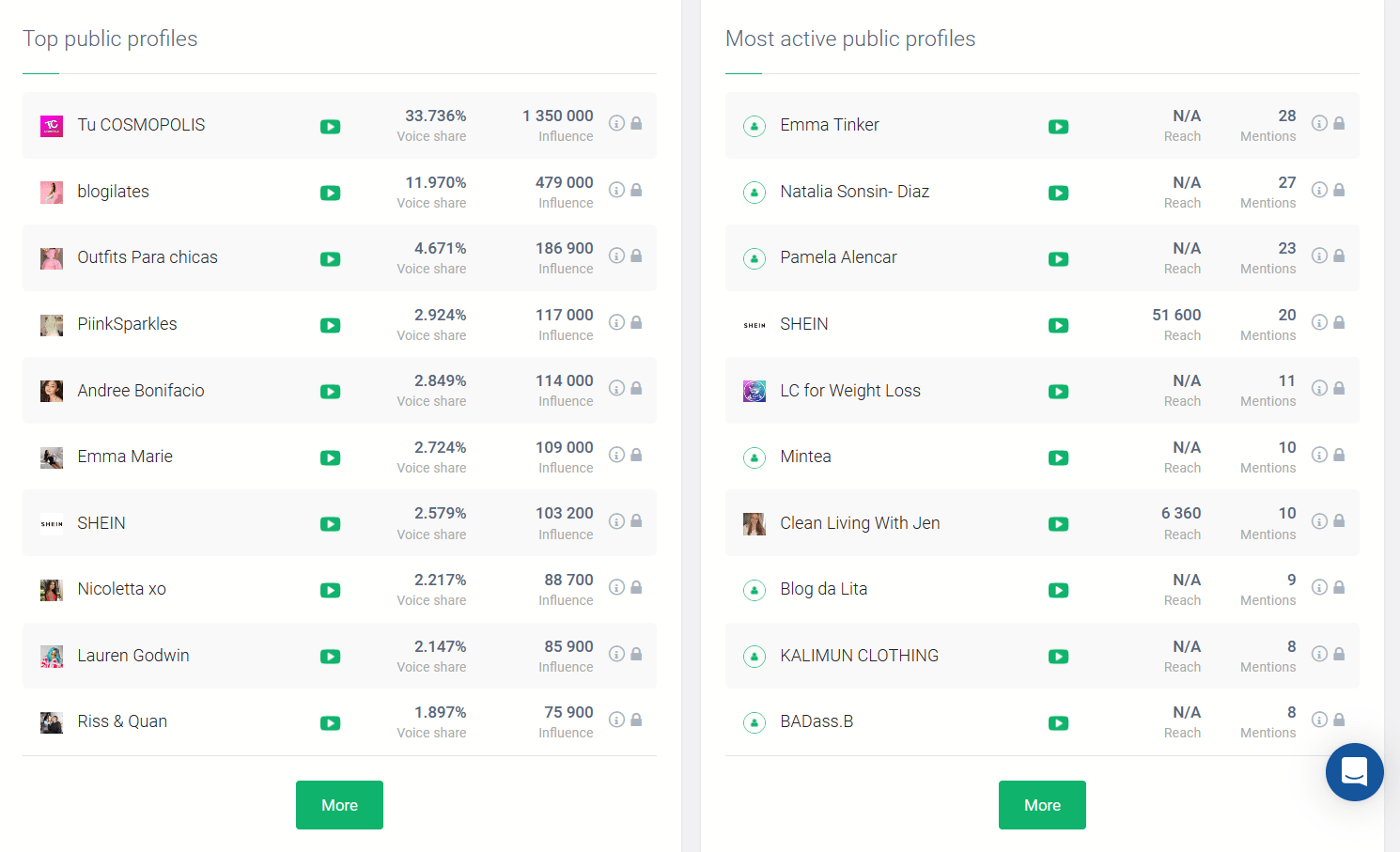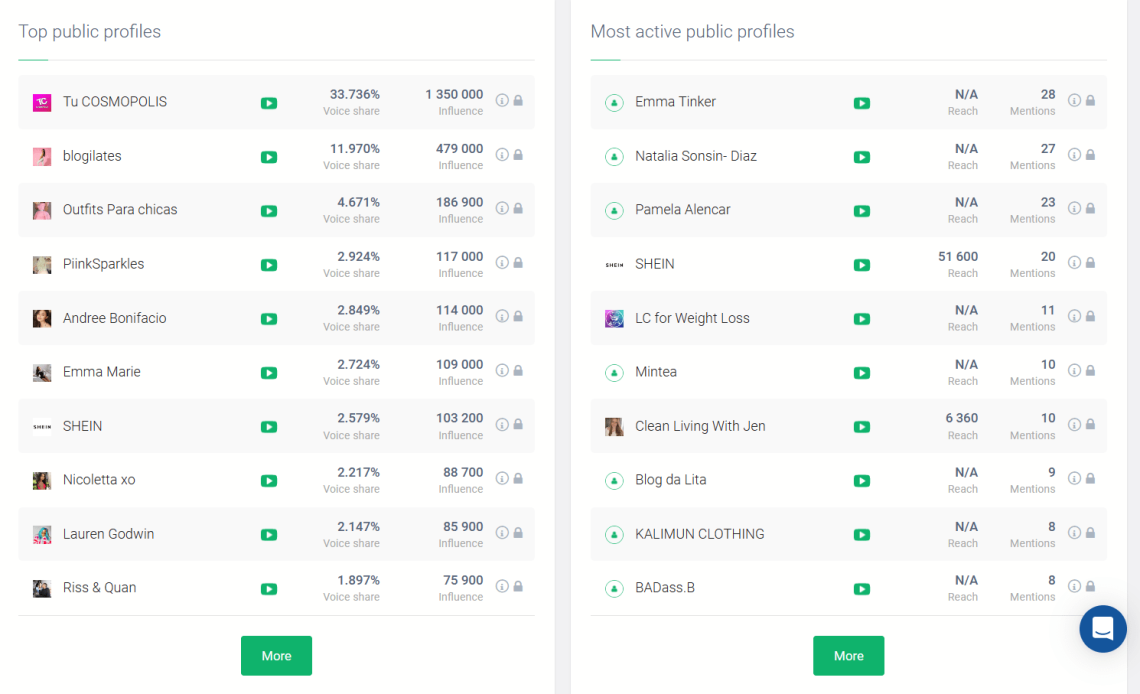 What's also great about Brand24 is its 14-day free trial. Give it a spin now!
Monthly pricing starts from $79 for an individual plan.
02 TubeBuddy
TubeBuddy is a tool that Integrates directly into YouTube and helps you rank higher in the search results. It provides you with optimization help, statistics review, and content scheduling.
Thanks to the search insights TubeBuddy offers, you can boost your YouTube performance, reach new audiences and get more engagement on your content.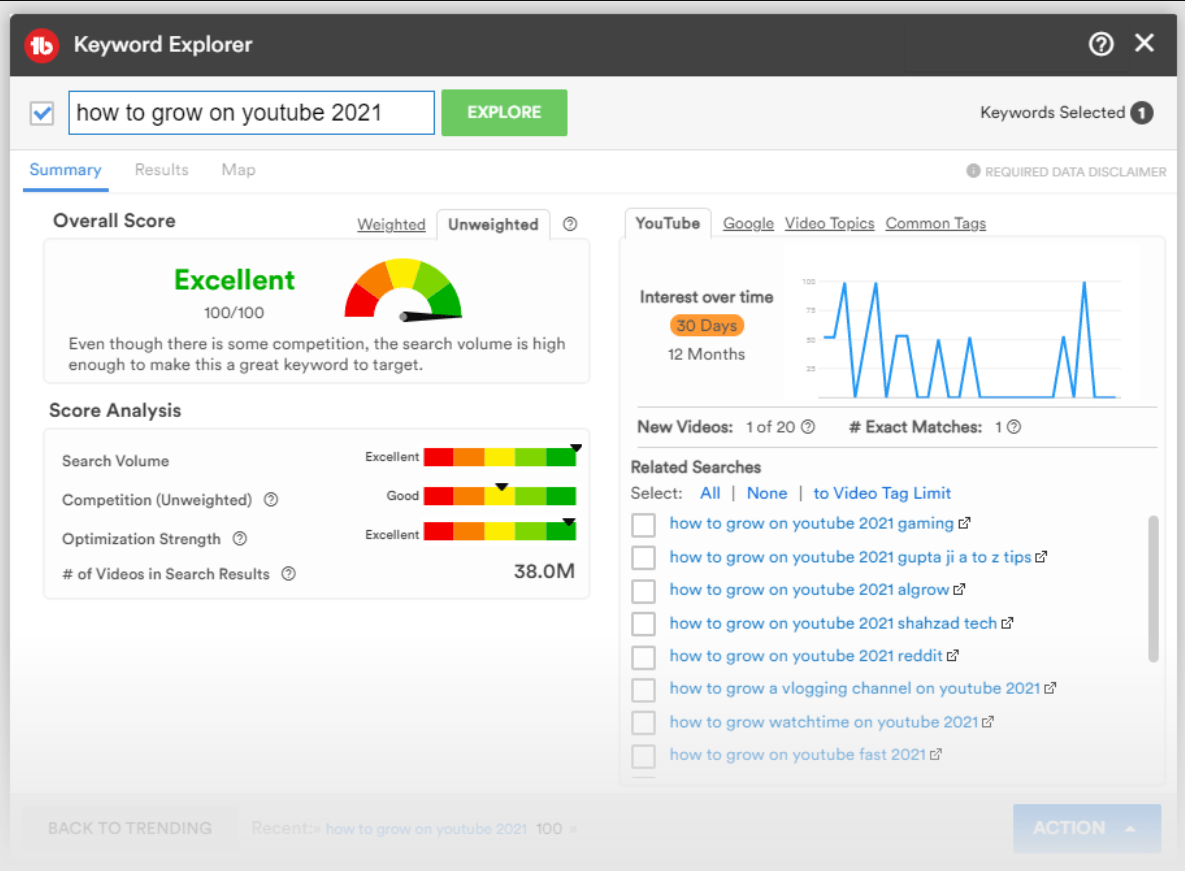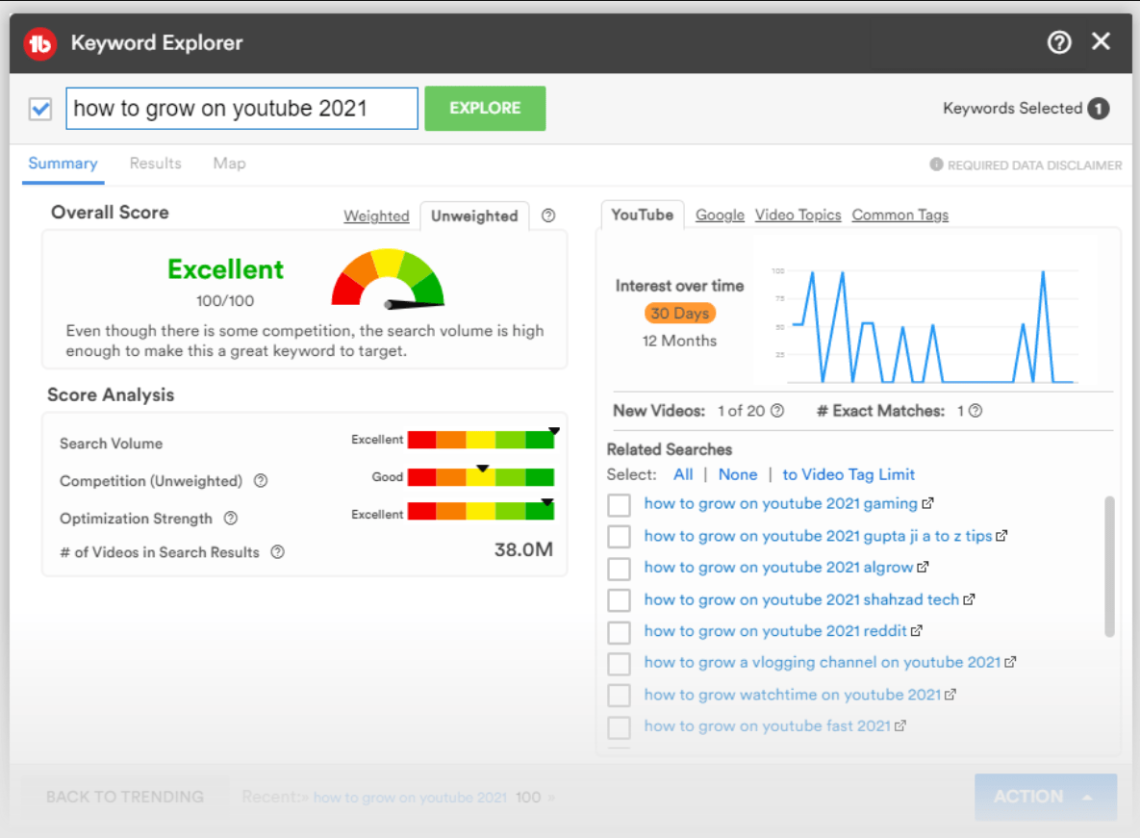 Here are the key features:
Channelytics
Health report
Best practice audit
Opportunity finder
Advanced keyword research
Templates designing
Competitor update alerts
TubeBuddy is a free YouTube analytics tool but it also has paid plans. The one for beginner creators is $4.80 monthly. There are also fuller versions available.
03 Tubular Labs
Tubular Labs is a powerful YouTube analytics tool designed to help users maximize their content's performance and engagement. It provides detailed insights into a user's video performance, audience size, and overall engagement.
The data provided by Tubular Labs can be used to track the success of individual videos – or to compare the performance of competitions in aggregate.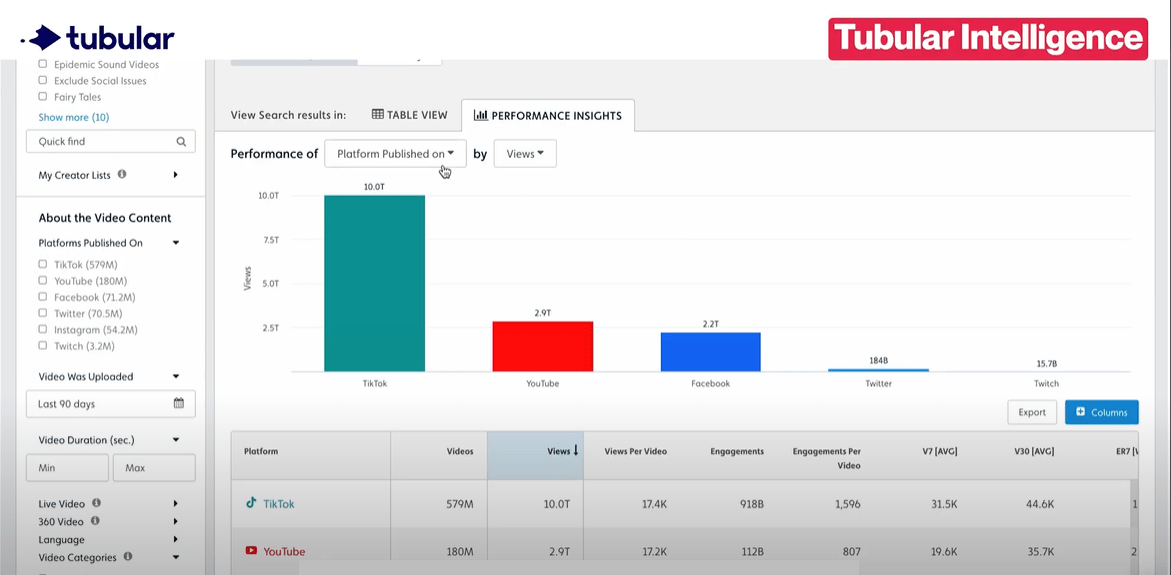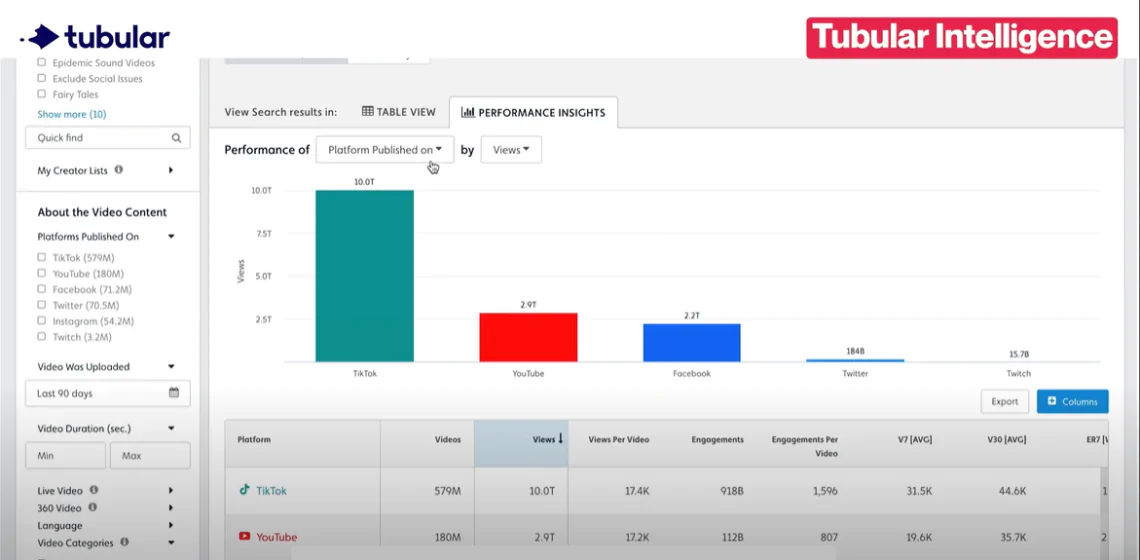 The tool's key features are:
Influencer identification
Creating content strategy
Audience insights
Consumer and market intel
Media planning
Watch time analysis
If interested, you can request a demo through a web form. The pricing is established individually.
04 Unbox Social
Unbox Social is one of the powerful YouTube analytics tools with which users can monitor their channel's performance with comprehensive insights into the performance of YouTube videos, keywords, and tags. This helps them understand what works best for their audience and optimize their content accordingly.
With Unbox Social, you get several social media analytics possibilities. The tool monitors activity from Instagram, Facebook, and Twitter.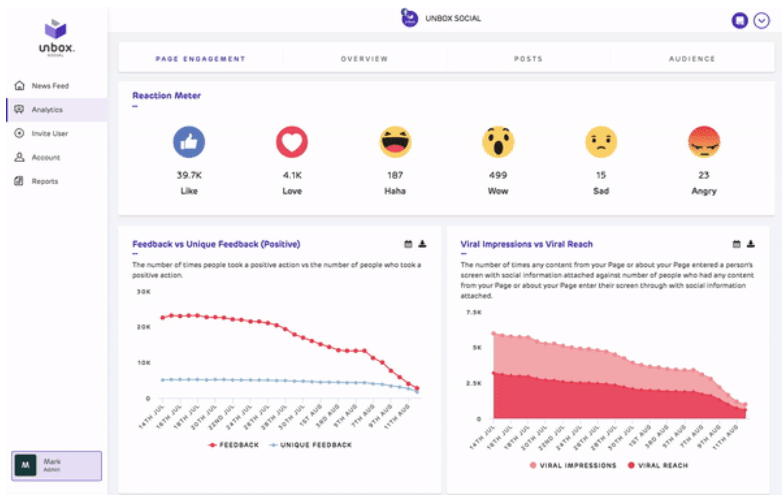 Here are some of the tool's features you may be interested in:
Interaction reports
Demographic and gender information of the audience
Watch time reports
Average view duration
Engagement rate
Various social media platforms' management
Unbox Social offers a 14-day free trial. Then, the monthly pricing starts from $9 for the starter packet for individuals or small brands.
Try YouTube analytics and monitoring for free!
05 ChannelMeter
ChannelMeter is a comprehensive and user-friendly YouTube analytics tool specifically designed for content creators and marketers. It boasts an array of features, from deep insights into viewership performance to detailed analytics about monetization opportunities.
With ChannelMeter, YouTube content creators can gain an understanding of their channel's progress and take the necessary steps to make it even more successful.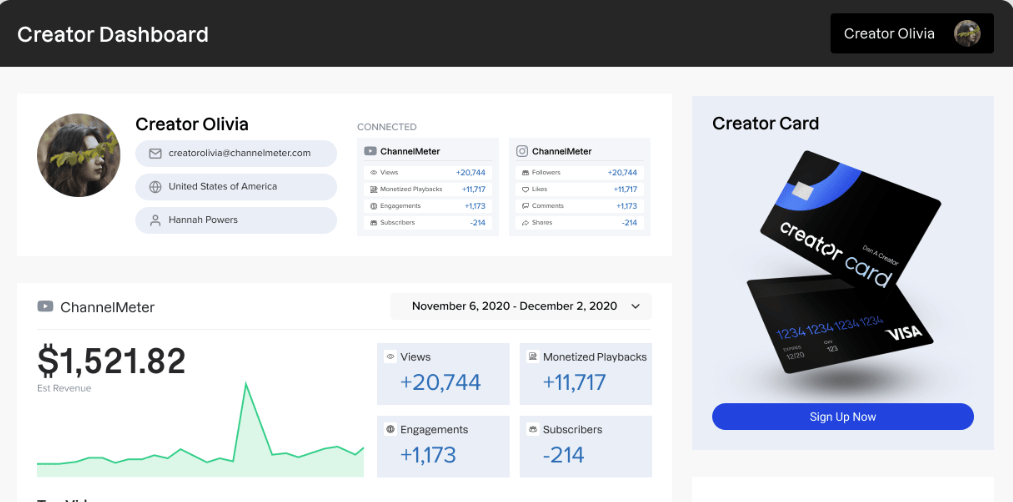 Among its key features, there are:
YouTube channel analytics
Payout automatization
Video views statistics
Various social media platforms in-depth analysis
The count of subscribers gained and lost in the latest period
YouTube analytics app
The basic functionalities are free of charge.
06 ViralStat
ViralStat is an all-in-one tool for cross-platform social media video analytics. It allows tracking, analyzing, and comparing multiple social media channels, including YouTube.
Thanks to ViralStat, you can boost your YouTube performance by creating videos adjusted to what your audience watches the most willingly.
This YouTube analytics tool suggests YouTube guidelines for content and helps you understand your audience demographics and preferences with clear and understandable statistics like various engagement metrics.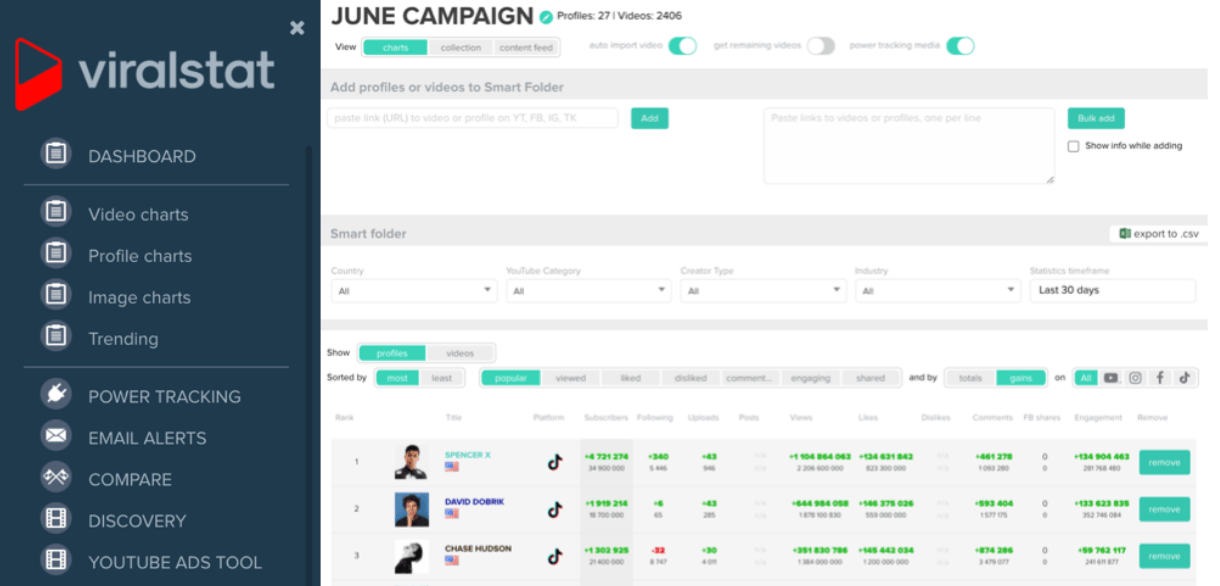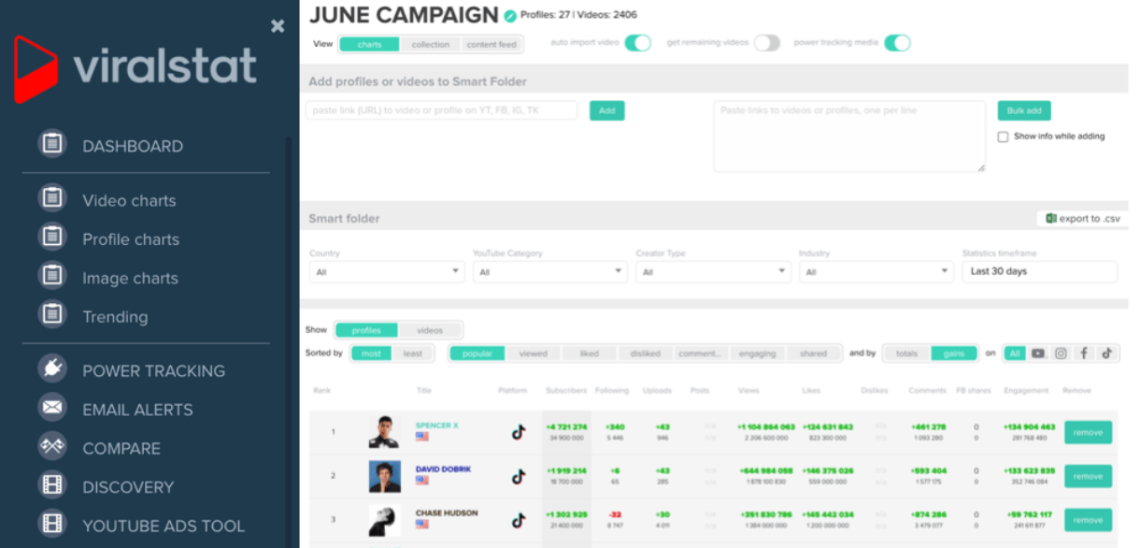 Here are some features you may find helpful:
Engagement metrics
Competitor analytics tools
Influencer marketing guidelines
Content intelligence tool
Trending topics identification
You can try ViralStat for free for 7 days. Monthly prices start from $29 for a basic plan.
07 Vidooly
Vidooly is another YouTube analytics tool that helps you increase search traffic and maximize video viewership.
It also provides features of an audience analytics tool. Vidooly helps to build a new audience and understand your market position.
This YouTube analytics tool has a broad use and combines all these features into one understandable dashboard.
Besides YouTube, you can use the tool to analyze your performance on Facebook and Instagram.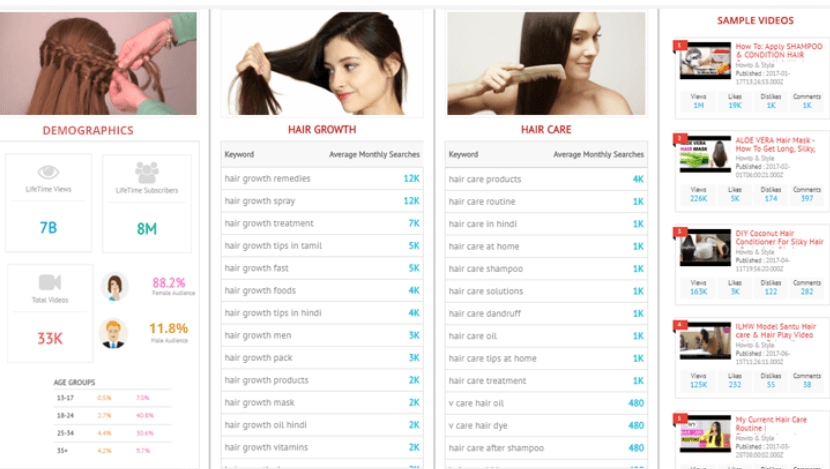 Here are the leading features you may find useful:
Keyword analysis
Tags suggestions
Identifying the best time to publish videos
Audience demographics
Competitor analysis tool
Influencer identification
Video analysis
Content strategy and video topics suggestions
Video personalization tips
There are several plans you can choose from. The basic one is $9 monthly. Before choosing a plan for your needs, you can request a free demo version.
08 Quintly
Quintly is an advanced social media analytics platform supporting Facebook, Instagram, TikTok, YouTube, and many more.
It is a very complex analytics tool offering full management of your YouTube channels and support for your video marketing efforts.
With Quintly, you can analyze the KPIs that matter and conduct in-depth channel and video analytics.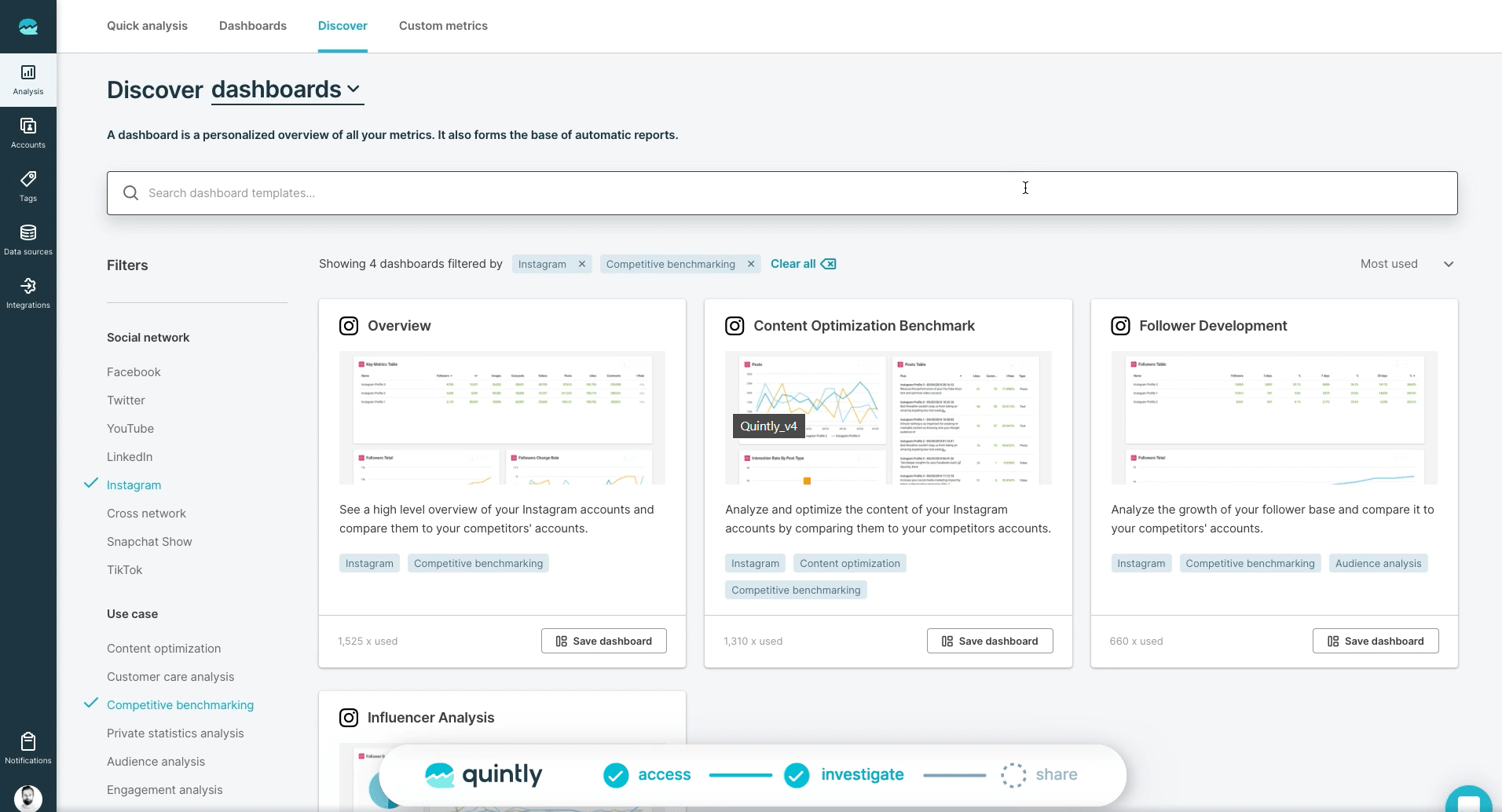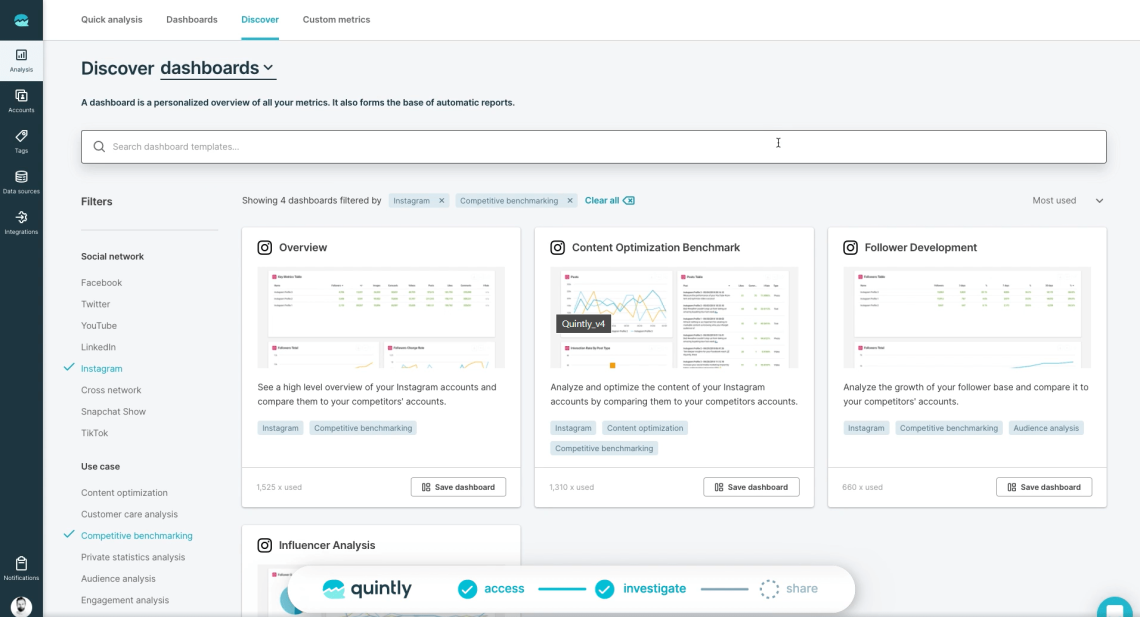 Here's what Quintly can offer:
Content optimization tips
Customized reports creation
Video intelligence feature
Channel analytics
Channel growth monitoring
Customized charts
Intuitive analytics
Interaction rate
Subscriber count
You can book a demo to get an idea of the tool. Monthly access starts from €315 and allows 3 monthly profile swaps. On top of that, you have to pay €15 per every next profile and €20 per each next user.
Check the most important metrics about your YouTube channel.
09 VidIQ
VidIQ is a YouTube analytics tool aiming to provide insights and inspiration to people who create videos. The tool offers the creators a wide range of metrics and live group coaching.
VidIQ also has its own creators' community that you can join after creating an account.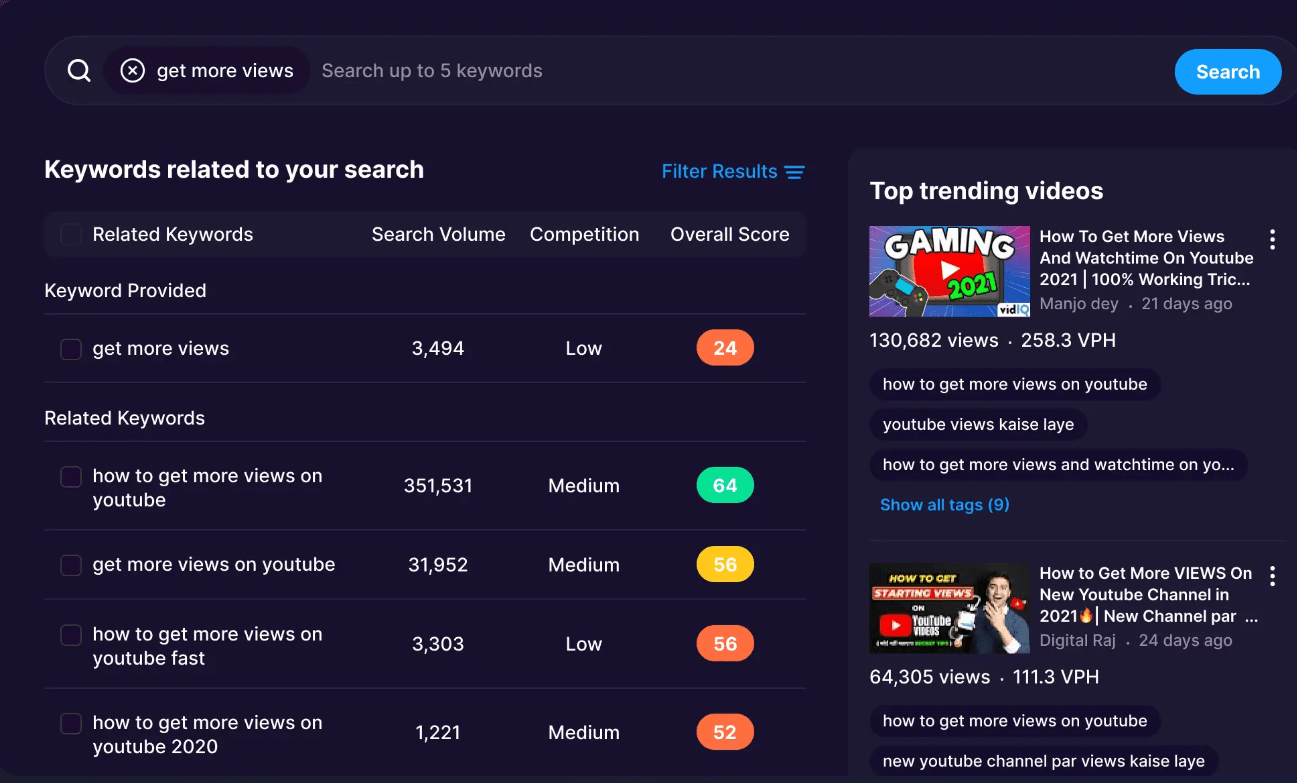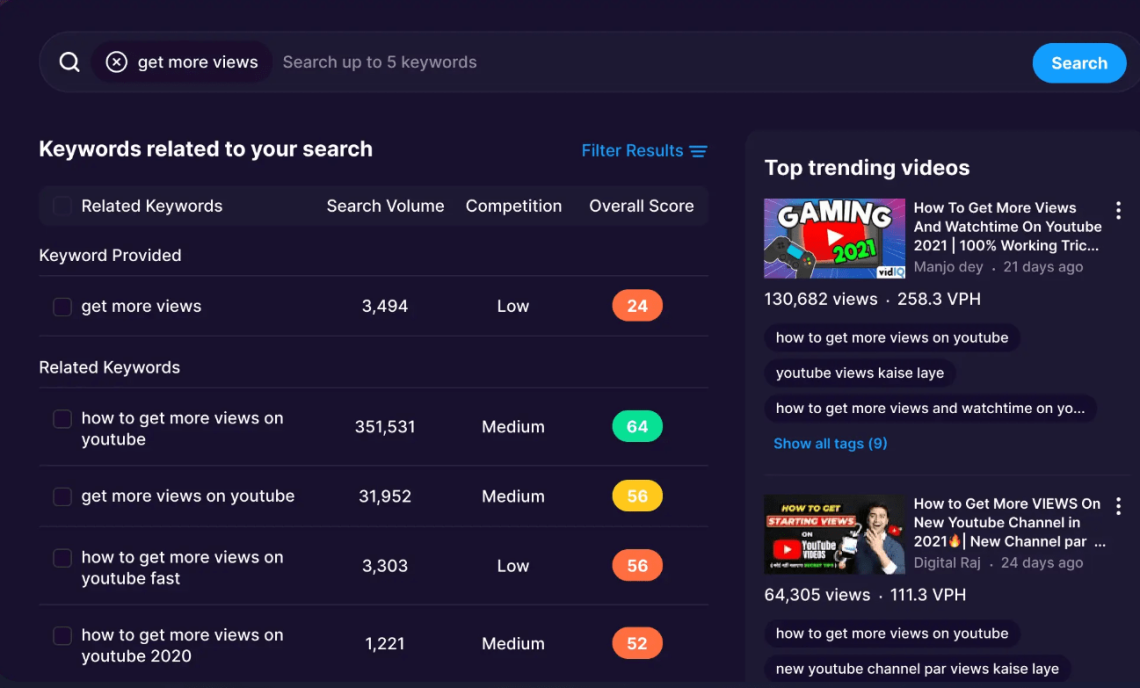 Here's what you can do with VidIQ:
Audit video performance
Research valid keywords
Understand your audience demographics
Manage your YouTube channel
Track monetization
Competitor monitoring
Get daily ideas for your channel development
Track trends with trend alerts
VidIQ offers a free plan for YouTube beginners and paid versions for professionals. The prices start from $7,50 monthly.
10 Unmetric
Unmetric is a cross-platform YouTube analytics tools which you can also use for Facebook, Instagram, and Twitter.
The tool is dedicated mainly to marketers, brands, and agencies that want to create a better social media strategy. Unmetric also provides examples of creative content and campaign ideas that can help empower your content.
Here are the key features that can help you improve your channel performance:
Competitive benchmarking
Automated reporting
Content ideation
Competitive intelligence
KPIs tracking
Campaign management
Video views statistics
You can request a free demo to understand this YouTube analytics tool better. Pricing is established individually.
Try YouTube analytics and monitoring for free!
Wrap-up
As you see, there are many YouTube analytics tools to choose from.
So, which one is the best? It depends on who you are and what you need the software for. It is a big difference if you are a YouTuber, a marketer promoting company's channel, or somebody else! You will probably need different metrics and statistics according to your position.
Fortunately, most of the tools offer a free trial, so you can take a look around and decide if you get all the data and metrics you need.
I also presented some free youtube analytics tools in the rank. This may be a great option for beginners or people not interested in an in-depth analysis of their YouTube videos.
If you are still undecided about which tool suits your needs best, start a free trial at Brand24 and see what the tool can do for you.
Good luck, and I hope you'll find my recommendations helpful!