Case Study: How a Digital Agency Invested $49 to Close a $2.5k Deal
June 29, 2017 ・ 4 min read
The idea of web and social media monitoring is pretty simple and straightforward: to collect in real time specific words from all across the Internet.
This seemingly straight-forward tool is, in fact, one of the most versatile tools you can use in e-commerce. The mechanism of gathering relevant keywords from all over the Web, if used properly, can become the swiss army knife of your marketing and help you with:
Providing customer service
Engaging your audience and fostering customer relations.
Managing reputation
Conducting research.
Identifying your brand advocates.
+ more!
One of its application is social selling which proves to be an extremely effective sales technique. Social selling is identifying and reaching out to people directly interested in your product in social media.
78% of sales people using social media perform better than their peers.

64% of sales teams that use inbound social selling reach their quotas.

90% of top sales people use social selling tools.
Why is it so effective?
It allows building closer and more personalized relationships with our audience and potential customers as each of them needs individual approach.
It's a time-saver as you direct your efforts only towards people who are already interested in your kind of services.
Shorter sales cycles.
Longer customer life cycle.
The most effective way to do social selling is to use a social media monitoring tool which you use to monitor keywords relevant to your business and track potential customers.
The next step, is reaching out, interacting and building a personal relationship with a lead to a point he or she buys.
Here's an Example
Below, Brand24 found a mention of a person looking for a microphone for video editing.

That's a perfect opportunity for a tech store to reach out, advise and offer a product.
Just like RecurPost did it here: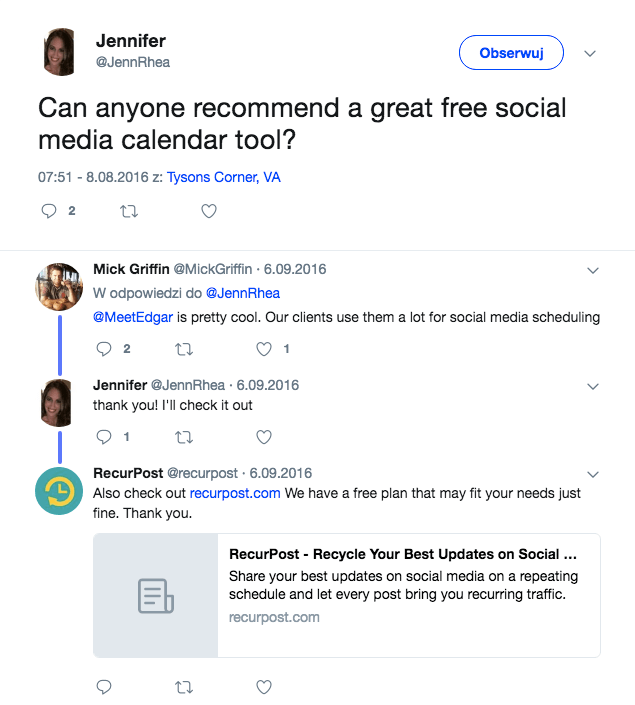 Good on ya, RecurPost!
The Case of Pixel PR
Pixel PR is a digital agency from Poland responsible for branding, web design and graphic design.
They use Brand24 in Personal Plus plan to acquire customer leads. Here's what Personal Plus offers: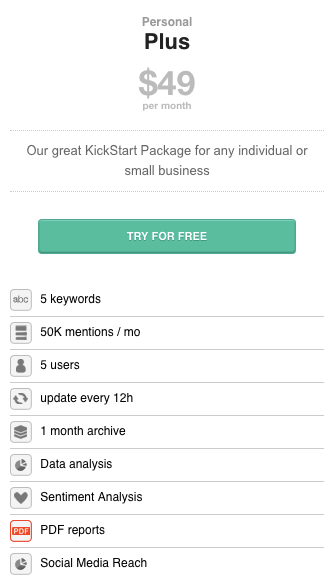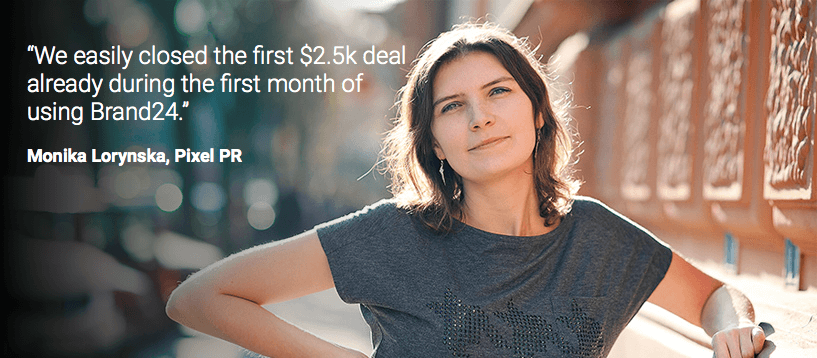 Using the Personal Plus plan, Pixel PR created 5 projects that altogether monitor 27 keywords:
Looking for
Can anyone recommend
Can anybody recommend
Can someone recommend
Can somebody recommend
1. Some phrases in looking for project include:
Looking for a digital agency
Looking for a branding agency
Here's the graphic representation of the volume of mentions connected to the project.

2. Some phrases in can anyone / anybody / someone / somebody recommend project include:
Can anyone recommend a web designer
Can anyone recommend a web developer
Can anybody recommend a web designer
Can anybody recommend a web developer
Can someone recommend a web designer
Can somebody recommend a web developer
Here's a preview of the volume of mentions.

Once you created a correctly optimized project using the right keywords for your business, you need to regularly browse the results and reach out to your potential customers.
You can see the results in the dashboard, inside the mobile app, in a Slack channel or via email notifications. All of these sources provide you with data in real time.
In the case of Pixel PR, the majority of customer leads come from Facebook and this is where Pixel PR found their $2.5k deal.

An adequate and timely reaction from Monika allowed her to acquire a customer. First of all, she was able to track such a mention and secondly, she responded providing the link to the agency's website where the customer can find portfolio and testimonials.

This person called me a couple of days later and basically made her mind on the spot. And so I got a new customer!
How To Find Customers For Your Business?
First of all, you can have a closer look at social media monitoring in the service of social selling. We've prepared a data-driven report on the topic.
You can get it here, it's completely free.
If you decide that you want to do social selling log into your dashboard or start a free trial. It's also free!
Now let's have a look at what it takes to succeed at social selling.
1. A well-optimized project.
This is the most important part of using a social media monitoring tool like Brand24. And the key element here are the right keywords for your project. It's relatively easy to monitor mentions about your business. Looking for customers, on the other hand, is slightly more complicated.
It requires placing your business in a broader perspective as you need to pick keywords that your potential customers may be using.
Thus, it's good to do a proper keyword research.
2. Browsing mentions regularly.
Time is of the essence in social media and they say that your competition is one click away. It appears to be true as people in social media expect fast responses to their queries.
Brand24 sends real-time notifications into a Slack channel, into the mobile app, or into your inbox. Make sure you're on top of them at all times.
3. Engaging potential customer leads.
Following relevant conversations is just a part of the story. Another crucial element is approaching the customer.
This is the most exciting part. Depending on a situation, reaching out to a customer lead requires different approach. It's all yours now!
Conclusion
If you need any help with your project's configuration, please let us know and will do it for you!