How to Monitor Your Brand on Social Media and Beyond
January 8, 2019 ・ 8 min read
Online reputation management has never been more impactful. Social media gave consumers a voice that shapes not only reputation of brands, but at the same time also influences their business performance. Your business performance. Do you know who and what says about your brand online?
Here's a short video you may want to watch first, before we dive into the "how to" part of monitoring your brand on social. Chia does a pretty good job explaining the basic concept of online reputation management, including 2 important aspects to consider if you want to do it well:
Table of contents for this blog post:
---
In the pre-social media days, to monitor your brand wasn't too much of a need. Consumer voice was muffled as they didn't really have means of communication to express opinions online – there was no social media, there was little discussion forums and blogs.
The Internet of those days was the Internet of content consumers rather than creators and creating online content was within the capacity of a tiny percentage of Internet users who could develop websites.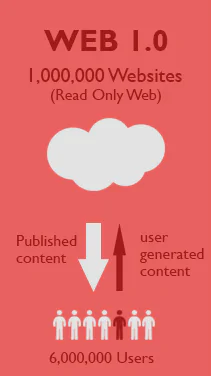 Since consumers didn't have a say, there was no need for a brand to monitor itself on the Web.
It all changed drastically when social media platforms came into being. This time is referred to as Web 2.0. Consumers have been given ways to connect, discuss and widely broadcast opinions that make an impact.
Also on brands.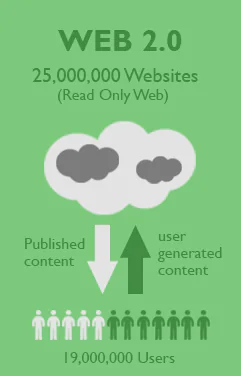 Therefore, brands and businesses of all sizes need to recognize the potential social media have in affecting, increasing, or hindering their performance.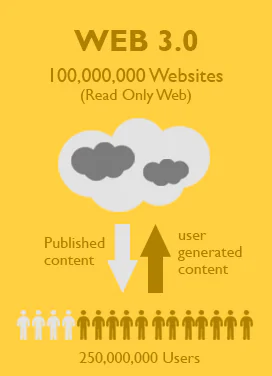 We now live in Web 3.0 where amounts of user-generated content drastically exceeds content published by other authors.
None of was want to go through social media crises or miss out on an important piece of customer feedback. All of was want to be the best brand we can, don't we?
The need to monitor your brand on social media is real.
---
How to monitor your brand on social media?
The answer is simple: use a web and social media monitoring tool.
You don't need to look far – Buffer listed 20 best social media monitoring tools and we were lucky to find ourselves among other awesome tools.
Brand24 is a web and social media monitoring tool mostly for small and medium companies, however, if you're a larger company you'll find value here as well.
The tool collects online mentions of predefined keywords from following sources:
Social media platforms: Facebook, Instagram, Twitter
Websites
News sites
Discussion forums
Video's descriptions
Review sites: TripAdvisor, Yelp
To monitor your brand on social media, it's best to monitor keywords relevant to your business, for example:
Brand name
Branded hashtags
Product name
Service name
Website address
You can take Brand24 for a free ride and don't even want your credit card information.
Got your account?
Let's now see how to monitor your brand in social media.
---
1. Create a project to monitor your brand.
Once you create your account, Brand24 asks you to create your first project.
About projects: Your trial account allows monitoring of 10 keywords. You can monitor these keywords in one project, or divide them across more projects with less keywords. Altogether, you have at your disposal 10 keywords.
This is where you provide keywords relevant to your brand.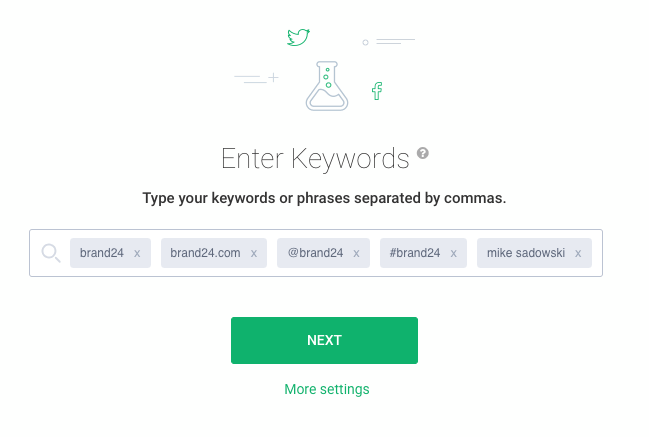 As I mentioned earlier, it's advisable to provide possibly most business-relevant keywords, for example:
Your brand name
Your branded hashtag and other unique hashtags you use
Your product name
Your service name
CEO's name
Also, it's good to think about keywords such as:
Website address
Social media handles of your brand
You got this. The moment you click save, Brand24 will start to monitor your brand on social media. There're all in the dashboard.
Tip 1: Inside, apart from Keywords, you can see Required keywords and Excluded keywords you can add. These variants apply when your brand name is a common or proper name.
Tip 2: Keep your friends close and your enemies closer. It's always good to know what your competitors are up to, therefore we advise to create quite a similar project to monitor your competitor.
---
2. Find your way around Brand24.
All social media mentions of your brand arrive to the Mentions tab. This is what it looks like: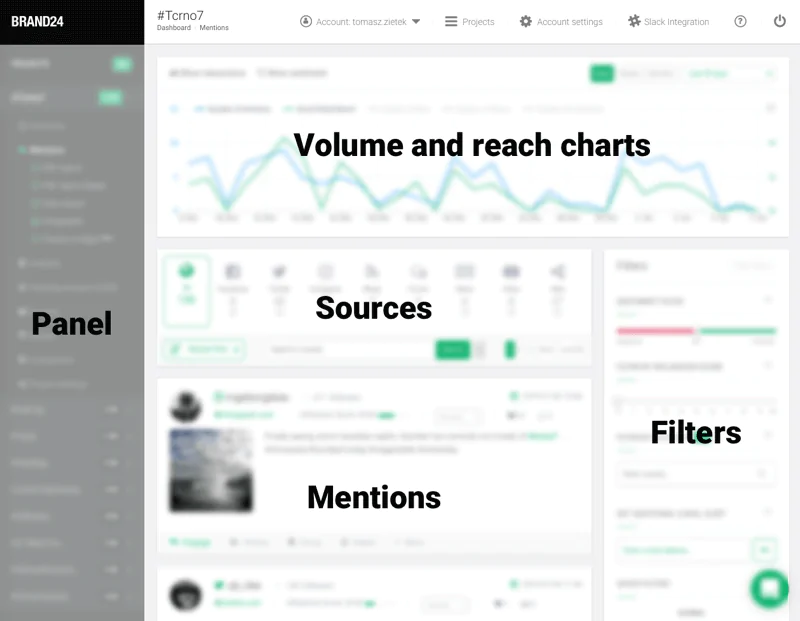 ---
Mentions
Let's start with the most important part – mentions.
In the Mentions section you can see all mentions of your brand on social media and beyond. They are sorted chronologically from the newest to the oldest ones.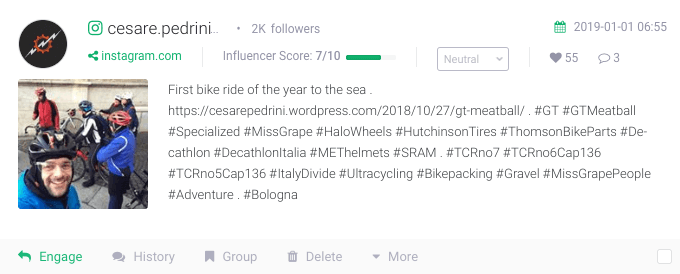 Each mention contains the following pieces of information:
Author's name
Source page
Number of followers
Influencer score calculated on the basis of social media reach and the number of followers
Sentiment: Negative, positive, or neutral
Number of interactions
Date
Content
Action buttons:

Engage
History
Group
Delete
More: Mark, Share by email, Mute author, Visit author's profile
---
Sources
Second important thing are sources – it's where Brand24 look for mentions of your keywords. You can see it stretches beyond social media.

To browse your brand mentions only on social media, tick Facebook, Twitter and Instagram – make sure you wait until they load first!

Now, Brand24 displays only your brand mentions on social media.
---
Charts
Charts are a visual representation of data gathered about your keywords. You can display them in any date range you want.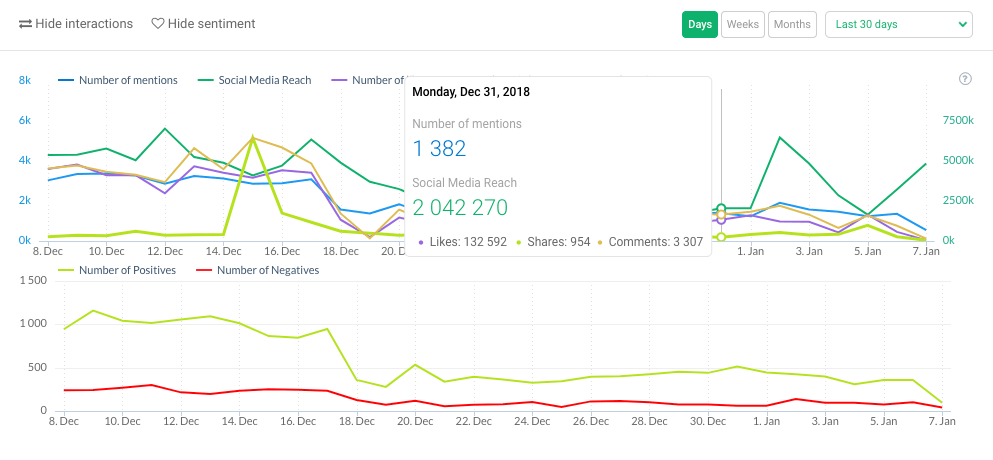 Charts present:
Number of mentions
Their social media reach
Number of interactions: comments, likes, shares
Number of positive and negative mentions
---
Filters
To have a better understanding of your mentions, you can use Filters at the right-hand side of the dashboard.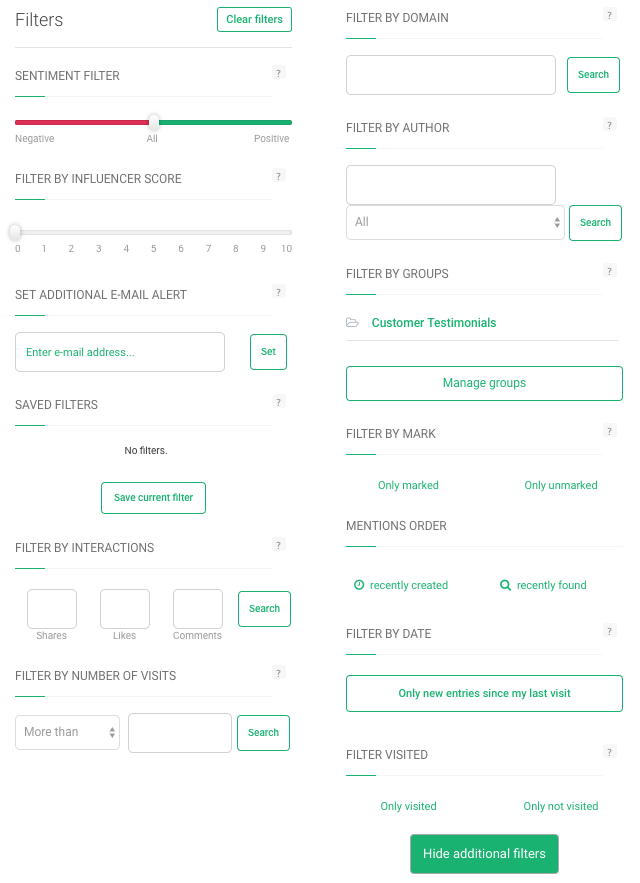 You can filter by:
Sentiment
Influencer score
Saved filters
Interactions
Number of visits
Domain
Author
Groups
Mark
Mentions order
Date
Visited / not visited mentions
---
Panel
At the left-hand side you have the panel at your disposal. You can use it to navigate around Brand24.

In the panel, you can:
Add a new project
Go to Summary tab
Go to Mentions tab

Create a PDF report
Export your data into Excel
Create an infographic
Create an embeddable social media feed – widget

Go to Analysis tab
Go to Sources
Go to Quotes
Go to Project comparison
Go to Project settings
---
3. Set up notifications.
You can get notified about new mentions basically in three ways:
Via Slack channel
Via email
Via Storm Alerts
---
Slack integration
If you use Slack as the internal communicator, you can create a dedicated channel to receive all mentions in there, right at your fingertips.
Learn more about Slack integration

---
Email notifications
It's the good, old way of getting notified about your brand mentions on social media.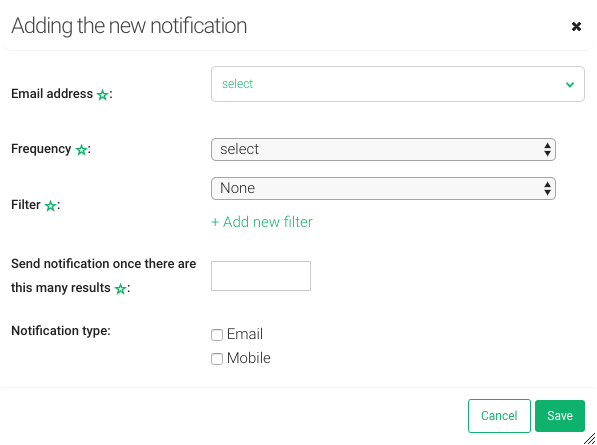 Email notifications arrive to your inbox on the basis on following criteria:
Frequency:

Real-time
Every hour
Every 6 hours
Every 12 hours
Once a day
Every week
Every month

Filter you created earlier
Number of results
---
Reports & Storm Alerts
Reports contain the most important mentions along with statistics about them.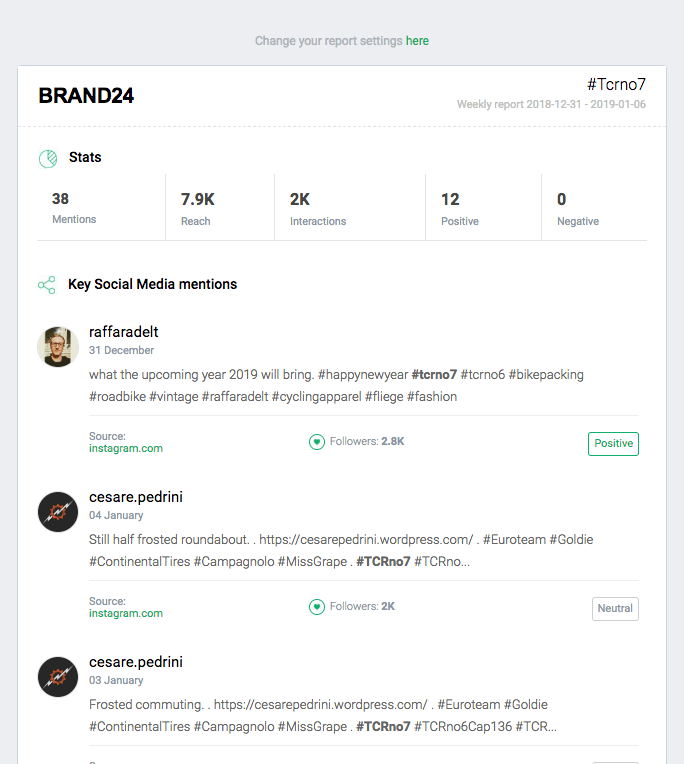 You can receive them:
Storm Alerts are in case any sudden changes in volume of mentions or their social media reach.