5 Steps to Get More Sales with Social Listening
May 14, 2015 ・ 3 min read
Internet monitoring has caught on in many industries and many areas of business operation. Companies appreciate they can easily access content that concerns them or their products and then leverage this information.
Except for traditional applications of social media monitoring such as buzz analysis, or getting insights about authors, you can also use it as a tool for finding new clients. Here are a few steps you need to follow to get more sales with social listening.
1. Think about your prospects' needs
You need to put yourself in your potential client's place and think about how he or she would communicate demand for your products or services on the Internet. For instance, if you run a car rental, you will probably look for people who need a car to rent in your area. Consider all the possibilities that users can share this information on the Internet.

2. Select effective keywords
When you find out what are the most common ways in which social media users express their needs for specific products or services, try to develop keywords that you will use for searching valuable sales leads. The more specific you are the more accurate results you will get. When selecting keywords in Brand24 you can curb your results using required or excluded keywords. If you are looking for people that are interested in renting a car in London you should enter "rent a car" as a main keyword and "London" as required word. If you still get too many results that include your competition's offers you might also enter other rent-a-car companies' names as excluded words (separated with comma). It will eliminate mentions that are not in the area of your interests.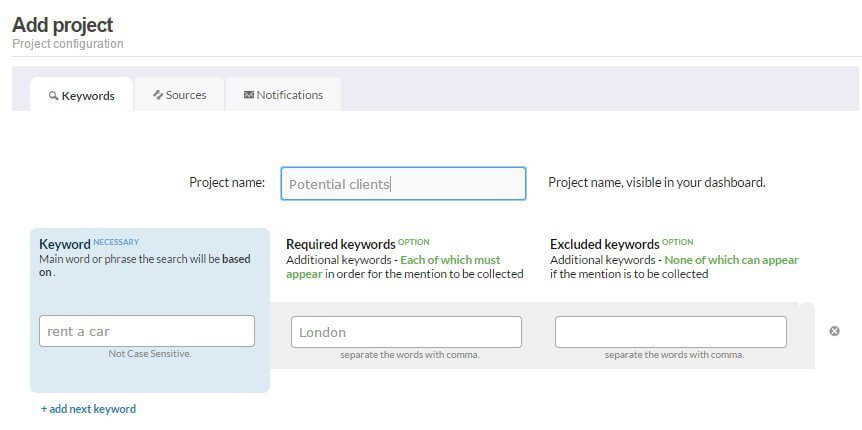 3. Check results on regular basis
Whether you manually seek for such content (e.g. using hashtags) or you use social media monitoring you should browse results regularly. Why is it so important? First of all, you don't want content to pile up and be impossible to search. Secondly, your competition may overtake you if you are too slow and you can loose a potential client.
4. Be responsive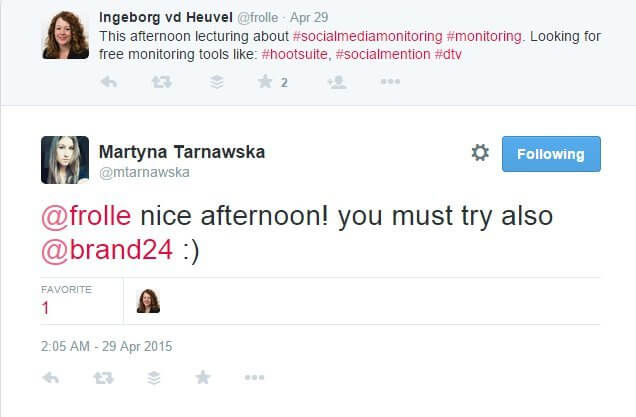 Depending on the size of your company you should have people who can answer to your prospects. Whether it is going to be a community manager, sales manager or the whole team they should be able to spare some time to interact with social media users. Brand24's community manager picks up all the conversations using monitoring and responds to people who might be interested in our tool. Thanks to her activities we were able to significantly increase the number of new clients.
5. Measure effects
Remember that if one approach works in a company X it does not mean that it would work in the same form in a company Y. When you talk to your potential clients test different approaches. Your audience might be more or less skeptical to such interactions, so you should adapt your language and attitude to them.

How do you generate leads? Leave us a comment!