How an Athletic Brand Preferred by Men Drove a 9% Q4 Revenue Increase With a Killer Marketing Campaign for Women
May 9, 2018 ・ 8 min read
Brands like Nike are known for coming up with memorable marketing campaigns that always seem to resonate with their audiences. How do they do it? By listening to their customers.
Staying on top of key customer comments and conversations allows businesses (even big players like Nike) to keep their fingers right on the pulse of topics that matter to their customers.
This is a crucial part of creating successful marketing campaigns; these comments and conversations are exactly what gives a company the insights that it needs to achieve what other marketing campaigns often fall short of: they make it possible for a brand to connect with its audience.
Nike's famous "She Runs the Night" campaign is a perfect example of how businesses regularly leverage social listening (also known as social media monitoring) to do just that. By paying attention to key conversations relevant to its target group and analyzing them methodically, even a big brand like Nike was able to develop important insights that would prove to be essential to creating a killer marketing campaign. A marketing campaign that significantly boosted its brand awareness among a brand new audience, resulting in increased sales.
Following the release of the marketing campaign in Australia, "She Runs the Night" drove Nike's fourth quarter revenue up by 9% (reaching $6.7 billion), making it one of the brand's most profitable revenue quarters to date.
So how did Nike create such a successful marketing campaign, and where does (social) media monitoring come in? Let's take a closer look at the brand's strategy, dissected below:
Step 1. FIND THE VOID in your targeted market
Nike had a very clear goal in mind: to make their mark in athletic wear for female runners. At the time, their products were much more popular among men, despite also producing athletic wear and other items for women.
The only question was: how? What did the market for athletic wear among women joggers and runners lack that Nike could offer?
At the time, other brands like Asics were more popular among female runners than Nike, which had previously been more focused on male athletic wear in their business communications.
So how could Nike get women runners to start connecting Nike with running? By finding out what women runners were lacking, and then offering a direct solution to this problem.
Social listening (aka media monitoring) is one of the most common methods that brands use to solve this problem. Monitoring online conversations pertinent to female runners gives athletic brands like Nike the insights that they need to come up with solid concepts for winning marketing campaigns.
Online comments and conversations like those shown below reveal significant issues that are still popular among female runners today:
I once got followed at the park with the water that shoots out on Dove. He was legitimately going less than 20 crawling behind me in his car as I was in front. Be careful!

— g (@glotusflwr) May 2, 2018
@UKRunChat
Any women reported car regs for shouting/intimidating you while out running?

I've recently moved, and in the past month, I've had cars slow down to shout, whistle or "oi oi" out their car windows while am running alone.

Since when is this acceptable? #ukrunchat

— Rihanna (@thisgirlrihanna) May 7, 2018
Analyzing the data – in this case, online comments and conversations from all over the Internet among women runners – reveals some of the biggest challenges that female runners face, even today: solitude and safety.
You can track key comments and conversations that are relevant to your own company with a media monitoring tool like Brand24 (the free trial lasts for 2 full weeks). The tool monitors mentions of keywords and phrases across the web to collect data that can help your business.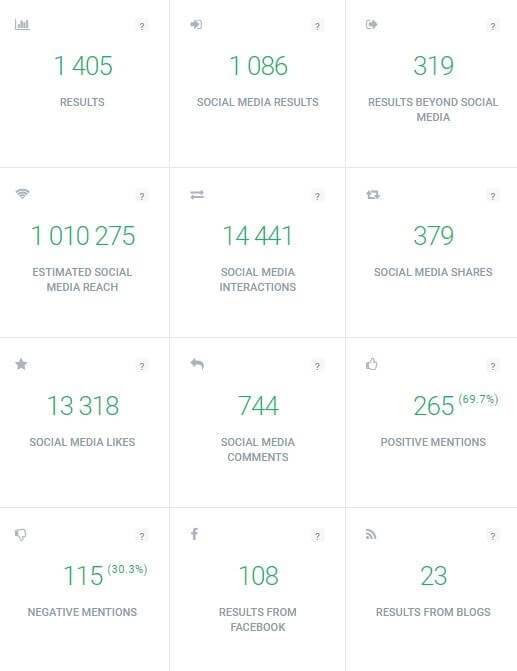 Here's a tiny sample of the kind of data that a media monitoring tool like Brand24 will collect for you. The first metric – results – refers to online mentions of your monitored keywords. From your Brand24 account dashboard, you can view each mention individually. Clicking on it will take you directly to the source, so you can view the original mention exactly where it was found on the Web.
Running is a favorite sport of women everywhere. Women run to stay fit; they run to clear their heads; they run when they have time. For most women, especially those who are working, studying or just want to escape the heat of the sun, this means at night. And, usually alone.
Nike had found its void: the majority of online comments and conversations among female runners touched upon running as a solitary and, at times, isolating sport.
Nike had to provide a solution that would help unite and bring together female joggers and runners across the board.
Step 2. FILL THE VOID in your targeted market
Knowing that women runners and joggers lacked a coherent sounding board where they could feel connected to others who share the same appreciation for their favorite pastime, Nike presented several solutions for this in their female-oriented marketing campaign.
First, social media communities were created, where female runners could connect and share experiences.
Physical communities were also part of the campaign, where women runners and joggers could run together in groups led by brand ambassadors.
These communities extended into universities and college campuses, where students could also become brand ambassadors helping lead local events.
The social component was a driving force, especially when integrated with the Nike+ mobile app. The app made it easy for users to track and share their progress with other users, which encouraged women to keep running. Letting app users automatically share their stats in social media also helped turn each user into a potential brand ambassador.


Finally, Nike also organized a massive event: a night run for women only, aptly called "She Runs the Night". In its first year, it drew 3,200 runners to cross its finish line (and that's only counting Australia). The event was held again the following year, this time growing to approximately 6,000 runners.
Main KPIs and results from Nike's "She Runs the Night" campaign
By finding the void, Nike was able to:
Provide a solution for something that female runners lacked and needed.
Increase brand awareness among their target audience. Their very first event – a night run for women only – was a hit, bringing together over 3K women for a celebrated night of running. By the end of the campaign, women runners were already beginning to closely associate the brand with one of their favorite activities.
Needless to say, Nike also saw an increase in sales – by 9%, driving their Q4 revenues up to $6.7 billion. Select styles of featured footwear in the marketing campaign were also selling out and sales targets had been surpassed.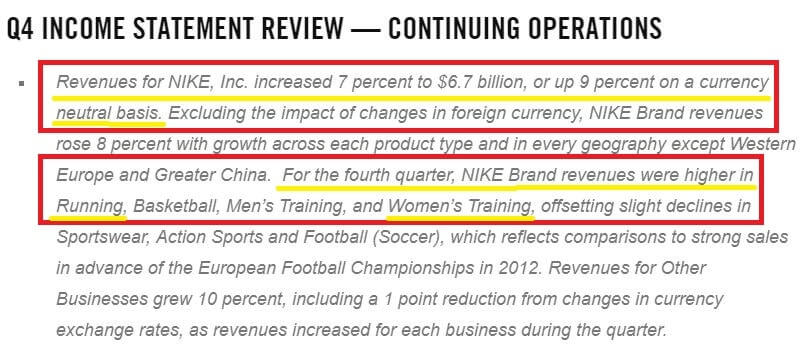 Nike's futures orders also saw an increase of 8%, compared to the previous year:

Conclusion
The initial step of simply finding the void in the targeted market played an essential role in the success of Nike's "She Runs the Night" campaign.
By monitoring key comments and conversations across the web that are important to a brand's target audience, companies and businesses (like Nike) can collect important pieces of information that are crucial to creating a successful marketing campaign. Aggregating all the data and then analyzing it methodically allows brands to develop significant insights into what their targeted market lacks.
This is precisely what made it possible for Nike to find the void in their market… and then fill it.
Identify the void in your own market with media monitoring. Sign up for a free 2-week trial with Brand24 and monitor key comments and online conversations across the web. Find out what your targeted market lacks and fill the void. In the famous words of Nike:
Just Do It!