How Social Listening Can Boost Your Social Media Marketing
February 7, 2017 ・ 6 min read
Social media marketing is no longer just a trend; it's now an integral part of advertising that everyone from personal bloggers to mega corporations implement in order to fortify their image and connect with consumers. Successful social media marketing is multifaceted and requires being both an active listener and a conversationalist.
Social listening combined with verbal communication skills can make you an unstoppable force that's capable of not only creating awesome social media content that converts but also providing an insightful and rewarding experience for your audience.
Reading through your mentions, responding to questions and liking comments are a nice start, but there's a lot more to being an active social media listener. It requires precision, research, and dedication to your audience and the message you want them to receive.
In order to be a good social media listener, you have to find the conversation rather than wait for it to make its way to you. People aren't always going to address a company or brand directly, but that doesn't mean they aren't talking about it elsewhere.
Understanding what your target audience is saying about your brand, your competitors and your industry as a whole can help you improve your social marketing strategy by building upon what they already love and providing solutions to problems.
Here are six ways social listening can give a boost to your social media marketing.
Step Up Your Content Marketing
Content marketing is often a one-sided conversation. A brand or business publishes a blog post, some people comment on it and all's said and done. Social listening gives you the opportunity to do so much more.
By seeking out engaging in conversations regarding your brand and industry as a whole, you can learn what information is most relevant to current trends and use that knowledge to strengthen your content curation strategy.
Constantly trying to come up with new and inventive blog posts every day is exhausting. Instead, use social listening to see what industry consumers are talking about and want the most. It's a wonderful addition to reading news alerts and white pages that inspire posts people want to read and share.
Social listening finds a broad application in research, be it market research, resource discovery, content inspiration or more. For example, here you can see how to use social listening to follow trends regarding content marketing.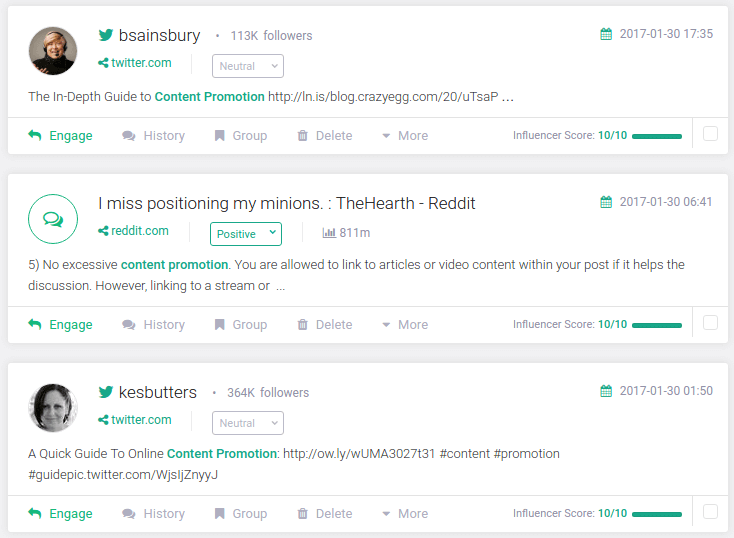 Social listening can also help pinpoint the latest buzzwords and trends to incorporate into your posts. Also, hyperlinking to the top articles circulating around your industry can boost your own rank and increase viewer engagement and sharing.
Keep Track of Your Competition
The smartest brands are the ones whose eyes aren't just focused on the prize but on those around them. By using social media listening strategies, you can gain so much more than a hunch about your competitors' tactics.
Active social media listening is investigative by nature. Researching conversations and staying ahead of the curve grants you a dashboard view of your competitors' tactics, customer satisfaction, and overall sentiment.
You can monitor your competitors' online presence by reviewing their mentions on platforms such as Twitter and Instagram. This can help you identify driving motivators in their client base.

As a result, you can gain a deeper understanding of your competitors' value propositions and insight on their product development and new features. When you know what their customers want most, you'll be able to implement these elements into your own content, products, and services to build your business.
Social media listening means understanding that the people who seek you out are actually just as valuable as the ones who are choosing your competitors. When you tap into the reasons why people are drawn toward another brand, you're able to tweak your own strategy and products to meet their needs.
Find New Customers
Every business needs to know how to generate leads and convert them into returning customers. These lifelong customers aren't just good for your image, but they also convert others through free social media promotion and by word-of-mouth.
By incorporating social media-driven intelligence based on keywords and lead queries into your marketing strategy, you can track the right conversations and introduce potential customers to your products or services in a casual, meaningful and timely manner. Getting to them before they even have to seek you out shows drive, dedication and humanizes your business.
Also, you can use social listening to identify customers directly interested in your product, reach out to them and present your offer. There's more on the topic in the post about social selling.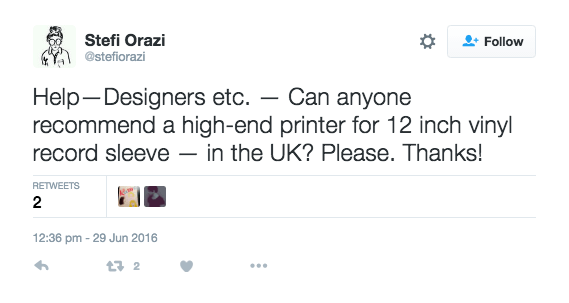 You may already have plenty of untapped potential already. Do you have people retweeting or sharing your blog posts on social media? If so, why not reach out to them and see if they'd like to continue the conversation?
Keep Existing Customers Happy
While generating leads can help your business grow, keeping existing customers happy is what will make or break your entire image. The customers who have chosen you should always take precedence and you should make sure they stay loyal to your brand. Social media provides a great opportunity to attract a new audience while reinforcing established relationships.
Although it sometimes may seem like customers frequently turn to social media to complain, offering social customer solutions through monitoring and active responses can give you a firsthand look at what your customers need most.
When you engage in social media listening, you're bound to uncover negative customer comments, but this can be used to your advantage. When you seek out customer complaints, you can surprise them with a solution that's swift and effective. This will not only rectify the customer's immediate problem, but it will also establish a positive brand image.
If you feel like this is what you need, make sure to check this post about using social listening for customer service.
To be a good social listener and tap into the best of your customers' online conversations, make sure that you track variations of your brand name with and without the @ symbol and include any common misspellings. So many companies miss out on vital intel by only monitoring their direct messages and mentions. By broadening your social media horizons and researching as an active social listener, you'll gain new opportunities to engage with clients and increase customer satisfaction tenfold at little to no cost.
Leverage the Power of Influencers
Finally, through social listening, you can identify key influencers and advocates among your audience and reach out to them in order to help you achieve both short and long-term goals.
This video shares some good tips on how to find the best industry influencer to work with your brand:
Industry leaders often have thousands of followers and wield an incredible amount of social power. Because they're viewed as individuals and not a brand, their opinion tends to be more trusted than direct advertising.
These people love to share their thoughts and opinions on products, so if you can establish a relationship with them, they can become brand advocates that generate leads, drive conversions and boost your image all with a few pictures and kind words.
Do research in your industry and identify influential social media users. Reach out to them via direct message or start a conversation by responding to one of their comments or posts.
Final Thoughts
Social media listening is the equivalent of taking it to the streets. You step down from your business' pedestal and take the time to reach out online and discover what your audience and customers value most.
When you actively listen to consumers, investigate your competitors and engage with top influencers in your industry, you're able to boost brand image, improve products and services and enhance your content strategy for free, so keep your eyes open, fingers tapping and conversation flowing.
If you'd like to try social listening yourself, you can start Brand24 trial. It's absolutely free.
Author bio:
Lisa Michaels is a freelance writer, editor and a striving content marketing consultant from Portland. Being self-employed, she does her best to stay on top of the current trends in the business world. Feel free to connect with her on Twitter.
HANDPICKED RELATED CONTENT
What is social listening + TOOLS
How to increase your reach on Instagram?