Getting social listening insights with Brand24
September 29, 2020 ・ 7 min read
Information is power. The more you know about your brand, product, service, or event, the better decisions you can make. Social listening insights can help you bring your brand to another level and get ahead of your competitors.
Social listening insights can help you bring your business to the next level. Listening to what is being said about your brand and industry will help you optimize your online presence.
The benefits of social listening insights include:
finding and creating content that your audience engages with. This will minimise the budget needed for content creation;
staying agile and being able to quickly implement changes to your offer to meet the exact needs of your target audience;
crafting the brand voice your audience enjoys
tracking your competitors and learning from their mistakes
actively finding new customers and people interested in your product.
But, most importantly, implementing social media insights into your overall brand strategy will help you become a thought leader. Listening to your customers and tracking trends will help you stay one step ahead of your competitors.
So how do you find social listening insights? The process is based on data, so it will be beneficial to implement a social listening tool.
Discover how to get and implement social listening insights into your business strategy!
Social listening tool
First things first, how do you collect social insights?
As we mentioned above, with a social listening tool, of course.
Let's analyse how social listening works based on Brand24, one of the most robust and affordable media monitoring tools on the market.
Start with creating a project. In the project creation wizard, enter the keywords you would like to monitor. You can type in:
the name of your company
your branded and campaign hashtags
term specific for your industry
the name of your competitors
You can create separate projects where each will serve a different purpose.
How to track social listening insights?
You can track what people say about your hashtag marketing campaign, you should create a project with hashtags you will use.
The tool will collect all publicly available mentions containing this hashtag, giving you a general understanding on how your campaign is spreading online, how people feel about your content, and how many people you were able to reach.
But of you want to monitor the trends in your industry, take a more general approach. Think about keywords connected to your business niche. For example, if I were to follow the trends in the beauty sector, I would like to follow keywords such as:
make up
make up artist
trends in make up, etc.
Discover the power of social listening! Brand24 offers a 14-day free trial (no credit card required).
Brand24 enables you to have an accurate insight into reactions across social media to current events and affairs in a real time.
This means that you can:
measure the total number of mentions and its changes,
study contents and the sentiment of opinions,
identify sources and authors that create buzz about the brand or specific event.
We have prepared plenty of reports which can help stakeholders with a greater understanding of people's reactions in social media.
Those reports are based on the analyses of data gathered from the Internet monitoring and concerns distinct events, announcement, brands etc., which influenced on the social media buzz.
So far, we have analyzed contents related to numerous trending events, popular products, updates, such as Superbowl 2015, World Cup 2014, the Witcher III, Star Wars, Game of Thrones, smartwatches, Oscars, GoPro Hero 4, Slingshot introduction, Snapchat update, iPhone 5, Nokia Lumia 1020 release, Web Summit in Dublin, Seene introduction, GoPro Hero 3+ announcement and many more. All of these reports not only give you the understanding of a problem, but also some potential solutions.
What social insights can give you?
Each product implementation, huge event or company's actions may influence the changes in online discussion about the specific brands, goods or people. In our reports we usually focus on 4 basic elements which help us to draw conclusions and implement particular solutions:
Number of mentions is an essential element, which shows how specific event engages social media authors.
Sentiment of opinions – crucial feature, which show an image of a brand on the Internet.
Sources and information about the authors – you can divide all mentions into categories based on the sources where the mention was found. What is more, you can also have complete information about all the authors that talked about the specific event or brand on the Internet. You can learn about their activity, influence and reach in social media.
Contents' categories – thanks to Brand24 it is possible to distinguish different contents' categories related to specific phrase and you can find out what exactly social media authors write about a topic.
1. Number of mentions
Facebook to acquire WhatsApp – increase of a discussion about WhatsApp between 19th and 20th February – 74%


Increase in number of mentions related to GoPro Hero 3+ between 30th September and 1st October – 1400%


These examples show how a single announcement can influence changes in the number of mentions related to specific brand. Special events usually bring the number of mentions increase, which then can affect other things:
• Increase in popularity of a brand
• Increase in a number of brand's or company's fans
• Increase in the social media reach
• Higher brand awareness and brand recognition
The volume of mentions is a basic metric you should start your analysis with. The more popular an issue is, the more people will talk about it.
You can manually examine the mentions and identify some commonalities.
Does a lot of people report the same problem or ask the same question? That can indicate that there is a problem you can solve and get ahead of your competitors.
2. Sentiment of opinions
It is not always the quantity but also the quality of mentions that counts.
Sentiment analysis gives you the necessary context to the volume of mentions. A certain topic can have a high volume of mentions and prevailing negative sentiment. That is a strong indicator that something went wrong— either there is a problem with product or service or you are facing a crisis. In both cases, it is worth to investigate the matter.
In our analyses usually positive comments exceed the negative ones. People are rather content with a new product implementation or update to a current one.
But some controversial events may affect negative moods on social media. Those opinions reflect the brand image in the Web. Therefore detecting them in advance may help in improving the perception of a company on the Internet, as nowadays social media plays a crucial role in setting trends.
3. Sources and information about the authors
Detecting the most popular source of mentions about the specific event or brand is an important information when you want to implement your PR activities on the Internet.
Nowadays interactions with your current and potential customers in the web may improve your image and extend target group. Therefore, when you know the most popular places on the Internet, where people write about your company you can focus only on one or a few communication platforms.


Brand24 gives you an insight into profiles of people who write about your brand or industry niche. You can detect the most active and influential ones, who can become your brand ambassadors.
Brand ambassadors will help you establish your brand reputation and reach brand new audiences.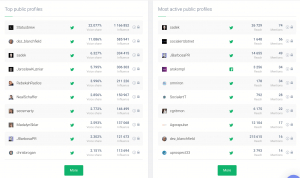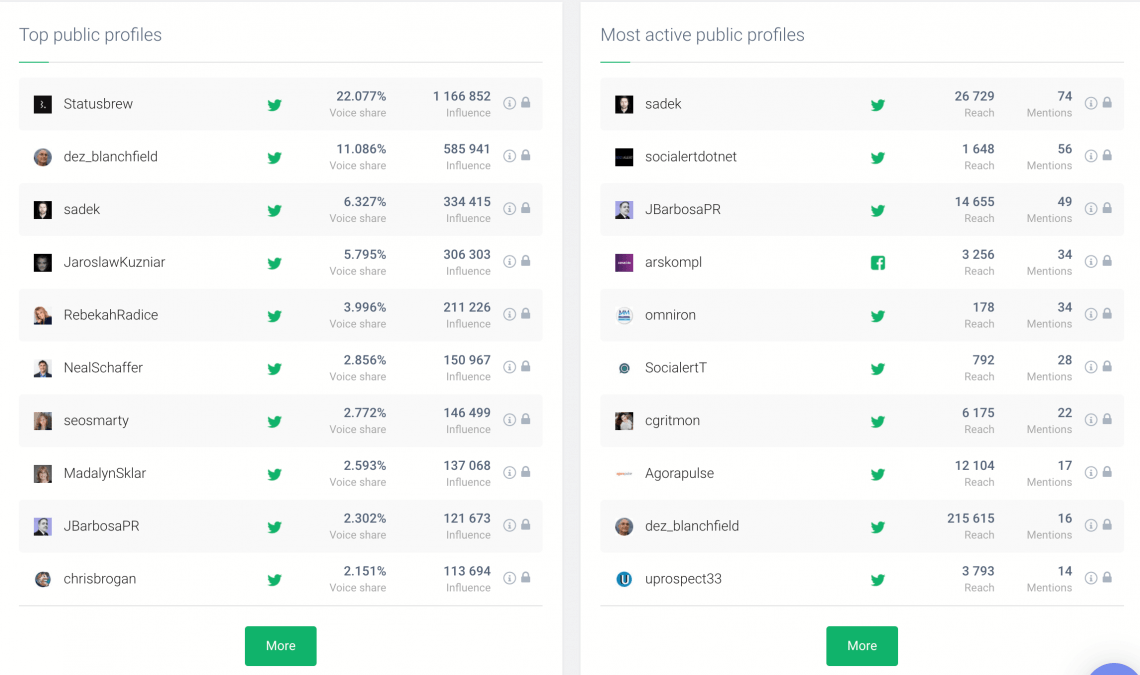 4. Mentions' category
The majority of mentions about the brand usually concern current events related to it. For instance, after T-Mobile unveiled unlimited international data over 60% comments referred to the announcement.
Usually the biggest part of all mentions concerns only about 2-3 subtopics.
Results from Brand24 monitoring may help to detect dissatisfied clients who are willing to resign from your company's services and also to estimate the number of discontent customers.
Monitoring may also help to estimate the number of potential customers who are willing to leave the competition.
Media monitoring will give you information on how to improve your product, messaging, or brand so that it meets your customers needs.
Social listening insights in a nutshell
Getting the right social listening insights from all the online noise is not a piece of cake. You can use filters and set up your project correctly to get exactly the mentions you need to achieve your goals.
Receiving the social listening insights is an investment in your brand. The process is time consuming but the rewards can help your business thrive.
Related read: