Social media marketing for fashion brands
September 10, 2018 ・ 12 min read
If you run a fashion brand, you simply need a bulletproof social media marketing strategy. Creative social media engagement will help reinforce your brand messaging as well as expand the reach of your social media posts and, ultimately, boost your sales. But the social media world can be overwhelming – there are plenty of new platforms, new algorithms, and new trends to keep up with. This post will help you get on track with your social media for fashion marketing.
Social media is a broad subject, especially if you focus on fashion industry. You have to monitor multiple social media accounts, prepare different types of content, and work with different social media influencers.
Social media is the natural environment for fashion brands. Highly visual platforms, for example, Instagram or Pinterest help you target your potential customers and grow brand awareness. Digital world is also the best place to build your brand image and attract potential customers interested in your product. Your fashion marketing department will have their hands full!
To run a successful fashion social media campaigns you need some help. Managing social media platforms is a time consuming task, that's why we recommend a set of tools to manage it:
a media monitoring tool to track fashion industry (and much more)
a social media scheduling tool
a tool for graphic design
That's the basic tool stack for fashion marketers.
A tool that will help you manage many different aspects of your online presence is a brand monitoring tool, for example, Brand24.
Brand24 will help you:
monitor hashtag performance and the social media reach of your posts and campaigns;
choosing the right hashtags to find the right audience for your posts;
improve your customer service by answering customers' queries quickly;
implement customers' testimonials on your website;
find the best social media influencers for your next social media campaign;
start social selling.
Start social media monitoring! Brand24 offers a 14-day free trial (no credit card required)
Once you're ready to go, let's see what's ahead of us today!
Why your fashion brand has to be present on social media platforms?
Social media has become an indispensable part of any marketing strategy for a fashion business. The pros of social media marketing for fashion brands are that fashion is a highly visual industry. It's easy to be present on many social media channels, for example, Instagram or Pinterest.
There are many benefits of social media for fashion marketing, including:
They are numerous and hard to miss:
increased brand recognition and brand recall
boosted brand awareness
increased traffic to your website
improved SEO
higher conversion rates
better customer experience
improved brand loyalty
improved brand authority
gained marketplace insights
gained an advantage over your competition
Well, do you need more convincing? I hope you're ready to dive into the world of social media marketing for fashion brands!
Which social media channels fashion industry should use?
It looks like social media were invented for fashion brands. Social media platforms like Facebook, Instagram, or Pinterest, are highly visual platforms, which makes it easy to promote your fashion brand.
Which social media channels you should choose to provide the most effective social media marketing for fashion industry?
1. Instagram for fashion brands
That's an obvious choice for any fashion brand.
First of all, Instagram has been growing immensely recently and now has more than 1 billion active users. It is the place to post interesting content and reach a large audience.
Secondly, Instagram is a highly visual medium, which allows you to present your products from the best perspective.
Fashion brands have become the masters of Instagram, showing off carefully curated content, targeted ads, and behind-the-scenes footage on Instagram Stories. Combine the organic Instagram reach wit paid ads and you have the perfect mix to conquer the world.
How do you grow your account? There has to be something, apart from great content. Well, there is!
Choose the right hashtags
Hashtags can be used to expand your social media reach and present your content to new audiences. They will help you find new customers and build a loyal following base. Your branded hashtags will also help you spot user-generated content that can boost your social media presence.
But how do you choose the right hashtags for your brand? With a little help from a social media monitoring tool called Brand24!
The first thing you need to do is set up a project.
Put all your keywords into our project creation wizard.
Your keywords can be:
the name of your company;
the name of your products;
general terms related to your business niche;
the name of your CEO or popular employees
Brand24 offers Boolean search, which means you can use operators such as "AND", "OR" to narrow down your search.
The tool will start gathering all the mentions from the internet containing your predefined keywords.
Based on the data gathered from publicly available online sources, the tool will generate a list of trending hashtags. Trending hashtags will help you boost brand awareness, drive traffic, and generate high social media reach.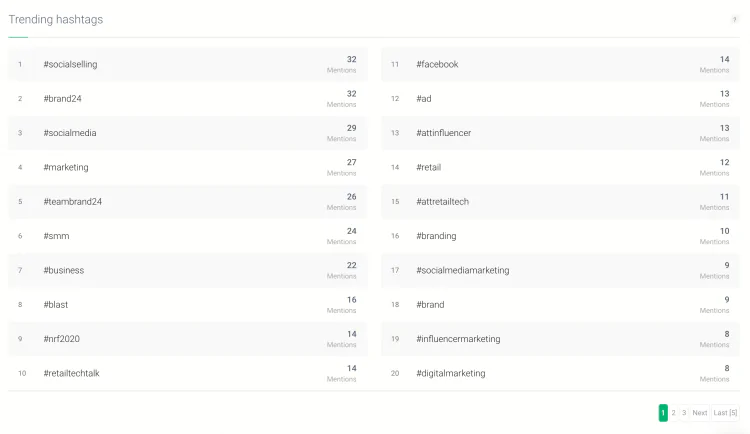 Check hashtag performance
Monitoring hashtag performance will deliver a ton of useful information. Think about:
measuring social media reach of your hashtag
measuring engagement around your hashtag
pinpointing the most influential profiles using your hashtag
knowing who use your product and shares your content
measuring the performance of the hashtag marketing campaign.
Your project in Brand24 can measure hashtag performance on platforms such as Facebook, Instagram, Twitter, YouTube, or TikTok.
All you have to do is to set up a project with a dedicated hashtag. In the Analysis tab, you will find the number of mentions, estimated social media reach, and the number of interactions.
You can also spot people who use your hashtags the most and are potential influencers you could cooperate with.
Create your first project! Start 14-day free trial, no credit card required.
And last, but not least, Instagram Stories.
Instagram Stories are a perfect platform to bring the offline to the online. Here's what I mean!
A lot of fashion events, like Fashion Weeks, but also premieres of new collections aren't accessible to your fans. With Instagram Stories you can help them be a part of your event, even if they are hundreds of miles away. You will connect your potential clients to your fashion brand.
Instagram Stories allow you to show some behind-the-scenes footage which will give your fashion brand a more personal touch. And that will certainly help build some loyal following!
2. Facebook for fashion brands
After the Cambridge Analytica scandal, the main goal of Facebook is to provide "meaningful interactions" among its users. I know it sounds scary, but in fact, it's a great opportunity for your fashion brand!
The trick is to present your Facebook fan page as a meeting place for your target audience. Showing off your newest collection is a great start but think more outside box. What else could help your target audience and make them feel even more connected to your brand?
Looking for some ideas? From the top of my head – implement user-generated content and show how your products look on real people in everyday situations, not on models during photo shoots.
Or maybe you can run a competition for the best name of your new piece of clothing? You will certainly get a lot of creative ideas and establish a connection between your customers and your brand.
Facebook Groups
Want to create something extra? A Facebook Group is an answer! Facebook Group, if moderated well, provides meaningful interaction between its users and further promote your products.
The key to a successful Facebook group for a fashion brand is not to talk only about your product. The topics covered should be broad and interesting for target users.
Some of the topics will come up organically, as users will start asking questions, for example about how to take care of a specific garment or what kind of shoes are best to pair a dress.
But you can come up with questions and information on your own. Most consumers are interested in where their clothes come from, who sew them, and what kind of fabric they are made of. That's a perfect basis for an interesting story, that will make your fashion brand stand out in the crowd on social media!
You can also show an exclusive preview of your newest campaign, discount codes, and much more! The sky is the limit.
Bots for fashion brands on Facebook
If used well, bots can bring a lot of leverage to social media marketing for a fashion brand.
For example, Levi's developed a Levi's Virtual Stylist, that helps you find the perfect pair of jeans via a bot. Think about all the time you'll save on going to the store or browsing through hundreds of different jeans pairs online.
The bot asks about the desire jeans' fit, rise, stretch, and wash and asks what size are you in other brands. All to make sure you find the perfect pair of your Levi's.
3. Social media customer service for fashion brands
After you establish your brand and become active, you'll inevitably have to deal with customer complaints, no matter how great your product is. A negative review on a social media channel can be a blessing in disguise.
There are a few rules you have to follow to make a negative customer review work for you.
First of all, time is of the essence. Your customers expect a swift response, and that's your window of opportunity to show your customer service best practices. How exactly do you spot negative comments on time?
Brand24 will help you!
The tool is quite versatile and will help you not only with monitoring hashtag performance but also with providing excellent customer service!
All you need to do is set up a project that contains the name of your brand. You can further specify the results by adding the name of your product. Brand24 collects all the publicly available mentions from the internet into one, neat dashboard.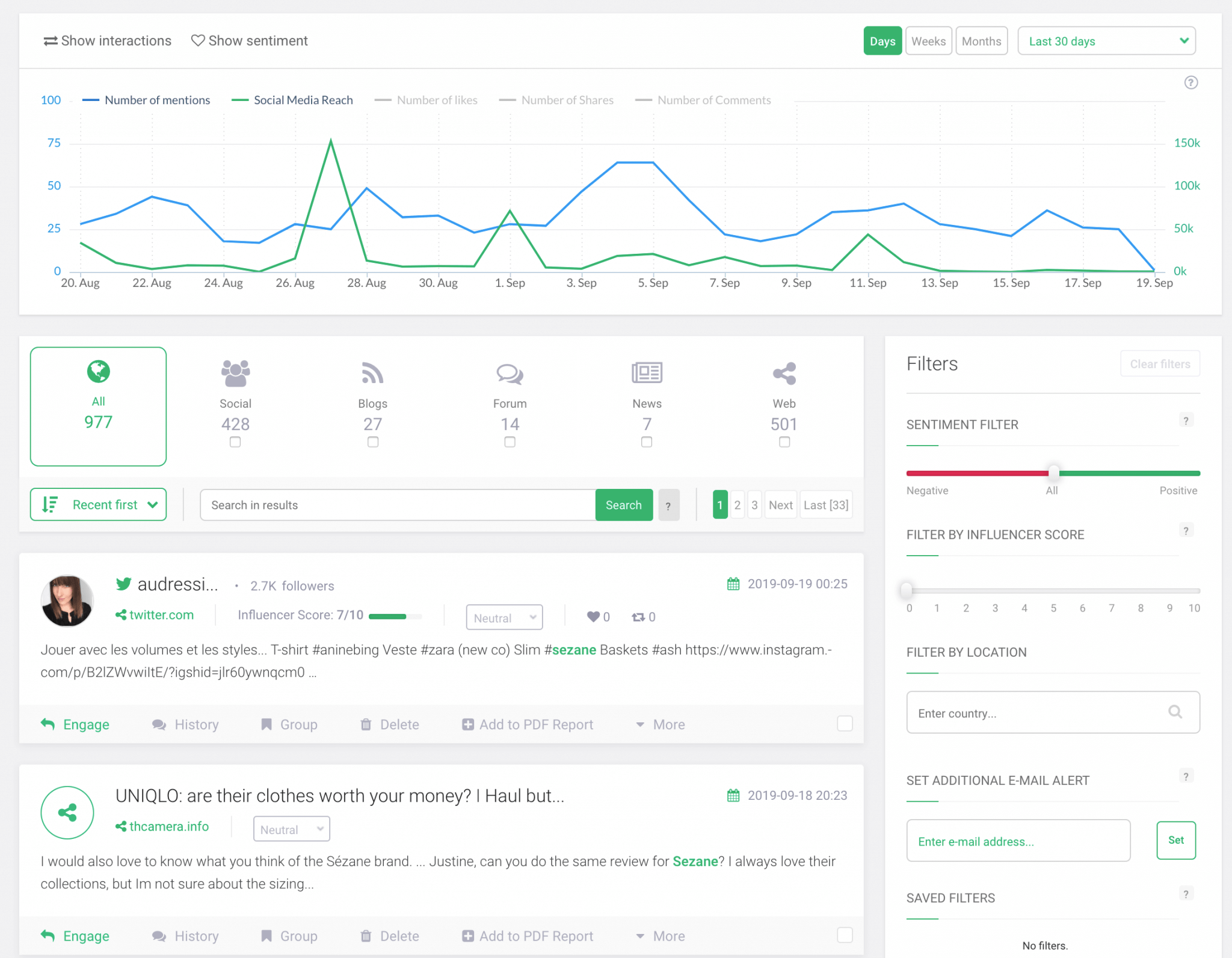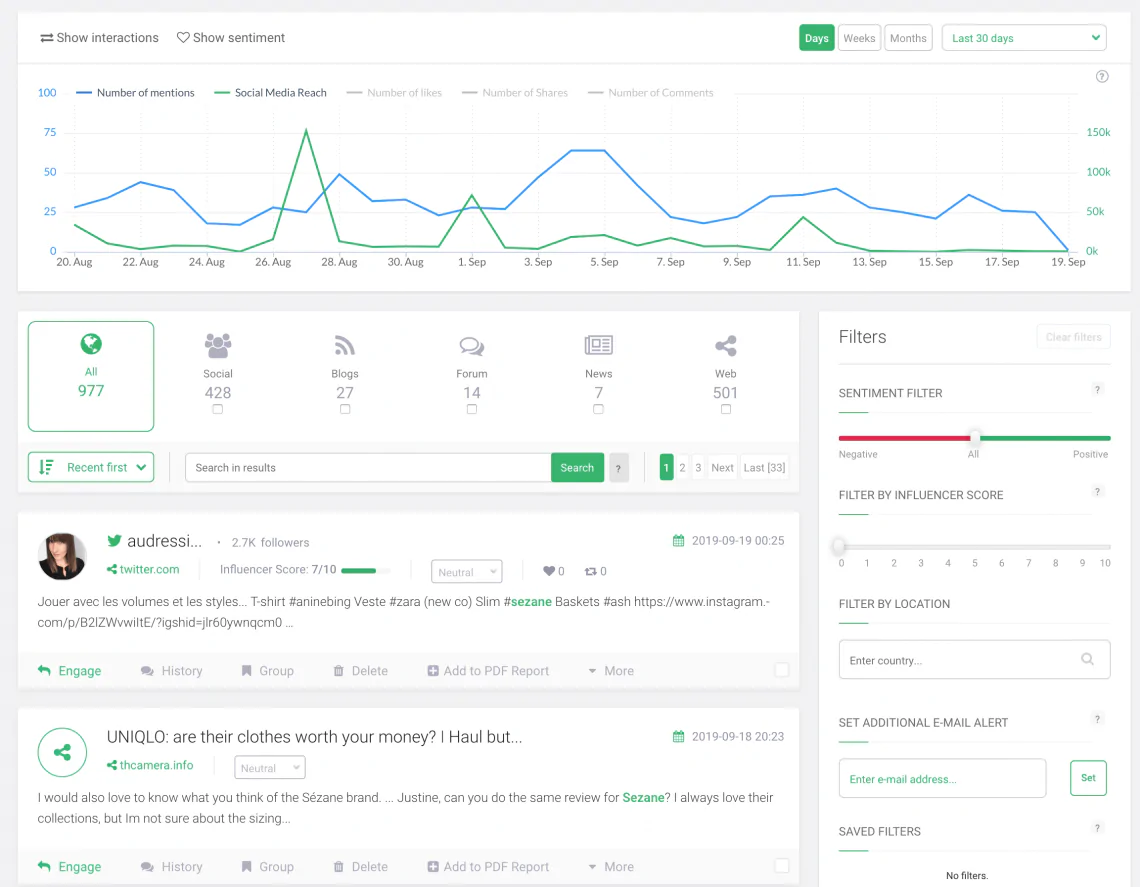 Don't worry about having to log into the panel every five minutes.
Brand24 offers Slack integration, mail notification, and an app for iOS and Android. All to make sure you won't miss any single mention.
When you want to engage with your customers, simply click on "Engage" in the left bottom corner and you'll be redirected to the source of the mention.
4. Live Customers' Testimonials
Customer reviews bring us to the next technique you can implement to boost the social media strategy for your fashion brand. What can be more convincing than reading reviews left by other happy clients?
The question is – how to present customers' reviews aesthetically and authentically? Your potential clients have to know that the review is written by an actual client, not a bot.
Brand24 offers a widget called Live Customers' Testimonials – a widget you can embed on your website. When you have your project, you can choose the mentions you would like to display on your website in a group. The tool will generate a line of code your frontend developer can add to your website.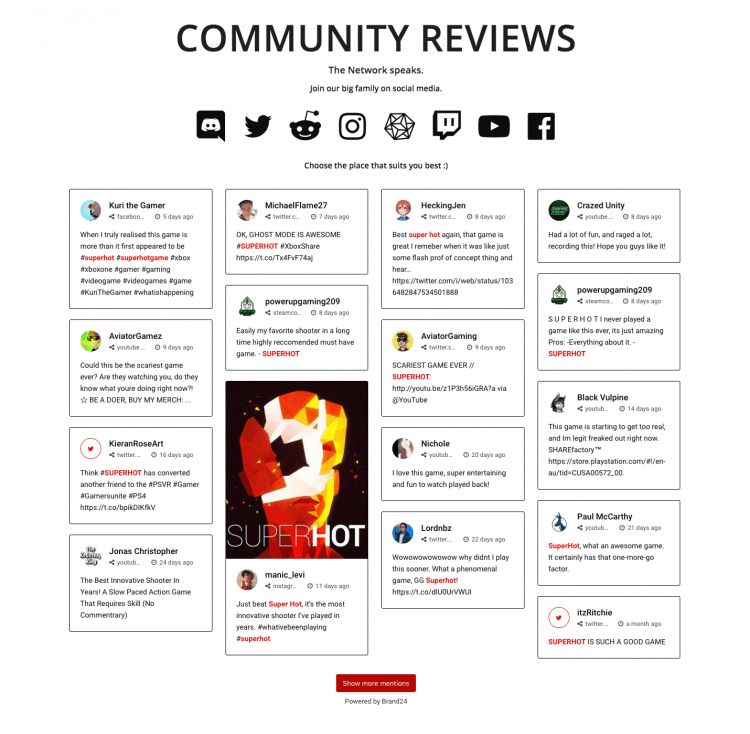 When your customer clicks on a widget, he/she will be redirected to the source of the review and will know for sure the testimonial was written by a real person, not a bot. Customers' testimonials look like this:
5. Influencer marketing for fashion brands
Whether you like it or not, influencer marketing is here to stay. When it comes to social media for fashion brands, it's great news.
You can promote your fashion brand by cooperating with micro-influencers. What are the benefits of this type of promotion? Let's see:
increase brand awareness;
reach new audiences;
develop trust in your brand;
create higher engagement with your brand
One of the first obstacles to developing a successful influencer marketing is to find the right influencer to work with. So many brands haven't mastered this step yet, and we can still see a fashion blogger promoting diet supplements or fitness bloggers working together with fast-food chains.
It's best to find someone with a substantial following who already posts about your products.
To do that, log into your Brand24 dashboard.
From the panel choose the Analysis tab. Then click on the most popular authors. You can also specify the social media channel you're interested in by choosing the Filter mention option.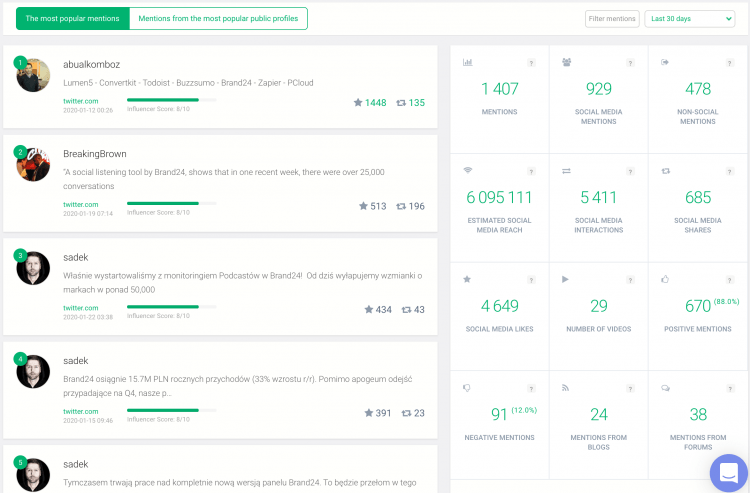 Your potential influencer should be the person that already says positive things about your product (you can see it by using the sentiment filter) and have a powerful share of voice. You'll find all that information on your Brand24 dashboard.
Social media for fashion marketing
With social media marketing for fashion, there's no one-size-fits-all solution. If you want to succeed in the game, you have to choose the right platforms and prepare a tailored social media marketing strategy. Brand24 will assist you with coming up, executing, and measuring the results of your campaigns.
FAQ
What social media is best for fashion?
The choice of the best social media platform for fashion largely depends on your target audience, but Instagram tends to be the front runner. Its visual-centric approach makes it ideal for showcasing fashion items, styling ideas, and trends. In addition, features like Instagram Stories and IGTV allow for creative content, while shoppable posts facilitate direct sales. However, platforms like Pinterest, with its high-quality images and inspiration boards, and TikTok, with its short, engaging videos, are also popular in the fashion industry.
What is the most influential fashion brand on social media?
The most influential fashion brand on social media can vary based on metrics, such as followers, engagement, or impact on trends. However, brands with a solid social media strategy, like Gucci, Chanel, and Nike, frequently top the list. They effectively engage their audience with a blend of product shots, behind-the-scenes footage, influencer collaborations, and creative campaigns, fostering a strong and active online community.
How do you promote a fashion show on social media?
Promoting a fashion show on social media requires a multi-faceted fashion social media strategy. You could start with teaser posts to build anticipation, including sneak peeks of designs or behind-the-scenes footage of preparations. On the day of the event, live-stream the show to reach a wider audience, and encourage attendees to share their experiences using a unique, event-specific hashtag. After the event, share professional photos or videos from the runway, and engage with your audience's posts about the show. This multi-stage approach keeps your audience involved and excited throughout the entire process.
HANDPICKED RELATED READ
How to Use Social Media Marketing for Hotels
15 Tips for Restaurant Social Media Marketing With Examples