It's July. The sun is shining, I'm starting to work up a sweat whenever I have to walk anywhere, and my social feed is being taken over by pictures of handsome men in tuxedos and stunning gals in long, flowing gowns…
Can you guess what this means?
Yep, its wedding season!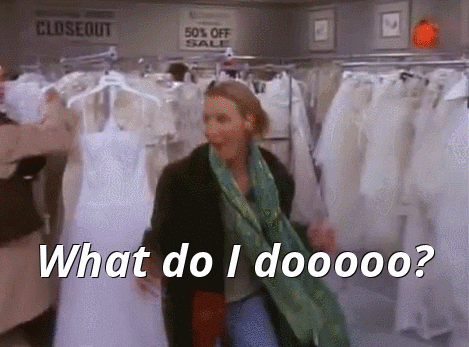 The wedding industry is huge. That's actually an understatement, but I can't think of a better word than huge. Maybe gigantic, or enormous… ginormous?!
It's crazy how much preparation, resources, manpower, goods and services go into planning a single wedding.
In fact, last year (2016), there were over 2 million weddings in the US alone. On average, each wedding cost more than $26K, and the combined cost of goods and services involved brought in more than $57 billion in sales.
See what I mean? Ginormous.
In case you're wondering where all the costs are coming from, here's a "short" list of the typical goods and services that are needed for weddings:
Attire and accessories: wedding dress, dress accessories, tuxedo/suit/other accessories, tuxedo/suit/other rental/purchase
Beauty and spa: hair service, makeup service, manicure & pedicure
Entertainment: DJ, live band, musician(s)/soloist/or ensemble
Flowers and decorations: bouquets, boutonnieres/corsages, event decorations, event flowers & arrangements, event table centerpieces
Invitations: ceremony programs, engagement announcements, guest book, invitations & reply cards, postage, reception menus, save the date cards, table name & escort/place cards, thank you cards
Jewelry: engagement ring, wedding ring/band for HER, wedding ring/bad for PARTNER
Photography and video: digital or photo cd/dvd, engagement session, prints and/or enlargements, wedding album(s) or photo book(s), wedding photographer, wedding videographer
Planner/consultant: A la carte services, "day of" coordinator, for getting started, full service, month of direction
Venue, catering, and rentals: ceremony officiator, event accessories, event bar service, event food service, event location, event rentals, hotel room for after reception, limo rental, other transportation, rehearsal dinner, wedding cake/dessert
Guest favors: place holders, wedding souvenirs
And that's not all. Especially if you want flying doves.
As with any large industry, there are many companies selling similar goods and services, giving consumers more options than they need. So, here comes the obvious question: what makes a consumer choose a particular company over others if they all seem to provide the same good or service?
This reminds me of a totally unremarkable event, which has probably happened to most of you.
Well, I often bring my own lunch to work. I just put last night's leftovers in some tupperware and I'm good to go! After lunch, I'll wash the container and leave it on the office dish rack to dry, picking it up before I leave. Nothing unusual.
The other day, it finally happened: somebody took my container!
I know what you're thinking: who cares? It's tupperware! Just go and buy a new container already, you cheapskate!
Yes, it's just a plastic box, but that's not the point (of this story).
It brought to my attention just how important personalization is.
I'm 100% certain that whoever took my box did it by accident, and had no idea that it actually belonged to someone else. All these boxes look the same, and there's really no way to tell them apart. Plus, everybody and their mother has one.
The same logic can be applied to companies in a competitive industry.
It's so important to stand out. But, how?
Social media for businesses
Many companies maintain a competitive edge by taking advantage of all that social media has to offer. Providers of goods and services for the wedding industry are no exception. They often use social media for:
Increasing visibility
Personal branding
Reputation management
Engaging with audiences
Customer service
Event promotion
and much more…
And social media content isn't necessarily company-generated. Sometimes, content that gets the most likes, comments, and shares is user-generated.
Take a look at some examples of how some businesses in the wedding industry (and not only) are making social media work for them:
Is wedding season only for the wedding industry?
This image has over 38 comments and nearly 34K likes.
By using wedding-themed hashtags with an undeniably gorgeous photo (casual yet glam, just like the perfectly tousled bedhead), this brand captured the attention of its viewers.
The best part about this image is that these swimsuits certainly aren't just appropriate for weddings. They're really good for any occasion (or no occasion). But the timing couldn't be better.
The brand creatively used hashtags for a current event (wedding season) to ensure that audiences who might not have been searching for their product (swimsuit) would see their beautiful campaign. With over 34K likes, goal = achieved.
Social media for branding and visibility
This photo has more than 17 shares, 38 comments, and over 33K likes. Everybody who viewed this photo also saw the products (jewelry and makeup) and photographers and videographers that were used in the shoot. Exposure like this featuring real users who are happy with their experiences serve as the best type of testimonial for any business.
And social media only makes it better, since it lets anybody with Internet access view content. And when potential customers see user-generated social proof vouching for the quality of the services provided, it makes an impression.
This is yet another photo on Instagram that has captivated its audiences with over 140 comments and nearly 35K likes.
Posting photos like this on Instagram is ideal for exposure. Over 25 providers have been mentioned. Even if their work isn't immediately visible in the photo, their public brand awareness has already been significantly increased just from being mentioned.
Measure your results on social media
After making sure that your brand is visible on social media (here are 10 social media marketing tips you want to use for your business), the next step is to measure your results.
This is where a social media monitoring tool like Brand24 comes in handy. By tracking mentions of your brand name or your hashtag campaign in social media (or anywhere online), you can quickly check on the results of your marketing strategies whenever you want. With real data.
Another important reason (for me, this is actually the most important one) why social media monitoring tools are so helpful is simply because they save you so much time. Instead of scouring the web and running deep searches to find your mentions (or having your interns do this), you're free to focus on actually implementing your strategies.
Tools like Brand24 also provide automated analysis reports so you can get quick insights; sentiment analysis filters, so you can see how your audience feels about your product or company; and storm alerts & mobile app for added convenience… and much more.
Track your mentions on social media with social media monitoring
Is your brand visible in social media? Do you use a social media monitoring tool to measure your results?
There are a bevvy of social media monitoring tools to choose from, but I recommend Brand24.
Sign up for free here and take it for a spin. See for yourself what social media marketing can do for your business with real data.
---
---