4 Tricks&Tips to Boost Your Instagram Stories Game
March 26, 2018 ・ 5 min read
Instagram is the place to be. The rapid growth of the social platform provides almost unlimited business opportunities. And although Instagram is uncomplicated, Instagram Stories are challenging for most business users. So here's our recap of some Instagram Stories tips & tricks. Hope you'll find them helpful!
Instagram Stories has been around for a year now, and it's become one of the most popular platforms for sharing video content. With over 300 million daily active users worldwide it's the new challenge and opportunity social media managers have to tackle.
The platform is aware of its professional marketing options and has recently added some useful analytics tools. With a business account, you can now see the number of Instagram Stories' views, interactions with your followers or create an ad.
In the US, brands can now sell their products and services directly in the app. It's only a matter of time when we can use this feature in Europe. Why not get ahead of your competition and build a strong Instagram presence? Preparing Instagram Stories and showing off a bit of personal touch of your company will certainly help you with that.
Videos offer plenty of opportunities. By sharing video content on Instagram, you're able to:
Drive customer engagement

Show your product or service in action

Get in touch with your customers
But producing high-quality, engaging clips is time-consuming. Thankfully, Instagram is trying to make life easier for content marketers. You can now prepare your content well in advance. It means you'll not only be able to post during weekends but also that you get more time to develop Stories campaign.
There are already businesses that excel in Instagram Stories game. They developed a healthy Instagram strategy and saw the growth in their followers and revenue numbers. Take a look at their ideas!
1. Lufthansa Reaching Out to New Customers
Lufthansa recently has been facing a major challenge – how to get through to new travellers? The carrier wanted to attract people who have been using budget airlines and build a positive image of traditional air services. So they developed an Instagram content campaign that caught millennials attention.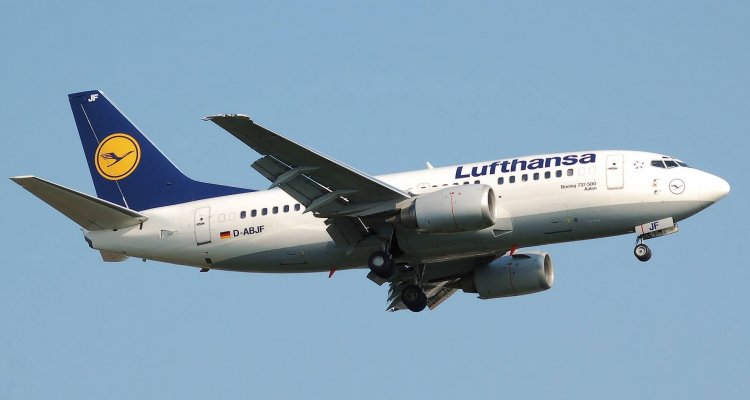 Together with the camera crew from Vice, they created a series of mini-documentaries featuring young people. Actors, musicians, photographers and Lufthansa's crew members recorded Instagram Stories. They all travelled to places that inspire them to enrich their lives and reported their adventures on Lufthansa's account.
How did the Instagram Stories help? Lufthansa noted a 14,8% increase in brand affinity in the core target group and 25% of brand sceptics changed their stance as a result of the campaign. They created an emotional connection, making Lufthansa more relevant and accessible to the younger audience.
Trick 1:
Show people how your product can enrich their lives.
Lufthansa focused not on ticket prices or baggage costs, but on the added value travelling brings.
2. Kino Nowe Horyzonty Providing Film Fans with a Laugh
Kino Nowe Horyzonty is an off – cinema based in Wroclaw, Poland. It's a perfect example of how to step up your Instagram Stories game when you have a limited budget. The main aim of video posts was to show that independent cinemas are not always about movies tackling serious problems. It's also a place to have some fun.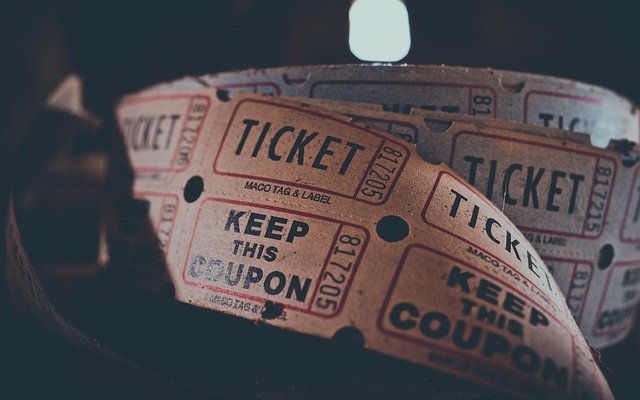 Cinema's Instagram Stories trick is to present short clips from different movies and ads funny short caption to each of them. To promote New Year's Eve program, they posted a dance tutorial, which was a clip from an old Spanish movie. It was an Instagram eye-catcher, and, as it was spread among several short clips, the viewers were tempted to see all the stories.
Trick 2:
Broaden your audience scope by presenting your business from a different angle. Show more personalised image. Creare a cliffhanger Story, so your viewers will be tempted to see all of them.
3. L'Oreal Keeping it Classy
When it comes to Instagram, it's all about images. Remember that you can upload any photo to Instagram Stories. Which basically means that you can edit your pictures in any graphics program before you post it. You can create a consistent aesthetics for your profiles.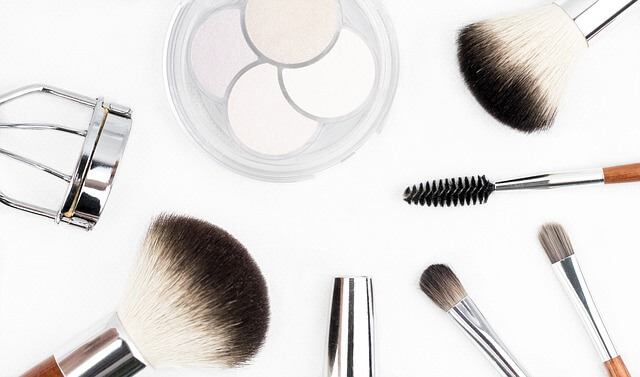 If you're looking for some inspiration, check out the L'Oreal account. The French cosmetics giant creates elegant flat lays accompanied by their typography. The Instagram stories are easily recognisable and help build brand awareness. The company clearly knows who their target audience is and what kind of photos and films will trigger their interest in the brand.
Trick 3:
Remember about consistent personal flair.
Instagram Stories is a vital part of your brand online presence, so it has to be in line with every other channel.
4. Wool and the Gang Knitting and Teaching
Any arts-and-crafts lover is probably familiar with Wool and The Gang. It's a British company selling knitting kits, which uses Instagram stories to share their tutorials. It's an interesting example of how you can divide content between different platforms. The films on YouTube are much longer and detailed.
As the Instagram Stories last only 15 seconds, they serve a different purpose. Wool and the Gang shows just the gist of their product. After all, if the essence is presented with one Story, then knitting can't be difficult.
Trick 4:
Short tutorial can be a good idea.
Show your potential customer how easy it is to use your product, and you might persuade the undecided ones.
Choose the Right Hashtags
Instagram is a platform that popularised the use of a hashtag. Implementing some tips and tricks is one thing, but choosing the right trending hashtags is something completely different.
Thankfully, you don't have to do all the groundwork by yourself; we got you covered! With a little help from Brand24, you can create a list of the most popular hashtags from a given niche.
This video shares some great tips on how to find the best (trending) hashtags to grow your Instagram account:
Let's start with logging in. You can try our tool for free for 14 days, no credit card required.
In the project creation wizard type the hashtag or keyword you would like to centre your hashtags around. You can enter your company name, industry, product, competitor name, or any other niche you can think of.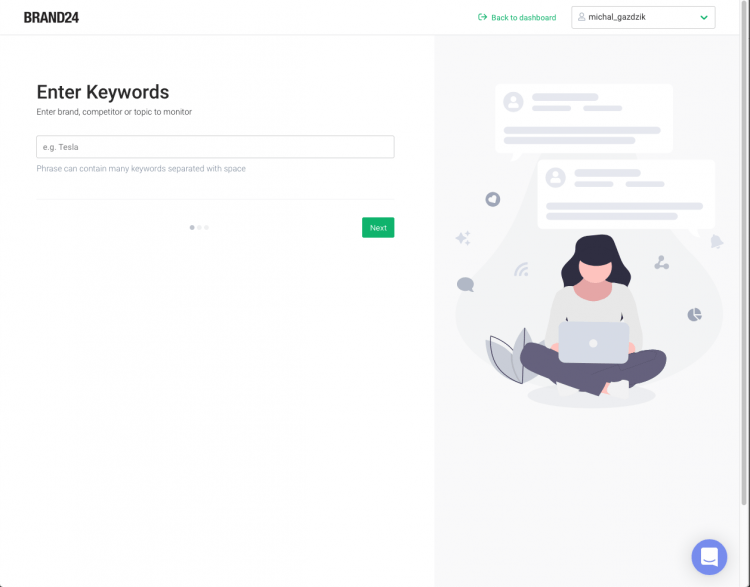 Then click on Next.
The tool will gather all the mentions containing your predefined keyword. But what we're interested in, is in the Analysis Tab.
Inside the tab, scroll down and take a look at 100 trending hashtags for your industry. The list is based on trending hashtags from Instagram, Twitter and Facebook.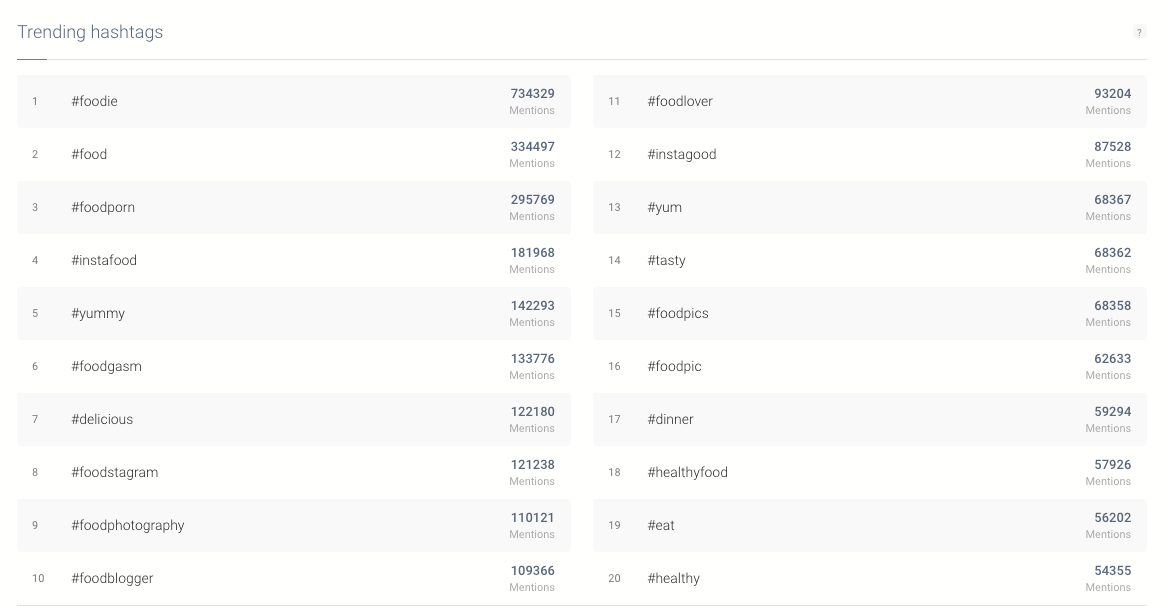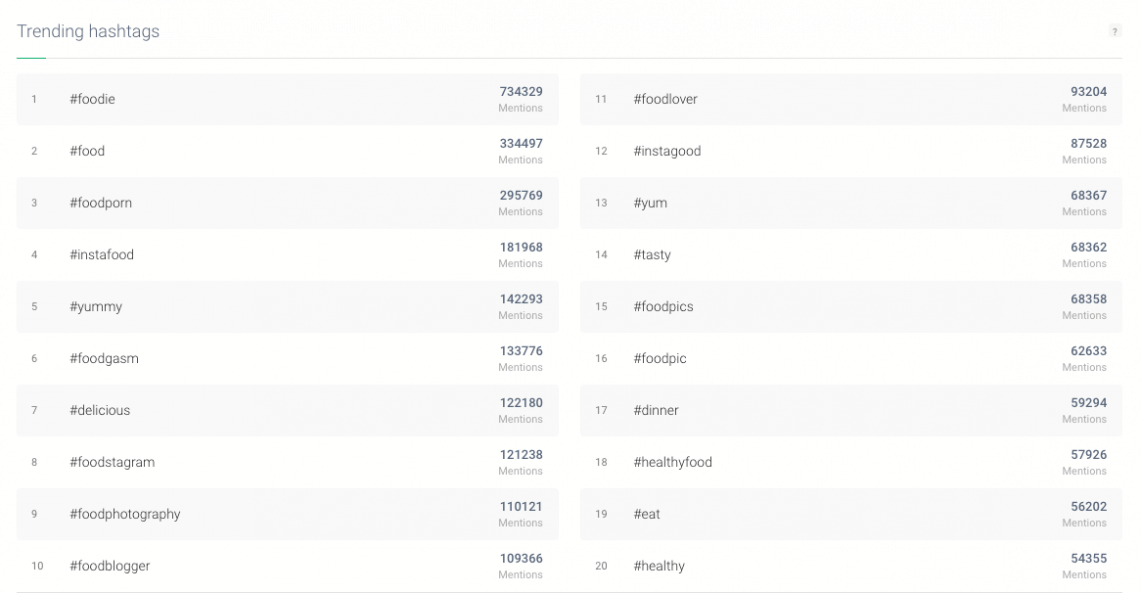 Using the right hashtags on Instagram will help to:
grow your Instagram presence
grow your followers' number
reach a new audience so you can present your product or service to different new customers
Instagram has been showing off Instagram Stories with the right hashtags in the explore section. It's another opportunity to show off your Instagram Stories game and develop a loyal following!
HANDPICKED RELATE READ