Twitter for business – does it spark your attention? It should! Twitter is a robust social media platform that has a lot to offer to business owners. If you have no clue how to start your Twitter adventure, you're in luck! This post will show you how to use Twitter for business.
As a business owner, you have a lot on your plate – you have to take care of so many big things and little details that every additional task seems like an unnecessary burden.
Using Twitter for your business might look like a futile duty at first, but this social media platform offers some robust solutions for medium and small businesses.
It's because Twitter is a very versatile platform for business promotion. Its functionalities include:
Increasing the recognition of your brand;
Creating a fast-paced customer service channel;
Monitoring the industry trends;
Promoting your website;
Finding new clients.
These benefits might seem quite vague right now, but hopefully, you'll realize all the perks of having a Twitter for business at the end of this post!
Here's a roadmap for today:
How to create a Twitter business account
From a technical point of view, creating a Twitter business account is relatively easy.
Follow these steps to set up your account:
Go to Twitter and sign up with your email or phone number.
Choose your Twitter name. It should be the name of your company.
Twitter will send you an email/text message to verify that you're the owner of the email/phone number.
Set up your password.
Choose your profile photo. Use the same photo across different social media channels, preferably your logo, so your potential customers recognize your company no matter the social media platform.
Choose the topics you'd like to follow on Twitter. Think about your business niche, terms specific to your company, etc.
Voila! You're ready to tweet!
Of course, to establish a robust Twitter presence for your brand, you need much more than that!
This article will help you get a basic grip on Twitter, which will translate into many benefits for your business!
Ready! Then let's go!
Brand24 is a Twitter monitoring tool. Try it during a 14-day free trial!
Is Twitter important for business growth?
Well, probably most social media marketers would immediately answer – yes, it is!
Sadly, it's a little more complicated.
If you want to be successful on any social media platform, you need to broadcast to an audience that wants to listen to you.
Otherwise, you're just wasting your time.
According to many surveys about the Twitter audience, people using this social media platform are most likely the early-adopters. They like to discover new things way before others and are open-minded.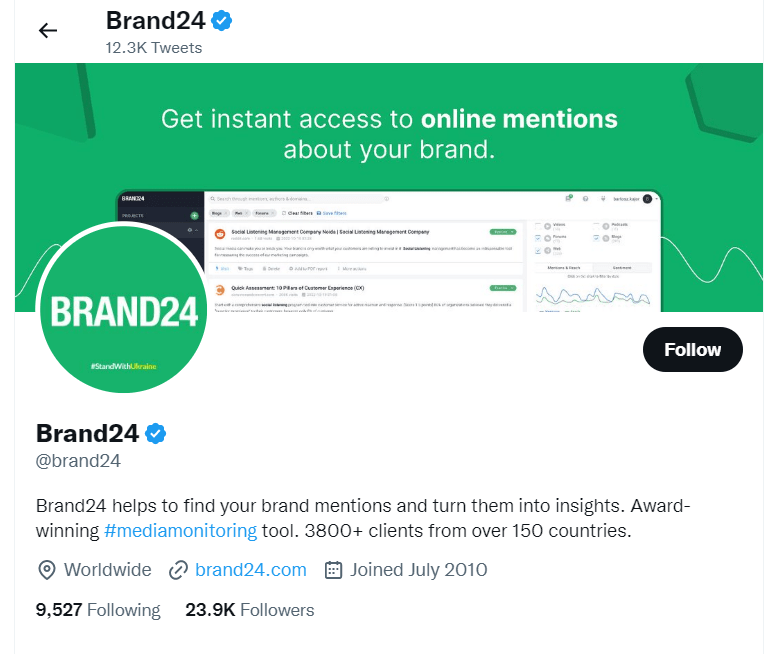 If your target audience fits this description, you can set up your Twitter business account.
How To Use Twitter For Business: 10 tips
Twitter for business is not that complicated. There are things you have to remember about, for example, the Twitter algorithm, but overall it's quite straightforward.
You only have to post a couple of tweets now and then, and it all will be ok, won't it?
Well, Twitter is simple, but unfortunately, not that simple.
Take a look at a couple of tips and tricks I prepared to make your Twitter strategy better:
01 Set up goals
Setting up goals in social media marketing is a vital step.
Without setting goals for your Twitter business account, you won't be able to measure the results of your social media activities.
You won't be able to assess whether you're making progress or adjust your Twitter marketing tactics to boost your social media goals.
What can be your business Twitter goal?
The platform is so adaptable you can choose from aims that fit your current business needs.
The most common Twitter business goals include:
Building brand awareness;
Setting up a customer service channel;
Building an influencer marketing campaign;
Increasing direct sales;
Establishing your business as an industry thought leader.
The good news is you don't have to implement all of them. Identify one or two goals your business needs the most and excel in them.
Setting up goals is not the end, though. You also need to identify the metrics that will determine the results of your Twitter presence.
Twitter analytics is one of the most important parts of your Twitter for business account setup.
Moreover, to fully understand your Twitter presence, you need a proper tool. There are plenty of Twitter analytics tools available on the market, so make sure you find one that suits your needs.
Brand24 is a Twitter monitoring tool. Try it during a 14-day free trial!
02 Define your brand tone
The tone of your brand sounds quite vague, doesn't it? Well, it's one of the most important aspects of your business Twitter marketing strategy.
Your brand voice depends largely on your audience demographics and the goal of your account. If you want to provide excellent customer service on Twitter, dismissing your clients' problems with sarcastic comments won't bring you any good.
Not everyone is bold enough to pull off Wendy's trademarks tweets. Just like that one:
But you can take a different approach. Take a look at Innocent Drinks:
The key to establishing the tone of your brand is to be consistent. Set up general guidelines so whoever takes care of your Twitter will know how to respond.
Your brand tone is one of the factors that will differentiate your brand from your competitors. That's why it's important to set aside some time and know in advance how to talk to your customers.
03 Use social media monitoring
Social media monitoring tools gather all publicly available mentions from the Internet, including social media platforms, with your predefined keywords.
When it comes to business Twitter account goals, social media monitoring will help you with:
All the fun with social media monitoring starts with setting up a project.
Start Twitter monitoring to grow your business!
Take a look at how you can improve your business:
Twitter customer service
Let's start with using Twitter as a customer service channel for your business.
There are two ways your customers will interact with your brand. Most of them will find your channel and either send you a direct message or use a @handle, which Twitter will notify you about.
But some of them will mention your brand on their profile without an @handle. If you want to provide all-around customer service, you need to respond to all the mentions, most importantly to those without a direct Twitter handle.
Just like here:

Find Twitter Influencers
Brand24 will help you build your influencer marketing campaign.
If you want to run a successful Twitter influencer campaign for your business, you have to choose the right influencers. And by the right influencers, I don't necessarily mean people with the highest follower count.
The right Twitter influencers for your business are people who can reach your target audience. In this case, Twitter engagement rates are much more important than followers number.
Take a look at the Analysis tab in Brand24. When you scroll down, you'll find two tables with a ton of data analyzed by the tool.
The first one is called "Influence of social media authors." The table shows the most influential authors on Twitter, together with their share of voice (the number of online discussions generated by the author) and the influence they have on Twitter.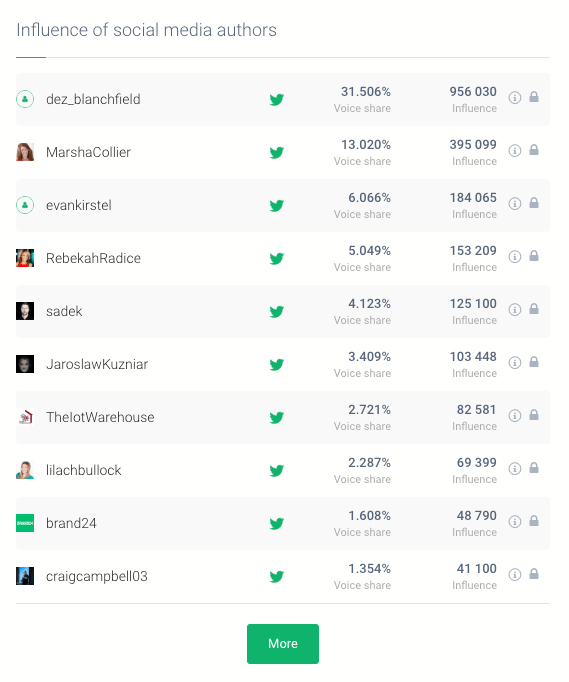 The second table will show you the most active social media authors. Brand24 also calculated their reach (the number of Twitter users who might have seen their content) and the total number of mentions with a keyword from every author.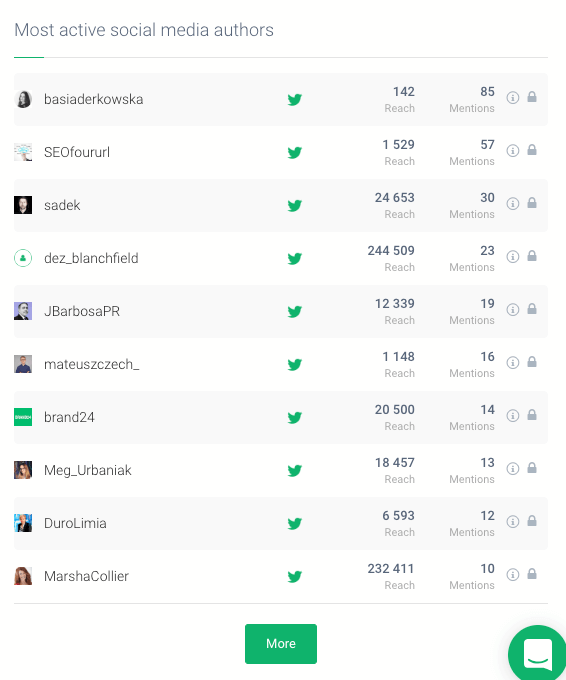 Find leads
Look not for mentions containing the name of your company, but for some more general ones, preferably with wording such as: "who can recommend" or "where can I…". Team the key phrases up with a specific term for your business, for example, restaurant.
Brand24 will collect results like this one:

All you have to do is engage with users actively looking for your business.
04 Prepare dedicated graphics for Twitter
A lot of your success on a Twitter profile for your business depends on how much engagement your tweets generate.
The Twitter algorithm is a complicated piece of code, but there are small details you could take care of to pump your business on Twitter.
One of them is to prepare graphics solely for Twitter. That way, they will have the right size and quality and won't be cropped in some strange way that will make the photo illegible.
Photos and videos uploaded natively to Twitter generate higher reach rates than content shared on Twitter from other platforms.
Moreover, a native video will play automatically on Twitter, while a link to YouTube link requires a click-through.
And videos are the future of your business activities on Twitter. Videos are six times as likely to be retweeted than photos and three times more likely to be retweeted than GIFs.
Monitor your business on Twitter! Find the most popular mentions!
05 Use your content multiple times
An average lifespan of a tweet is about 24 minutes. That's a short time frame, even for the high-paced world of social media.
There are good news and bad news when it comes to the limited lifespan of tweets.
The bad news is you have to constantly come up with new content (tweets, photos, and videos) to keep your audience engaged and entertained. That can be quite overwhelming, especially if you're not a full-time social media manager.
The silver lining is that, because of the short lifespan, you can reuse your best-performing content multiple times.
The chances are many of your followers haven't seen your tweets. And for those who have seen them, change one element of a tweet – a photo, apply some alterations to the text or change the video.
Also, you can set up a pinned tweet to highlight valuable content.
06 Engage with your Twitter followers
For effective marketing on Twitter, it's not enough to just post content; you must engage with your followers.
Responding to comments and questions shows that you're listening and paying attention, which can help foster relationships with potential customers and build trust in your brand overall.
You can also retweet users who mention or tag you in their tweets to thank them for their support while simultaneously reaching more people with your message.
Check: How to Get More Engagement on Twitter? 17 Easy Ways
07 Keep an eye on your competitors
To know whether you're running your Twitter account successfully or not, you need a benchmark – a Twitter profile you can compare yourself to.
Take a look at your competitors!
Create a project in Brand24, but instead of using keywords related to your brand, use ones related to your main competitor. The Twitter monitoring tool will gather and analyze all the relevant mentions.
You will be able to see pieces of information about:
Estimated social media reach,
Type of engagement,
Reach of their hashtag campaign,
Most active social media authors,
The total number of positive and negative mentions.
You can compare two projects by going to the Comparison tab.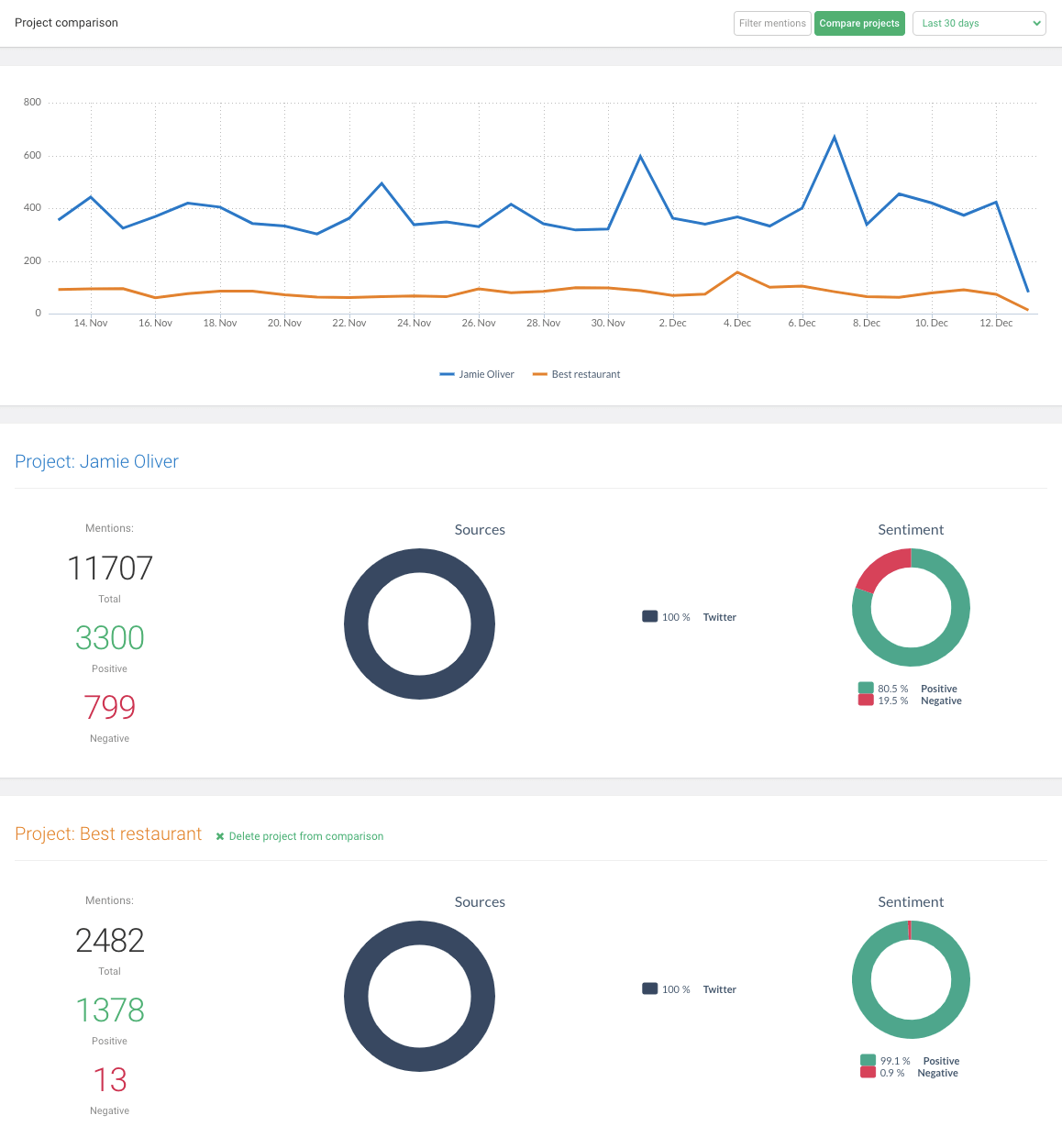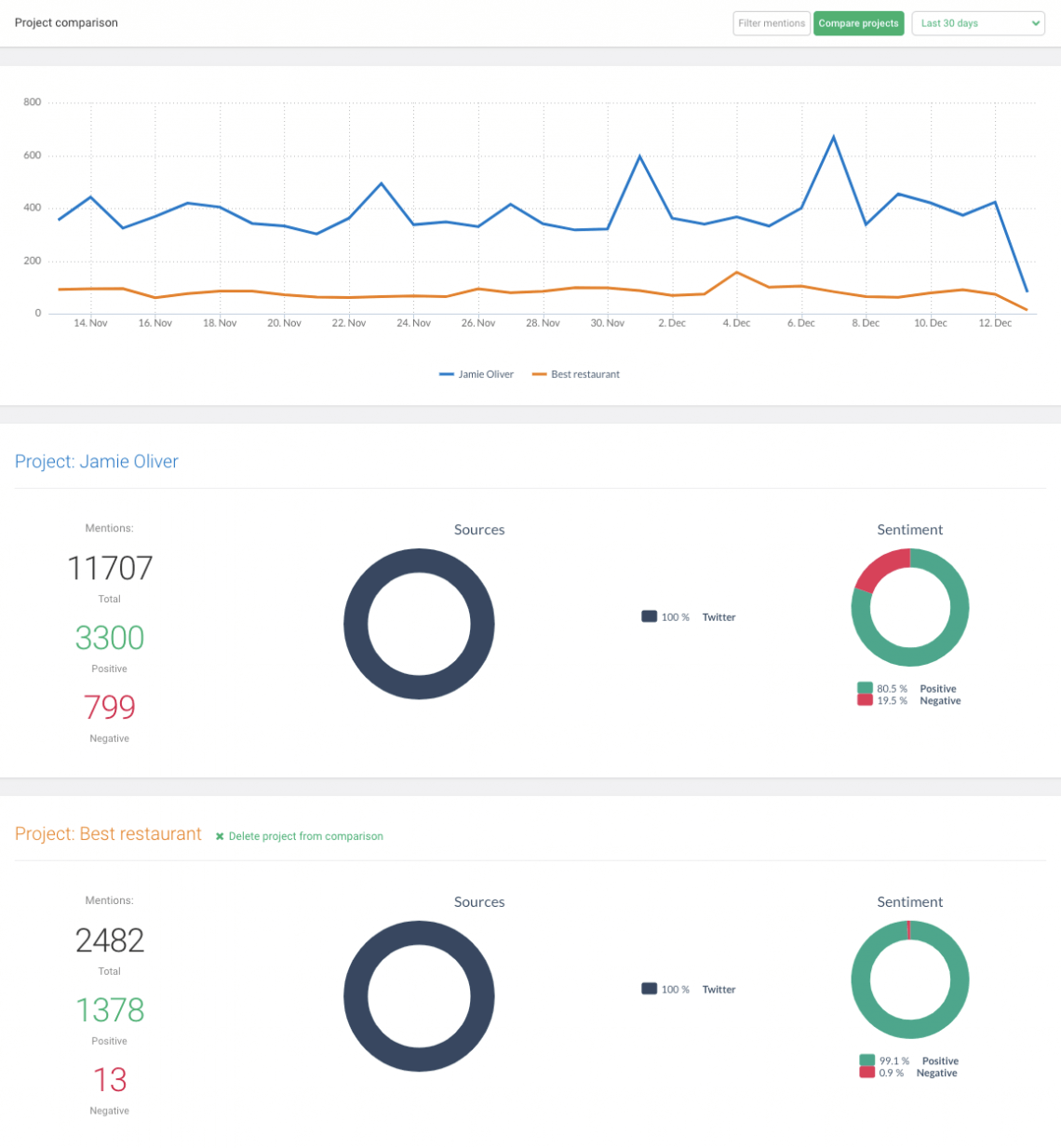 Brand24 will not only give you some hard numbers about your and your competitors' Twitter presence, but it will also give you an opportunity to spot their weaknesses. That's basically a niche you can develop to your benefit!
08 Network with other brands and influencers
Twitter offers a great way for brands to network with other businesses and influencers in their industry.
By following other social media accounts related to your field and engaging in conversations through retweets or replies, you'll be able to build relationships that could potentially lead to business opportunities or even brand collaborations.
09 Try ads
If your business is looking for an effective and fast way to reach a larger audience, give Twitter Ads a try.
Ads allow for efficient targeting for marketing purposes and boast a simple but powerful set-up process.
With Twitter Ads, businesses can expand their reach in new ways and tap into many Twitter users that can help build their brand.
10 Twitter Chats
First, let's start with the basics:
A Twitter chat is a live conversation that takes place on Twitter, typically centered around a specific hashtag. Participants use the hashtag to identify and follow the conversation.
Twitter chats are usually scheduled in advance, and often have a specific topic or theme.
Anyone can participate in a Twitter chat – you just need a Twitter account and the ability to use the hashtag.
Now, let's talk about how Twitter chats can be used for business:
Twitter chats can be a great way to engage with your audience and build your brand's presence on Twitter. By participating in a relevant chat, you can connect with potential customers, industry influencers, and other like-minded individuals.
If you're looking to promote a product or service, participating in a Twitter chat can be a way to subtly get your message out there without being too pushy. By providing valuable insights and information, you can position yourself as an authority in your field and potentially generate leads or interest in what you have to offer.
Twitter chats can also be a way to conduct market research and gather feedback from your target audience. By listening to what people are saying in the chat and participating in the conversation, you can get a sense of what your customers are interested in and what they're looking for.
Finally, participating in Twitter chats can be a way to network and build relationships with other professionals in your industry. By engaging with others and sharing your expertise, you can build a reputation as someone worth knowing and potentially make valuable connections.
Check: Twitter tips to successfully run your account
Monitor your business on Twitter! Find the most popular mentions!
Twitter challenges
Clearly, there are plenty of benefits when it comes to Twitter for business.
But there is a cloud to every silver lining, and there are disadvantages of using Twitter for business.
If you know about them right at the beginning, you will be prepared to solve any problems that might occur.
Be prepared for negative comments
First of all, be prepared to receive some negative comments. They will come either from your customers, who are now 100% happy with your product or service or from trolls who want to undermine your position.

Either way, you need to be prepared to respond in time to negative reviews. I explore the topic in further detail in this blog post: Positive Sides of Negative Reviews
Commit to building a robust Twitter presence
Secondly, once you commit, you have to stick to it. It means preparing interesting content on a regular basis.
Some tools will help you manage your Twitter business presence, but they won't do the job for you. You need to have tweets prepared in advance and check the tweets around your brand regularly.
That involves not only posting but also replying to comments and direct messages. It might not sound like a lot right now, but when the presence of your company on Twitter will grow, it will take much more time.
It takes time to build a loyal following
Building a strong Twitter account for your business won't happen overnight. It will take time, and you won't see the effects right away.
It might sound like nothing, but working hard on a project and not seeing any results is discouraging. You have to be aware of that and don't feel defeated after the initial period.
That doesn't mean your Twitter business strategy is set in stone. You can change it if you don't see satisfying results and try new things.
Just don't abandon Twitter altogether.
Start Twitter monitoring to grow your business!
Key Takeaways
The benefits of running a Twitter profile are clear. It helps increase brand visibility, target ads more effectively, and connect directly with customers in real-time conversations.
A presence on Twitter gives brands access to an engaged community they can leverage for their own benefit.
Let's sum up what we know so far:
Twitter is a versatile social media tool that can benefit your business in multiple ways, for example, by building brand awareness, providing excellent customer care, or executing a marketing campaign.
Using a social media monitoring tool can boost your Twitter marketing strategy. It will help you find relevant hashtags, discover Twitter accounts to cooperate with, conduct sentiment analysis, and many more.
It's worth using brand voice while writing social media posts. It will help you stay in the target audience's memory.
Ads can help you reach new followers and clients.
Hashtags are an indispensable part of a Twitter business presence. You need to choose the right and popular hashtags and regularly monitor their performance.
There are cons to your Twitter business presence, and you need to be aware of them. That doesn't mean you should give up on social media strategy right away but be prepared for any obstacles on the way.