5 Reasons Why Social Networking Can Help Your Business
October 26, 2016 ・ 8 min read
The Internet and particularly social media have opened the world of global interactions.
It is not a problem anymore to keep in touch with friends and relatives from other parts of the world. Social networking sites have grown to global societies of billions of virtual inhabitants. Facebook itself has 2.4 billion users making it one of the biggest communities in the world (bigger than China's population!).
Our planet has just become smaller and more approachable, not only in personal, but also business interactions.
It means that even a small company can go global without enormous investments. Take Brand24 as an example. We still hire less than 50 employees but have clients in more than 35 countries worldwide.
Monitor the Internet with Brand24! Create free trial (no credit card required)
And we can give a huge credit to social networking sites that helped us grow the community of loyal fans who contributed to the success. How can you leverage these platforms in your business? And what is good about social networking?
How can you leverage these platforms in your business? And what is good about social networking?
1. Social networking makes relationships more personal
Social media is a two-way channel where you have an opportunity to build a rapport with your clients and prospects. These platforms are not about amazing sales pitch you deliver to the audience.
Social networking is all about interactions and an open dialogue with users. Social media helps you humanize a brand and build genuine relationships with your community. It shortens the distance from your audience, especially when you address them from personal accounts.
PlayStation effectively leverages social media to amplify relationships with players. They engage in discussions with immediate and adequate responses that resonate with the community. They show a human face of the brand and win the hearts of clients.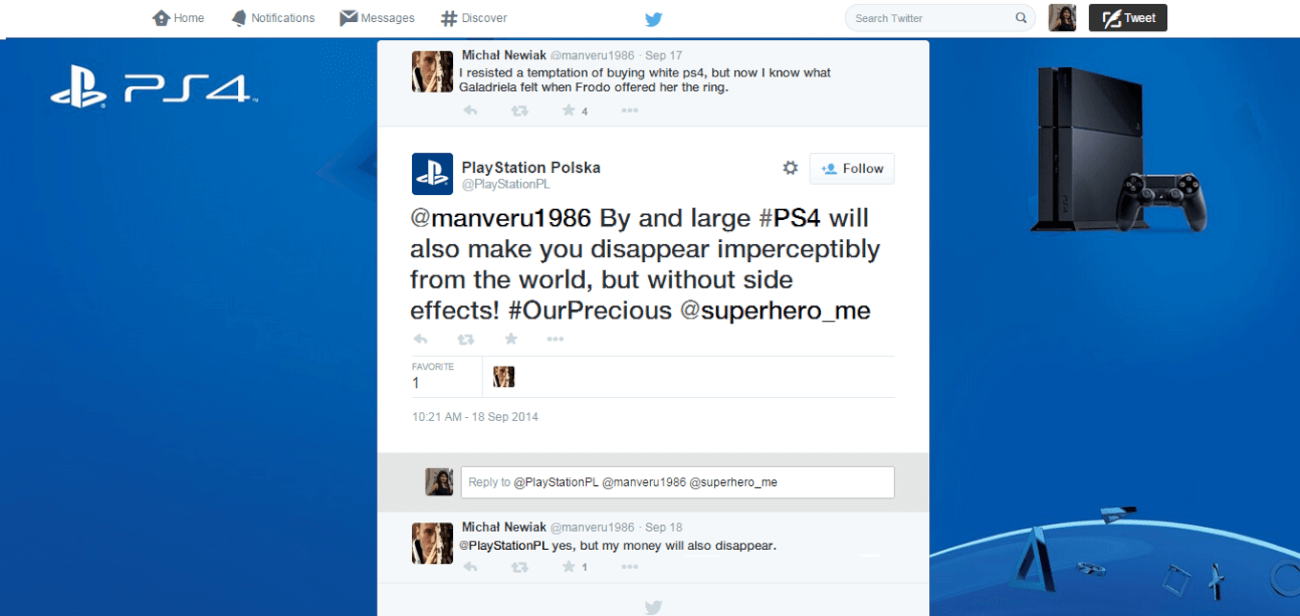 2. You can promote your business more effectively
According to a study, 78 percent of small businesses attract new customers through social media.
The most common way to promote a business on social networking sites is advertising.
Thanks to the advanced options of targeting and remarketing you are able to address the message to the audience that would more likely be interested in your products and services. Facebook and Twitter paid advertising is relatively cheap and with a well-knitted social media strategy your efforts will pay off.
Monitor the Internet with Brand24! Create free trial (no credit card required)
However, paid advertising is not the only way to reach out to target customers. A more time-consuming, but effective method to get a new customer is reaching out to consumers who report a certain need that your company can fulfill.
Social listening tools help you find such mentions and comments.
There are thousands of people asking for recommendations online every day. And every time a person posts a question "Where can I buy…?" or "What would you recommend for…?", you can find him or her and offer them help.
In Brand24, our Community Managers do an amazing job by attracting new customers and it is the traffic source with one of the highest conversion rates.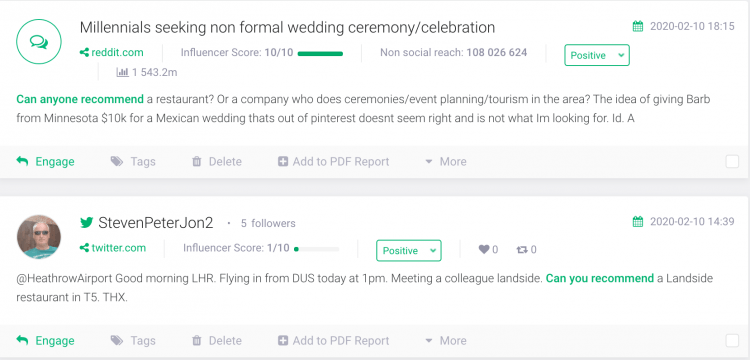 How do you find the leads?
Start with creating a project.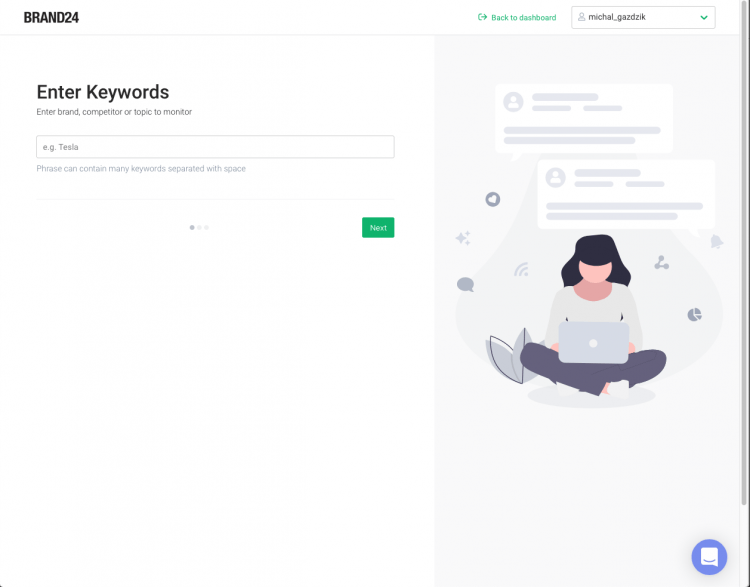 In the project creation wizard enter the phrases you'd like to monitor. Think about terms such as: who can recommend, where can I buy etc.
Combine the keyword with a phrase specific to your business, for example, your location. To do that, go to Project Settings and enter required keywords.
Monitor the Internet with Brand24! Create free trial (no credit card required)
From the moment you create your project, the media monitoring tool will start to gather all available online mentions.
As a busy business owner, you probably don't have time to log into the panel and check the mentions manually.
To make the lead generation process even more effective, Brand24 developed a robust notification system. You can choose from three different type of alerts:
email notifications
Slack notifications
in-app notifications (both for Android and iOS)
The lead is served, now it's your turn to turn it into a paying and happy customer.
You can do much more with a social listening tool than just actively look for leads. This type of tools have many different applications, including:
managing your brand reputation
monitoring hashtag performance
tracking your marketing and PR campaigns
analysing the sentiment around your brand, product, or service
3. You get valuable insights about audience and your business
Users ask, recommend, but they also share reviews.
They are the best source of information for product development. They are the ones who use your service so they know best what can be improved to fit their needs.
If something does not work well they are likely to report it in social media exposing it to a great deal of other consumers. Their feedback is gold for getting answers about your customers' preferences in and behavior. Use it to find inspiration and ideas for new variants of your products and improvements in a current offer.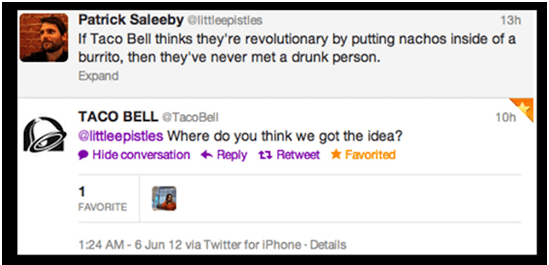 You may want to display some of the reviews on your website. You can easily do that with Brand24's widget.
Monitor the Internet with Brand24! Create free trial (no credit card required)
Choose the mentions you'd like to show on your website and generate a code that you place on your website. A social proof will wait for your potential customers on your website.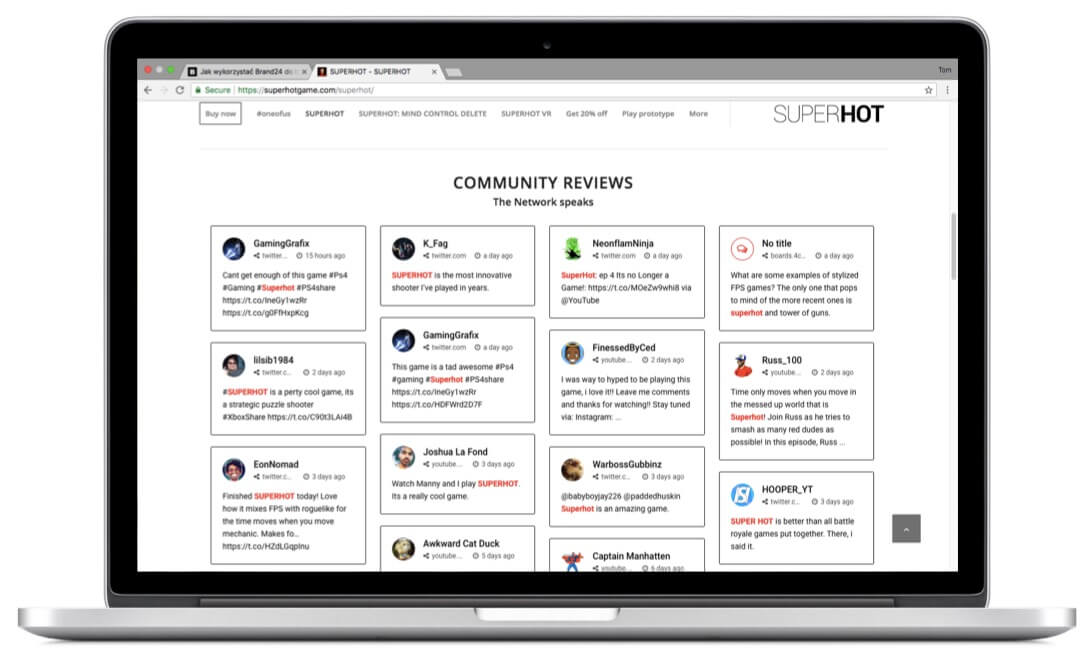 4. Social networking induces loyalty
According to a report published by Texas Tech University, brands which regularly engage in social media conversations tend to observe an increased brand loyalty.
When your company is present on social networking sites you are more approachable and reliable in the eyes of customers and prospects.
Monitor the Internet with Brand24! Create a free trial (no credit card required)
This is directly connected to the first point of this article. If you can build more personal and genuine relationships with a community, customers will be less likely to switch between brands. Showing them a human face will make you a sort of their friend rather than just another company that sells good products and that is replaceable. Remember that it is comes much easier to swap a service provider, but can be harder to dump a close mate.
5. Social media increases website traffic
Finally, social networking presence is essential in attracting traffic to your website. Not only it directly drives traffic to a page, but it also improves search ranking. As you probably know, SEO is an enduring and laborious process that helps you get to the top of Google's search results. External links, number of visits, selected keywords and website content have an impact on how well you turn out against your competitors in search engines. Social media can help you improve these factors, both thanks to direct traffic, but also shared links through social media users' profiles.
Leveraging Social Networking Platforms for Business Growth
In the ever-evolving world of online interactions, making the most of social networking for your business is crucial. Here are some general tips on how to utilize social media platforms effectively, along with specific examples of how Brand24 can help:
Select appropriate social networking sites: Concentrate your efforts on the social networking services that cater to your industry and target audience. Research and pinpoint the most popular social networking site relevant to your business needs. Brand24 can assist you in monitoring multiple platforms, allowing you to identify where your existing and potential customers are most engaged.
Produce engaging content: Generate valuable and captivating content that resonates with your audience across various social media sites. Brand24's analytics can help you identify the type of content that performs best on each platform, allowing you to tailor your social media posts accordingly.
Interact with your audience: Foster strong relationships by responding to comments, questions, and messages from your followers. Brand24's real-time monitoring ensures you never miss an opportunity to engage with your audience, helping you build loyalty and trust among your new and existing clients.
Use social listening tools: Utilize tools like Brand24 to monitor your brand's online social media presence across popular social networking websites. This enables you to gain valuable insights into your audience's preferences, track your marketing campaigns, and manage your brand reputation effectively.
Collaborate with influencers: Partner with influencers within your industry to expand your reach on social networks. Brand24 can help you identify and connect with the right influencers, increasing your brand visibility and credibility.
Measure your success: Regularly track your social network presence and engagement metrics to assess the effectiveness of your social media strategy. Brand24's comprehensive reporting allows you to analyze your performance, adjust your tactics based on the data, and optimize your social networking efforts further.
Utilize paid advertising: Leverage paid advertising options on social networking platforms like Facebook and Twitter to target specific audiences and increase your reach. Brand24's analytics can help you measure the effectiveness of your paid campaigns, ensuring you get the most out of your advertising budget.
Wrap-up
Social networking is a tool. If you can leverage its possibilities your business will definitely gain from it. With a good strategy, some creativity and additional tools you can achieve marketing goals with less resources. If you still wonder how to make the most of social media platforms check our another article and get ahead of the competition.
FAQ
What do you mean by social networking?
Social networking refers to the use of websites and applications that enable users to create and share content, ideas, messages, and other information, as well as participate in online communities and networks. It involves connecting with others, both personally and professionally, through various popular social networking sites.
What are the 6 types of social networks?
There are several types of social networks, and they can be broadly categorized into the following six types:
a. Social Media Networks: These include popular platforms like Facebook, Twitter, and Instagram, where users share content, photos, and videos with their followers.
b. Professional Networks: These networks, such as LinkedIn, are designed for professionals to connect, network, and share industry-related information.
c. Discussion Forums: Online platforms like Reddit and Quora allow users to engage in discussions, ask questions, and share knowledge on various topics.
d. Media Sharing Networks: Platforms like YouTube and Vimeo enable users to upload, share, and view videos, while platforms like Pinterest and Flickr focus on sharing images.
e. Bookmarking and Content Curation Networks: These networks, such as Flipboard and Pocket, allow users to save, organize, and share content from various online sources.
f. Consumer Review Networks: Websites like Yelp and TripAdvisor enable users to share reviews, recommendations, and experiences about products, services, and destinations.
What is the difference between social media and social networking?
Social media refers to the online platforms, tools, and channels that enable users to create, share, and consume content. It encompasses a wide range of websites and applications that facilitate communication and interaction between users.
On the other hand, social networking is a subset of social media that specifically focuses on building and maintaining relationships and connections between users within an online community. Social networking involves engaging with others, sharing content, and participating in discussions on social media platforms. Businesses use social networking to increase their revenue.
HANDPICKED RELATED CONTENT
What is social listening + TOOLS
How to increase your reach on Instagram?