Guide to successful crisis management
April 26, 2018 ・ 16 min read
Crisis management. These are the two words you hope never to hear. The truth is, a crisis can strike your business at any time. Having a crisis management plan prepared could save your company. If you're well prepared you can still exit the crisis successfully or, in the most optimistic scenario, gain some capital. That's why you should always have a crisis management plan in place.
Crisis management plan can help you save a lot of nerves once a crisis hits. Of course, you won't be able to prepare for everything. But it will be easier to come away unscathed from a crisis once you a have a solid crisis management plan.
Without further ado, here's a guide to successful crisis management.
What is crisis management?
Crisis management is a process by which a business or other organization deals with a sudden emergency situation that poses a threat to the company or its stakeholders.
Crisis management includes dealing with threats in three stages: before the threat occurs, during the crisis, and after the crisis had been handled.
But what does the process of crisis management include?
Of course, every situation is different, but there are some crisis management best practices you can twitch and implement in your situation.
Plan for as many situations as you can think of. We can't predict the future, but we can certainly prepare for as many scenarios as possible.
Monitor the mentions around your brand. No matter the nature of the crisis, you have to know what is happening around your brand. That's the first step in every type of crisis.
Set up a crisis response team. The team should consists of members from different departments to ensure that everyone knows what to do and can act quickly.
Train the first response unit regularly. If you act swiftly, you have the biggest chance to prevent a crisis from spreading or affecting many different areas of your business.
What is crisis management plan?
Crisis management plan is a detailed description of all the steps and measures your company will undertake in the times of crisis.
Creating crisis management strategy ad hoc or entering the crisis without one is reckless, and might even endanger your business continuity. Trying to come up with a great crisis management plan when everybody is firing at you is an impossible task.
Preparing a crisis management plan can be make-it-or-break-it factor for your business. Therefore, a crisis management plan should be an indispensable document prepared together with business plan or brand strategy.
The types of crisis
Depending on your industry niche, a different type of crisis might hit you. Luckily, the crisis response structure stays the same for most types of crisis.
The types of crisis that might hit you are:
financial crisis
technological crisis
natural crisis
organizational crisis
personnel crisis.
Your organization could be hit by any type of crisis. The good news is you can prepare for as many scenarios as possible. That way, whatever crisis comes your way, you'll be able to handle it well.
The stages of crisis
There are different stages of crisis. The answer to crisis should be based on the stage of the crisis.
No matter the type of the crisis, we can distinguish three phases:
The pre-crisis phase. It's time for preparation. Work on your crisis management plan and be on the look out for the signals of impending crisis.
The crisis phase. It's time to act, mobilise your crisis management team, and put the crisis management plan into action.
The post-crisis phase. Once you recover from the crisis, it's time to make a crisis assessment. What went well? Which aspects could you improve? How is your organization doing after the crisis? How did it change?
Situational crisis communication theory
Timothy Coombs is a communication scholar that developed a situational crisis communication theory (SCCT).
Timothy Coombs defined three types of crisis. He also described the best ways to come out from the crisis unscathed.
The types of crises are based on who was responsible for the crisis and the repercussions of the crisis to the brand's reputation.
Victim crisis
If your brand is considered at fault of a crisis, the crisis is called a victim crisis.
The most common type of victim crisis is a crisis caused by natural disaster. A natural disaster can destroy organisation's tangible assets, making it impossible to conduct normal activities.
Brand's reputation remains intact as the disaster is usually unavoidable.
Accidental crisis
Accidental crisis can possibly hurt your brand reputation. This type of crisis occurs when the organisation is at fault, but the actions were unintentional.
An example of accidental crisis is a product or equipment failure. This type of crisis often seems trivial, but it's important to address the problem promptly.
If you neglect accidental crisis management, an accidental crisis might quickly escalate and damage your brand reputation.
Preventable crisis
Preventable crisis is the worst type of crisis that might occur. In this scenario, your company deliberately took risk that lead to a crisis.
Preventable crisis has the potential to destroy your brand reputation for good. That's why it's vital to manage the crisis effectively, prepare a robust crisis response plan and brace for the worst. It is possible to rebuild brand reputation after a preventable crisis, but it will require a lot of effort and great crisis management skills from your part.
These three crisis theories are a base for Situational Crisis Communication Theory.
The crisis management theory defines response strategies an organisation can implement to mitigate the effects of the crisis.
Crisis management strategies
There are four main crisis management strategies.
Rebuilding strategy
Rebuilding strategy starts with taking responsibility and apologising for the crisis. The main aim of the rebuilding strategy is to repair the relationship with the stakeholders.
Rebuilding strategy should be implemented while fighting accidental and preventable crises. This crisis management strategy might take more time to show effects. Rebuilding relations with your stakeholders will, ultimately, protect your brand.
Diminish strategy
While implementing the diminish strategy, you're trying to minimise the responsibility put on your company.
This can be achieved in two ways — by apologising or justifying your brand's actions.
This is a go-to crisis management strategy when a company is not at fault or has a positive brand reputation.
Diminish strategy can also be applied for smaller crisis when you don't want to take all the blame.
Deny strategy
If your company is blamed for something you haven't done, you should implement the deny strategy.
In this scenario, you should simply deny the crisis. You can do that in three ways:
by confronting your accuser
denying the crisis all together
blaming a third party for the crisis
Deny strategy should be used while dealing with rumours that could potentially hurt your organisation. Deny strategy will only work if your company is at no fault for the situation.
Bolster strategy
Bolster strategy is usually used in combination with other crisis management strategies.
The main goal, is to remind various stakeholders what an asset your company has been so far.
Can crisis management strategy help your business?
You never know what type of crisis will hit your organisation. Yet, having a crisis management plan in place will minimise the effects of even the worst crisis.
In fact, crisis management will bring a long-term benefits to your business.
You will be prepared
A crisis will hit your organisation. It's true you can never anticipate who or what might be the weakest link on your organisation.
But preparing a crisis management plan will give you a general idea on what to do and how to behave. That's priceless knowledge in tough times.
You will keep calm
Calm is necessary to survive a storm. During a crisis your nerves might take over and you could post a message you will later regret.
Having a crisis management plan in place will give you room to breathe. You will have a solid reference framework on which you can base your crisis response.
You will know what has hit you
SCCT will categorise each crisis into three types: victim, accident, or preventable.
The aim of a crisis management plan is to give you a plan to work with. Once you know what you're dealing with, you can easily plan the next steps.
You will think about the stakeholders first
Your focus should always be on your customers' wellbeing. That rule also applies in the time of crisis.
In order for your business to thrive, you need your customers' trust. And the trust is based on your brand's reputation. While reacting to the crisis, you should always think about your stakeholders first.
How to manage crisis in an organization?
And so it is – you know that crisis management is important as it can be a make-it-or-break-it factor for your organization.
Where do you start the implementation of a crisis management process?
This article provides a comprehensive list of tactics you can gradually apply within your organisation. When the storm hits, you'll be as prepared as it can be.
React as fast as possible.
Before it all hits the fan.
The sooner you de-escalate the problem, the less damage it'll cause. Crisis management is all about minimising the impact of harmful events, so you should get on top of things quickly.
Media monitoring tools, for example, Brand24, offer a lot of useful features.
Monitor mentions about your brand. Try out Brand24 for free (no credit card required).
In crisis management, one of the most helpful is storm alert notification.
You'll receive a notification (it can be an email or a message on Slack, whatever you prefer) every time there's unusual traffic around your keywords.
That way, in the event of a crisis, you can intervene in time and prevent significant setback.
Setting up a project is a piece of cake.
You just enter your keywords (for example, the name of your company, your branded hashtag or the name of your product) to product creation wizard, and the tool starts to collect all the data from the internet that contain your keywords.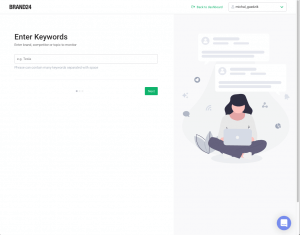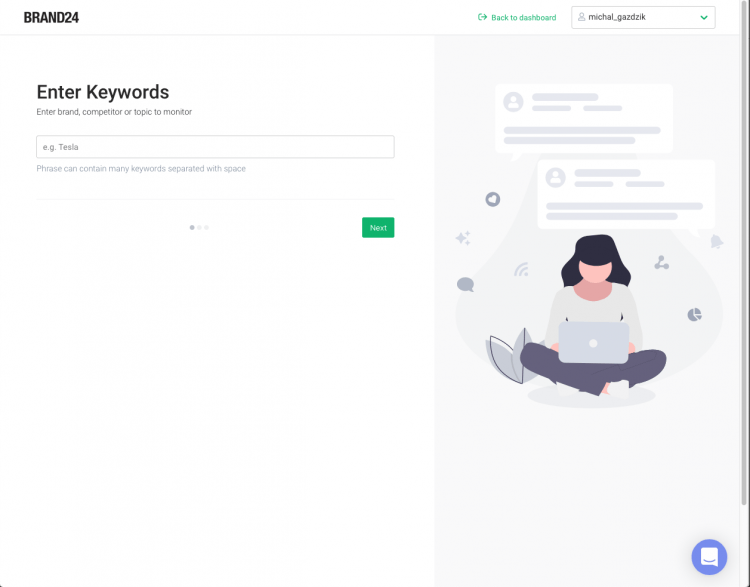 The mentions are organized in one neat dashboard. You can filter them according to social media platform you're interested in.
The filter that will be most useful in crisis management is sentiment analysis. You can divide mentions into positive and negative ones. That way you can immediately respond to negative comments and prevent a full-blown disaster.
If you're still investigating the cause of the incident, try to prepare a simple press release. Avoid at all cost assigning blame to any party. It will leave a bad impression, no matter whether it was your fault or not.
Pick a crisis management team
Your plan should precisely name employees responsible for a communication response plan.
Employees will form a crisis management team.
The clear chain of command will make your communication consistent, and you'll avoid overlapping or contradicting information.
The spokesperson should be the most experienced member of your team.
He or she will ideally be a skilled PR manager, who has the know-how required to handle the press. So, no stutter and panic in the eyes, just the opposite. He/she has to be the personalisation of the calm in the centre of the chaos.
Crisis management team is your first response unit, a critical factor in your professional crisis management.
Their primary purpose is to control the narrative in the early stages of the crisis. That way, even if the crisis is entirely your fault, you'll be able to focus the attention on the actions and remedies you are offering, rather than on the cause of all the commotion.
They will handle all tasks related to crisis response plan. The plan must contain a detailed division of responsibilities as well as name the head of crisis intervention. Every tweet, post and message have to be approved before they are published.
Reassure your stake and shareholders
Apart from dealing with the press, you need people scanning through contact list and informing your VIP clients and shareholders about the development of the situation. Reassuring your stake- and shareholders will prevent escalation of the crisis, so this task should be one on the top of your list.
Even if you don't have a detailed press release or external communication plan, reassuring your partners should be your top priority. The last thing you want is your investors leaving the company in a hurry, deepening the impasse.
Manage the crisis on social media
It's hard to imagine, but there still are companies neglecting social media presence. Even if you can get away with it (although you're missing out a lot because your brand is lost without social media customer service!) during calm times when the crisis hits you need to be present on all fronts.
The information spread through social media much faster than via traditional outlets, so it's vital to react swiftly. And if you want to do that, you need to monitor Internet mentions well in advance.
Brand24 allows you to identify the most active and most influential sites on which people are talking about your company. That way, you can customise your response and focus on the channels where your audience is present.
Test it yourself! Brand24 offers a 14-day free trial, no credit card required.
Social media gives you an opportunity to engage directly with your customers, deliver exactly the message you want. In the early stages of the crisis, it's a good idea to stop publishing planned posts and re-evaluate communication planning.
You can't keep silent for long, as it will only deepen crisis behaviour. Your customers expect a reaction and delivering well-thought-out response is essential.
Learn how to manage a crisis
If your crisis management system is to be successful, you have to update it regularly. I'm a firm believer in maintaining a high level of preparedness, and there's no better way to achieve it than by regular training.
To work efficiently and effectively your team members needs training of both hard and soft competencies.
Crises require creativity and adaptability, and those skills aren't a God-given gift.
Crisis management skills they can be taught. Thanks to the training, when the disaster strikes, every step you take won't be continuous self-injury, but a carefully calculated rescue mission.
Keep calm
It's extremely tough to keep calm among continuous aggression. That's why it's vital to keep every member of your crew well informed and stick to the plan. You'll avoid going off message and show a unified front.
Learn from the mistakes of others
There's no better way to learn than analyse mistakes made by other companies. I mean, if they learned something the hard way, why should you?
If you're looking for a comprehensive guide to mistakes to avoid, we got your covered. Here's a list of 12 avoidable social media mistakes, a.k.a. "The dirty dozen".
Crisis management in real life
So how does crisis management look like in real life?
Let's take a look at Starbucks and their response to the crisis that occurred in the begin of April in Philadelphia.
A quick recap – two African Americans went to a coffee house for a business meeting and ended up being arrested after one of the employees called the cops.
Professor Americus Reed of Wharton Business School identified three best practices for successful crisis management:
Validate concerns of other people. Even if you're still verifying the facts of the case, show empathy and regret.
Act. Starbucks CEO, Kevin Johnson, engaged and directed the conversation around the incident. The focal point of the discussion was shifted from the event towards socially responsive movement – a closure of 8 000 company-owned stores for an afternoon to hold "racial-bias" training. A proper apology requires some sacrifice, and this move could cost the company 12 million dollars, according to Jeff Sonnenfeld, dean at Yale's School of Management.
Control the narrative. Offer strong statements accompanied by actions. Kevin Johnson met with the two men who were arrested, offered an unconditional apology and sought the help of community leaders in reshaping the company's future policies.
And although Starbucks was criticised for their first response (many experts claimed it was too short and generic), Kevin Johnson stepped into action in the early stages of the critical situation and from many crisis scenarios chose the best option – damage control.
It's an entirely different approach than other famous CEO took. Just look at recent fallouts at Facebook and Cambridge Analytica – it took Mark Zuckerberg and Sheryl Sandberg 5 days to react.
Last year United Airlines' crisis was called one of the worst PR disasters, and you could immediately see the results in the fall of their share prices.
The most important lesson from other companies' failures should be that your crisis management team have to be prepared for anything. And even if your initial response is far from ideal, you still got some time to turn the tables around. And who knows, maybe you'll be one of the lucky few, and the crisis will never hit.
Crisis management best practices
Crisis management is a broad and complicated topic. Here's a quick recap of the most important aspects of crisis management:
Prepare a crisis management plan and update it regularly. Crisis management plan will serve as a reference tool. You don't have to follow the cisis plan to the letter, but in the moments of uncertainty they will give you guidance.
Train your crisis management team. Every member of the team should know what to do and be able to react swiftly once the crisis hits.
Test your crisis management team and plan. During the drill you will be able to assess whether everything is working correctly, and which parts of the crisis management plan needs improvement.
Prepare draft of all the statements you could release and have your legal team examine them.
HANDPICKED RELATED CONTENT
How to measure brand awareness?
The golden rules of PR crisis management
How to measure the share of voice?
10 affordable news monitoring tools to keep you in the know